Since 2016, I have logged all my bike rides on Strava.
Click the STRAVA link in any activity on the map above for stats, a GPS track, and ride photos.
Alternatively, click this link for my profile, scroll down to the "Activities / Monthly by Year" section, then poke around for anything that looks interesting. Try September-October 2017 for example, which featured a spectacular swing through western Canada.
Certain adventures got a slightly fancier 'storyteller' page with full-size photos, so feel free to click the Storyteller link and peruse that collection too.
"Camping on the ground and shredding rocks with Klucks and the Crazy Crane Crew"
Moab, UT
September 23-25, 2016
"Up and down the monster Barr Trail with Klucks"
Manitou Springs, CO
July 27, 2016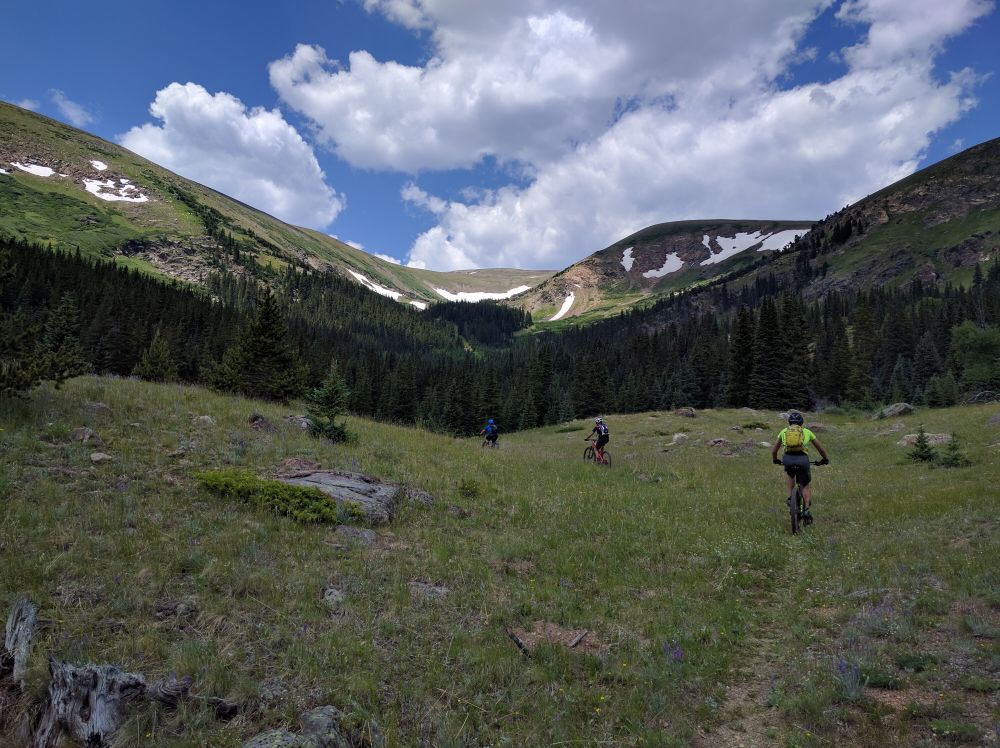 "Came on up to South Park, had a real good time!"
Guanella Pass, CO
July 17, 2016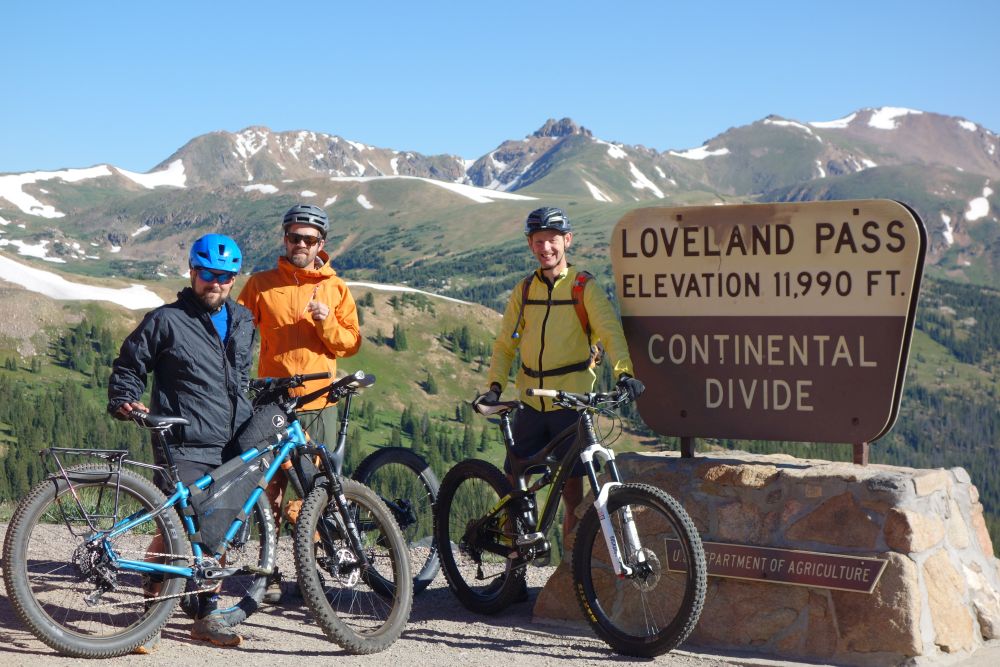 The Notorious Big LAF Ride (Lenawee, Argentine, FATS)
"Trying out a novel linkup featuring four high summits in a long, amazing day mostly above treeline."
Georgetown, CO
July 9, 2016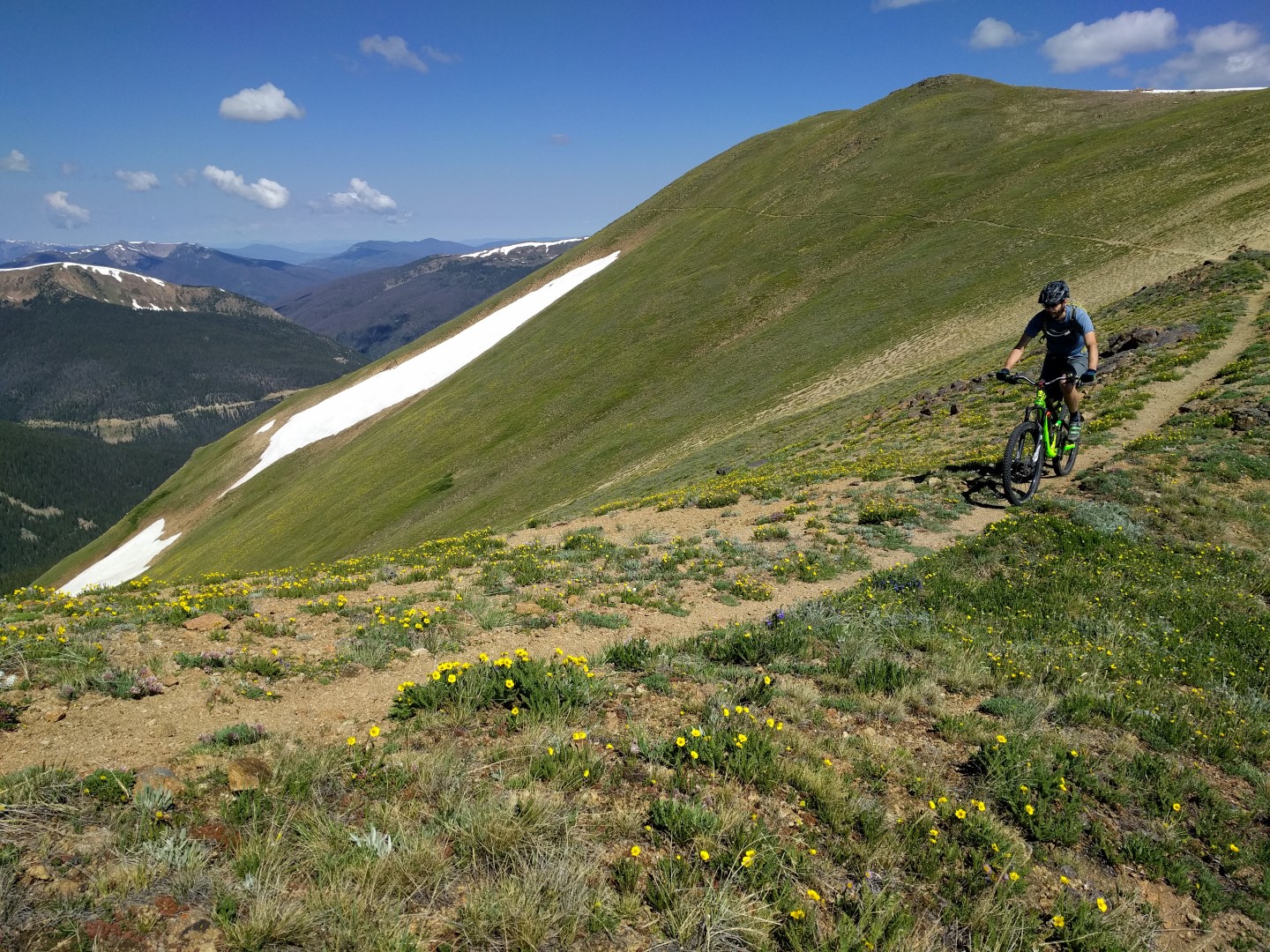 Thirteen Thousand Two Hundred Fifteen Feet of Freedom!
"Hitting the Continental Divide Trail from Jones Pass to Herman Gulch and some Georgetown Trails on Independence Day."
Empire, CO
July 4, 2016
Exploring the second-largest canyon in the United States via bikes, hikes, and even a few horses.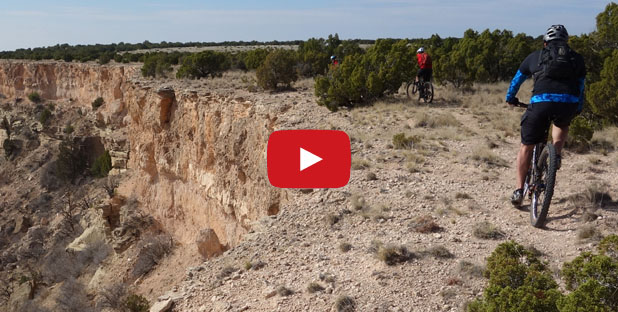 Music by Junior Brown.

Canyon, TX

March 16-19, 2015
My third trip to the Chihuahuan Desert Bike Fest in Lajitas, TX was the best yet!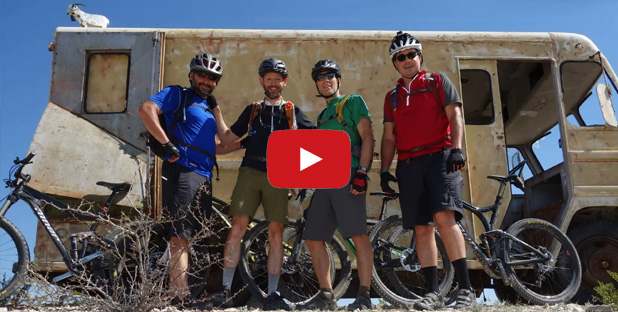 Music by Long John Hunter.

Lajitas, TX

Feb 11-15 2015
Mount Elbert tops out at 14,439 feet, which makes it the highest peak in Colorado, and the second-highest in the continental US. It's also one of only a handful of 14ers that's legal to mountain bike on, although this is rarely taken advantage of, presumably due to the ordeal required to get bikes to the summit.

The average grade works out to approximately 1100 ft/mile (20%) but frequently runs even steeper than that. So on the descent, you spend a LOT of time with your butt way behind the seat, hovering just above the rear tire.

While thusly hanging on for dear life, you get to simultaneously negotiate extended stretches of loose gravel, jumbled babyheads, nasty switchbacks, and treacherous trenches; solve tricky puzzles of embedded boulders, drops, and rollers; greet and dodge hikers; survive steep shots through tight trees and over crisscrossing roots; and finally, savor a blast down a winding forest road packed with sweet, sweet jumps.

In other words, it is a wicked awesome mountain biking experience, and truly worth the effort!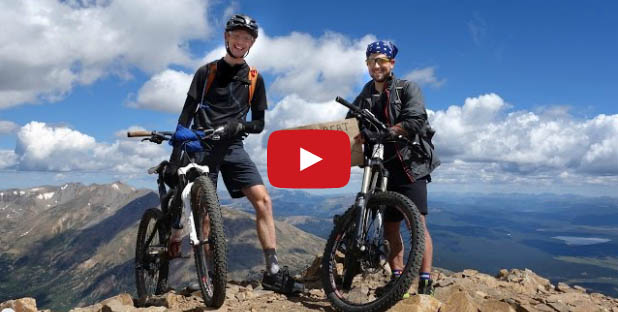 Music by Laurie Anderson, Flight of the Conchords, Kongar-ol Ondar, and Depeche Mode.

Twin Lakes, CO

August 16, 2014
Absolutely amazing day of mountain biking, featuring two trips across the Monarch Crest, and descents of both South Fooses Creek and Agate Creek trails.

Despite getting two car rides up Monarch Pass, there was still plenty of effort expended in twice traversing the (literally) breathtaking Monarch Crest which rolls along between 11-12k feet. Both descents were sensational, ridiculously fast technical rippers that went on for so gloriously long that you got exhausted going downhill (a very good thing!).
Music by Richard Wagner, Walter Murphy, and Kraftwerk.

Sargents, CO

August 10, 2014
A positively scrumptious mountain biking sampler platter, linking several lesser-ridden technical treasures just outside Crested Butte, Colorado. If you've ridden all the CB classics like Doctor Park, Reno/Flag/Bear/Deadmans, 403+401, Teocalli, etc. and crave something just a little bit chunkier... well... this loop featuring 409, 409.5, and 402 may be for you!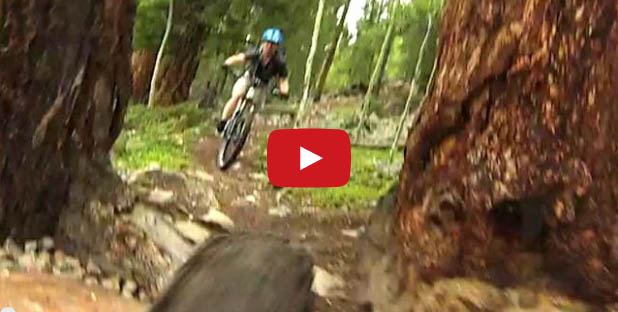 Music by Little Walter, Lightnin' Hopkins, Stevie Vaughan, and James Cotton.

Crested Butte, CO

August 4, 2014
Super fun mountain biking on the classic Doctor Park loop near Crested Butte, Colorado.

We included the singletrack "Bonus" section, which adds some sweeping views to a ride that's otherwise mostly about the riding itself... meaning, excellent, swoopy, somewhat technical blasting down through the trees, and a famously chunky switchback finale.

Note that this was our shakedown ride with the GoPro and we learned a few things to improve in the future, for sure. But I've decided the cracked lens and sometimes-shaky video just add "flavor", and think this one still came out reasonably entertaining, and hope you enjoy it also. :)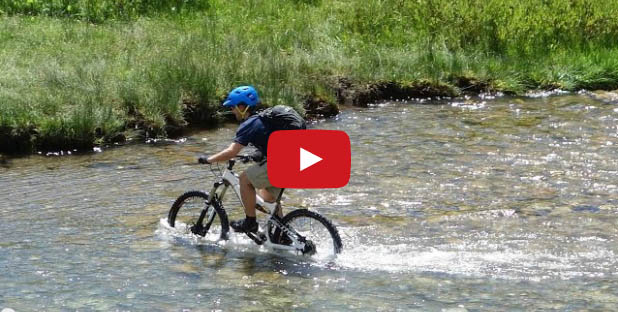 Music by Dr. John, John Lee Hooker, and Muddy Waters.

Crested Butte, CO

August 2, 2014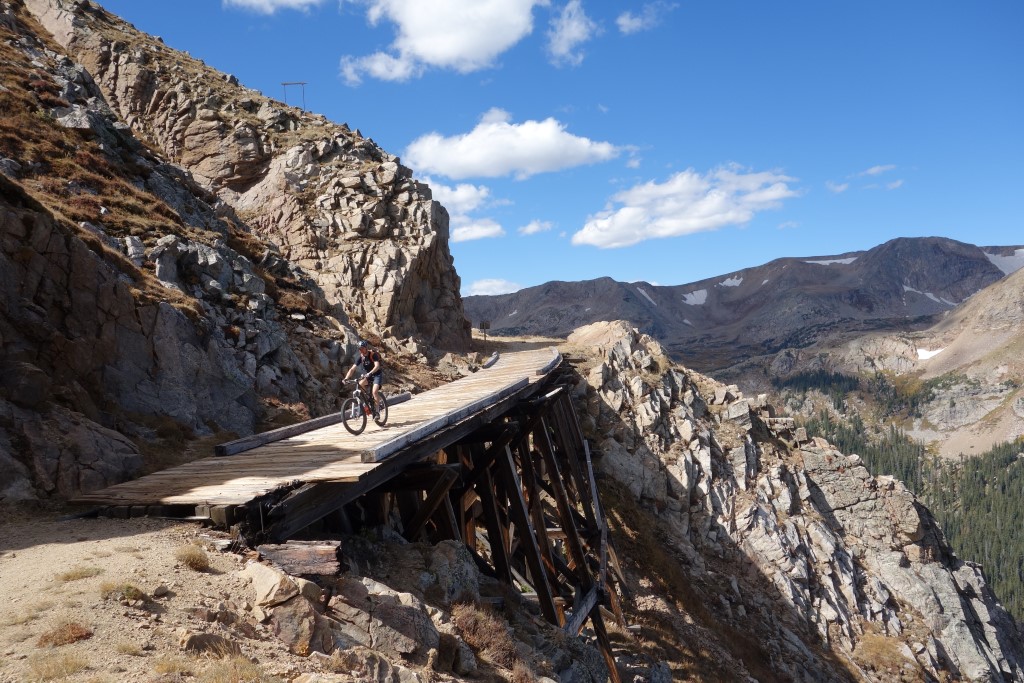 "Taking the high road up and over the Divide several times on a perfect fall day."
Rollinsville, CO
September 27, 2014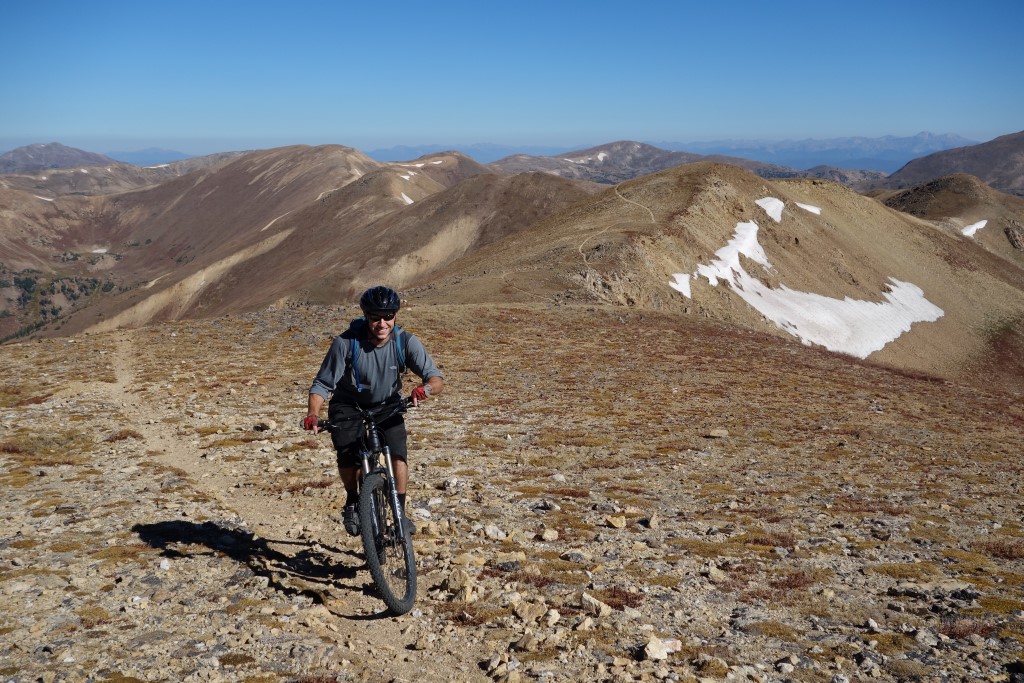 "Closing out the summer season with a marvelous chunk of Continental Divide Trail above 13,000 feet."
Empire, CO
September 20, 2014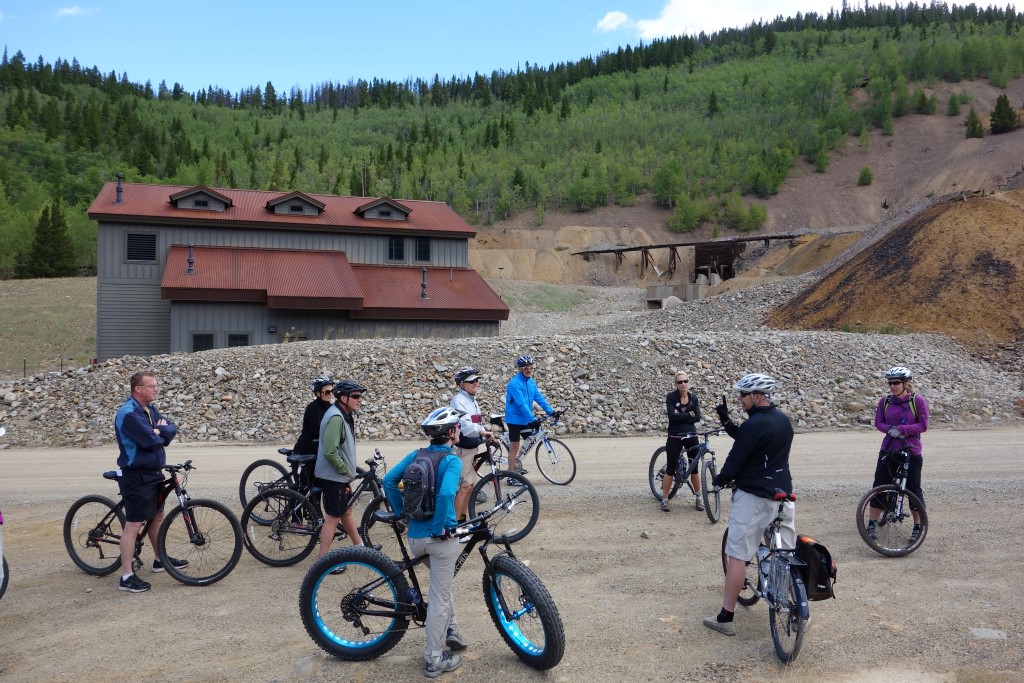 "Breck Bike Week activities, Georgia Pass, Lenawee, Wheeler Pass, and more."
Breckenridge, Frisco, Dillon, and Keystone, CO
August 20-31, 2014
"Dragging mountain bikes to the summit of Colorado's highest 14er and plunging back down."
Twin Lakes, CO
August 16, 2014
"Twice across the Monarch Crest, dropping two marvelous technical descents, Fooses Creek and Agate Creek."
Sargents, CO
August 10, 2014
"A lesser-known alpine loop on the other side of the highway from Monarch Crest, infamous for its hike-a-bike but famous for its ten mile singletrack descent."
Sargents, CO
August 9, 2014
"Back for our third summer in a row, for a couple more glorious weeks in mountain biking paradise."
Crested Butte, CO
July 25 - August 7, 2014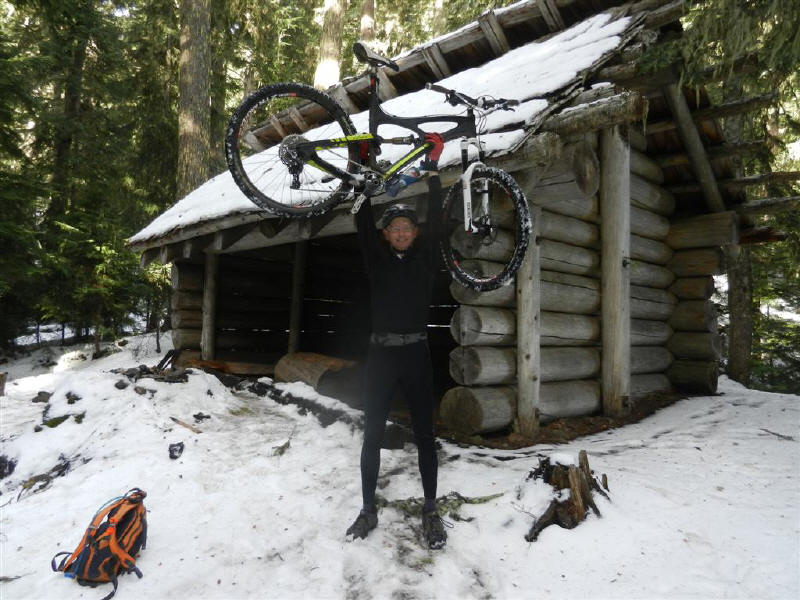 Late Season Expedition Up the Palisade Cliffs
"Riding up to and across the snowy cliffs in the shadow of Mount Rainier, with winter already settling in."
Enumclaw, WA
November 23, 2013
"Dazzling exploration of an otherworldly volcanic landscape, just before winter arrives."
Mt. Saint Helens, WA
October 30, 2013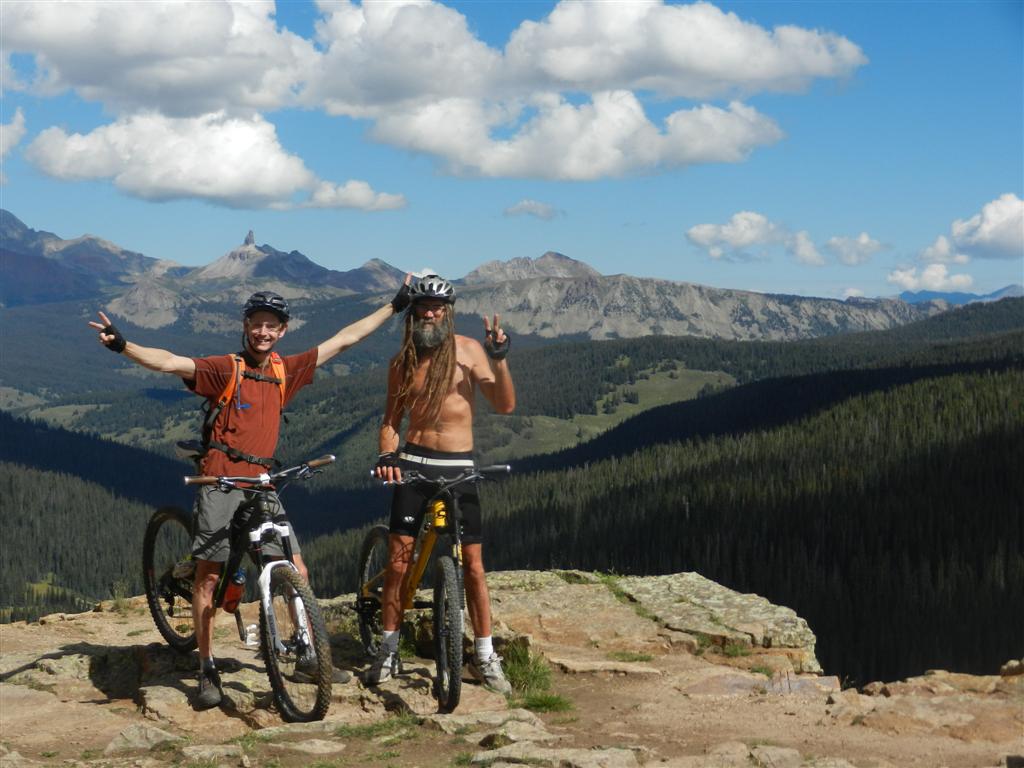 Rollin' the Highest Region with Rasta Stevie
"Gettin' high on the Colorado Trail with a legend of such things, from Bolam Pass to Blackhawk Pass to Hotel Draw."
Durango, CO
September 5, 2013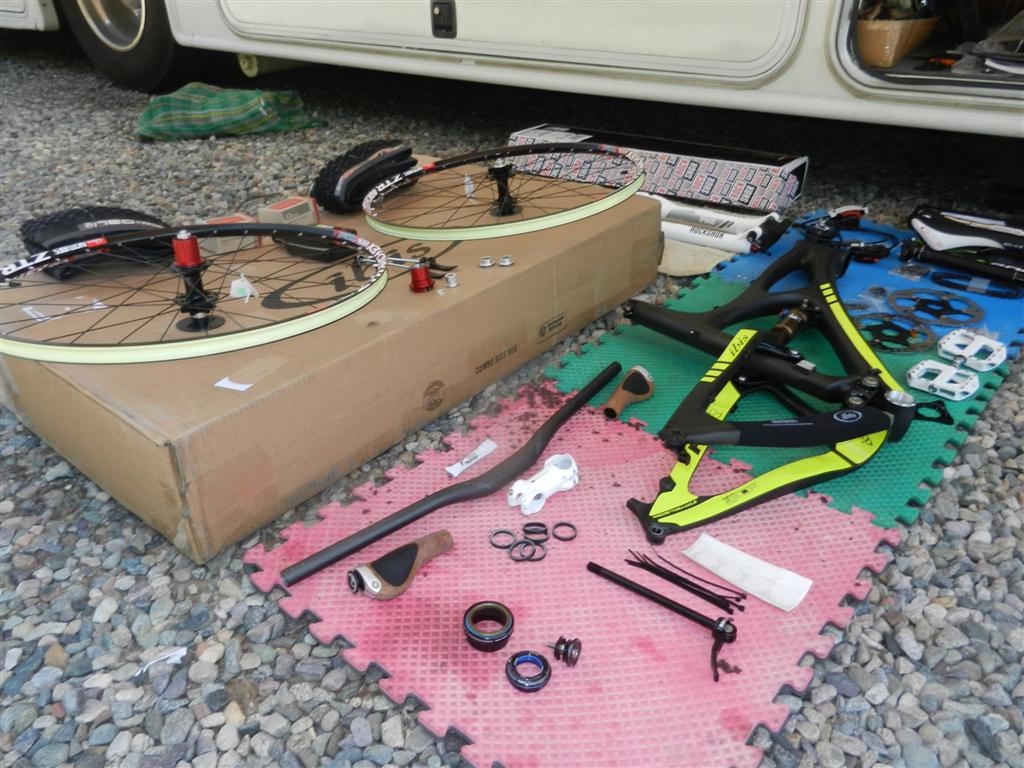 BIRTH ANNOUNCEMENT! (of a sort)
"Adding a brand-new carbon fiber wunderbike to the family."
Durango, CO
August 27, 2013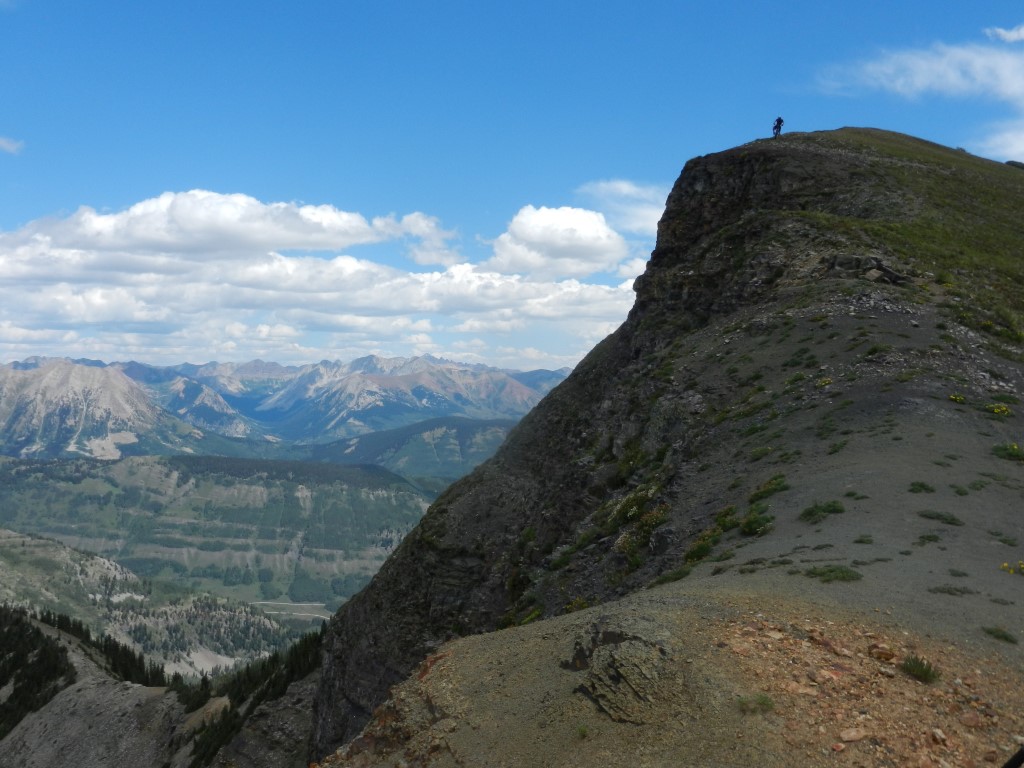 The Scarp Ridge Adventure Loop
"Mind blowing scenery and a full day of adventure exploring high elevation terrain rarely traversed on bikes."
Crested Butte, CO
August 10, 2013
"Shuttle dropoff + Trail 403 + Trail 401 = a gentlemanly yet worthy version of the mighty Loop 804."
Crested Butte, CO
July 31, 2013
"Got so high, I touched the sky! Monarch Crest to Starvation Creek with some interesting weather thrown in just for fun."
Salida, CO
July 28, 2013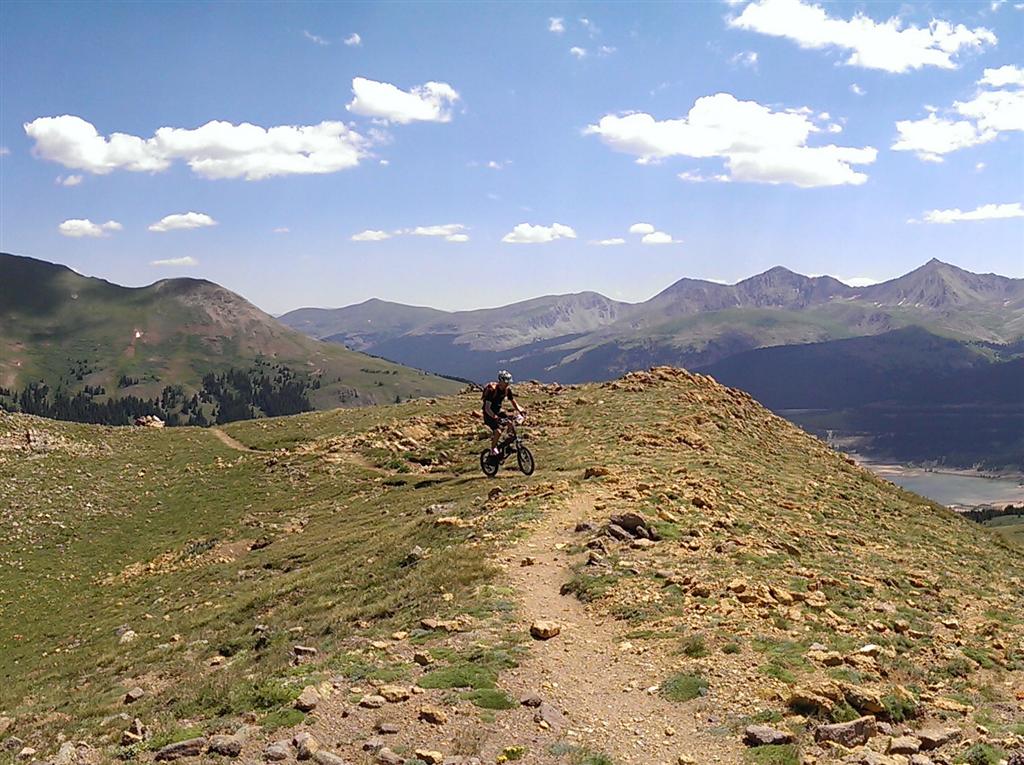 Copper Highness
"Rollin' all of the Colorado Trail between Copper Mountain, Searle Pass, Kokomo Pass, Camp Hale, Tennessee Pass, and Wurts Ditch Road."
Copper Mountain, CO
July 21, 2013
"Getting high (>12,500 ft!) for the first time of the season in Colorado."
Arapahoe Basin, CO
July 7, 2013
"Headed out to the very remote Big Bend area of Texas for another round of epic riding, camping, and fun with a bunch of other crazed mountain bikers."
Lajitas, TX
February 13 - 18, 2013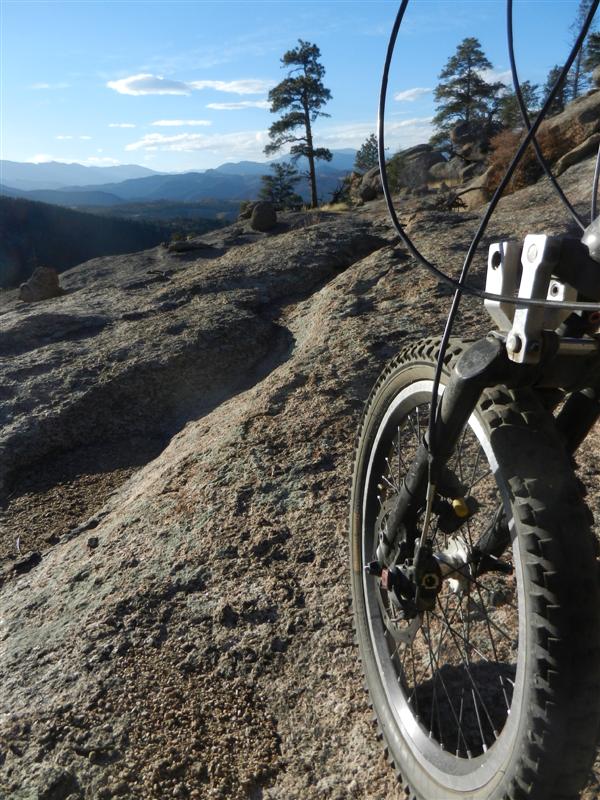 Buffalo Creek: "To the Wilderness and (not) Beyond!"
"Exploring lots of new terrain at a favorite trail system on a perfect fall day in Colorado."
Pine, CO
Sunday, October 21, 2012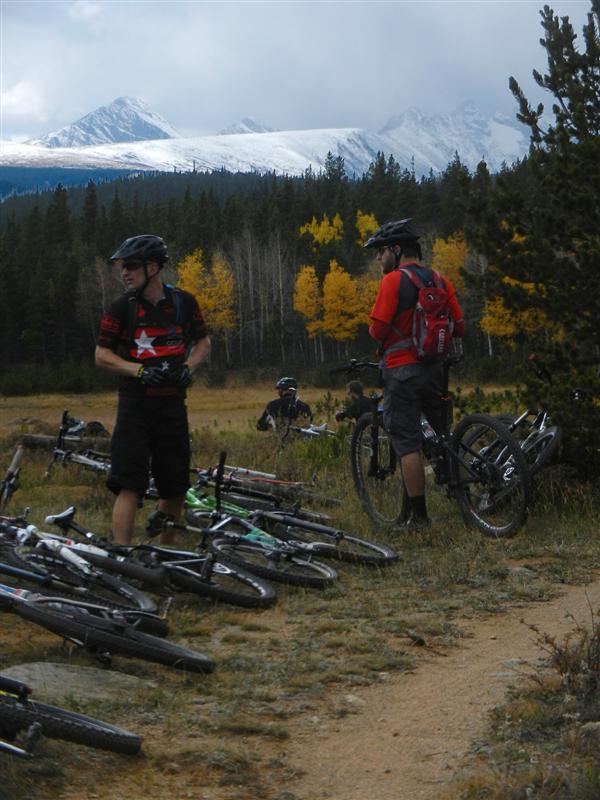 The Redstone Cyclery Big Fall Ride
"Tagging along with the locals for a day-long ride on some of the best (and chunkiest) trails of Boulder County, Colorado."
Lyons, CO
Sunday, September 30, 2012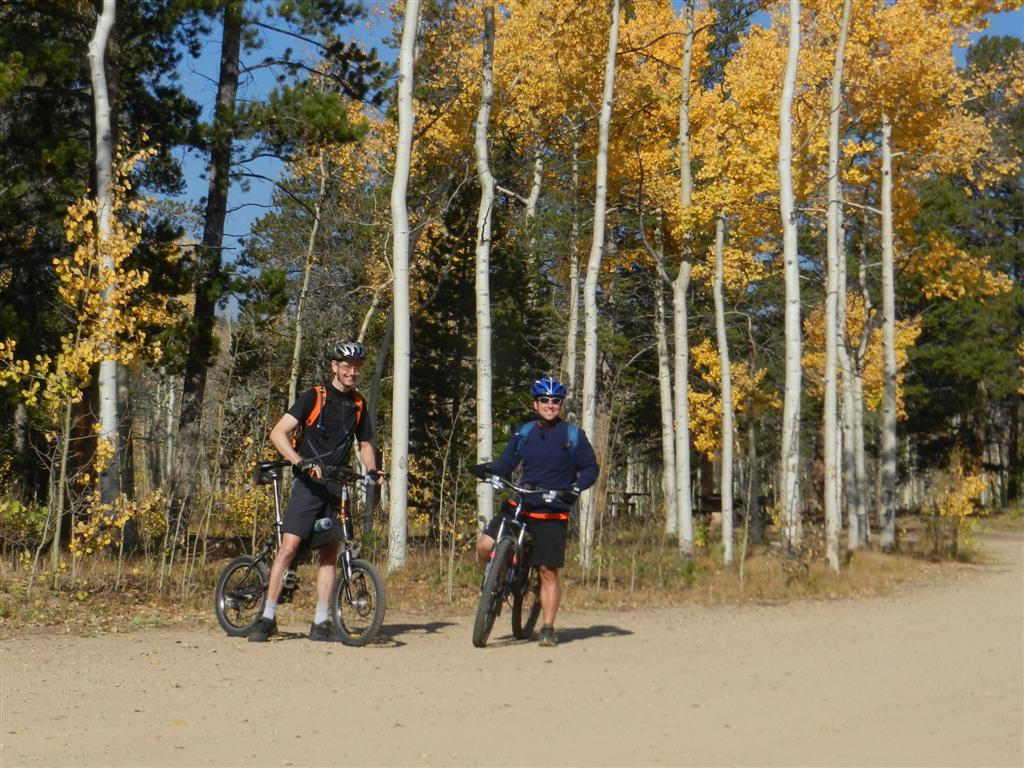 Breaking in the New Guy (Kenosha to Breck)
"High elevation autumn fun, going the distance over Georgia Pass on Segment 6 of the Colorado Trail."
Breckenridge, CO
Saturday, September 22, 2012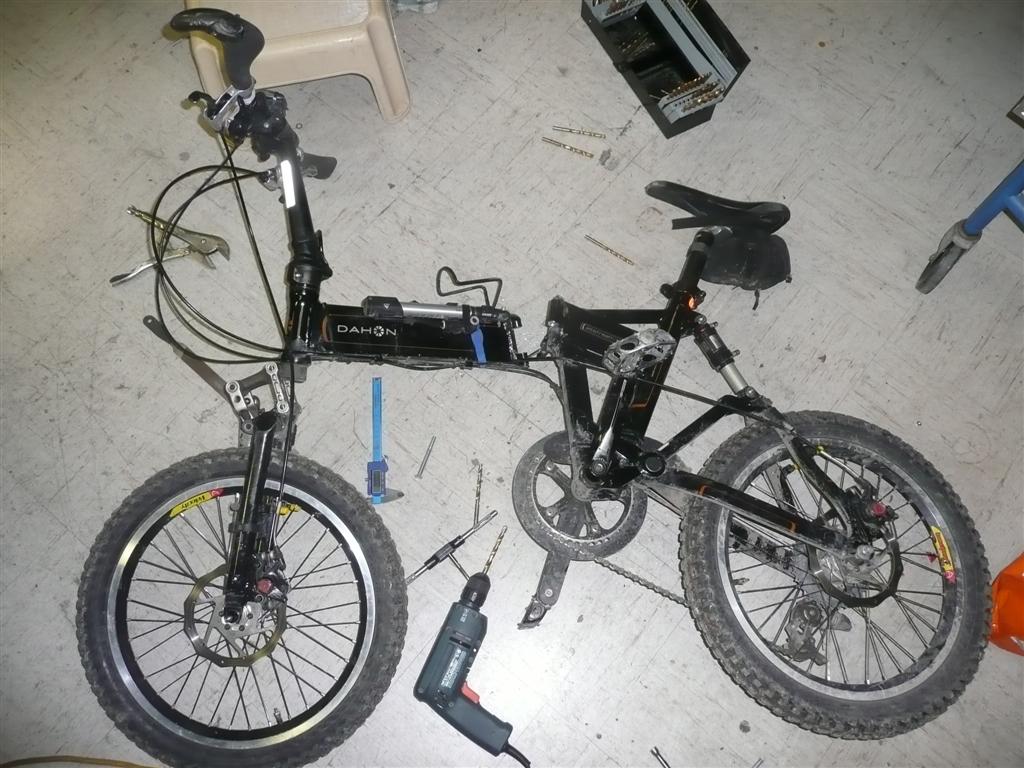 Folding Bike Mechanical Extravaganza
"All the gory details about what was involved in preparing my Dahon Jetstream XP folding bike for serious off-road riding, and what's been required to keep it rolling through thousands of miles of such abuse over the years..."
Skookum Flats and Palisades Adventure Ride
"With the snow finally melting, it was time to go exploring some backcountry trails in the rugged and spectacular Washington Cascades outside Mount Rainier National Park."
Enumclaw, WA
Sunday, May 29, 2012
Featuring rides in Stanley, Ketchum, Sun Valley, and Boise, ID
October, 2011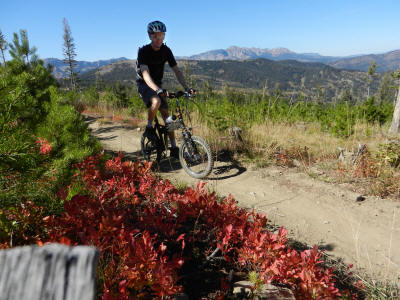 Marvelous, Mountainous, Montana
Featuring rides in Bozeman and Helena, MT plus a bit of other touring.
September and October, 2011
"We kicked-off our Fall tour of the great American west with a month in Wyoming, exploring incredible trails and spectacular sights."
Featuring Curt Gowdy State Park, Jackson Hole, and Grand Teton and Yellowstone National Parks
September, 2011
'"After three years away, we returned for another glorious season of mountain riding around Denver and Breckenridge."
Various, CO
July thru September, 2011
"A photographic review of some of the best rides of the previous year."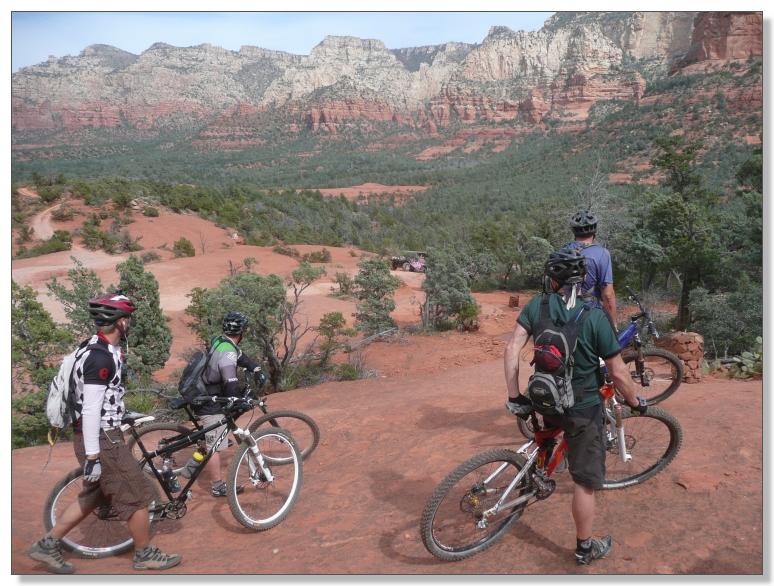 "Featuring a grand assortment of rides around Phoenix and Sedona during the annual gathering known as AZSF."
Various, AZ
March 16 - 27, 2011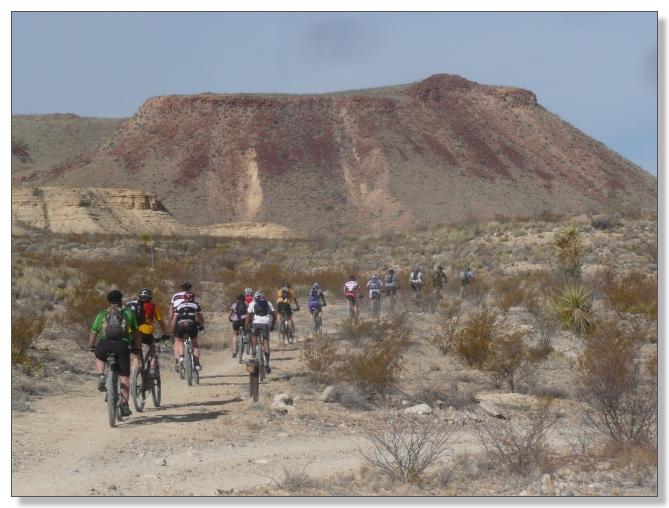 "Rides during the Chihuahuan Desert Dirt Festival and more."
Lajitas, TX
February 16 - 23, 2011
"Taking advantage of a rare opportunity for a snow ride on the familiar trails of Walnut Creek Park."
Austin, TX
February 4, 2011
"A photographic review of some of the best rides of 2010."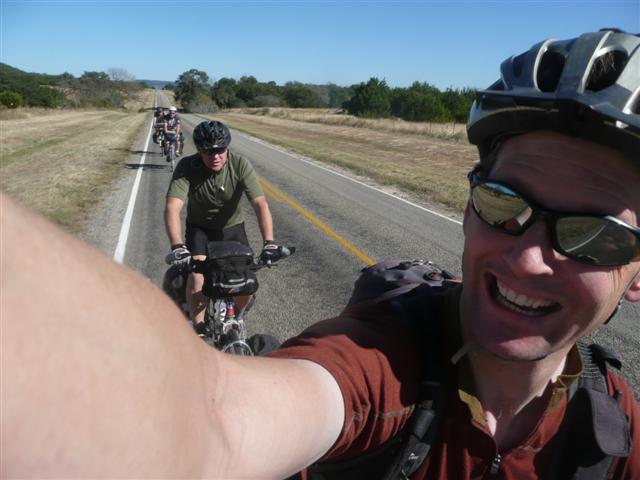 Texas Hill Country Backroads Tour
"Loaded touring on the Dahon for three nights around Bandera, Tarpley, Leakey, Utopia, and Vanderpool."
Hill Country, TX
November 6 - 8, 2010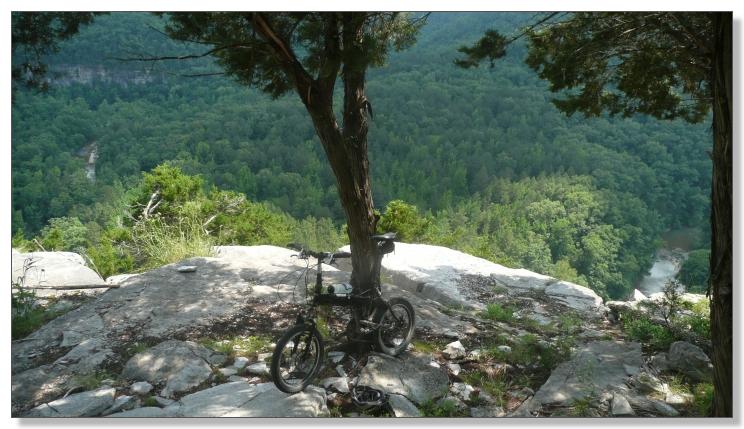 Ode to Spring: Beaches, Creeks, Pines, Mountains, and Beyond
"Back-to-back epics on the Womble and Syllamo in Arkansas. (and a little Texas and Louisiana too)."
Various, AR
Spring, 2010
"Riding and sightseeing in Michigan's Upper Peninsula."
November, 2009
"Autumn in Wisconsin and Minnesota."
October, 2009
Texas, Alabama, Georgia, and Tennessee.
April thru September, 2009
"A photographic review of some of the best rides of 2009."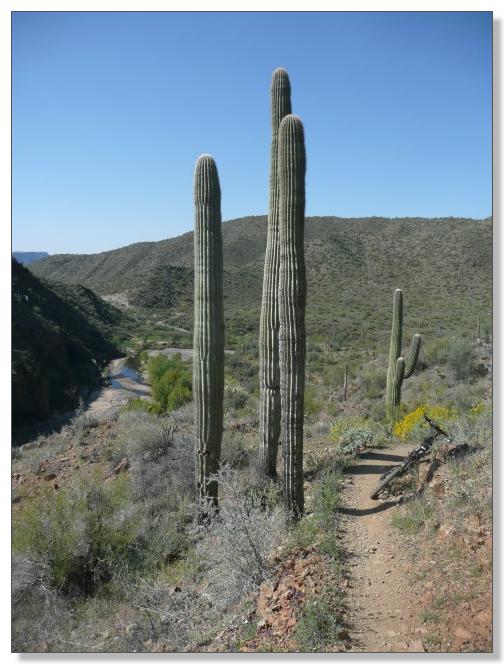 Spring Flinging in Arizona: The Finale
Black Canyon, Casa Grande, and Tucson, Arizona.
February 23 thru March 14, 2009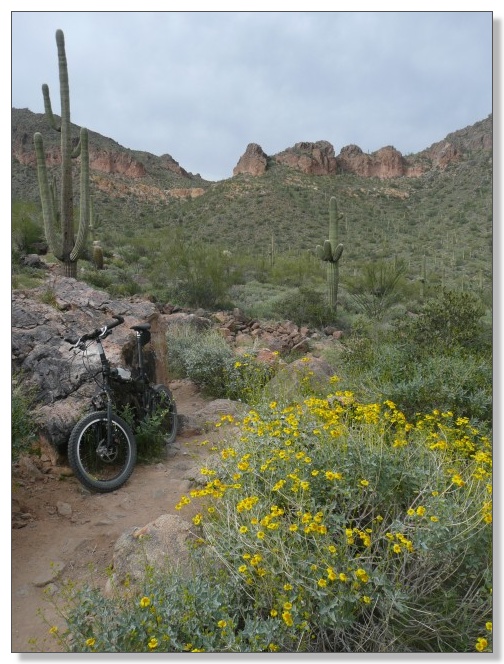 Recapping Rollin' Phoenix's Finest on my Folding 20er
"Lots of great rides around Phoenix, Arizona."
February 23 thru March 13, 2009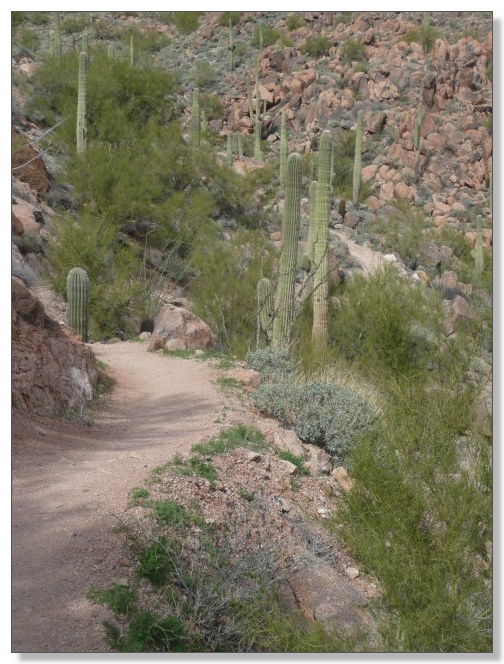 Quadruple Bypass: A good ride on 20-inch wheels? Only one way to find out...
Scottsdale, Arizona
Saturday, February 21, 2009
Moab, Utah
February 2 thru 13, 2009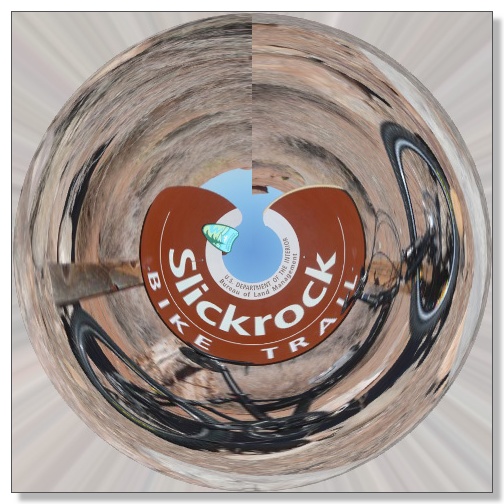 Slickrock Bike Trail: 20-inch REMIX
"Putting a new spin on a mountain biking classic."
Moab, UT
Tuesday, February 3, 2009
"A photographic review of some of the best rides of 2008."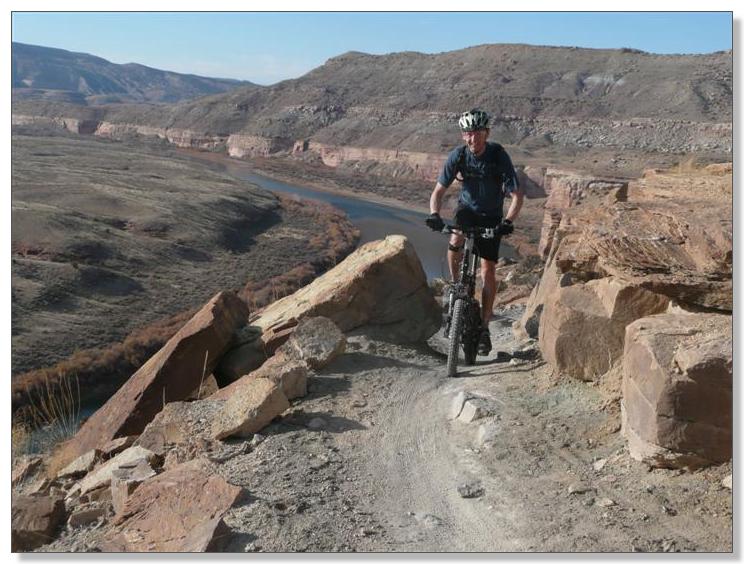 Grand Adventures Around the Junkyard
Grand Junction and Fruita, Colorado.
November 2008 thru January 2009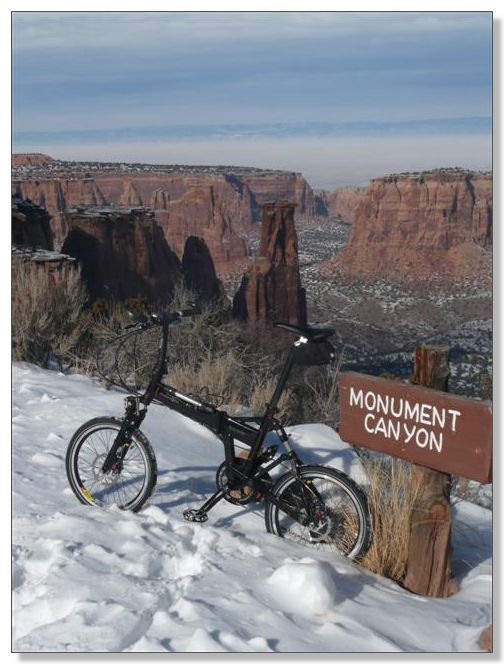 Rim Rock Drive, Colorado National Monument
"Starting the new year in style, with a classic 50 mile road ride."
Grand Junction, CO
Friday, January 2, 2009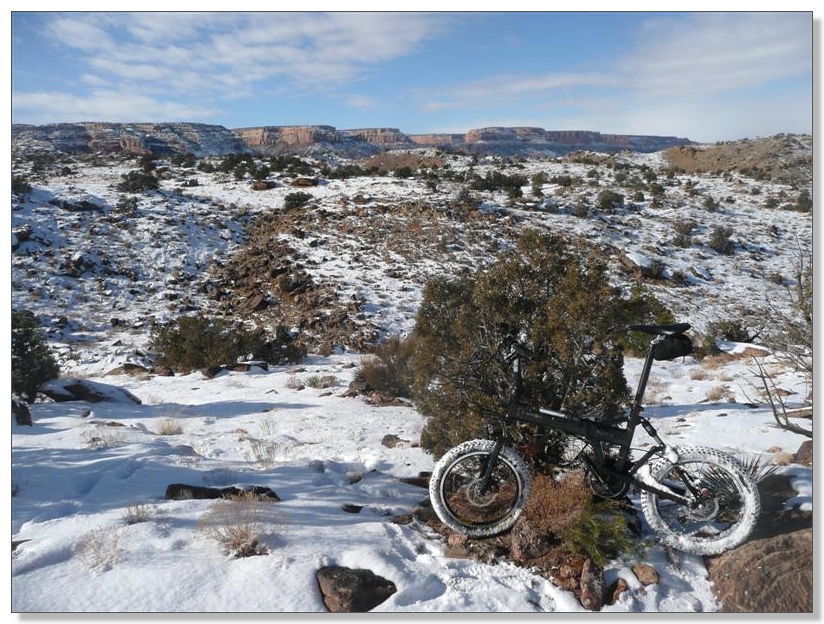 Jetstreaming Through The Snow!
"Gorgeous winter day on the trails."
Grand Junction, CO
Saturday, December 20, 2008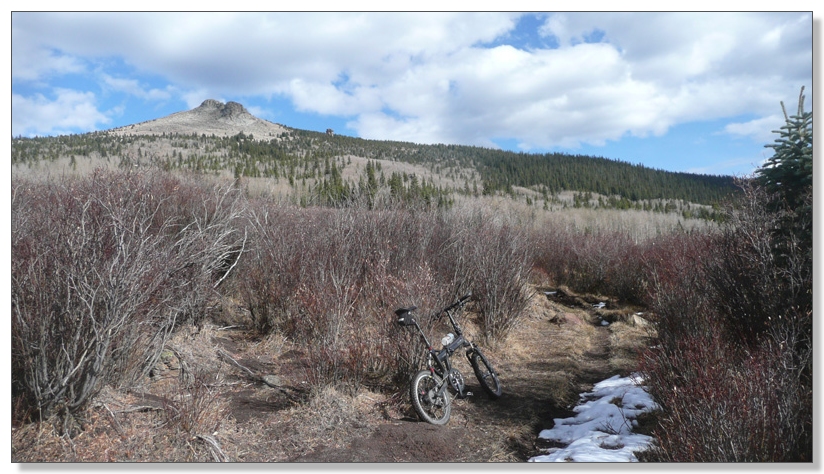 Kenosha East, along the Lost Creek Wilderness
Kenosha Pass, Colorado
Saturday, November 1, 2008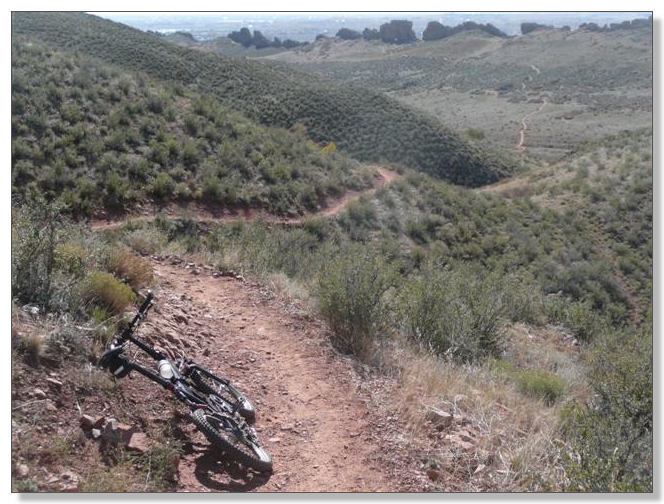 Devil's Backbone, Coyote Ridge, Blue Sky
Fort Collins, Colorado
Saturday, October 25, 2008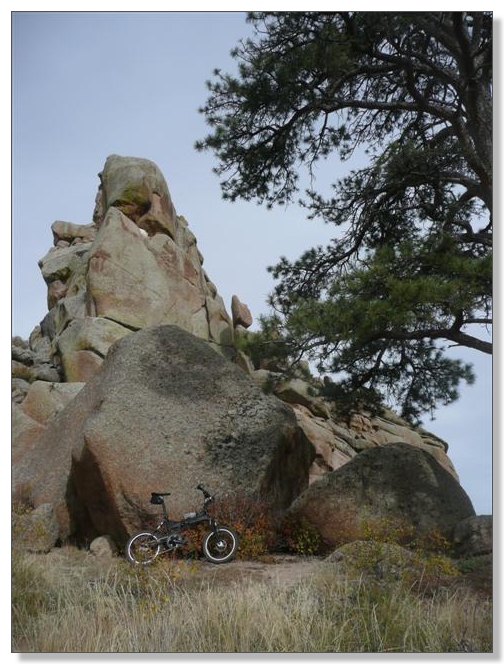 Curt Gowdy State Park Full Tour
Cheyenne, Wyoming
Saturday, October 18, 2008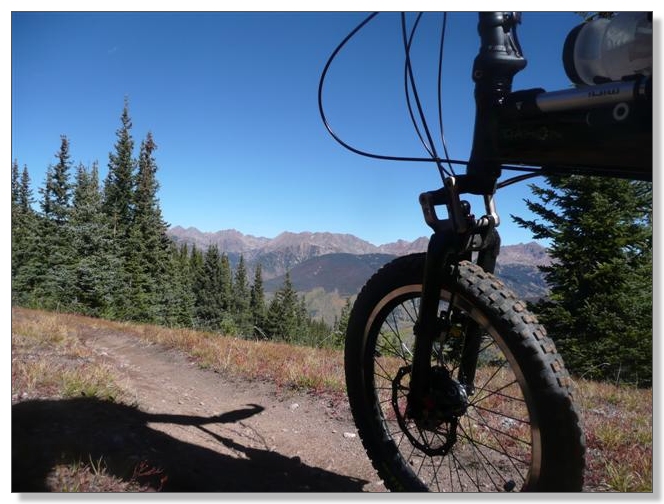 Bowman's Shortcut, Two Elk, and some Colorado Trail too!
Vail, Colorado
Thursday, October 9, 2008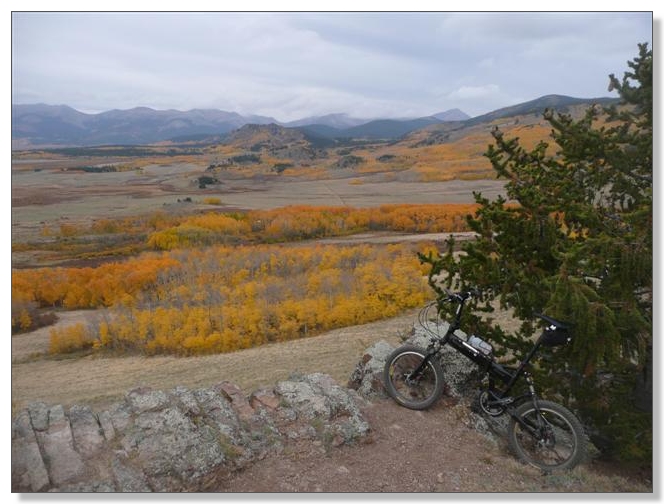 Kenosha to Georgia, Fall Colors Classic
Kenosha Pass, Colorado
Saturday, October 4, 2008
Crested Butte, Colorado
August 5, 2008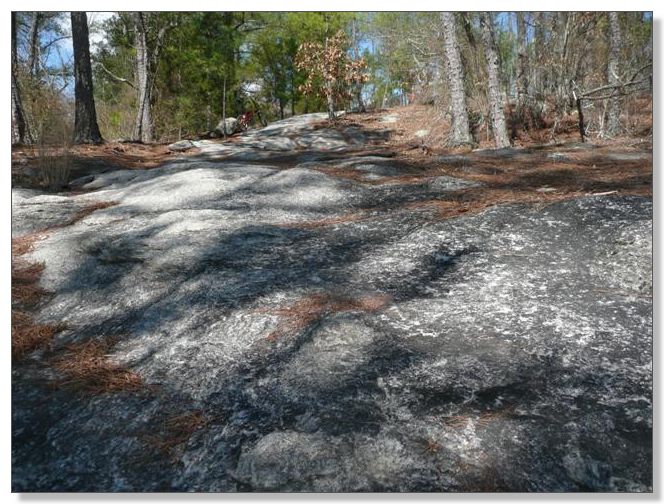 New Conyers Olympic Course Lap Record...
Atlanta, Georgia
March 13, 2008
Connecting from Alafia to Boyette?
Tampa, Florida
February 25, 2008