---


HOME TRAVEL LOG MOUNTAIN BIKING WINDSURFING STORY ARCHIVES RV INFO PHOTOS CONTACT US
---
< previous story home next story >
Marvelous, Mountainous, Montana
Featuring rides in Bozeman and Helena, plus a bit of other touring.
September and October, 2011
Bangtail Divide Loop
Just outside Bozeman, this is a well-known and highly-praised semi-epic loop is about 32 miles around with about 4000 feet of climbing. Much of the trail is recently constructed singletrack built specifically with mountain bikes in mind. Which means, more fun!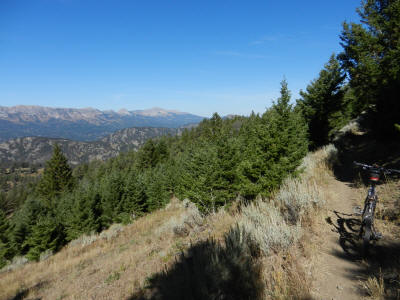 Emerald Lake Trail
Unexpectedly excellent, shorter, out-and-back ride. Only 11 miles total, but with about 2000 feet of vertical it featured a steep and fairly technical climb of around 4 miles that lead to awesome views of two pristine high-mountain lakes, first Emerald then Heather. Doing this ride on a weekday with almost nobody else on the trail let me enjoy an uninterrupted, fast, giggle-inducing plunge down the steep, wide, but interesting descent. About the most fun I've ever had on a bike--wheeeeeeee!


Butte, MT
Didn't ride anything here, but we stopped off to tour the historic town, mining sites, and enjoy a classic pork chop sandwich.
South Hills Trail System
We spent a couple of days exploring this very extensive, if slightly disjointed, network of trails in the mountains just outside Montana's capital city of Helena.
For my first ride I generally followed the "Tour of the Trails" three-part route from "Epic Trails & Epic Rides", an article by John Doran I found online. Some really good stuff along the way, plus some merely good, and only a little ugly. Plenty of variety and all sorts of challenges made for a fine day of riding and exploring. The Mt. Helena Ridge Trail is the signature trail in the area and was particularly cool, almost reminiscent of Crested Butte's famous 401 with its view of town down valley.
Just for flavor, here's my route, which totaled just under 30 miles and about 3500 feet of climbing:
[ Beattie TH, up Easy Rider, up Pail Rider, up 2006 Trail, Mt. Ascension Summit, down Entertainment Trail, up Davis Gulch, Dry Gulch, Roger Fuchs, Rodney Ridge, Don't Fence Me In, down Rodney Meadow Trail, Waterline, up Orofino Gulch Rd, up Barking Dog, up/down Stairway to Heaven, up Wakina Sky Singletrack, down Wakina to Grizzly, up Grizzly Gulch Rd, up Prospector Gulch Rd, in Mt. Helena Ridge, down West End, down Prairie, down 1906, out-and-back Ambrose, Reeder's Alley, streets to RV ]




Spent the next morning doing a shorter but still plenty steep ride of about 10 miles. Hit some nice, rocky, and occasionally benchcut trails including the brand-new Eddye McClure Trail which was particularly well done.
Missoula, MT
Somewhere during all the above I hit one rock too many, and caused a crack in the front suspension link. Having tons of trails to ride in the next few weeks, I had to come up with some kind of temporary fix fast. Luckily, the "big city" of Missoula had a great little welding shop with a guy who was willing to weld this thing back together for me, despite us both knowing it would not be a permanent fix.
While waiting for the part to be welded up, Debbie and I checked out the town, including a stiff hike up to the BIG M that looms on the mountain high above the University of Montana.


Later that day my part was repaired well enough to get me through the next month of intense riding I had planned in Idaho and Oregon, which you'll read about next!
< previous story home next story >
---
HOME TRAVEL LOG MOUNTAIN BIKING WINDSURFING STORY ARCHIVES RV INFO PHOTOS CONTACT US
---