Curt Gowdy State Park
Fun riding featuring some of the steepest, grippiest rock formations this side of Moab. We stopped off for a couple of days on our way from Denver to Jackson to explore a bunch of new trails that have been added since our last visit here in 2008. There are now well over 30 miles of mountain-bike specific singletrack trails here.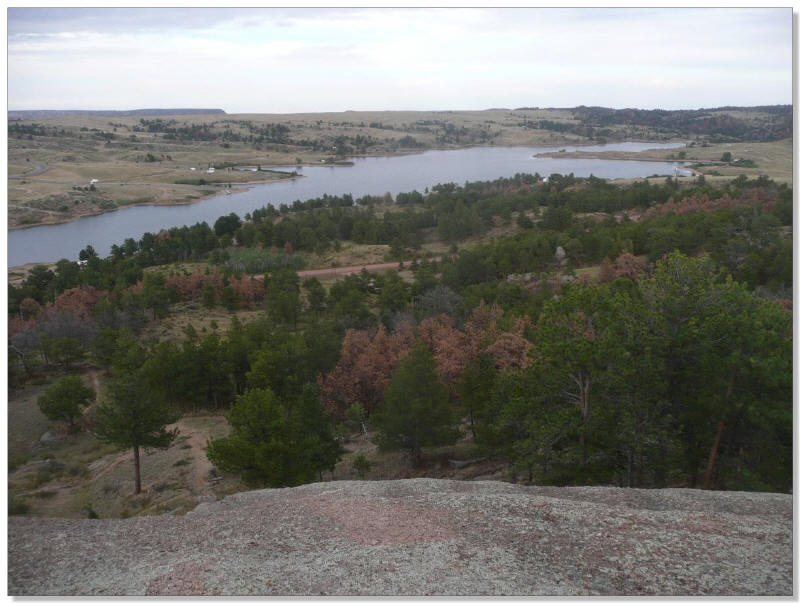 They've added several new "play areas" full of steep rollers and other fun natural features that I really enjoyed. There are also several seriously gnarly freeride trails for those with suitable bikes and guts (i.e. not me).
The new trails surrounding the Crystal Lake Reservoir offer nice, narrow, exposed trails that really hold your attention, and even offer opportunities to tumble off a cliff to your death if you're so inclined. Definitely trying to compete with Moab in this respect, it seems.
And serpents everywhere, too!
Curt Gowdy is truly a fantastic natural-terrain mountain-bike playground, and a "must do" on I-80.
Jackson, WY and Grand Teton National Park
Our next stop was the Jackson Hole area. We based for 10 days at the National Park's Gros Ventre campground just north of town, and just south of the park. We enjoyed the antler arches and Giant hamburgers and such delights in this prototypical western small town.
We also really enjoyed of a free introductory indoor climbing lesson offer spotted in the paper. That developed into about $20 worth of free fun, as we became (at least temporarily) hooked on climbing and extended our time on the walls. Went to bed that night with sore arms rather than sore legs for a change!
We spent several days touring and hiking around Grand Teton National Park, and were suitably dazzled by the array of wild beasts and spectacular mountain scenery.
Snow King Trails
This smallish ski area rises right from town, and offers up a remarkably extensive and good network of XC mountain bike trails when out of ski season. The most famous ride here is probably Cache Creek to Game Creek, which I padded a bit by adding some Hagen and Putt Putt trials, and taking the spur all the way to the Wilderness boundary just to see what that was like. Found some interesting signage there, but otherwise, a somewhat overgrown bit of trail and understandably not often ridden. The descent down Game Creek could have been excellent, but was marred a bit by horse bumps that kinda spoiled what would otherwise be a sweet, smooth narrow screamer.
Went back another day and started out with the burly climb up Ferrin's, and was rewarded with some "bike art" that I assume is the handiwork of the semi-famous and semi-crazed internet personality RideIt, who once lived in Austin but now lives in Jackson and builds trails, creates cool bike art, and serves as a sort-of informal mountain biking evangelist for the Jackson area. His pics and hype worked on me, anyway! Unfortunately the dude was too busy making art for people to ride with me during my visit--of course he may have just been embarrassed to be seen riding with some dork on a folding bike, but that's his loss. ;)
Anyway, the descent down West Game was pretty sweet and the climb up regular Game was better than the descent thereof had been (horse bumps are less frustrating at 4-6 mph than 15-20, it seems). I took Putt Putt the full length back down the canyon which was good, and then Hagen to Sink-or-Swim across the front of the ski mountain, which was actually great fun, with a bunch of flowy esses created by tightly following the contour line. Nice. Ride finished with a steep plunge down to the highway where I met Debbie at the grocery store, completing an oddly overshot loop.
Teton Pass Trails
While the Snow King trails are Jackson's historic classics, what's really putting Jackson on the MTB map are the new-ish trails on Teton Pass, a bit west of town. RideIt and his ilk somehow managed to convince the Forest Service to let them build some officially-sanctioned freeride trails, of the sort normally found only under the chairlifts of paid mountain-bike/ski resorts, complete with big drops, jumps, and other manmade features designed for gravity-riders on big bikes.
The freeride trails are designated for bikes only (no hikers or horses) and uphill traffic is also not allowed, so you can rip downhill with relative confidence you won't need to yield. Hikers have their own separate trails to help prevent user conflict.
There are also several fantastic cross-country mountain bike trails, meant to compete with nationally-famous XC trails like 401 in Crested Butte. I spent a couple of days riding the XC trails off Teton Pass.
First up was the Arrow trail to the Phillips Canyon trail, with a side order of Sno-Tel trail. Arrow is a nice swoopy traverse with some nice rolling climbs and descents, while Phillips Canyon is a marvelous, steepish, old-school technical singletrack descent with numerous water crossings and tons of rocks and roots to keep you challenged.
I hit the country road at the bottom and rode into Wilson, reuniting with my wonderful shuttle-driver/girlfriend Debbie for lunch. My shoes were soaked--not from creeks, but from dew transferred off the plants. Weird.
The descent was apparently bumpy enough to finally put the bike's hinge clamp over the edge (after 3 years of such abuse). So I hit the Ace Hardware in town and rigged up an ugly but very solid clamp scheme that would let me continue riding for at least a few more months until I figured out something better...
Next day, Debbie dropped me off at the top of the pass for what turned out to be one of my best rides of the year.
This "open jaw" itinerary started with a long, interesting descent of the Black Canyon trail. I was a couple of weeks late for peak wildflowers, but I reckon this thing could give 401 a run for its money as a supreme wildflower ride if timed right. The next leg was a nasty grinder climb up the paved, bike-only, Old Pass road and on up the Phillips Connector trail to the parking area a bit below the pass. From there, it was partway out the Arrow trail to the Phillips Ridge trail, which starts with a couple miles of engaging semi-technical climbing, but then turns down, down, down.
In contrast to old-school Phillips Canyon, Phillips Ridge is a definite new-school descent, with minimal technical challenge but incredible "flow". Much of it was recently designed and built specifically for mountain bikes and it really shows. There's nothing but grins and giggles on a perfect downhill grade that stretches for almost 10 miles. It's almost comical how long this descent goes on, and how it somehow just keeps getting better and better. Awesome trail building, and highly recommended!
All in all, the Teton Pass trail system is an amazing and rare thing to find on public land, and will hopefully serve as a model the rest of the country.
Shadow Mountain
Only had time for a short ride one day, so checked out the Shadow Mountain loop, which seems aptly-named for lying in the shadows of the Tetons and offers some nice views thereof. A few miles of steady climbing up a forest road led to a pretty raucous singletrack descent, much of it of the eroded, straight-down-the-fall-line style that's not found much anymore (for good reasons, really). Would probably be pretty entertaining to banzai on a big squishy downhill bike, but didn't compare to the other Jackson area trails for me. It did meet my expectations for the ride based internet commentary though, so that's all good.
Big Hole Trails in Driggs, ID
A few miles from Jackson on the "other side" of the Tetons lies a wide valley between the Tetons and the Big Hole mountains. Driggs is the gateway to Grand Targhee ski resort, which becomes a mecca for lift-assisted downhill mountain biking in the summer. The mountains west of Driggs' house the valley's most popular XC riding network, the relatively smooth and flowy Horseshoe trail system, along with miles and miles of rugged backcountry trails that venture into the Big Hole mountains proper, notorious for punishing steep climbs and general chunky terrain. I decided to put together a pretty big all-day ride that explored both areas.
Started off with a meandering route that covered most of the Horseshoe trails, and enjoyed the big views of the back of the Tetons and backsides of some Bovines. Name a trail after them, and they act like they own it. Sheesh.
After about 15 miles I made it back to the car for a lunch stop, then set off on a long, steepish climb up to Mahogany Creek trail, which began as the fantastic, challenging, technical, exposed singletrack descent it was reported to be, then gradually mellowed into a pleasant streamside cruise by the bottom. Had to close the loop back to the car with about 10 miles of pavement through the valley, including a long stretch into a nasty headwind, but it was worth it for a pretty solid intro ride of 35 miles in the infamous Big Holes.
Yellowstone National Park
After Jackson, we spent almost a week touring Yellowstone, doing mostly car touring to check out all the classic, bizarre, and beautiful sights. We saw huge geysers and boiling mud pots, mighty waterfalls in Grand Canyon of the Yellowstone, dazzling terraces and formations around Mammoth Hot Springs, and various wildlife (no bears though, surprisingly). You've got to drive a lot, but there's just so much cool stuff to see beyond Old Faithful it's quite amazing.
Lone Star Geyser
Being a National Park, the opportunities to mountain bike are very restricted (no bikes allowed on trails). However, there are a couple of rides on uncrowded dirt roads that are legal to ride, and those turned out to both be very cool--not for the riding as such, but the overall experience.
First up was Lone Star Geyser, which lies a few miles off the highway and can only be reached by foot or bike. We parked the RV in a roadside lot and rode up easy road a couple miles to check the scene. Upon arrival, we found a log book where people write down when the thing last went off and what it was like, and realized that it should go off again in another couple of hours. The comments made it sounds pretty impressive so we decided to ride back to the RV, pack a lunch, and ride back up and wait for the next show.
A wonderfully mellow vibe surrounded this remote and isolated geyser, with only a handful of hikers hanging around and no fencing or platforms around to distract from the natural setting. We finished our lunch, and things soon started to happen with the geyser, just as described. First some gurgling, then some steam, then a big explosion of water which sprayed 50+ feet high and kept on for 5-10 minutes, and finally a loud and boisterous "steam phase" where the thing transitioned from water to steam belching like an angry dragon or something before finally going quiet for another few hours.
Overall, a very, very cool experience and very much recommended!
Fountain Flat Drive to Grand Prismatic Spring overlook
Later that afternoon, we parked the RV roadside again and unfolded the bikes for another mellow but very interesting dirt road ride. This one started out with a traversal of a herd of wild bison. These beasts are not generally hostile, but they are notoriously unpredictable, so it was pretty sketchy riding through them and hoping they didn't freak out. Naturally, I did the chivalrous thing and let Debbie go first, because it's always the second person who gets chased, right?!?
We must not have appeared too threatening because the critters let us pass, and before long we reached our designation. We stashed the bikes in the trees beside the road and scrambled up a hill that we'd read provided a great, informal overlook of the Grand Prismatic spring. Sure enough, this was an outstanding spot to take in the spring and surroundings--proving a much, much better view than the park's normal pathways at "ground level" we'd taken a few days before. From up high, you can really see the incredible spectrum of colors that give the spring its name and reputation. Just spectacular and another wonderful almost unknown little side-trip that I just can't recommend highly enough if you're ever there.
West Yellowstone, MT
After leaving the park itself, we spent a couple more days hanging out at the Bakers Hole campground just outside the park near the small town of West Yellowstone. One day I went exploring from the campground, and found a somewhat navigable route right along the National Park boundary into town, then made my way to the Rendezvous Trails, a cross-country ski area that reportedly had some mountain biking trails in the summer. Not very interesting trails, frankly, but it was still an interesting exploratory type outing.
Our fall tour of the wild west had gotten off to a great start in Wyoming. Next up: the big skies of Montana!