---


HOME TRAVEL LOG MOUNTAIN BIKING WINDSURFING STORY ARCHIVES RV INFO PHOTOS CONTACT US
---
< previous story home next story >
Folding 20er Passion #3 - Wyoming - Curt Gowdy State Park (30 mile "full tour")
Saturday, October 18, 2008
So here's post #3 in what is becoming a series of interesting (hopefully?!?) ride reports about my offroad adventures on 20-inch wheeled folding bikes. Here's links to #1 and #2 in case you missed those. Hope you're enjoying the series. And now, on with today's report...

I had been intrigued by several posts on the Passion forum this summer (such as this one from Jaysun71 and this one from quasimotogold) about Curt Gowdy State Park in Wyoming. I really like to check out places that sound unique and/or have "epic potential" as we travel around in the RV. On either basis, Curt Gowdy sounded promising, with a planned 30+ mile trail network meandering up and down and around crazy rock formations, all recently built "by mountain bikers for mountain bikers".

Before we went, I was unsure how much of that trail had actually been built, and was wondering if there would be enough to merit the 130 mile drive from Denver. Well, after some waffling, I eventually figured the only way to find out was to just go see for myself, so Debbie and I shoehorned two bikes and two sets of gear into the hatchback and hit the road early Saturday morning. By 10 o'clock, all that junk was disgorged at the main Aspen Grove Trailhead, roughly in the middle of the park:




There were brochures at the trailhead featuring brand new trail maps. Of note, the trails now all have names, which replace the temporary A, B, C scheme that was in place for the first year or so. They came up with some pretty catchy, rock-pun-themed names, I must say. "Igneoramus", ha! For your reference, you can download a 3.4mb full-size scan by clicking here, or just look below: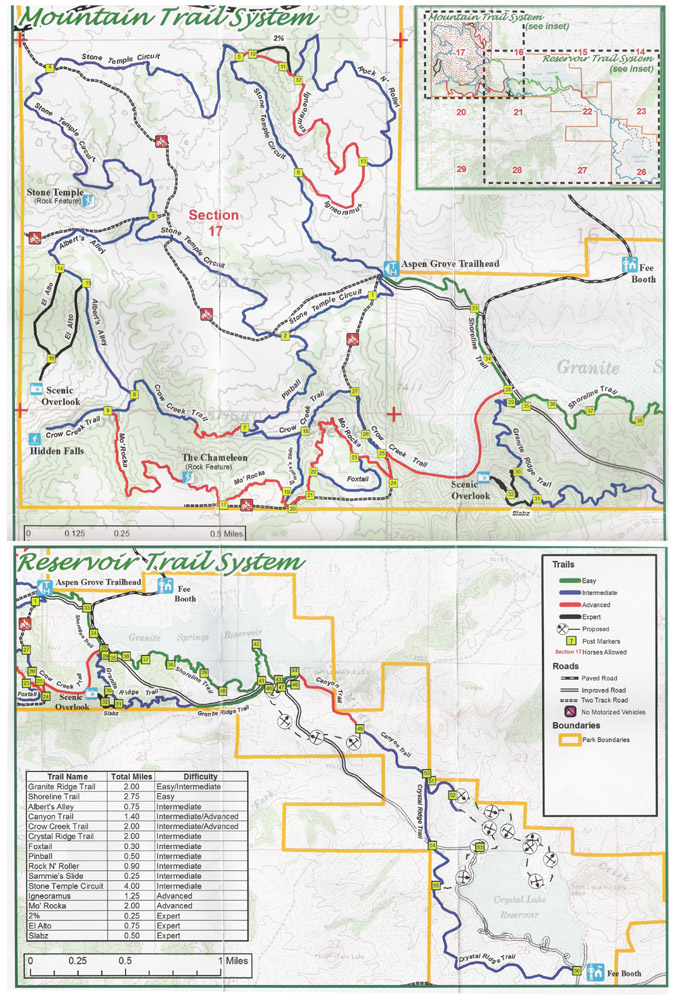 If you add up the numbers, there's now 21.6 miles of singletrack ready to ride. There is not an obvious way to do a "full tour" of this place without at least a little duplication, and I pretty soon realized there would be a good 30 miles of riding involved in seeing it all, which sounded perfect to me. Debbie wasn't looking for quite that much, but took on the Stone Temple Circuit 4 mile intermediate loop with me in the morning. Along the way, she chased our planned dinner entree, cruised amidst exotic rock outcroppings, pushed up occasional steep granite pitches, and generally enjoyed the ride: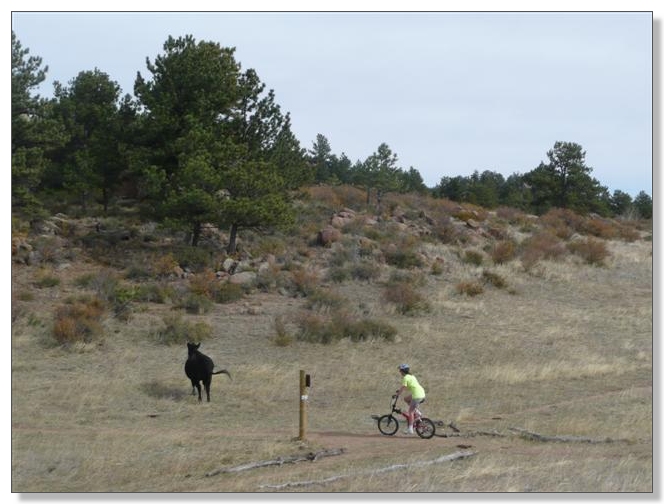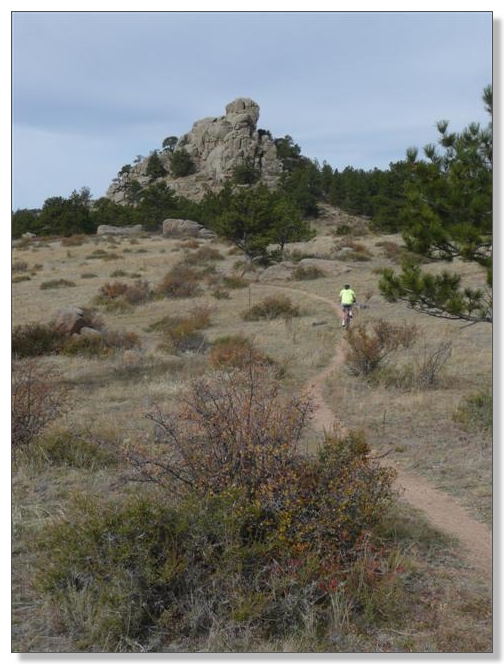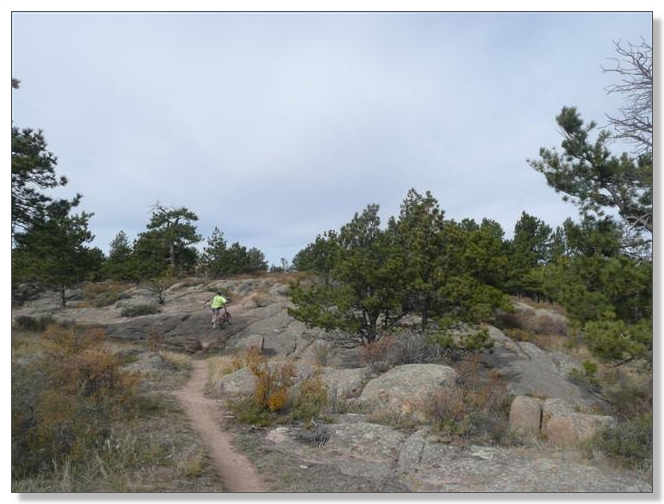 Where's Waldo?




Archenemies face off:




I really enjoyed crawling through all the rocky goodness on my new bike. Good suspension and increased ground clearance make this kind of stuff remarkably rideable and fun on 20s: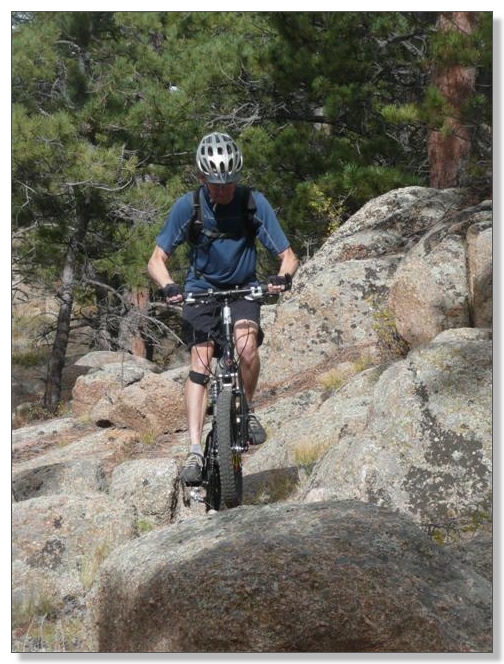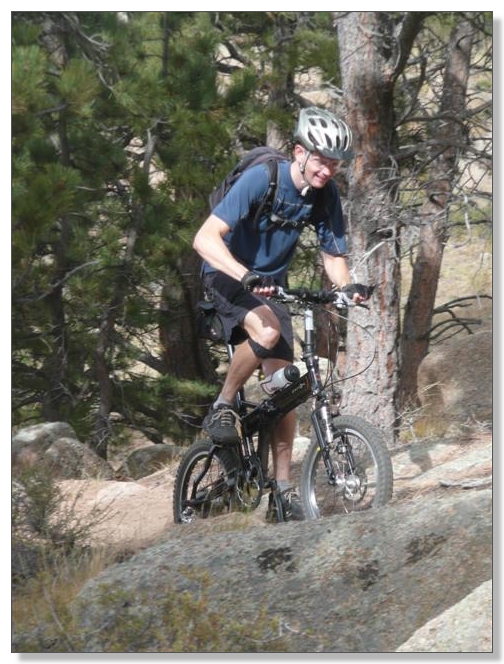 There's excellent signage and mappage throughout. It would seem to be impossible to get lost at this place, but as Debbie later found out in a conversation with some of the trail builders, apparently a hiker did manage to get lost for 5 hours and sued the state. Sheesh, come on!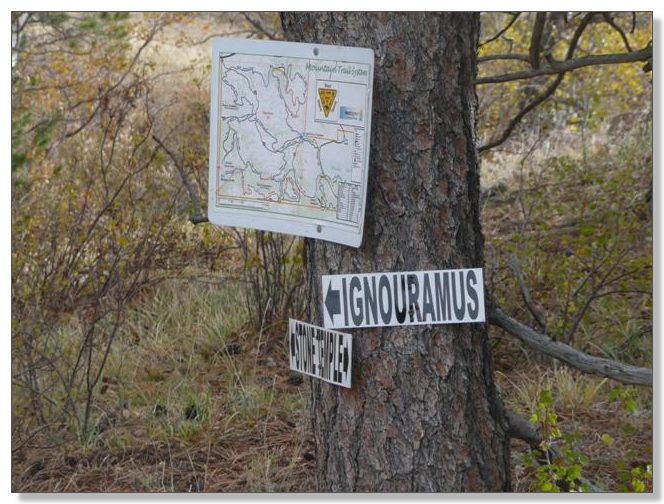 Debbie dives into the Aspens:




View of Granite Springs Reservoir:




The shortest of the three expert rated trails, "2%" proved to be more like 20% impossibly hard and 80% rideable, for me. A handful of seriously challenging short features is what earns this trail an expert rating, including really narrow rock slots linking together several short, but extra-steep pitches: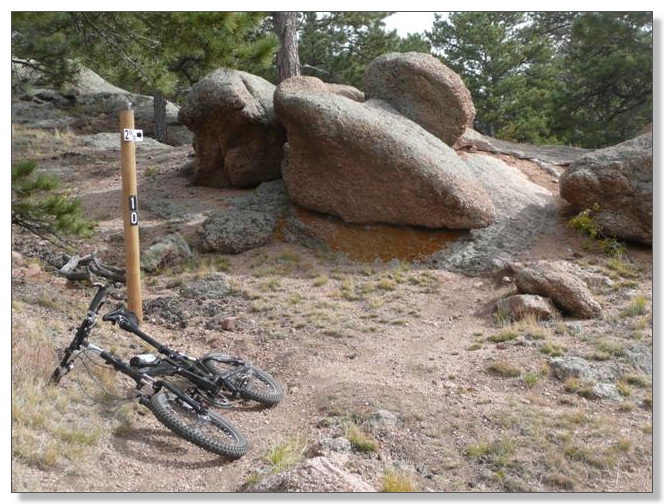 I finally "conquered" the big slab face climb on Igneoramus (below, line to the right) after 8 attempts, and "mastered" it after 9. Not too bad really, once I stopped running into the damn cairn halfway up

: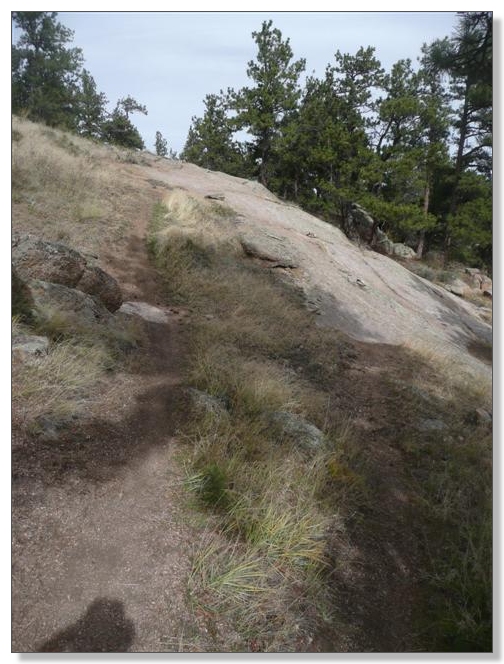 After completing a lollipop from the car covering Igneoramus, 2%, and Rock N' Roller, I returned for another snack and bathroom break before setting off on a longish tour of the lower part of the Mountain Trail System map. These trails featured some nice creekside rock riding such as this on the Crow Creek Trail: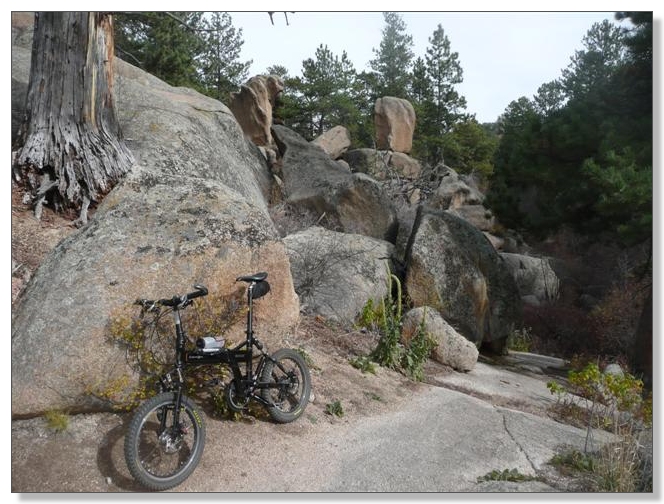 The signature trail at Curt Gowdy is El Alto, which earns its expert designation by being both super rocky and almost vertical, as it climbs to an overlook. I was pretty happy to ride as many segments of this climb as I did, but I did my fair share of pushing too. Upon reaching the top, I encountered a group of four riders who I'd seen a while back on Igneoramus. "Looks like we're still going opposite directions in life!" I commented as they headed down the way I had come. This trail is really something, and should definitely not be missed. Would be a great one to have local and try to master all the technical challenges over time: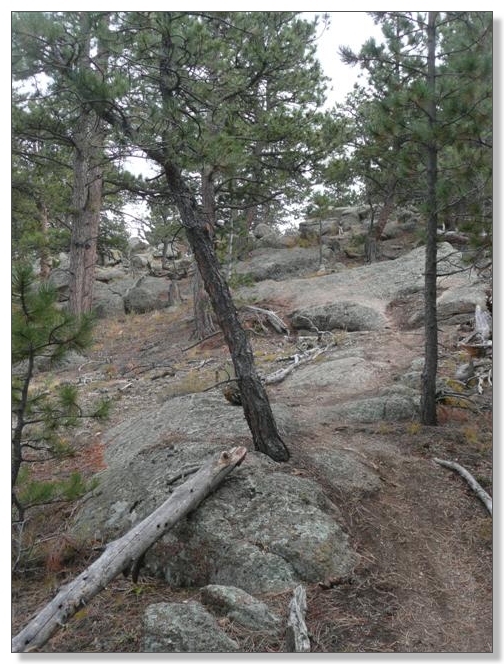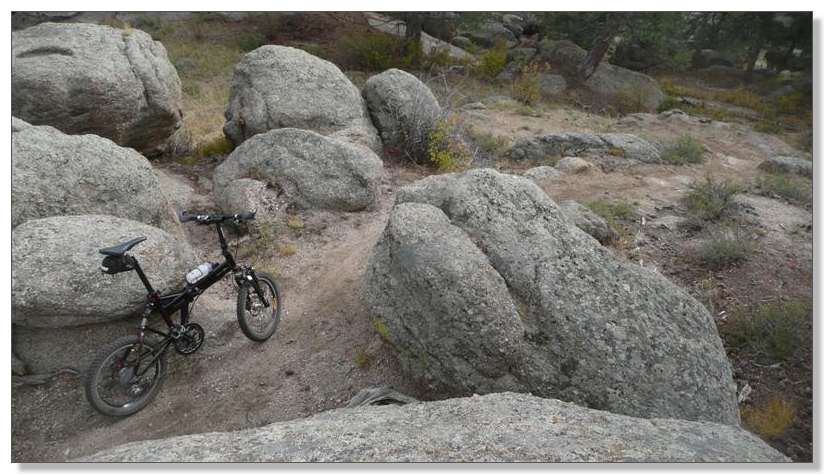 Ominous underpass: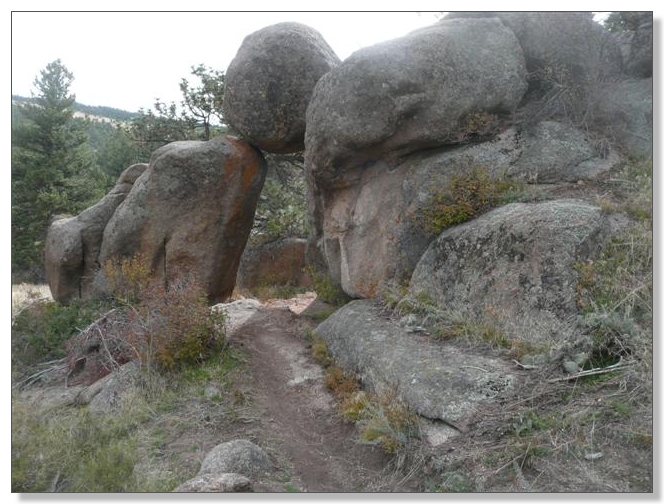 After surviving the descent from El Alto, a little riding led to a short (mandatory) hike to the Hidden Waterfall. Turn's out it's aptly-named. The photo below gives hints, but you'll have to go for yourself to unlock the mystery: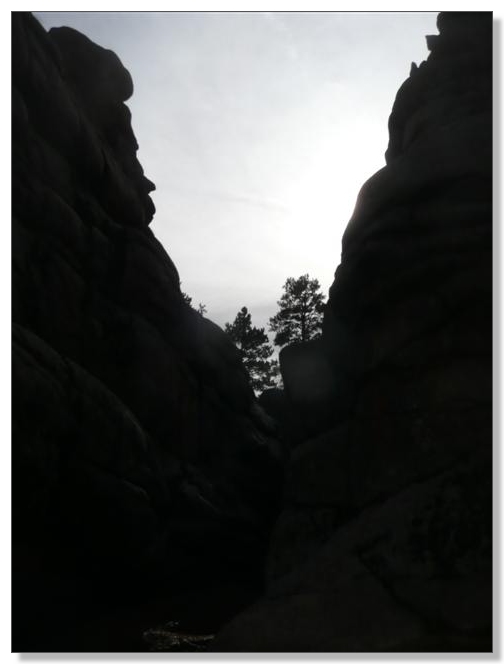 The Chameleon (Rock Feature):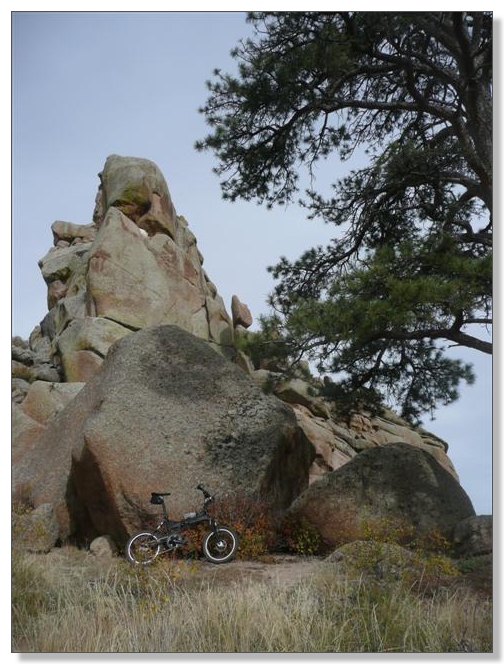 I found a big feather and stuck it in my steerer hinge for the rest of the ride, for no apparent reason: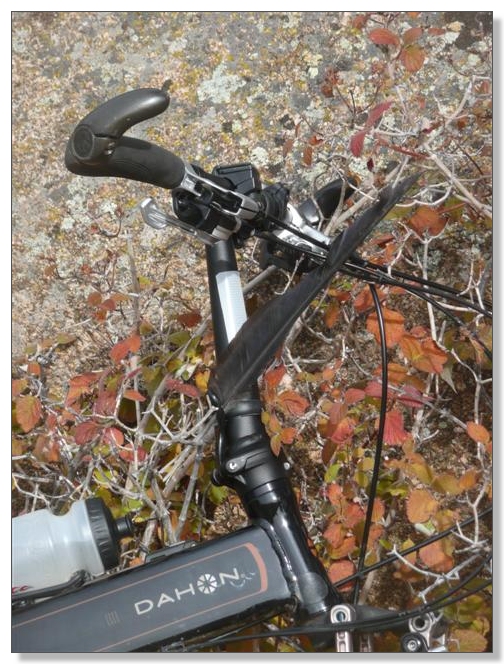 Stampede!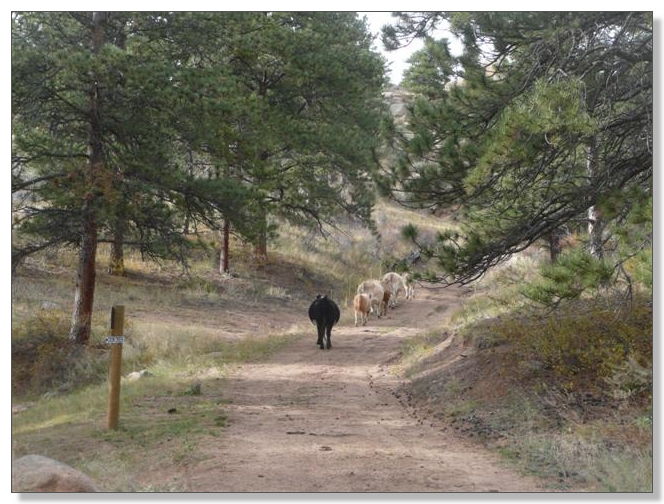 After riding Mo' Rocka from end to end, I'd have to circle back a bit if I wanted to pick up the Sammie's Slide and Foxtail trails. Thought about just blowing those short segments off, but figured I'd hate to miss anything, and made the loop back. Karma rewarded me with a "nature sighting" on the Foxtail trail. I initially thought I'd seen a fox (don't know where I got that idea) but upon closer inspection, 'twas a coyote. It's always cool to come across wild beasts in the wild:




I finished out the Crow Creek Trail and cruised back to the car for another convenient pit stop. Debbie got back on the bike and we rode the mellow Shoreline Trail together to the cool, stony-faced dam: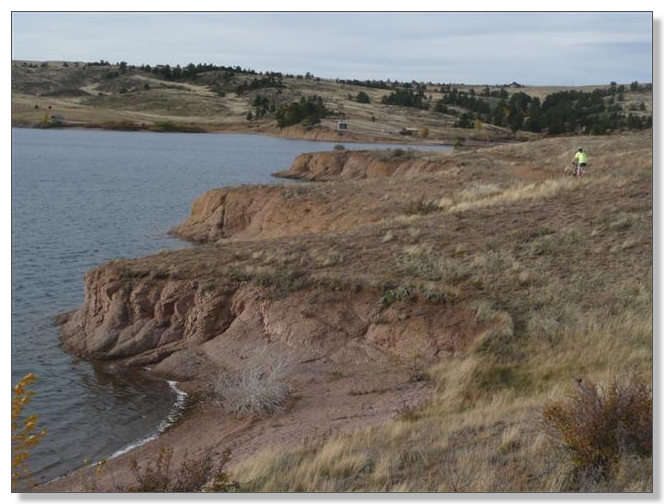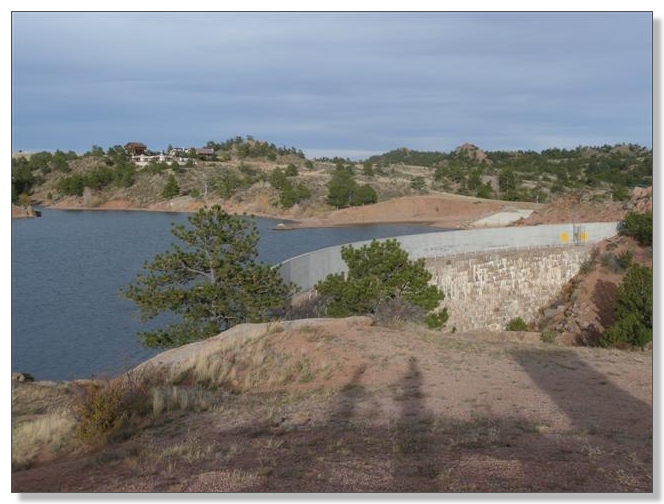 Debbie returned to the car, while I pressed on toward the other reservoir on the Canyon Trail, which just opened a few weeks ago. This is a dramatic trail, benchcut into the side of the canyon below the dam and lined with rocky switchbacks. Sweet stuff!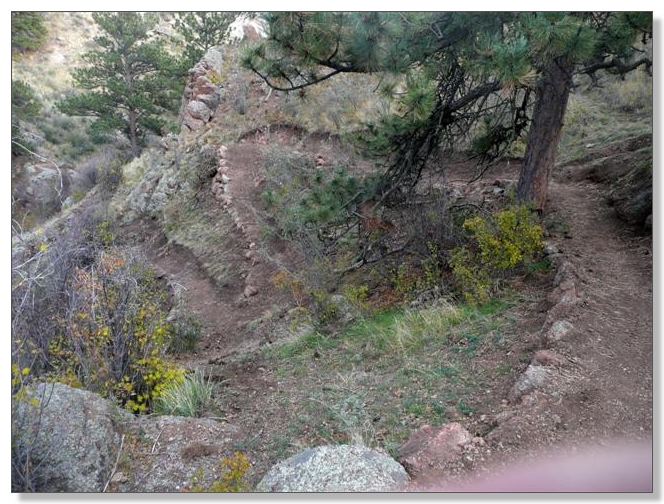 After crossing the bridge above, the trail mellows to intermediate level and links to the Crystal Ridge Trail, which climbs to a bluff overlooking the Crystal Lake Reservoir: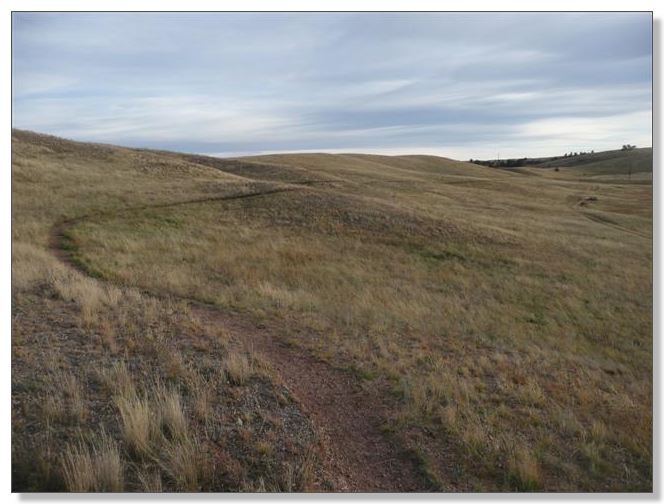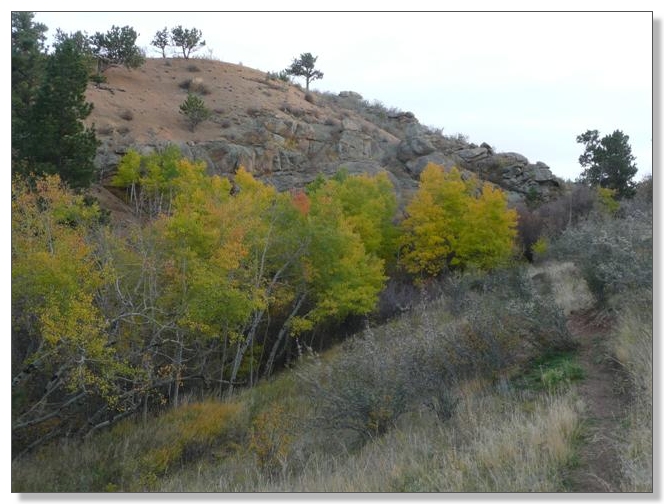 The terrain on the other side of this lower lake should host some pretty awesome trails in the next year or two: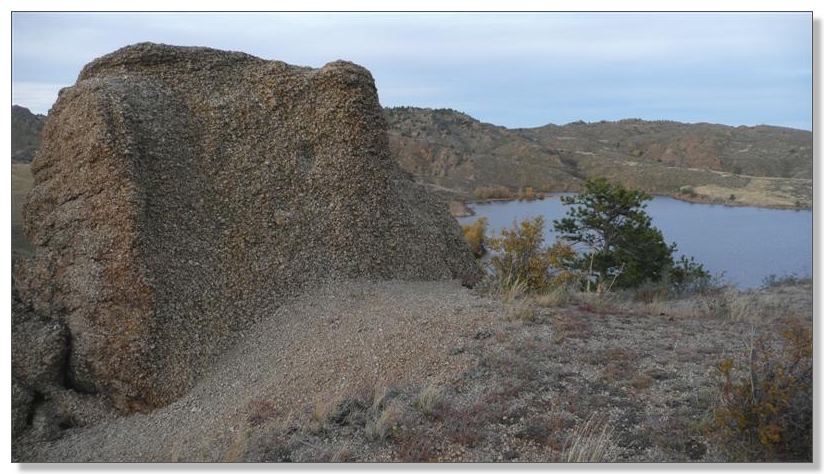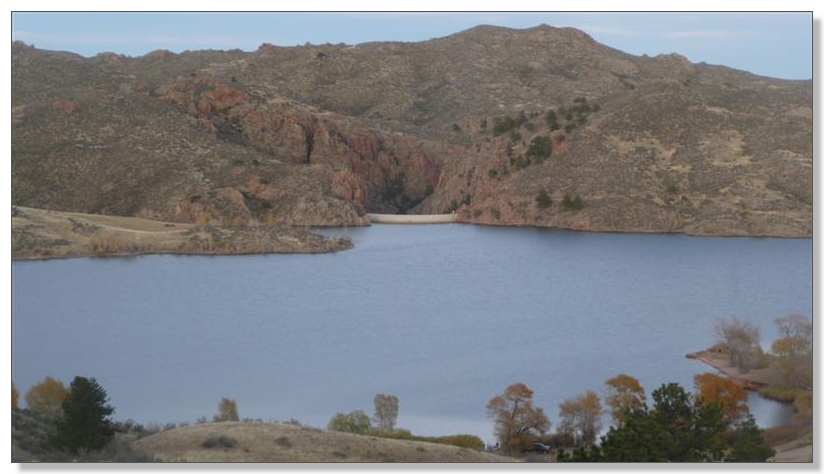 This place is notorious for being windy, as evidenced by the wind turbine farm visible in the distance from the ridgetop: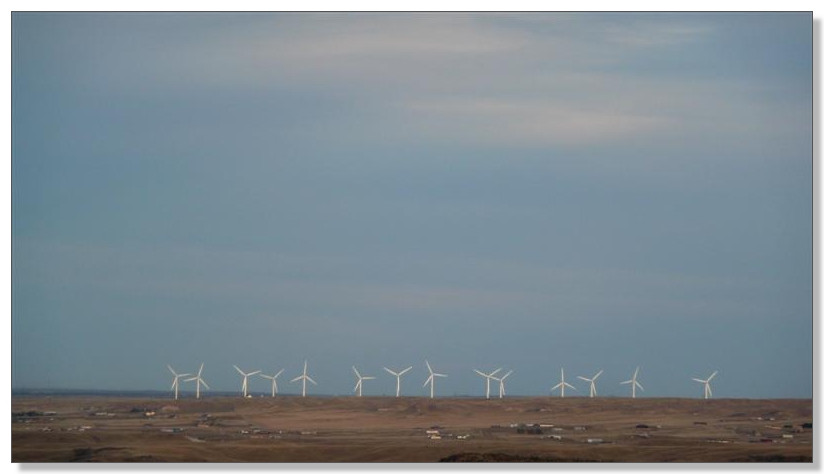 By the time I reached the end of the singletrack at the SE corner of the park, it was getting seriously late, so I decided to take the dirt road back to the Granite Springs dam. There are plans for another singletrack trail back from here, apparently, which will be a nice option: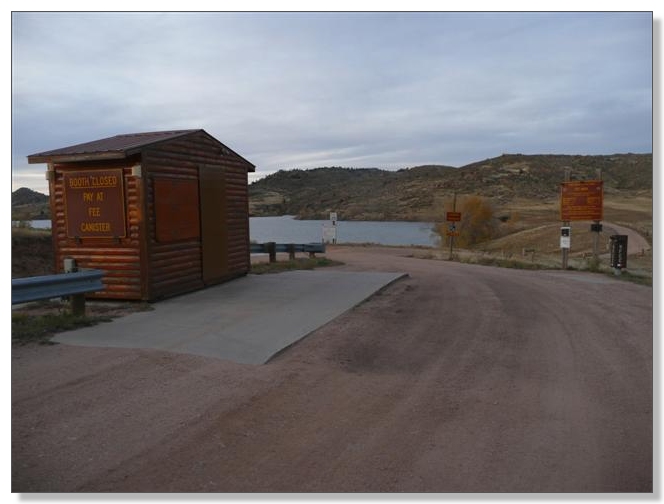 After a surprisingly painful slog up a not-really-very-steep 2 or 3 miles of road, I was treated to a spectacular sunset as I rode the Granite Ridge trail: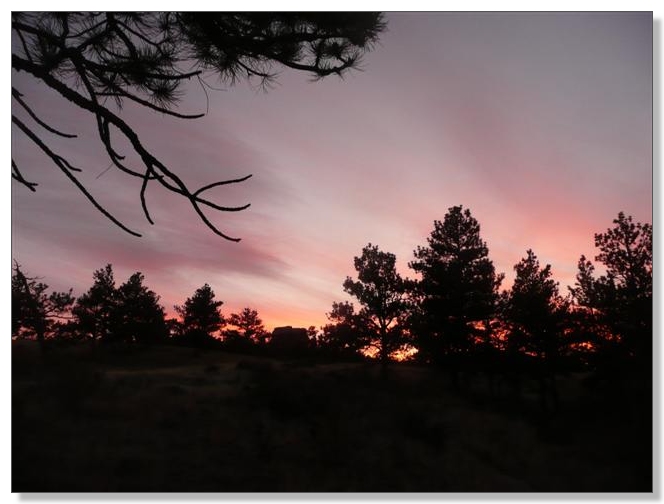 Around the peak of that ridge, I decided to deploy my little "emergency" light and carefully picked my way down through a remarkably fun, mildly-technical, winding descent back to the lake: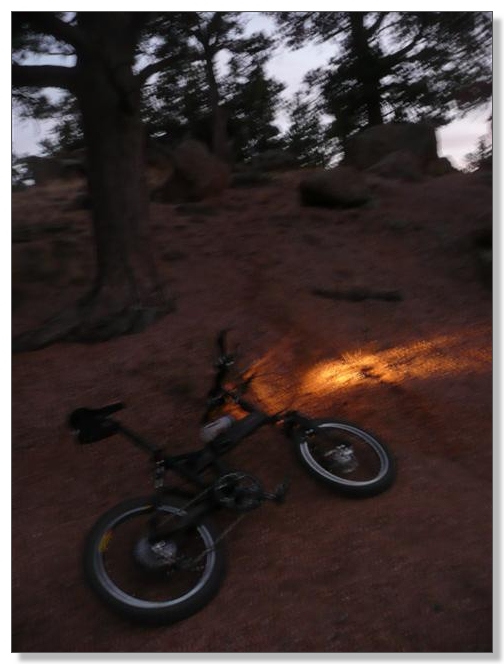 It was good and dark by the time I rolled back to the trailhead. I was somewhat surprised to find Debbie chatting with a group of guys sitting around next to our car enjoying postride beers. Turns out they were part of the group who had spearheaded this trail system. They wondered which trails I'd ridden, and my answer of "everything, except Slabz" was good enough to earn me a beer: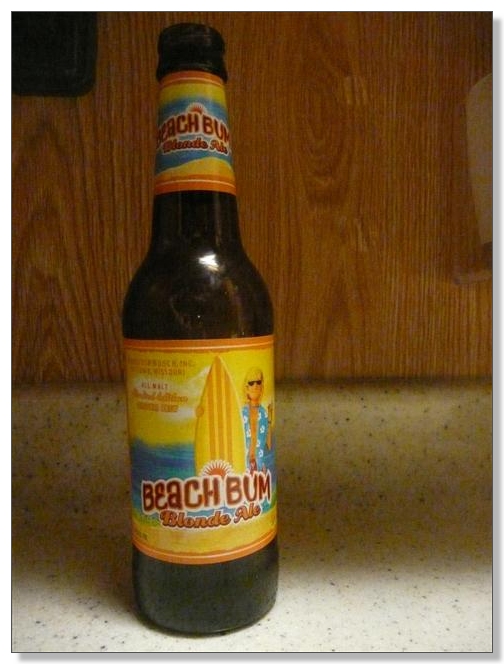 I'd had to skip that final 0.5 mile "expert" looplet because it was dark, but I had covered virtually every other inch, for a total of 30.96 miles in 4:56 of moving time. From what I could see, Slabz was even steeper than El Alto, but it would have been nice to reach that overlook by sunset. Oh well, just have to come back, I guess!

We chatted for quite a while into the night, until we all realized it had gotten damn cold all of the sudden and everybody packed up and split. Debbie and I stopped off at Five Guys in Fort Collins for some well-earned, super-delicious burgers on the way home, a perfect finish to another pretty sweet day on the trails.
< previous story home next story >
---
HOME TRAVEL LOG MOUNTAIN BIKING WINDSURFING STORY ARCHIVES RV INFO PHOTOS CONTACT US
---