---


HOME TRAVEL LOG MOUNTAIN BIKING WINDSURFING STORY ARCHIVES RV INFO PHOTOS CONTACT US
---
< previous story home next story >
Folding 20er Passion #2 - Colorado - Bowman's Shortcut, Two Elk, and some CO Trail too!
Thursday, October 9, 2008
As promised in my previous thread, here's a writeup about the riding I did last Thursday on my new little bike. Inspired by several great mtbr ride reports from this summer (in particular these from anthonys and schnauzers), I had been really hoping my new bike would arrive in time to check out the Two Elk trail in Vail before ski season arrived. Well, I got my wish as Thursday turned out to be a spectacularly sunny and warm October day.

So we hopped in the car and headed out I-70 toward Vail. Entering the Eisenhower Tunnel, a little snow was visible on the upper slopes of the Loveland Ski Area above the tunnel: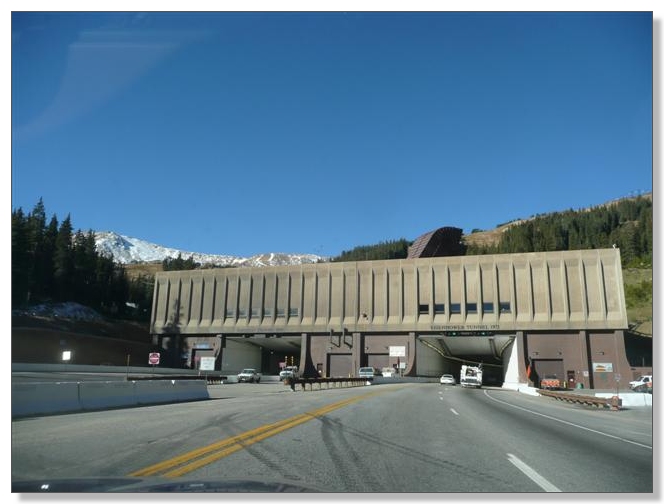 I had intended for Debbie to drop me off at the Rest Area at Vail Pass and I'd ride up the dirt road over Shrine Pass to the start of the Bowman's Shortcut singletrack. But that road turned out to be easily navigable even in my low-riding sports car, so I just rode in the car all the way to the junction with Lime Creek Road. I almost always do these things solo, so having a shuttle was quite a luxury, which worked out particularly well today as you'll see later. So here I am at the start, comfortable in shorts and t-shirt at 10,000+ feet in October. Told you it was a nice day!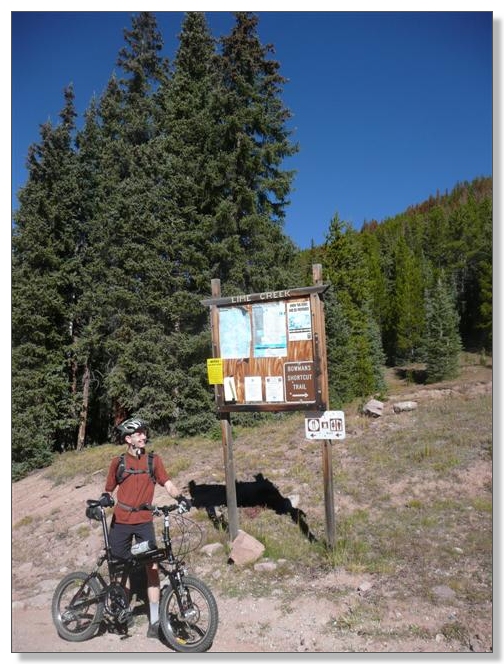 Debbie drove on down the dirt road to Red Cliff and on to Minturn and did some sightseeing, while I started with a gentle spin up Lime Creek Road for about half a mile to the trailhead for the Bowman's Shortcut singletrack climb: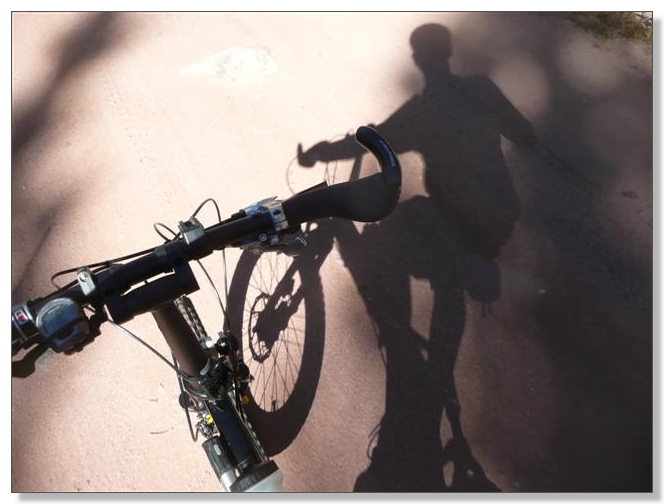 This so-called shortcut has a reputation for being steep, which I can now confirm. A couple of the switchbacks were particularly tough and I pushed up a couple of short stretches, but the climb wasn't really all that bad and I was able to churn my way up most of it. There were quite a few stretches I would surely have walked on my old bike, so it was fun and satisfying to be able to pedal the new one (even if only at 3 mph!):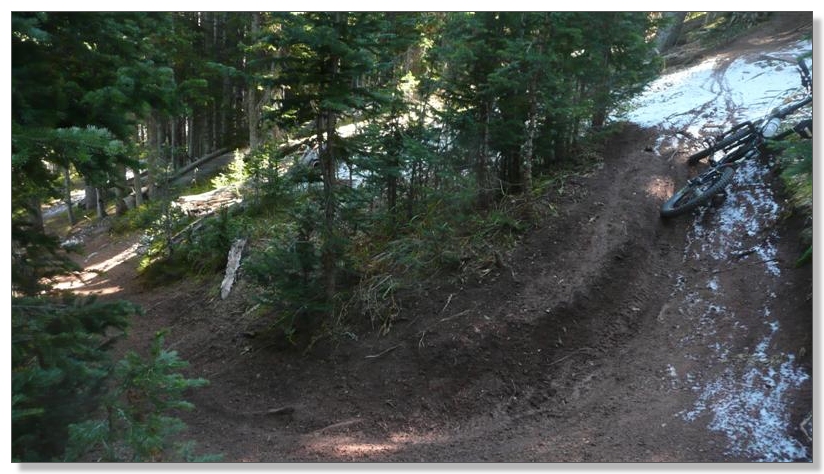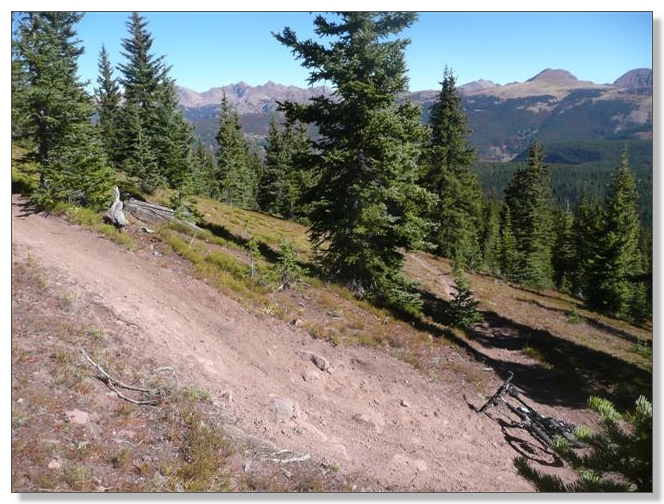 Of course, there were plenty of excuses to stop and take in the views (and catch some breath!) along the way. Off to the east, a lone snow-covered ski run glistened brightly in the morning sun, I think, at Copper Mountain. I don't know if they've joined the snowmaking battle with A Basin and Loveland to be the first to open or what, but that one run looked skiiable now, despite the total lack of snow on the others around it. Really odd thing to see: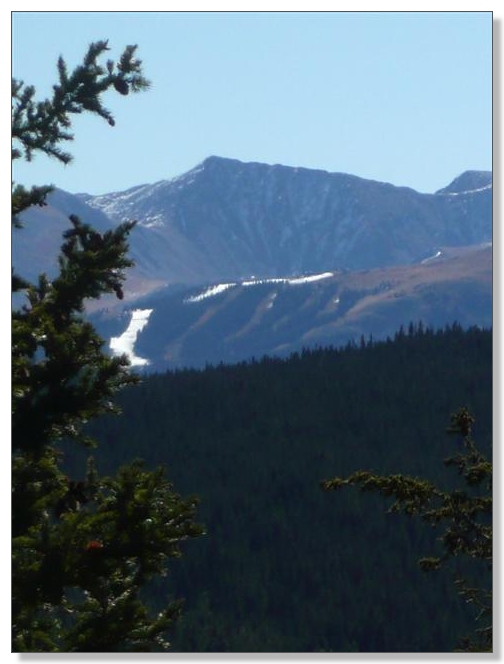 Finally a little downhill, with a looming mountain range beyond: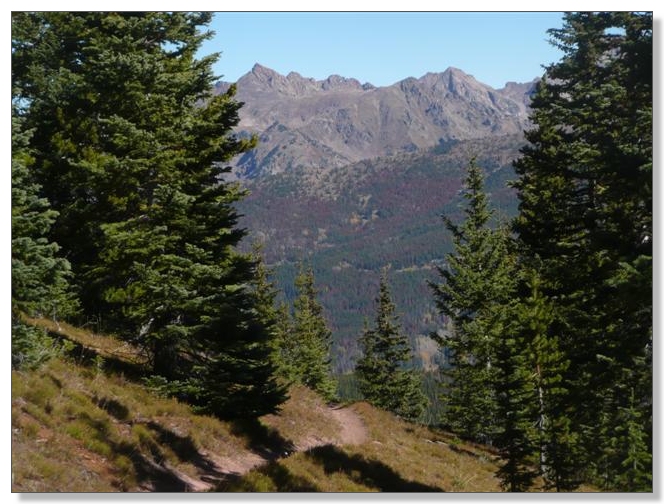 A gorgeous high meadow with dazzling scenery to the south: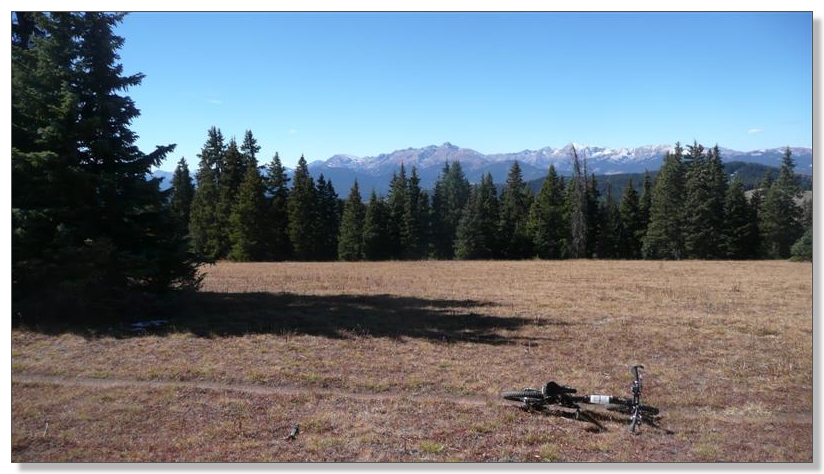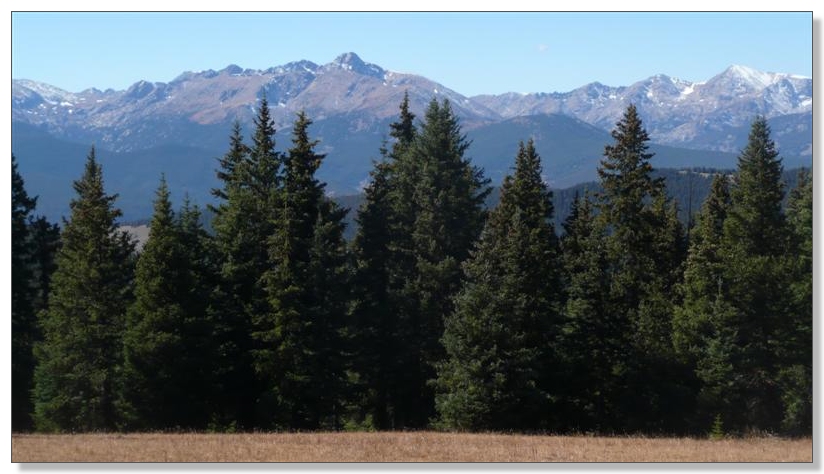 A bit more climbing on tight alpine singletrack eventually led the high point on Bowman's at around 11,700: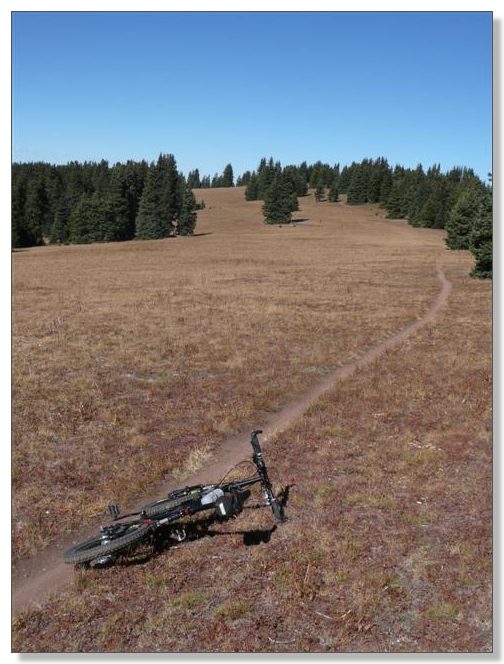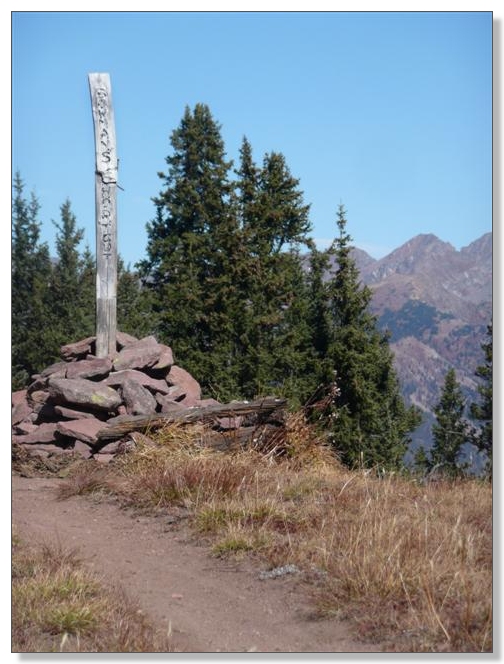 It's all downhill from here!!! Well, maybe not quite literally true, but close enough. The NFS pages for these trails show Bowman's as having 1,230 feet of net climbing, and 1,097 feet of net descending. From there, Two Elk trail drops 3,066 more feet over its 9 mile course to Minturn. That adds up to exactly 4,163 feet of downhill delight: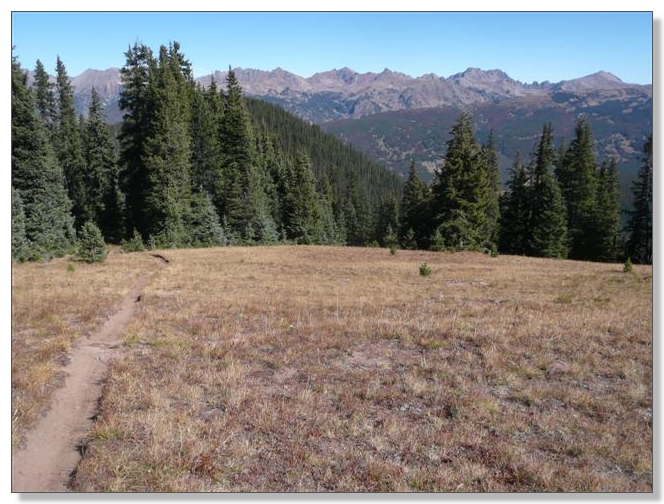 The delight takes many forms too: from gentle 6-inch wide buff, to rooty bits like below, to get-yer-butt-behind-the-seat steeps (not shown):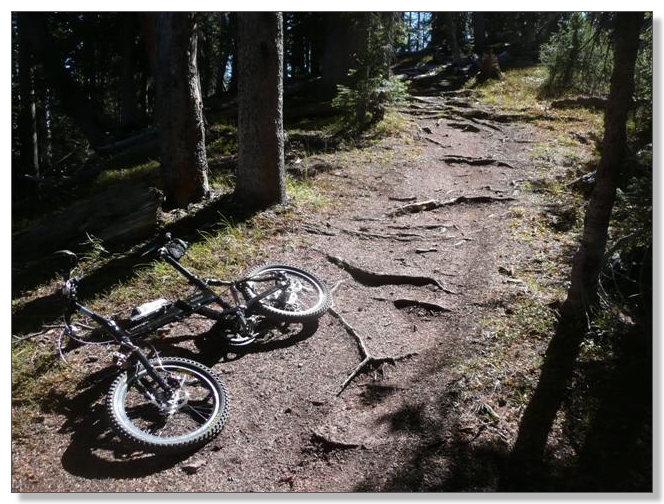 I stopped several times to "play" with my suspension settings, wanting to get a feel for how different pressures and damping settings felt. I eventually settled at the low end of the PSI range on both ends, with rebound damping at about half on both, but this will be an ongoing experiment for a while to get things optimized. I will say that it is fascinating to watch that German A trapezoid work its magic over bumps in the front: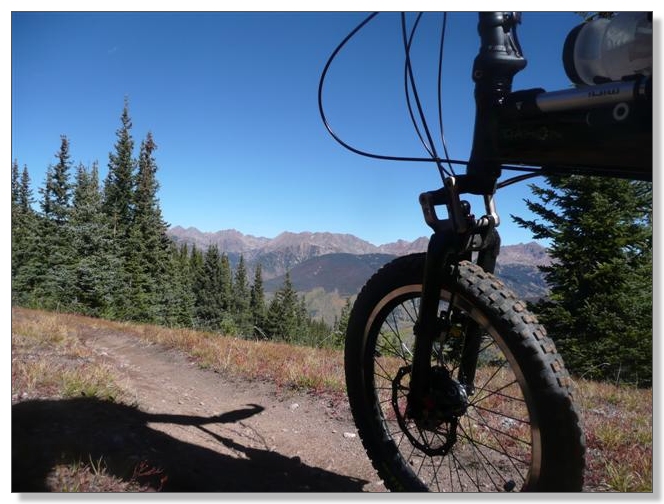 I had an unexpected bit of confusion leaving the Two Elk Pass intersection. The trail to the left petered out into nothingness after a few hundred yards, so I turned around and tried the "straight" option instead. That was supposed to go up to Vail Mountain, but instead it swooped down through the Back Bowls just as described, so I just stayed with it. There was another intersection a little ways down from the pass that headed up and to the right, so I'm guessing there's just been a little re-routing of this area snice the maps were drawn. In any case, the views in the bowls were amazing, and the skinny luge track of a trail was a total hoot to zip down: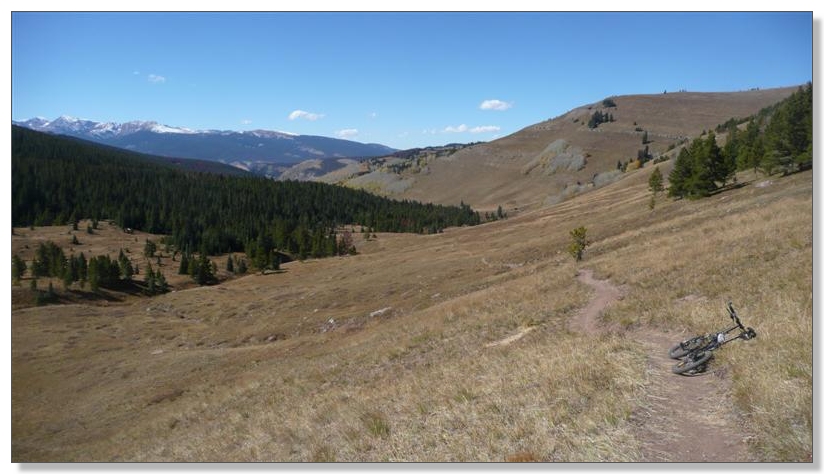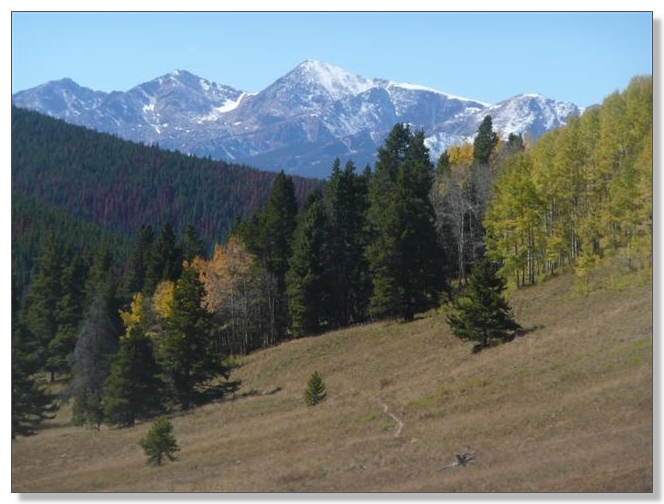 Some color left in the trees here, though not quite like Kenosha last weekend: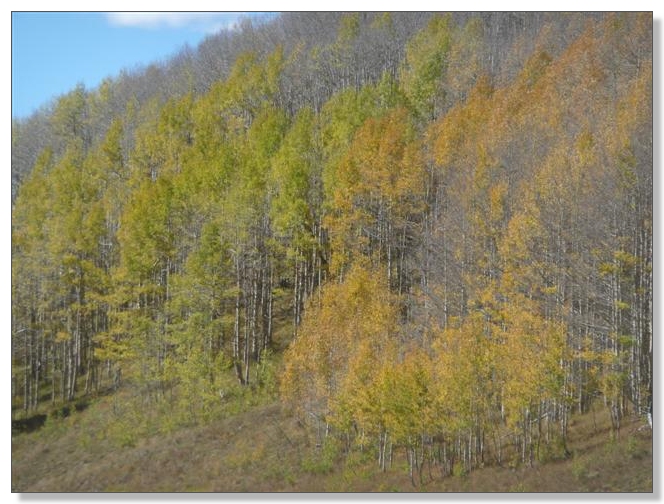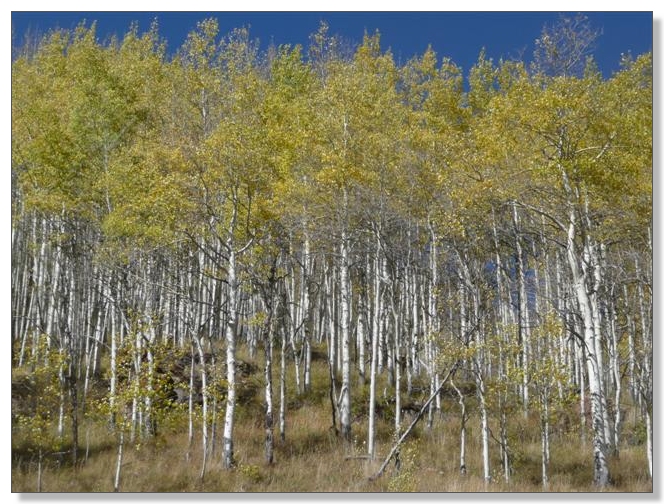 Eventually the trail crossed under some ski lifts and I had a snack while checking out the maps of the Back Bowls and the Even Further Back Bowls. Conclusion: Vail is ridiculously huge: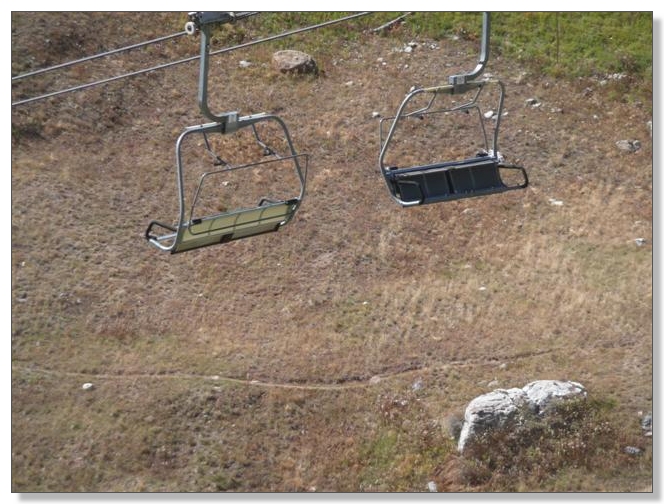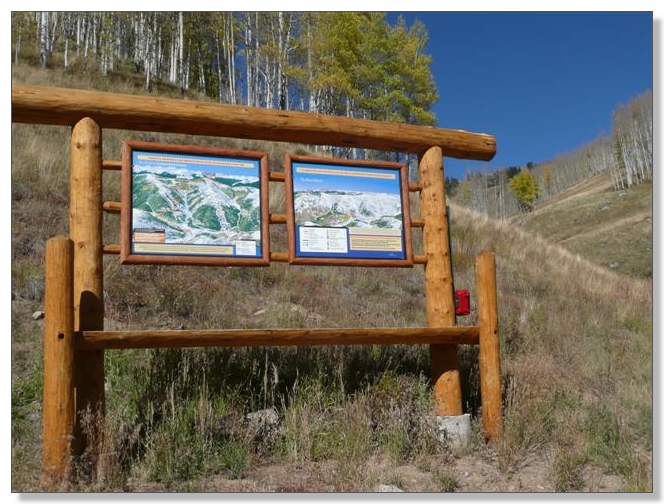 At this point, about halfway down, the character of Two Elk changes dramatically, as the trail gets even narrower and follows a creek the rest of the way down, cut into the slope 20 or 30 feet above the water. Between the exposure and the rocky surface, this section really keeps your full attention: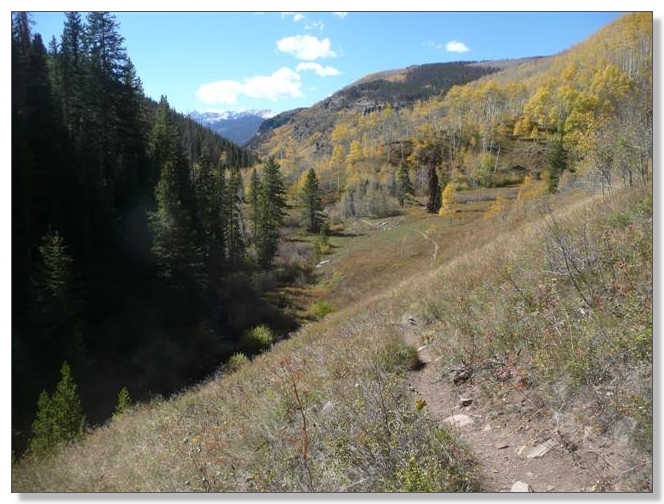 I picked my way through many of the rocky V-cuts, christened my bashring nicely against a few boulders, and walked a few spots too, like this one which looked destined to send me headlong into the creek if/when I screwed up. Gotta know when to hold 'em, and know when to fold 'em (so to speak):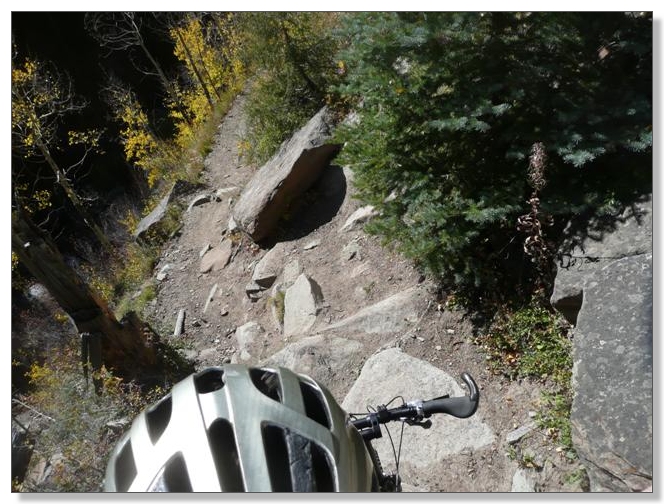 I don't know if this was a beaver dam, or just a regular dam, but it certainly made for an interesting crossing. My bike has what turns out to be a really convenient carrying handle as part of the frame, so I held it in my right hand and sort-of counterbalanced myself on the branches to the left as I gingerly stepped on the tangle of sticks and made it across without tipping over or falling though. Hooray for dry shoes!




Nice view of a row of Aspens atop the canyon wall high above: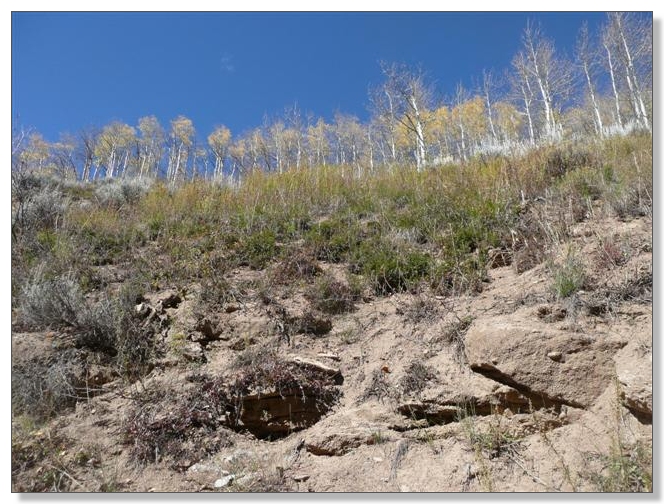 After about 4 miles of rocky challenges beside the creek, this bridge signalled we're almost at the end of the line: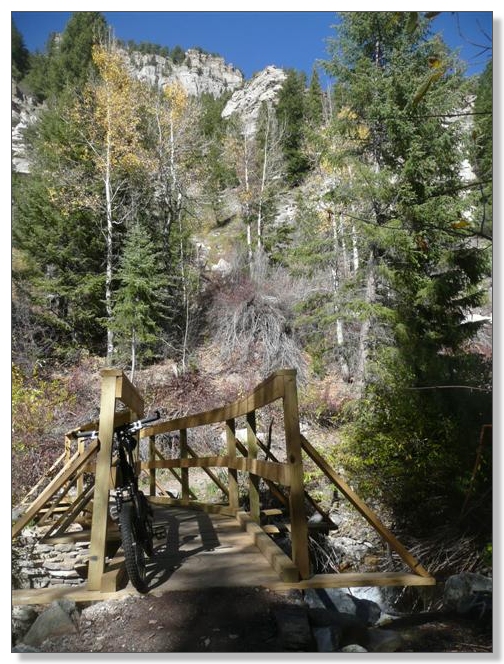 And sure enough, after a fast smooth section, the official trailhead appeared:




Debbie was waiting for me down the road a bit, past the open-air rifle range area, next to the cemetery, happily reading a magazine. It was 2:00 and I had (somewhat uncharacteristically) arrived right on time. Bowman's to Two Elk had been a fantastic, beautiful, and highly varied ride. It had most of the elements of an epic ride, but was a bit short. Which got me to thinking... might there be time to pick up that section of Colorado Trail I had skipped last year coming down from Georgia Pass to Breckenridge when I got caught in that afternoon storm? Oh yeah, I'll eat in the car, let's drive!

(continues below...)
So a little over an hour later, we had arrived by car on a dirt road up from Breckenridge, near where the Colorado Trail crosses after the long descent from Georgia Pass. The 10 mile chunk of Colorado Trail from here down to Breck is by many accounts one of the sweetest descents of the entire 480 mile length, but it does require another 1600 feet or so of net climbing.

I was late and cold and wet and tired when I reached this spot last year coming over from Kenosha, and I had decided to punt, a decision I've rued ever since. But here was another chance! Perfect weather, just enough daylight left, reasonably fresh legs after the "mostly downhill" Bowman's and Two Elk combo in the morning, a loving and patient shuttle driver/girlfriend, and a sweet new bike. What could go wrong? Let's get 'er unfolded and rolling:




This ride started with an absolutely classic Colorado Trail climb, about 1000 feet in 2 miles, on buff brown dirt through dark pine forest: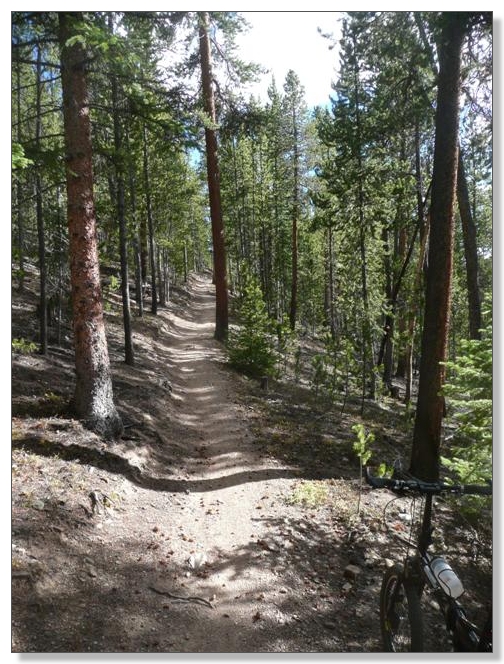 Which gave way for a while to new growth and nice views: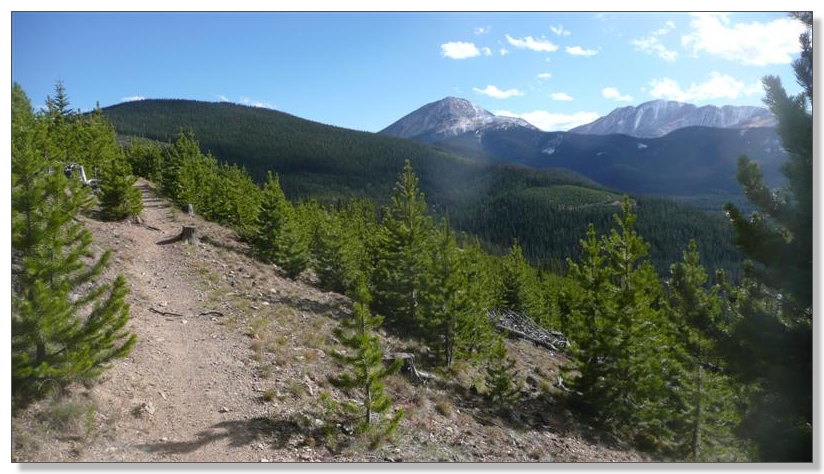 I stopped to pose next to this grotesquely blobbed tree, and got passed by a couple of riders: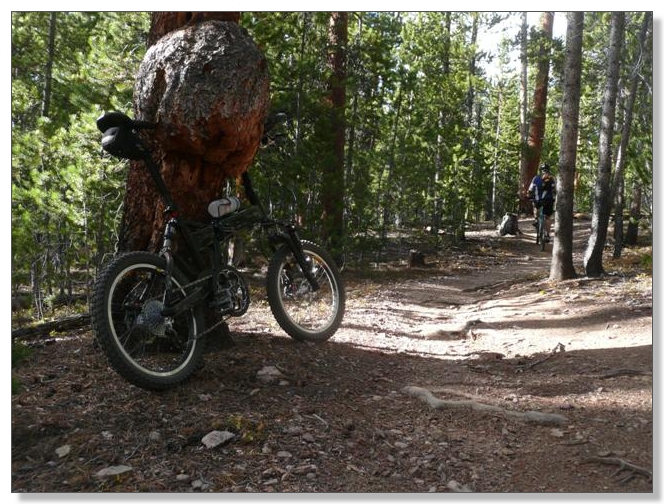 Caught up to those guys a few minutes later when they stopped for a break and we chatted a bit while overlooking Keystone (somehow, not pictured). I then took off along the north side of West Ridge, which rolled up peasantly and down and had a few snowy stretches in the shade: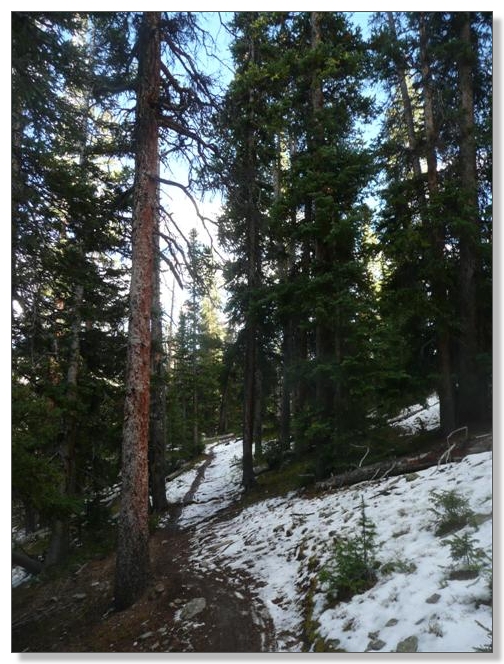 I had figured those guys would catch me on the downhill somewhere, but by the time I had reached the intersection below after a fantastically fast, switchbacking downhill, there was noone around and I made a fateful navigational error. TIP: even though it looks like the trail goes straight here, you want to make the sharp left unless you want to end up in Keystone: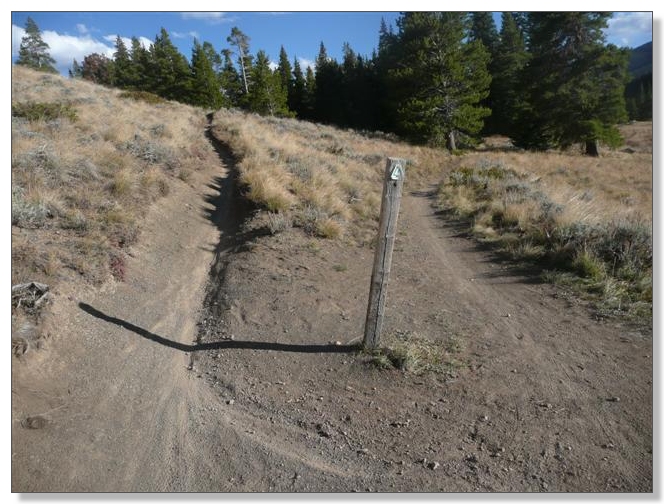 Of course I hadn't planned on doing this ride today and didn't review any directions or anything on the internet beforehand (for a change). So I didn't remember that tip, and before long found myself arriving at what is apparently known as Keystone Ranch. Nice place in the middle of nowhere, with absolutely nobody around. The bathrooms were open though which was a welcome surprise!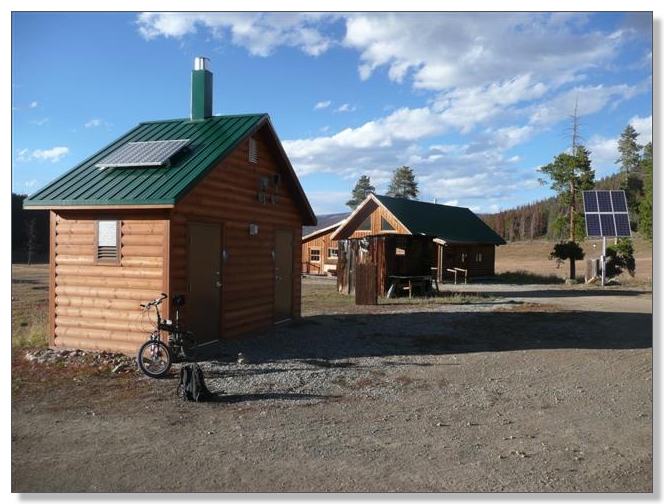 At this point I knew I was off course but rather than turn around and climb back up, I decided to just continue downwards, figuring the trail had to emerge in civilization somewhere and I'd call and arrange to be picked up. After a few more miles of good singletack, I ran into a couple of locals who gave me the scoop, and I sure enough ended up in a neighborhood outside Keystone, complete with golf courses and everything: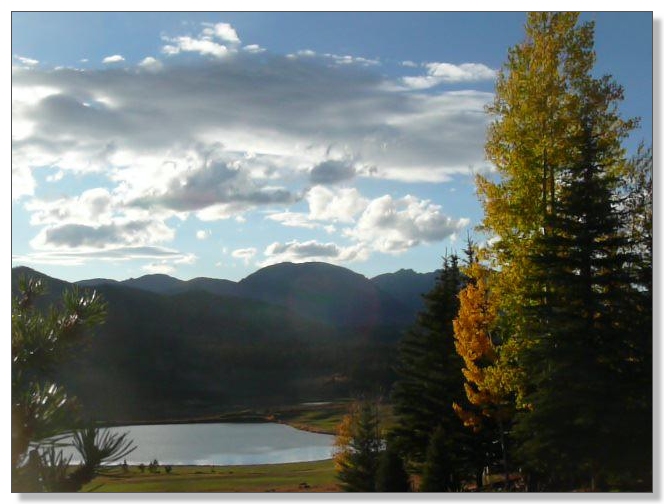 Eventually I made it to the bikepath next to Hwy 6 and rode (directly) into the sunset alongside Lake Dillon: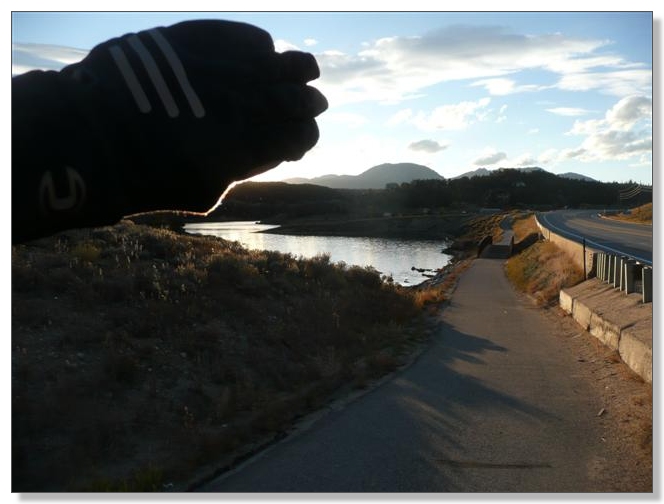 I had called Debbie and arranged a pickup from the bikepath, and she arrived next to the giant eagle a few minutes before me: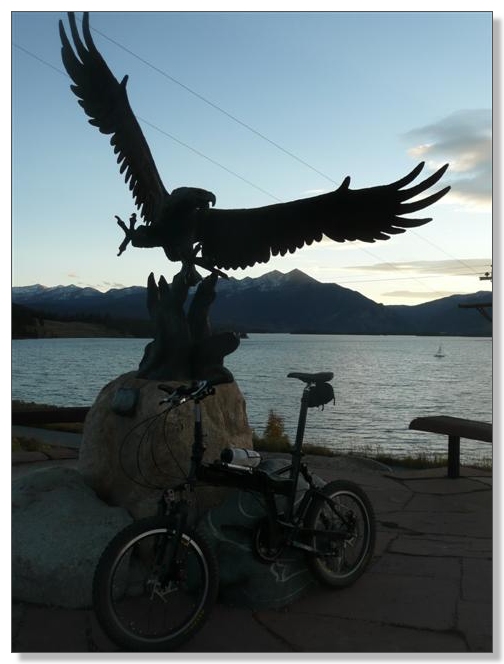 We loaded up the car and enjoyed the moonrise while approaching Loveland, which I thought was a perfect bookend to this epic day. Final numbers were 30.92 miles in 4:23 for a moving average of 7.0 mph. (Zoom!)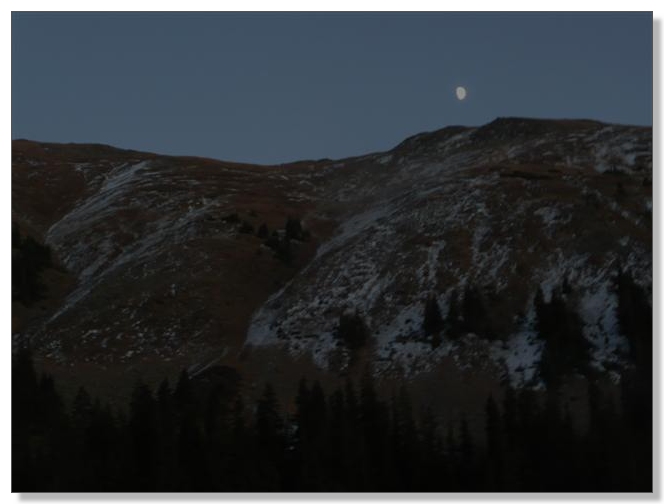 Due to my wrong turn (or lack thereof), the full N. Swan River section of the Colorado Trail remains on my list of things to ride. Maybe I'll catch it when I do the whole Denver to Durango enchilada. Hmmmm. One day. Just gotta figure out where to carry a hammock on this silly bike...
< previous story home next story >
---
HOME TRAVEL LOG MOUNTAIN BIKING WINDSURFING STORY ARCHIVES RV INFO PHOTOS CONTACT US
---