---


HOME TRAVEL LOG MOUNTAIN BIKING WINDSURFING STORY ARCHIVES RV INFO PHOTOS CONTACT US
---
< previous story home next story >
Folding 20er Passion #1 - Colorado - Kenosha to Georgia
Saturday, October 4, 2008
Well, it's cold and gloomy here in Denver this afternoon, which gives me an excuse to sit in front of the computer for a while and write up my recent adventures on my new folding bike. Be warned that this is likely to turn into an epic brain dump of a post, but I hope y'all find the information and pics interesting.



First, a little background. For the last five years I've been traveling around the country, living fulltime in an RV and working on the road. "Computer work" is the short answer. For the full story you can visit our RV travel website debcar.com and learn more than you ever wanted to about the lifestyle. The relevant part for today though is that I've been able to squeeze in a fantastic variety of mountain biking along the way, and have done almost all of it on a 2003 KHS F20 Westwood folding bike. For scale, here's a pic of it trying to hide under some "20-inch" leaves last fall at Chilhowee, TN: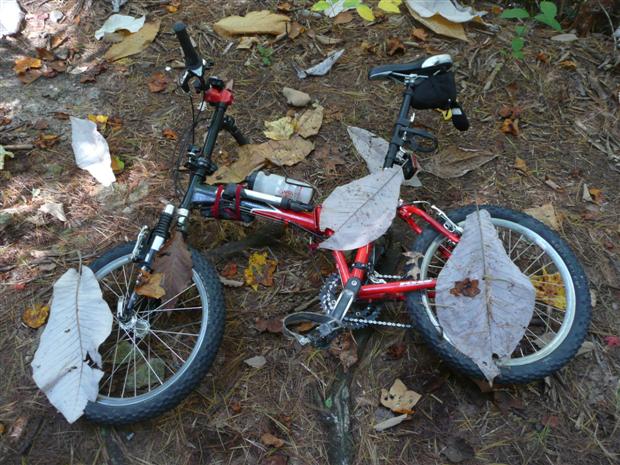 Before I switched to my new bike a couple weeks ago, that little red KHS had accumulated over 3000 miles offroad, including 17 of the IMBA Epic Rides and tons of other great stuff. It was never the fastest or most comfortable way up, down, or across any given trail, but it did prove to be surprisingly capable of traversing some pretty tough terrain. We originally got these folding bikes because they were compact and well suited for the RV lifestyle, but over time I became utterly addicted to the challenge and sheer joy of riding on little wheels offroad.

I have posted a few random ride reports on several mtbr regional forums this year, which I'll link below if you'd like to get a taste of that bike in action:

Alafia/Boyette Epic in Florida
Conyers Olympic MTB Course in Atlanta
Teocalli Ridge in Crested Butte


But enough about the old bike--let's talk about the new one! I first laid eyes on it online almost a year ago when I was staying in Asheville and riding around Pisgah. Now as anybody who knows that area will surely agree, Pisgah is hard on "real" bikes, so you can imagine what it was on my little folder. Although I was having a ball trying to navigate all the deliciously chunky terrain out there, the KHS was clearly not meant for that sort of abuse so I started looking around for an upgrade.

Unsurprisingly, there are precious few folding small-wheeled bikes meant for even moderate offroad use. Most are used as commuter bikes, with the best-known marques probably being Dahon and Brompton. A few companies do make very high quality folders for road touring, with Bike Friday being probably the best known of those. There is really only one 20-inch folder designed for serious offroading, the Airnimal Rhino ,which is made in England. That bike was/is downright cool and tempted me for years, but unfortunately it is more of a "take apart" travel bike than a true folding bike and was just not what I really wanted.

But last November, Dahon announced their 2008 lineup and I spotted a little monster called the Jetstream XP (now Jetstream EX). This double-butted aluminum-framed beauty featured a trick German A Force Kilo trapezoidal-linkage fork giving 70mm travel up front, and a German A Air Force SLR double-adjustable shock giving 50mm travel in the rear. Now, that may not sound like much these days, but when compared to the 20mm of elastomers I've been bouncing around on for the last three years, it sounded pretty sweet. The other key feature I immediately noticed on the new Jetstream were disc brake mounting tabs. "Yes, please!"

I had been down so many sketchy (occasionally downright terrifying) descents in the rain with minimal help from my V-brakes that discs were at the top of my wish list. The Jetstream also came with a pretty solid set of components, including a SRAM DualDrive 3-speed rear hub which combined with a conventional 8-speed cassette to give 24 gears. Here's a pic of the bike in "stock" form from Dahon:




So it seemed like I had finally found something I could turn into my dream bike, and I'd soon be riding it around Pisgah and points beyond. Well, to make a long saga short, it turned out that Dahon was not going to offer the XP for sale in the USA, so I would have to find a dealer overseas and import one. That wasn't exactly great news, but the real kicker was that it was not going to be available even from afar until March. Nonetheless, I decided I could nurse the KHS along for another 4 months, which indeed worked out okay as I happened to end up working in Ocala, Florida for the winter and the trails at Santos suited the KHS quite nicely.

Well, March became April, then June, then July, and before I knew it my new baby had gestated for a full nine months (just like they're supposed to, right?

). Dahon delivered the first XP's to dealers in mid-August, and I immediately ordered one from Germany. I was excited that it looked like I'd be able to get in some high-elevation riding in Colorado this summer after all!

Tragically, the German dealer forgot to check the "priority" box on the DHL form, and my package went into postal purgatory for what turned out to be 7 weeks. That wait was a major bummer, but it did eventually arrive late in September and I set to work with my planned upgrades. Over the next two weeks I installed:

- Velocity Taipan 28mm wide front wheel with White Industries disc hub
- Velocity Taipan 28mm wide rear wheel with SRAM DualDrive 3-speed disc hub
- Maxxis Maxx Daddy 2.25-inch tires
- Avid BB7 disc brakes
- SRAM 970 11-34T 9-speed cassette
- SRAM X.9 trigger shifter
- FSA 44T chainring
- Custom ABS guardplate to keep the chain on

I transplanted all the removed factory Dahon bits like the ultra-light "Rolf technology" wheels and DualDrive hub to one of our KHS bikes, which has turned it into something approaching a Bike Friday. It will be best suited to pavement, but it will undoubtedly still see some light offroad duty with Debbie aboard. (Okay, I may borrow it from time to time myself--that thing flies on the bikepaths!)

But nobody's here to talk about bikepaths, right?!! Back to dirt. I spent a busy couple of weeks getting all the upgrades installed and sorted out on shakedown rides nearby. Centennial Cone was a fine loop to savor the sweet suspension smoothness and overall stability going fast, while Chimney Gulch provided a stiff test track for the upgraded gearing. For reference, the combination of the DualDrive hub, 11-34T cassette, and 44T chainring gives me a gear-inch range of 16.6 to 108.8, or a whopping 656%. By comparison, the KHS was 21.3 to 80.0. It feels like I could pedal up the side of a building with this thing in granny, and I don't spin out until 30+ mph. Cool.

By the time I got everything dialed in and feeling solid, October had arrived, but luckily winter had not, so last Saturday I headed up to Kenosha Pass to mix it up with the throngs who (justifiably) clog this segment of Colorado Trail each fall at this time to wallow in the spectacular colors.

By 9:30am, the parking areas off Hwy 285 were full on both sides of the road: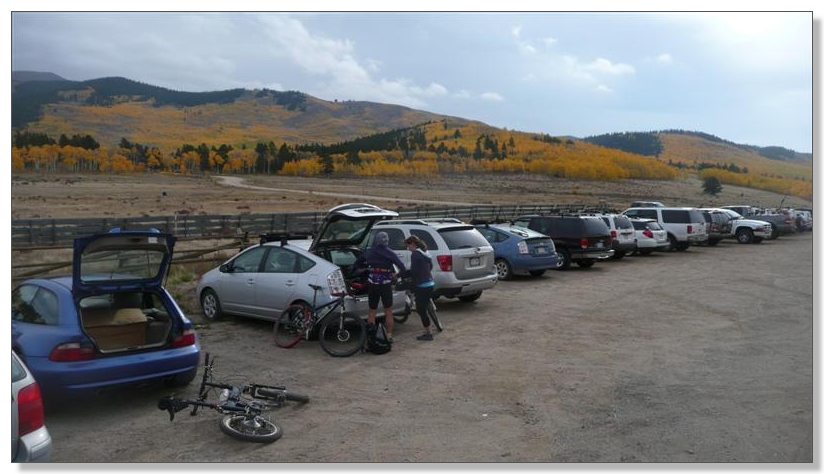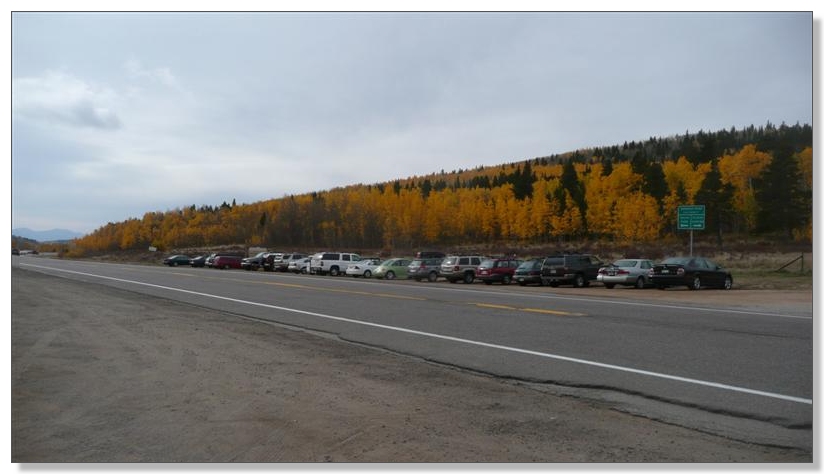 After barely a mile of climbing, there was hardly a hiker to be seen, and the legendary vistas opened up: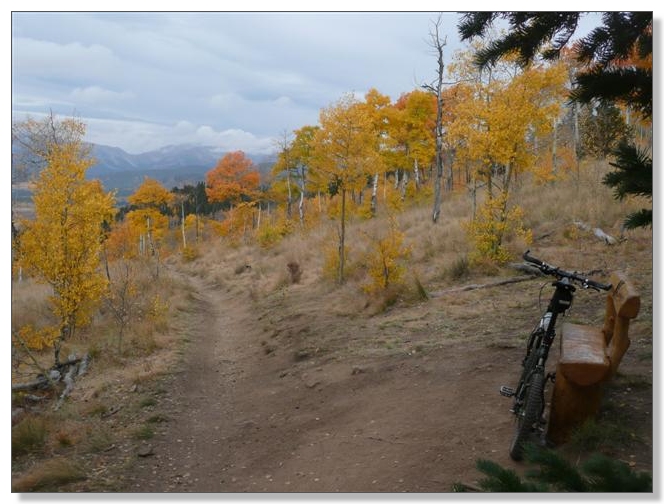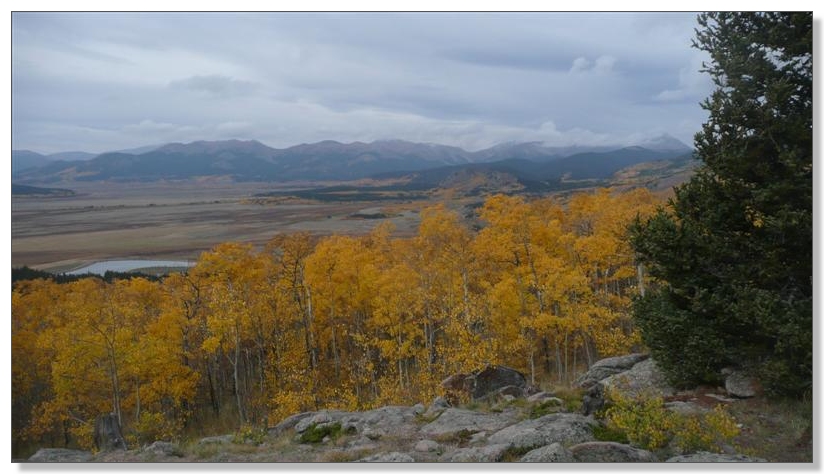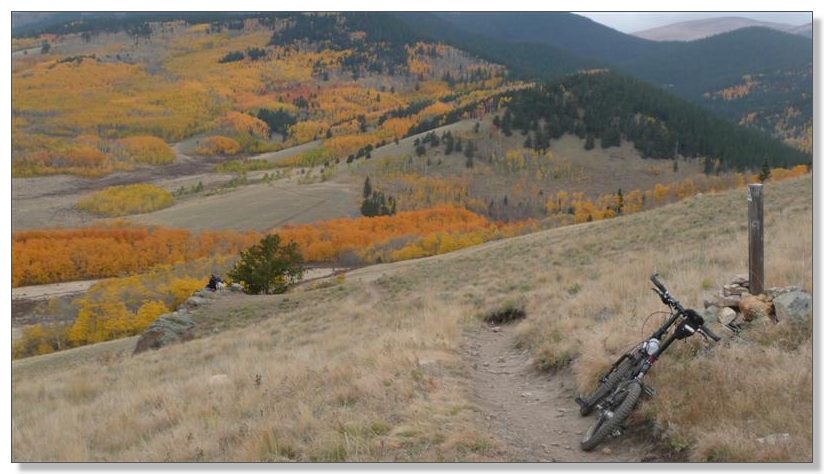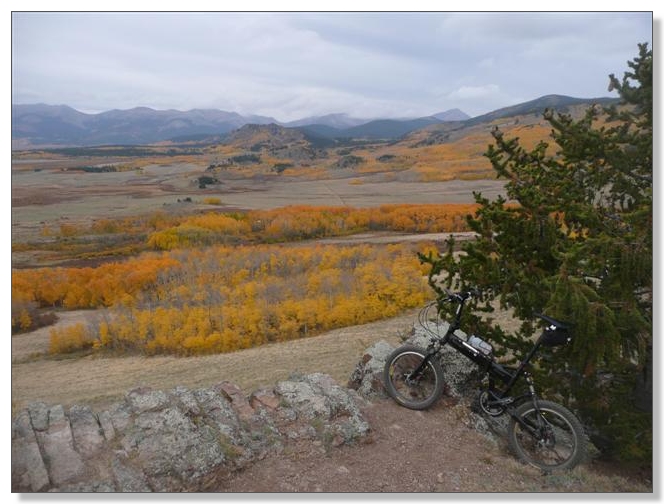 This is always a sign of good things under foot: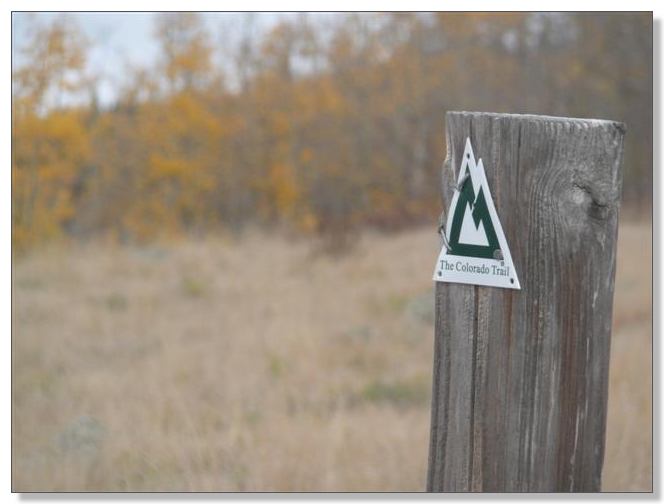 Aspens ablaze!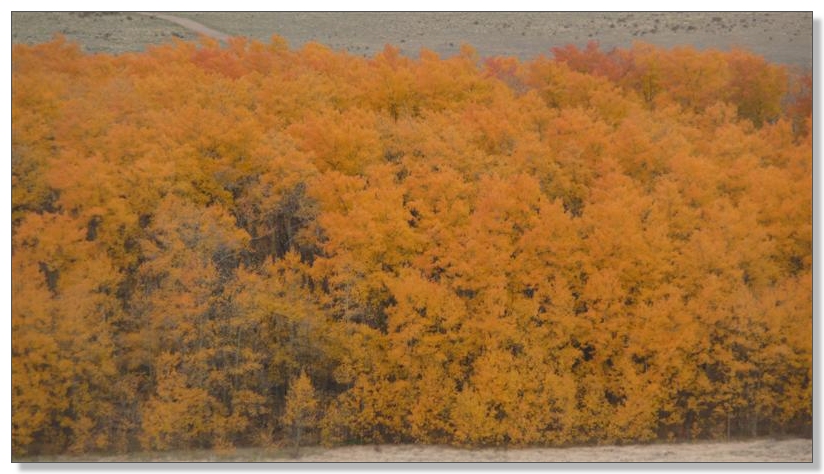 Aspens aplenty!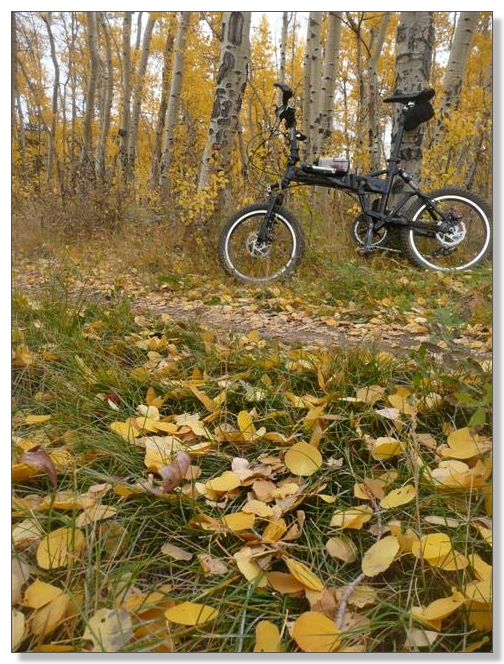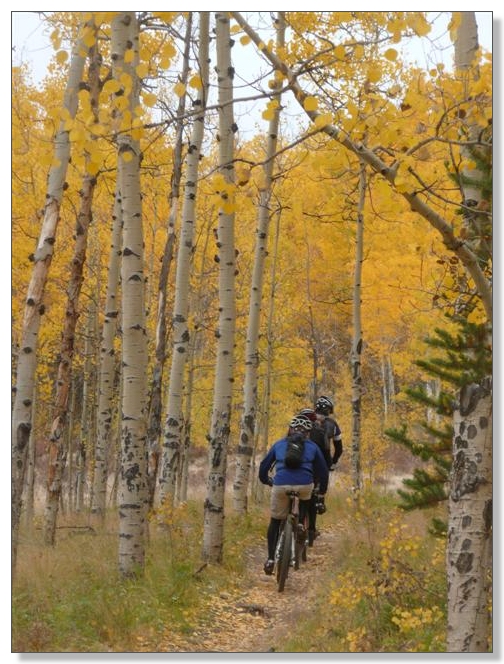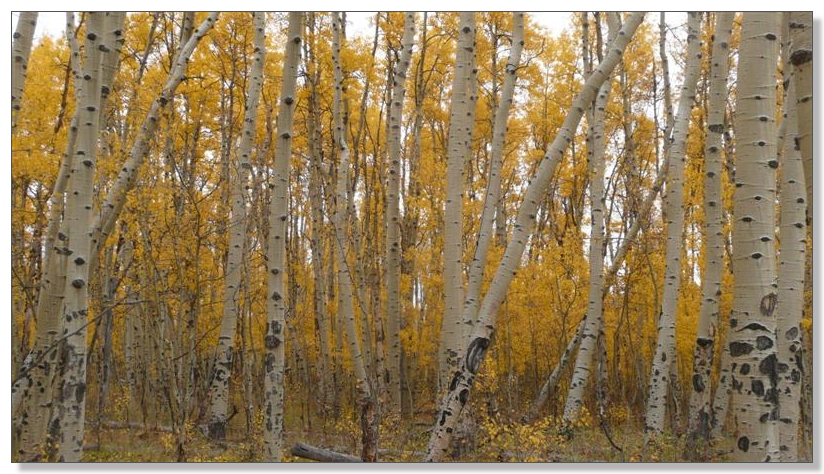 Back into dark pine forest for a several mile long, rooty climb. Rooty climbs are the toughest thing about riding on 20-inch wheels, but my new true granny gear and relatively plush suspension definitely made this climb easier this year than last year on the KHS: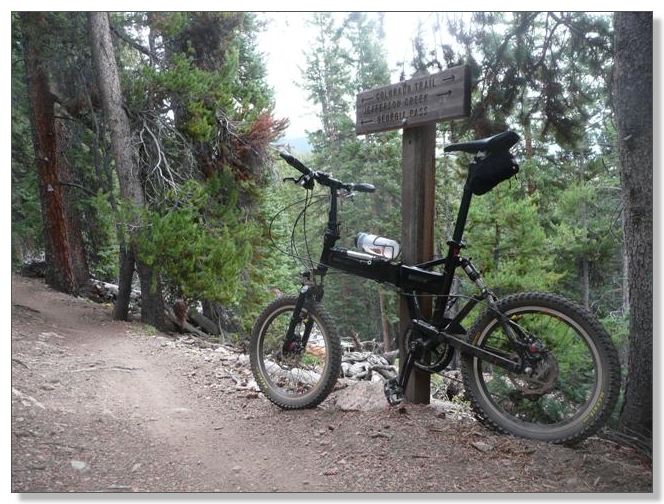 What else? Lunch on lunch rock: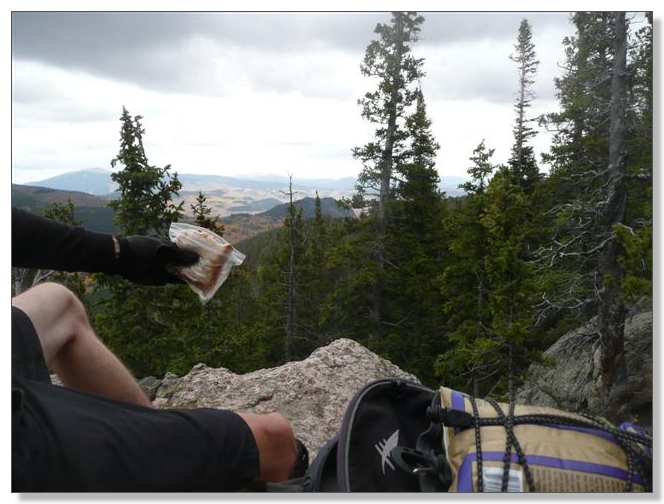 As I started to break above treeline, a lone rider came into view in the far distance, grinding slowly up the final, deceptively long climb to Georgia pass: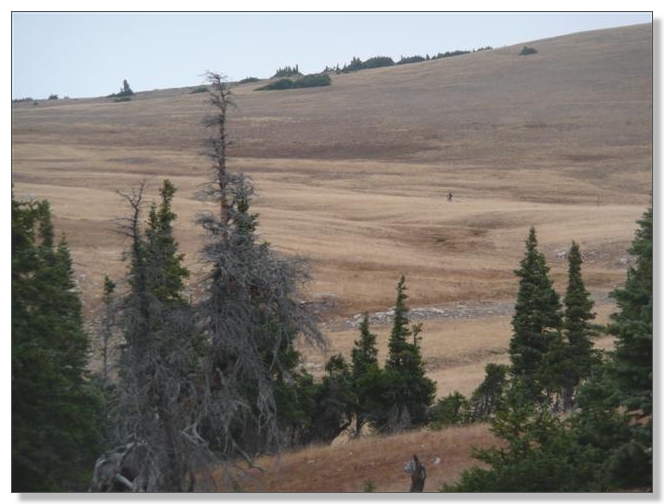 The weather looked threatening, and indeed, it soon started to sleet and snow. There was no lightning to be seen though, so I donned all the clothing I had and pressed on: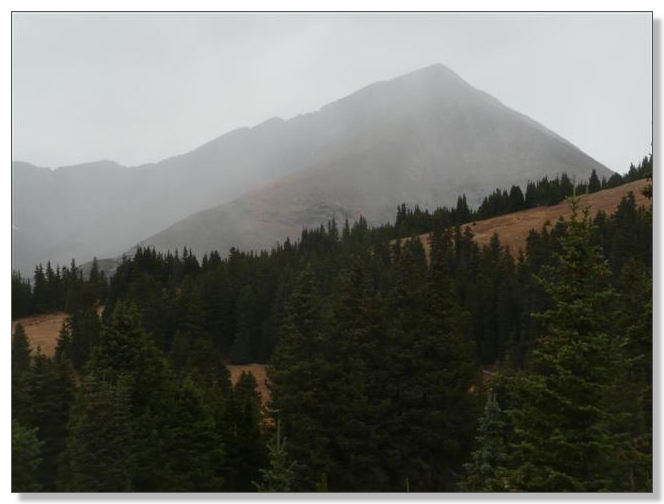 After a spell, now it was me gasping at 11,000 plus on that final ascent: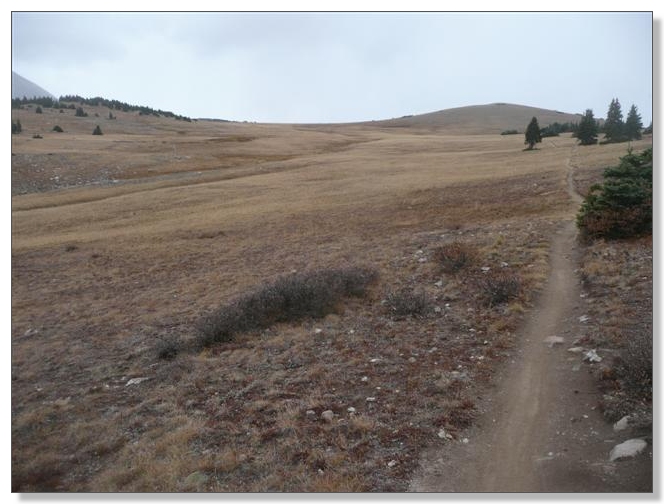 I remembered that last year I could hardly turn the cranks through this top stretch of trail without bottoming out every few yards which made an already strenuous climb downright frustrating. My new bike has a little over an inch more crank clearance, which made all the difference, and I was able to churn my way up with only an occasional, intentional, pause this year: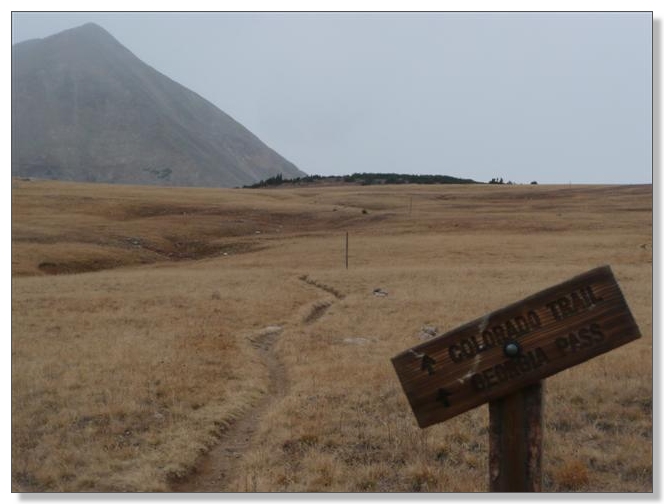 Upon reaching the top of Georgia Pass, I was a bit surprised to see someone climbing up from the other direction. "Did you come from Breck?" I asked. "No, from Kenosha." Turns out he had set out to do an epic loop down the other side and back around on a combination of roads and trails I cannot now remember. He had decided to bail when the weather turned lousy and had just climbed 4 miles back from that side. I rode that descent to Breck last summer, and didn't envy him having to climb back up it after having already made the climb from Kenosha. More power to ya, my man: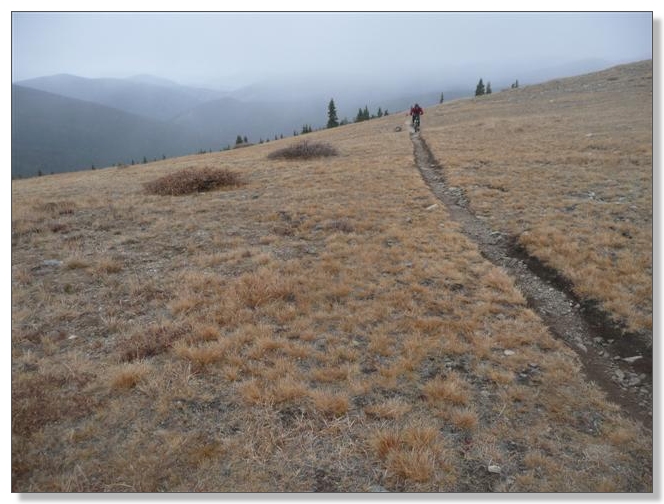 "Er, I know it's sleeting rather heavily... but... would ya mind taking a quick snapshot of me up here? Thanks!"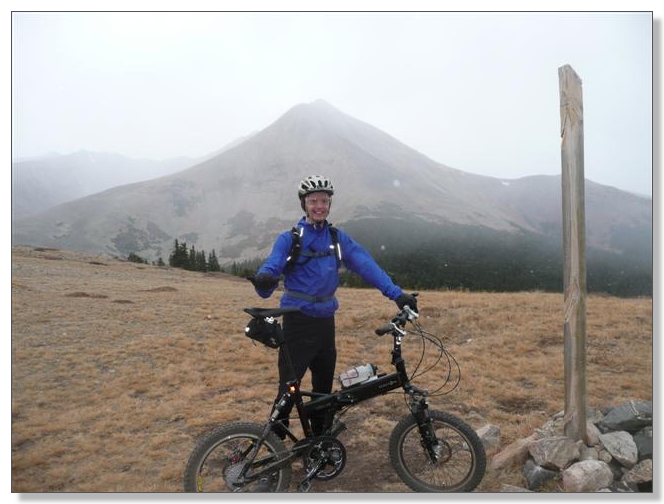 Right after that guy took off, a group of 3 or 4 new sufferers were arriving from the Kenosha side as I was about to start down. Grrrrrunt it out, you're almost there!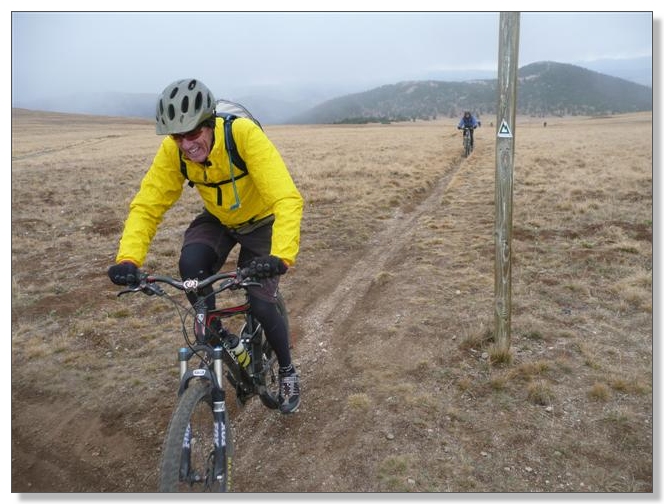 After all the work to get up the pass, turning around for a sweet six mile descent was just what the doctor ordered. Between the sleet and general joy of going downhill, there was minimal stopping until back in Aspen country, and the trail turned to gold coins. (BTW, disc brakes rule!):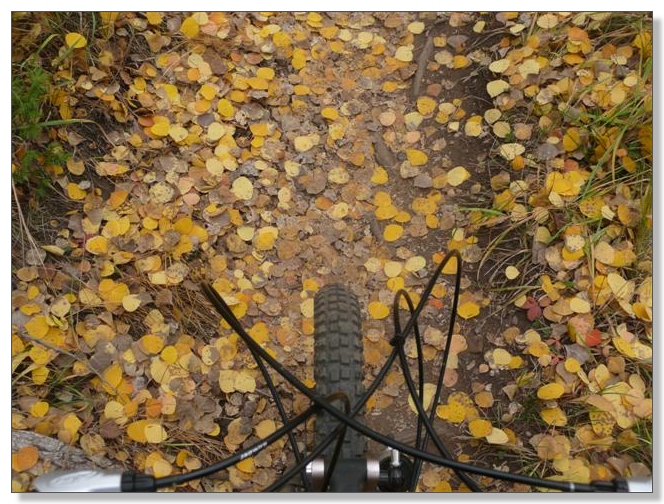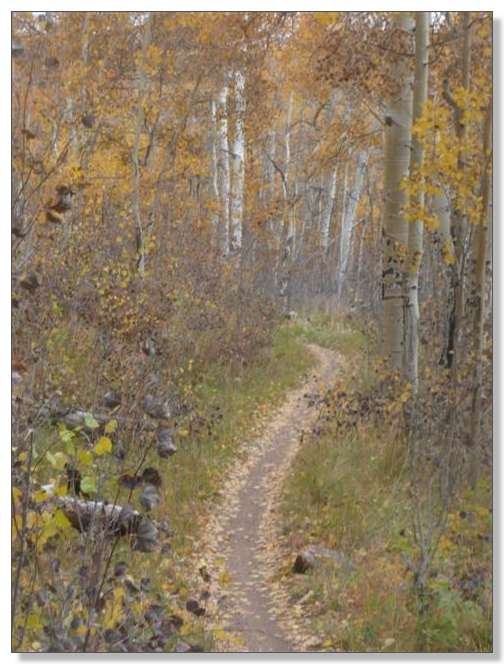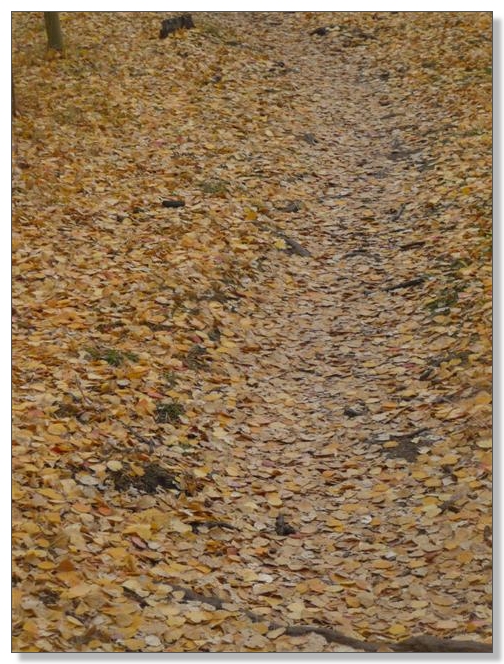 Overheard somewhere along the way: "Hey look, it's a Dahon in the woods. Nice!"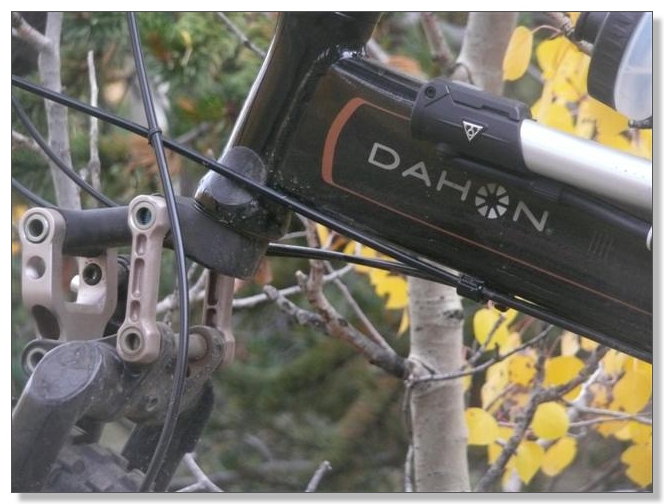 Nice indeed. The odometer showed 23.63 miles at the end and 4:13 of ride time for a moving average of 5.6 mph. That sounds pretty slow, but hey, there's something like 3500 feet of accumulated climbing on this ride, almost all of it above 10,000 feet and rather rooty, and, well, have you seen the size of my tires?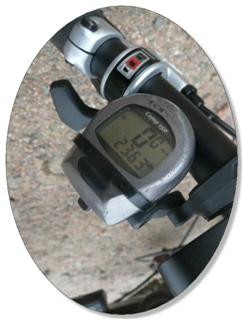 All in all a fantastic first "big" ride on my new bike! Wore me out nicely but very satisfying. Based on the wintry weather I encountered up top and the forecast, I had figured that this would be my last high country ride of the year. But, as it turns out, things warmed up nicely during the week, and I got in another great ride in the mountains on Thursday, which I'll write up next.

Stay tuned.
< previous story home next story >
---
HOME TRAVEL LOG MOUNTAIN BIKING WINDSURFING STORY ARCHIVES RV INFO PHOTOS CONTACT US
---