---


HOME TRAVEL LOG MOUNTAIN BIKING WINDSURFING STORY ARCHIVES RV INFO PHOTOS CONTACT US
---
---
RV INFORMATION
---
We have worked, played, and lived full-time in an Alfa See Ya 40-foot diesel pusher motorhome since 2003. For details about this somewhat novel RV, which is particularly well suited for full-timing, you can click here to download a PDF of Alfa's brochure (for their 2006 models, which are mostly the same as our 2003 model), or just enjoy the following photos of our house parked in various places over the past few years.
EXTERIOR INTERIOR CUSTOM OFFICE TECHNICAL TOWED CAR
Beautiful winter solitude just outside Monument Valley, Utah: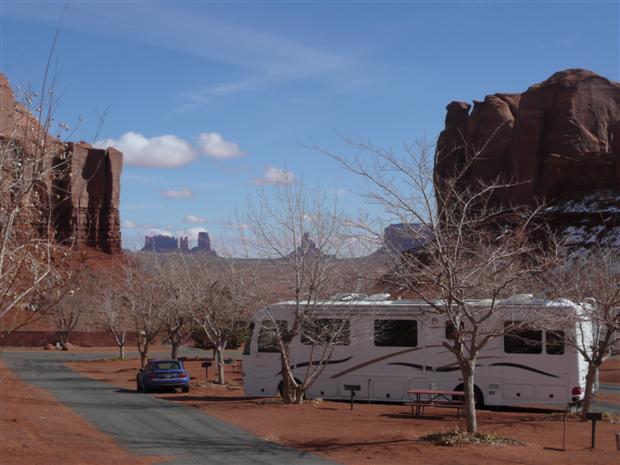 Camping with the snowbirds on the outskirts of Phoenix, Arizona: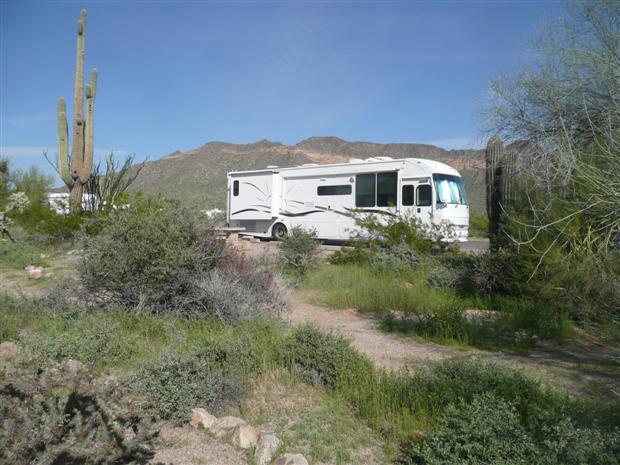 Boondocked for some colorful fall mountain biking at Tsali, North Carolina: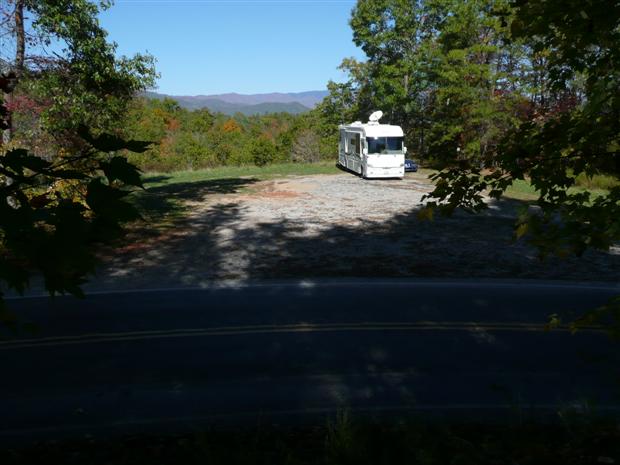 More mountain biking and living on solar power near Crested Butte, Colorado: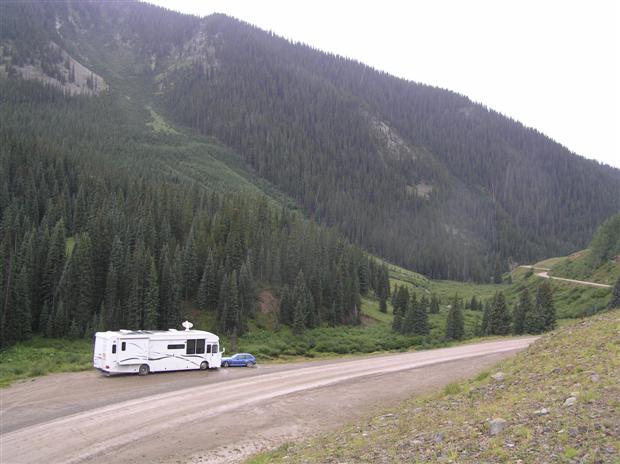 Windsurfing right from our front door in Corpus Christi, Texas: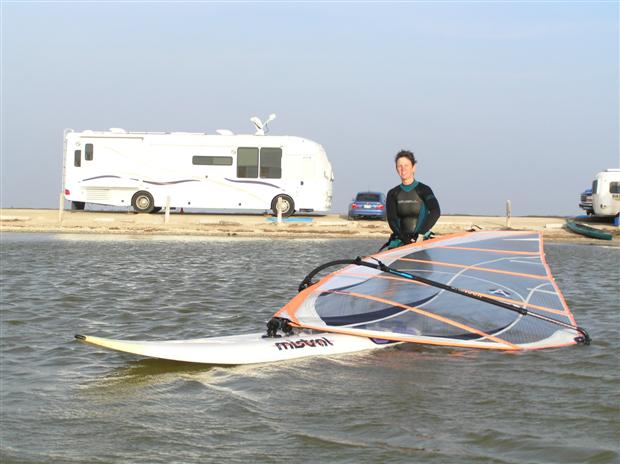 Pleasantly alone in the desert outside Tucson, Arizona: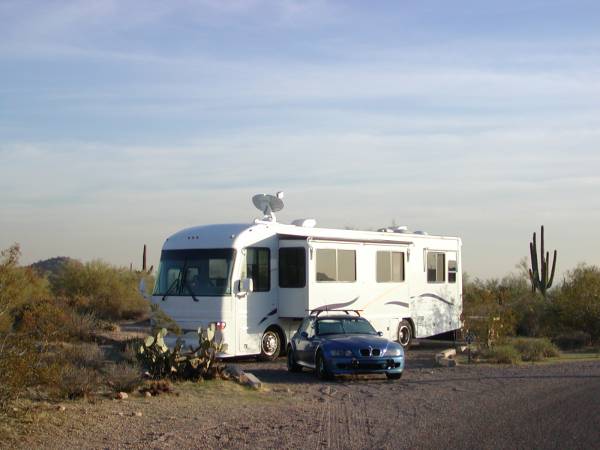 Mountain biking beneath the Bookcliffs in Fruita, Colorado: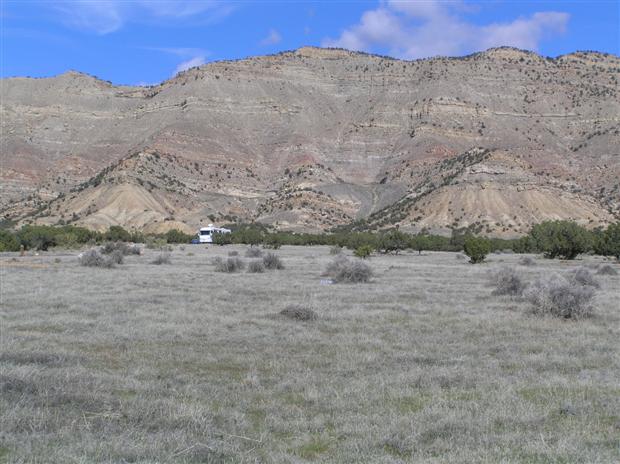 More mountain biking in Taos, New Mexico: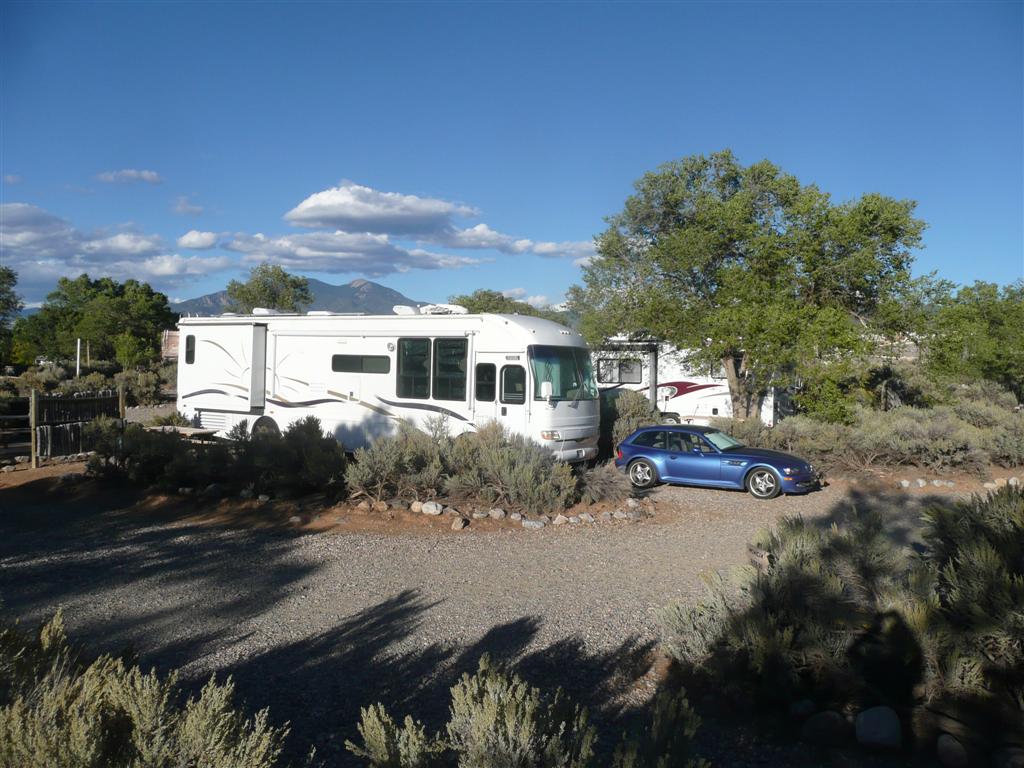 Luxuriating in Palm Springs, California: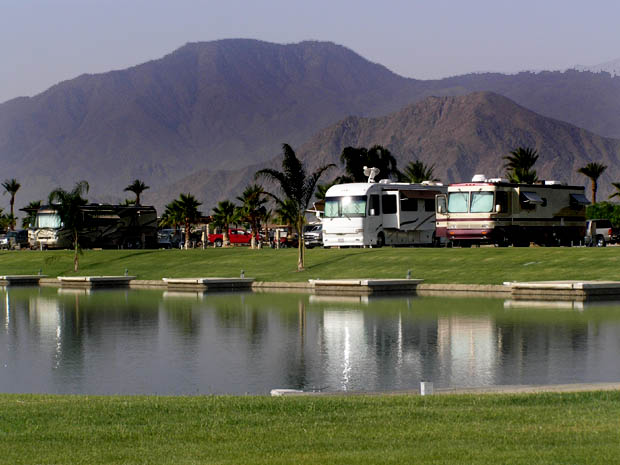 Watching the SCCA races from above Turn 10 at Road Atlanta, Georgia: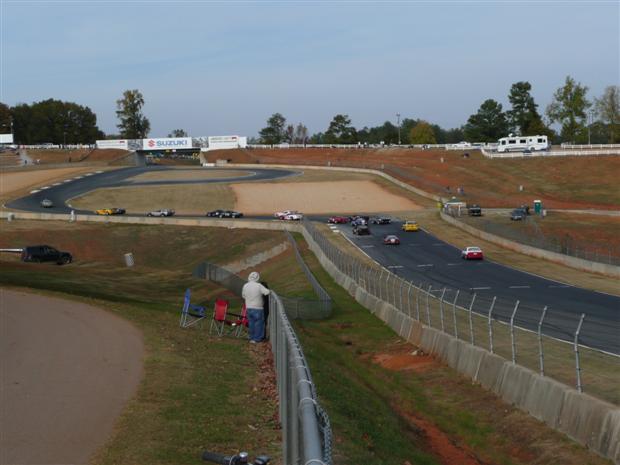 Fully hooked-up urban living while working in Escondido, California: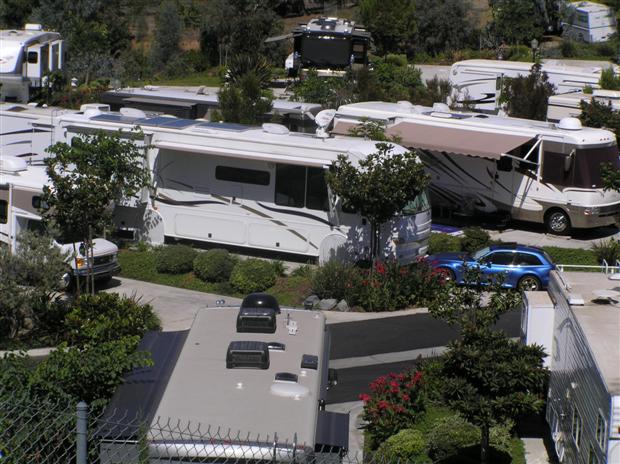 Superb skiing outside Park City, Utah: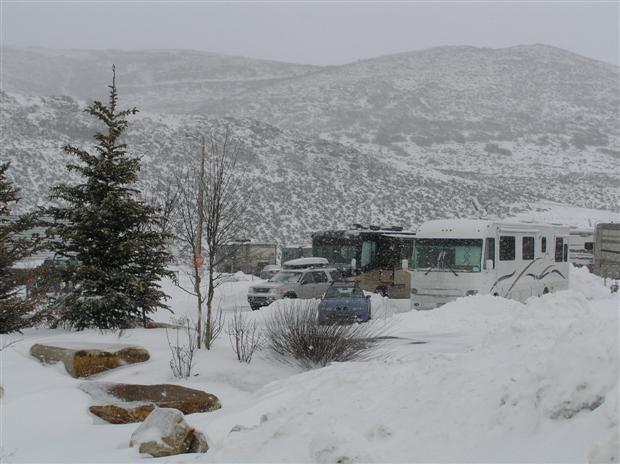 Thanksgiving snowstorm in Independence, Missouri:
Blizzard after blizzard kept Debbie busy shoveling for weeks in Wheat Ridge, Colorado: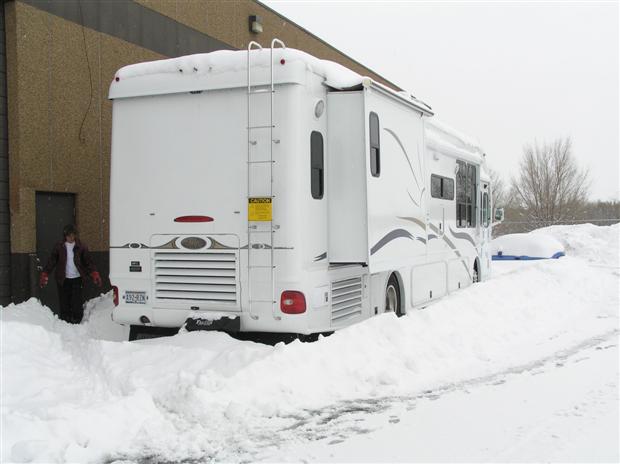 Off-season NYC touring from within sight of the Statue of Liberty, Liberty Harbor, New Jersey:
Overnight stop at a particularly nice rest area in Ogalalla, Nebraska: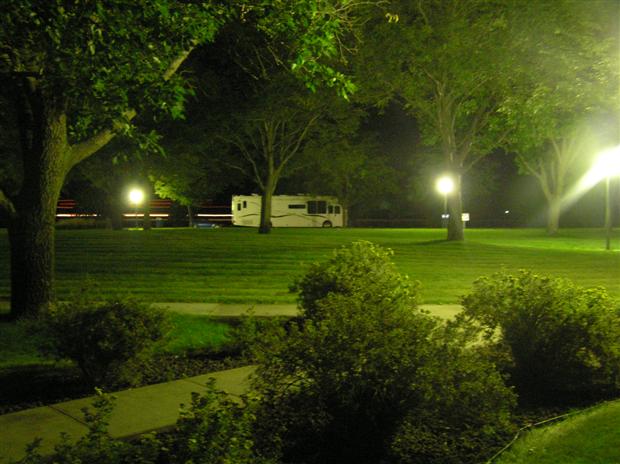 Workamping on the grass runway of Lee Bottom Flying Field in Hanover, Indiana: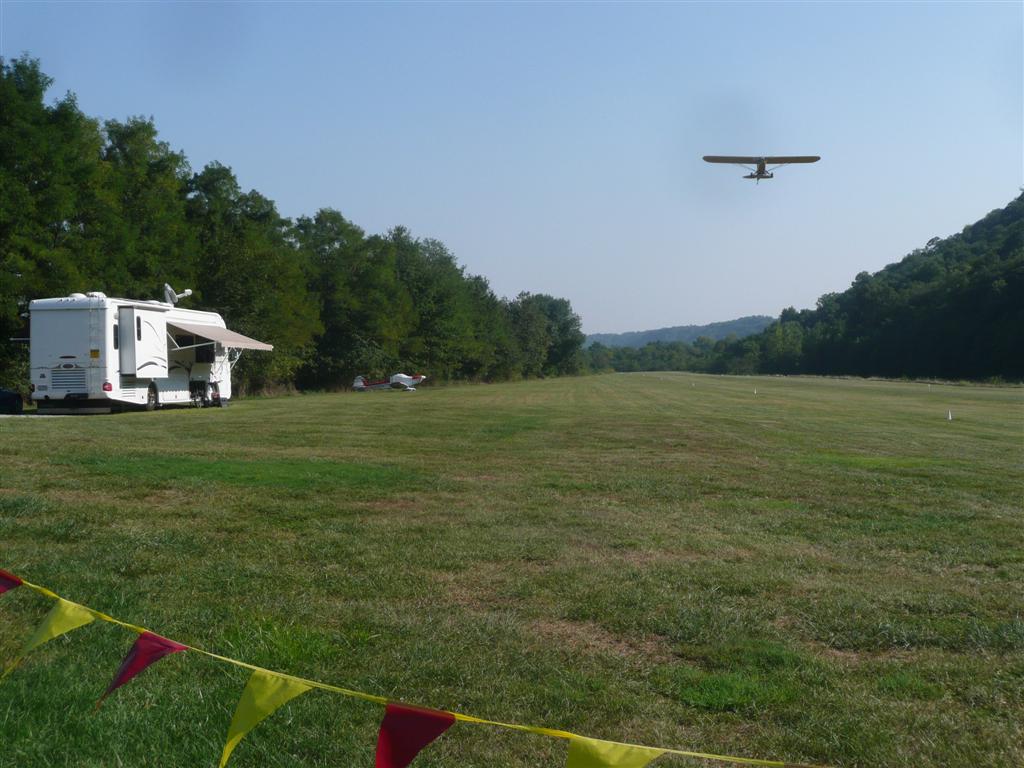 Just before they shut the water off for winter at the LCO Casino Campground in Hayward, Wisconsin: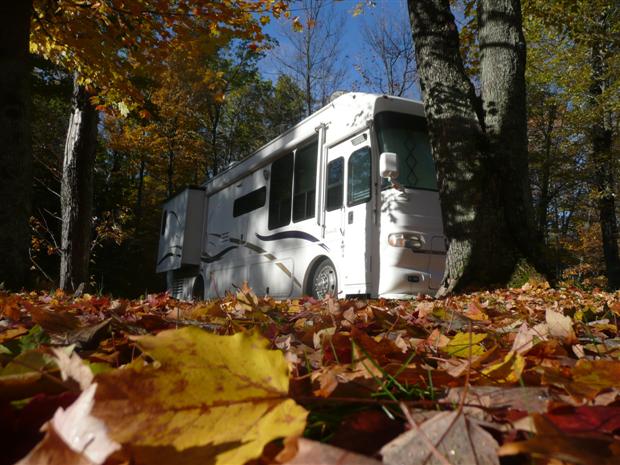 Full moon risin' at the SKP park in Aguanga, California: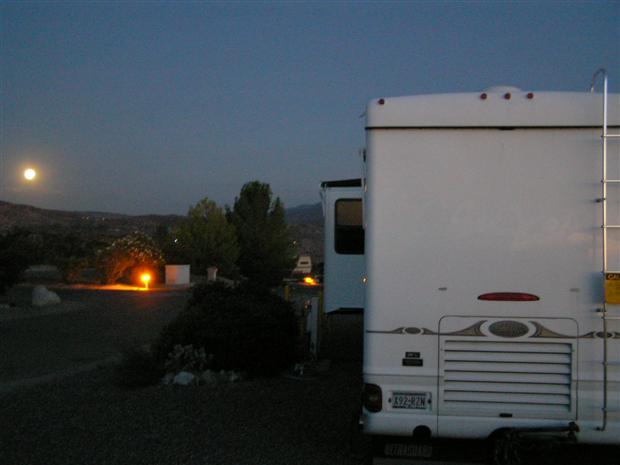 Cozy evening in San Angelo, Texas: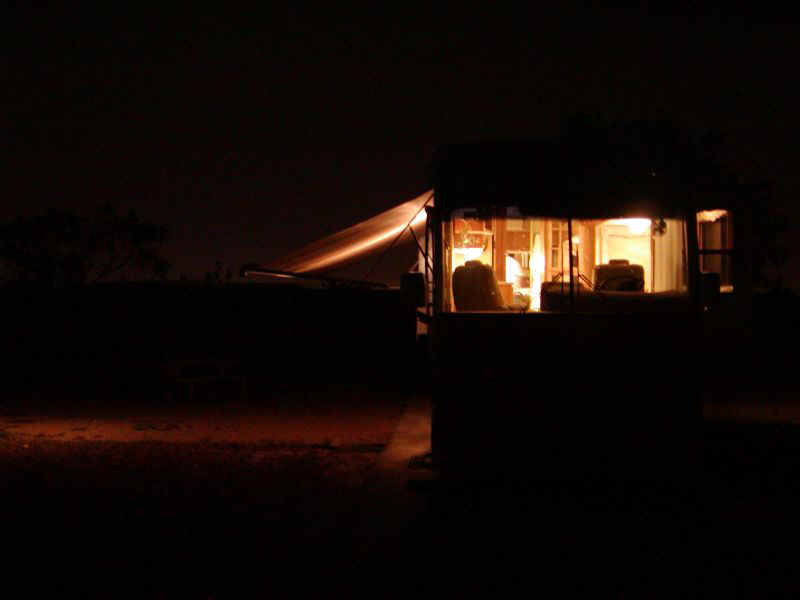 All the comforts of home (because it is):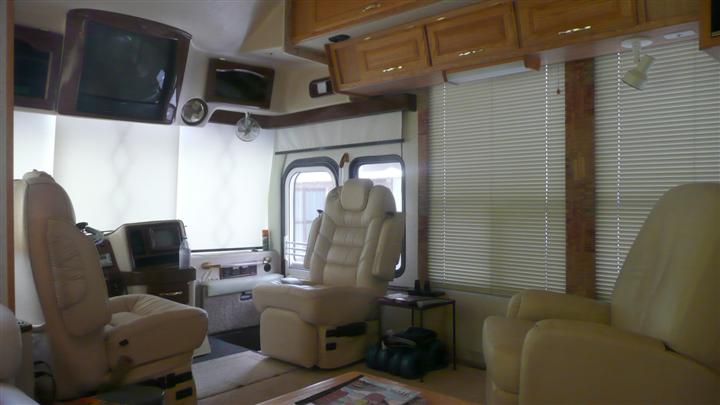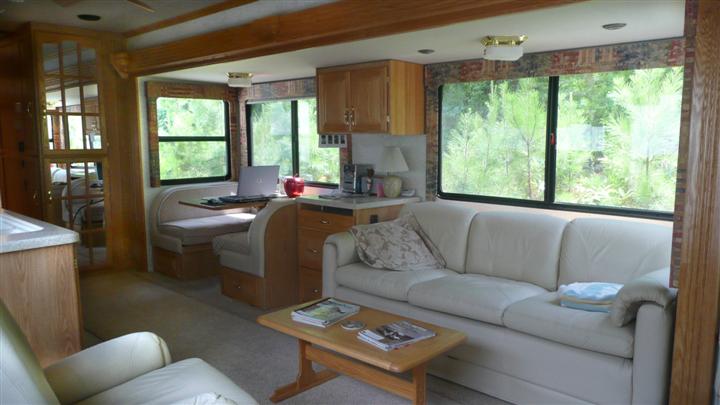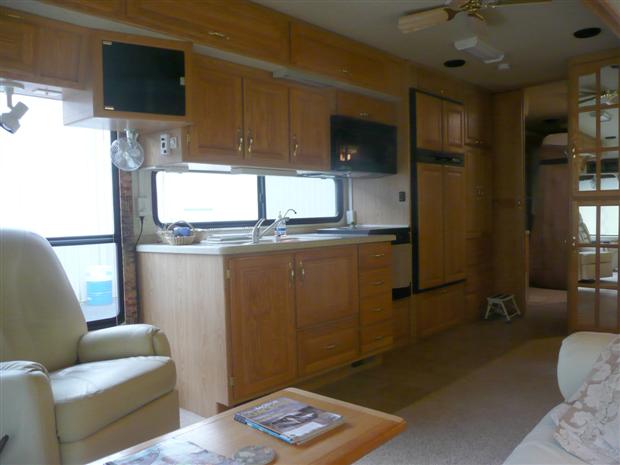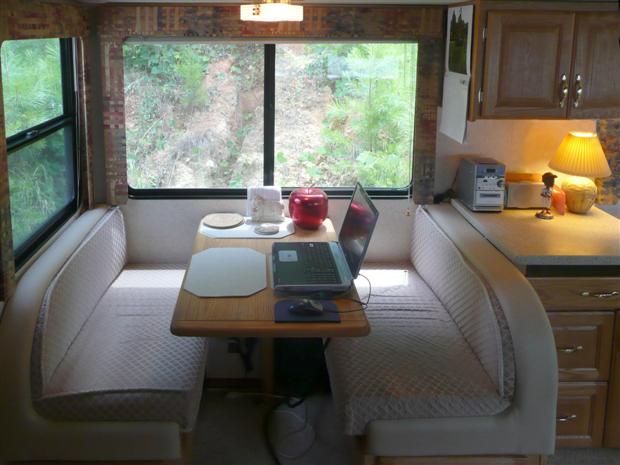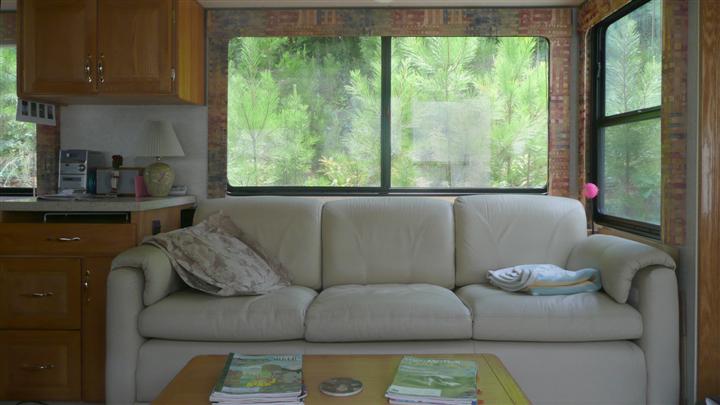 Custom Bedroom / Office Conversion
In the back, above the CAT diesel engine, appears an ordinary-looking queen size bed: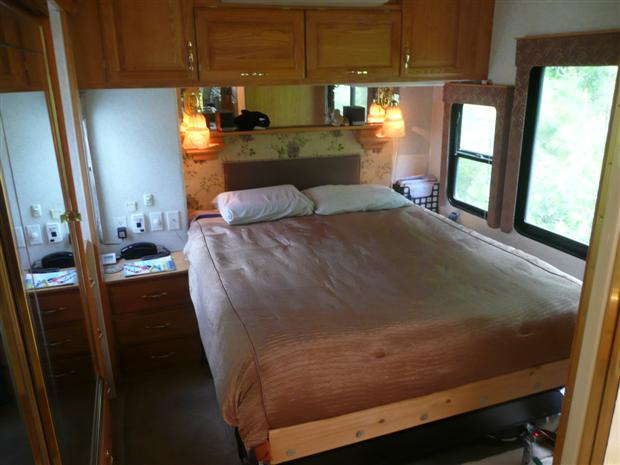 But, voila! It rises: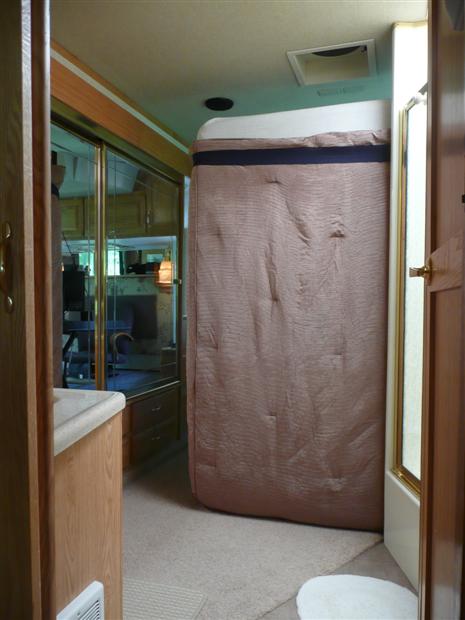 Revealing a customized office chair with split arms and modified base stored beneath the bed: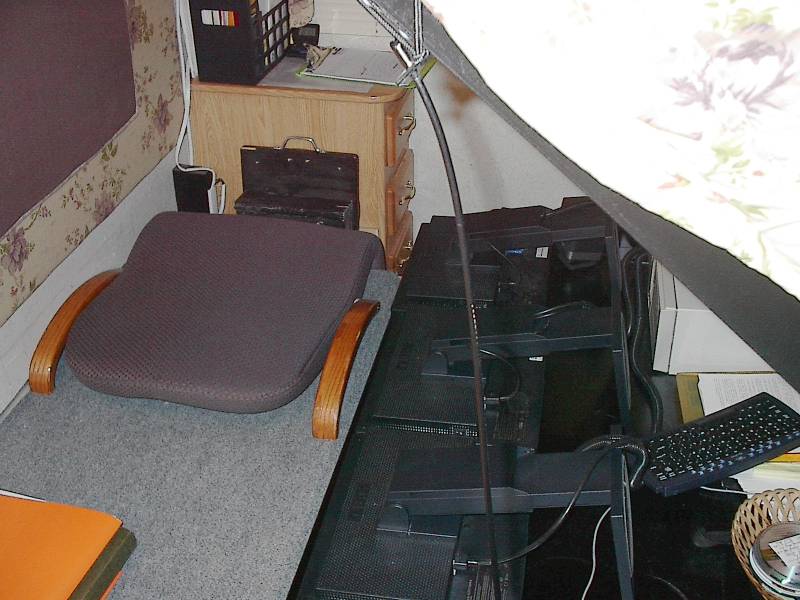 In moments, a full desk is ready for work, complete with PC and triple LCD monitors: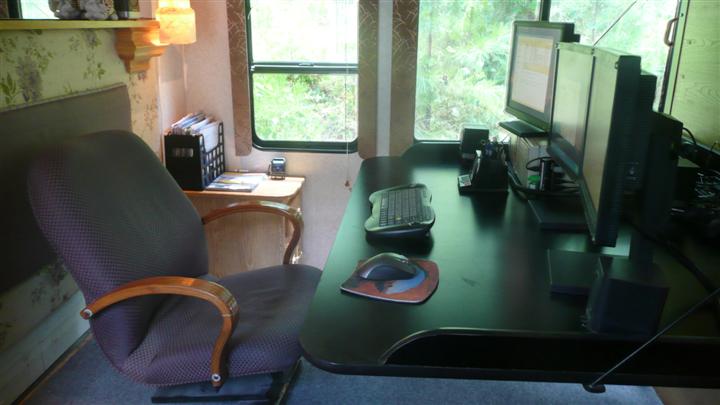 Here's a little animation showing how it works: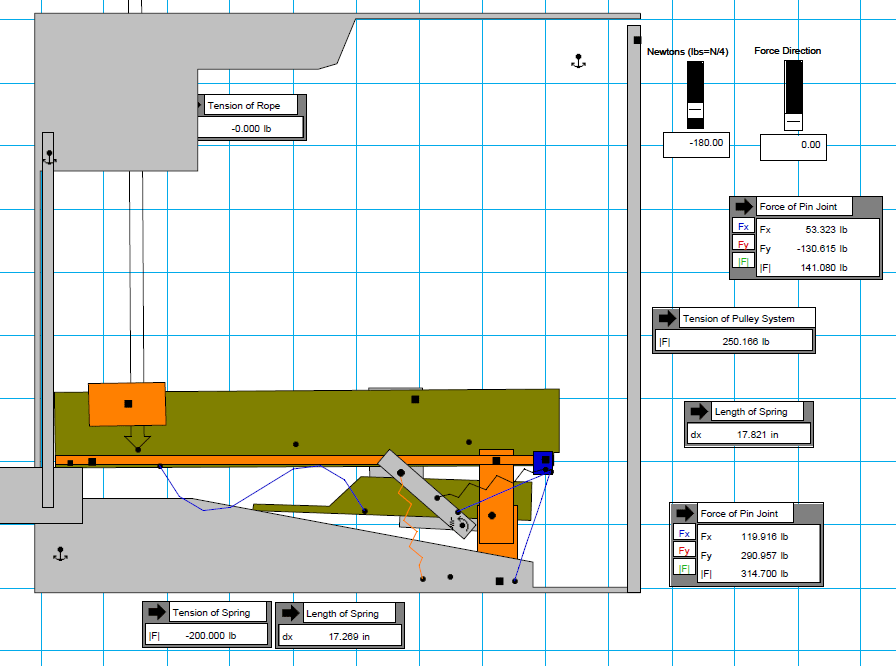 Mobile Office
Computing with a view, in Tucson, Arizona: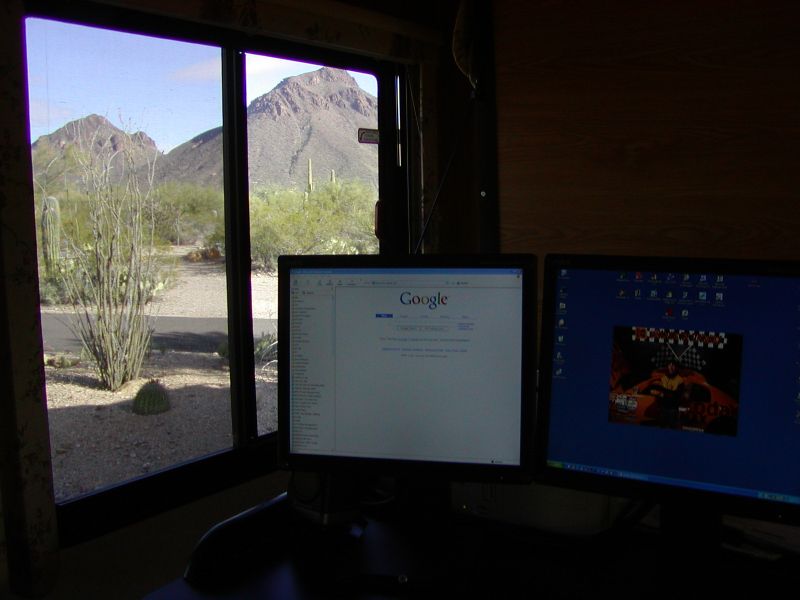 Working on-site at Digital Vehicles world headquarters in Austin, Texas: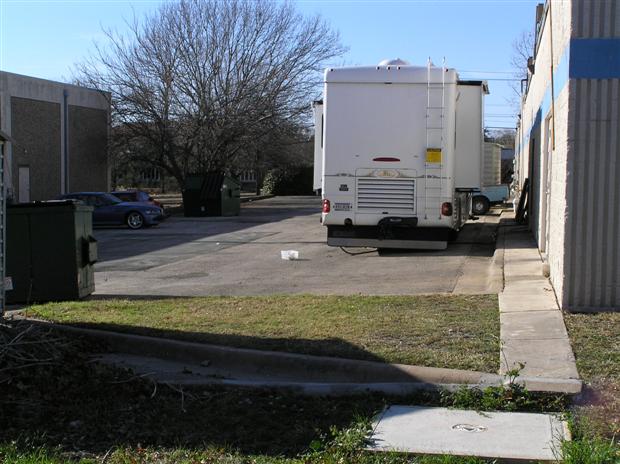 Working on bus driving simulators in Oceanside, California: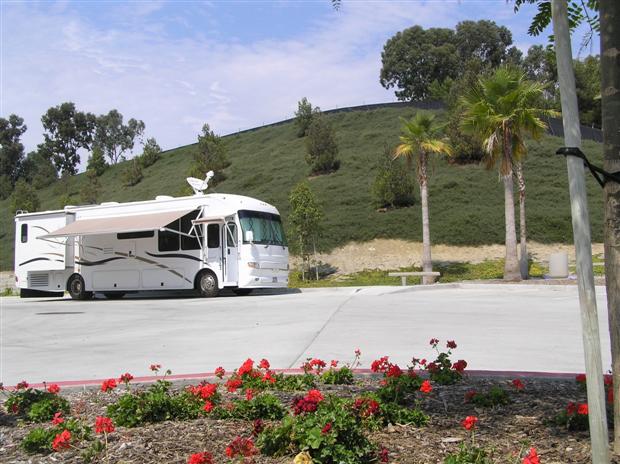 Working on truck driving simulators in Wheat Ridge, Colorado: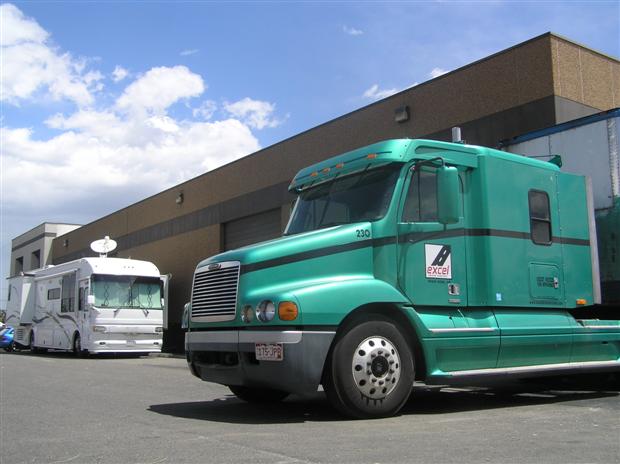 Tending to a new fire truck driving simulator in Mesa, Arizona: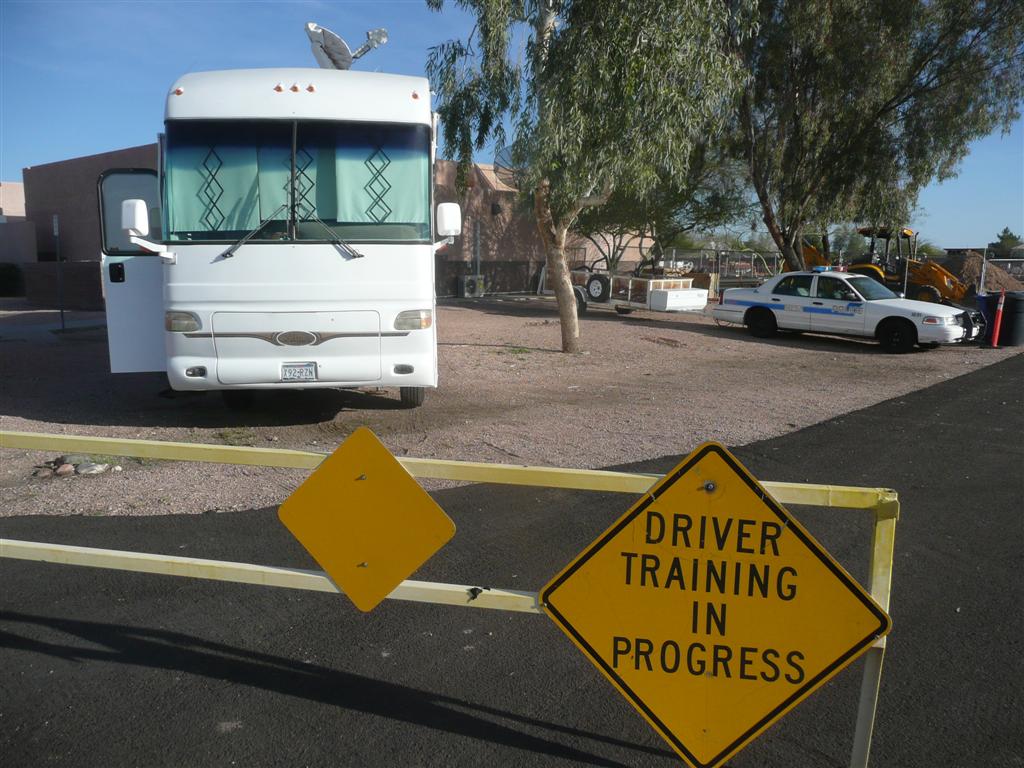 Up top, six 175W solar panels provide enough power to boondock comfortably for weeks on end, living silently off-the-grid without needing to run the generator. A Motosat Datastorm Internet satellite dish keeps us online and working virtually anywhere, while a Kingdome satellite television dish delivers plenty of entertainment options via DirecTV: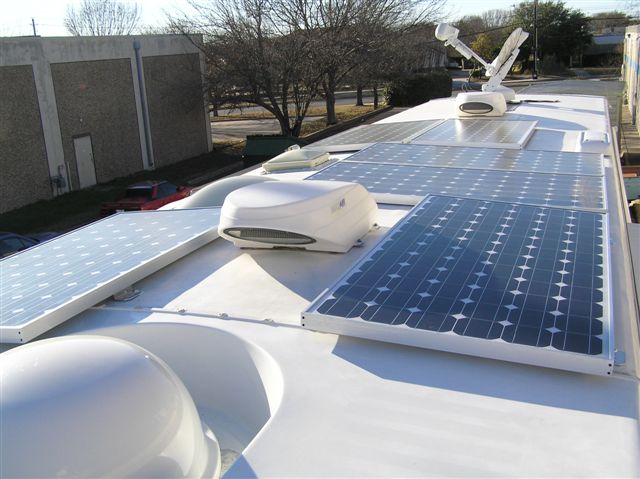 Front of the rig holds a 7500W Generac diesel generator, a 2000W Xantrex inverter, an Outback MX60 solar charge controller, and six Interstate U2200 golf cart batteries. The 7.3 liter Cat 330 horsepower engine and Allison 6-speed automatic transmission live in the back and "push" this beast down the road, averaging a little over 8 mpg.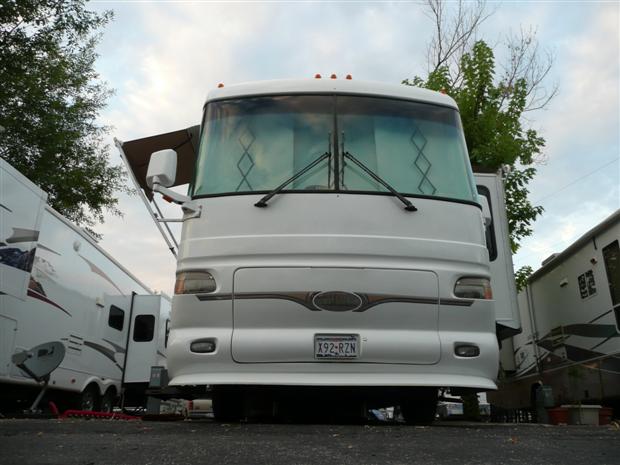 First storage bay holds two folding bicycles, winter clothes, tools, and more: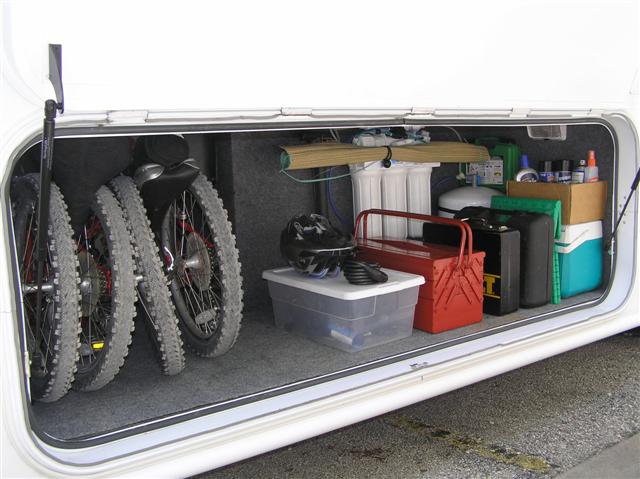 Second storage bay holds two full sets of windsurfing gear, golf clubs, a freezer, and more: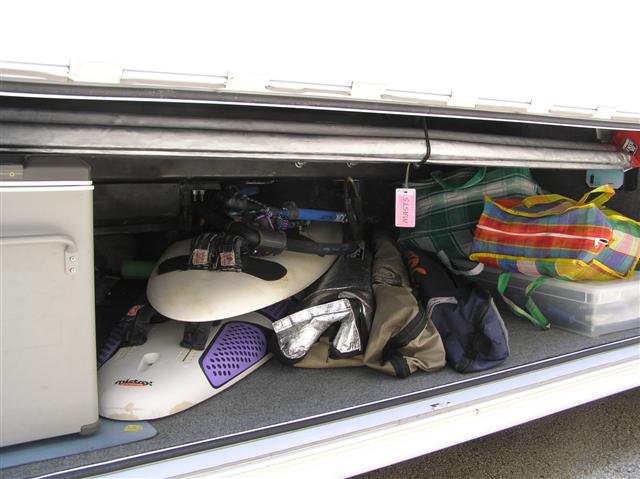 Elsewhere onboard are 38 gallons of propane, 100 gallons of fresh water, 70 gallons of gray water and 40 gallons of black water. A central basement air-conditioner / heat-pump unit with a propane furnace keeps things comfortable year round.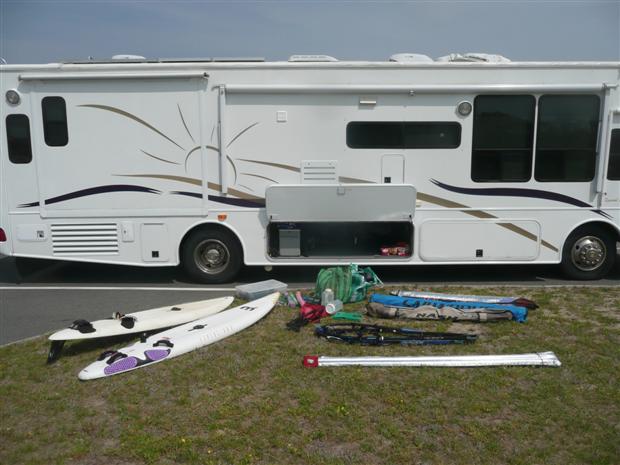 Sunshades help keep the occupants cool in the summer: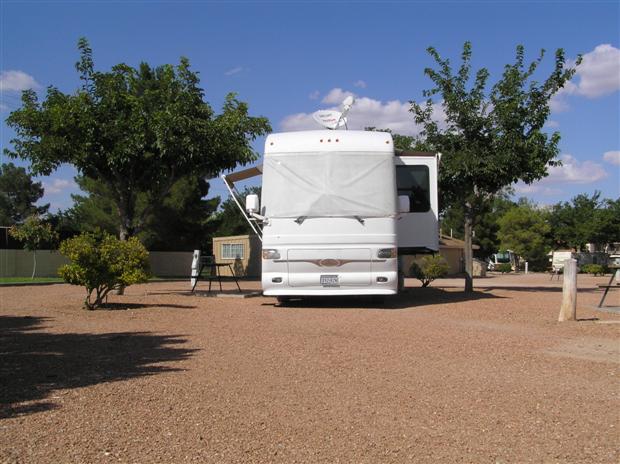 Custom tire covers keep the big rubber donuts comfortable too: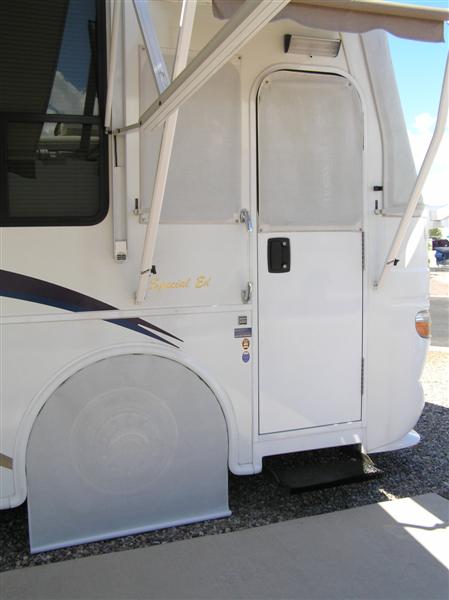 In RVspeak, the vehicle you tow behind you is called a "toad."
In our case, we are towing a car shaped like a shoe, a 1999 BMW M-Coupe.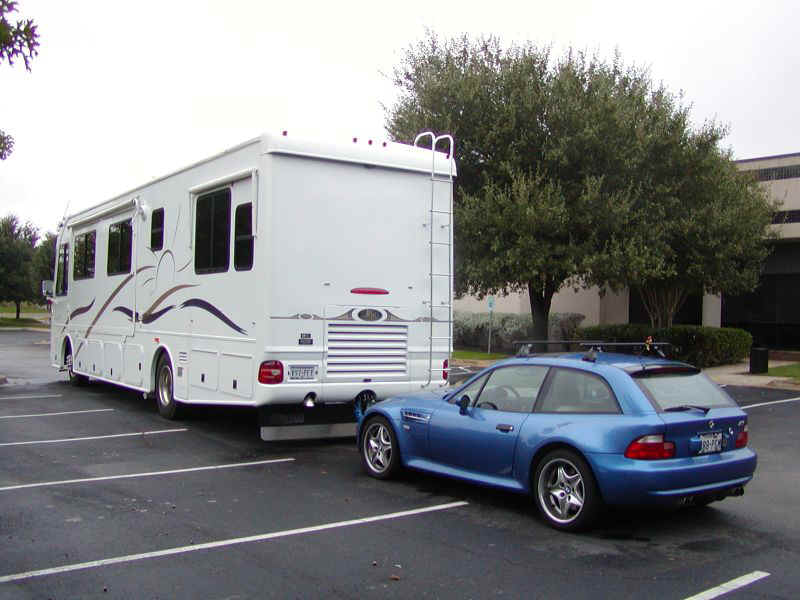 A standard Roadmaster tow bar connects to a custom tow assembly on the car. When removed, the tow assembly leaves only a pair of sinister-looking "rocket launchers" sticking out below the bumper.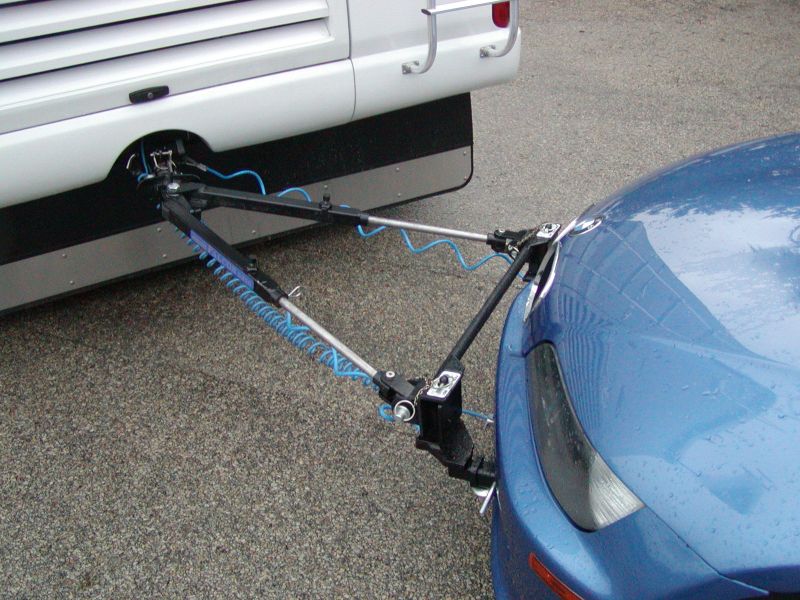 Loaded down with two sets of windsurfing gear in Cape Hatteras, North Carolina: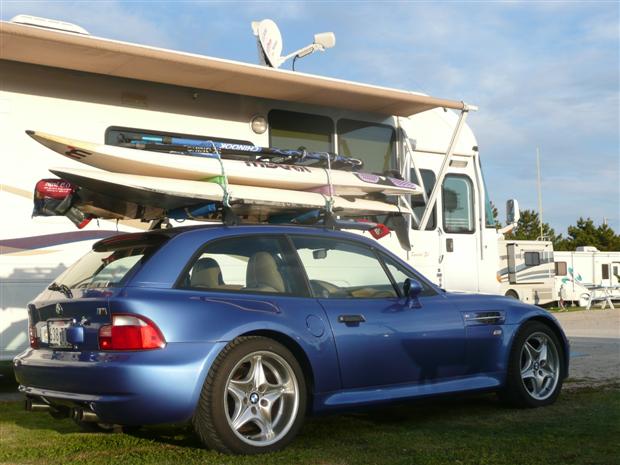 Carrying a hatch full of folding bikes for a day of mountain biking at Curt Gowdy State Park, Wyoming: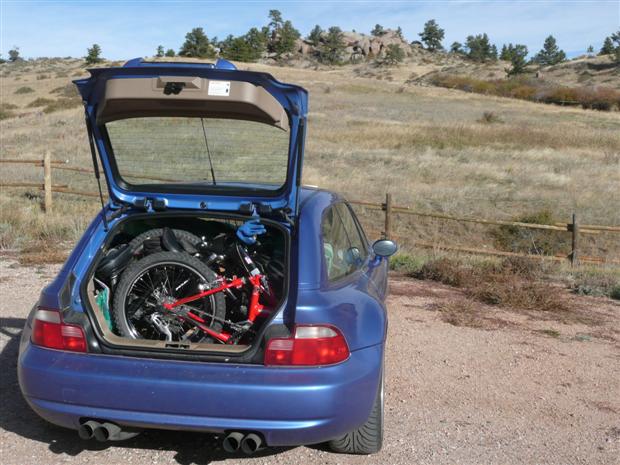 Chasing another M-Coupe around the Buttonwillow race track in central California: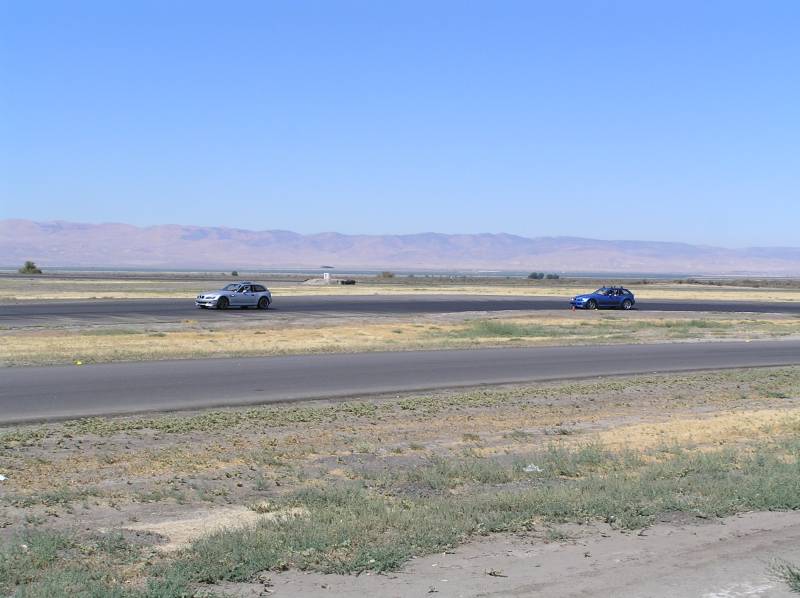 Cruising the Tail of the Dragon, along the North Carolina / Tennessee border: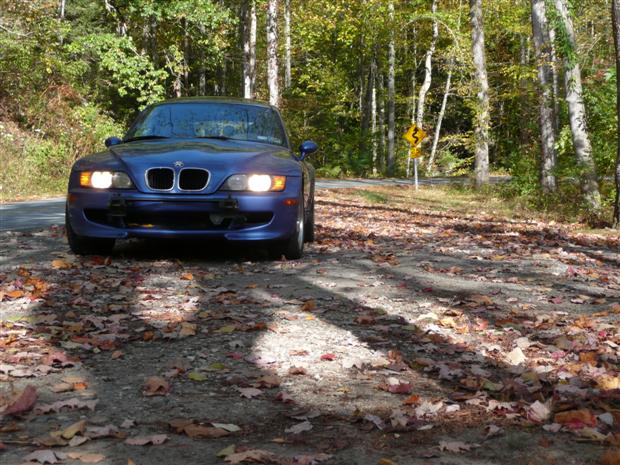 Trundling along the sacred dirt of Monument Valley, Utah: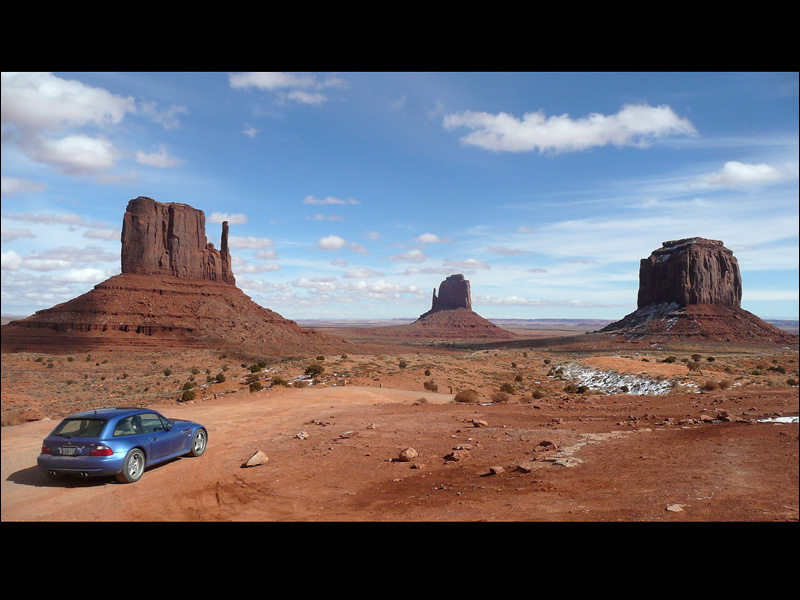 ---
HOME TRAVEL LOG MOUNTAIN BIKING WINDSURFING STORY ARCHIVES RV INFO PHOTOS CONTACT US
---