---


HOME TRAVEL LOG MOUNTAIN BIKING WINDSURFING STORY ARCHIVES RV INFO PHOTOS CONTACT US
---
< previous story home next story >
Colorful Colorado Summer
After three years away, we returned for another glorious full season of mountain riding around Denver and Breckenridge
July thru September, 2011
After a couple months in Austin, during which I did a lot of work to move my office and painfully little riding, we escaped the (literally) blazing heat and headed up to Colorado for the rest of the summer.
Spent one fine day exploring Colorado Springs and Garden of the Gods on bikes with Debbie.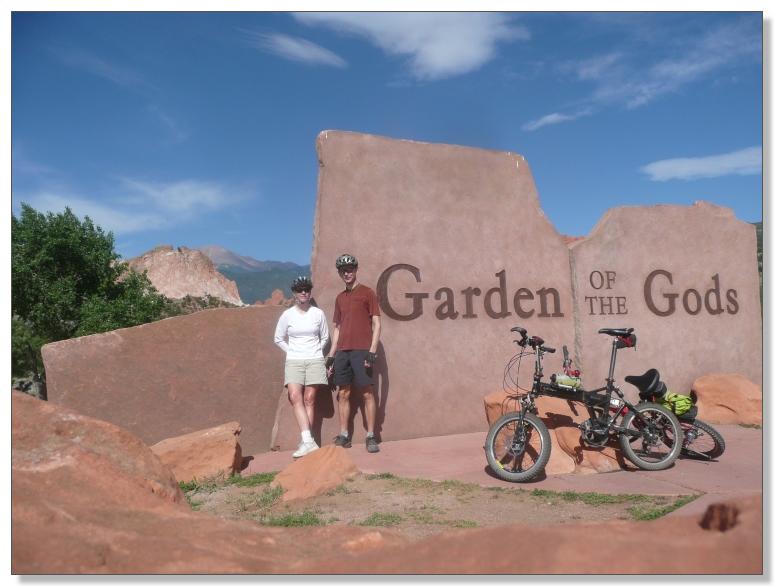 The Niobrara Trail was the highlight of a small, but highly scenic little network of bike-legal singletrack in the park.

Our home base in Denver for the summer: a truck driver training school practice yard of a customer who has several of our driving simulators.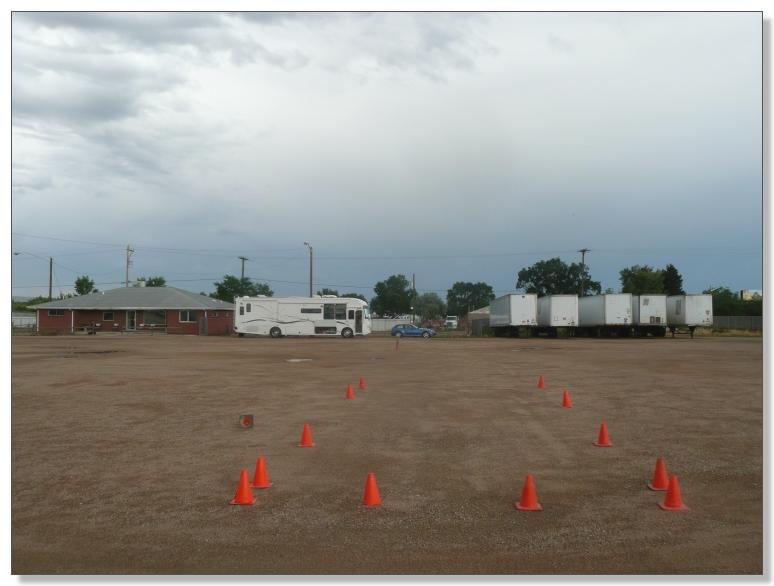 I tagged along on several Thursday night "T.I.T.S." rides during the summer with a strong crew of mtbr forum regulars. The first was a new venue for me, the Alderfer / Three Sisters trail system near Evergreen. Below, the crew is seen taking a break at the high point to watch the sun set over the high Rockies, before donning lights for the trip back.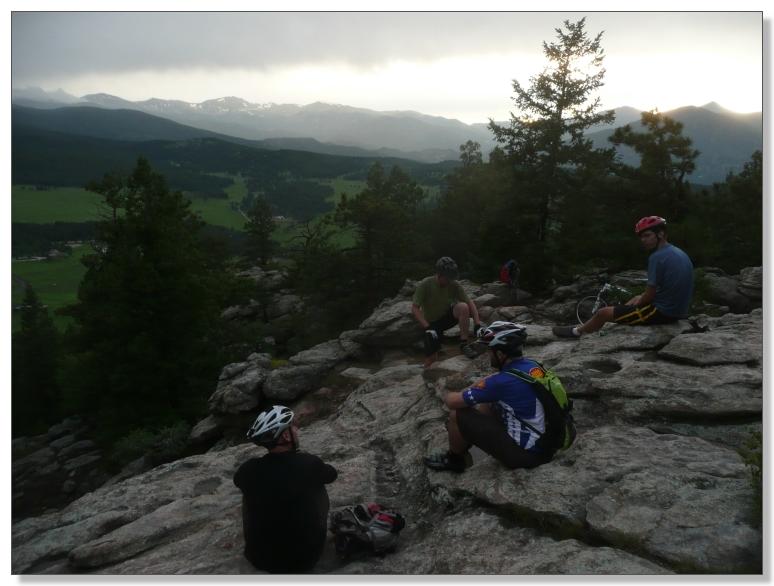 FoldsInHalf in action!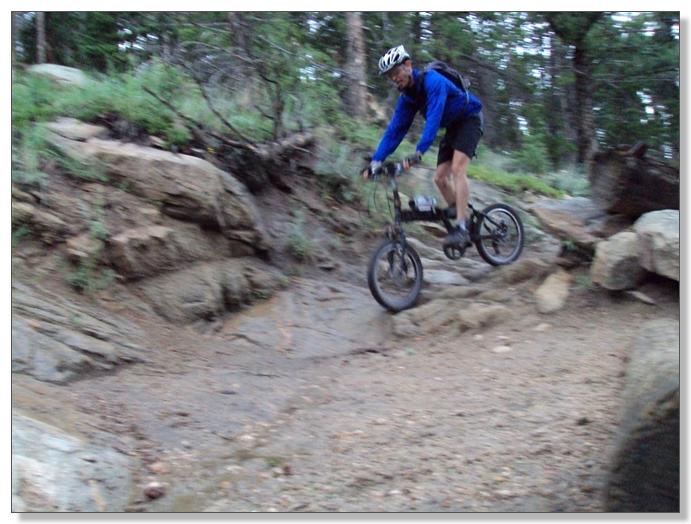 Doing the Sisters Trail technical descent in the dark was a real trip, as was hanging out with the crew and watching flaming UFOs float past.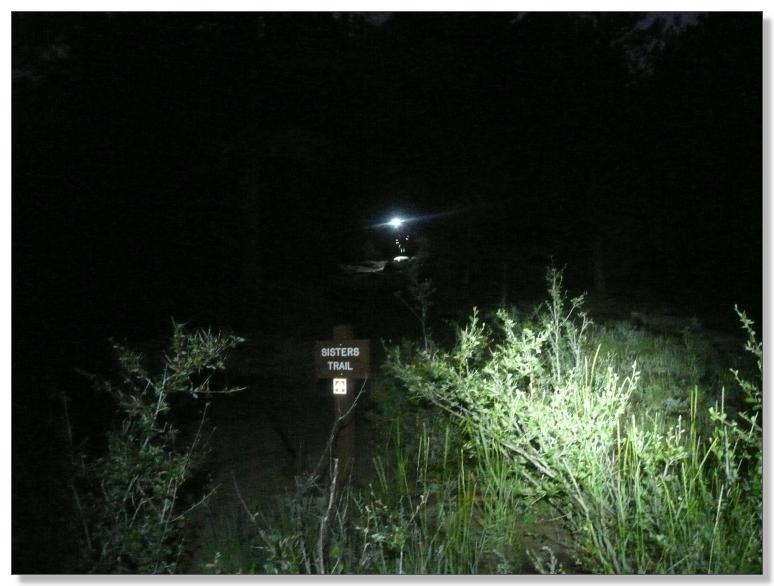 A few weeks later, another TITS night ride, this time at Buffalo Creek. Started out with a long but mellow climb through the burn.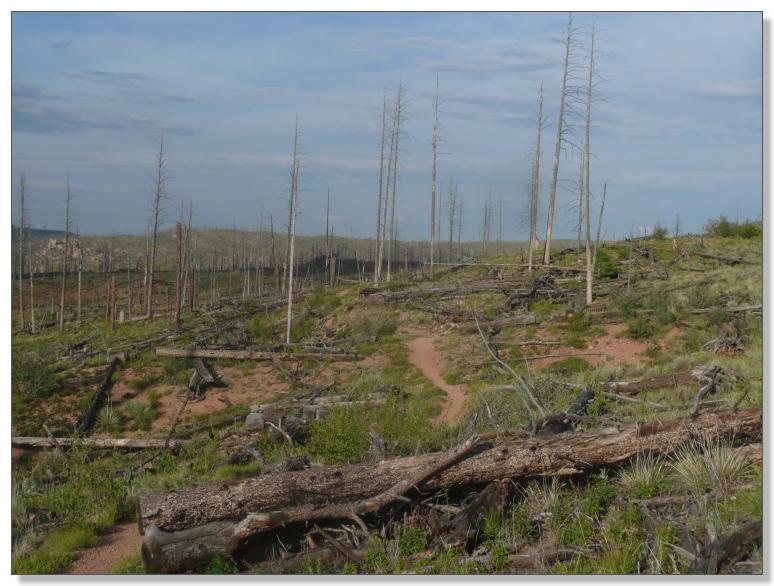 Lil' E led the pack up the Colorado Trail in style on his new Wolfhound. Just a cooldown ride for him, as he was preparing to start the Colorado Trail Race in a few days. Ride wheelies!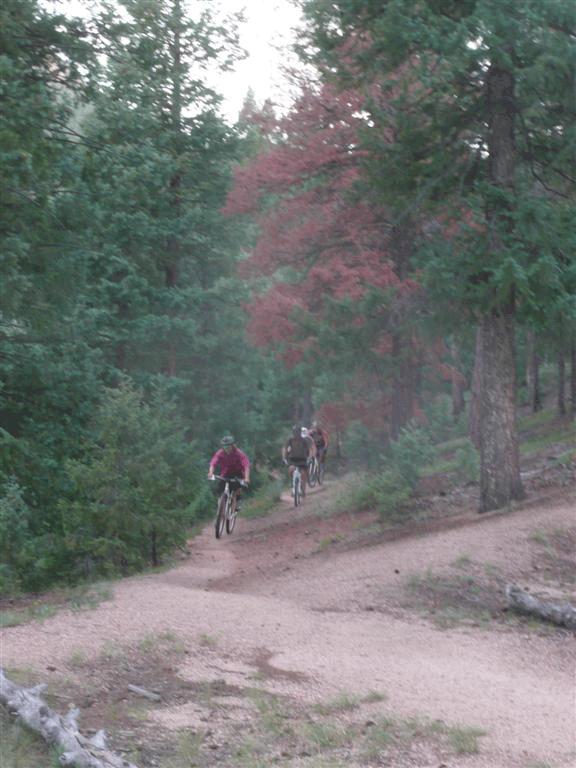 (Speaking of the CTR, it was spellbinding to follow the blue dots crawl along the 500 mile route over the 4-10 days it took riders to travel from Denver to Durango on dirt. An amazing accomplishment to finish that route at all, much less, in four days!)

Some sessioned a nasty technical climb in the darkness, while others mended their rides after getting it wrong. The rightly-famous Charlie's to Sandy Wash descent was amazing in the dark, as were the beer and grillings afterwards with a great crew of guys. Thanks again to PBR Me! for calling these rides and encouraging the likes of me to tag along, and to Scar for a loaner of his super-small yet super-bright Amoeba headlight.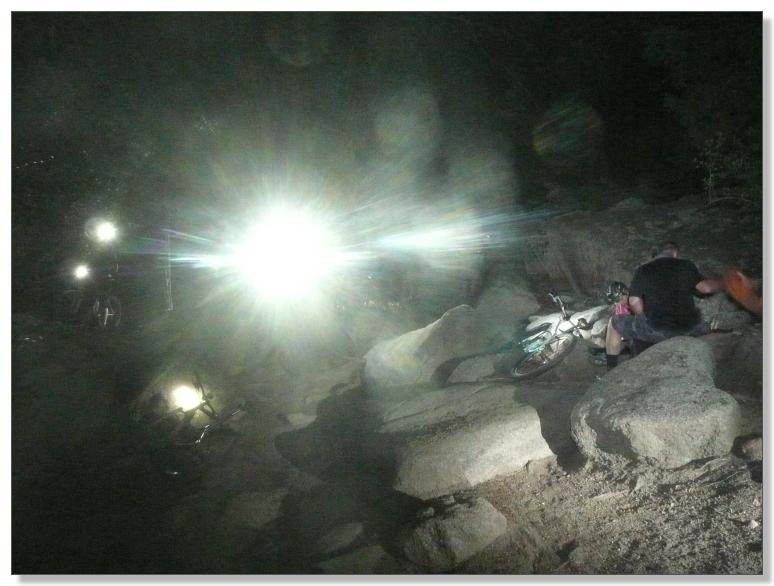 After coming out here for several years, I finally made it up to Walker Ranch one day and rode clockwise around the main loop while Debbie went to a show in Boulder.

The bridge at Walker Ranch, before the famous "stair" climb up and out.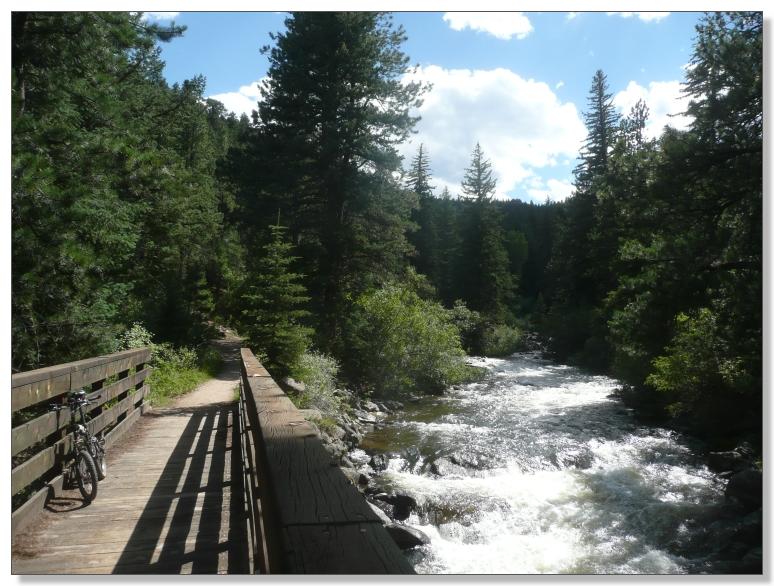 I rode twice at Centennial Cone, one of my favorites. The second time, I did a modified out-and-back from the lower trailhead covering all the singletrack and none of the doubletrack, which was an excellent (and with about 4000 feet of climbing in 23 miles, plenty strenuous) way to ride the Cone.
Tire's eye view of the flowers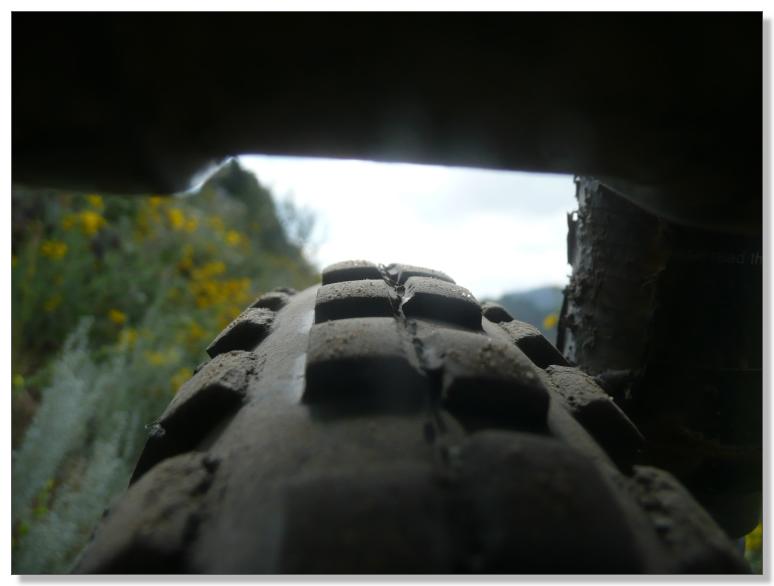 Spotted a nice little buck at Red Rocks, a fun trail I hit several times when I just had time for a quick one.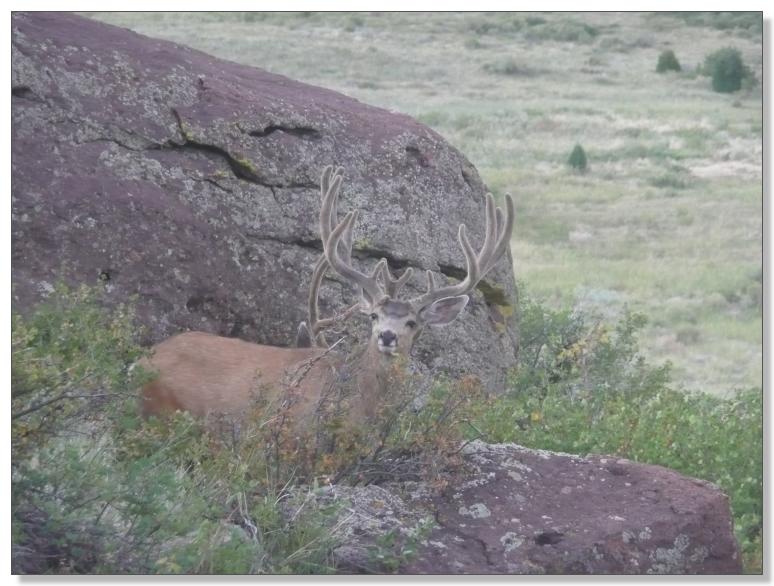 Debbie crosses the South Platte on one of our numerous weekend rides together downtown for lunch and sightseeing.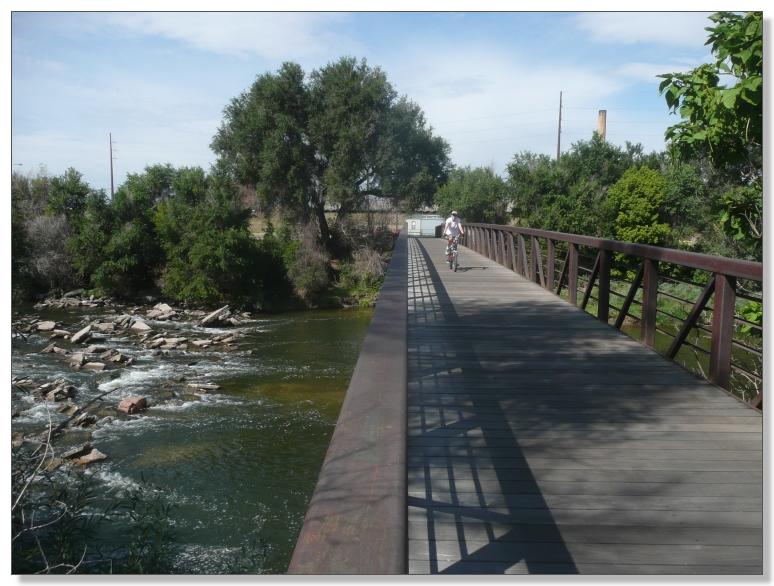 Cool switchbacky section near Golden during what turned into an impromptu 73 mile tour de bikepaths.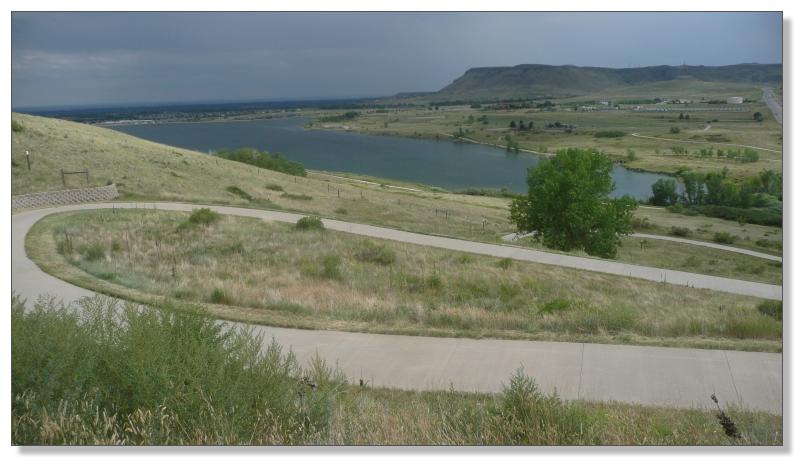 Outstanding mid-ride pizza and beer at Woody's in Golden.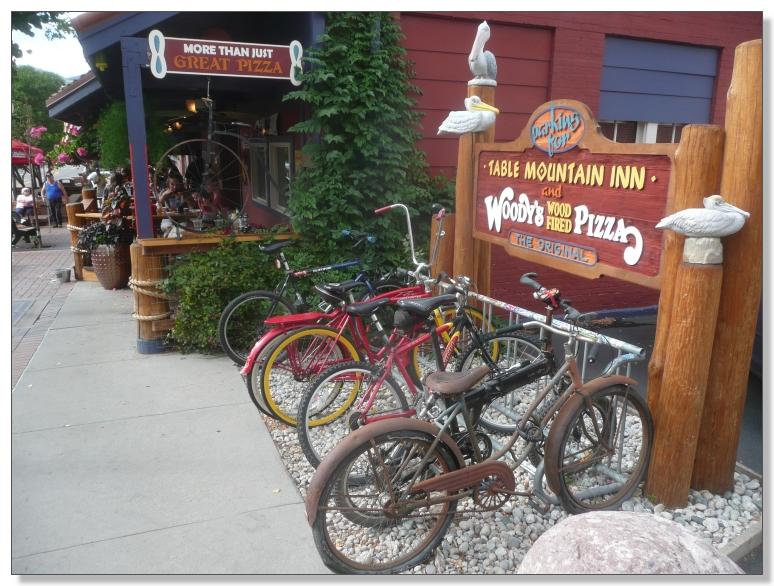 After spending most of the summer in Denver working and riding the town and foothills, we snuck up to Summit County for a couple of weeks in the high country.
We stayed at the Peak One campground on the Frisco Peninsula, and enjoyed its beautiful and convenient location on Dillon Reservoir, with out-the-door riding access to the extensive web of trails and bike paths that connect Breckenridge, Frisco, Dillon, Copper Mountain, and Vail Pass.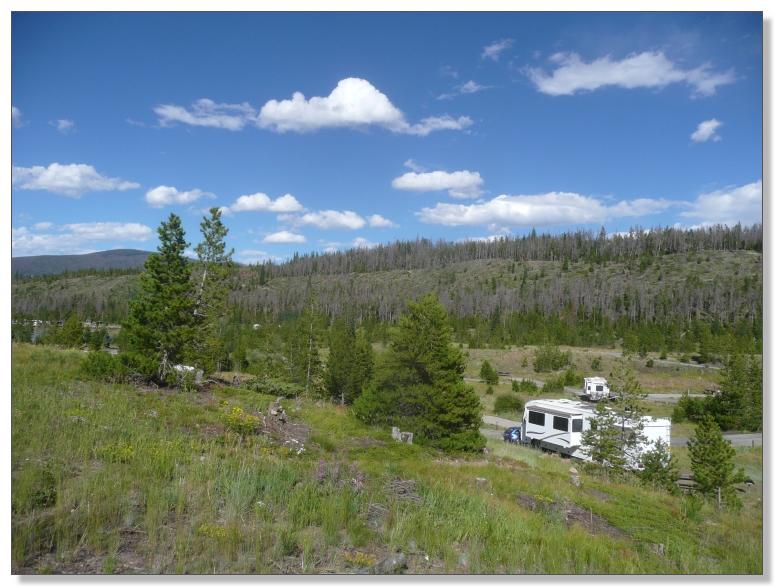 Discovered a few surprisingly decent trails right on the peninsula. At least, they were decent before the tree clearing crews got ahold of 'em... the forests have enormous swaths of pine beetle kill around here, and crews are busy clearing out dead lodgepoles by the millions.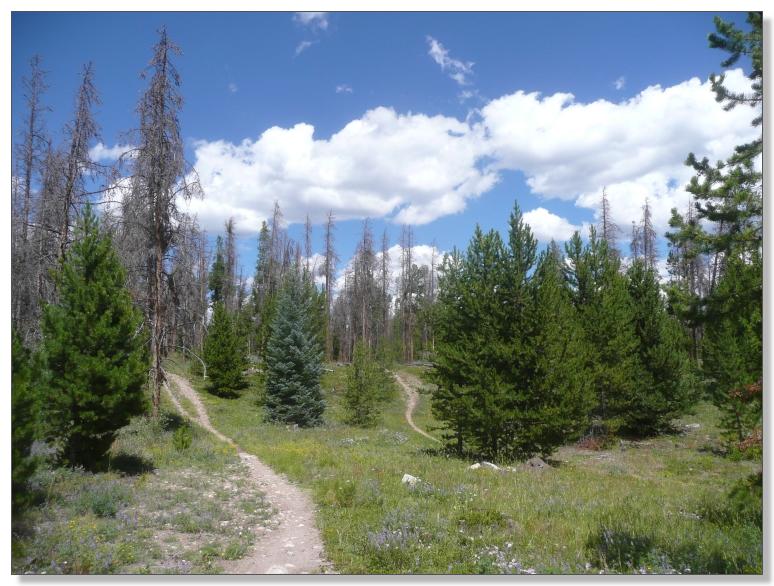 We rode the bikepath together toward Vail Pass, and found a veritible zoo of groovy stone age wildlife along the route: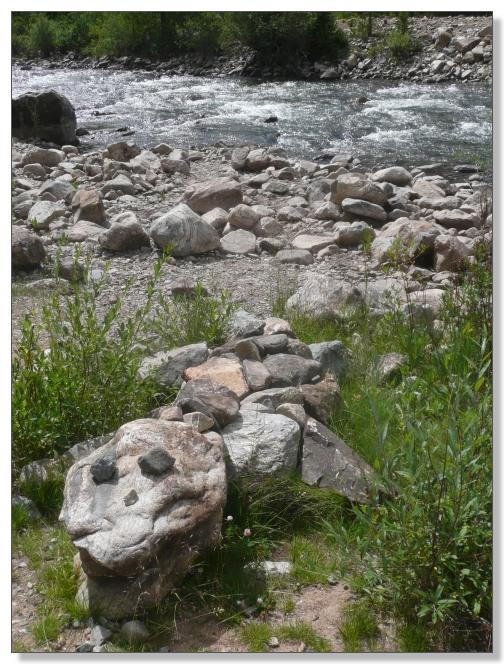 Debbie had had enough and imprisoned herself at Copper Mountain while Carey continued on up to Vail Pass.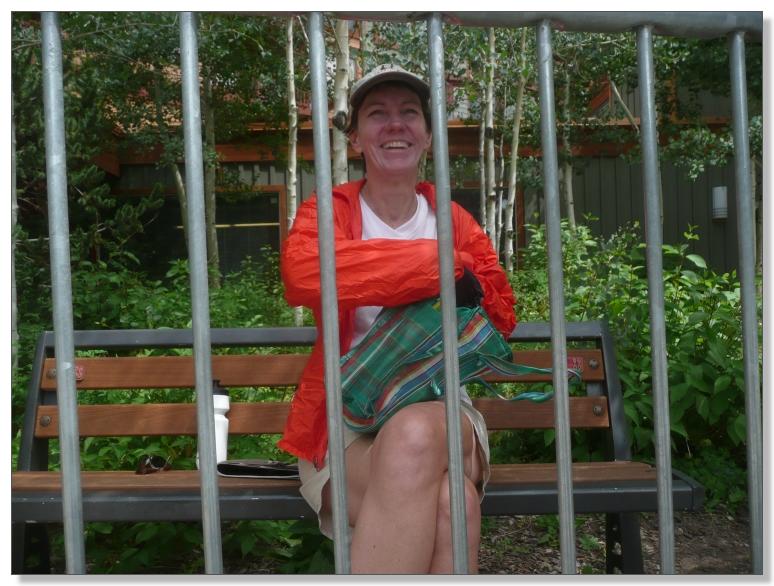 One of many stiff hike-a-bikes during several long, hard, wonderful days of semi-random singletrack adventure in the mountains.
Blair Witch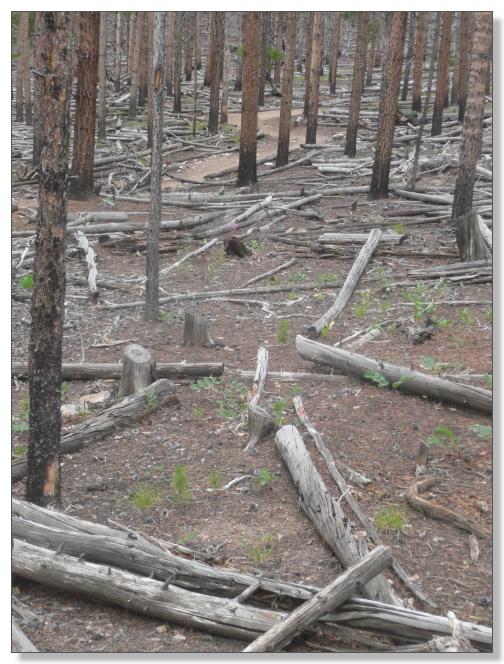 Boreas Pass Road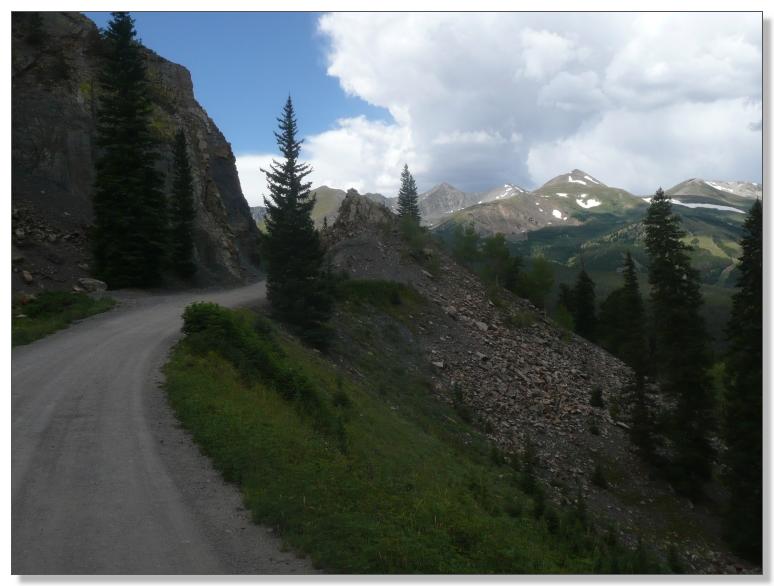 Boreas Pass itself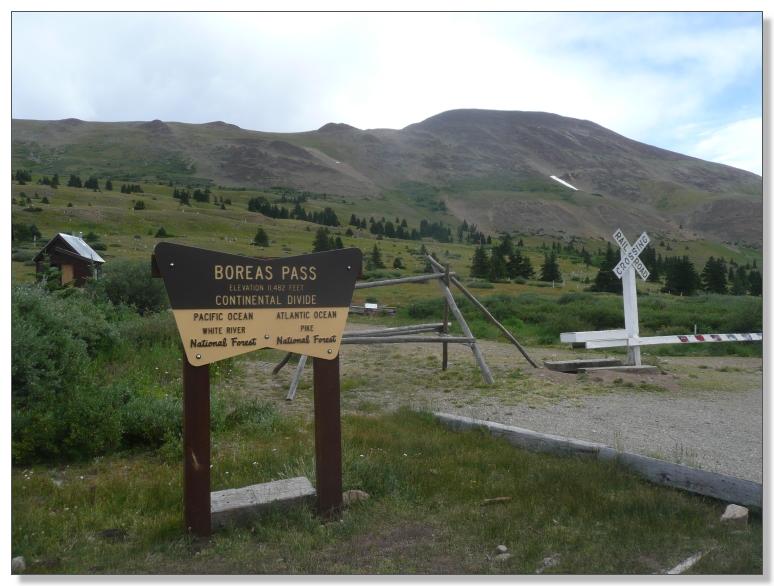 The view from near the pass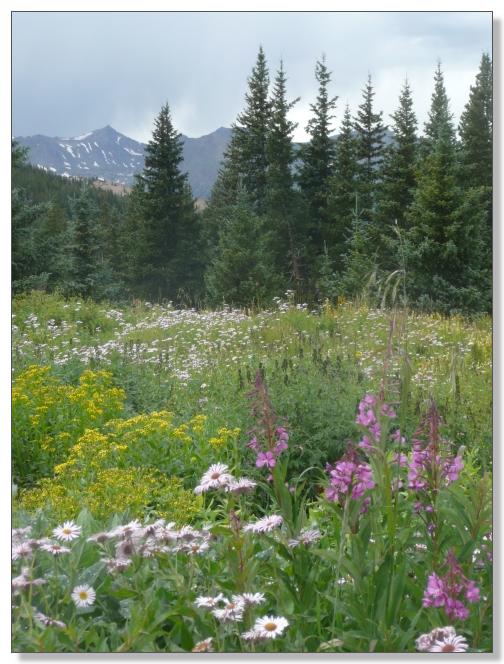 Baker's Tank tank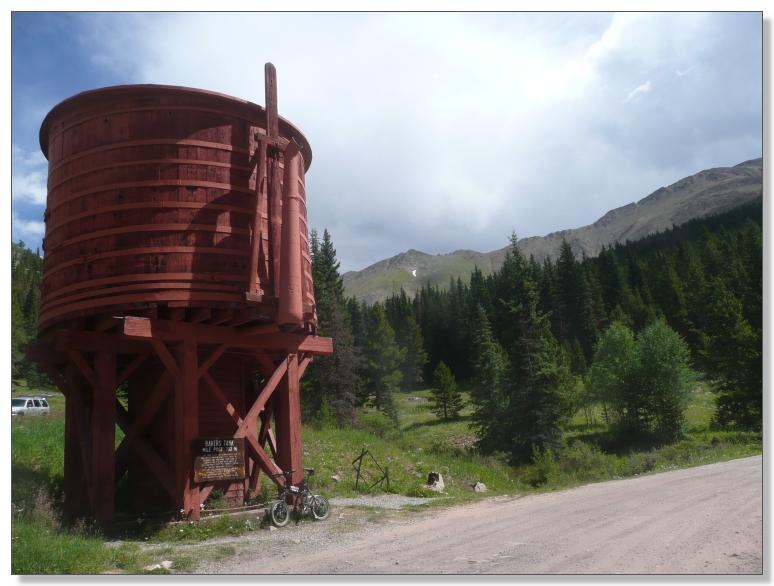 Baker's Tank trail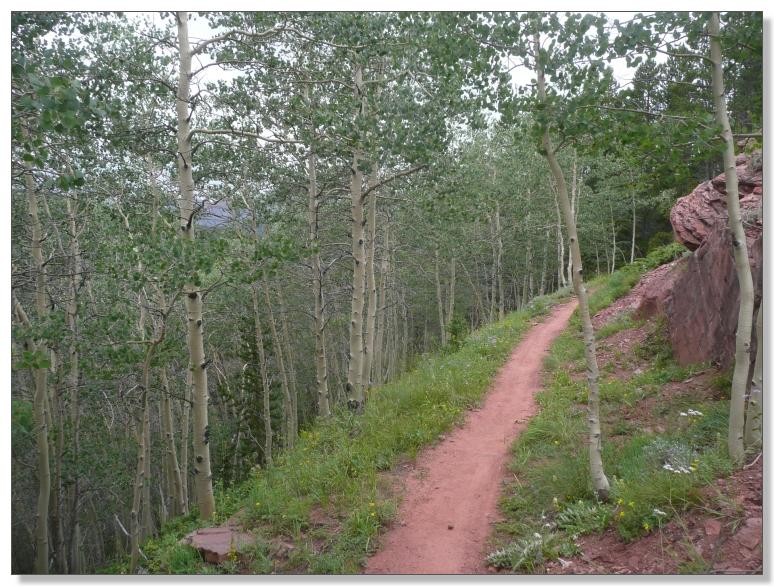 Muddy Meter

Fancy rock armoring on Barney Ford trail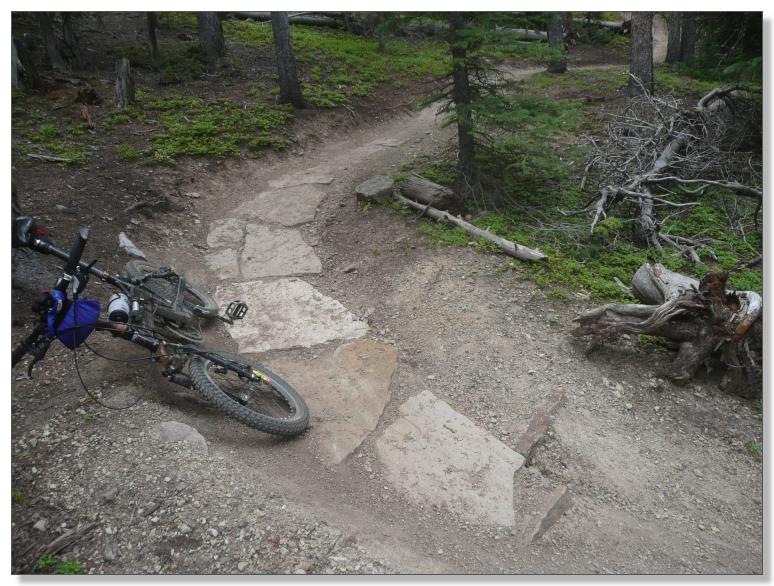 At least clearing out the beetle-killed lodgepoles made for a nice view across the valley of the sprawling Breckenridge ski area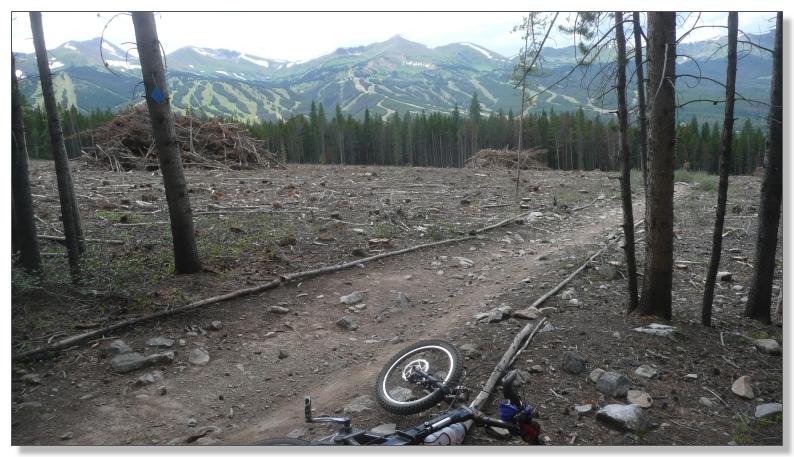 The "B-Line" trail featured cool wood features inspired by Whistler's famous "A-line". I rode some of the easier options, but this stuff freaks me out when it gets high and droppy, especially on my little bike!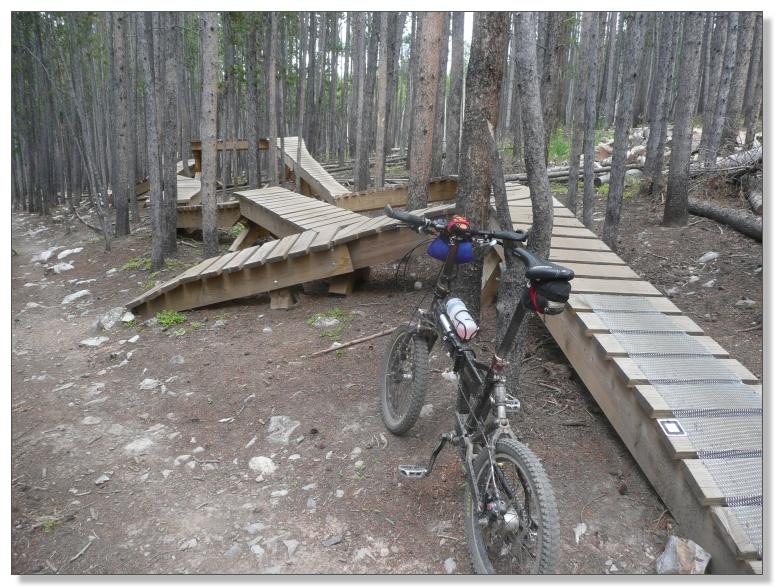 Helpful to know where you're "NOT" in the French Gulch area: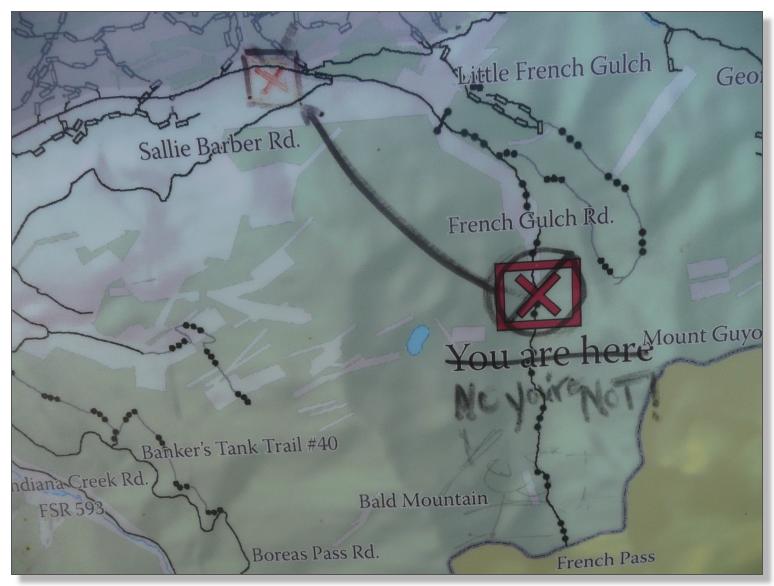 Chain-snapping power climbing to Little French (ha!)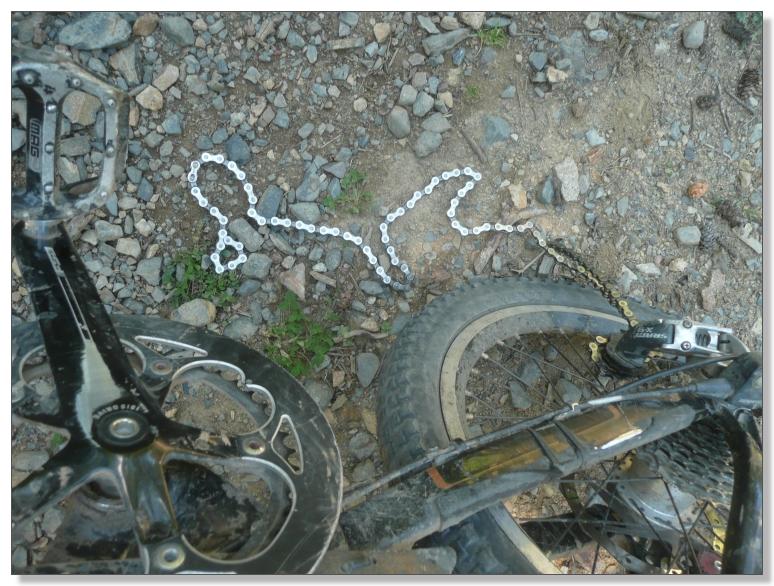 Hark, an XXC sticker--I must be on the right trail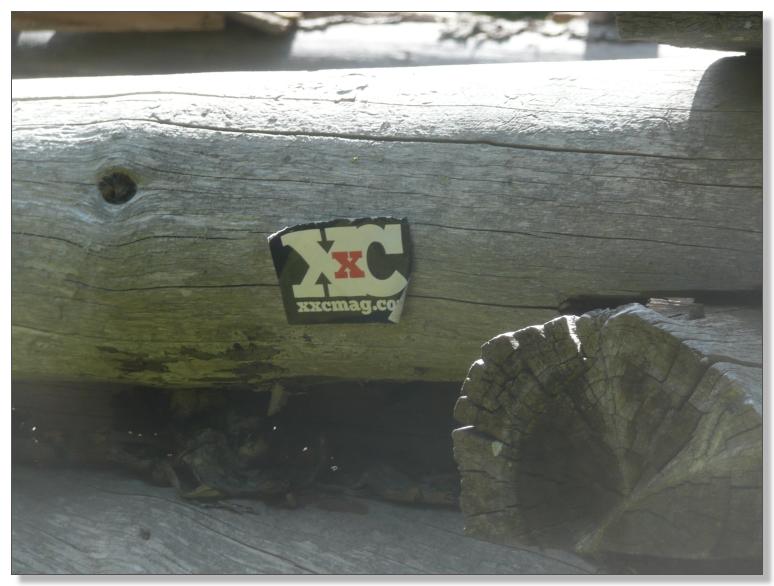 Tempting-looking switchbacks lead further up through the scree... but to where?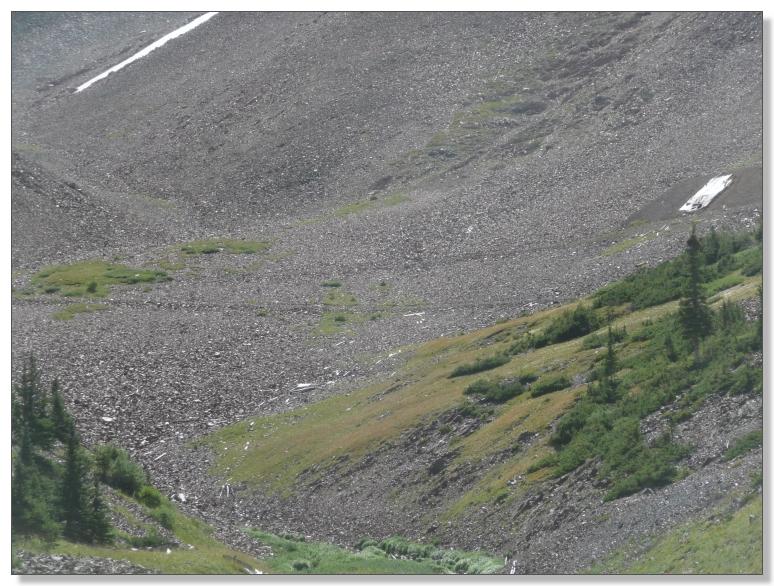 Downwards on Little French flume trail at around 11k feet.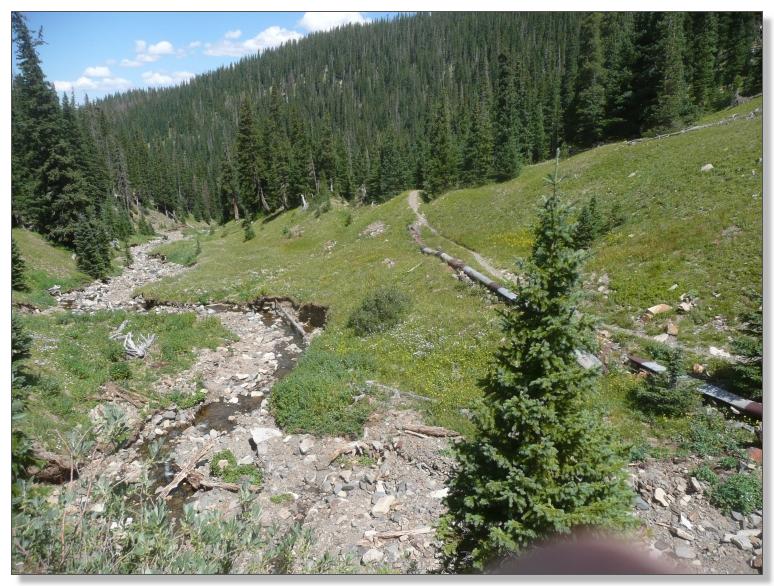 Got a little lost in the maze of old logging roads and had to break out the old Boy Scout compass.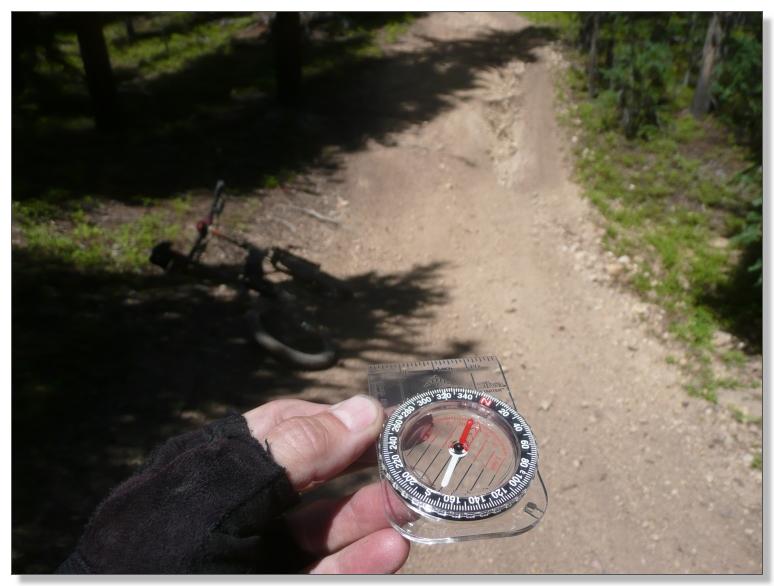 More fancy pavers on Tom's Baby trail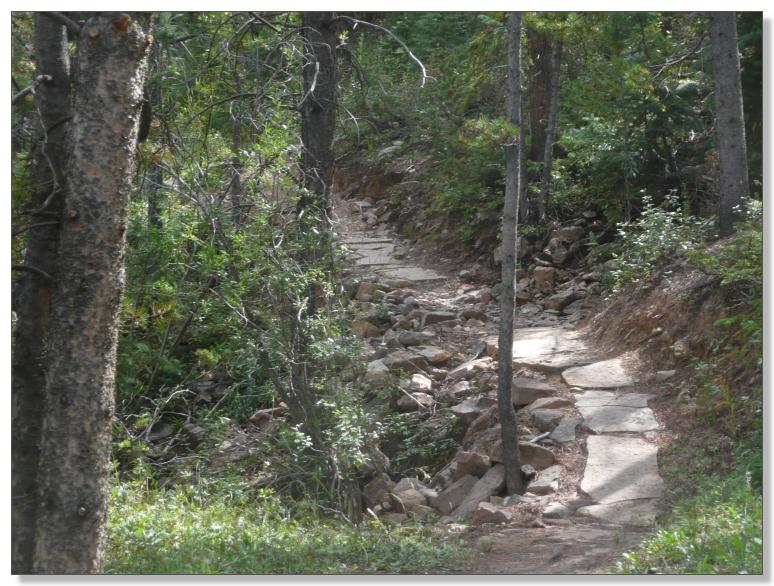 We took a car trip to Aspen over Independence Pass at 12095 feet the day after the USA Pro Cycling Challenge pro tour came over from Gunnison to Aspen. Big George Hincapie won that stage, which also included a dirt-road climb over Cottonwood pass at 12126 feet.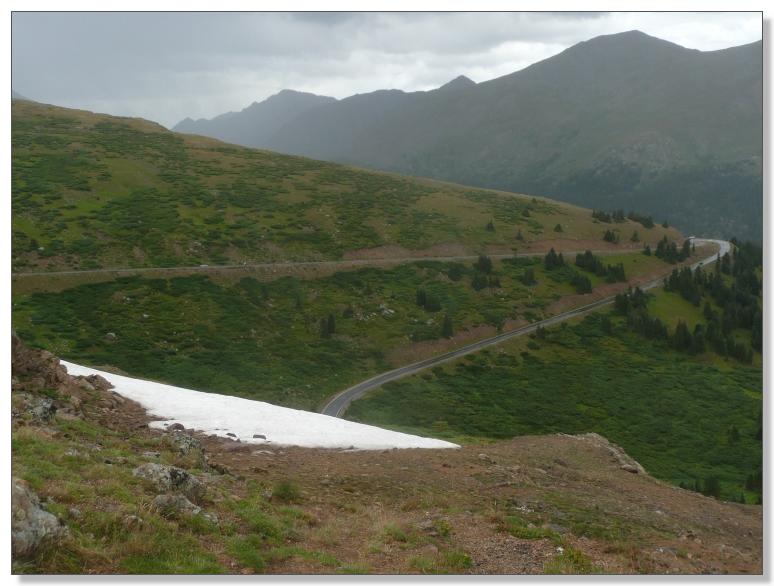 Maroon Bells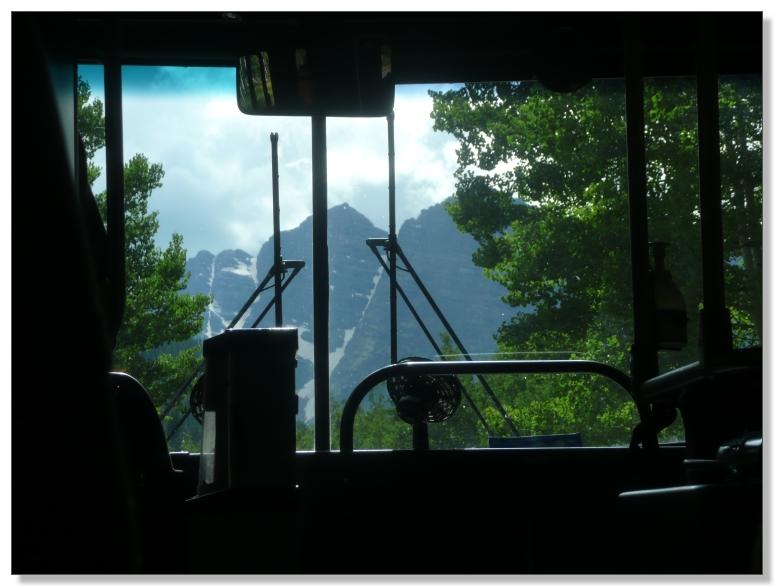 Bells' Bees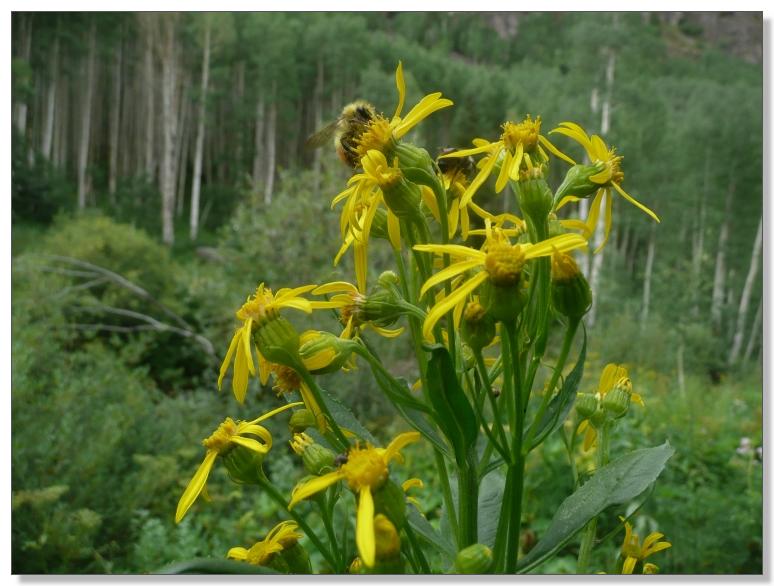 Hanging Lake hike in Glenwood Canyon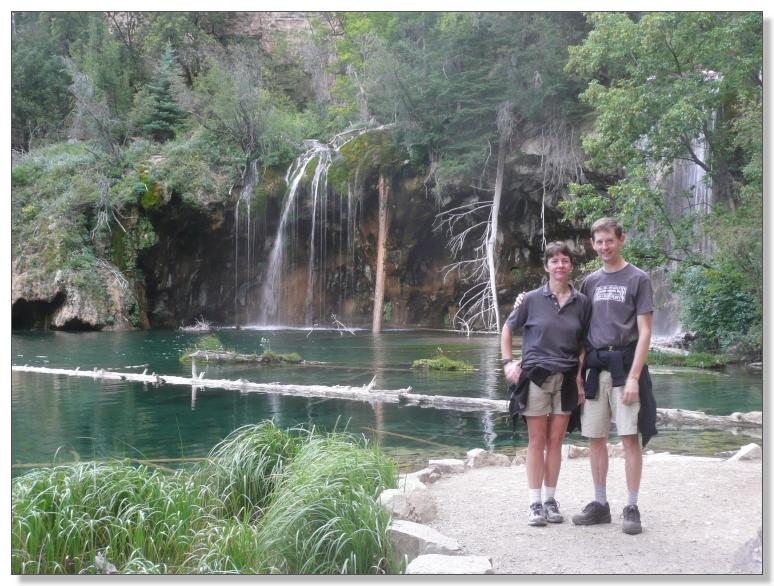 A couple days later, along with hundreds of other local cyclists, we rode the rec path from Frisco up to Breckenridge to watch the USPCC peloton thunder into town Two days earlier Levi Leipheimer had won the crucial uphill time trial at Vail and put himself into the overall tour lead, while the next stage was won by Elia Viviani, who took his second stage win in as many days coming in from Steamboat to Breckenridge today.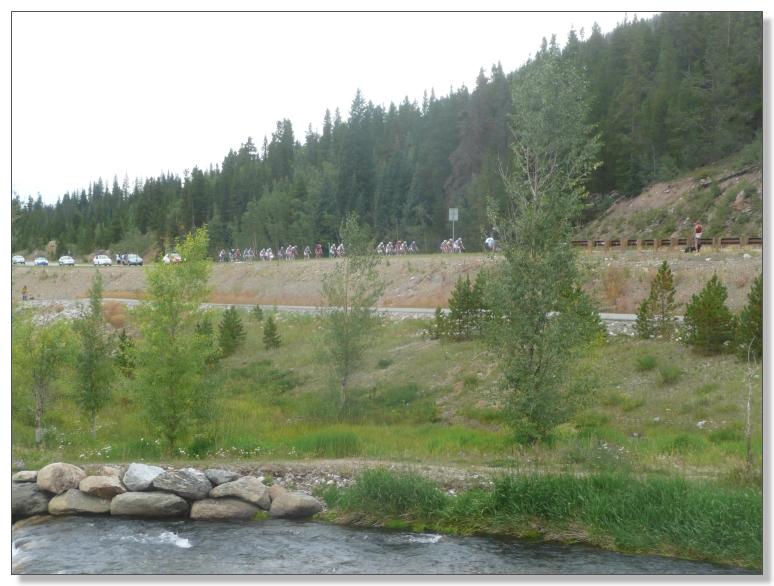 Y'all just keep chasing that Smashburger. (We caught a few ourselves during our stay!)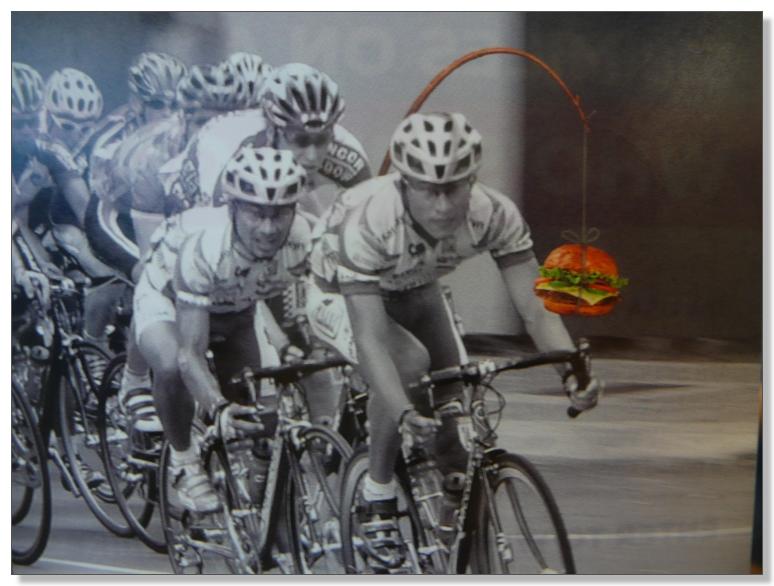 A day later we returned to Denver, and rode our bikes downtown to watch the final stage of the USPCC, which finished with a six lap circuit around the city's famous landmarks.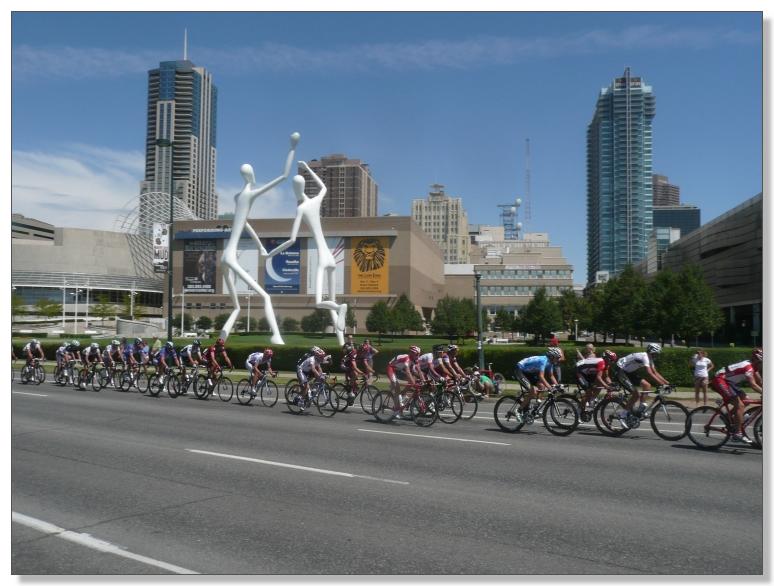 Powering toward the State Capitol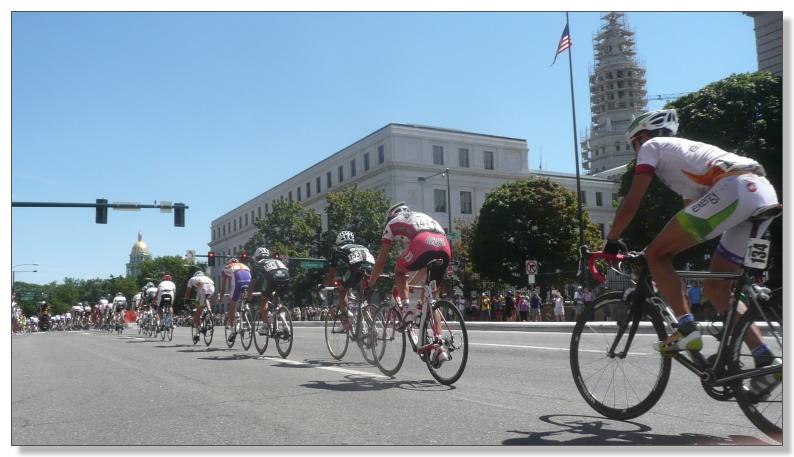 Past the US Mint

Final lap charge! Daniel Oss sprinted to the stage win, while Levi Leipheimer hung on for the overall tour victory.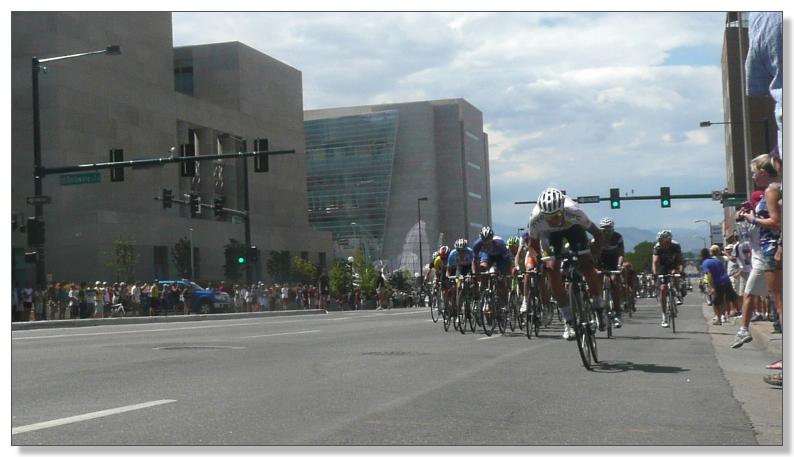 While I am not much of a bike racer and even less of a road biker, it was cool being able to catch some stages of this new pro tour live. Seemed to be a big success with the public and is set to return in 2012 with some additional cities, including Durango and Telluride. Hmmmm...
September started with another TITS night ride at Alderfer / Three Sisters. Below, the pack heads up Evergreen mountain. It was interesting to compare my average speed after this ride to roughly the same route shortly after arriving in Colorado six weeks earlier. I improved from a painfully-slow 5.8 mph to a just-plain-slow 6.7 mph. Doesn't sound like much, but it's 15%, and I definitely felt better trying to keep up with the gang so I'll take it.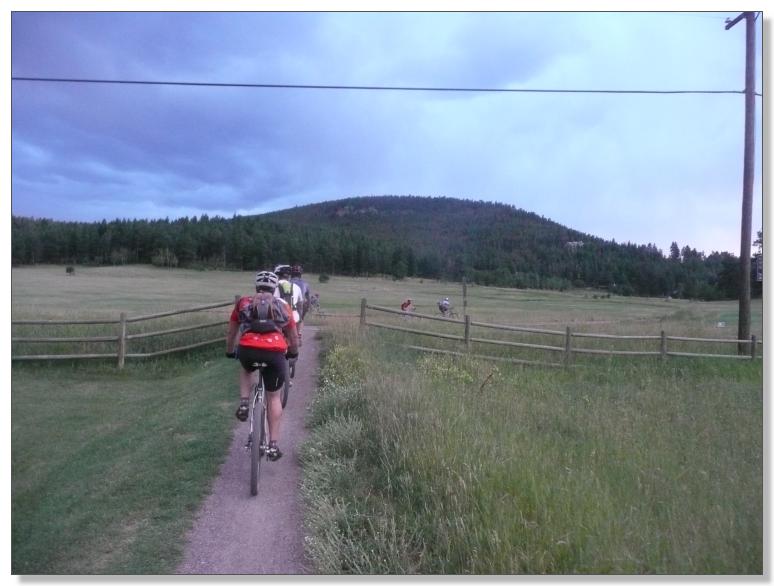 I hit up another new-to-me ride near Boulder while Debbie went to another show. Here's Hall Ranch, seen from the bottom.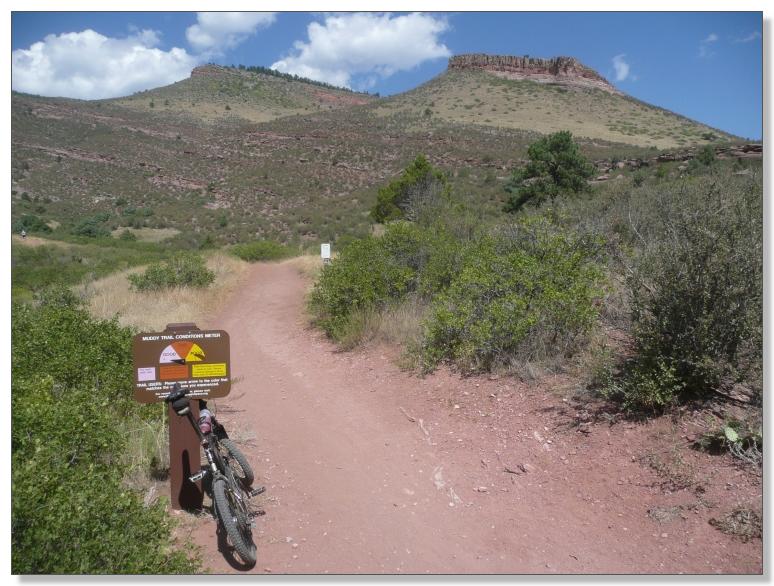 And here's Hall Ranch from the top. (wonderful technical climb in between not shown!)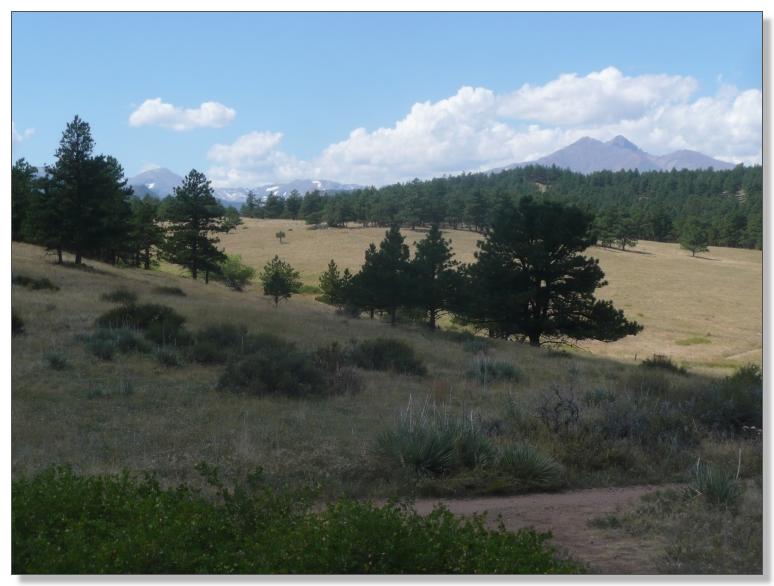 For my last ride in Denver, I joined up with Bobby "Slow" for a classic segment of the Colorado Trail from Kenosha-Georgia, with a new (to us) twist of Jefferson Creek trail on the return.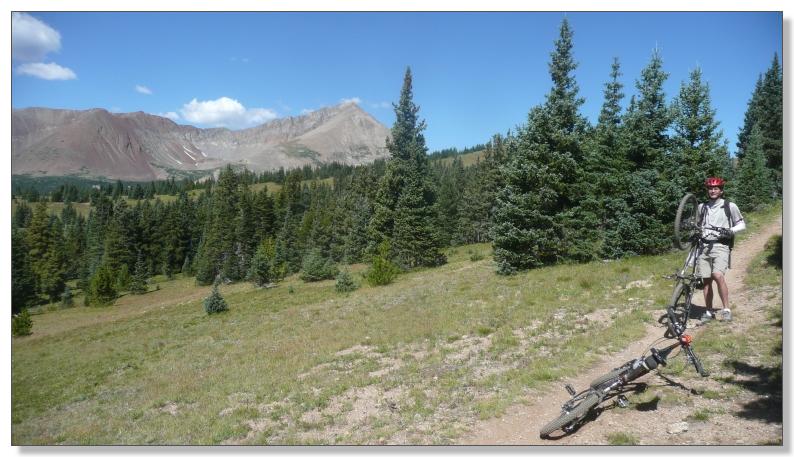 Naturally, Mr. Slow led the climb to Georgia Pass on his singlespeed, despite the name and lack of gears.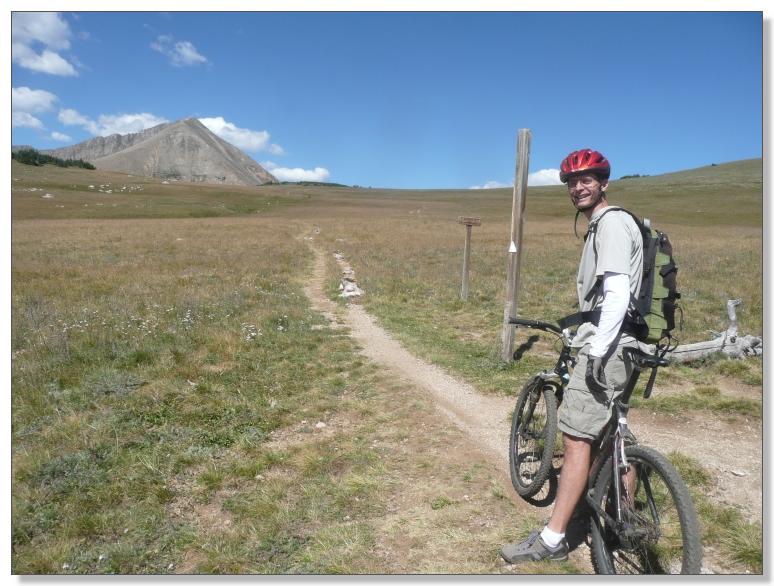 Guyot dwarfs Slow.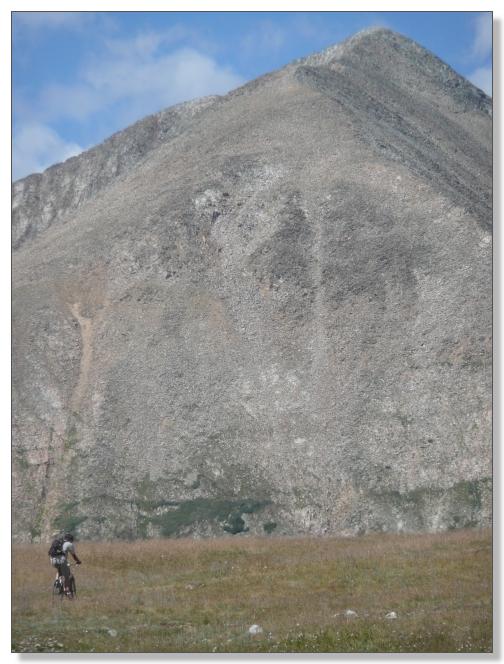 We couldn't resist exploring down the backside a bit... awfully tempting to zoom down all the way to Breck, but we resisted... today.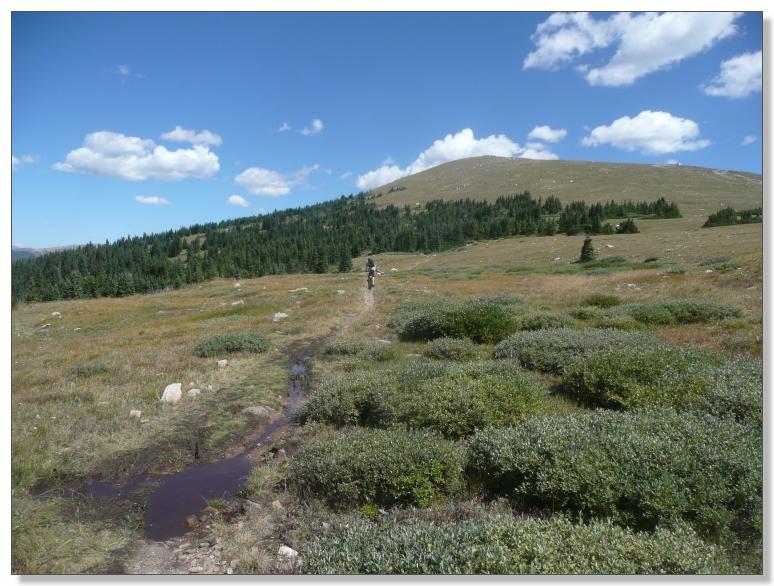 Cool tree blowdown patterns: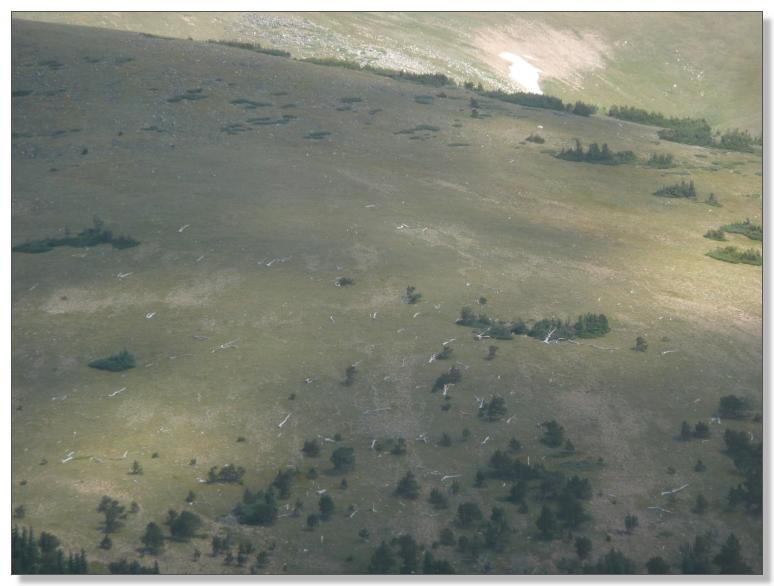 The Jefferson Creek descent awaited us below: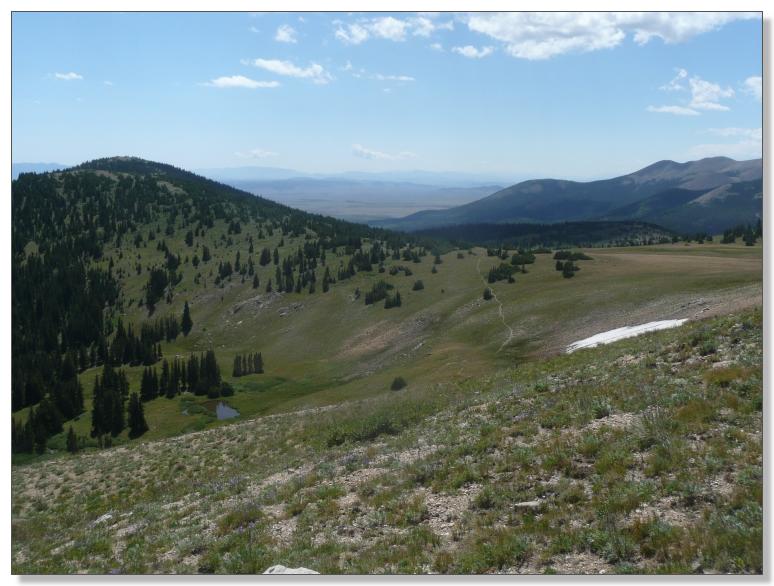 Under the huge drift, Slow starts down the Jefferson trail, which was an amazingly fun, moderately-technical screamer.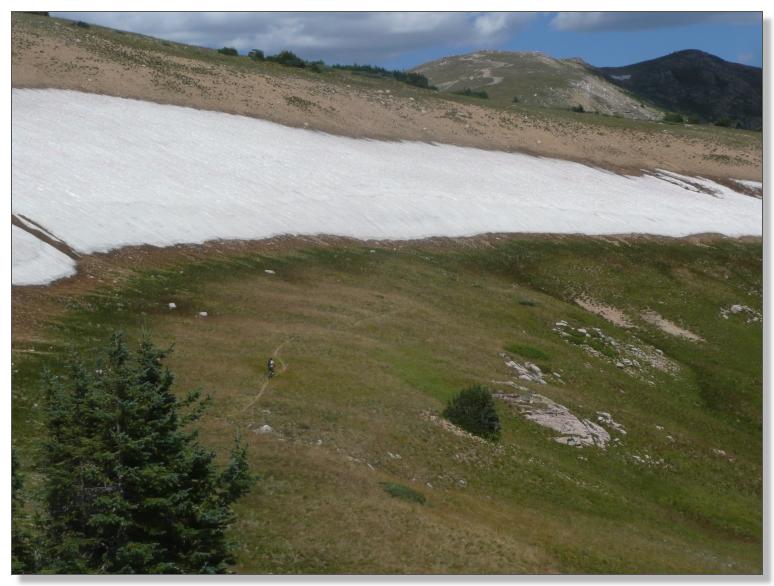 This was a perfect ride to close out an awesome two month stay in Colorado, during which I racked up about 750 miles (more than the previous six months combined).
I was starting to feel like a proper mountain biker again.
And just in time too, with a two month swing through Wyoming, Montana, Idaho, and Oregon on the agenda next...
< previous story home next story >
---
HOME TRAVEL LOG MOUNTAIN BIKING WINDSURFING STORY ARCHIVES RV INFO PHOTOS CONTACT US
---