---


HOME TRAVEL LOG MOUNTAIN BIKING WINDSURFING STORY ARCHIVES RV INFO PHOTOS CONTACT US
---
< previous story home next story >
Arizona Spring Fling!
Featuring a grand assortment of rides during the annual gathering known as "AZSF".
March 16 - 27, 2011
We traveled from Texas to Phoenix in March to work on a fire truck driving simulator recently installed at the training complex in Mesa, and a couple other simulators at the community college in Scottsdale.

It was mere coincidence that March is prime riding season out here and we'd be around for the AZSF...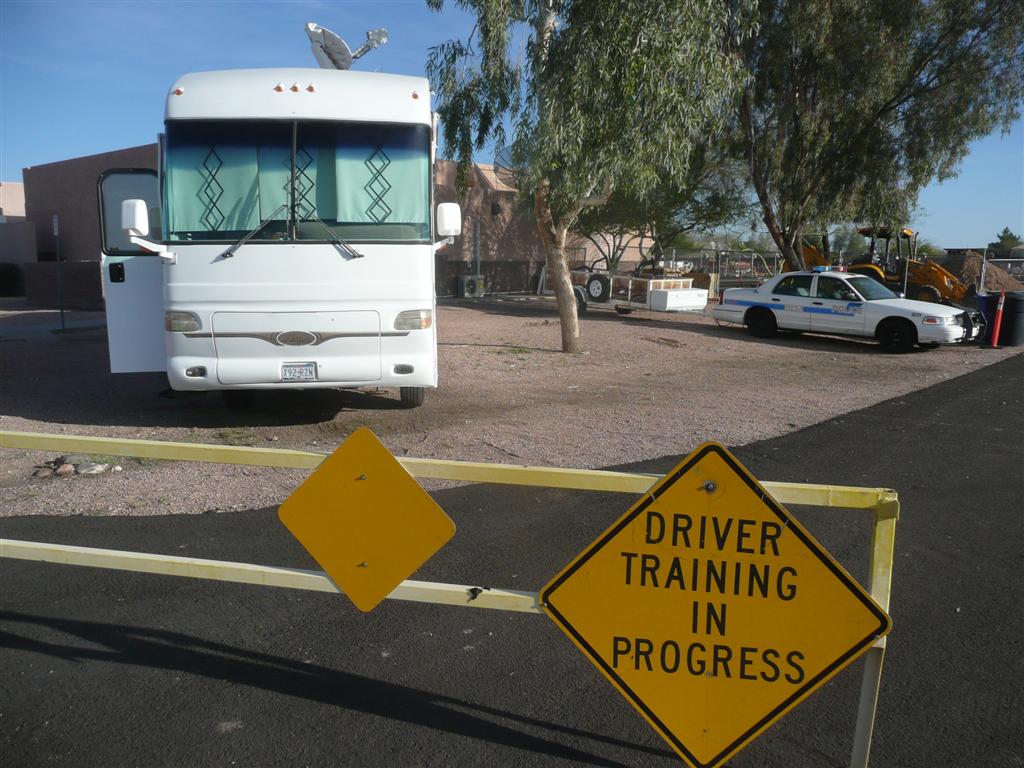 WEDNESDAY: HAWES TRAIL SYSTEM IN MESA

There was an AZSF sunset ride scheduled at Hawes this day, but I'm light-challenged so I just went over there in the afternoon and got in a nice solo loop.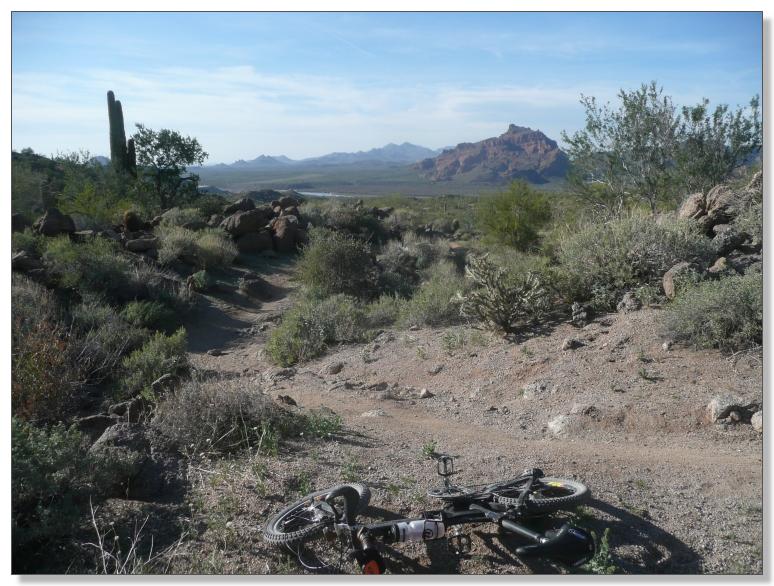 Needed a shakedown ride to make sure my brand-new saddle was gonna work, and all was good:



I figured I'd make it back over to Hawes a few more times during our weeks in Mesa since it was only about 5 miles away, but tragically I stayed too busy with work and this ended up being my only ride here. Oh well, at least it was a good one.


THURSDAY: GOLD CANYON "CRAZY EIGHT" LOOP IN APACHE JUNCTION

The "official" AZSF rides for the day were down in Tucson, but when this impromptu ride got called I took the afternoon off and jumped at the chance to check out these new-to-me trails that I'd been wanting to ride anyway. Thanks to ride leader GilaMonster for the ride and the first few pics below. We had a great little group of locals and out-of-towners.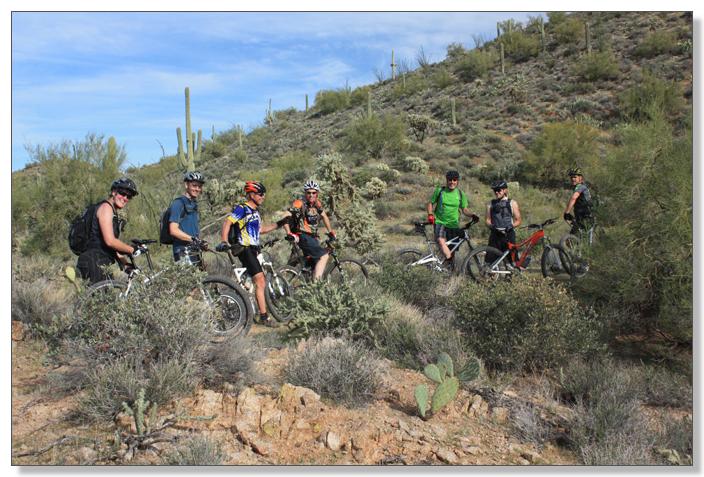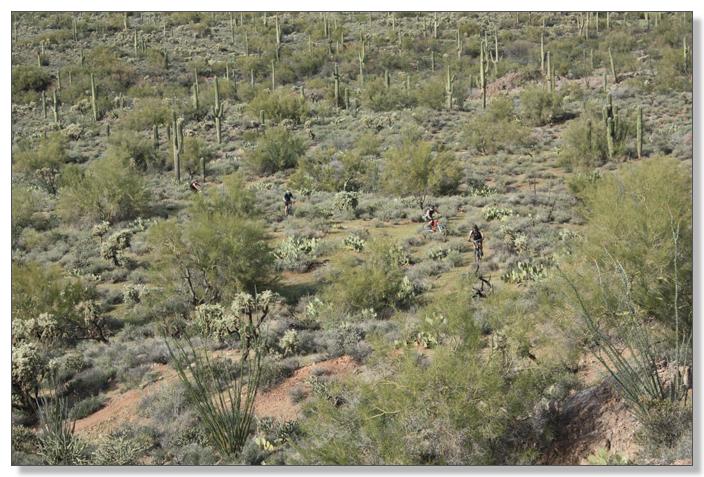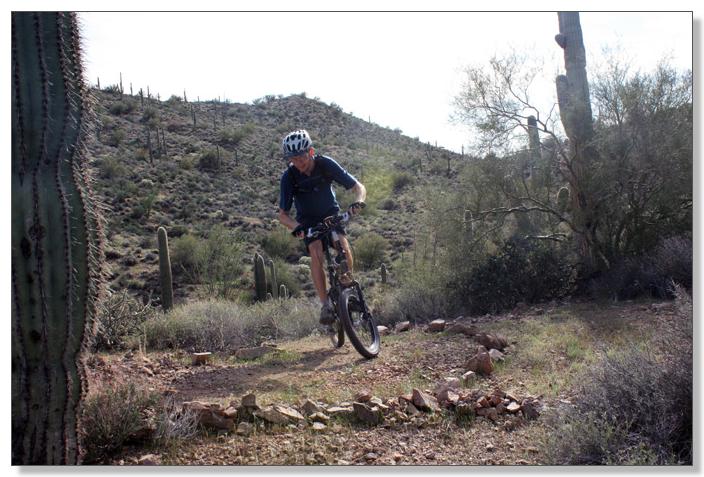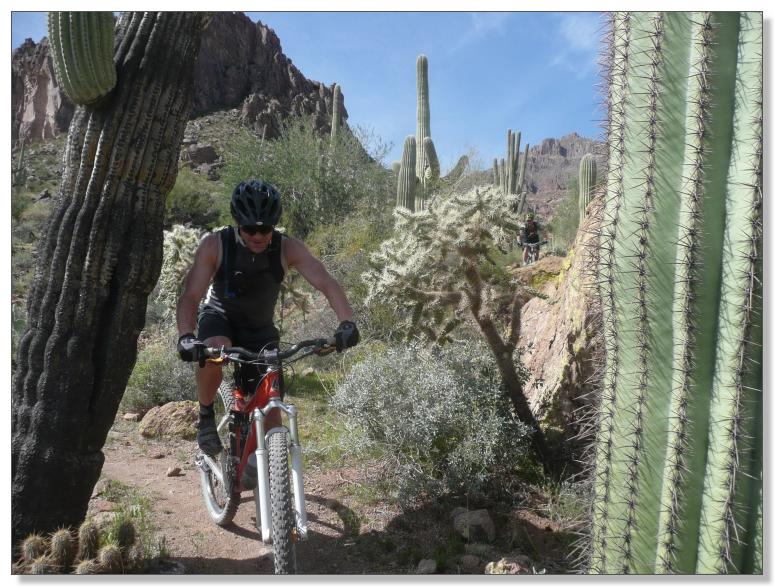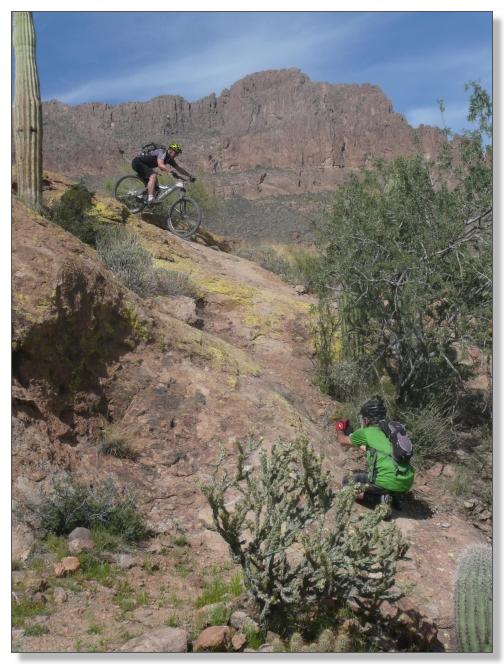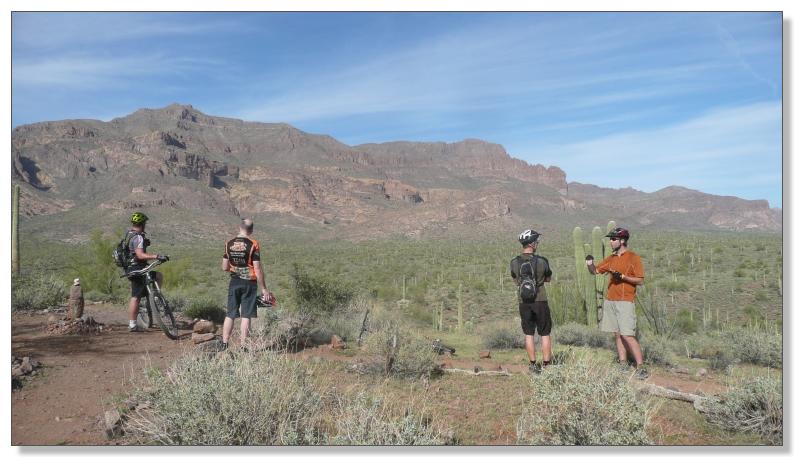 Very scenic area with lots of entertaining trails. Pleasantly challenging but not brutal. A nice addition to the Arizona riding menu that I'd vote to become an "official" AZSF ride in the future.


FRIDAY: NATIONAL TRAIL, SOUTH MOUNTAIN IN PHOENIX

Up National to Telegraph and back was the plan for the day. How can a ride that consumes almost 6 hours and covers a mere 16 miles be considered a "B" ride? That's just how the infamous SoMo chunk works. Thanks to RyDaddy for calling this "A" ride with "B---" pace. That's exactly my thing, and I had a ball.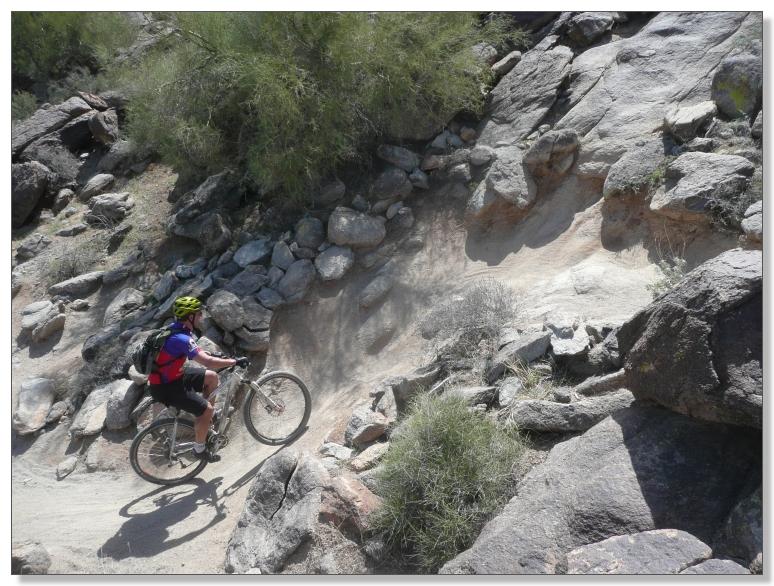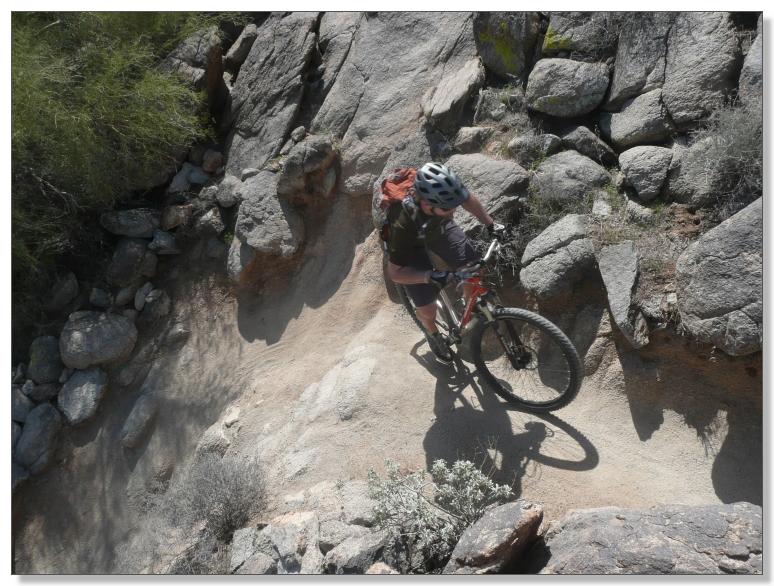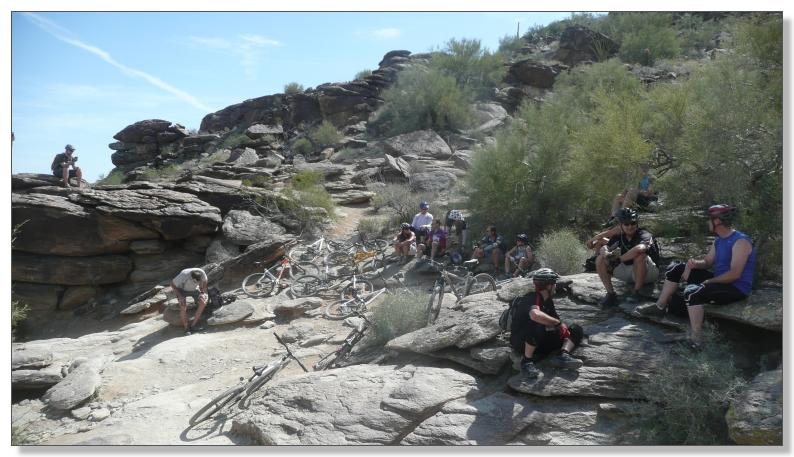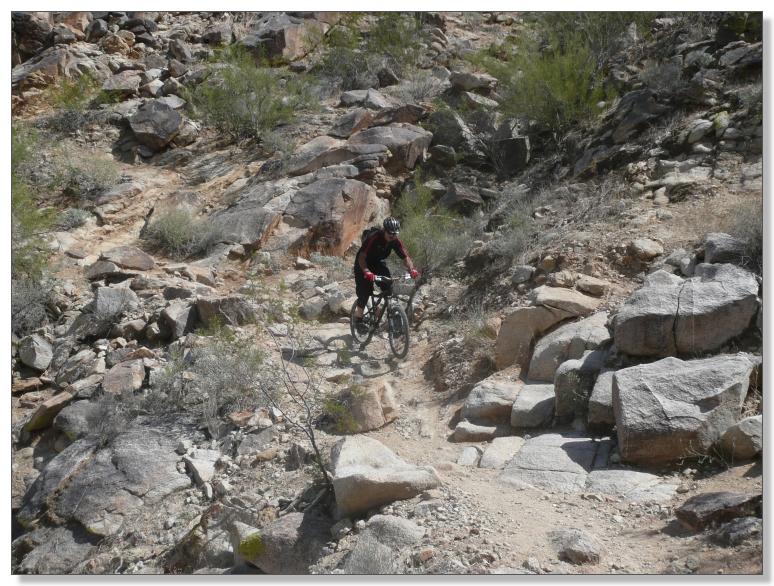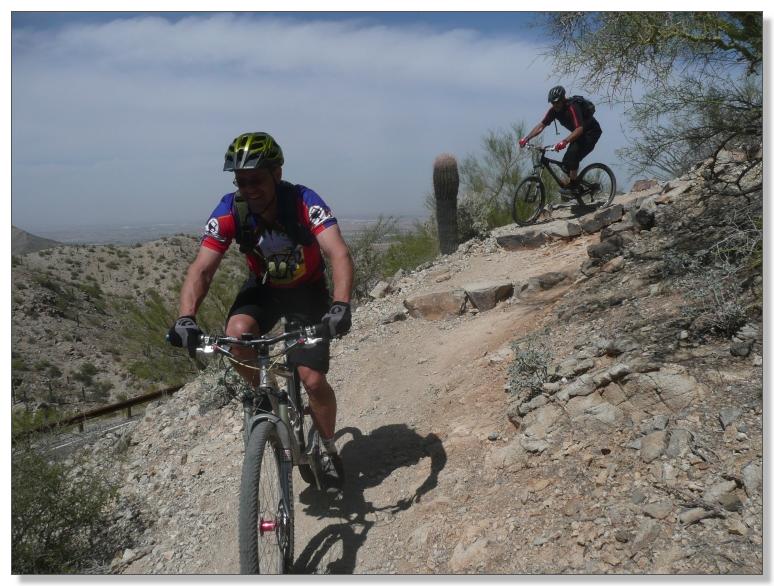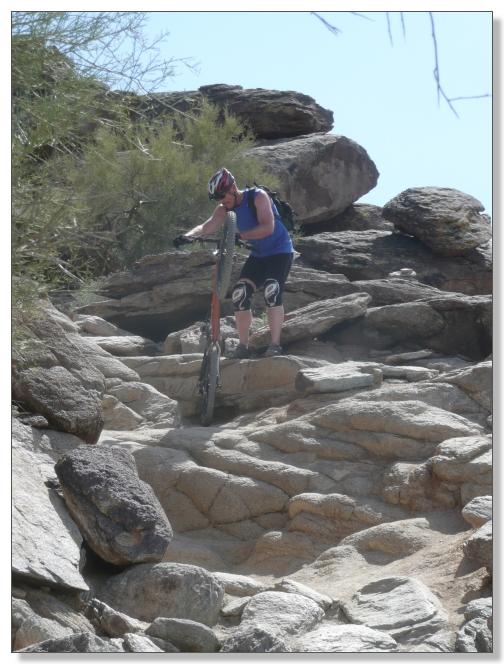 This was my third plunge down National now and I gotta say that doing it on the folder is one of the funnest things anywhere. Sure, I have to walk a few spots, like most mortals, but I'm able to ride an awful lot of it going down since gravity helps keep me rolling despite the little wheels and I find picking lines through the chunk a total blast.

I'll keep coming back until the poor bike finally breaks in half.



SATURDAY: THE "DOUBLE H" LOOP IN SEDONA

I had toyed with the idea of renting a bike and trying the "Triple H" version of this ride that also included Hangover, but decided that doing a monster ride on an unfamiliar bike with a bunch of hammerheads was probably not a great idea...

What did turn out to be a great idea was demoing a Turner Sultan full-suspension 29er and joining a slightly less ambitious but still plenty stout ride led by Sedona local Zul ("Will guide for beer") . This was a fantastic tour of the red rock maze that included two of Sedona's new highlight trails, Highline and the Hogs, plus an assortment of connecting trails that boggles the mind.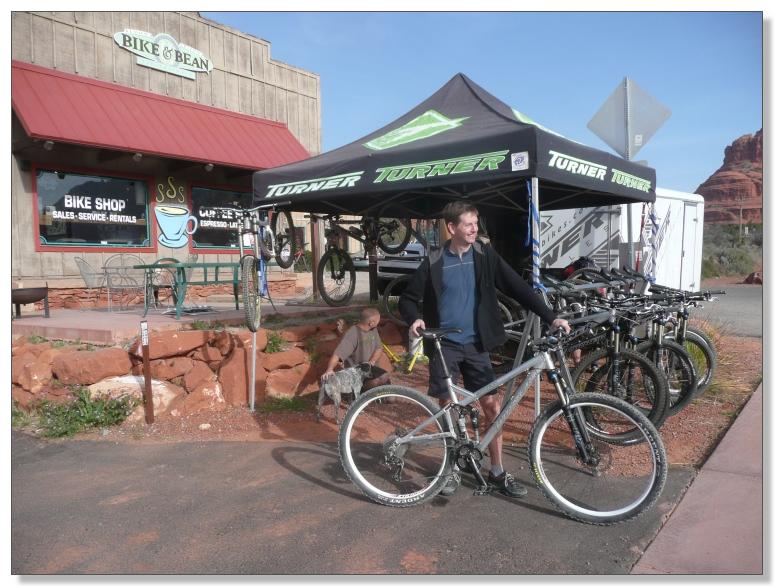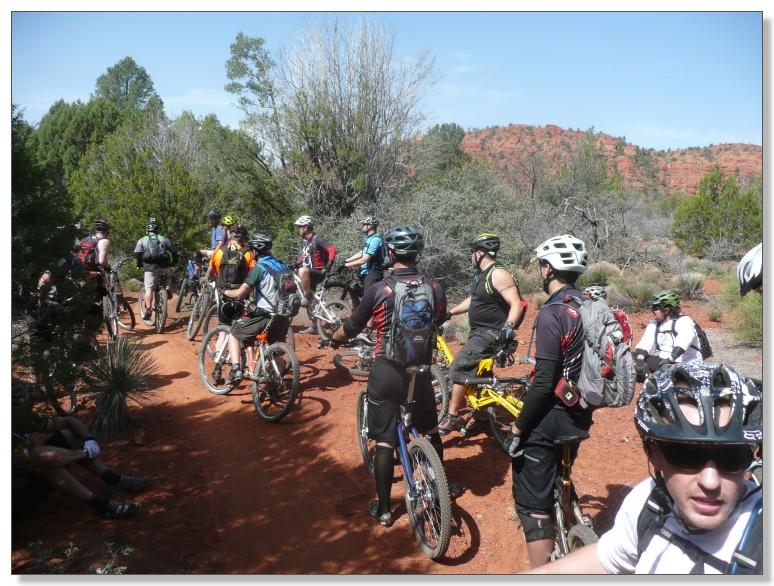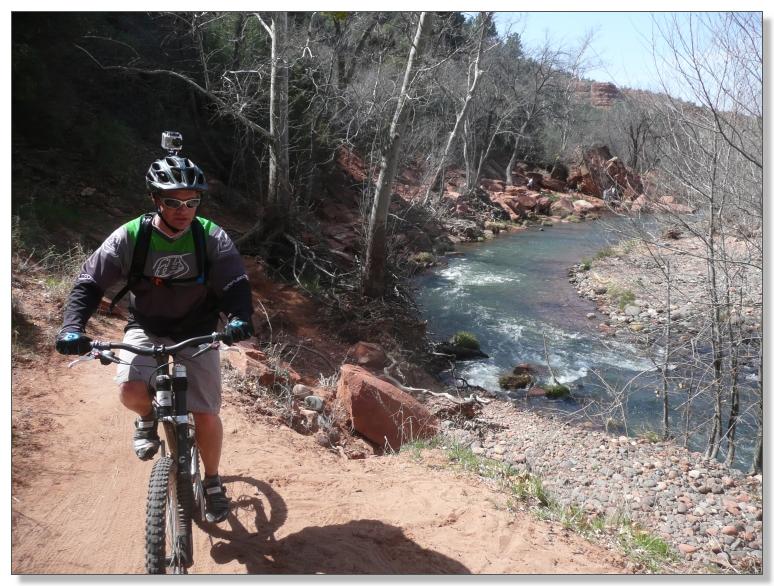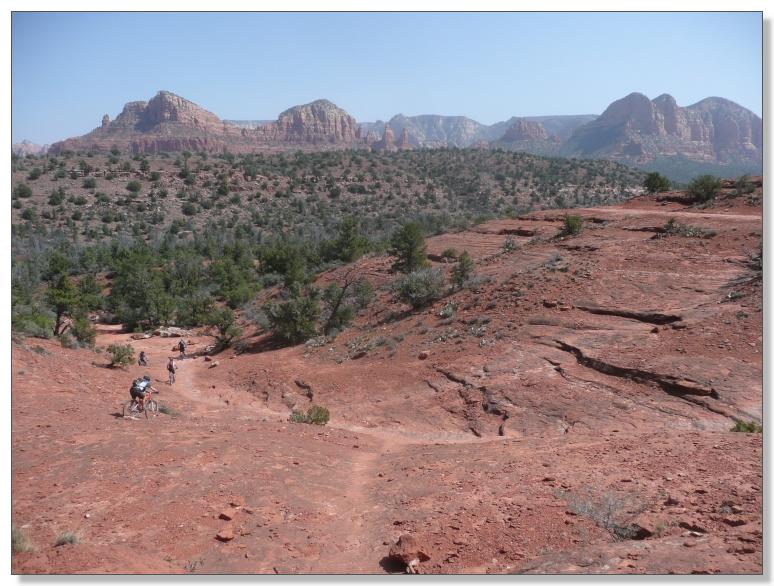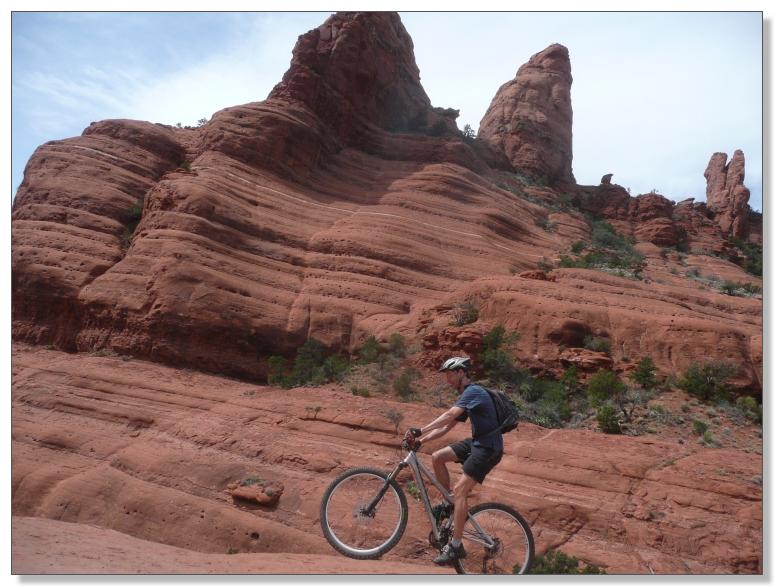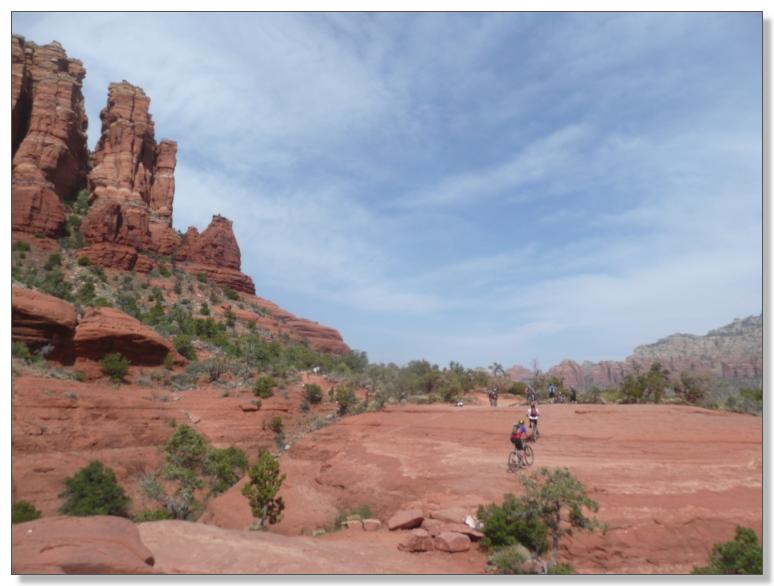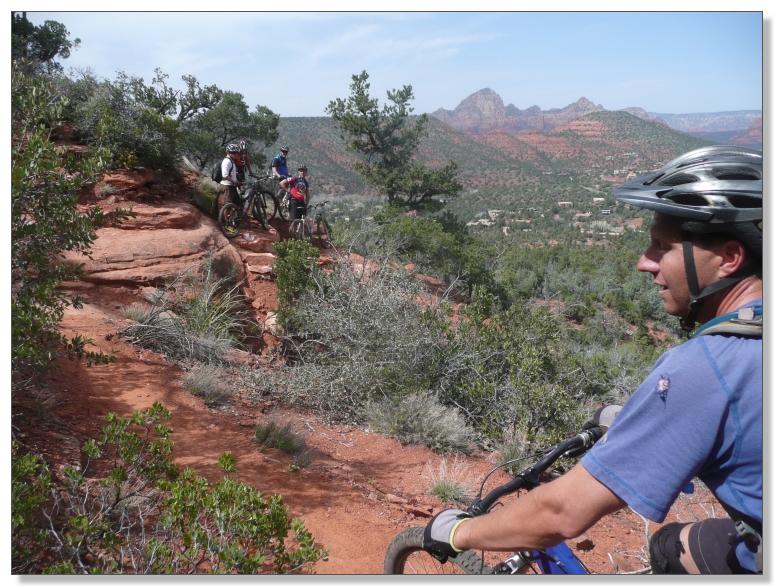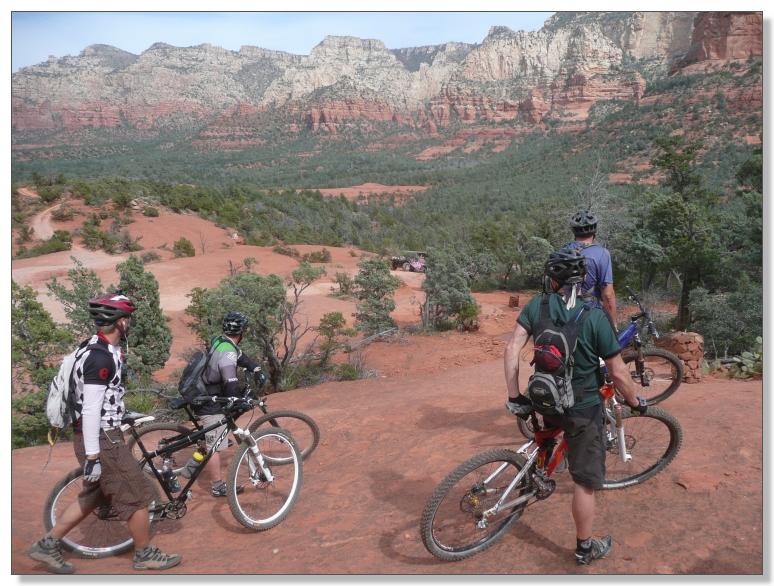 I'd demoed a Specialized Carbon 29er hardtail in Texas last month and that bike felt immediately natural to me. Despite the big wheels, it was a surprisingly similar feel to my 20er--lively and nimble--but was blindingly fast and virtually unstoppable too.

By contrast, on the big Turner I felt uncoordinated and sluggish, like there was a mismatch between my natural steering and lean angles, which was downright spooky at times. It was almost like learning to ride a bike all over again (and narrow, exposed trails like Highline are probably not the ideal place for that!).

On the other hand, the Sultan did excel at steep, chunky terrain like on the Hogs. I felt remarkably comfortable getting my butt waaaaaay back behind the seat, and rolled easily down bumpy steeps and switchbacks that I wouldn't normally dream of trying, so that was very neat.

Overall the Sultan was not quite my cup of tea, but I'm glad to have had it for this ride, so thanks again to the Turner folks for the opportunity to demo, and to Zul for guiding us safely through.

My first taste of Sedona riding was awesome, and there's tons left to explore.
(here's a cool video of the ride, courtesy of u2metoo, seen above with the helmet cam):



SUNDAY: BLACK CANYON TRAIL, BUMBLE BEE TO TREASURE MINE

Today I was back on my own bike for a pure XC out-and-back on a new-to-me section of the now 70+ mile Black Canyon Trail. We had a small but fun group led by MyBikesBroken (who had led a Tucson ride I'd joined a couple years ago) and enjoyed a perfect half-day ride on the swoopy and mostly-buff singletrack the BCT is famous for.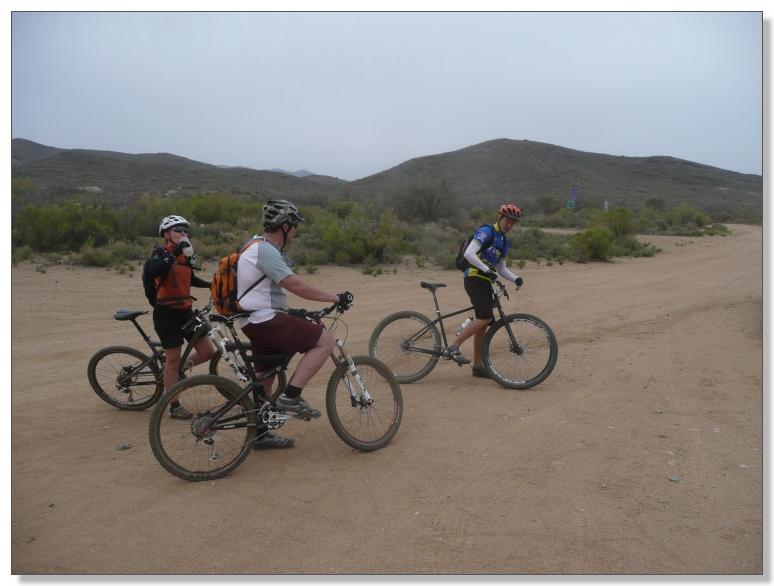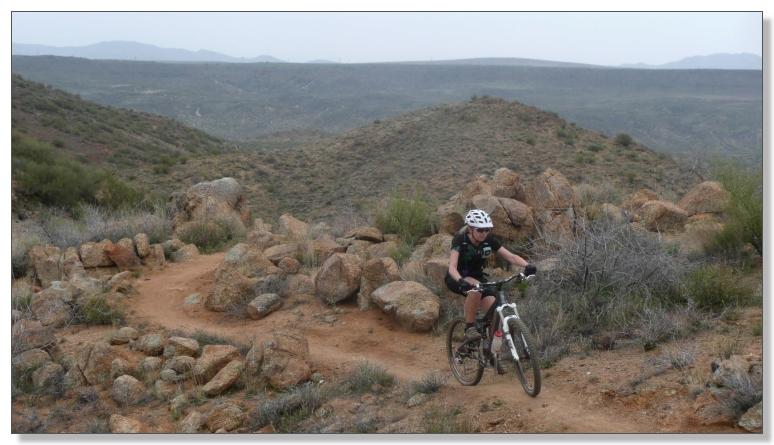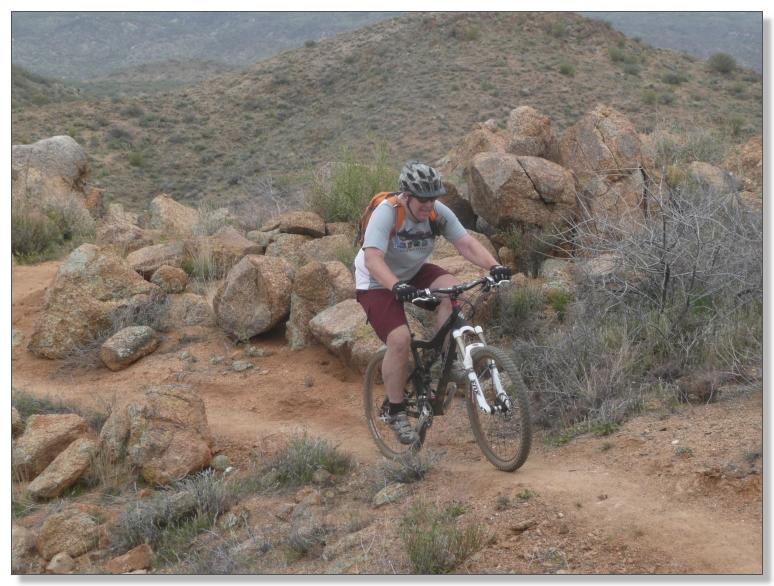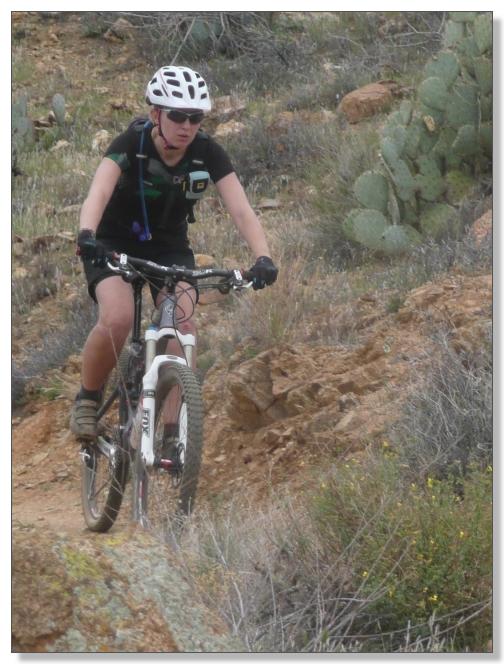 Despite the darn rigid singlespeeder whupping us all
this was a fine way to wrap up the 2011 AZSF.
Lots of great riding with great people. What a great thing.


SUNDAY2: PAPAGO PARK AND THE STREETS OF TEMPE

Got in only one more ride before leaving Arizona, a delightful day with Debbie exploring the mellow trails (by Arizona standards) of Papago Park then a little tour of the happening parts of Tempe.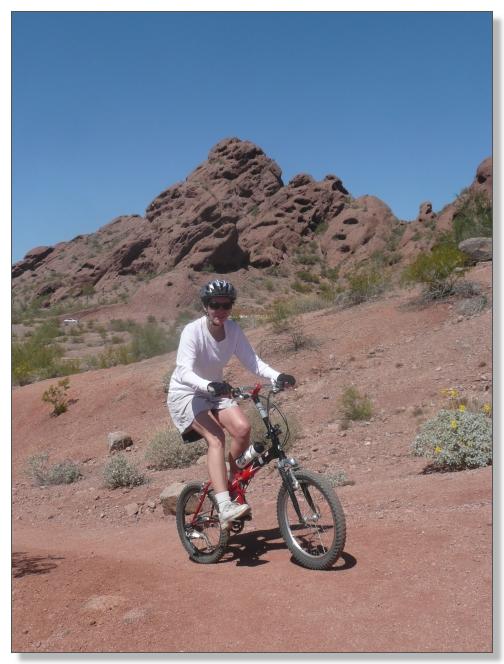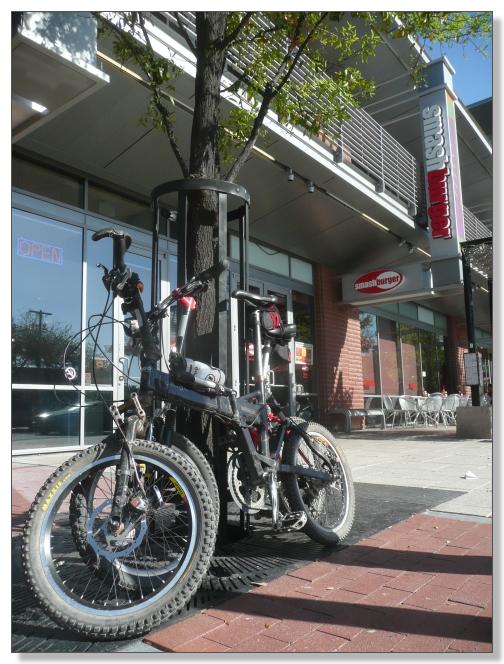 The mid-ride Smashburger was a real treat. I'd also vote to make that part of every AZSF ride in the future.
< previous story home next story >
---
HOME TRAVEL LOG MOUNTAIN BIKING WINDSURFING STORY ARCHIVES RV INFO PHOTOS CONTACT US
---