---


HOME TRAVEL LOG MOUNTAIN BIKING WINDSURFING STORY ARCHIVES RV INFO PHOTOS CONTACT US
---
< previous story home next story >
Big Bend Bender
Featuring rides during the Chihuahuan Desert Dirt Festival and more in Lajitas, Texas.
February 16 - 23, 2011
FESTIVAL CENTRAL AT THE MAVERICK RANCH RV PARK
We parked our rolling home in a nice RV campsite near the pool for a week, while Todd and Bob pitched tents on an expanse of parched grass across the park: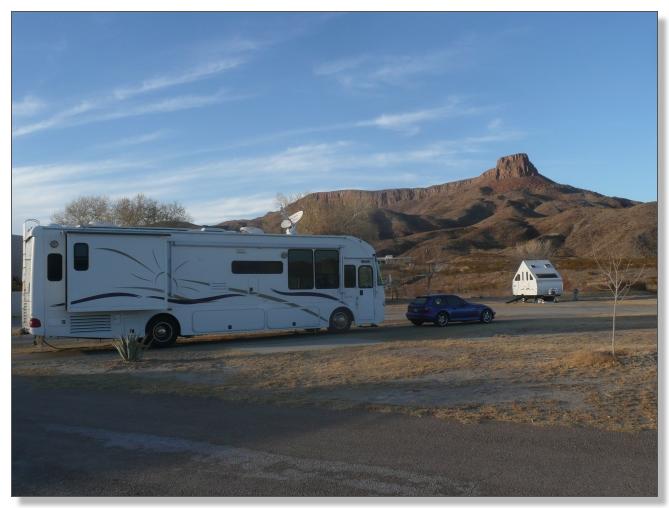 The Austin Bike Zoo brought their rattler: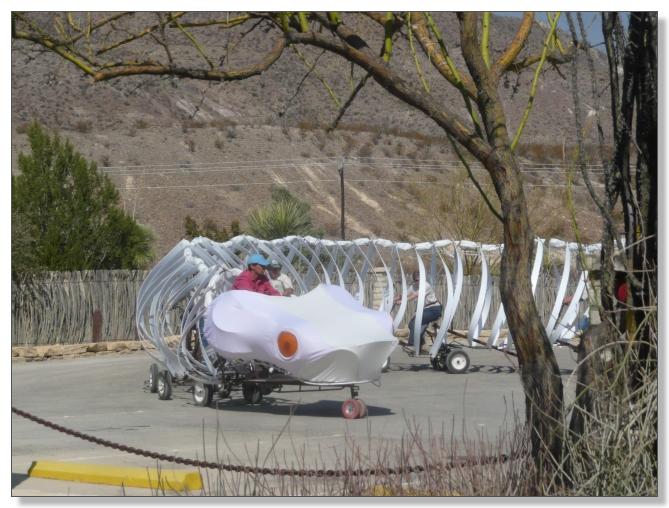 And a butterfly too: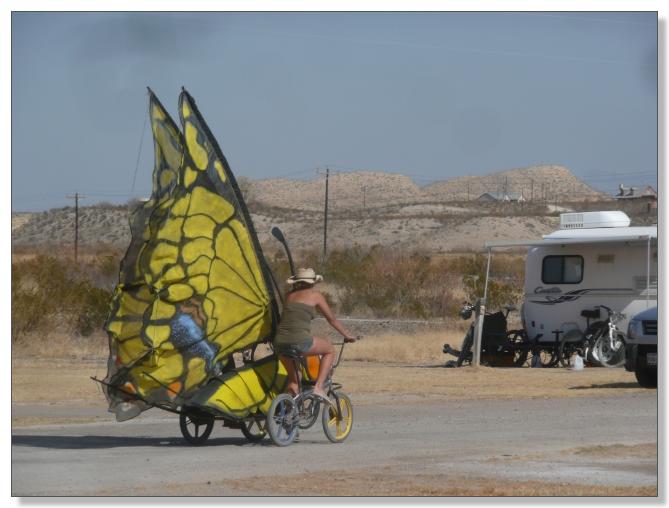 Mountain bikers were everywhere!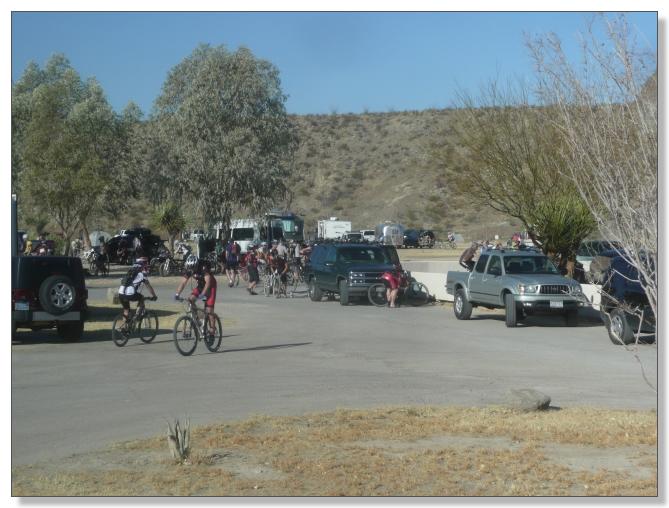 THURSDAY: RINCON LOOP GROUP RIDE IN BIG BEND RANCH STATE PARK
Pre-ride gathering at the Barton Warnock Center trailhead: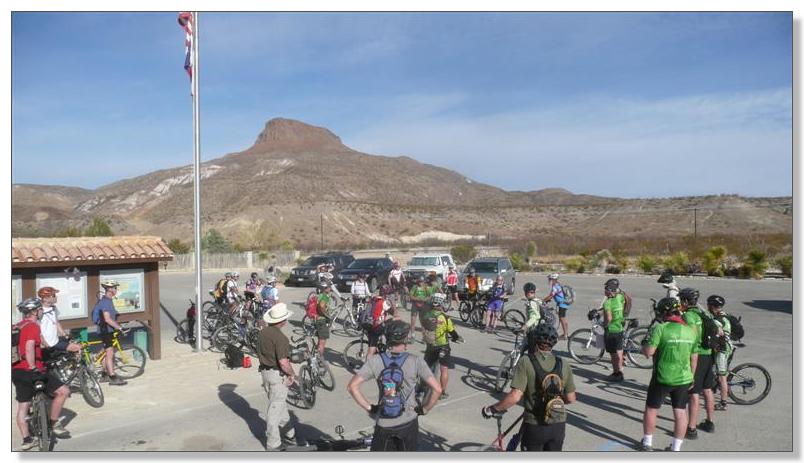 Bob and Todd took off with the "A" team on their rigid single-speed 29ers and never looked back: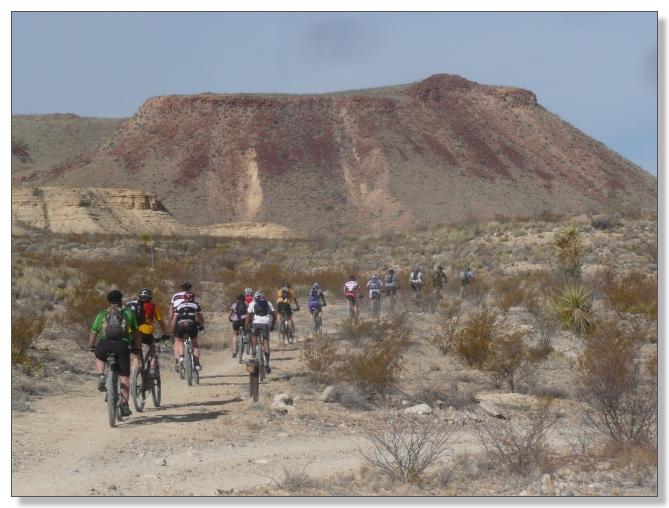 Carey rode his folding 20er with the "B" team, led by Bundy Phillips: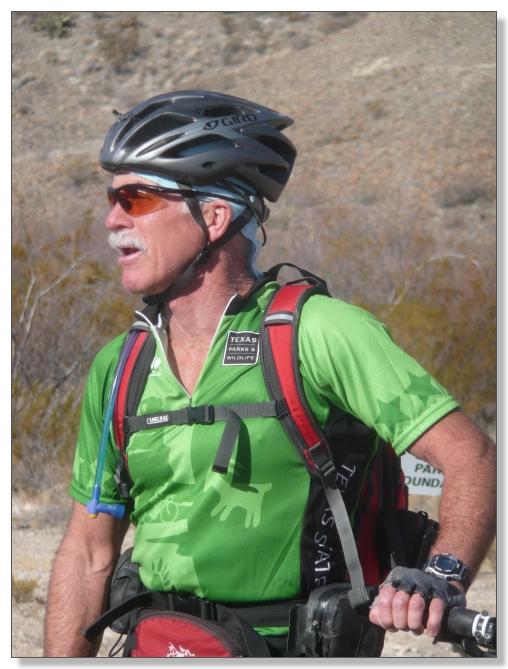 There were numerous arroyo crossings to negotiate, occasionally on foot: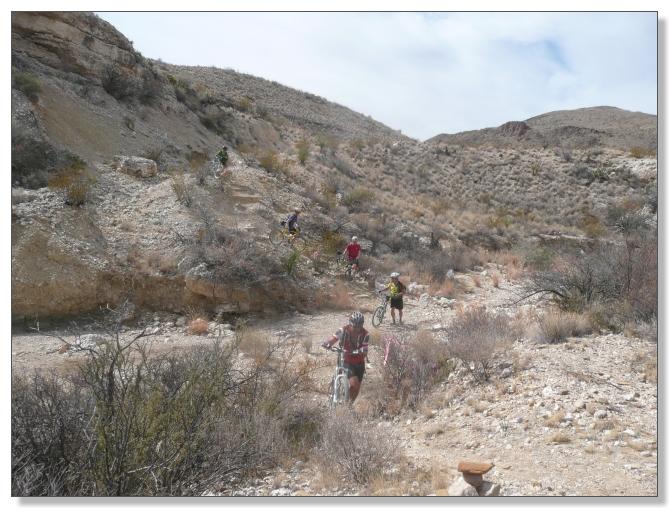 Shade was very rare and very welcome: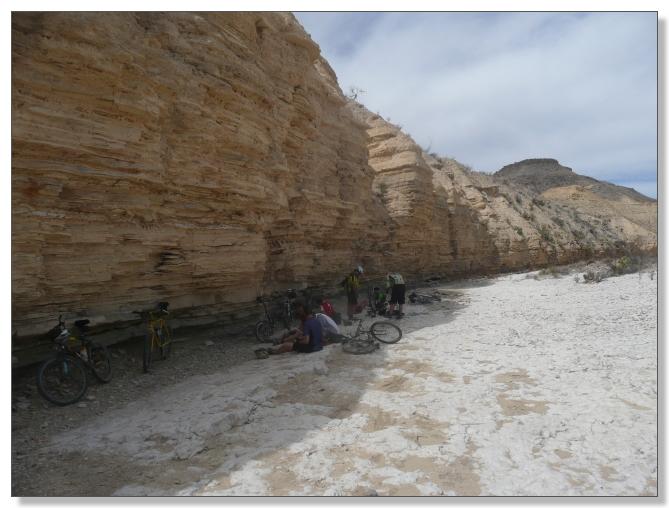 Bundy expertly explained the region's geography and history: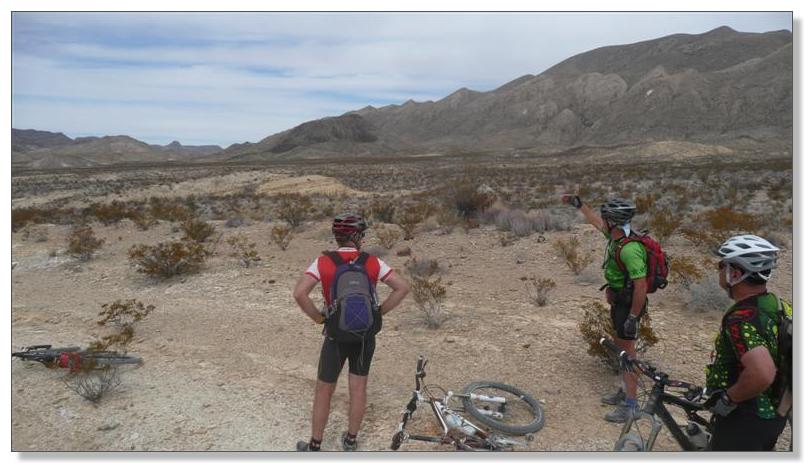 The Big Bend Ranch State Park folks and festival organizers did a really great job of providing support stops in the middle of nowhere: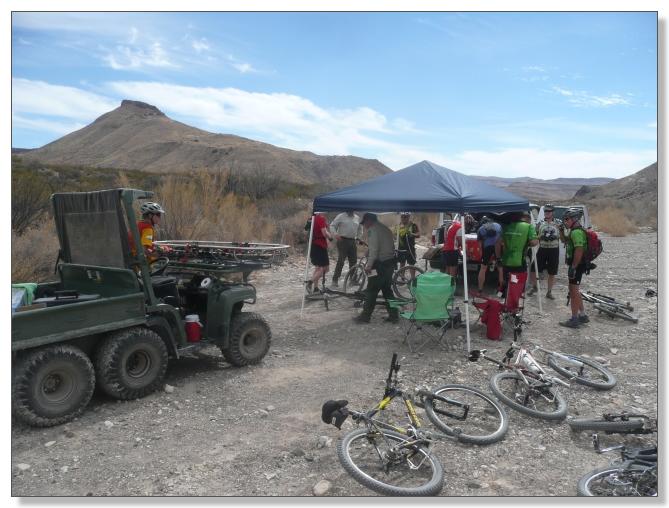 There was much slogging through dry creek beds, but there was a bit of natural flowing water occasionally too: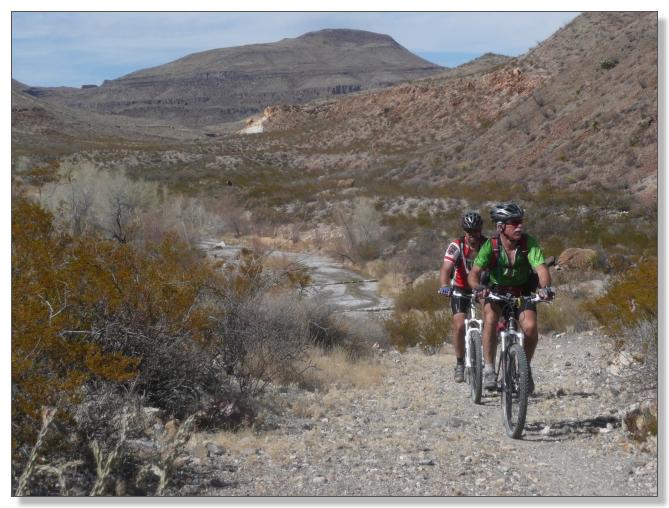 Some nice swoopy singletrack to finish out the ride: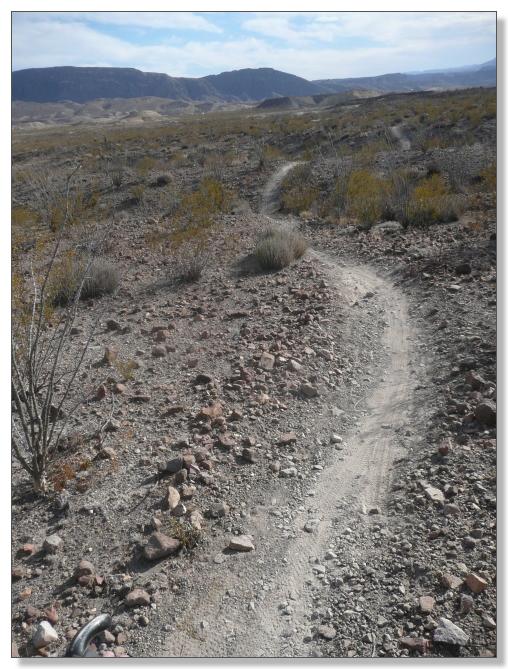 I logged just under 33 miles and 4.5 hours riding for the day. That would be about right for most of the IMBA Epics, but we're in Texas now and everything's bigger out here, so this was barely half of the designated Epic ride. Yee haw!
FRIDAY: LAJITAS TRAIL SYSTEM WITH TODD AND BOB
E. T. Cairn shows the way: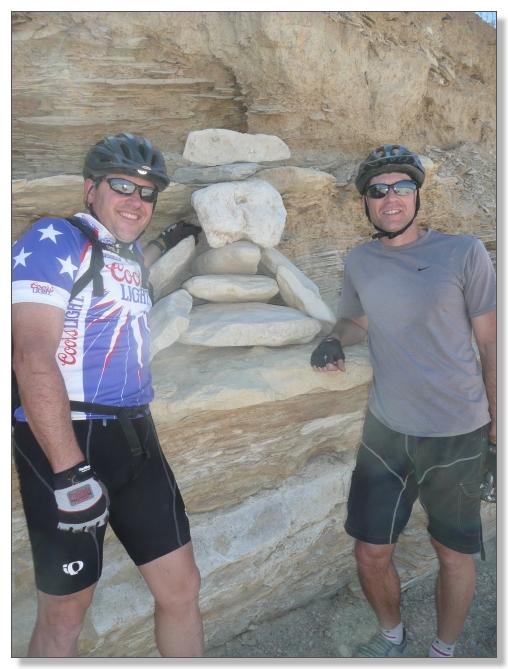 Despite being marked with ribbons, this steep slab off Trail 5 turned out to lead nowhere:

Photo-op: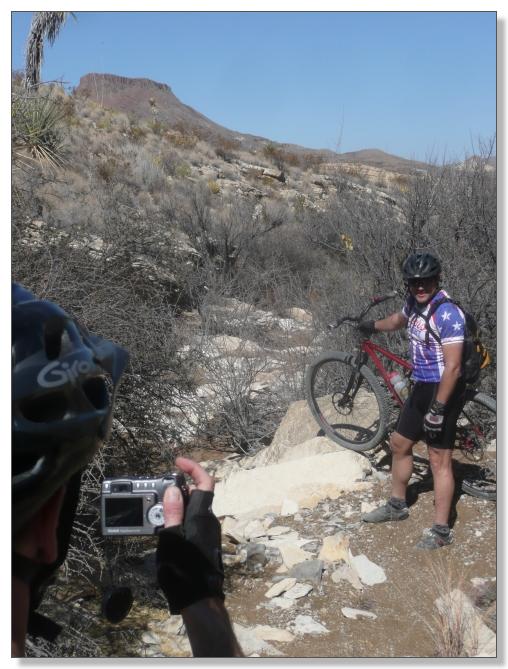 Speedy singlespeedsters, waiting patiently: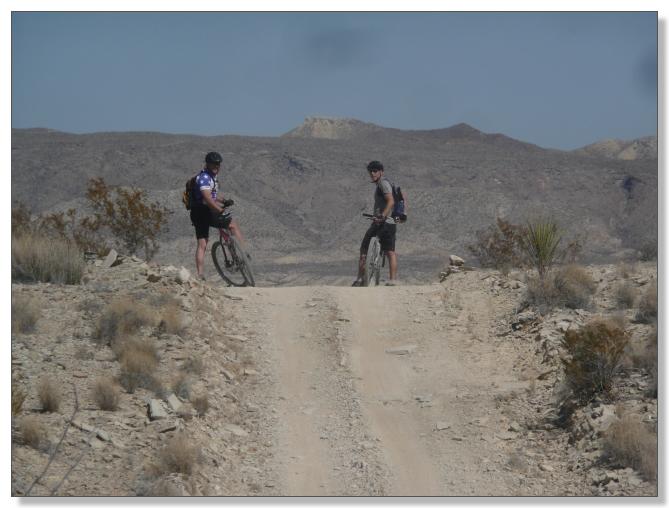 Starting Loop 3, Todd broke a pedal and turned around, intending to just limp it home solo. To his amazement, one of the aid stations had a replacement Crank Bros pedal in their kit in the middle of the desert and got him going again. Thanks to Richardson Bike Mart for that minor miracle! In the meantime, Carey and Bob finished out the intended route and enjoyed some really fast run singletrack: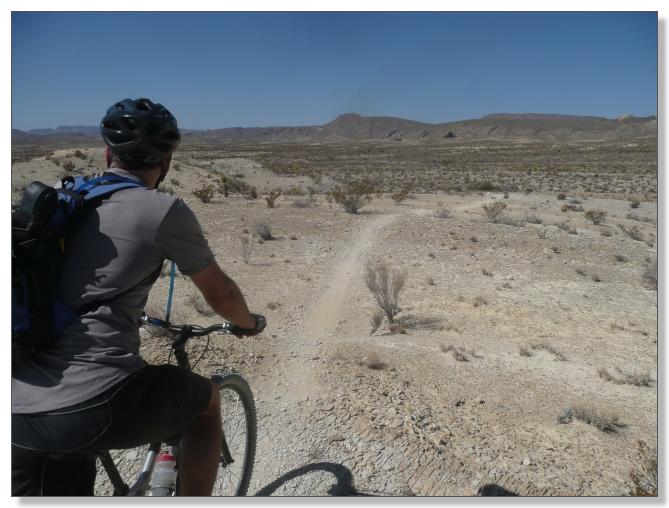 Battle of the clown bikes: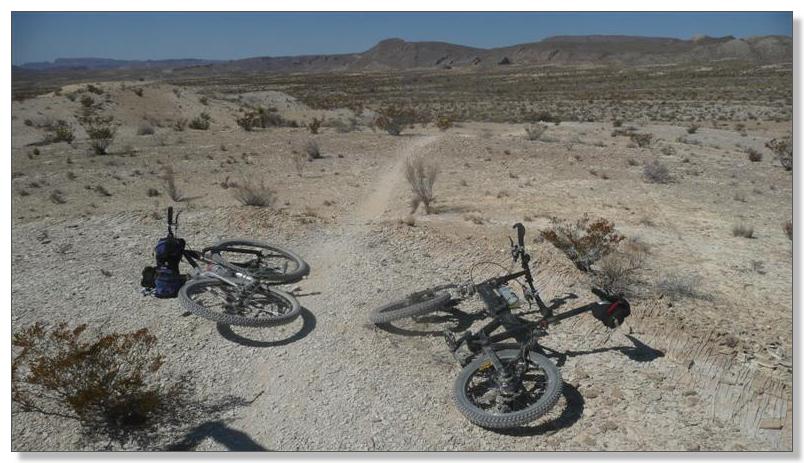 About 20 miles and 2.5 hours riding today according to the bike computer.
SATURDAY MORNING: LAJITAS TRAIL SYSTEM WITH DEBBIE (ON DEMO BIKES)

While Todd and Bob spent the day becoming the first known nutjobs to complete the Fresno-Saucedo Epic ride on rigid single-speed bikes, Debbie and Carey took advantage of Specialized's fleet of cushy multi-speed demo bikes. It was a Safire full-suspension 26er for Debbie, and a Stumpjumper Expert carbon hardtail 29er for Carey:
Two traditional bikes on the ground versus two folding bikes in the bay. Hmmmm...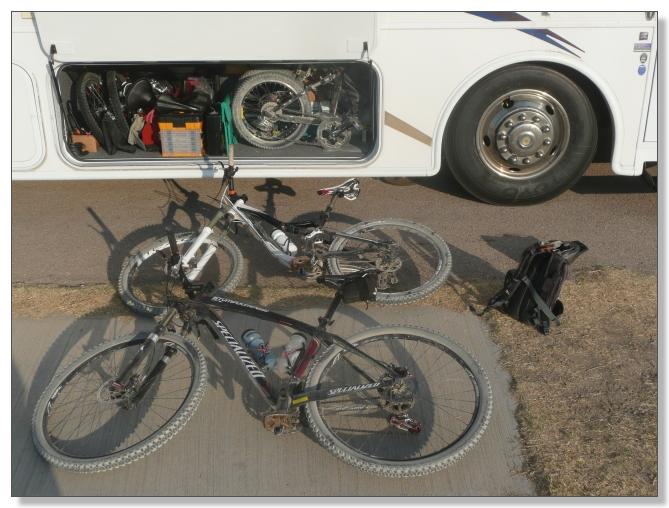 Happy trails for the happy couple: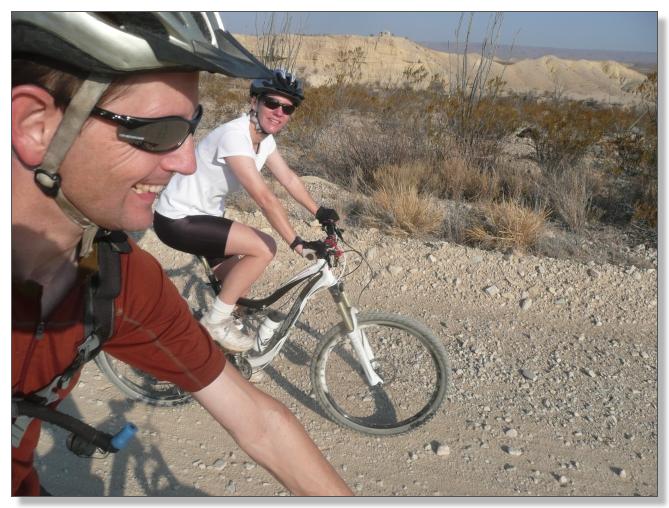 Debbie, zipping along: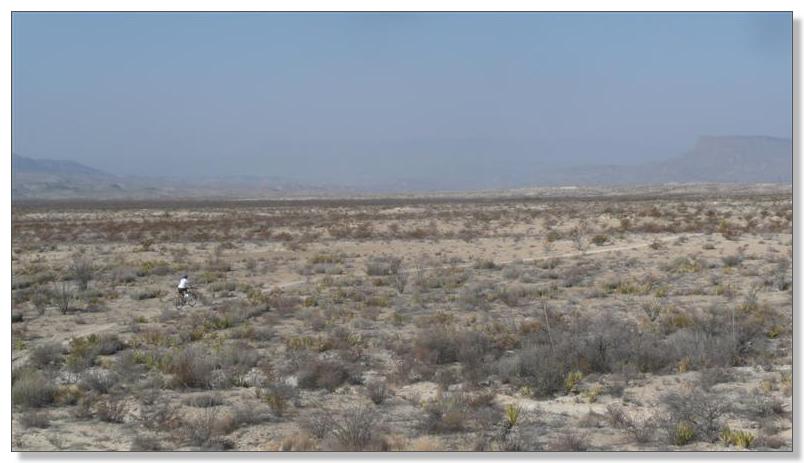 Gliding through the rocks: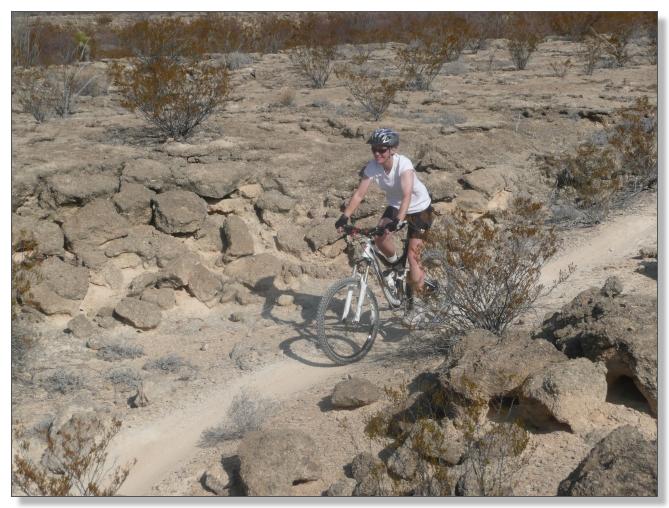 Hey, what's that FoldsInHalf guy doing on those big wheels? Rolling effortlessly over anything in sight, of course: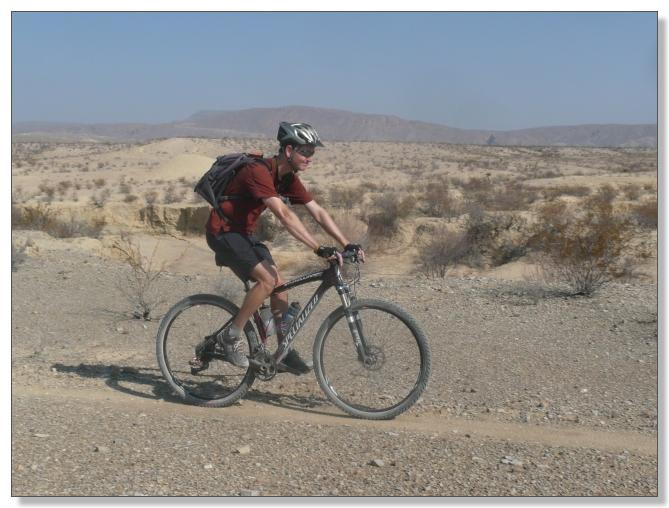 Carey, climbing, and fairly rapidly for a change:



Some sand traps were too much even for full-size bikes though: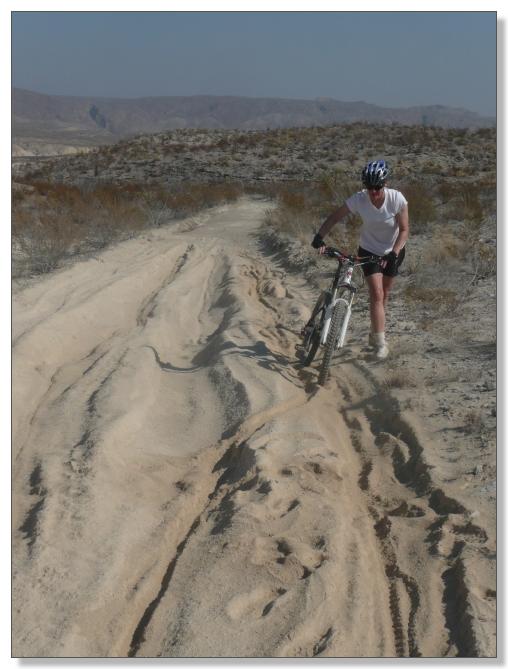 A fun time was had by all:
SATURDAY AFTERNOON: SOLO RIDE AROUND THE CONTRABANDO DOME LOOP AND MORE IN BIG BEND STATE PARK

The aptly-named Crystal trail cuts right through a shiny stash of same: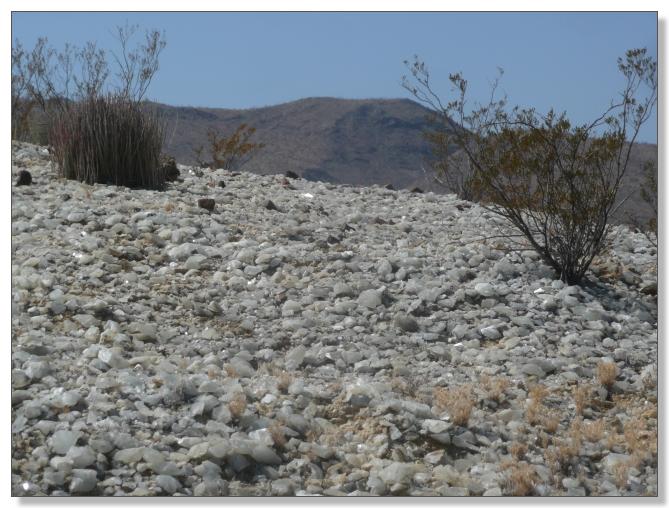 A big group was returning on the Camino Viejo singletrack while I was headed out: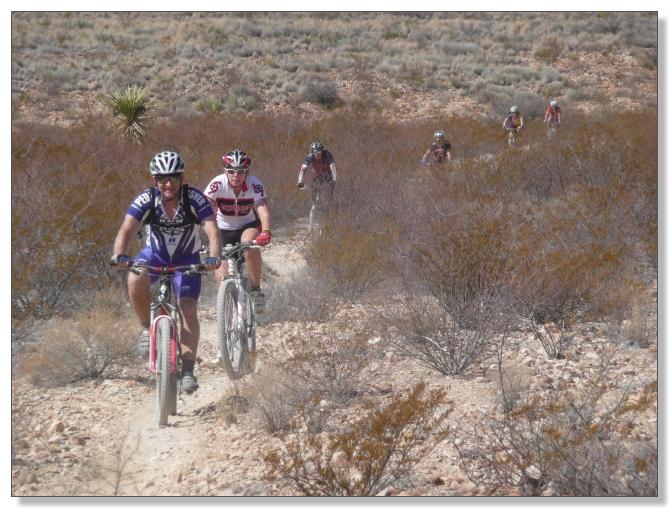 Extra-durable trail signs are needed out here: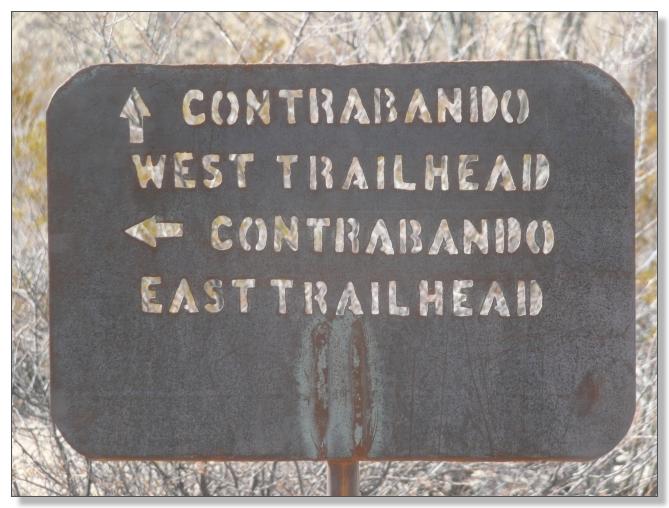 Like a mirage, a surreal water stop appeared in the desert: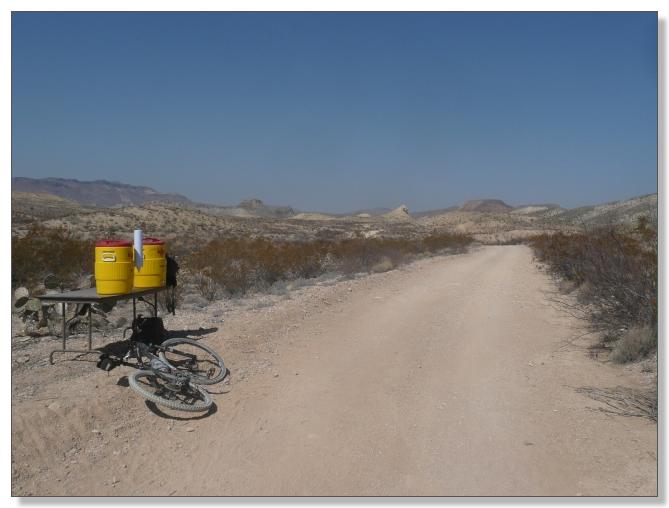 Jabba the Hut also made an appearance:


Spotted some riders on the Waterhole trail below the Dome loop: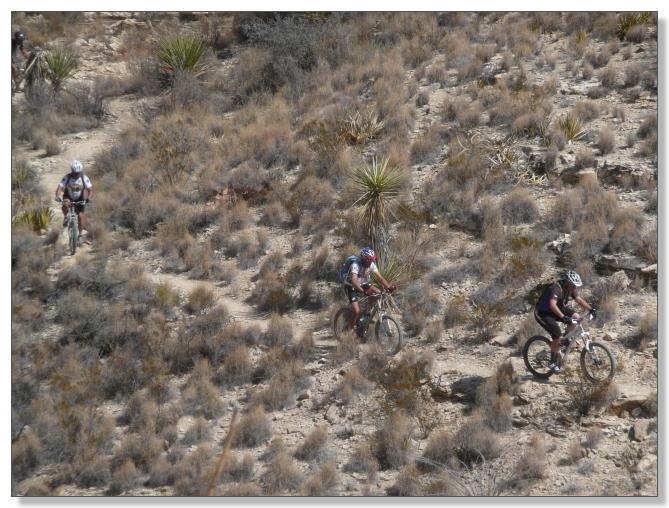 Another rider, seen from a quicksilver mining ruin along the Dome loop: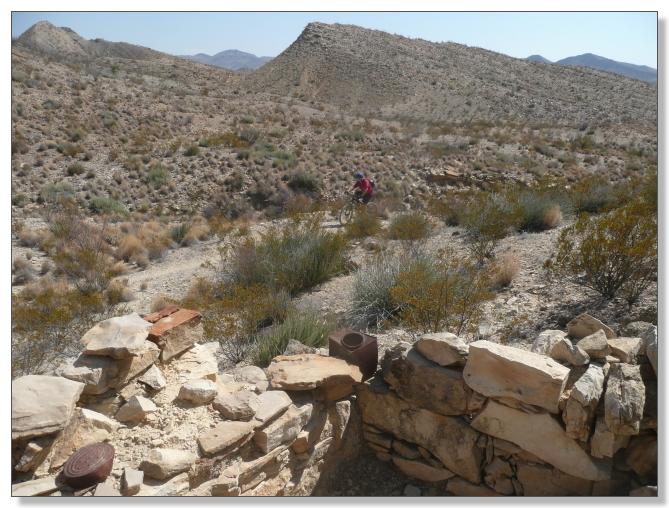 These were the coolest trail signs I've seen anywhere: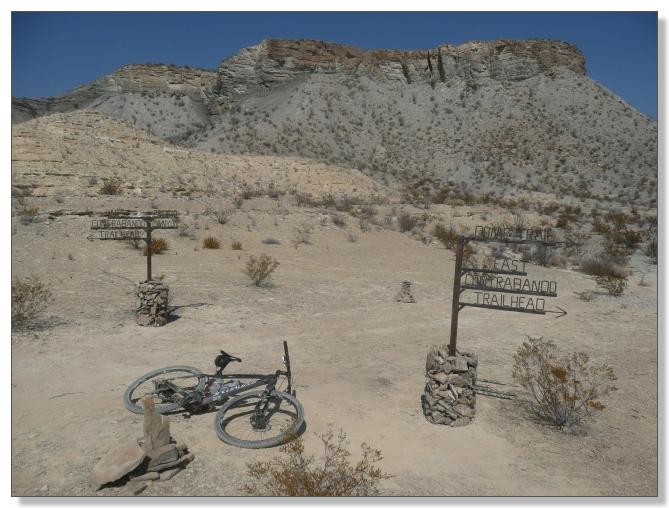 Big views toward Mexico from the Dome loop: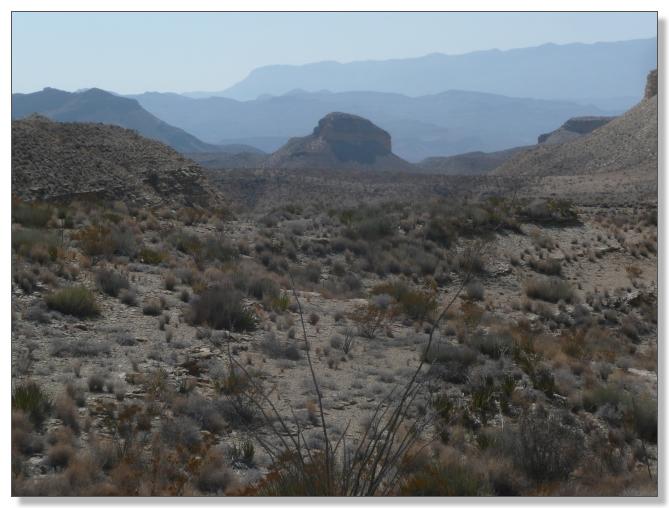 This steep down and up section was so nice, I rode it twice. The 29er race bike simply devoured this kind of loose terrain compared to my 20er: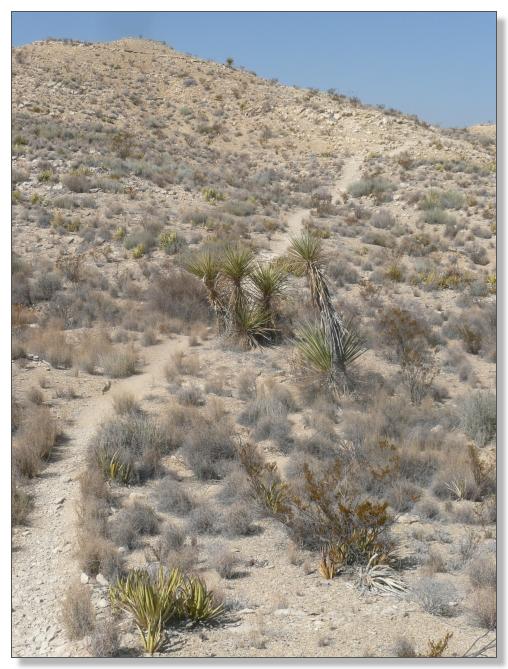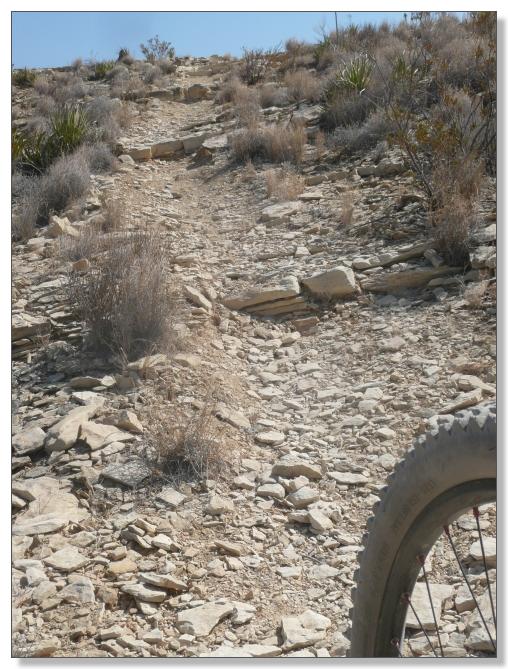 An awesome section of bench cut. More, please!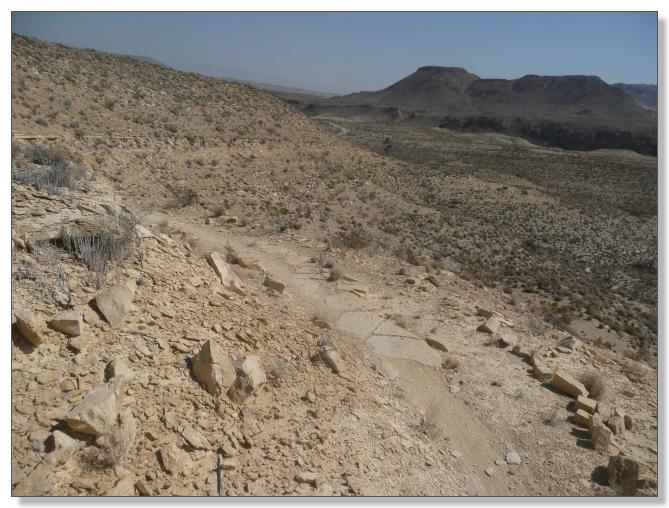 Returned via the Waterhole trail, a dry wash that was made remarkably ridable by the big wheels: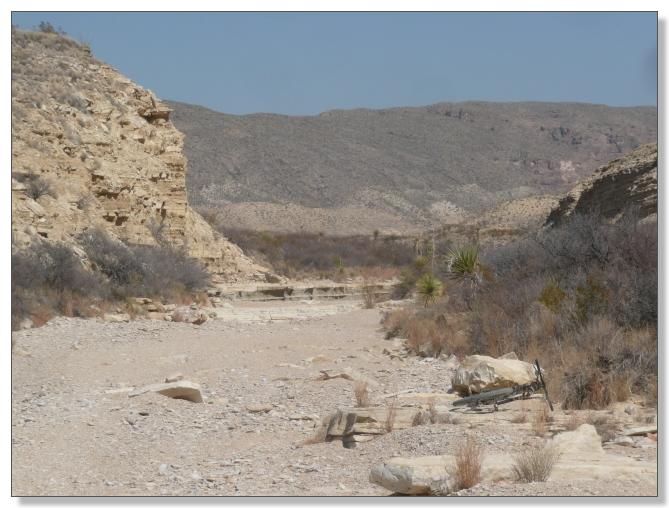 Artistic beauty in sculpted rebar: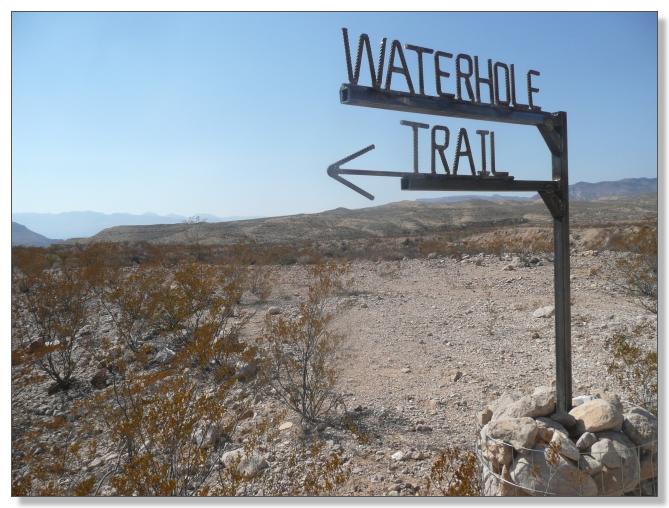 Artistic beauty in sculpted carbon: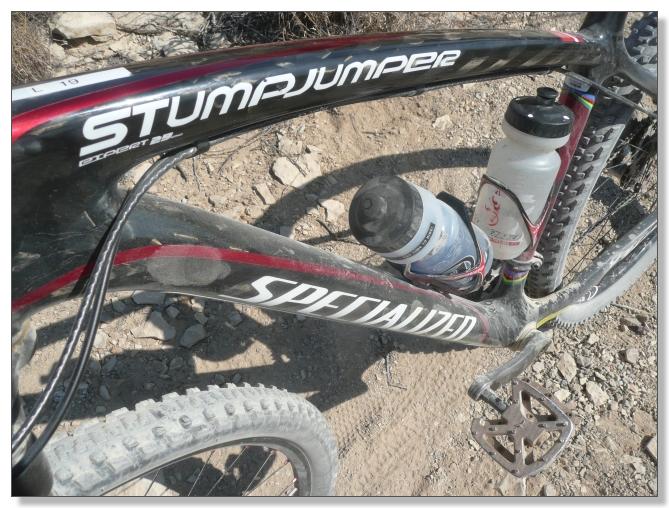 Sunrise the next morning. Most everybody packed up and went home tired and happy, while Debbie and Carey hung around a few more days: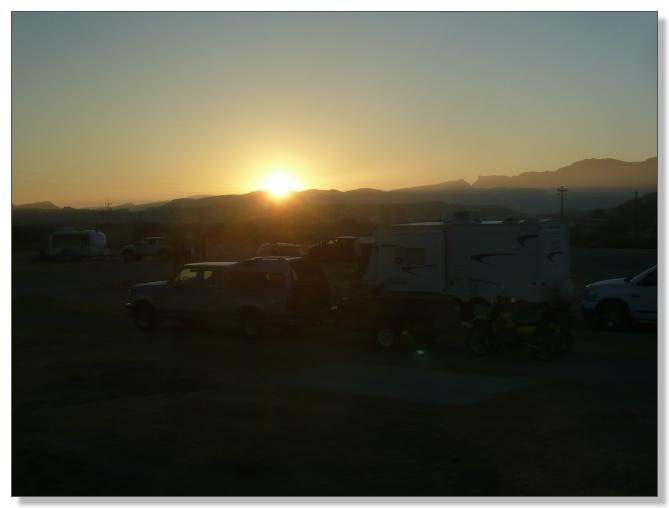 Did not have a bike computer on the demo bike, but I estimate about 33 miles today between the morning and afternoon sessions.
TUESDAY: RIVER ROAD DRIVE
Highway 170 curved and swooped along the Rio Grande to Presidio like a roller coaster, and served-up one fantastic view after another: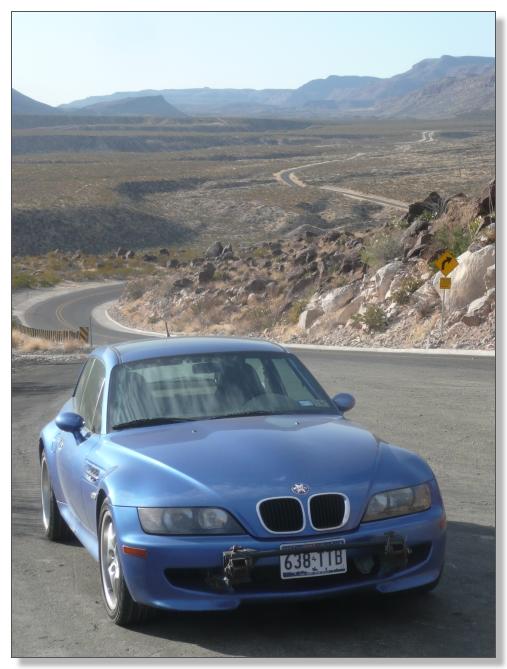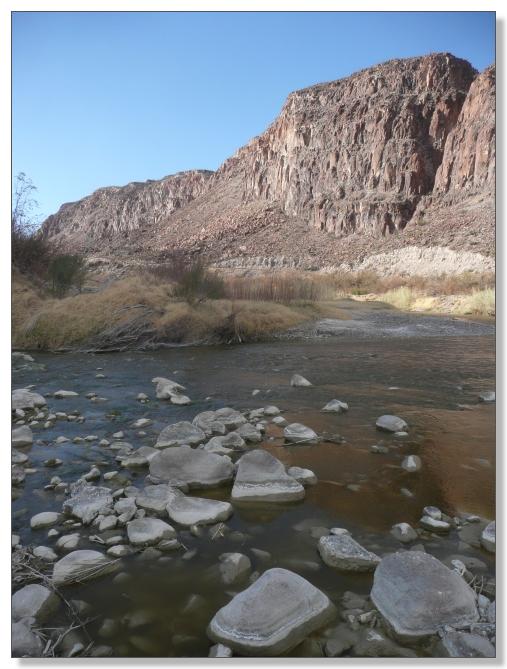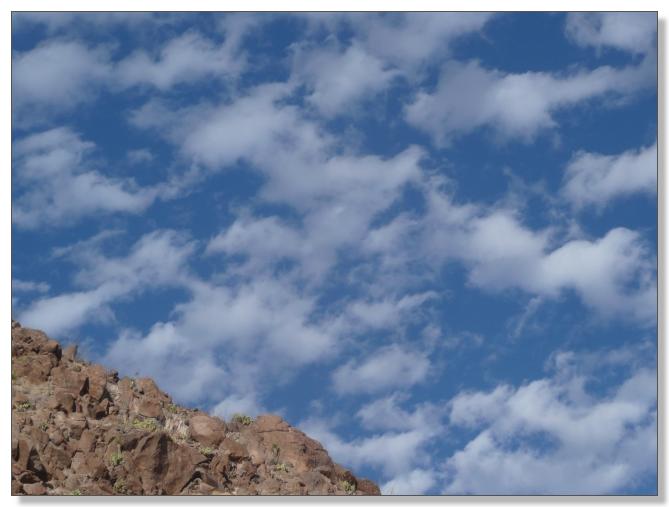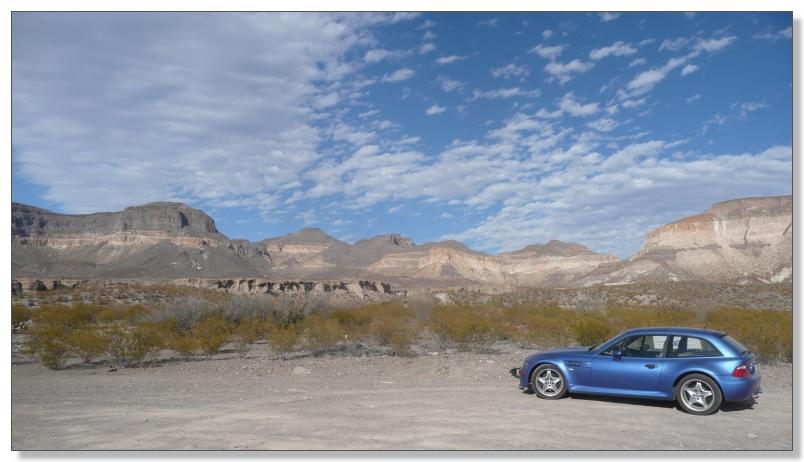 WEDNESDAY: LAJITAS TRAIL SYSTEM (PARTLY WITH DEBBIE)
Started with the same trails as Saturday, but on our usual folding 20er bikes this time: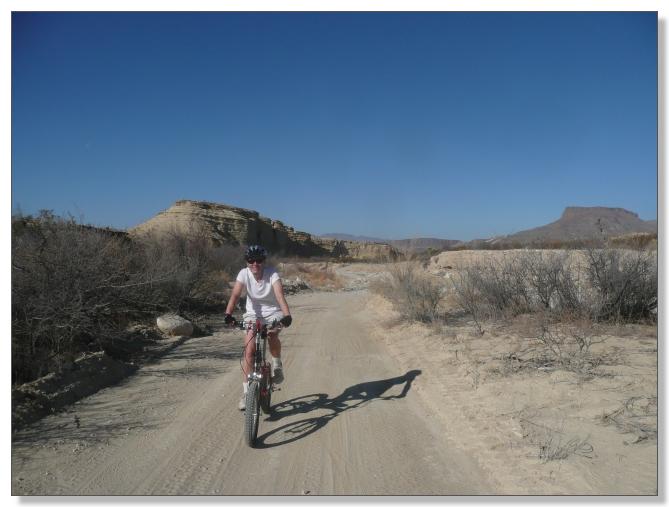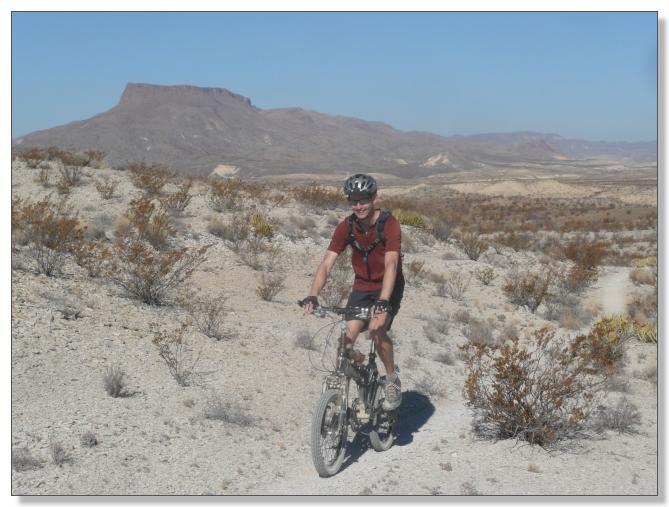 To nobody's surprise, the small wheels were definitely slower over the loose stuff, but still lots of fun: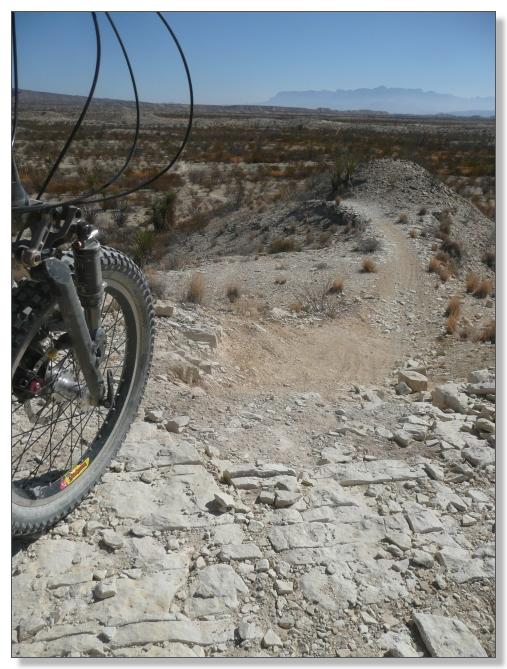 Speaking of fun, behold, the "Fun Valley" section of singletrack: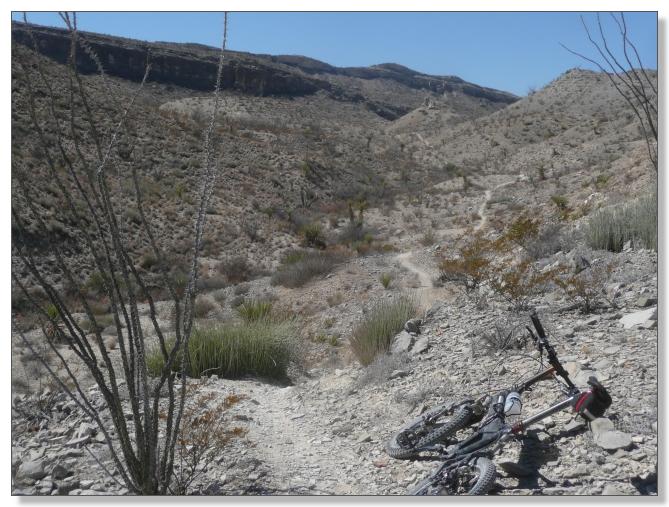 Nature decided that I was having a little too much fun along here, and hit me with my only mechanical of the trip, a flat rear tire. The dreaded green Slime (tm) in the tube succeeded in making a huge mess, but failed to quell the leak, so I had to stop and fit a new tube (Un-Fun):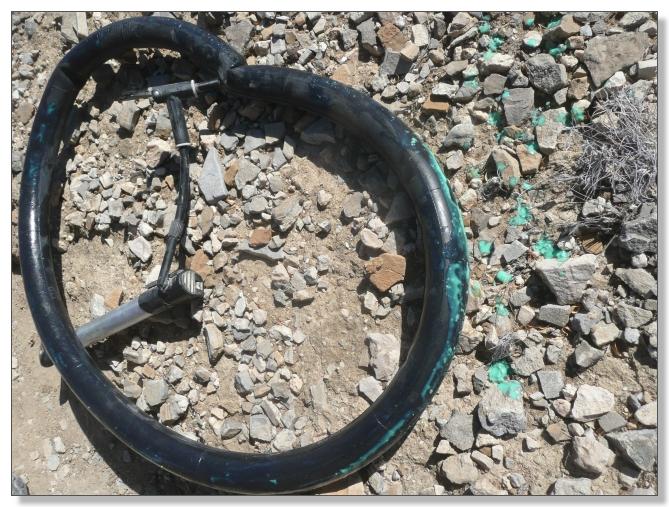 An Ouchman sighting!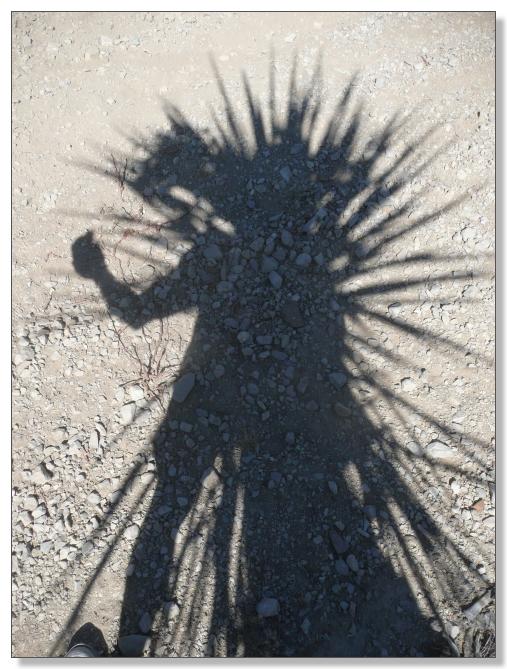 And thus concluded a fantastic week of riding and hanging out in Lajitas. Off to Big Bend National Park, Alpine, and Fort Davis next.
< previous story home next story >
---
HOME TRAVEL LOG MOUNTAIN BIKING WINDSURFING STORY ARCHIVES RV INFO PHOTOS CONTACT US
---