---


HOME TRAVEL LOG MOUNTAIN BIKING WINDSURFING STORY ARCHIVES RV INFO PHOTOS CONTACT US
---
< previous story home next story >
The Notorious Big LAF Ride (Lenawee, Argentine, FATS)
Trying out a novel linkup featuring four high summits in a long, amazing day mostly above treeline.
July 9, 2016
Georgetown, CO
The following was originally posted (see page 17) as part of a mega stoke thread on mtbr called "Do you like to get HIGH, man? (post your high country riding photos)"
Klucks requested "something new, something big, something high" so I put this little doozy together. Twice to 12500 and once to 13200, who hoo, this ride had plenty of everything that's awesome about mountain biking. And plenty of hike-a-bike too. The evil MGE would love it, ha.

And now, a special note for any future LAF wannabees who may find this on Strava:There is actually NO trail down from where you see we left the road near Ganley Mountain. We were following somebody else's GPS track, but discovered there is simply no trail there--not even an animal path or creek bed--despite us staying right on that other GPS trace.

So don't try following our trace either, unless you're comfortable with pure alpine bushwacking for about 2 miles. Instead, I'd suggest continuing down the main road and taking the "normal" connector up to the cabin and the start of FATS.

I'll also note that you could make this into a loop by climbing about 15 miles and 3500 ft of pavement (mostly bikepath and Hwy 6) to Loveland Pass. That's where we actually started, despite me not starting Strava until A-Basin, d'oh.

Enjoy the pics:

Debbie dropped us off at Loveland Pass at just under 12k, and we enjoyed a few miles of free paved downhill to start. Sure, why not!?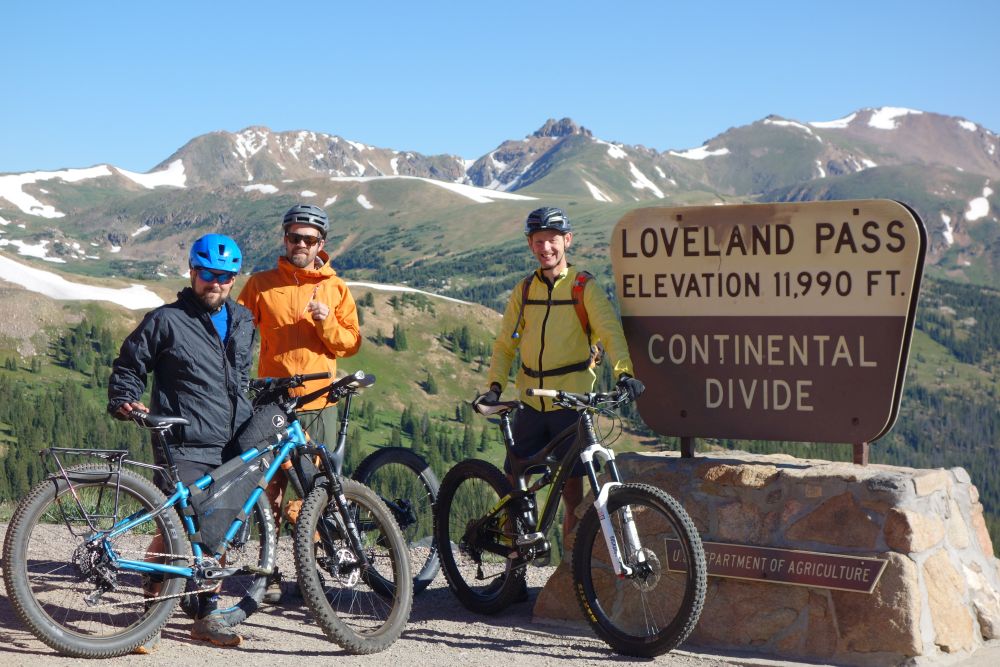 The climb up Arapahoe Basin is a mix of nice singletrack and steep service roads: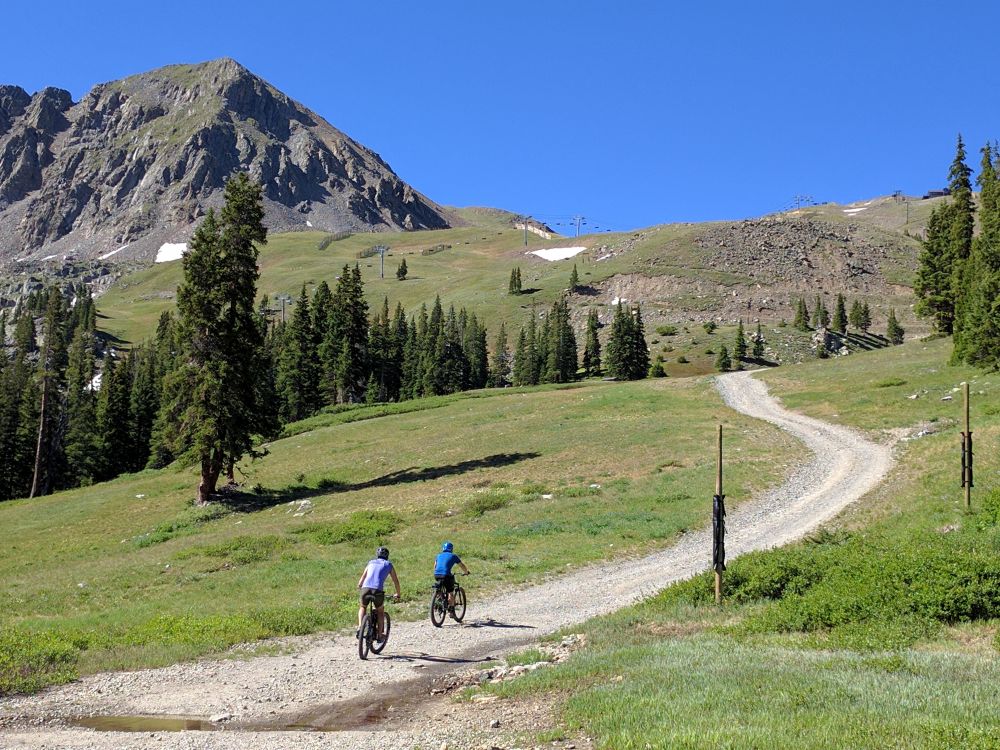 The view from the top of the ski area at just below 12,500 feet is downright Legendary:
Klucks takes on the always-excellent, deliciously chunky but flowing Lenawee descent: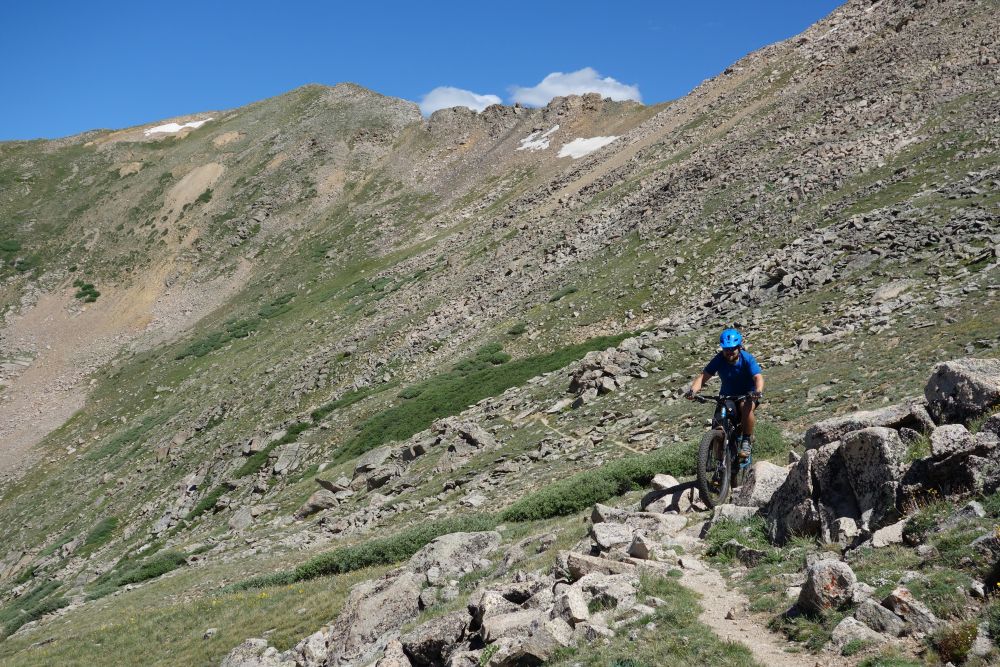 Klucks and T5 roll on down towards the trees: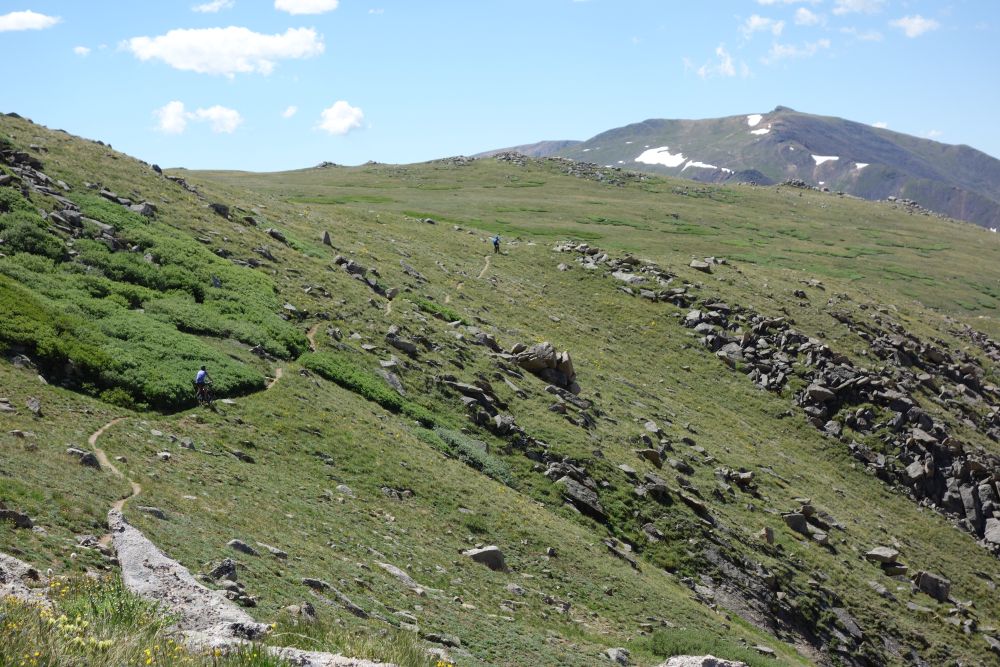 At the bottom of Lenawee, we took Peru Creek Rd up for a few miles: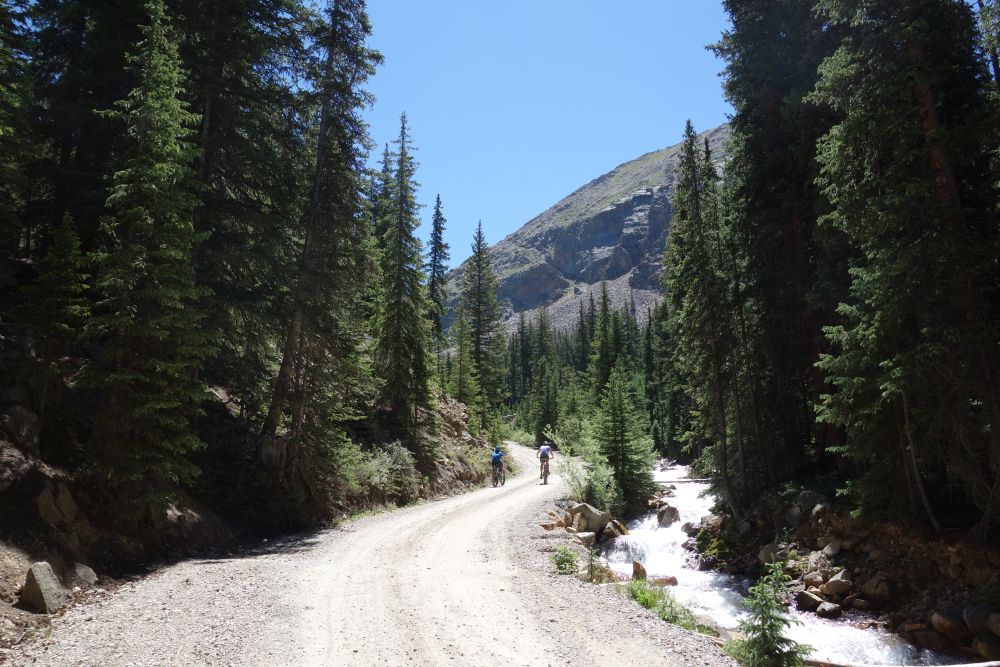 Then came the real crux of the day, a 2.5 hour hike-a-bike up to Argentine Pass on a beautiful, but steep and rubble-filled singletrack: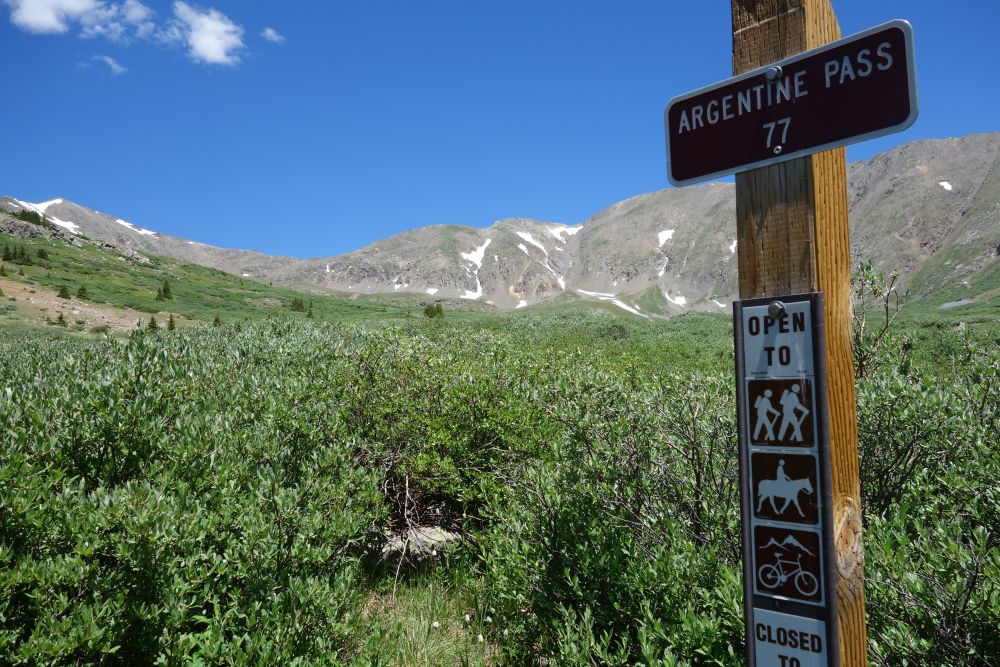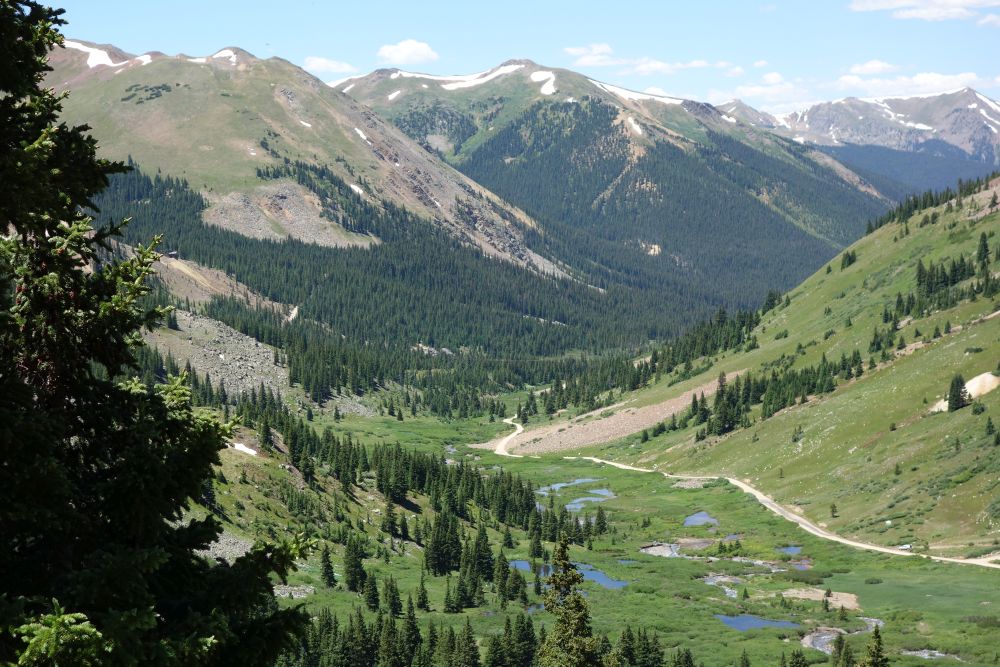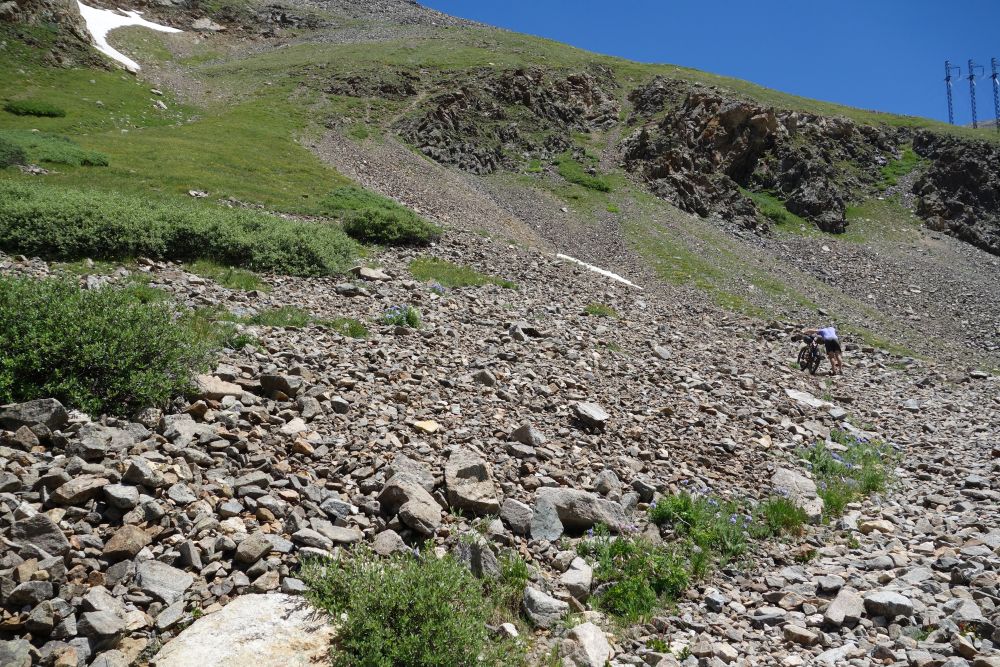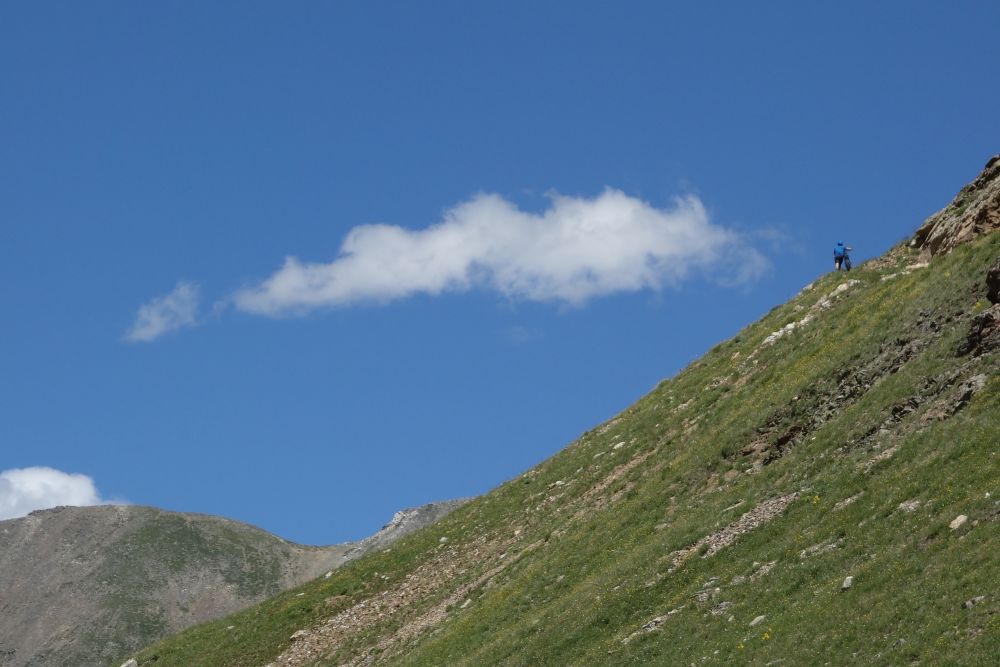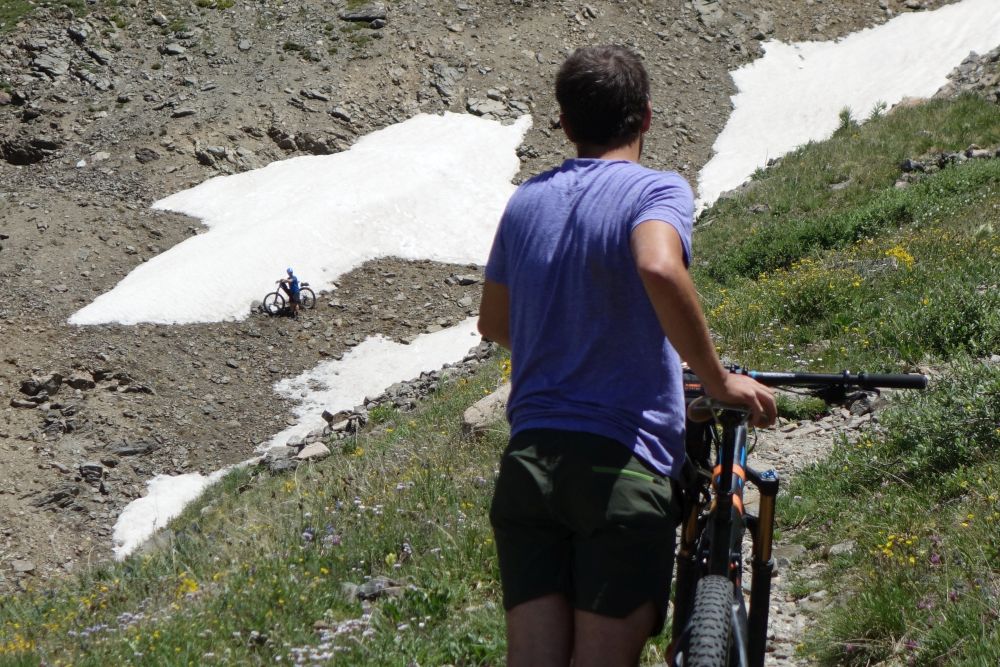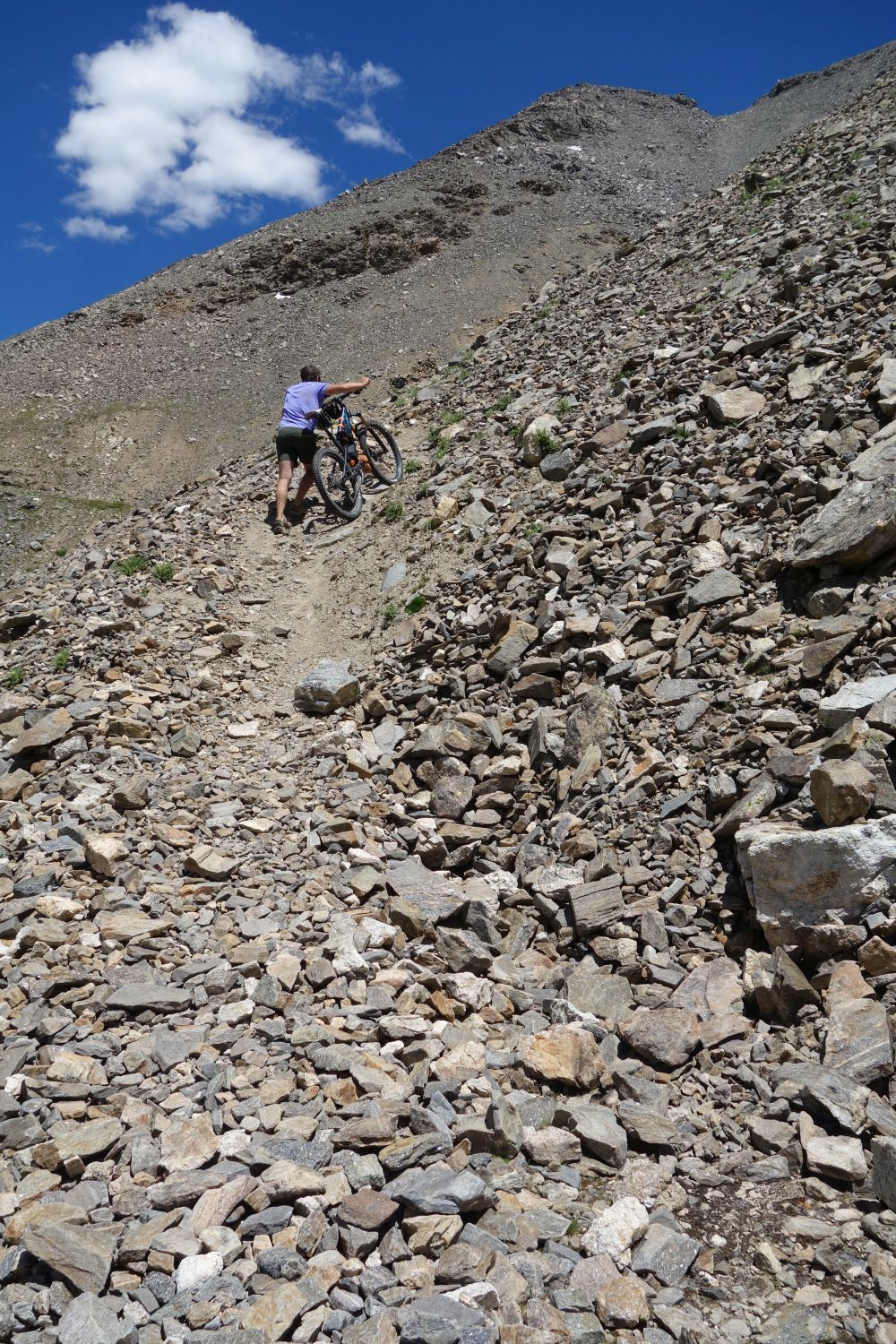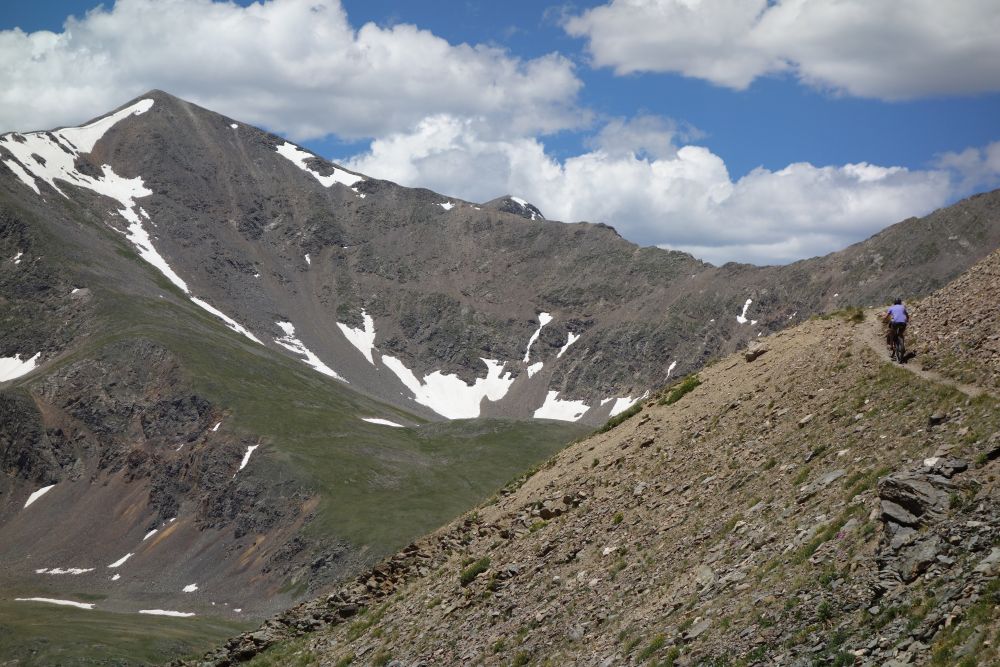 Finally topped out around 13,200, with 14ers Grays and Torreys in view just across the valley. Remarkably, it was so warm that we were sweating instead of shivering at this kind of altitude for a change:
"You've seen one high alpine lake, you've seen 'em all" - Full Trucker (the week before, regarding a different but seemingly equivalent body of water)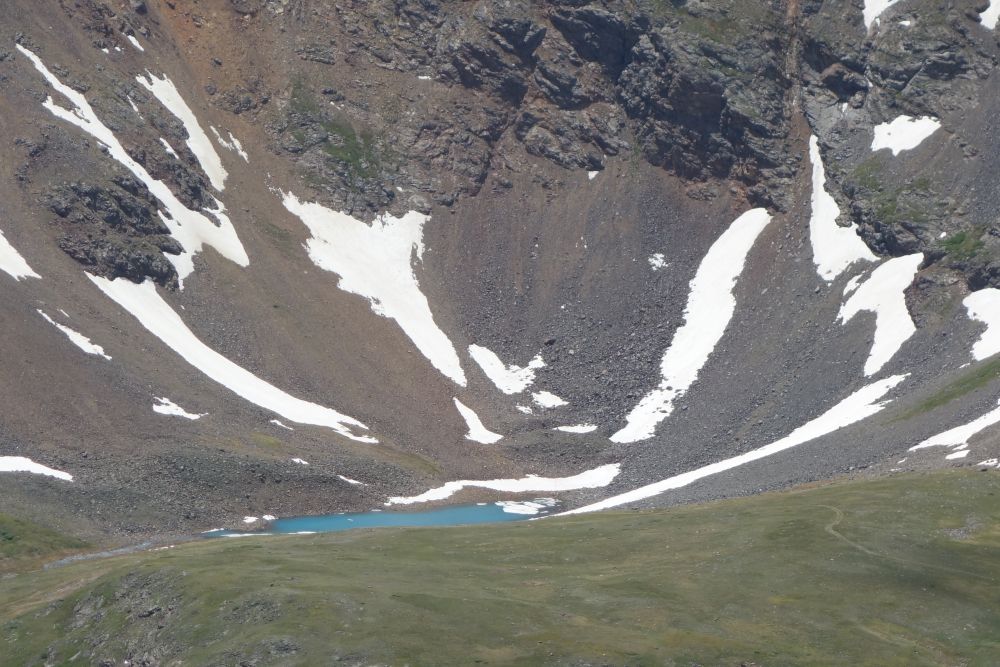 Acres of wildflowers were popping up everywhere above treeline: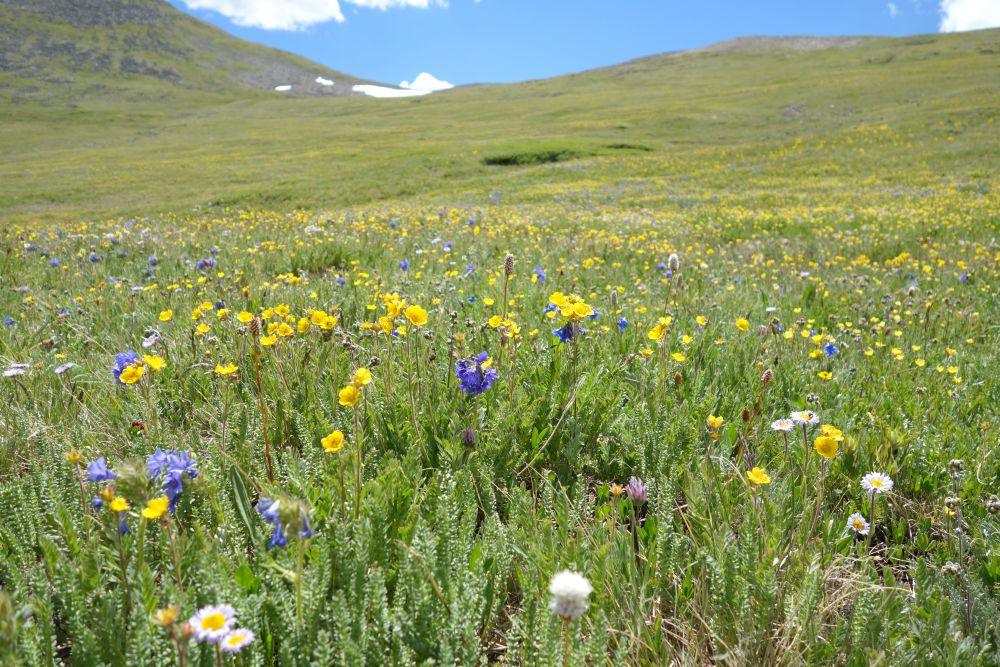 The widetrack descent on the east side was giddy fast, rock-surfing fun! Well, it was fun on my full suspension wunderbike... the other two were slightly less enthusiastic, ha!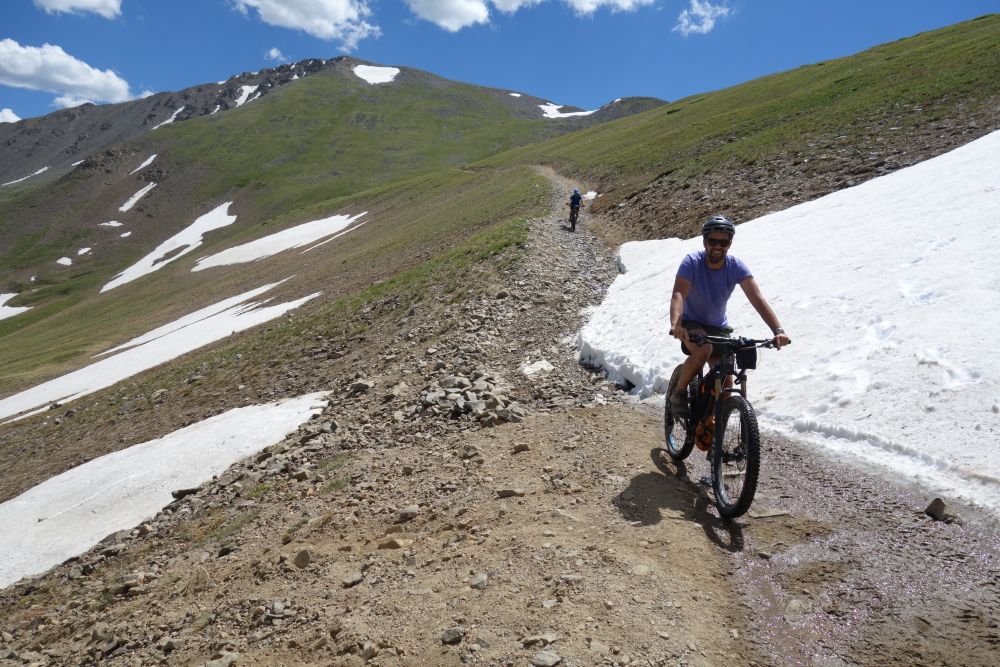 T5 lives for this splashy stuff: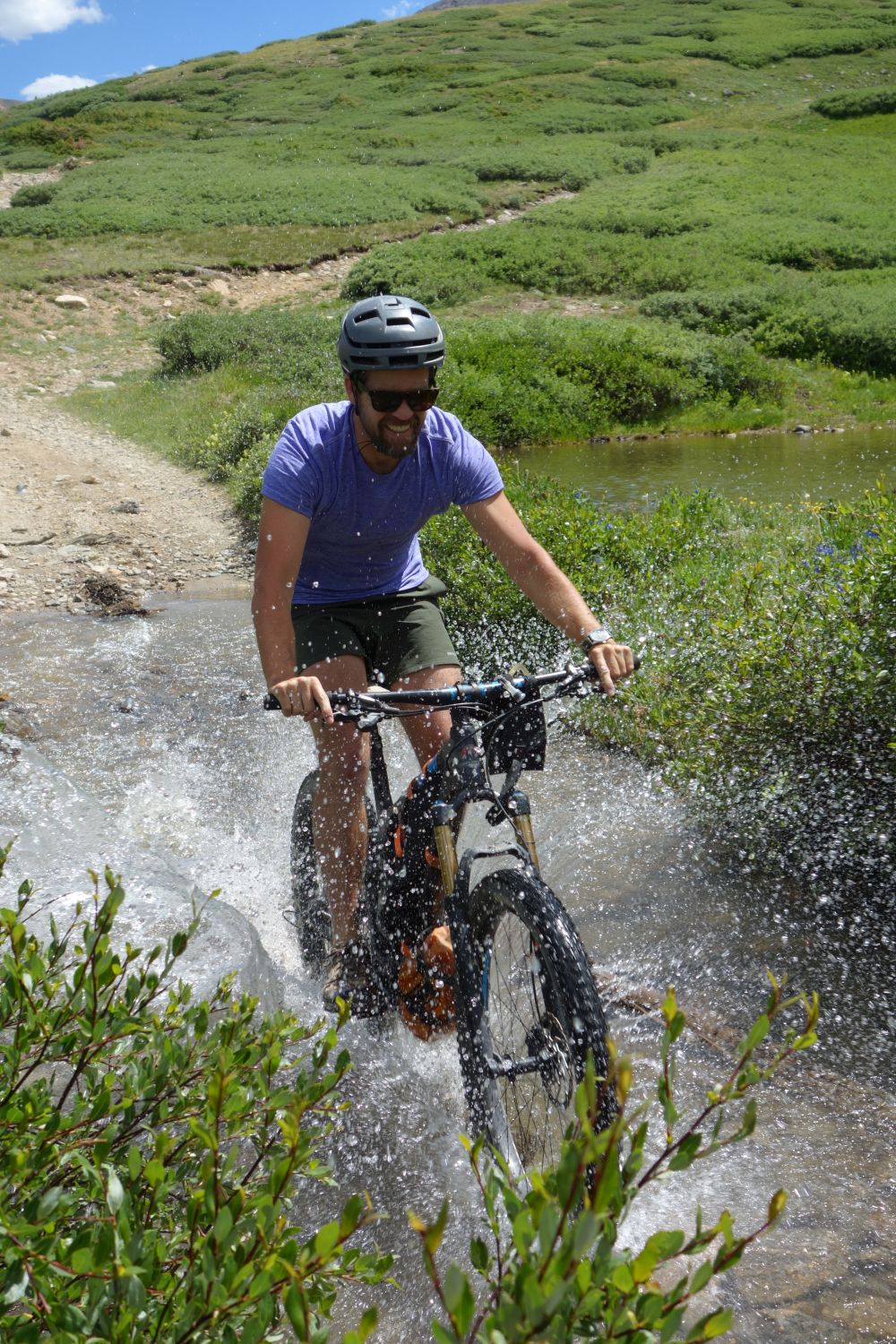 We next climbed about 1000 vertical feet on a nice easy grade, and ended up back above 12,500 feet near Ganley Mountain: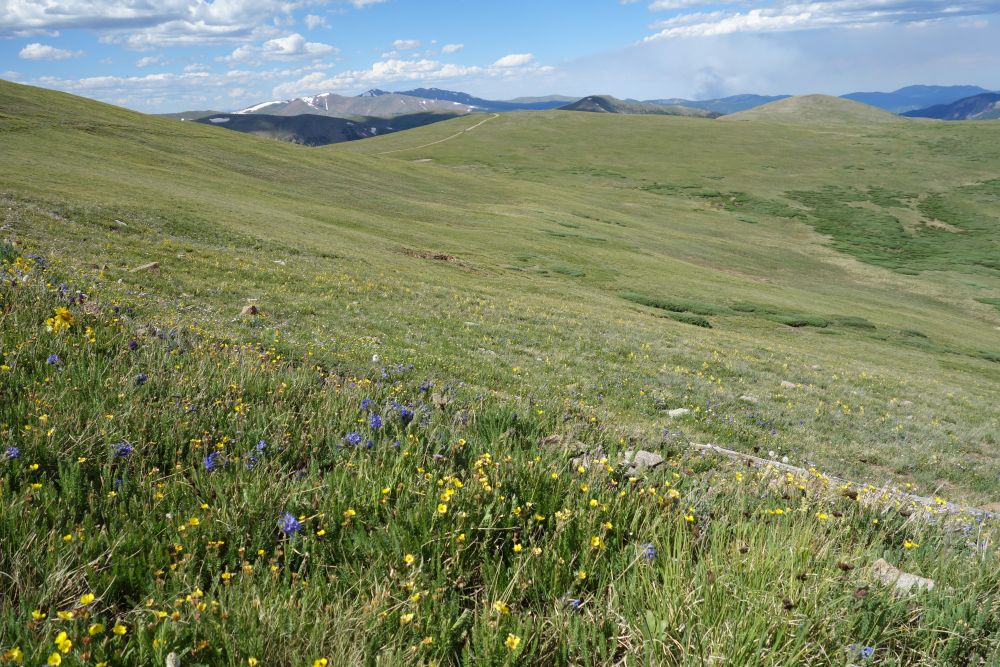 We were planning to follow a trail I'd found somebody else's GPS track of from here down, but, unfortunately there was no trail. So, we improvised: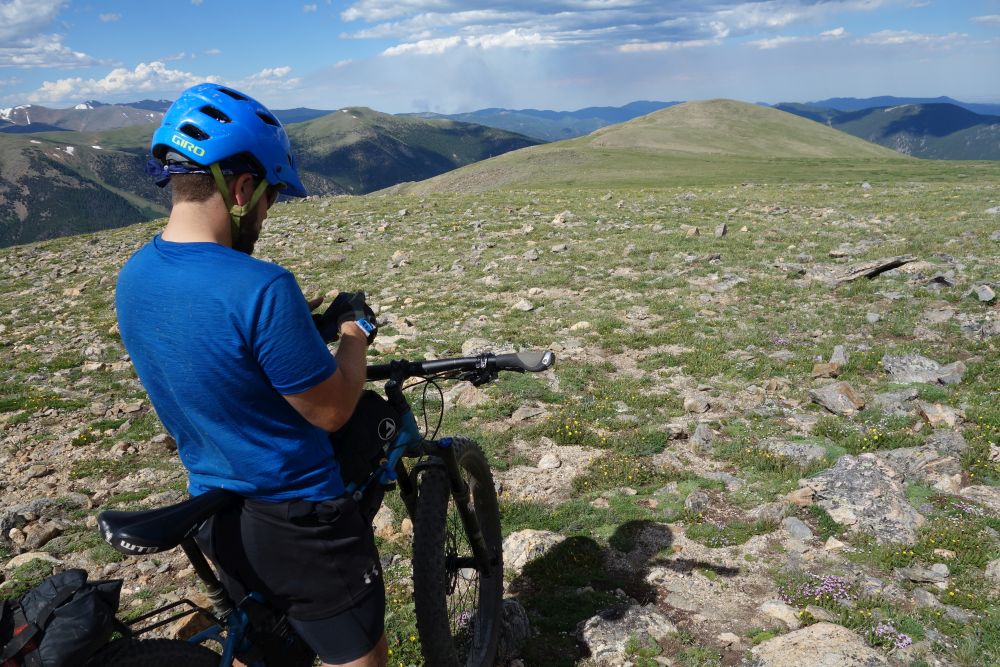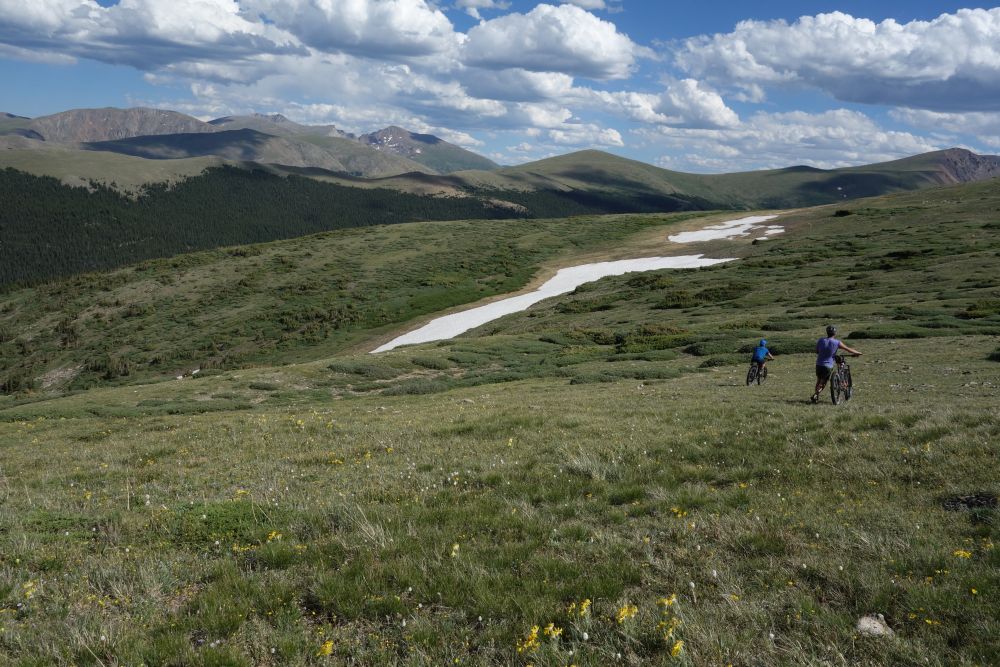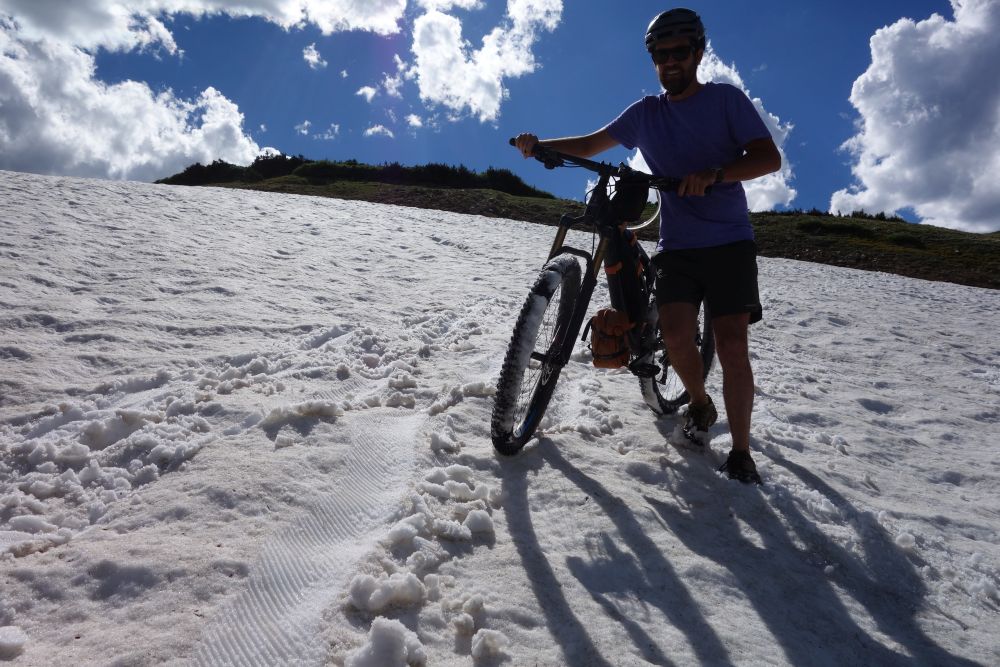 Eventually ended up at this historic cabin, and found some actual singletrack, hooray: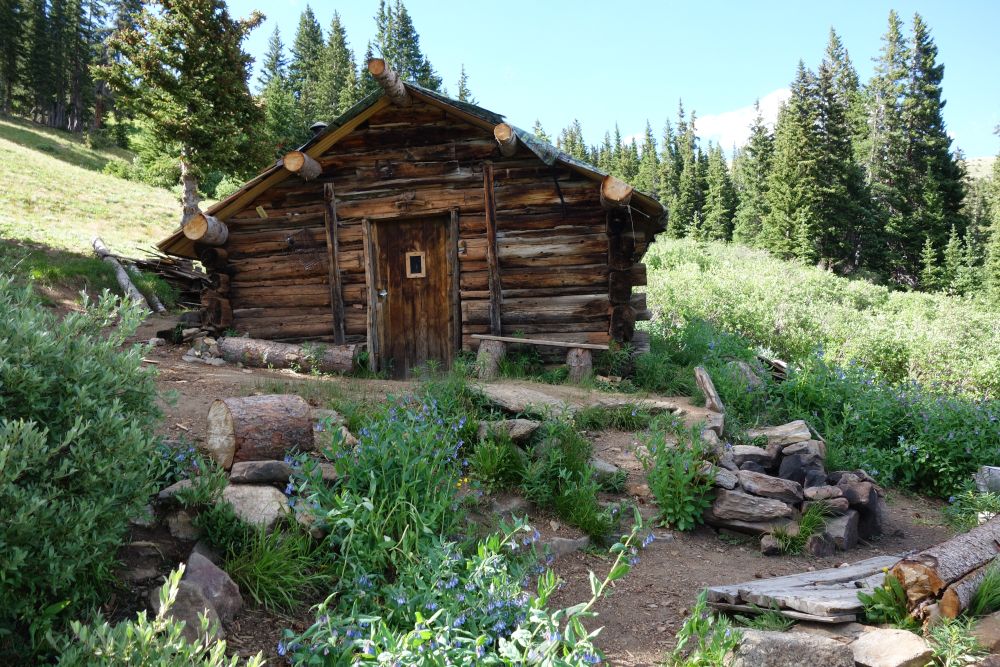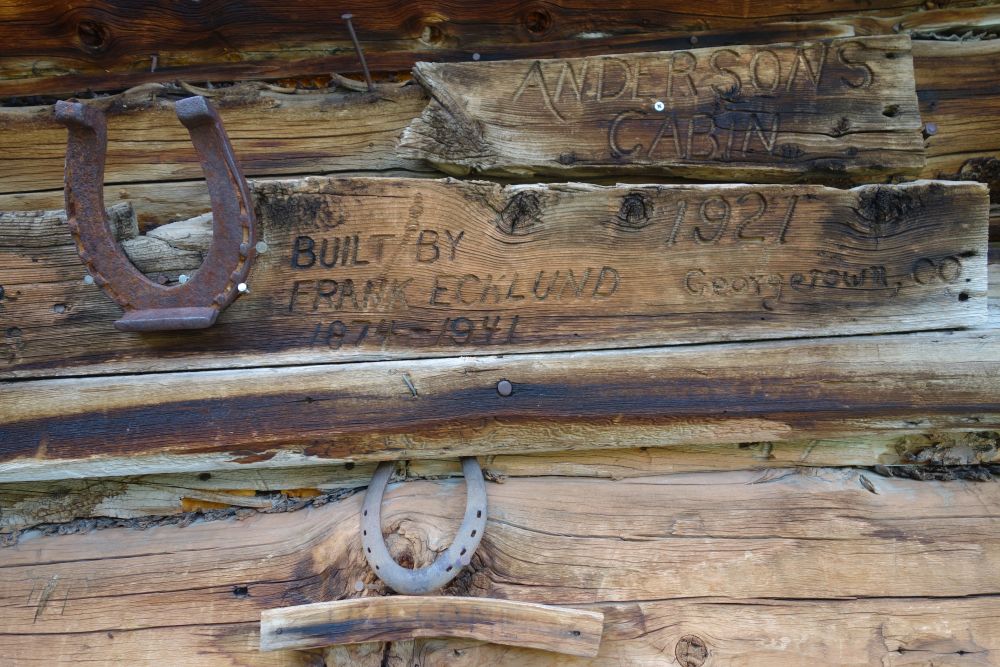 The upper part of the FATS trail was pretty slow-going due to lots of downed trees, but it had some fun moments: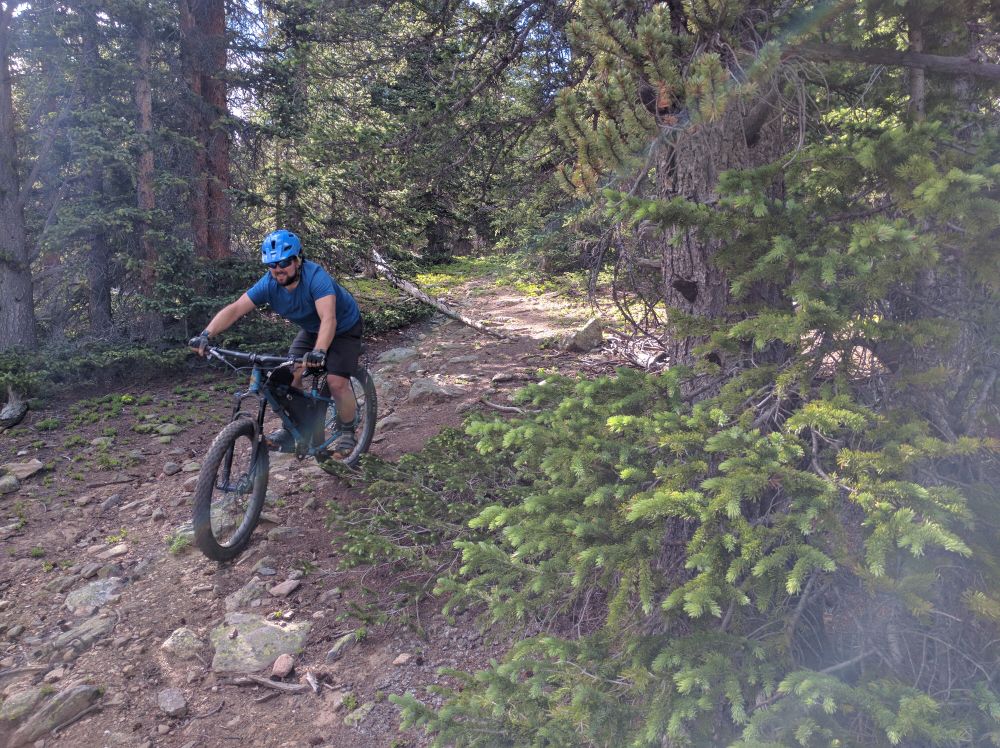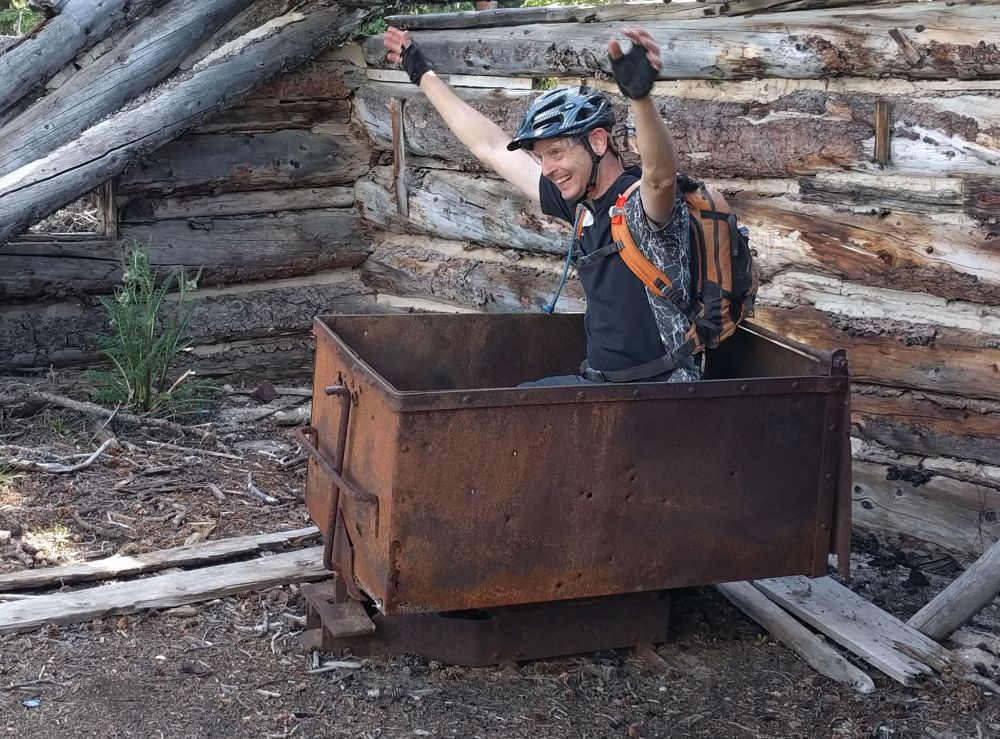 The middle, flume trail-ish part of FATS was in better shape but still had quite a few downed trees and blockages.
But the lower, steep and exposed part of FATS was almost all clear, and made for an outstanding rowdy plunge to Pavillion Point: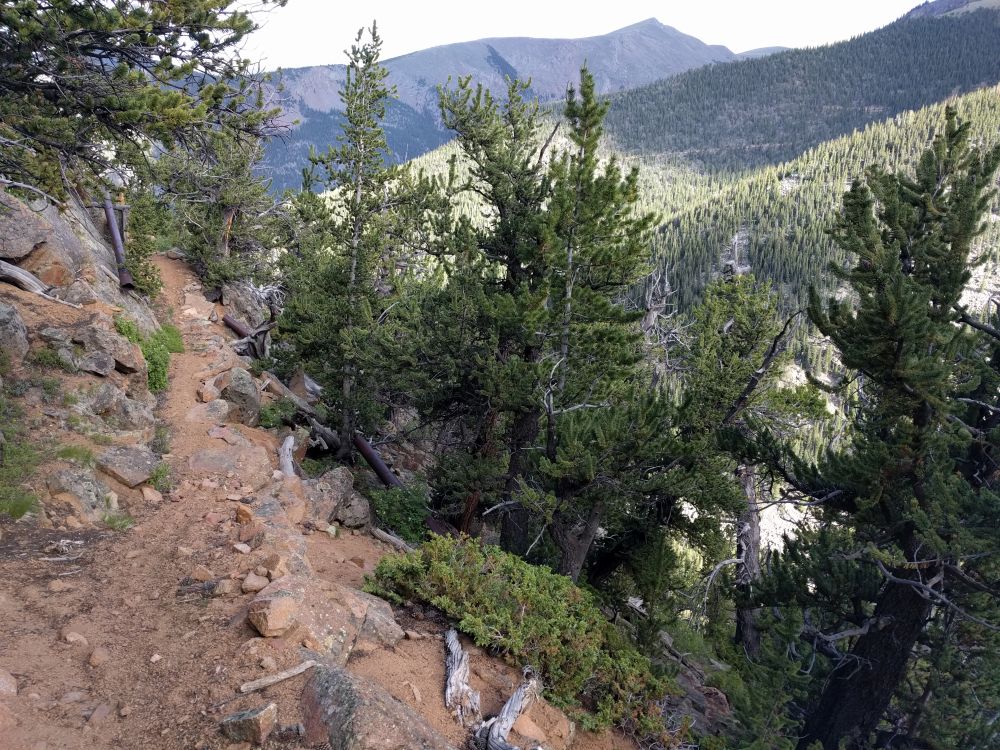 The final sweet, steep, benchcut singletracks down to Georgetown were still fun a week later, even though we had to stop and navigate a few times this time, instead of just following high-speed maniacs who knew where they were going like last week, ha: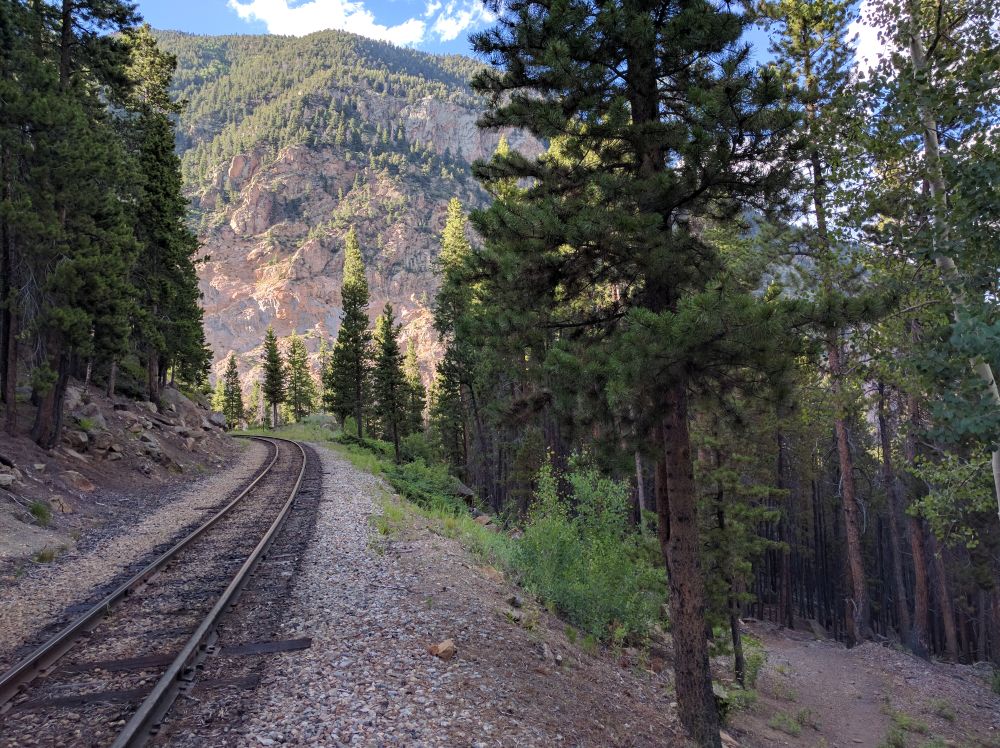 We rejoined our shuttle driver in Georgetown almost 10 hours after being dropped off, having logged a measly-sounding 31 miles. But with almost 6000 feet of hard climbing and almost 10000 feet of descending, much of it above treeline, this was one heck of a fine day of exploring the high country on bikes!
< previous story home next story >
---
HOME TRAVEL LOG MOUNTAIN BIKING WINDSURFING STORY ARCHIVES RV INFO PHOTOS CONTACT US
---