---


HOME TRAVEL LOG MOUNTAIN BIKING WINDSURFING STORY ARCHIVES RV INFO PHOTOS CONTACT US
---
< previous story home next story >
Closing out the summer season with a marvelous chunk of Continental Divide Trail above 13,000 feet.
September 20, 2014
Empire, CO
The following was originally posted (see page 15) as part of a mega stoke thread on mtbr called "Do you like to get HIGH, man? (post your high country riding photos)"
An explosion of fall colors on the approach Saturday morning: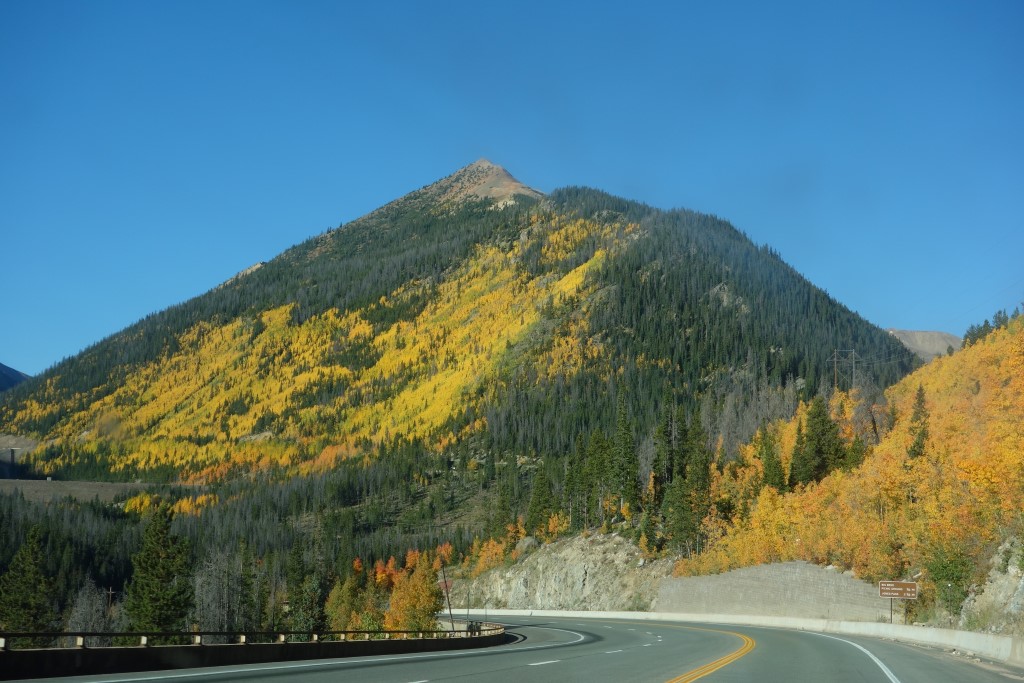 MsFoldsInHalf again agreed to play shuttle pilot for the day, so who were we to turn that down?
Started just below Jones Pass proper, and experienced a brief taste of the road climb we were happy to mostly skip: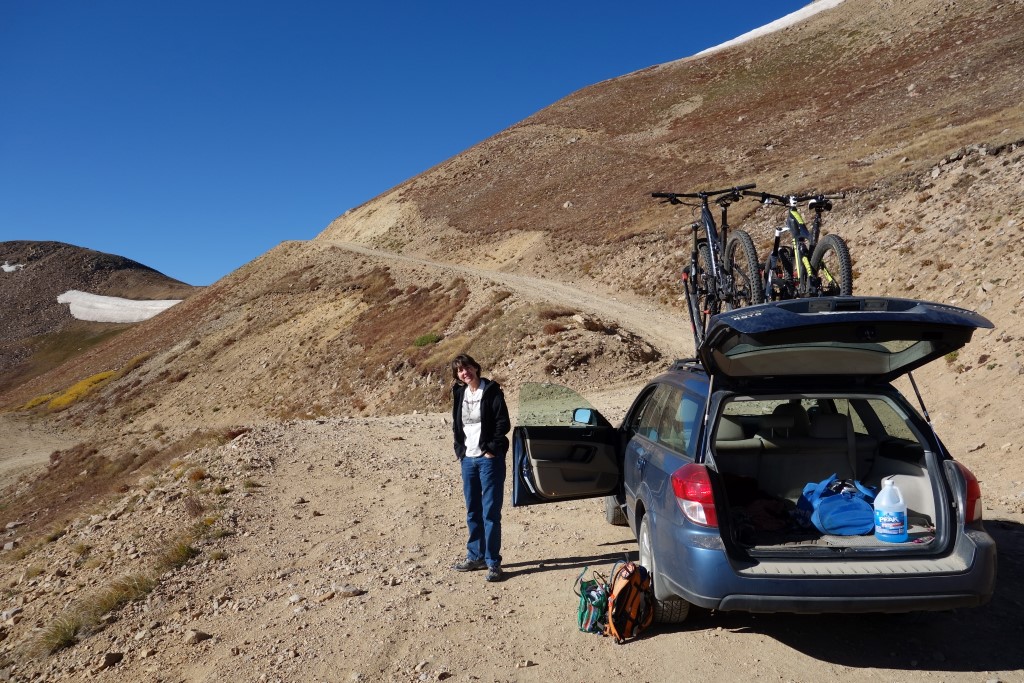 Quite a bit of snow still hanging around, but no death-defying cornice to climb by mid-September. Guess I'll have to come back next year in July for that action, ha:




Looks almost suitable for a ski descent: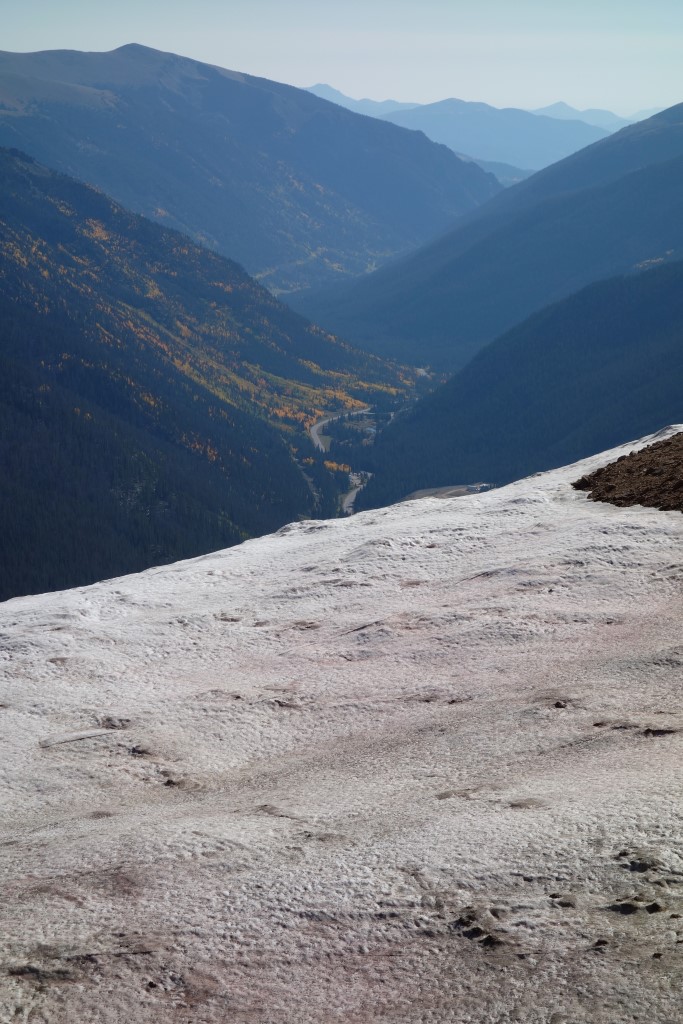 The CDT is downright playful at times along this 13,000-ish foot rolling traverse:




What a day to ride up high. Just look at that blue sky!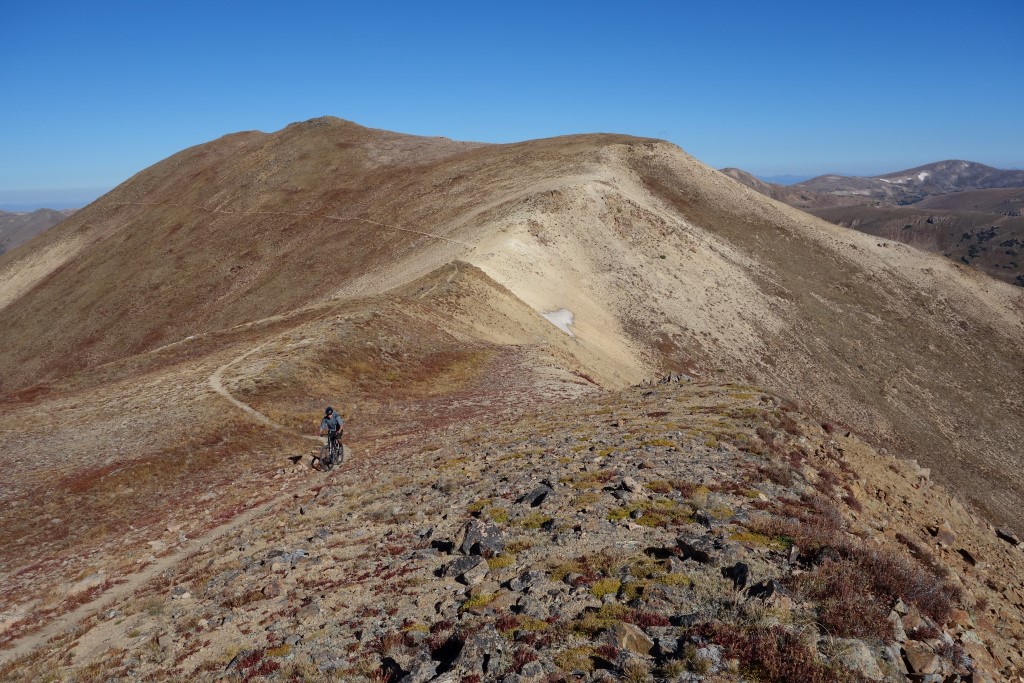 Things got a little chunky, from time to time: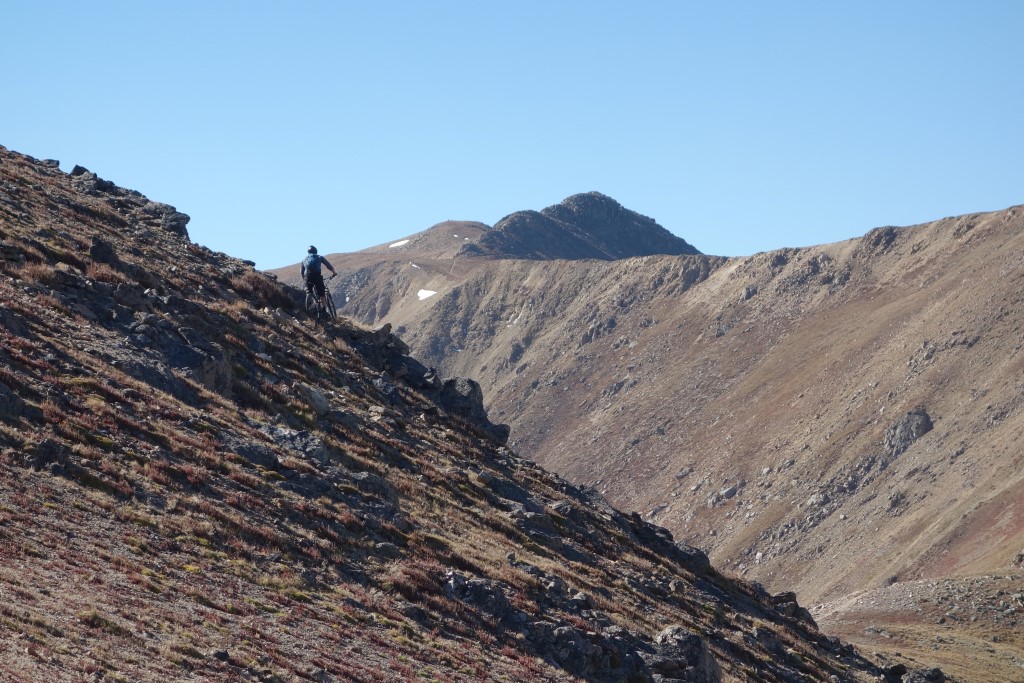 But more often, things were just plain old steep-ish grunts upwards: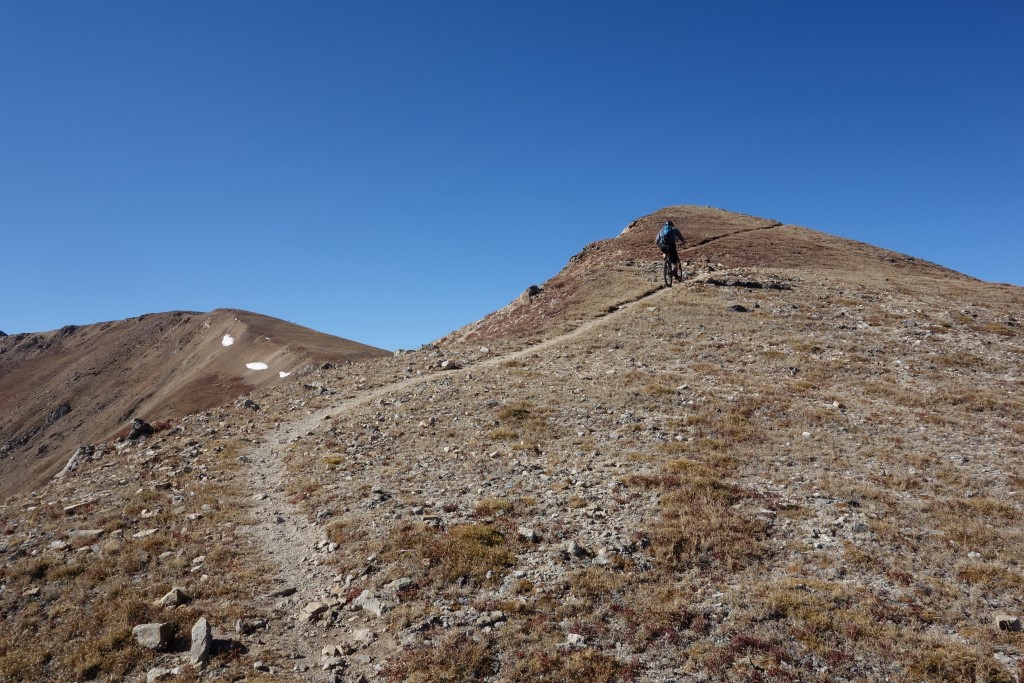 Rising above the riff raff: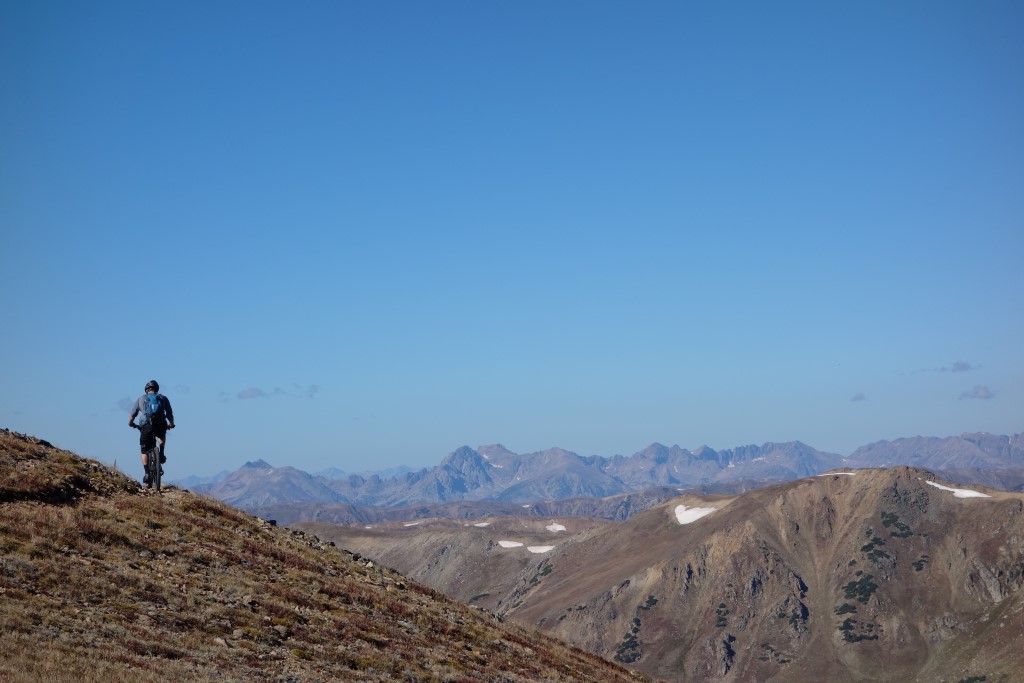 Zig, zag, repeat: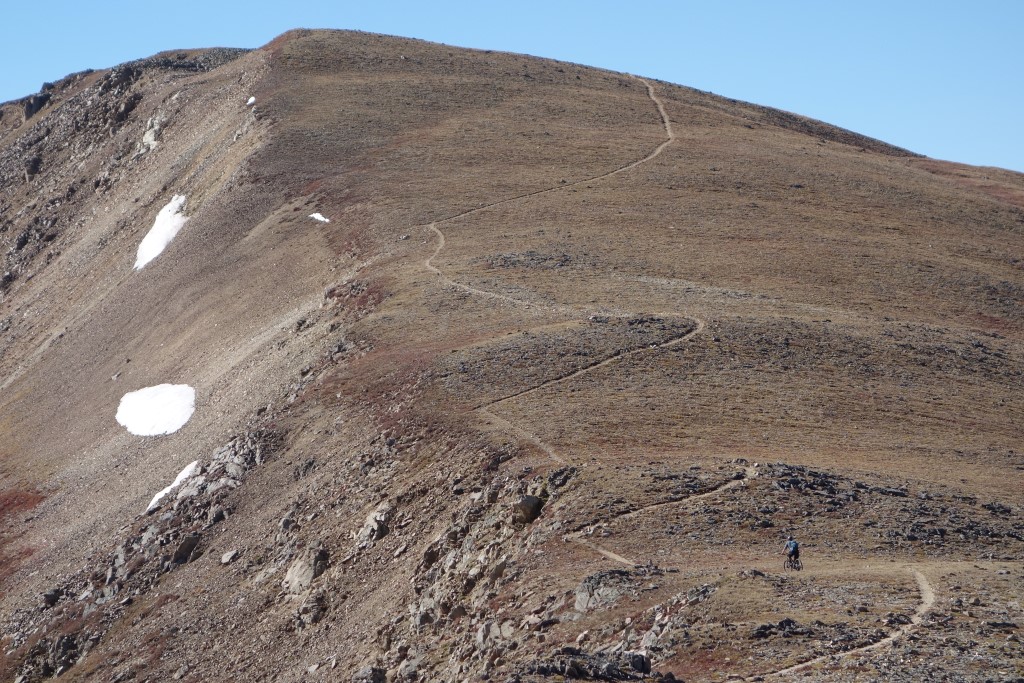 My riding buddy managed to pedal up almost all the steeps (admittedly benefiting from plenty of short breaks waiting for me to arrive--on foot roughly half the time), all the while maintaining a happy smile. Or maybe it was just an oxygen-deprivation-induced smile of impending madness?!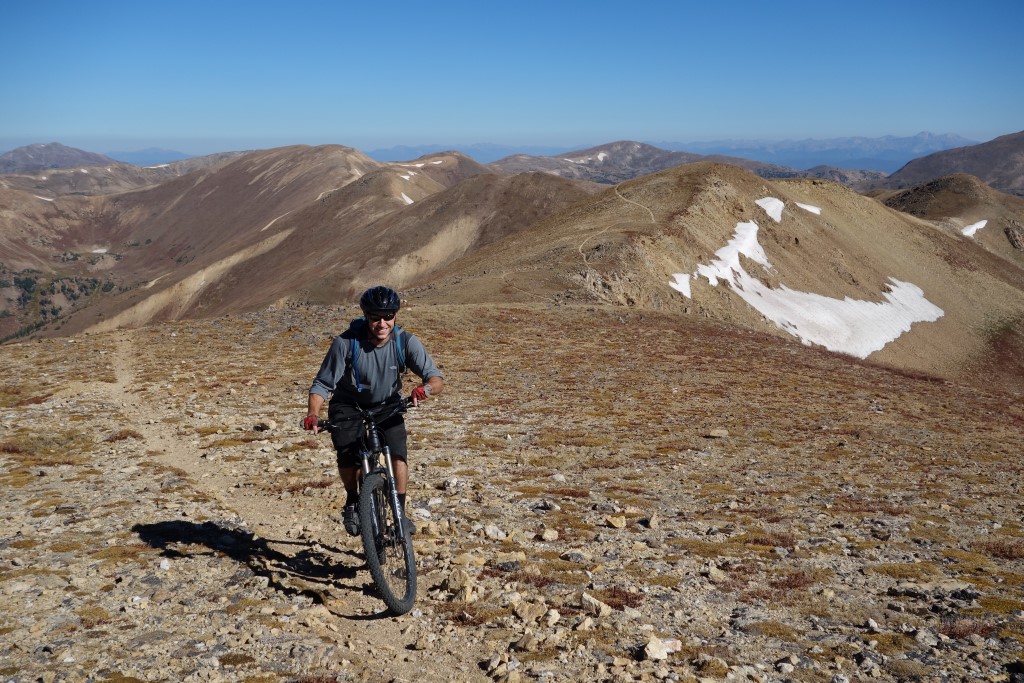 Heading into what I dubbed the "tip toe zone":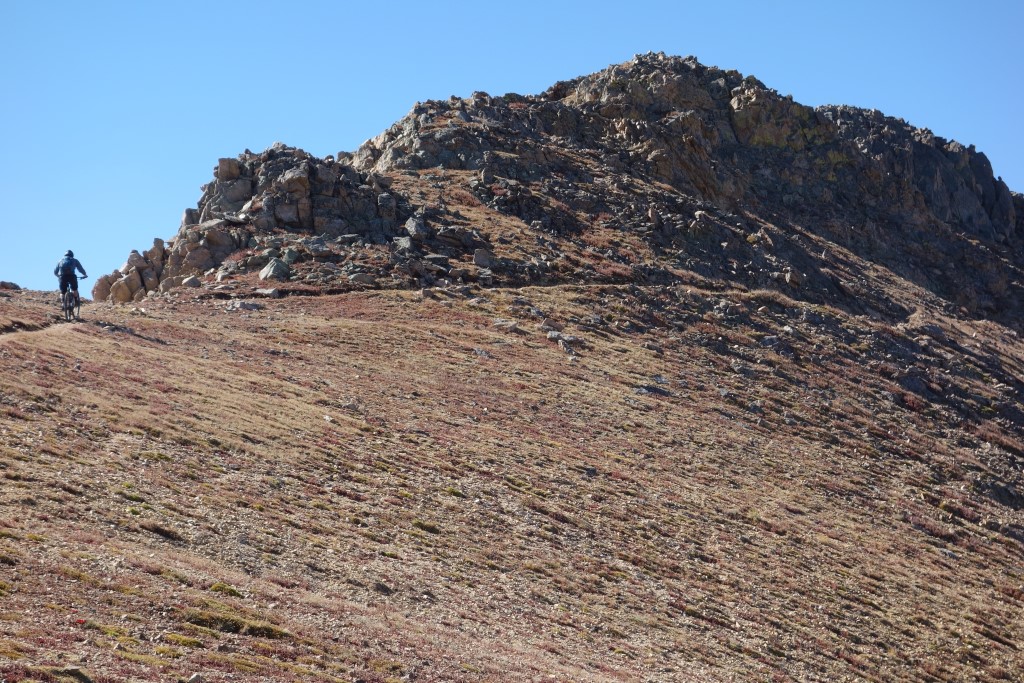 Finally, he's off the bike and pushing a bit: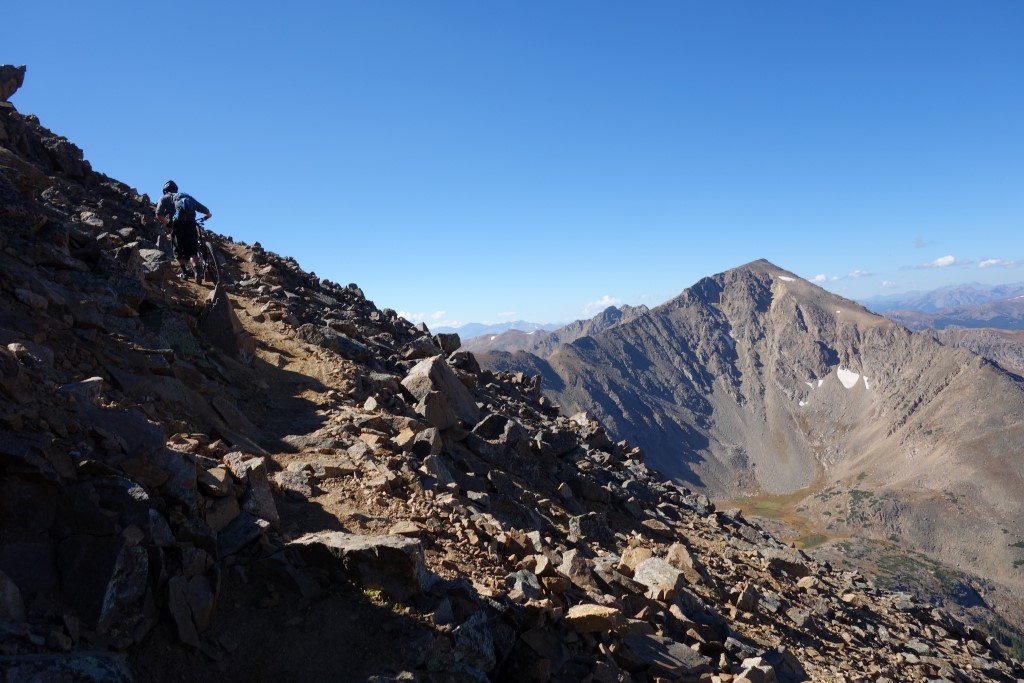 "Do something funny" said the woman who offered to snap our pic at the 13,215 ft high point: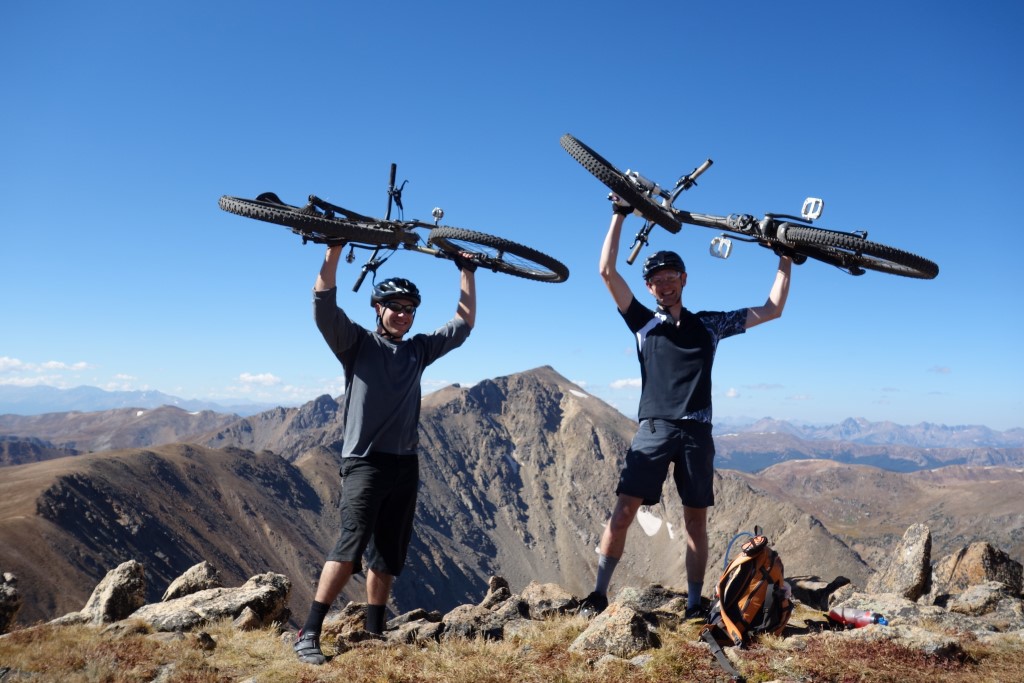 The descent ahead looked awesome, and was a most welcome sight at this point: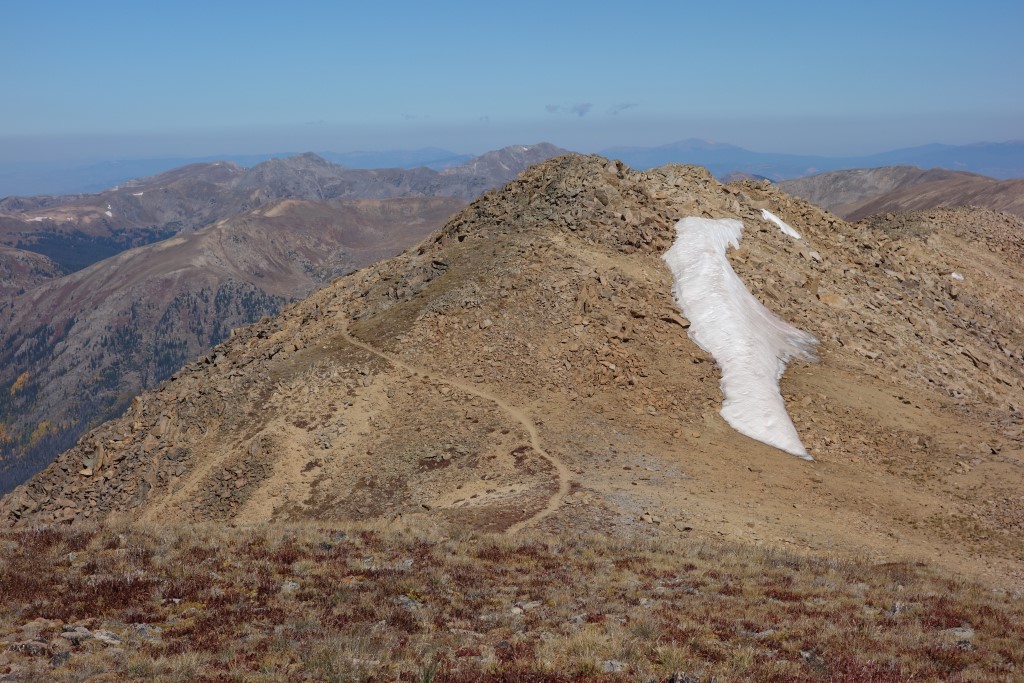 The uppermost part was just the right amount of sketchy, but almost fully ride-able and rewarding to clean: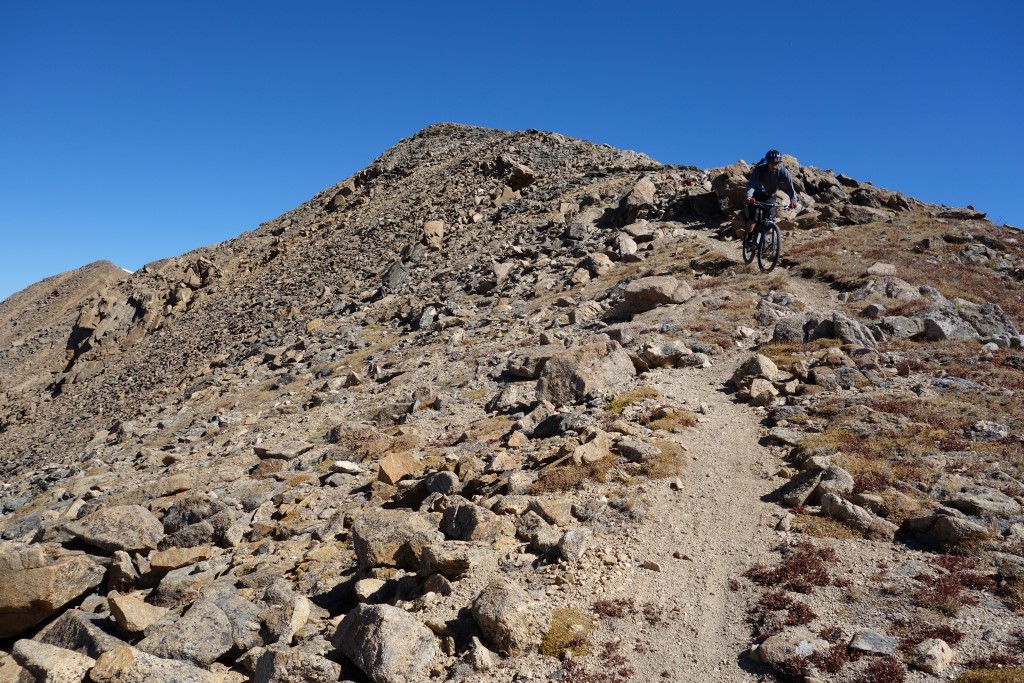 The "fast bit" was even more fun. My buddy took an unplanned flight off the narrow benchcut at one point, but somehow managed to bounce harmlessly off the rocks and arrived at the bottom slightly bloodied, but reporting "the bike's okay"... always the most important news!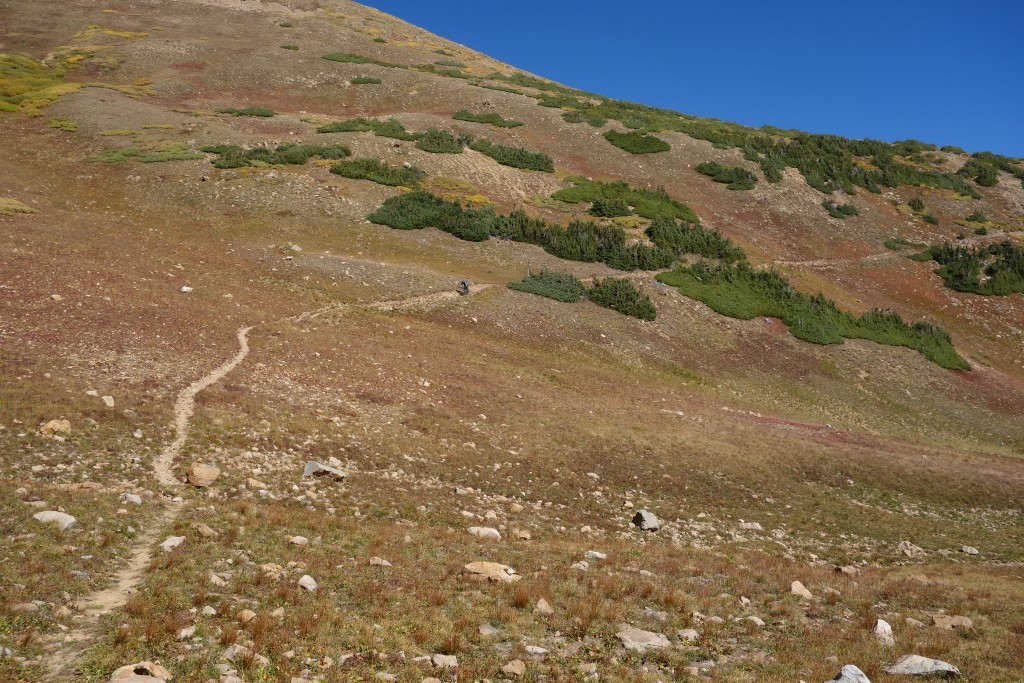 Herman Lake was teeming with tourists today, for some unimaginable reason:




Herman Gulch was teeming with not only tourists, but rocks and roots galore. Almost all ride-able and great fun, except for a couple of bona fide quagmires: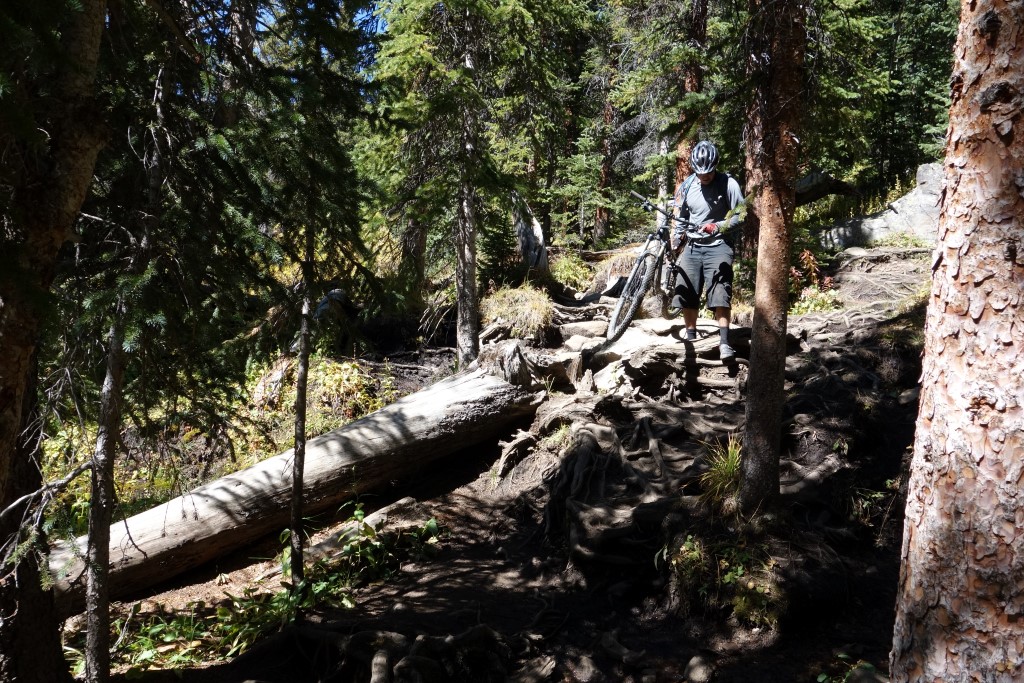 "Do something funny" said nobody. This is just his normal posture for attacking a rare bit of smooth singletrack.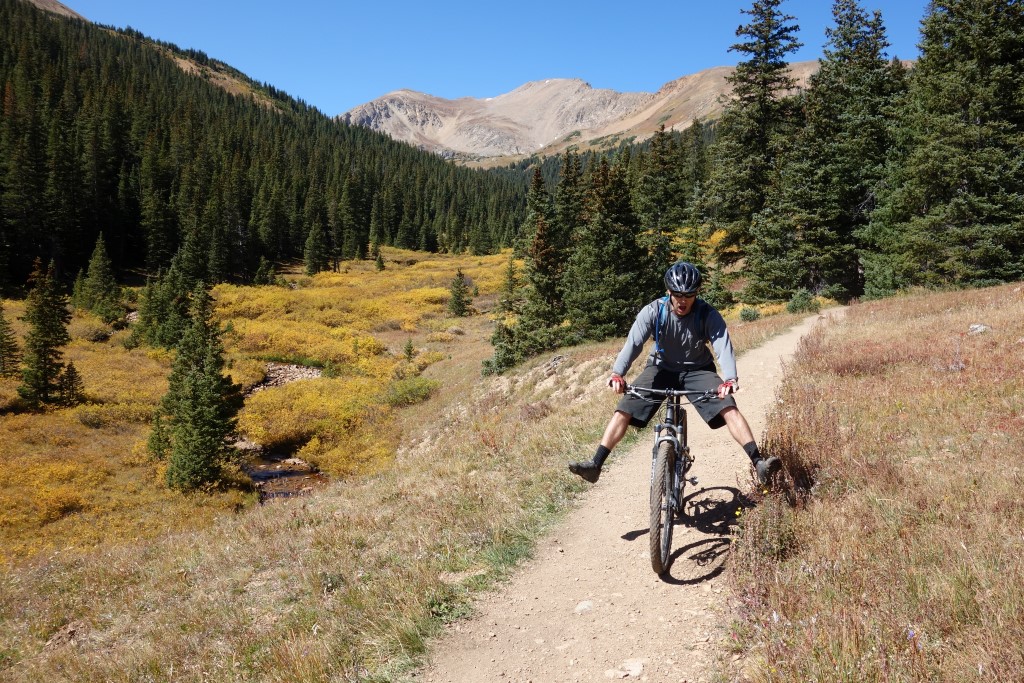 Yet another great high-elevation adventure completed. What a way to wrap up an amazing summer season. Bring on fall!
< previous story home next story >
---
HOME TRAVEL LOG MOUNTAIN BIKING WINDSURFING STORY ARCHIVES RV INFO PHOTOS CONTACT US
---