---


HOME TRAVEL LOG MOUNTAIN BIKING WINDSURFING STORY ARCHIVES RV INFO PHOTOS CONTACT US
---
< previous story home next story >
Breck Bike Week activities, Georgia Pass, Lenawee, Wheeler Pass, and more.
August 20-31, 2014
Breckenridge, Frisco, Dillon, and Keystone, CO
The following was originally posted (see page 14) as part of a mega stoke thread on mtbr called "Do you like to get HIGH, man? (post your high country riding photos)"
Finally catching up with another set of pics from a couple weeks back...


BRECK BIKE WEEK

By pure good luck, we arrived just in time for Breck Bike Week: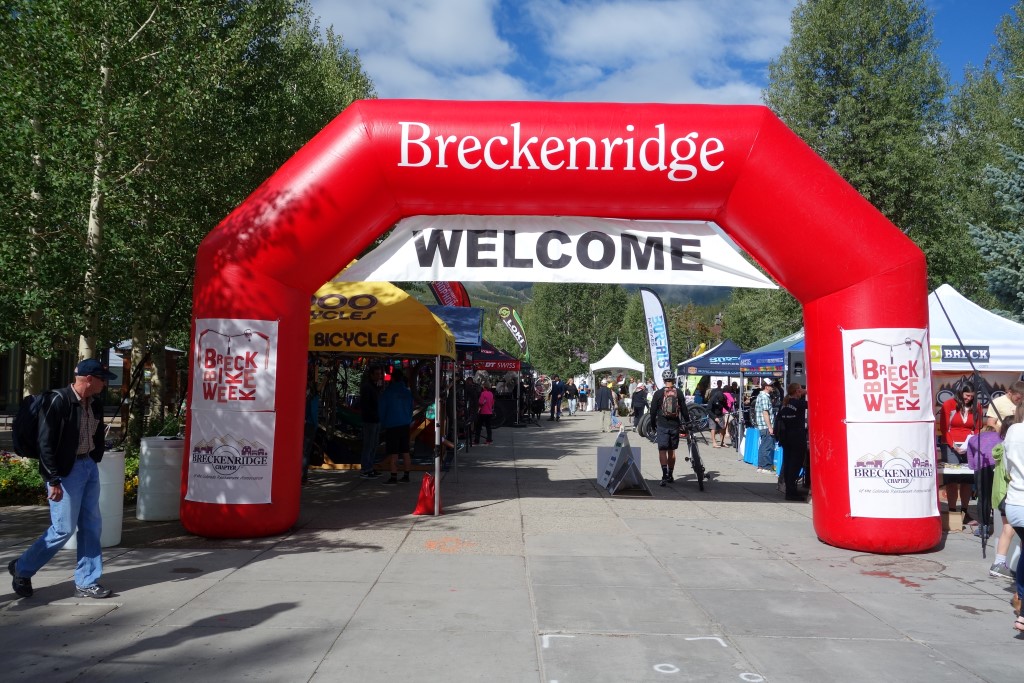 MsFoldsInHalf thoroughly enjoyed the free Yeti Beti Women's Clinic: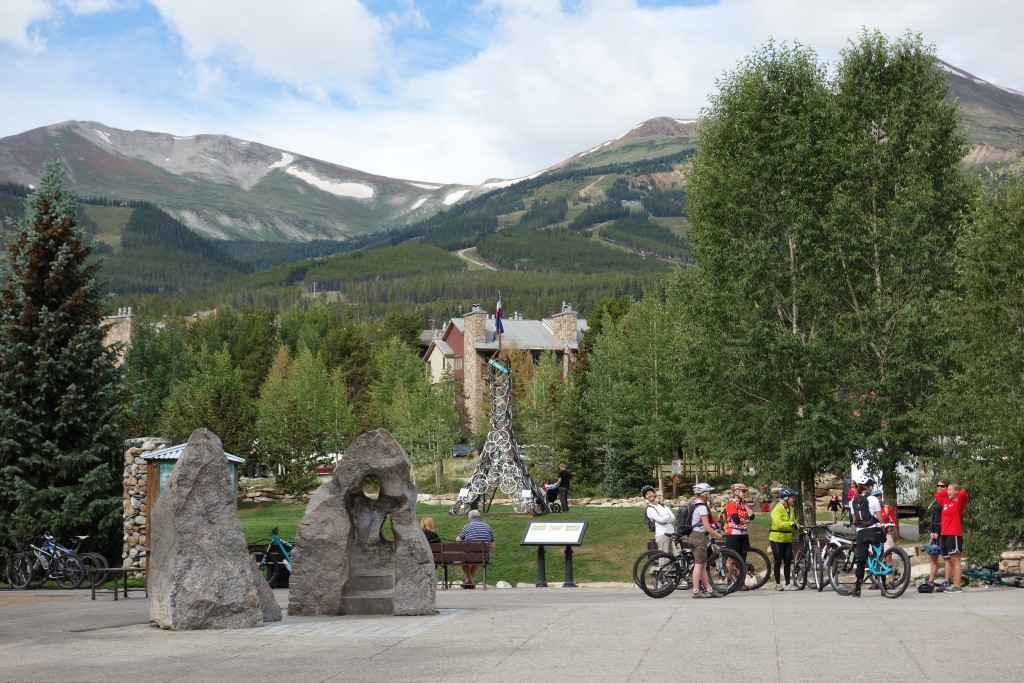 The Ride With The Mayor started with a cruise through town, headed up French Gulch past the mine, to the dredge, then down some trails. Pretty darn cool: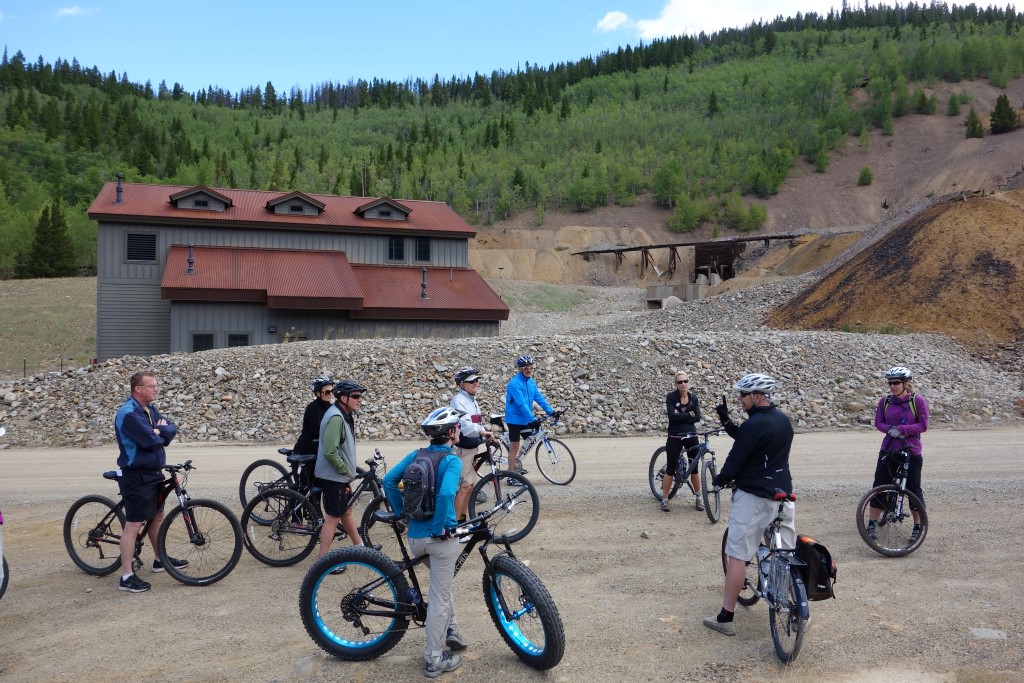 MsFoldsInHalf, shredding Barney Flow on a demo Borealis Echo Fat Bike (freaking awesome machines, btw):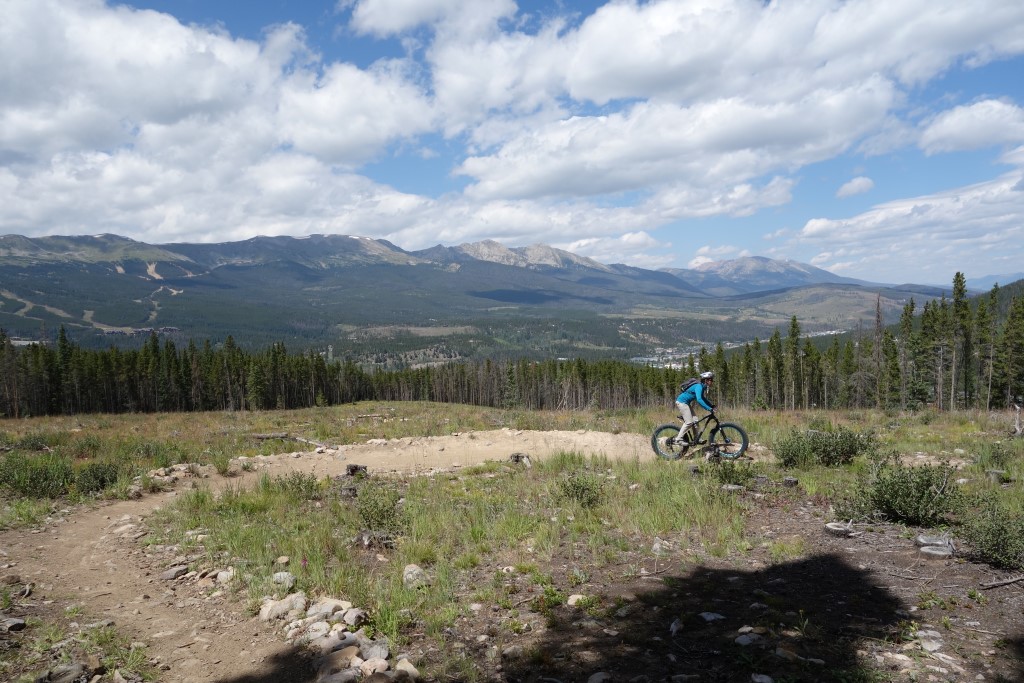 Oh, and my hand for the Poker Ride totally sucked, but I did come within 1 sec of winning the tricycle slalom and there was free beer, so all was fun.



BRECK TO GEORGIA TO DILLON

A nasty little grunt up Humbug Hill paid off with a cool view towards Guyot :



Down American Gulch:




Across the Great Flume: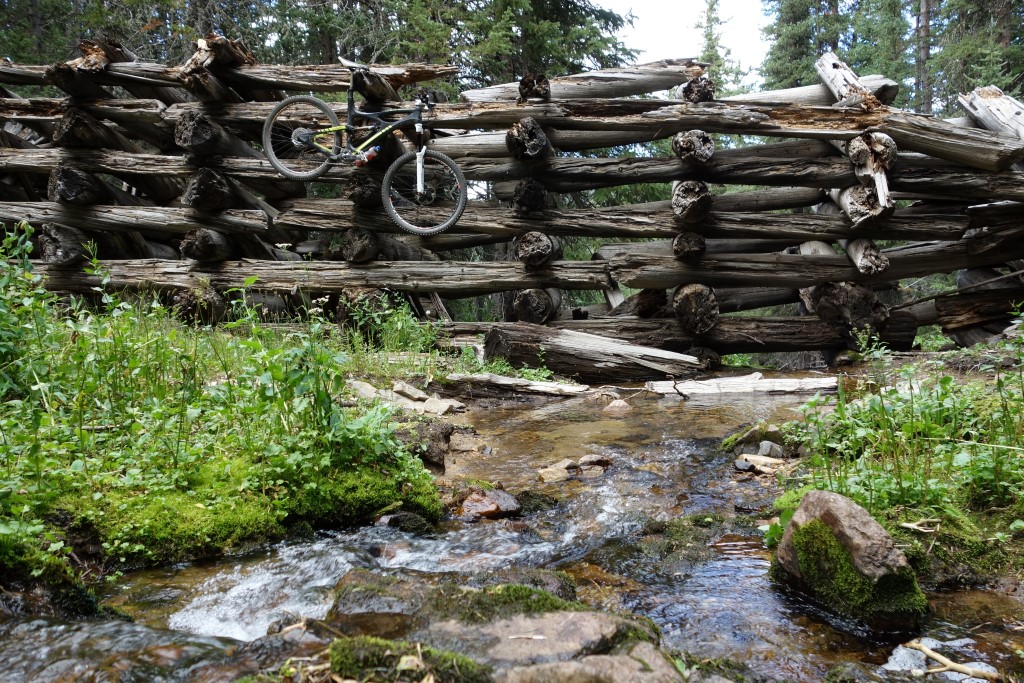 Worked up random roads and moto trails and finally reached the new-to-me "road" version of Georia Pass at 11,585 ft: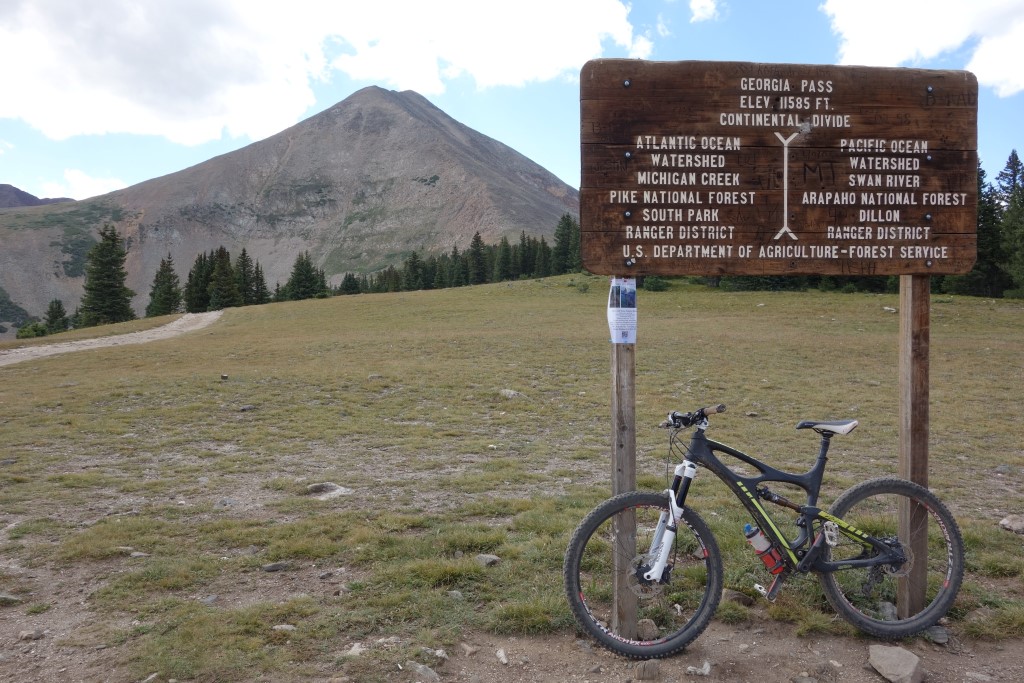 While I was up there, figured I'd explore some new-to-me roads around the Georgia area. The big cornice was still hanging tough above Jefferson: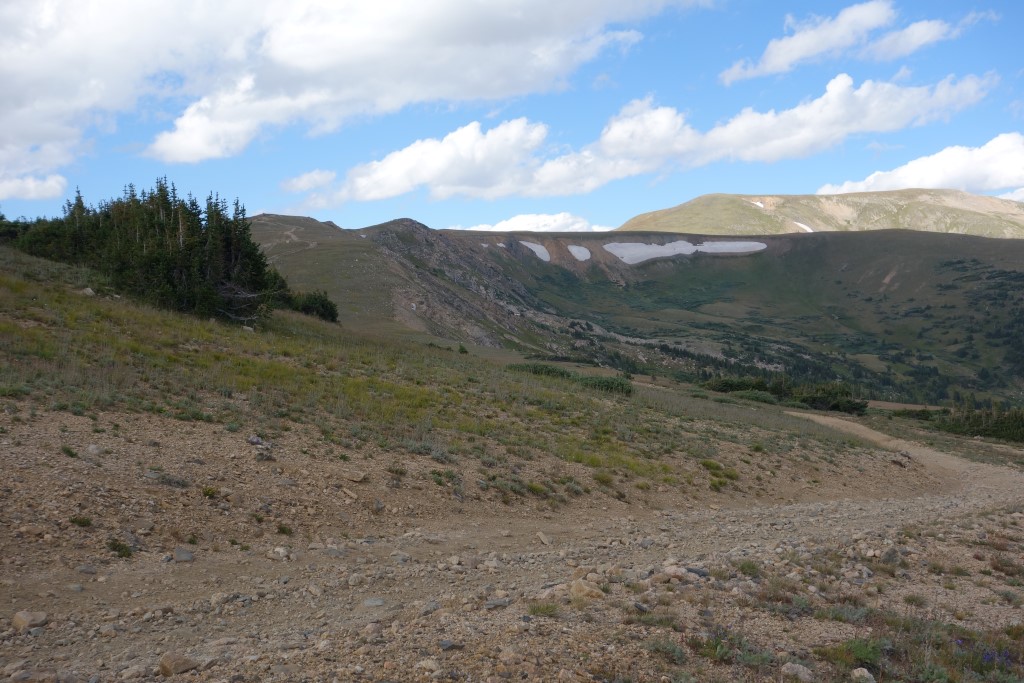 Dramatically-lit, high-elevation fenceline:




The singletrack version of Georgia Pass on the CT at around 11,850 ft:




The chunky CT descent to the Swan was a blast, as always: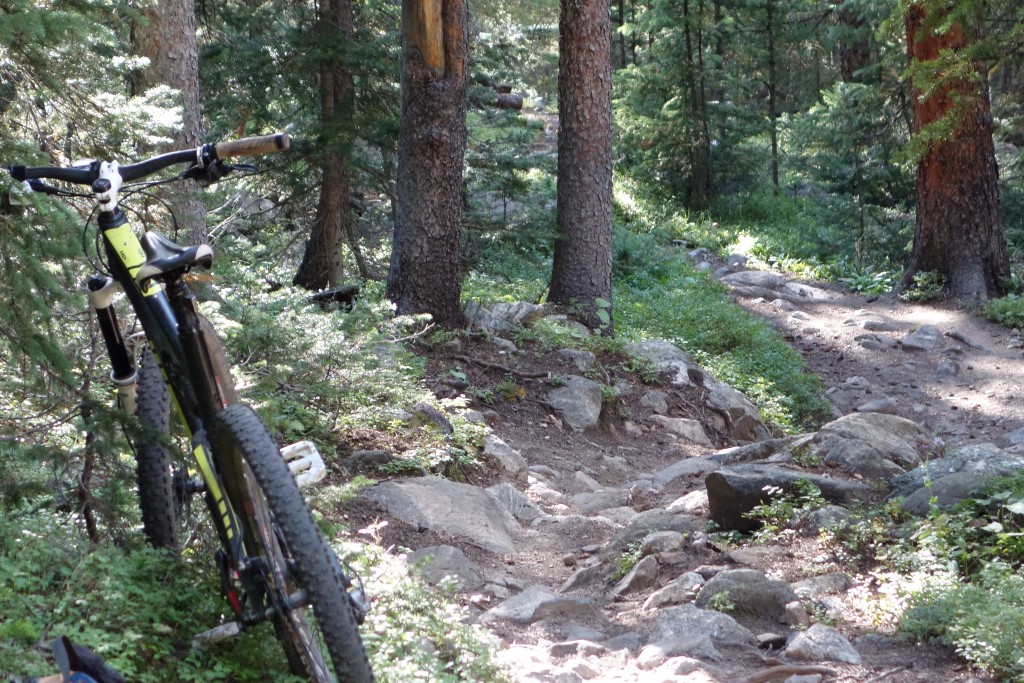 Cruised the road down a bit, then Hay Trail and Aqueduct across to Dillon to wrap up a nice, long, and mostly unplanned day out. Such a cool area to be able to just keep linking up trails until you run out of gas!




LENAWEE

Base of the Legend:




A-Basin East Wall:




The road up was still plenty steep, wunderbike notwithstanding:




Kinky plantage: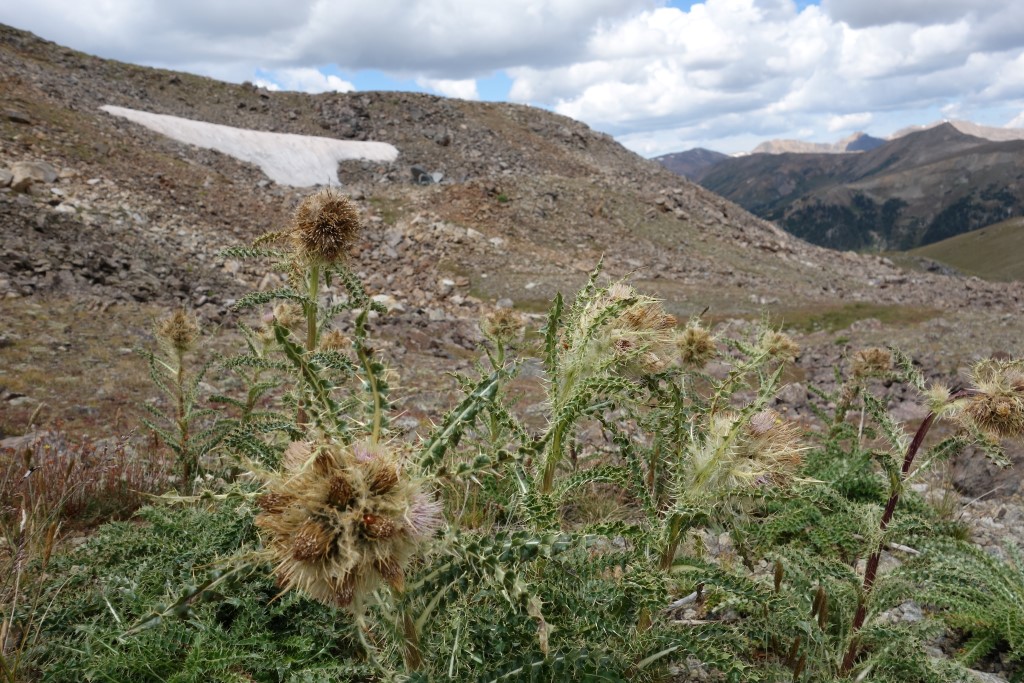 Caught up with a couple of other riders at the top and took their pic on the initial climb: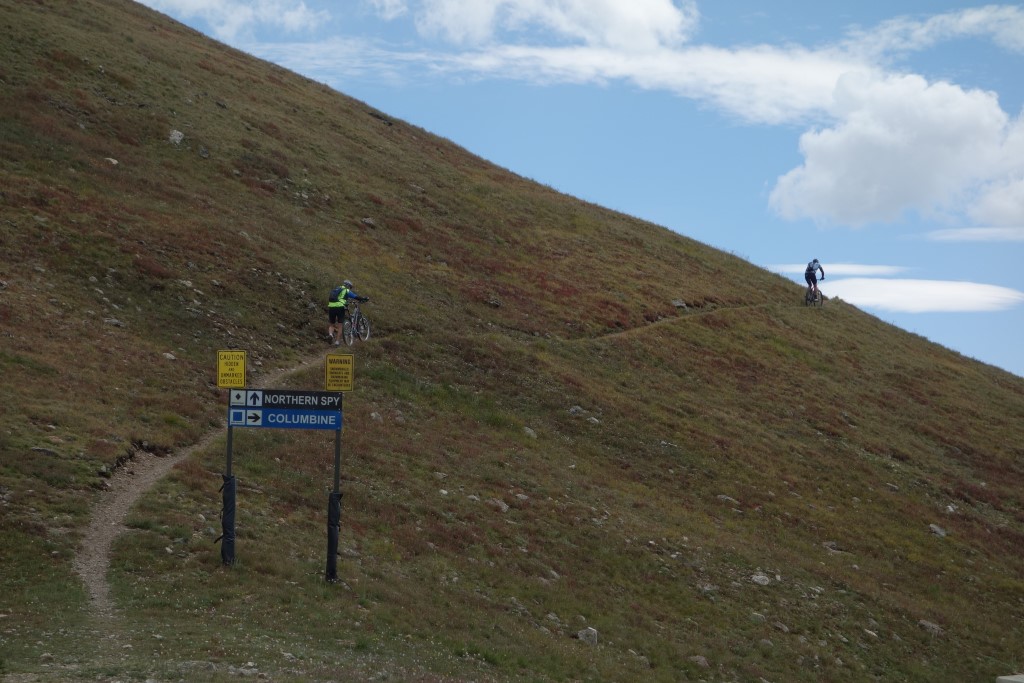 From 12,500-ish ft, the Lenawee plunge begins: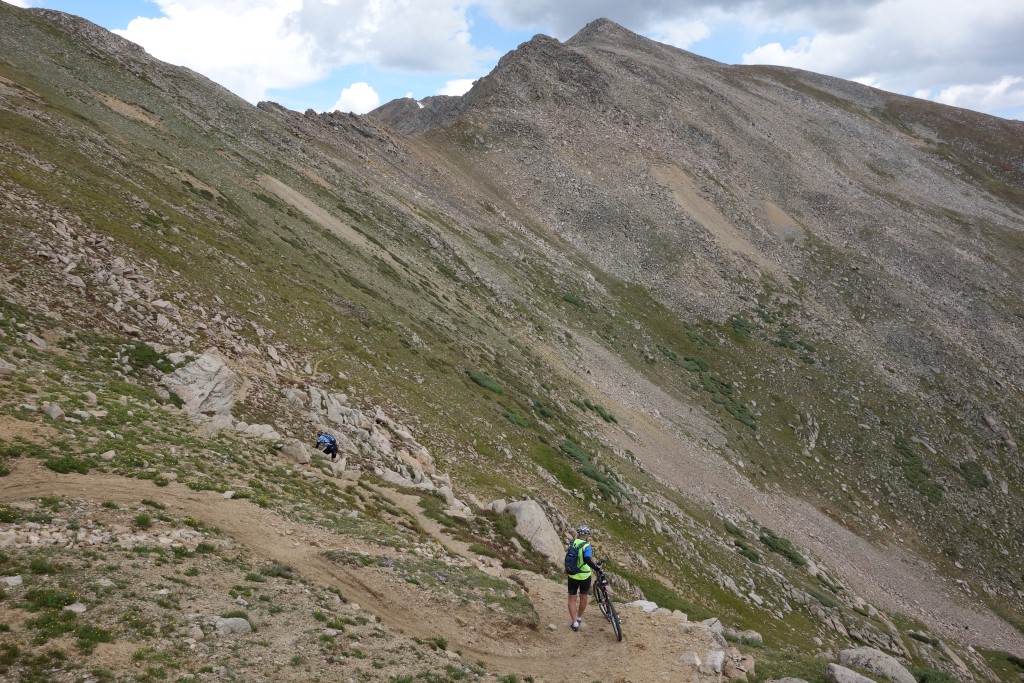 What the heck? Somebody's coming UP Lenawee? Turns out he'd done it as an out-and-back to avoid having to loop the highway. What a concept!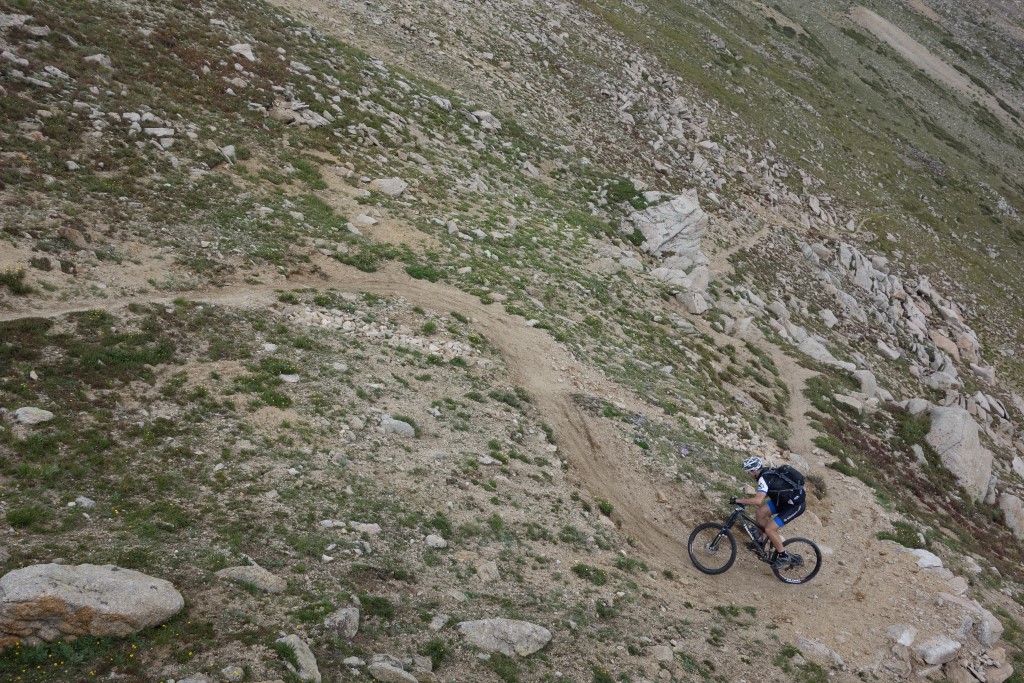 The chunky goodness continues below treeline too: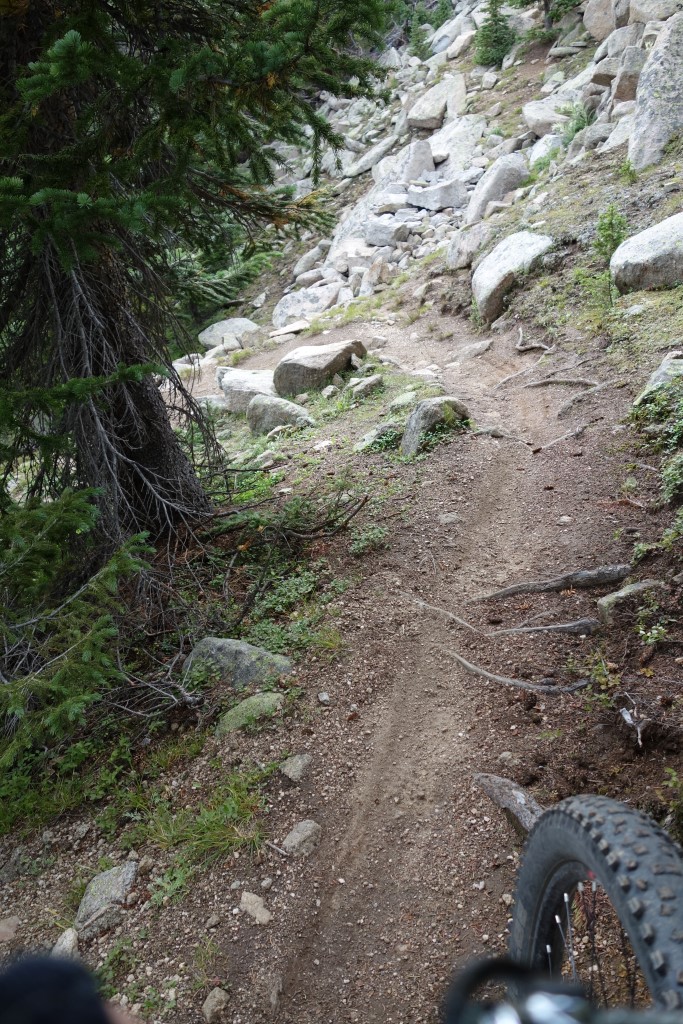 Eventually made my way to Keystone, then took Granny's to Aqueduct back to Dillon, making a sweet point-to-point version of Lenawee. What a concept! (Thanks to MsFoldsInHalf for the drop off at A-Basin, heh)


WHEELER

This Breck Epic Plus Bonuses stage started early, with bikepath from Heaton Bay campground to Frisco, then the Peaks Trail up to Breck: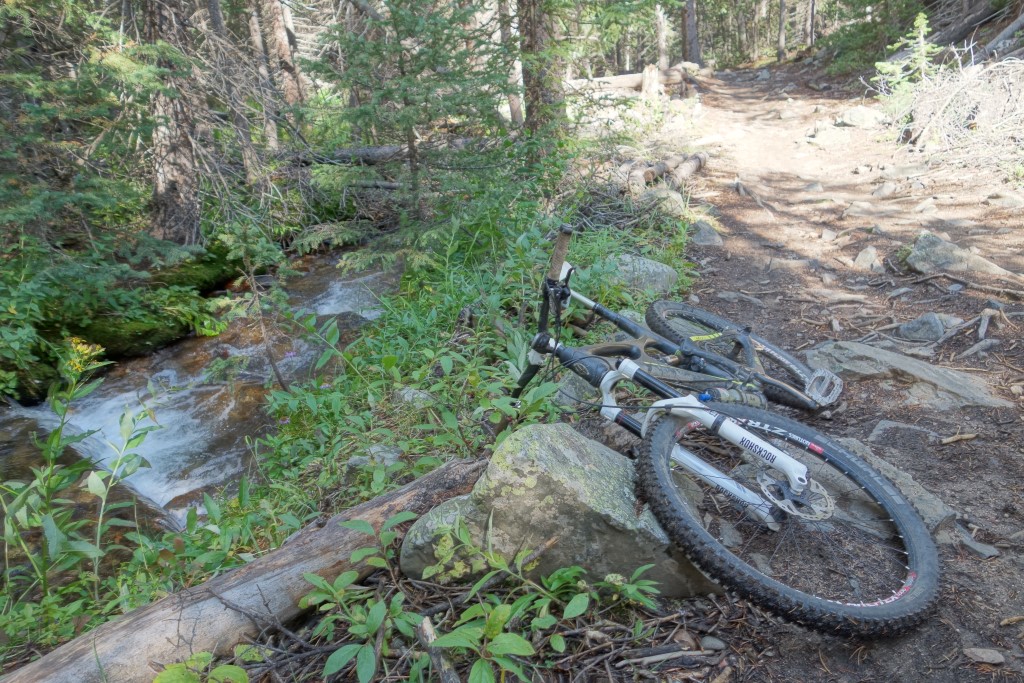 Burro Trail from Breck upwards:




Wheeler Trail. Up, up, and more up: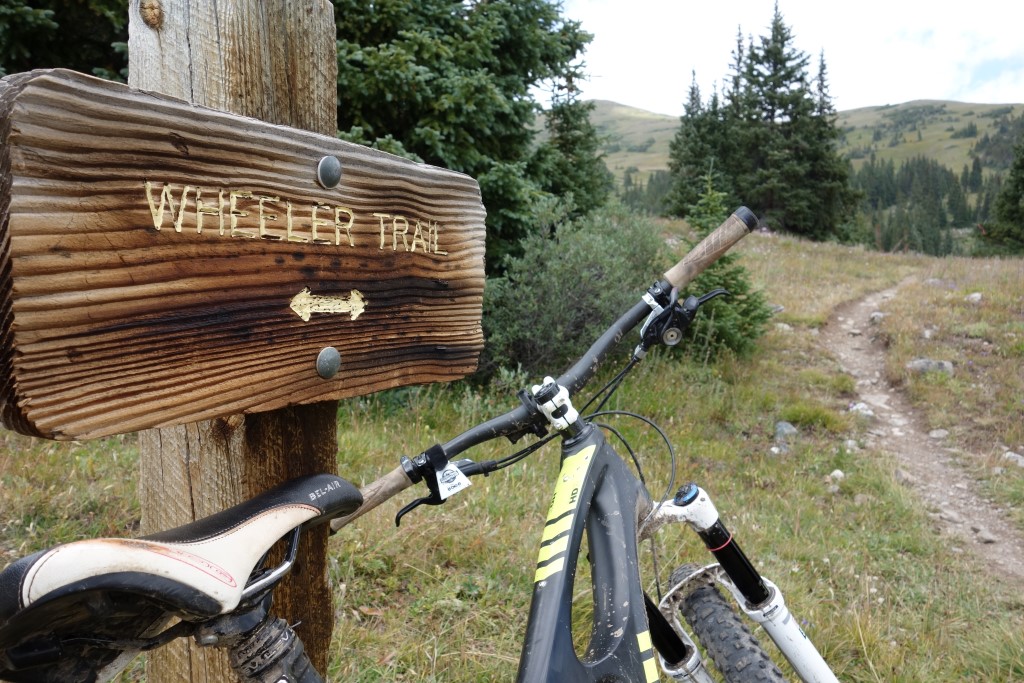 Pinks:



Blues and Yellows: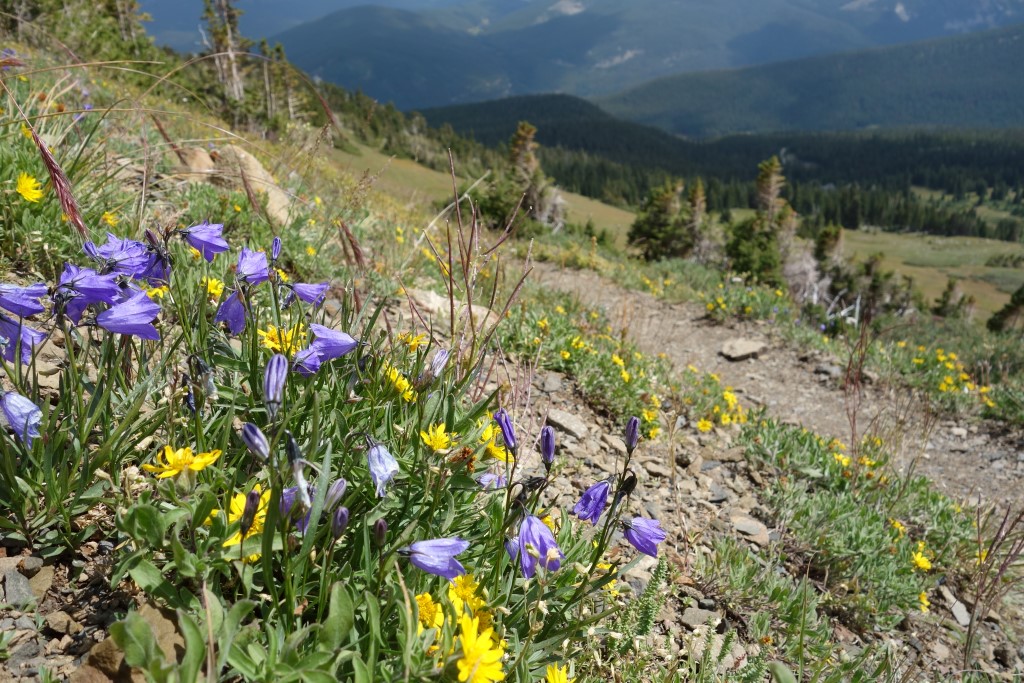 Whites and Yellows: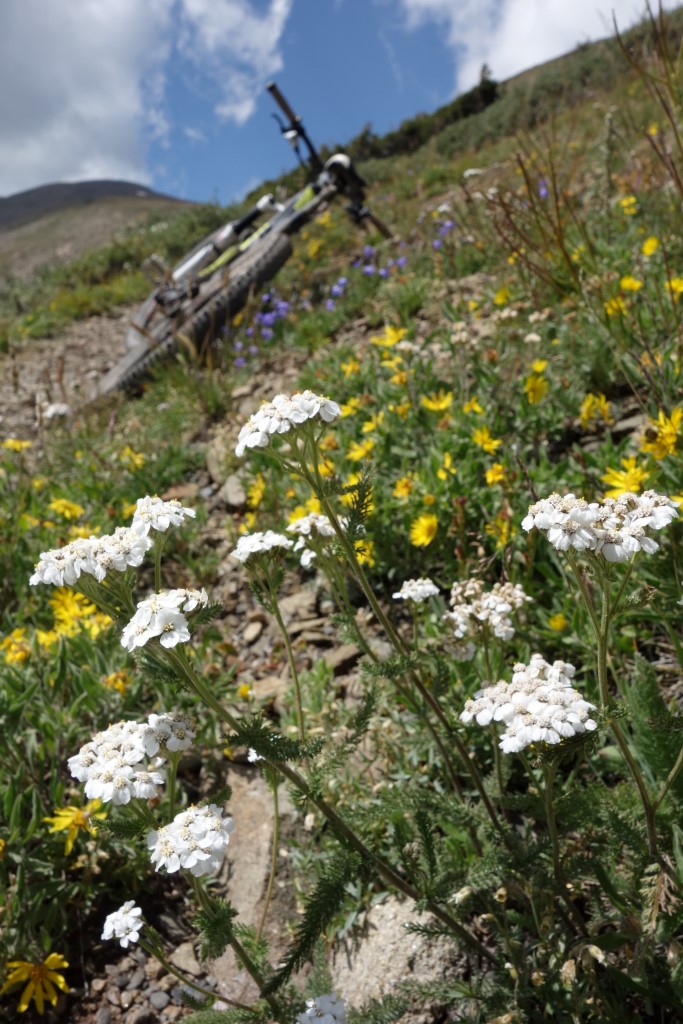 After pushing bikes up Elbert two weeks before, I'd figued Wheeler would seem like nothing... but man, this push was a real soul crusher! Luckily there were plenty of excuses to stop and admire the views:



Finally, a switchback gave way to a wee break in the gradient and allowed some pedalling again: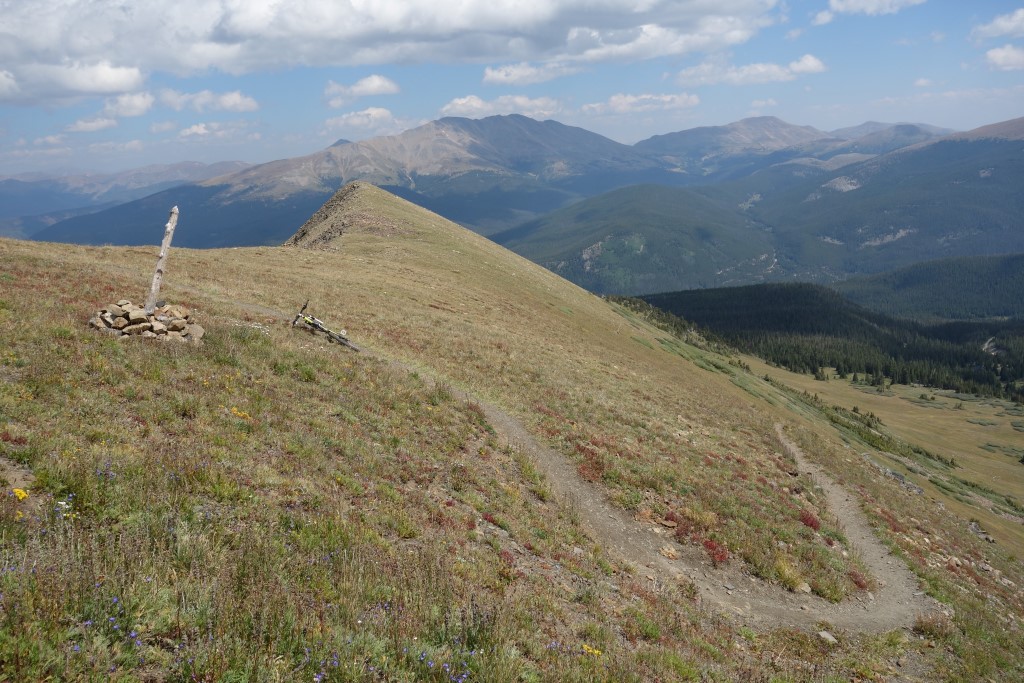 One last look down at Lower Crystal Lake (note: Crystal Peak is just out of frame to the right):



Reddish Tundra was super cool:




The pass itself comes slowly into view:




An unexpected marsh and plentiful running water on the trail, way up high. Somehow the big bushes survive being buried in snow all winter: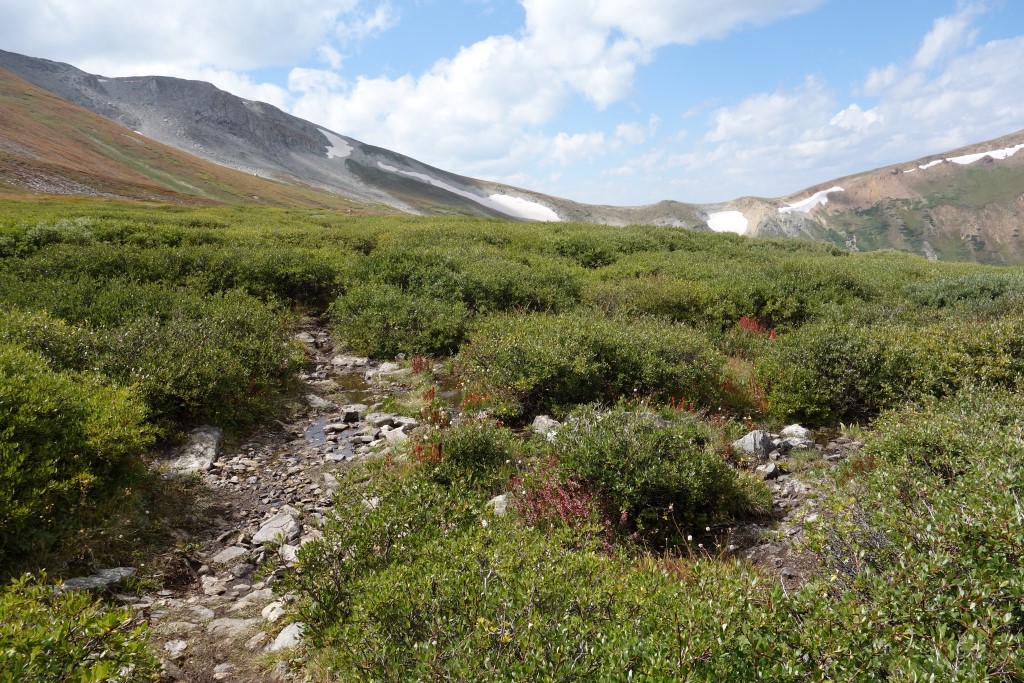 Clouds looked a little ominous, but remained quiet during the whole long stint above treeline:




The craziest looking switchbacks anywhere led to the crux:



Topped out at around 12,400 ft:




The winds had steadily built during the climb. I would have rigged a 6.0m to start but needed a 3.5m by the top (windsurfing babble). The 40-ish mph gusts in the pass made it almost impossible to stand, much less ride straight!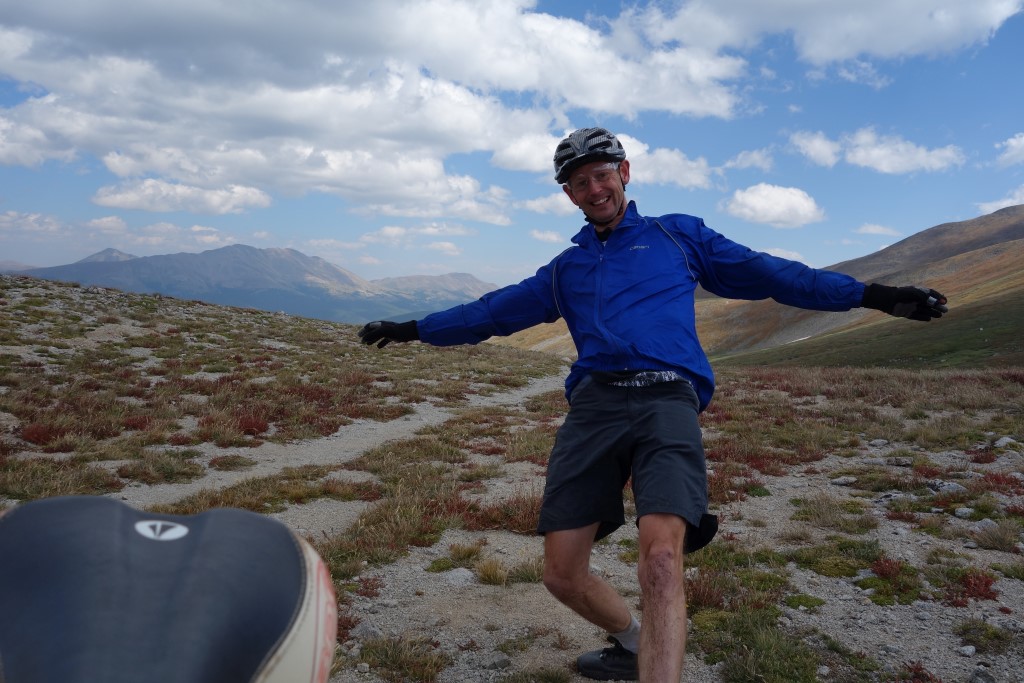 Despite the big breezes limiting my speeds, the initial descent still went by all too quickly: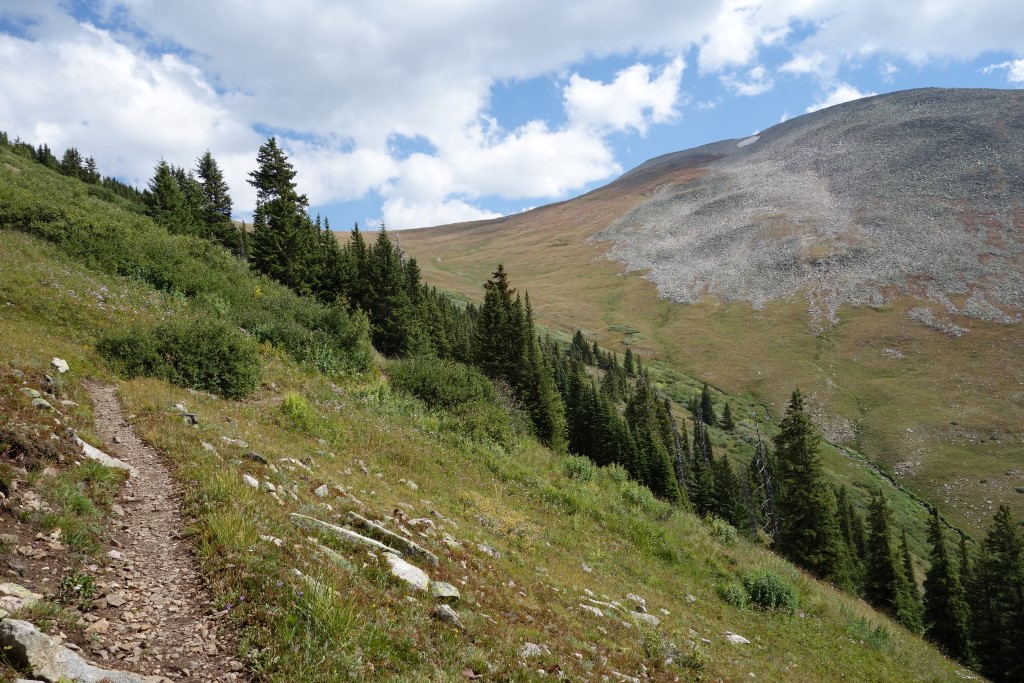 This excellent trail leads all the way down to Copper:



Decisions, decisions: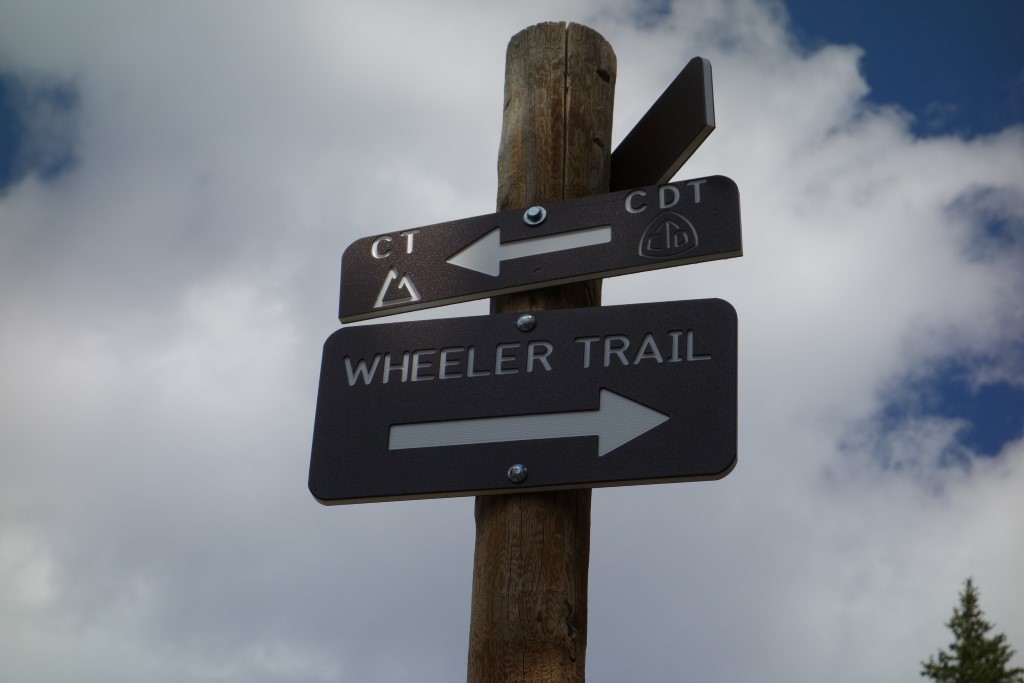 Revisited the groovy little rock animal zoo just off the bikepath back to Frisco: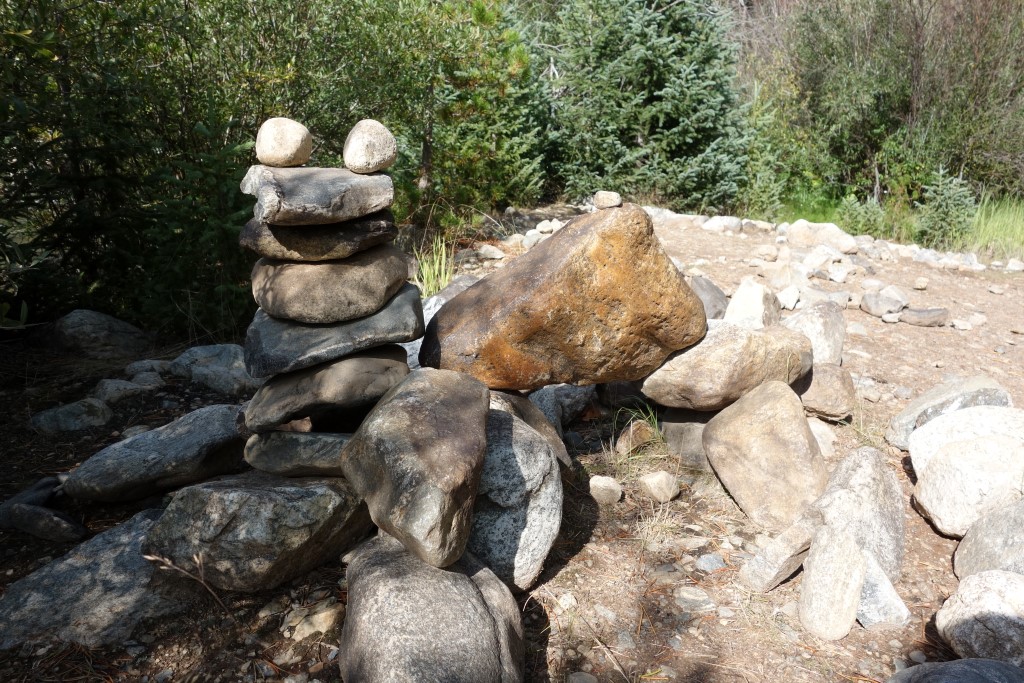 While some of these are not strictly-speaking "high" in elevation, they're at least "highlights" of our two weeks in Summit County... so, enjoy!
< previous story home next story >
---
HOME TRAVEL LOG MOUNTAIN BIKING WINDSURFING STORY ARCHIVES RV INFO PHOTOS CONTACT US
---