---


HOME TRAVEL LOG MOUNTAIN BIKING WINDSURFING STORY ARCHIVES RV INFO PHOTOS CONTACT US
---
< previous story home next story >
Dragging mountain bikes to the summit of Colorado's highest 14er and plunging back down.
August 16, 2014
Twin Lakes, CO
The following was originally posted (see page 13) as part of a mega stoke thread on mtbr called "Do you like to get HIGH, man? (post your high country riding photos)"
Base camp on the forebay. Mount Elbert is the innocuous-looking lump on the left:





Sunrise over Twin Lakes:





Things started off plenty chilly:




But layers were quickly shed:





Start of the South Elbert Trail proper. The profile showing singletrack climbing from 10400 to 14400 in 3.7 miles (i.e. >1000 ft/mile) says it all, really: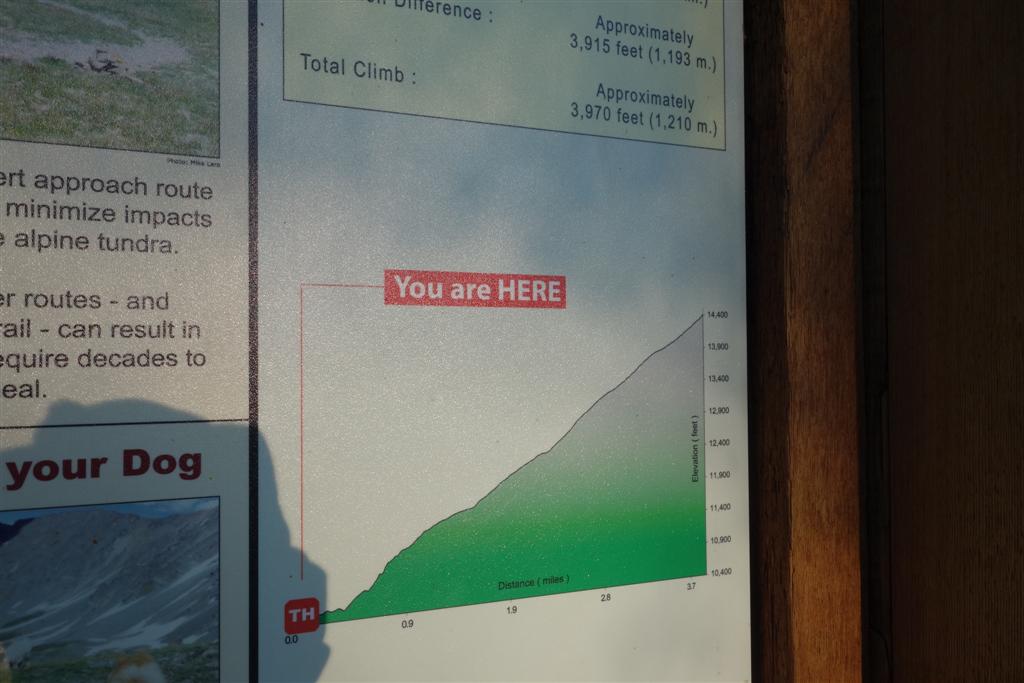 Klucks thought we might be able to pedal up some of the lower elevation stuff. He thought wrong. Almost 4 hours of pushing, dragging, and carrying of bikes started here: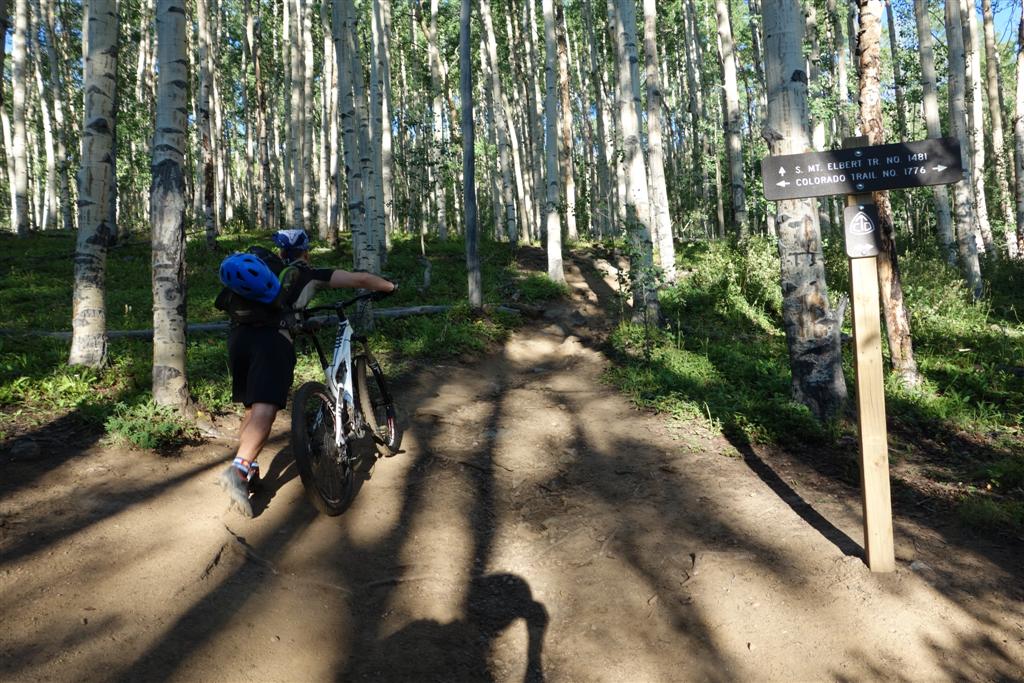 Above treeline now. Which normally means the summit can't be much higher, right? Of course normal doesn't apply to 14ers. Almost 3000 ft of vertical remains above treeline. (Oh no! Oh yes!):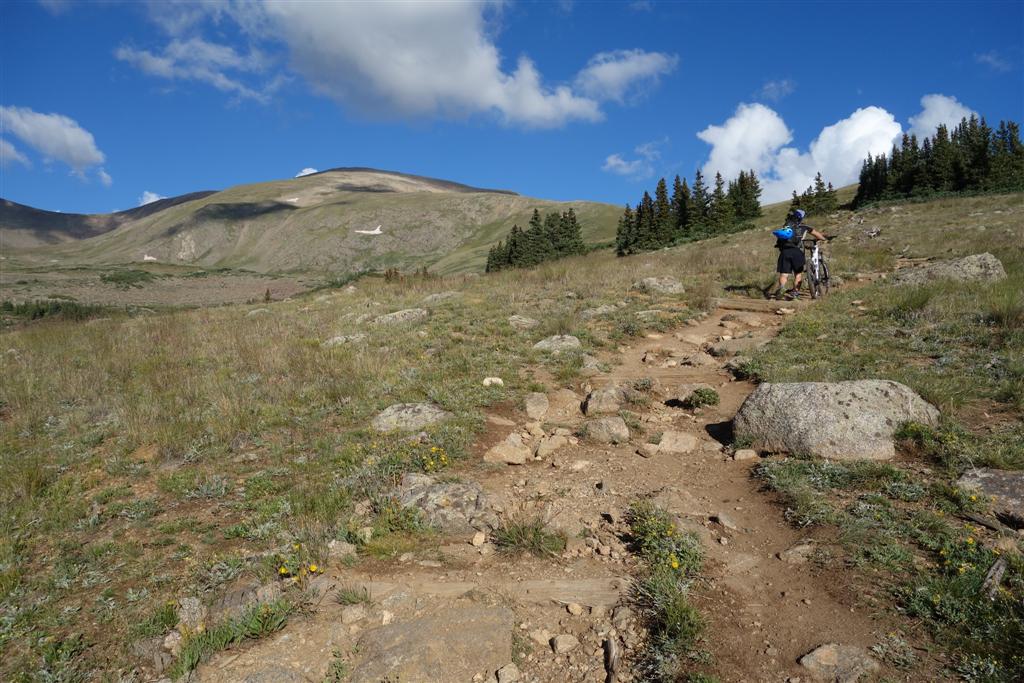 Hikers came in waves: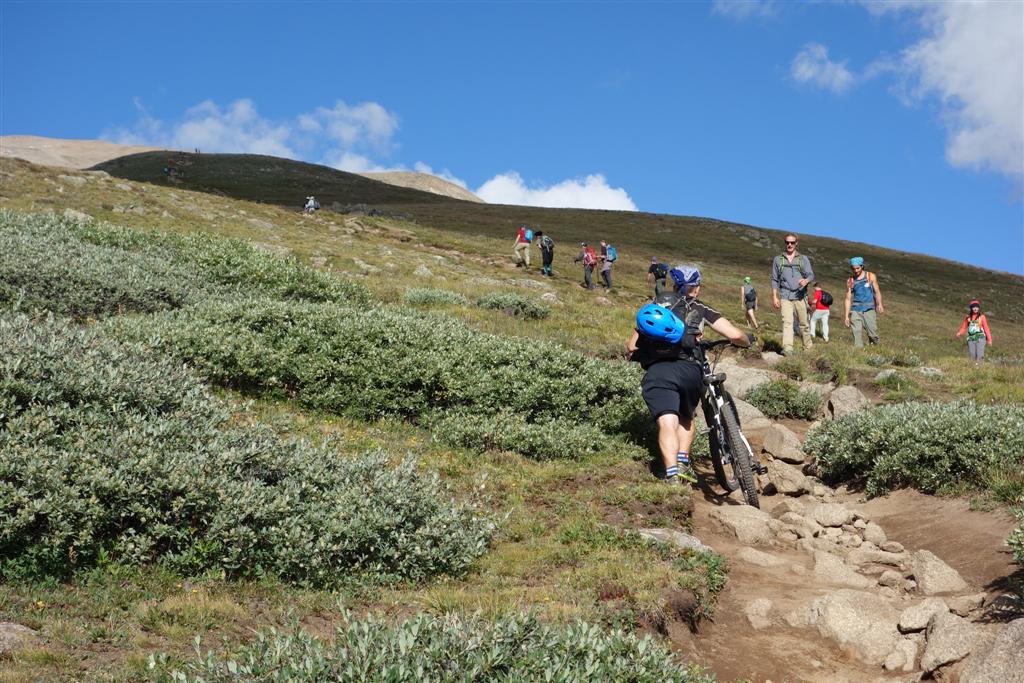 Trails came in waves: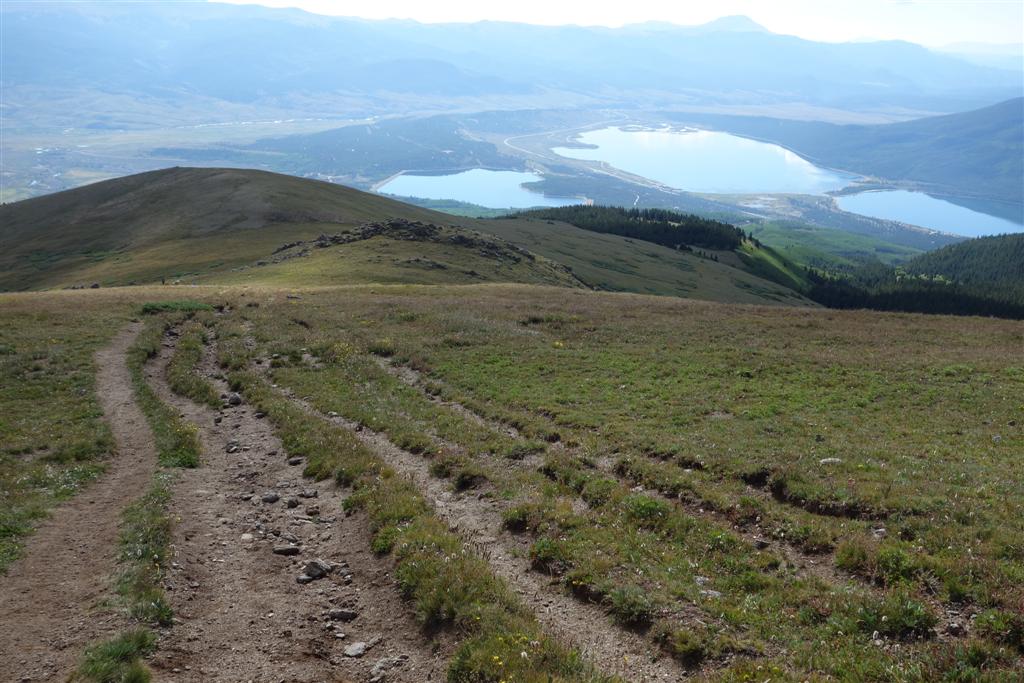 False summits came in waves: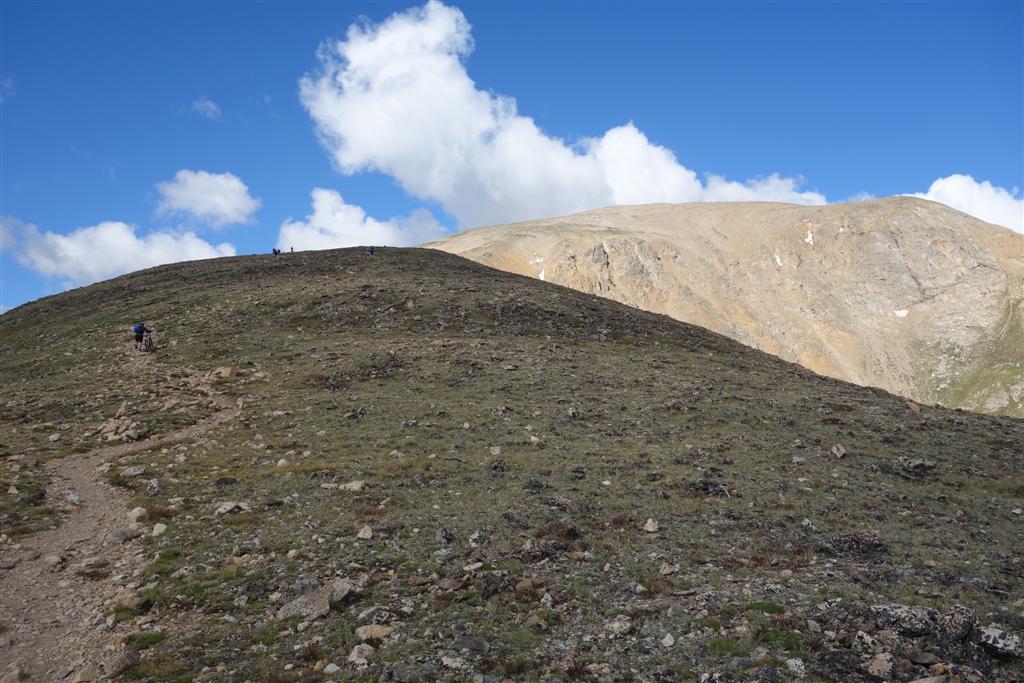 Mountain bikers came in waves (well, there were only two of them, but they were really whooping it up!):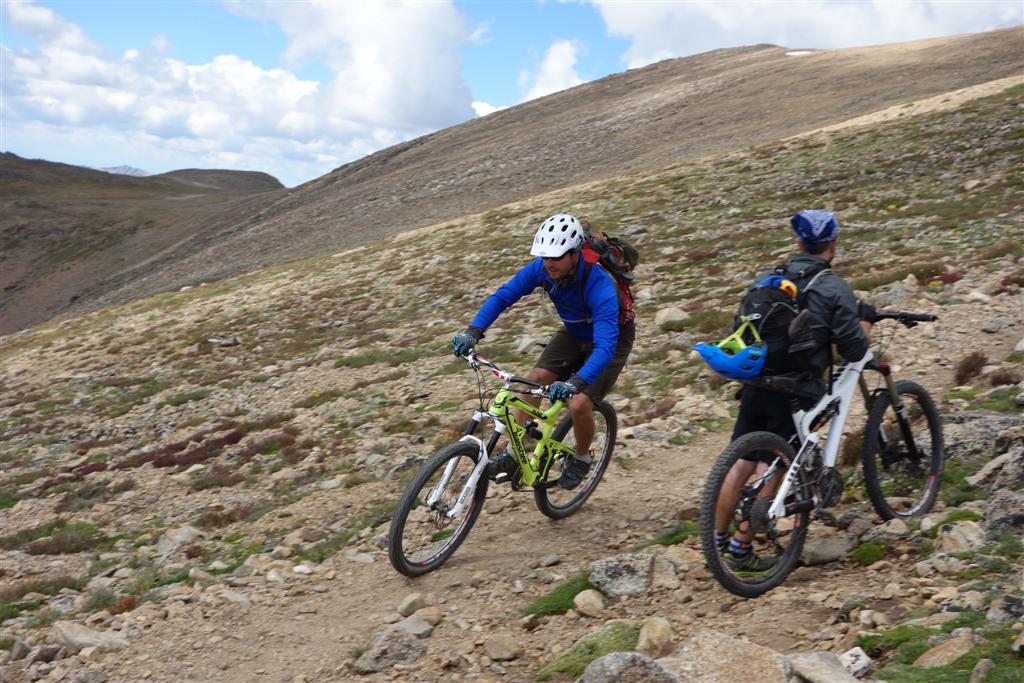 Boy Scouts from Oklahoma wearing orange shirts came in waves: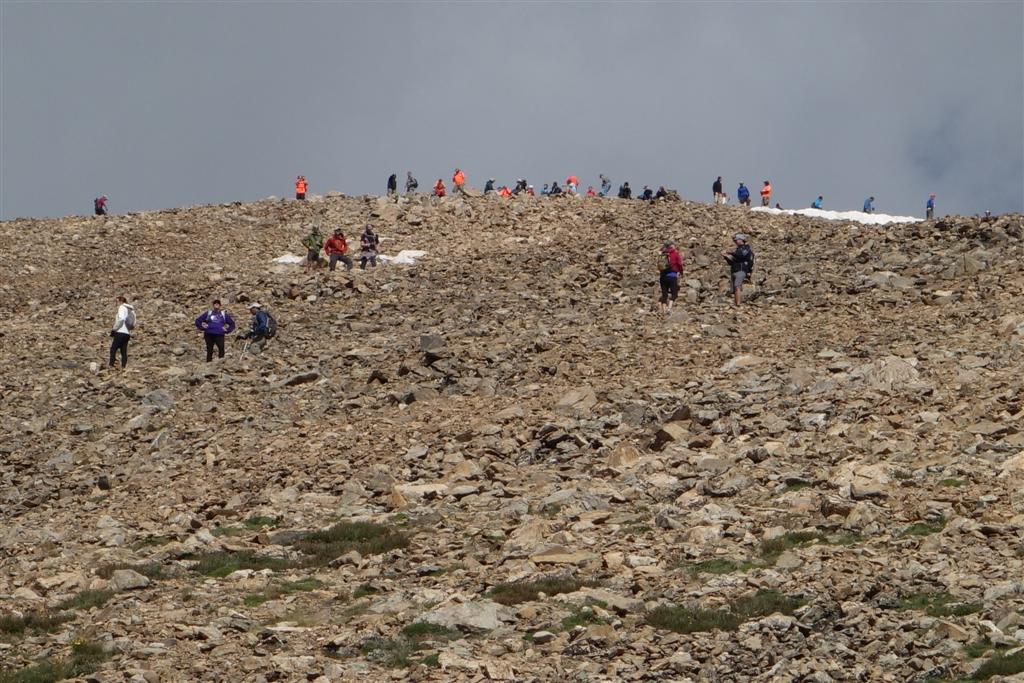 Finally, at 11 am, the highest point in Colorado was gained!

Moments after we summited via the South Trail, two other bikers summited via the North Trail, (literally) cursing their unfortunate route choice. That brought the totals for this fine Saturday to 6 bikers and about 600 hikers on the mountain. Almost all the hikers were some combination of impressed, confused, curious, encouraging, and courteous. Pretty cool.:





Klucks borrowed a sign, de rigueur 14er ritual, apparently: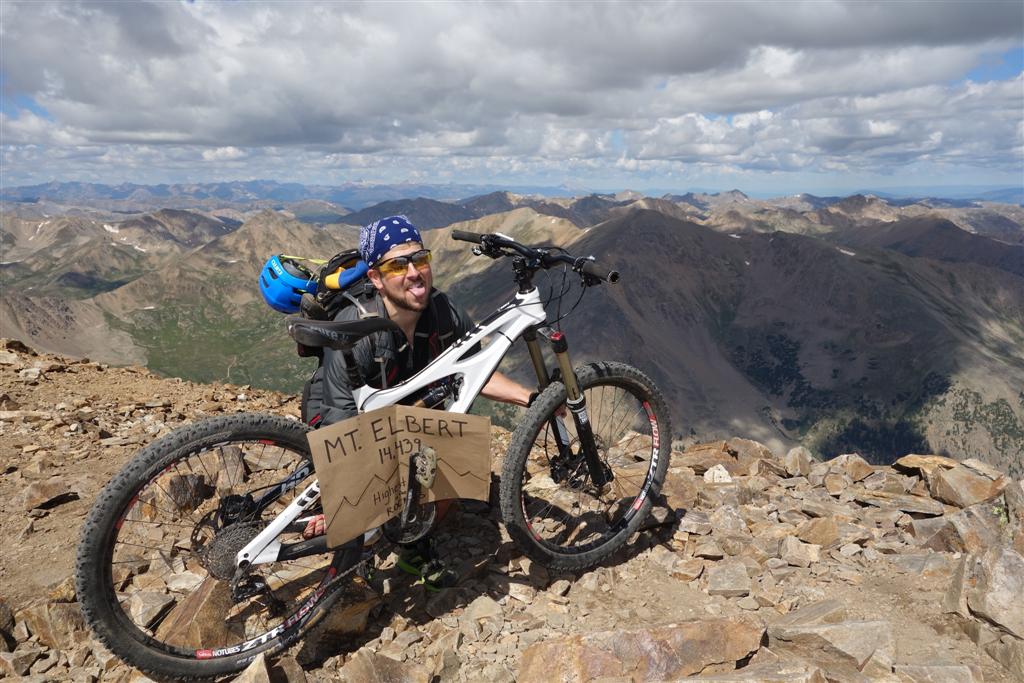 We also borrowed a tourist who took a shaky panorama of us. Came out kinda weird and looked fake as heck, but I liked it and figured I'd complete the job by photoshopping in the borrowed sign too: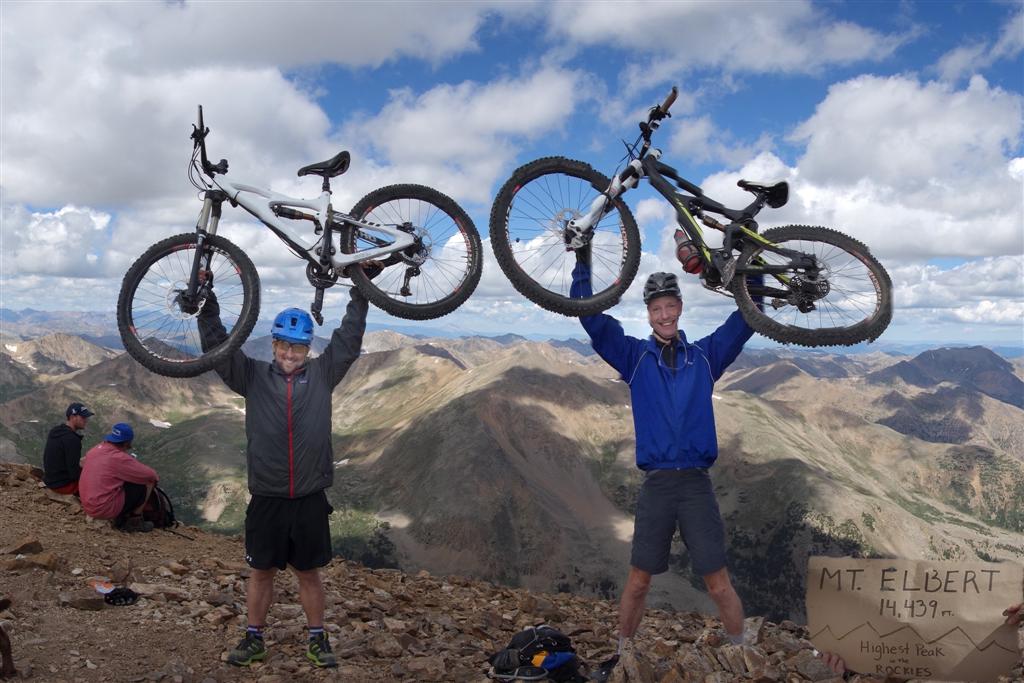 A new friend shares the scene at the top of the Rockies:




This spot really lends itself to observation of lesser mountains: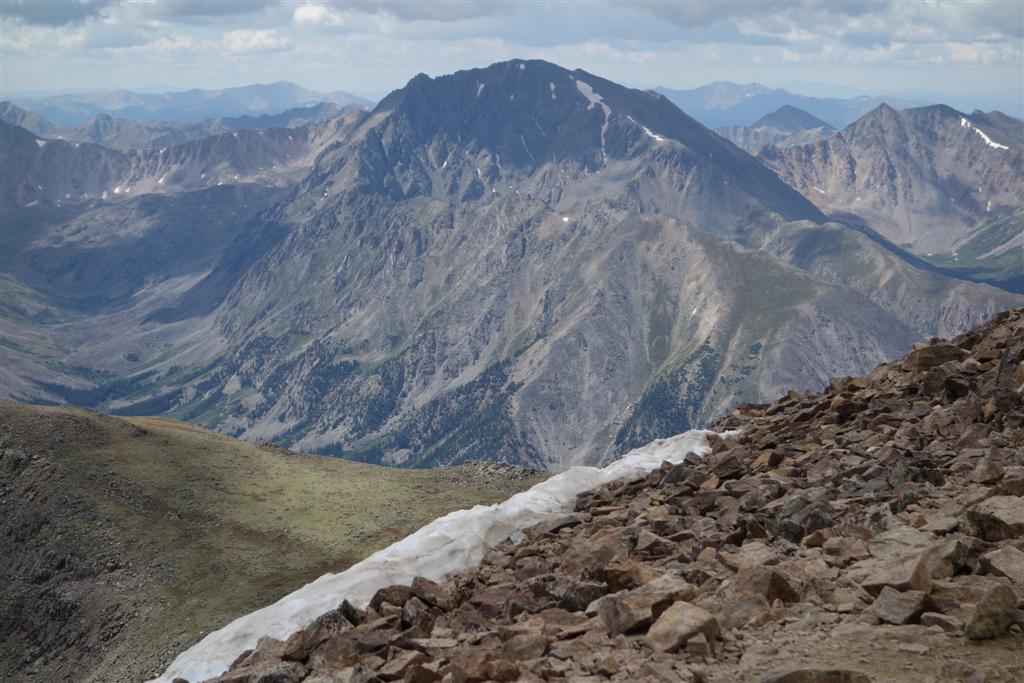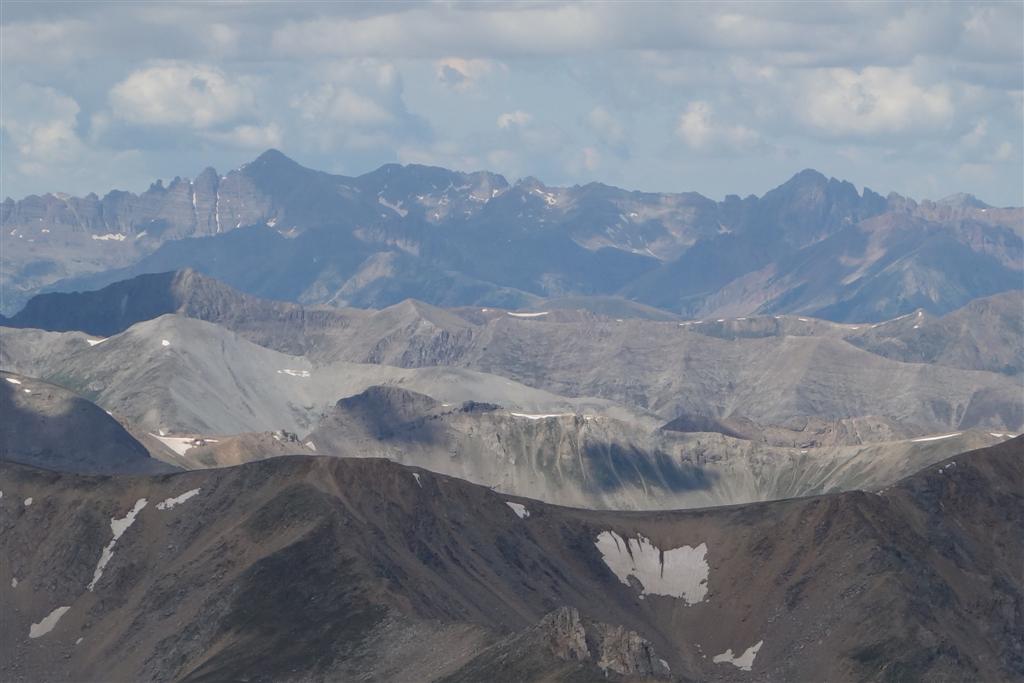 Considered dropping off the backside, but reckoned skis would probably work better than wheels: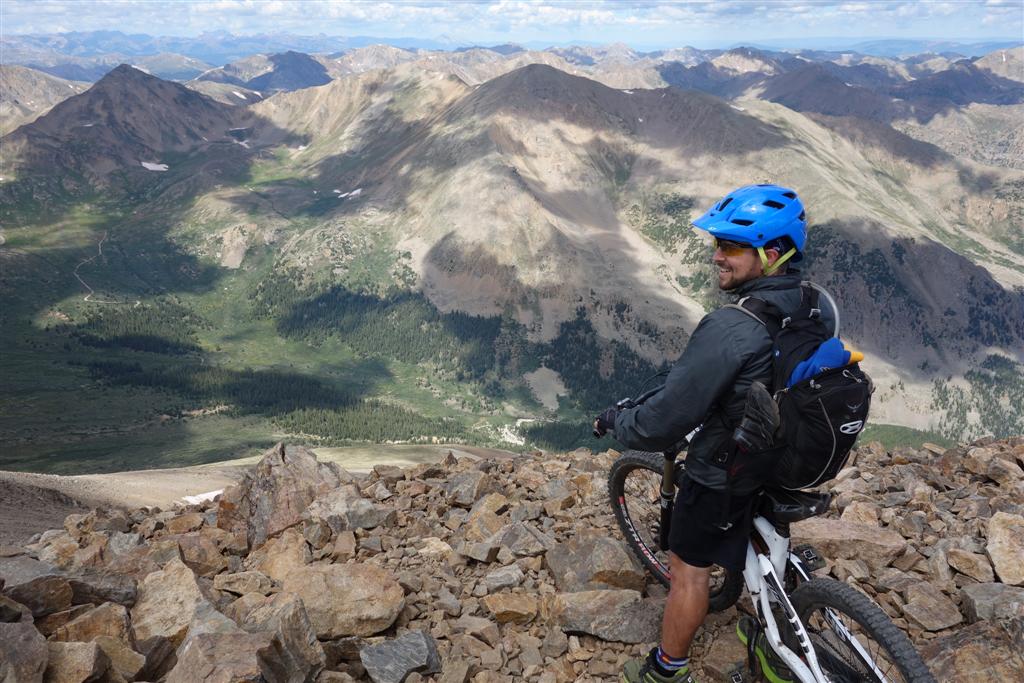 The frontside was intimidating enough, a steep puzzle featuring every type of obstacle a mountain biker might imagine: loose rocks, narrow benchcuts, tight switchbacks, trenches, roots, trees, and last-but-not least, unpredictable humans.

Speaking of which, it was time to deploy my cowbell and get to plummeting: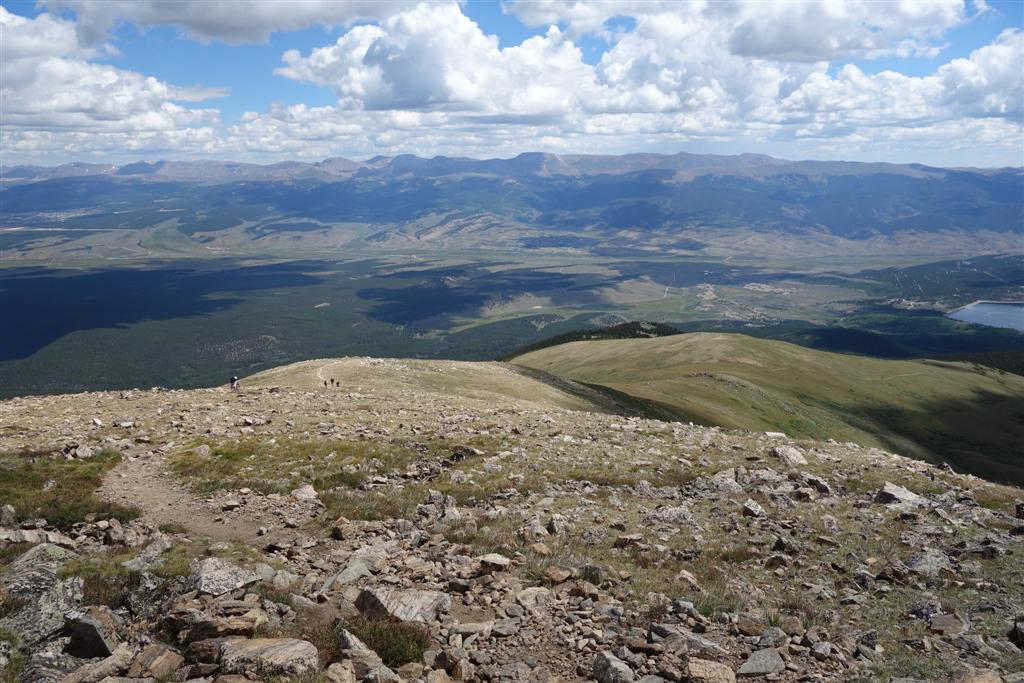 The first part of the descent was incredible!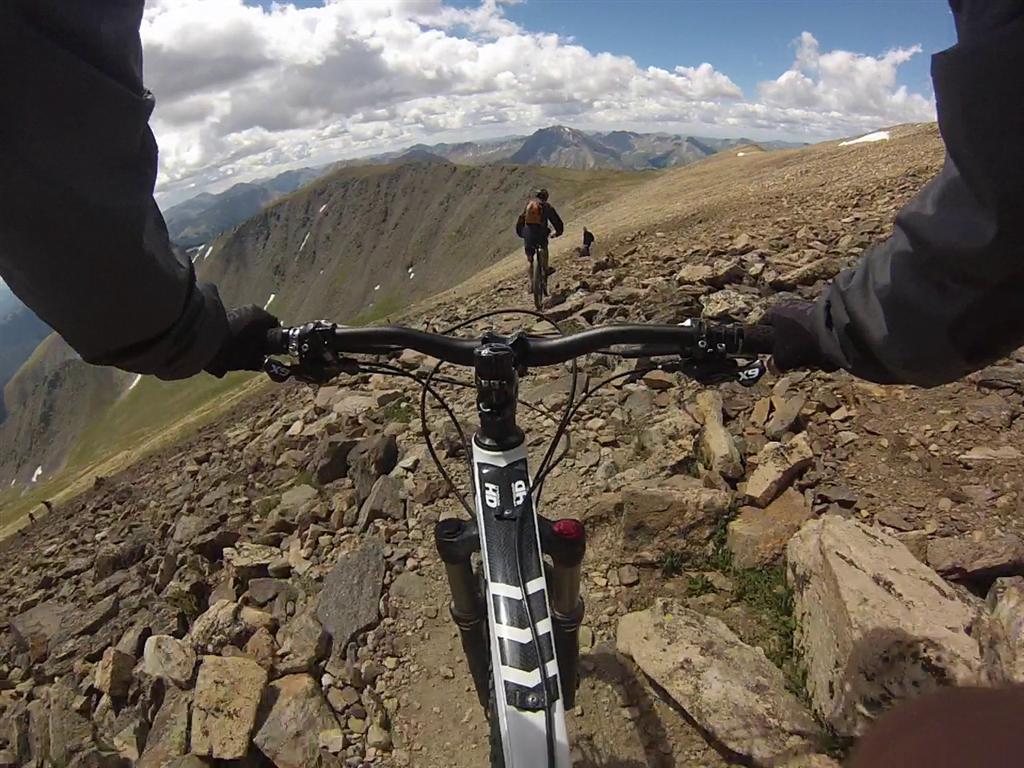 The second part of the descent was incredible!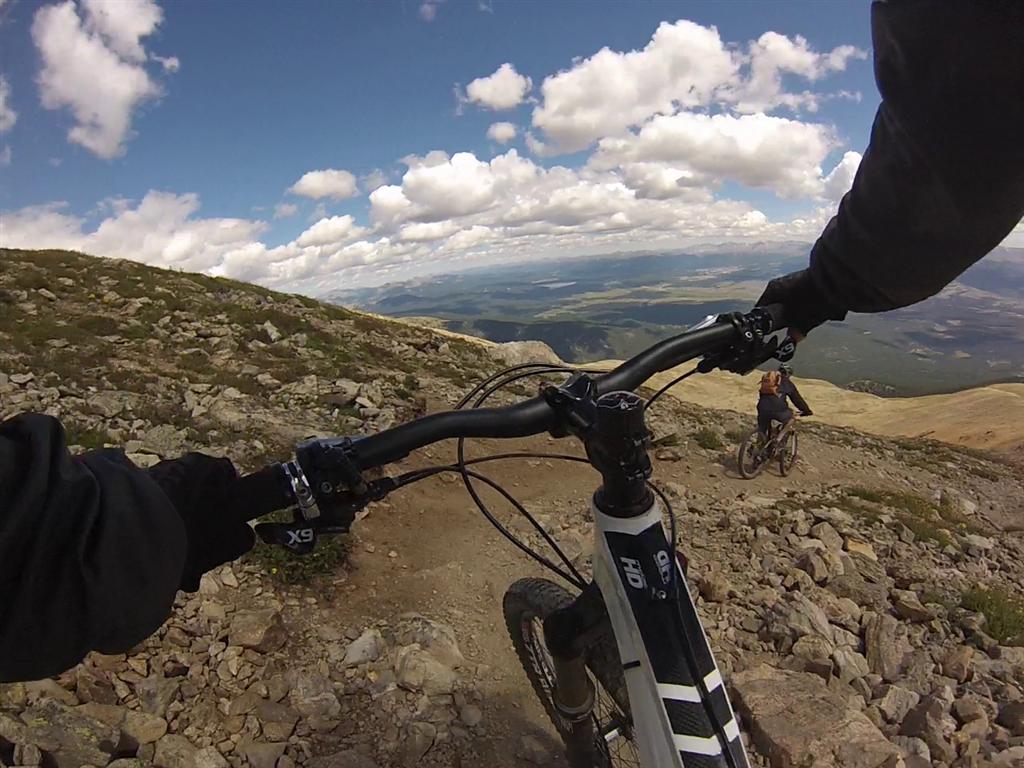 The third part of the descent was incredible!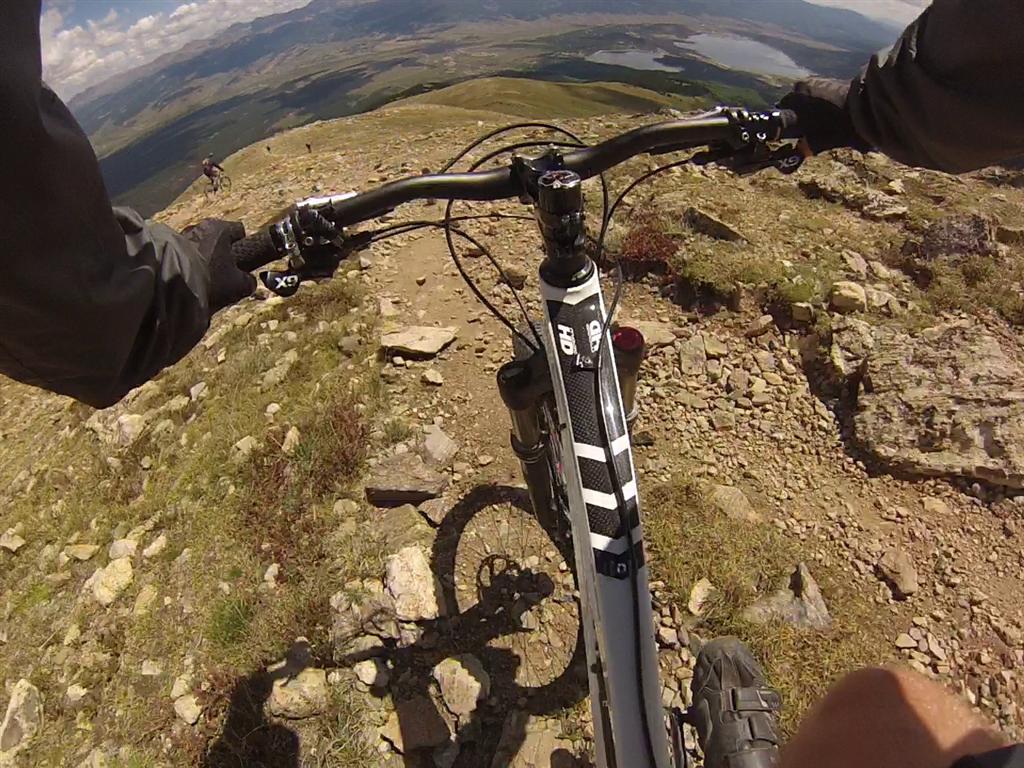 The fourth part of the descent was incredible!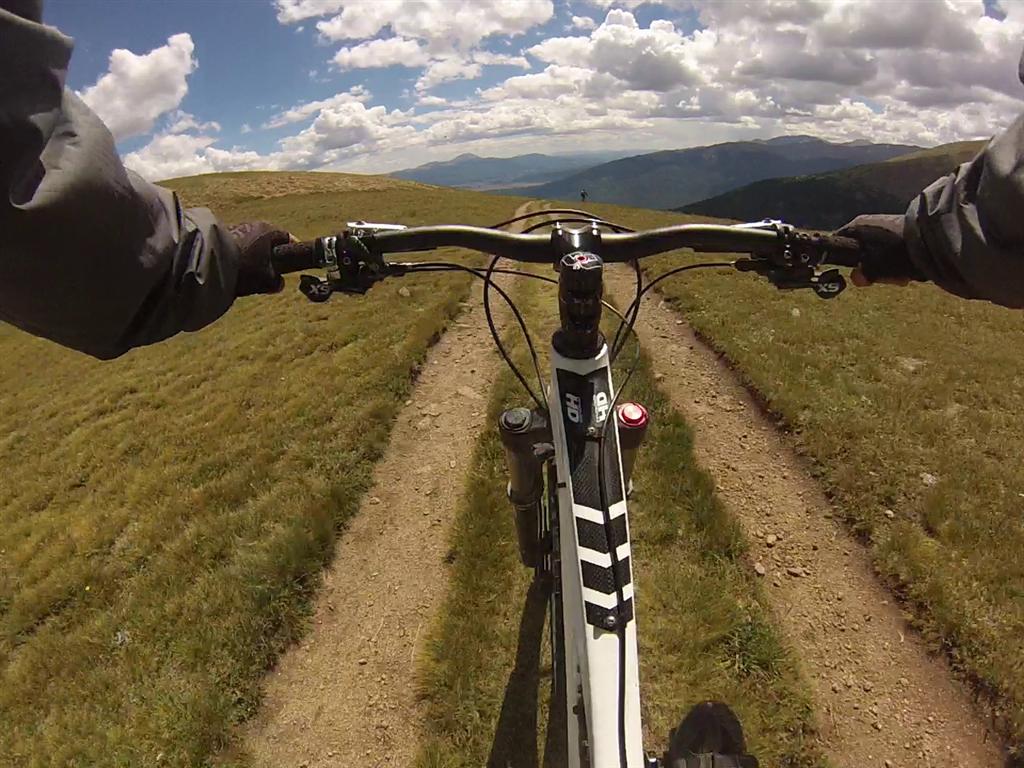 The fifth part of the descent was incredible!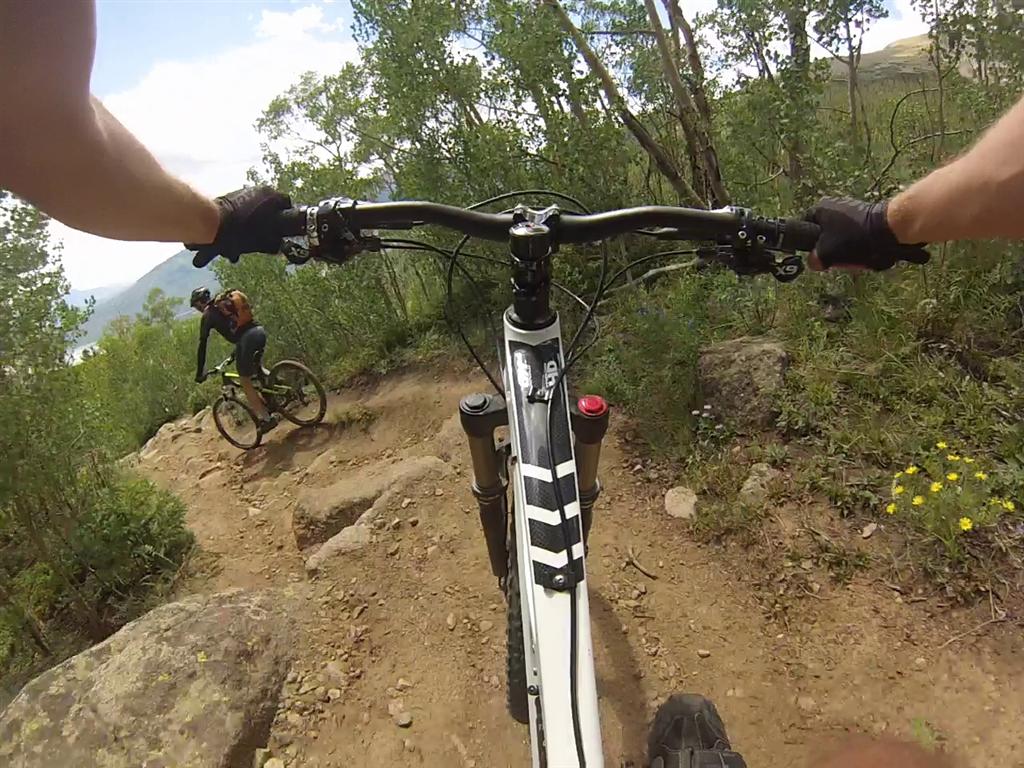 The sixth part of the descent was incredible!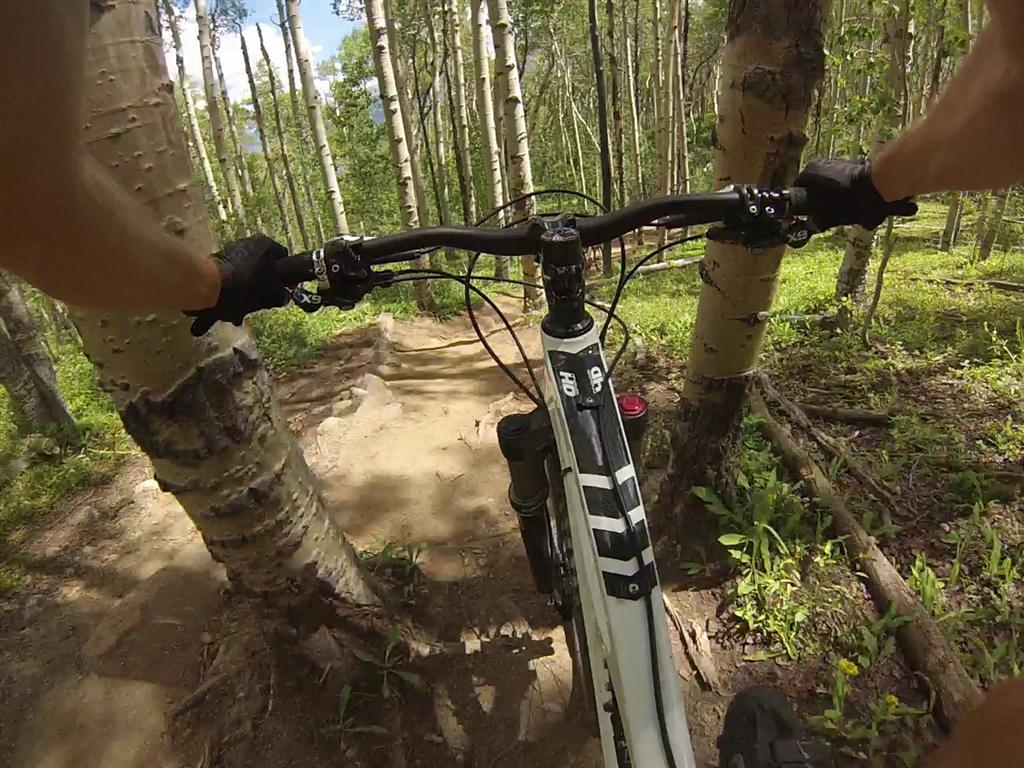 The seventh part of the descent was incredible!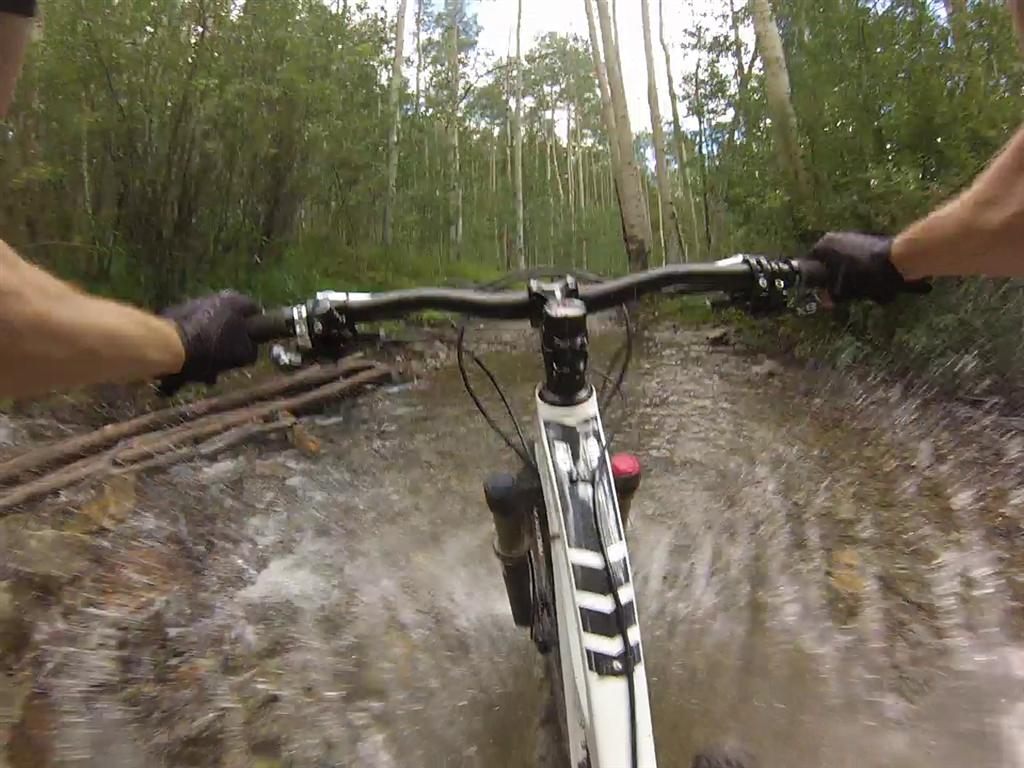 Even the eighth part of the descent (the road) was incredible!



It's true, Elbert is something of a novelty ride. But it's a pretty incredible one.
---
VIDEO: "Mount Elbert - Rocky Mountain Highest"
Featuring music by Laurie Anderson, Flight of the Conchords, Kongar-ol Ondar, and Depeche Mode.
Mount Elbert tops out at 14,439 feet, which makes it the highest peak in Colorado, and the second-highest in the continental US. It's also one of only a handful of 14ers that's legal to mountain bike on, although this is rarely taken advantage of, presumably due to the ordeal required to get bikes to the summit.

The average grade works out to approximately 1100 ft/mile (20%) but frequently runs even steeper than that. So on the descent, you spend a LOT of time with your butt way behind the seat, hovering just above the rear tire.

While thusly hanging on for dear life, you get to simultaneously negotiate extended stretches of loose gravel, jumbled babyheads, nasty switchbacks, and treacherous trenches; solve tricky puzzles of embedded boulders, drops, and rollers; greet and dodge hikers; survive steep shots through tight trees and over crisscrossing roots; and finally, savor a blast down a winding forest road packed with sweet, sweet jumps.

In other words, it is a wicked awesome mountain biking experience, and truly worth the effort!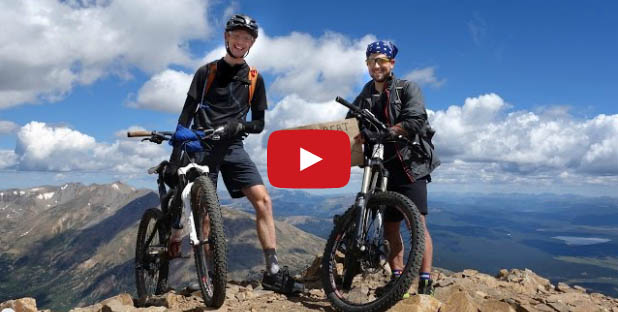 < previous story home next story >
---
HOME TRAVEL LOG MOUNTAIN BIKING WINDSURFING STORY ARCHIVES RV INFO PHOTOS CONTACT US
---