---


HOME TRAVEL LOG MOUNTAIN BIKING WINDSURFING STORY ARCHIVES RV INFO PHOTOS CONTACT US
---
< previous story home next story >
Copper Highness
Rollin' all of the Colorado Trail between Copper Mountain, Searle Pass, Kokomo Pass, Camp Hale, Tennessee Pass, and Wurts Ditch Road.
July 21, 2013
Copper Mountain, CO
The following was originally posted (see page 5) as part of a mega stoke thread on mtbr called "Do you like to get HIGH, man? (post your high country riding photos)"
To get HIGH, you gotta start low. A bit out of Copper with some 3000 feet to climb:




Action shot during OJ-STYLE HIGH SPEED CHASE (approx 4 mph) of Klucks up Guller Creek: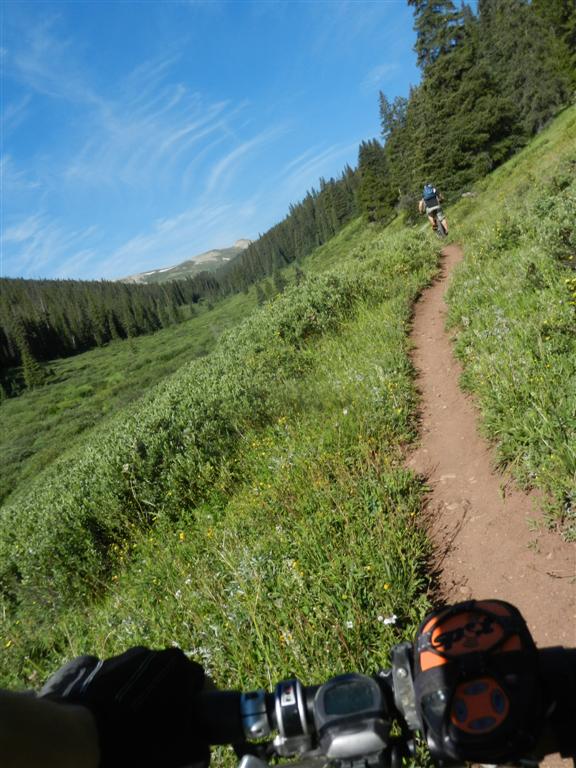 Some REALLY, REALLY HIGH cairns on this route:




No trees allowed beyond this HIGH LINE:





Pure HIGH VISCOSITY Rocky Mountain H2O flows effortlessly downstream:





Difficulty level of final stretch of rocks was JUST TOO HIGH, so we walked: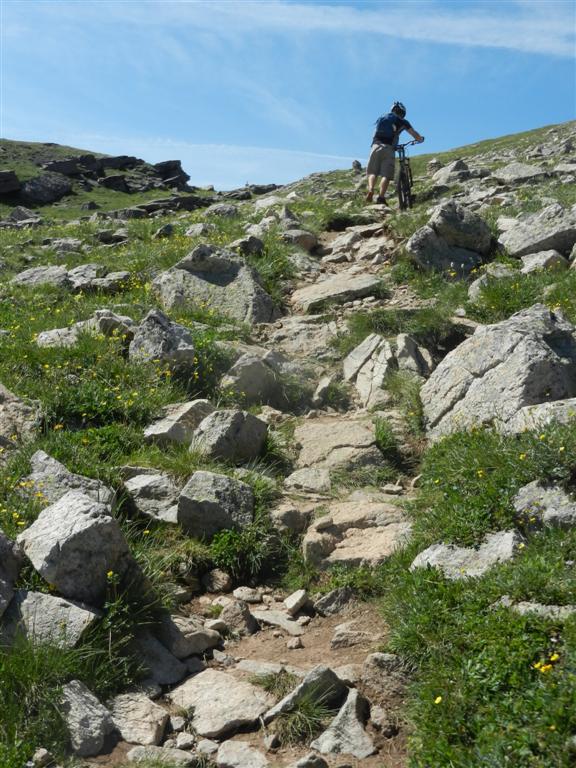 Our first 12,000 ft HIGH POINT of the day, Searle Pass, inexplicably rated no commemorative signage: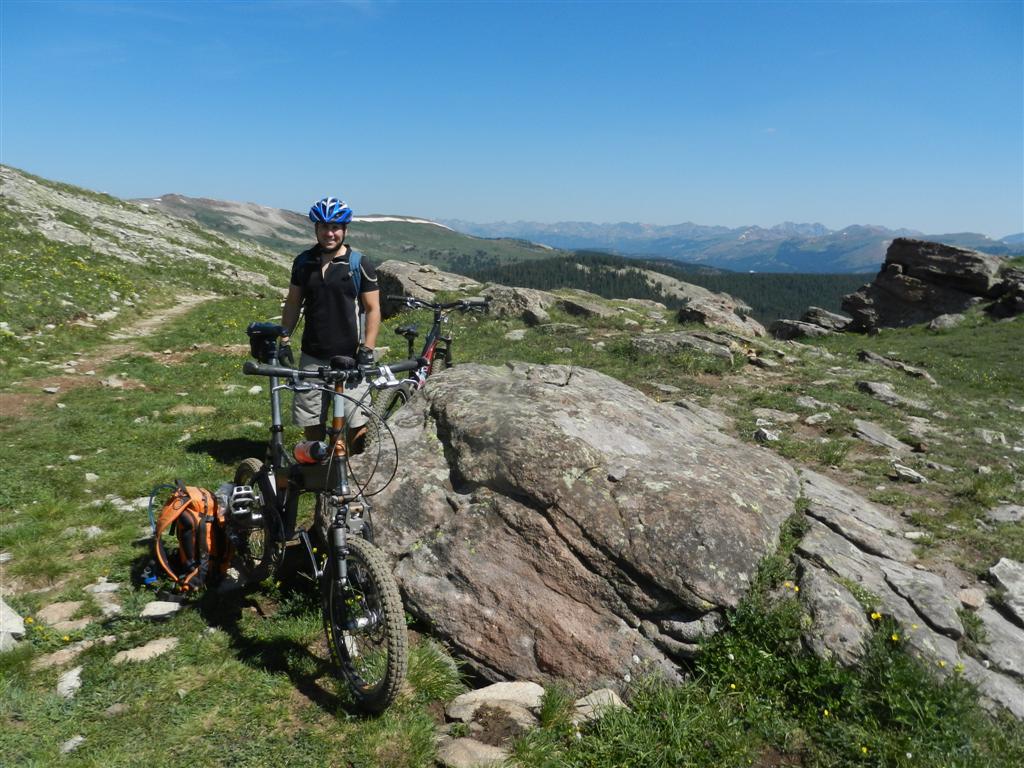 Streams punctuated the primitive HIGH TRAVERSE of almost 4 glorious miles knocking around 12k:





We occasionally dropped below 12k, always knowing we'd just have to go up again, and again, and again, but it was still awesome: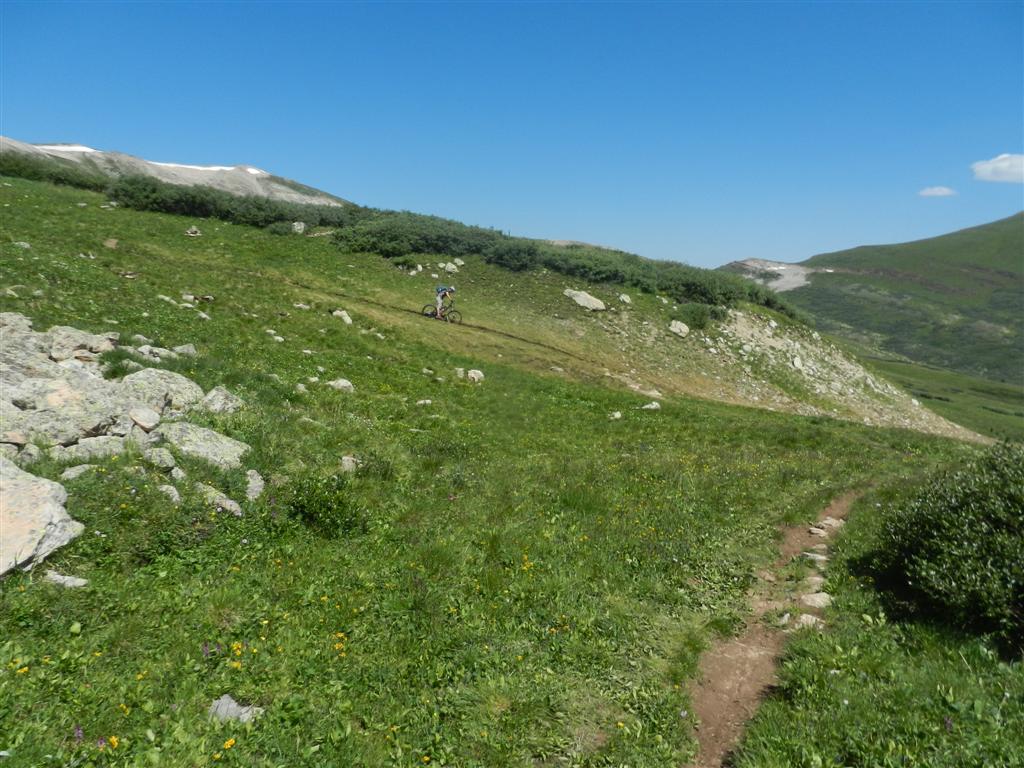 Breathtaking green color made for a HIGH LEVEL of visual enjoyment:




Breathtaking lack of oxygen also made for HIGH HEART RATES and frequent short pushes too: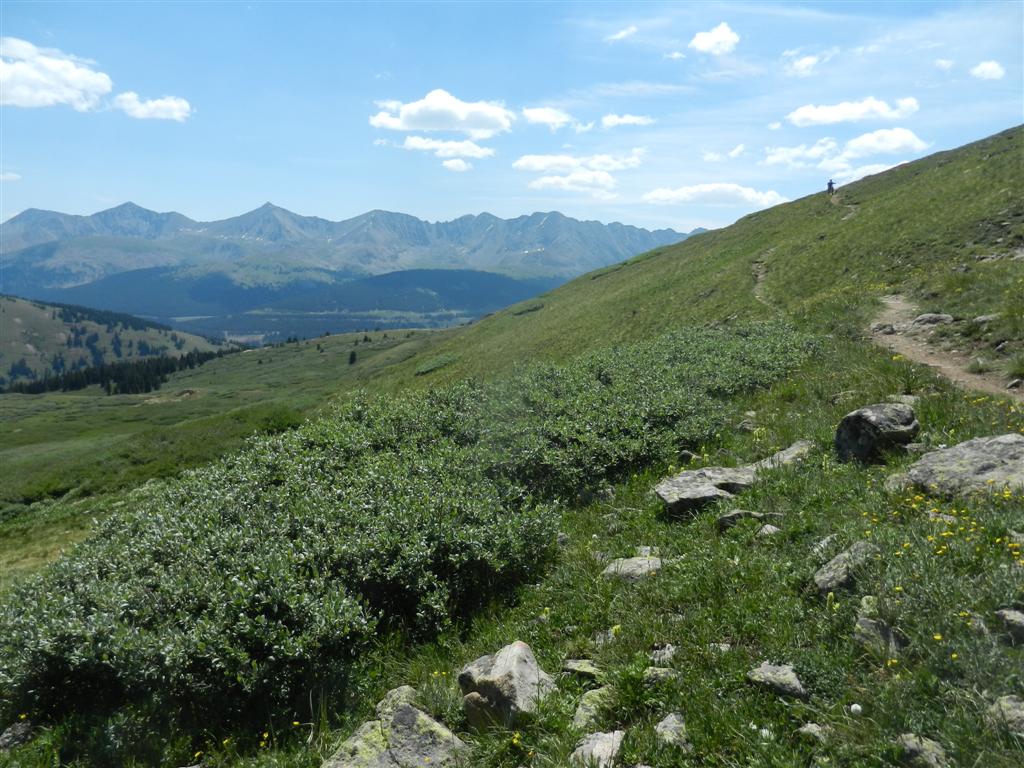 Truly up among the HIGH CLOUDS:




Klucks conquered the last set of HIGH PITCHED SWITCHBACKS to reach 12,250 feet with aplomb: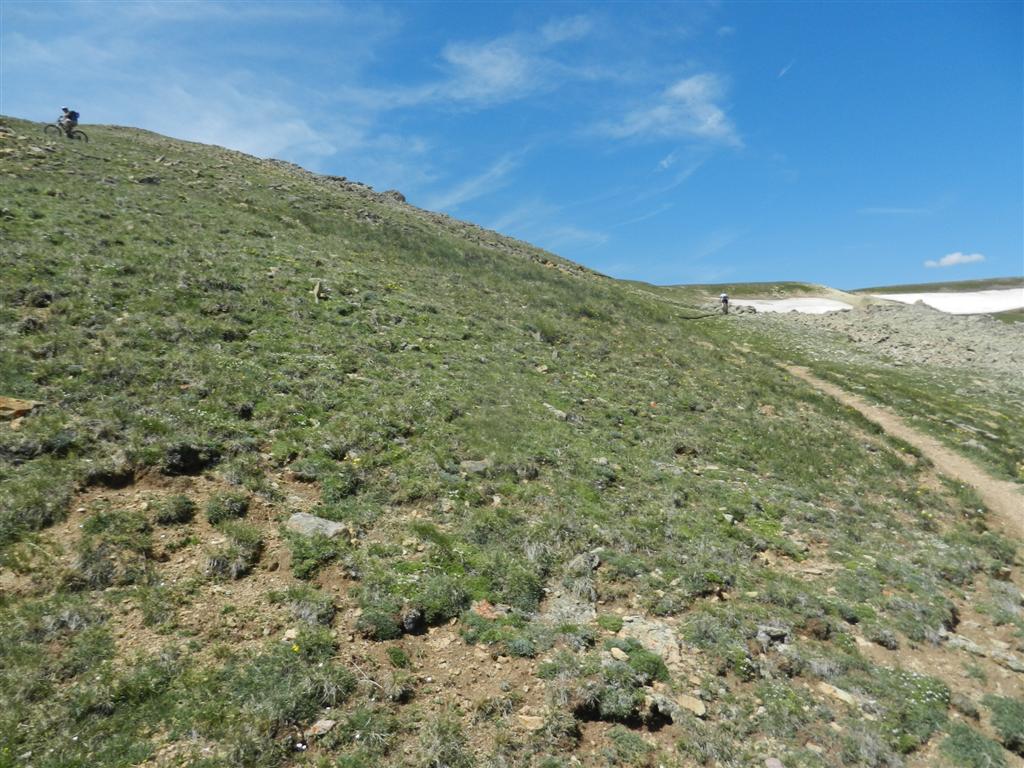 Mandatory look back at whence we'd come. So HIGH! So cool!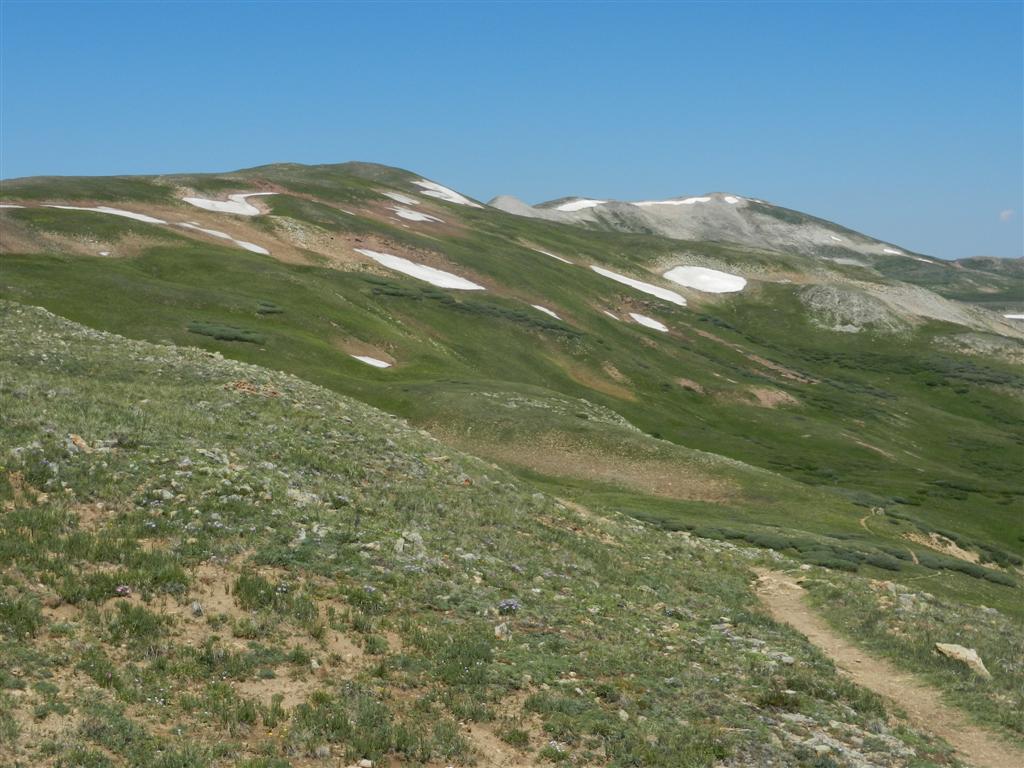 Our second 12,000 ft HIGH POINT of the day, Kokomo Pass, rated a very nice sign: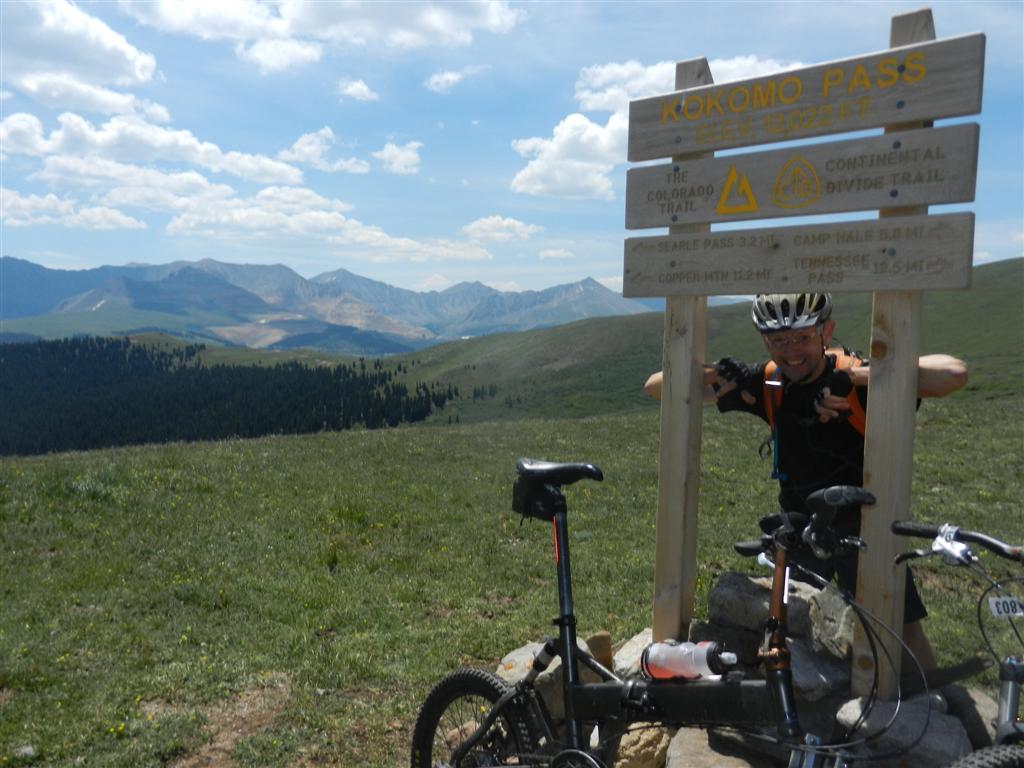 Finally the HIGHLY ANTICIPATED downhill began:




The super-narrow singletrack was a bit trenched and demanded our HIGHEST ATTENTION LEVELS: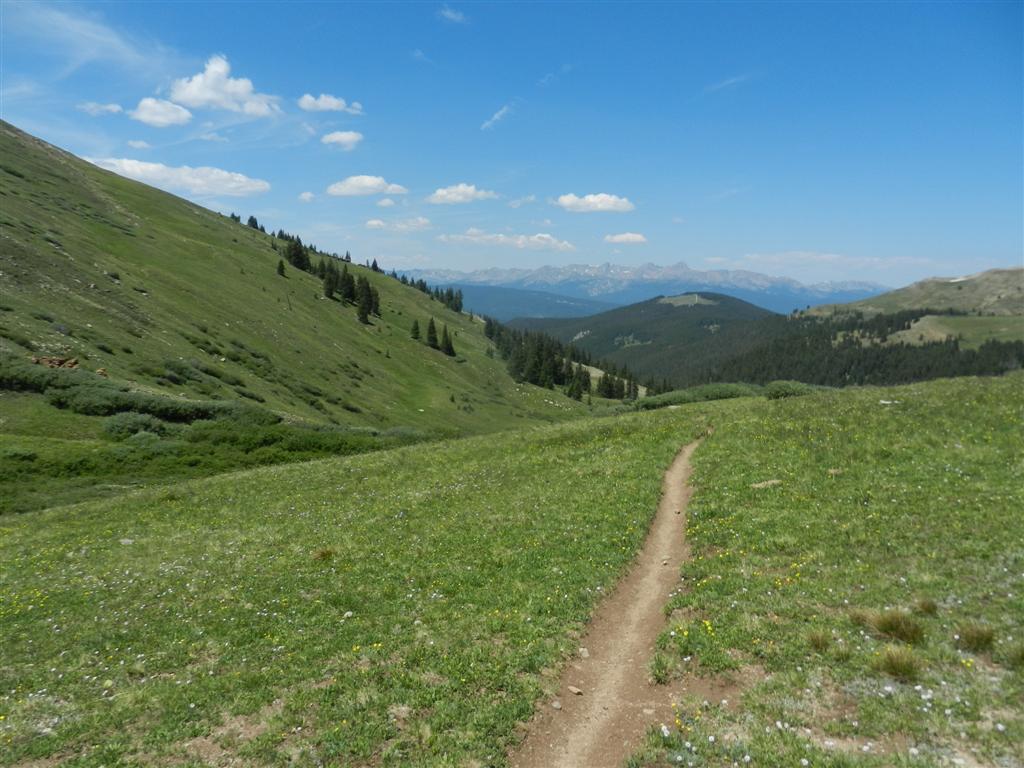 Tons of HIGHLY VOLATILE rubble and roots, and HIGHLY COLORFUL wildflowers, zipped by unphotographed during the HIGHLY RAUCOUS STEEP PLUNGE, save for one lone photo: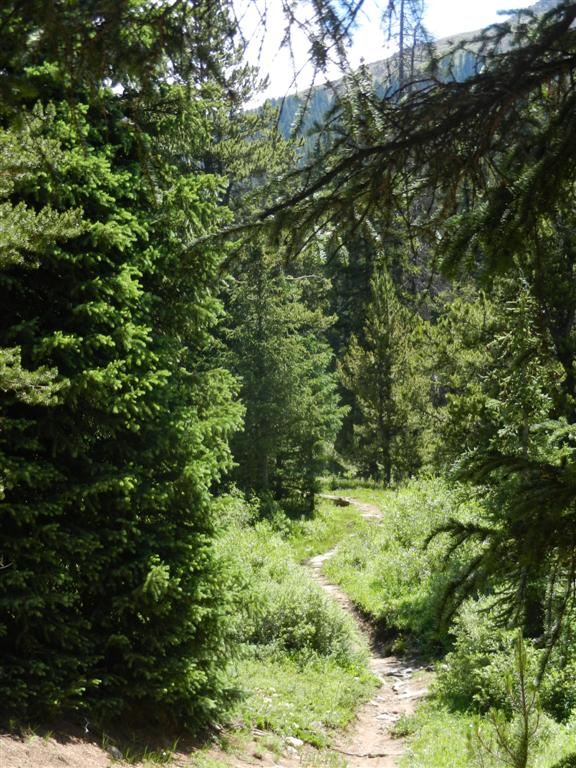 Stumbled upon a beautiful HIGH VOLUME waterfall lurking just off the trail near the bottom: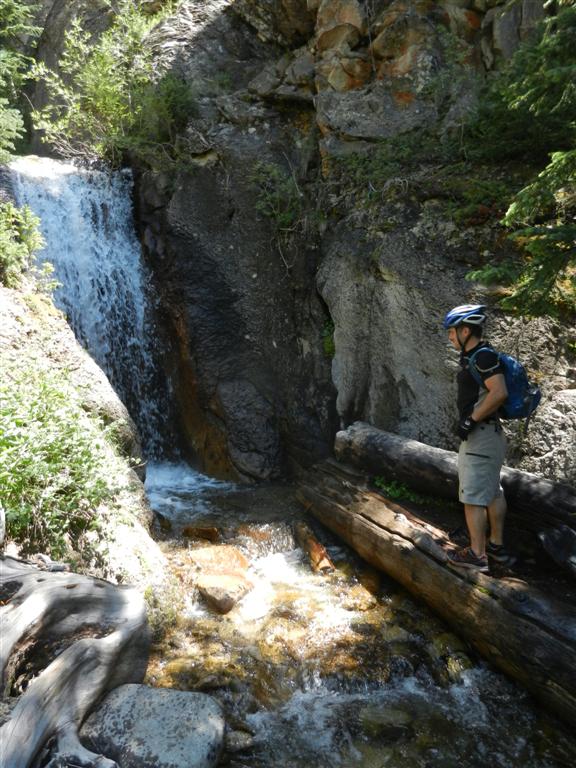 A fine benchcut through the Aspens, which almost reminded one of Doctor Park, led us down to Camp Hale: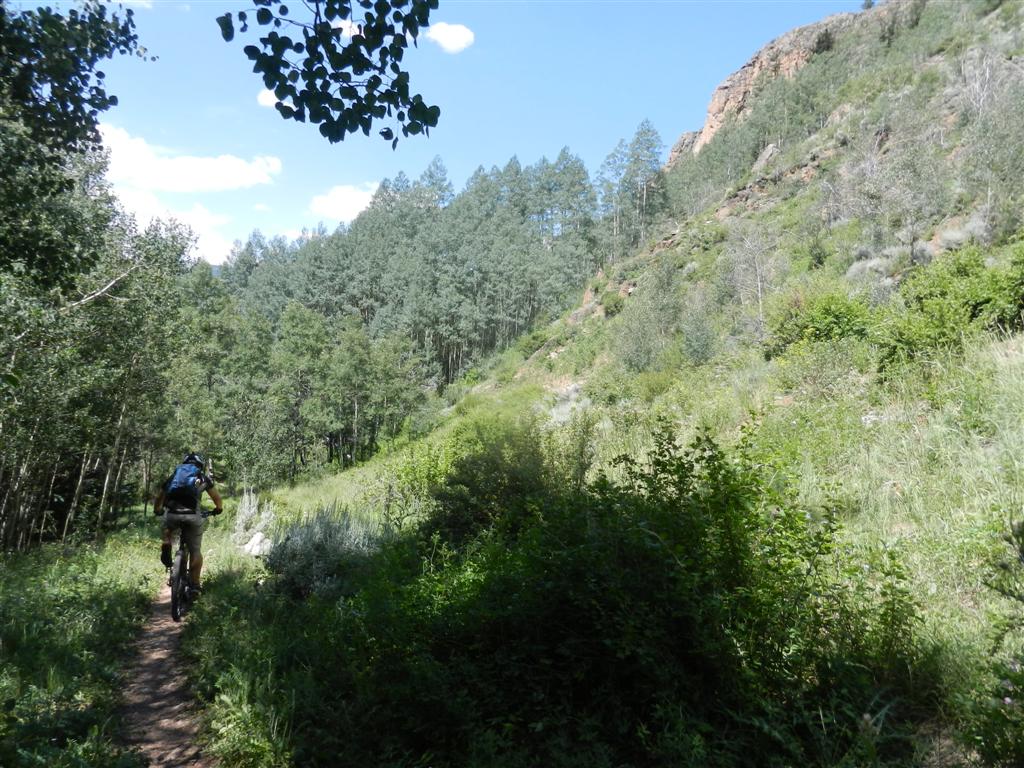 In a stroke of HIGH INSPIRATION, we'd arranged a cheater shuttle ride (thanks Ms FoldsInHalf!) from Camp Hale up past Tennessee Pass to Wurts Ditch Rd, where we hopped on CT Segment 9 just inside the Wilderness boundary and got to close out this great day with a bonus 1000 feet or so of net downhill: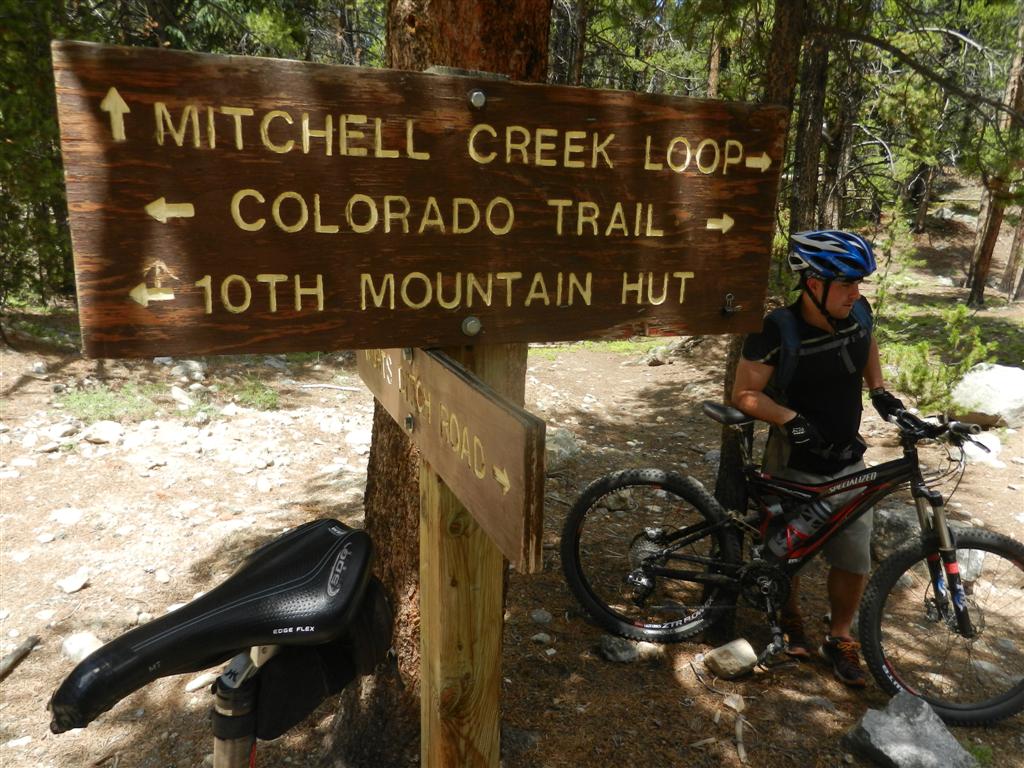 In the middle of much descending, and just enough ascending to keep us honest, a cruise through a beautiful HIGH MEADOW was a smooth respite: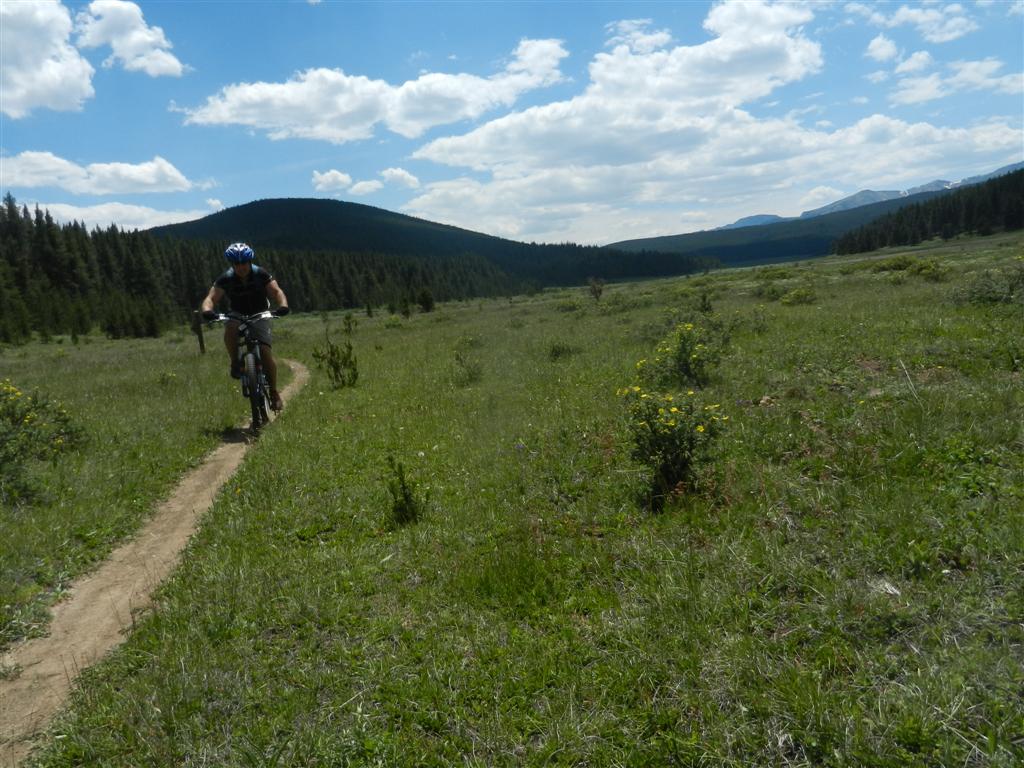 Eventually arrived HIGHLY SATISFIED back at Camp Hale a second time, having completed all of CT Segments 8 and the bike-legal part of 9.

Another outstanding day in the HIGH COUNTRY!
------
Below are some pics of me in action, received from Klucks after my initial write-up. Click to enlarge the panoramas!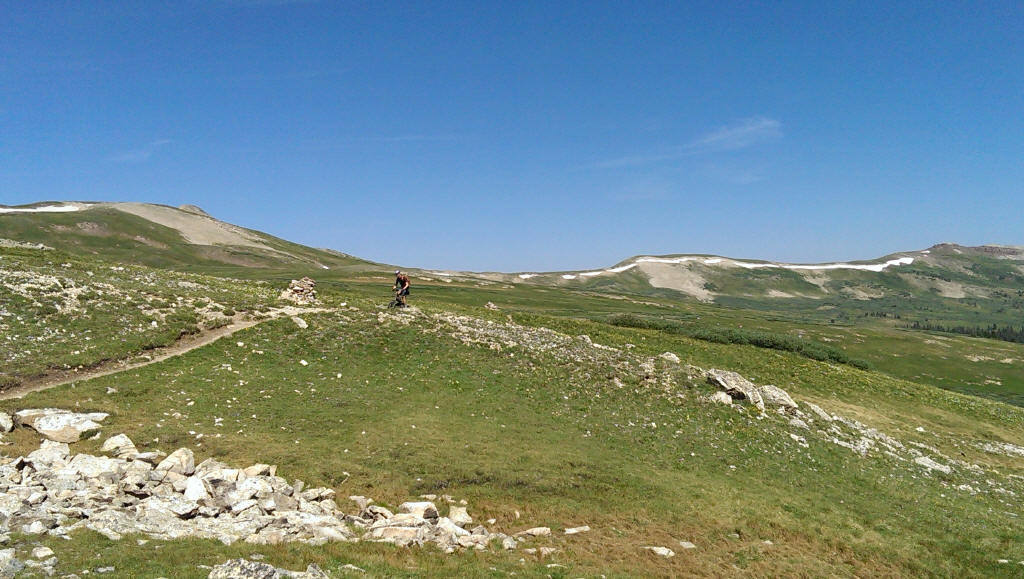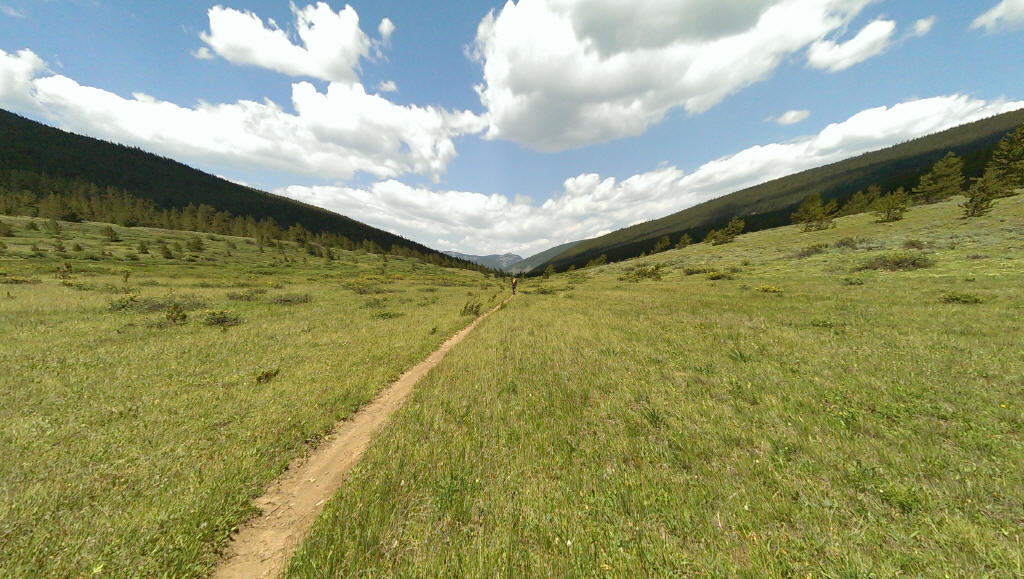 ------
Just the stats, man...

*Left Copper's Alpine lot at 0730.
*Arrived Searle 1035, showing 9.44 miles and 2:22 rolling time.
*Arrived Kokomo 1145, showing 12.60 miles and 3:02 rolling time.
*Arrived Camp Hale 1235, showing 18.50 miles and 3:34 rolling time.
*Shuttled to Wurts Ditch and restarted rolling at 1315 after a bit of lunch.
*Re-arrived Camp Hale 1435, showing 28.16 miles and 4:40 rolling time
*Estimate about 3800 ft of climbing and 5200 of descending.

For anybody else planning a similar route, keep in mind that this is probably about as slow as anyone who can do such a ride, could do it. Between my weird bike and minimalist musculature, I generally clock in around 10-25% slower than most decent bikers for actual moving speeds... not even counting photo ops or flat tires... but I do get there eventually!
------
< previous story home next story >
---
HOME TRAVEL LOG MOUNTAIN BIKING WINDSURFING STORY ARCHIVES RV INFO PHOTOS CONTACT US
---