---


HOME TRAVEL LOG MOUNTAIN BIKING WINDSURFING STORY ARCHIVES RV INFO PHOTOS CONTACT US
---
< previous story home next story >
Late Season Expedition Up the Palisades Cliffs
Riding up to and across the snowy cliffs in the shadow of Mount Rainier, with winter already settling in.
November 23, 2013
Enumclaw, WA
The following was originally posted in the WA state forum on mtbr, here.
Things started out a bit frosty: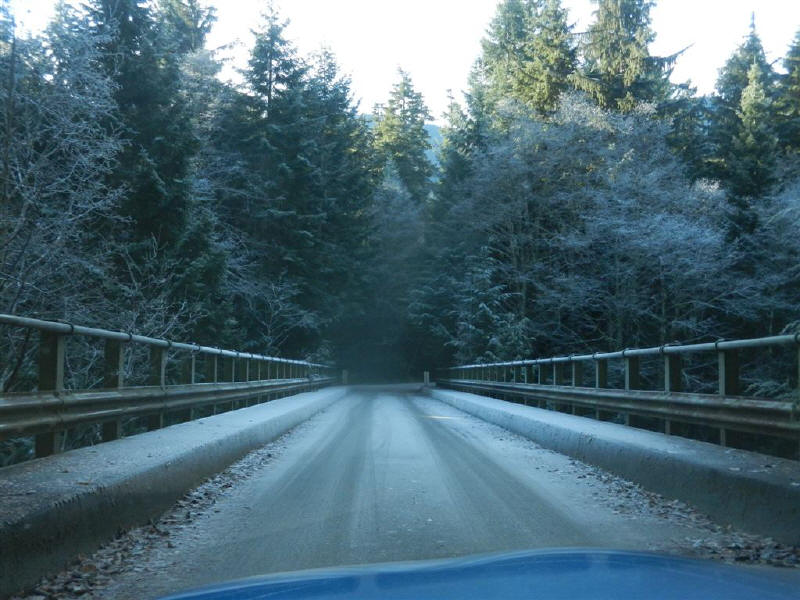 By happy coincidence, I happened to arrive just as the Saw Gang was getting ready and heading off to clear the Skookum Flats trail of fallen trees:





Lower Ranger was nice and easy riding. Well, "easy" may be the wrong word, but the surface was dry and clear and allowed a slow, steady grind up 2000+ feet in about 4 miles.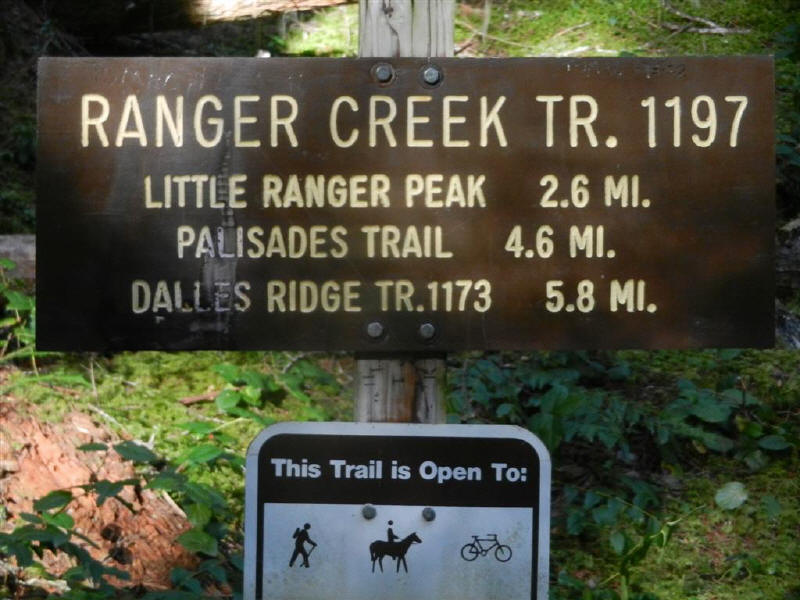 Eventually, snow started to appear and made things much more challenging and interesting: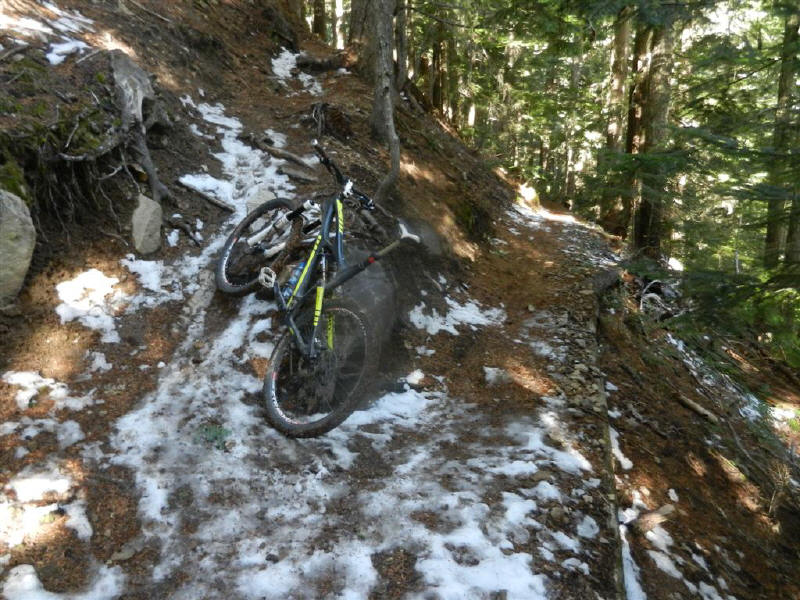 The snow was not deep, but it was very icy which made it quite tricky to even walk up, considering the steep and narrow benchcut: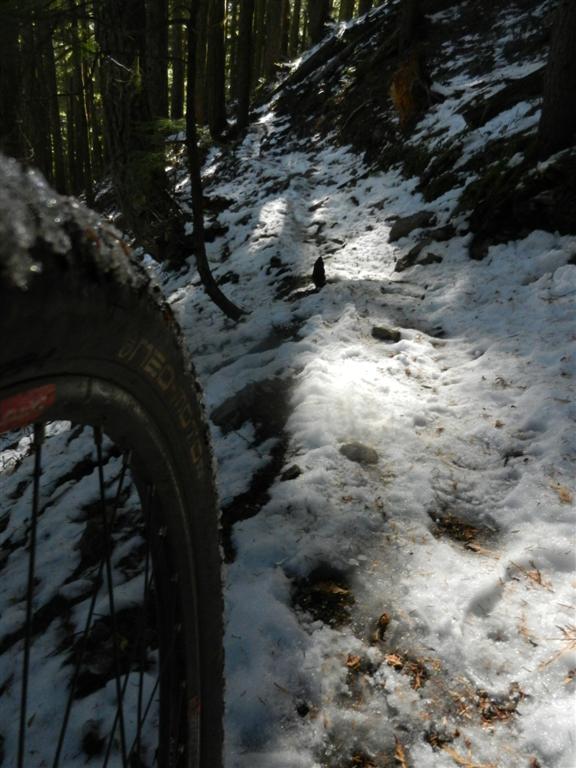 Several sparkling, babbling brooks broke up the routine: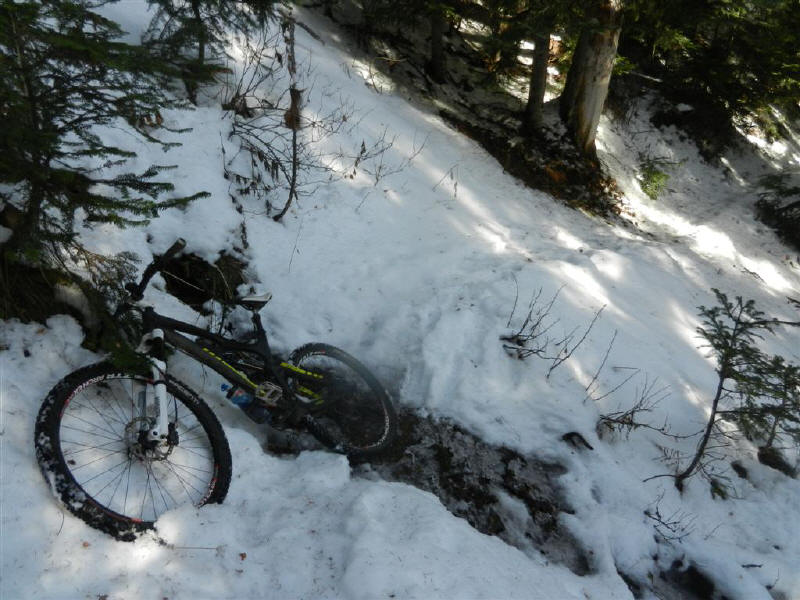 After just over 1 mile of trudging gingerly up the slick snow, the cabin finally appeared: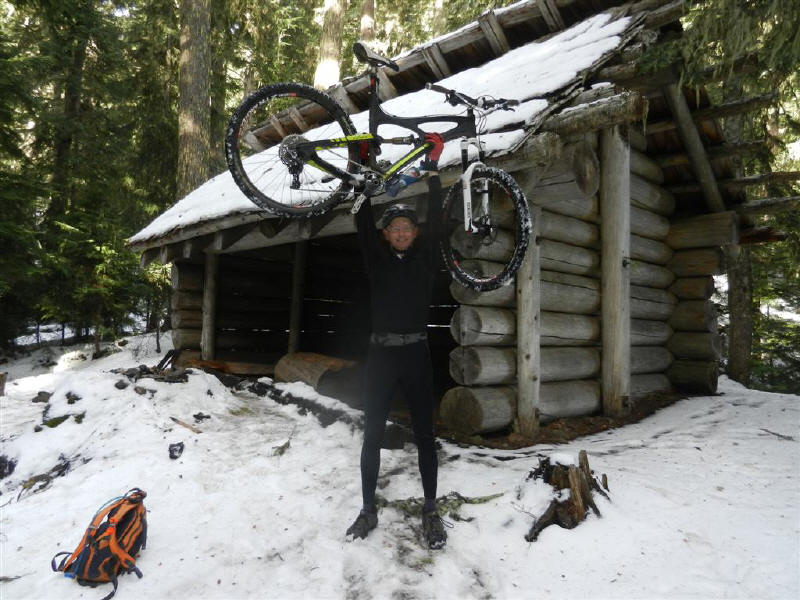 From there the Palisades trail led gently upwards, and it looked even less traveled than Ranger. I started laying down what I reckon may be "last tracks" on Palisades for the season. Which was interesting, because I think we got "first tracks" on Palisades in Spring 2012. One day, I'm gonna be in this area in the summer!!: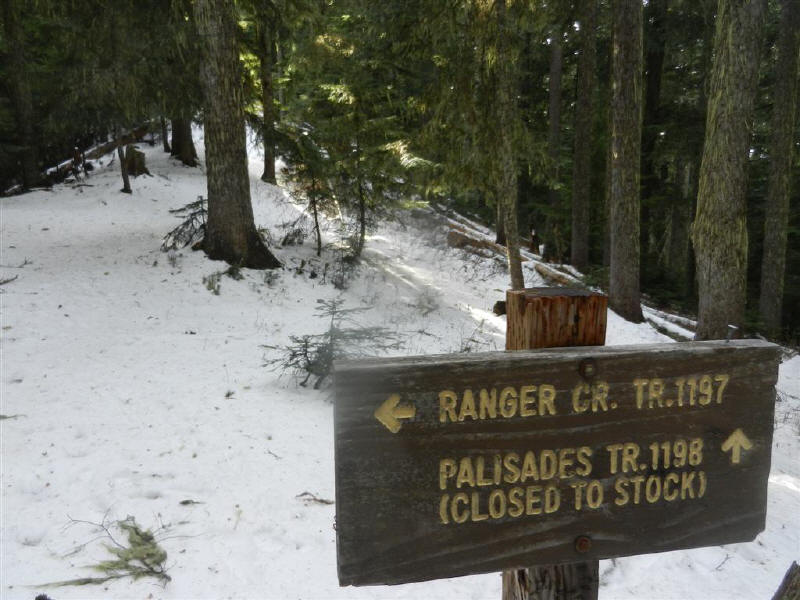 Barely traveled by humans anyway... other critters seem to be using it as a highway: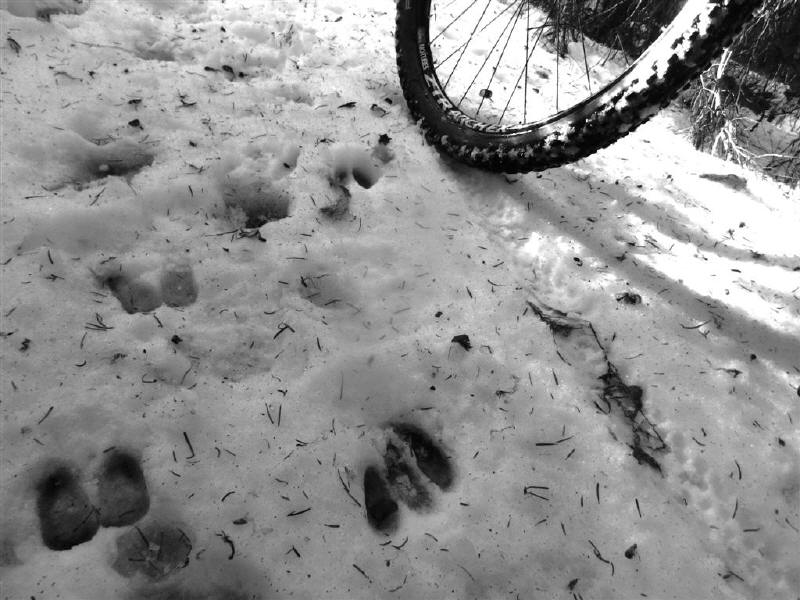 One nice view: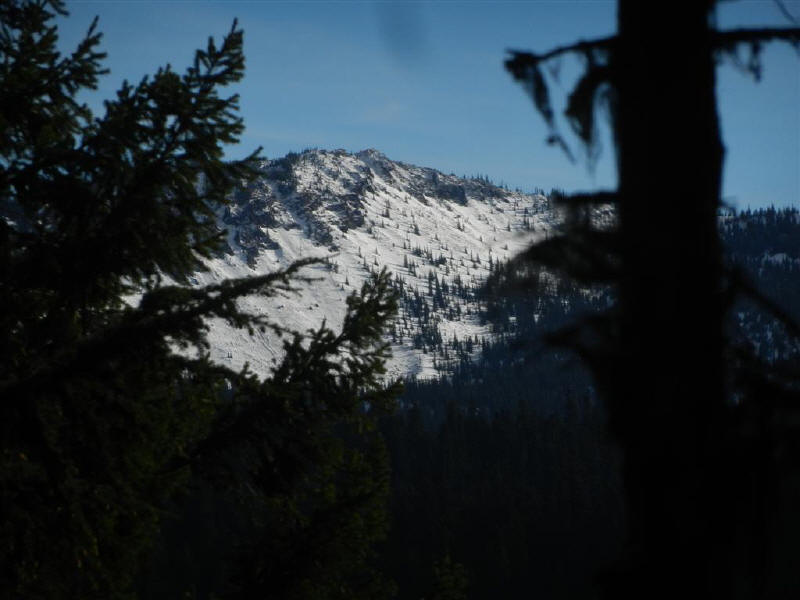 Deserves another: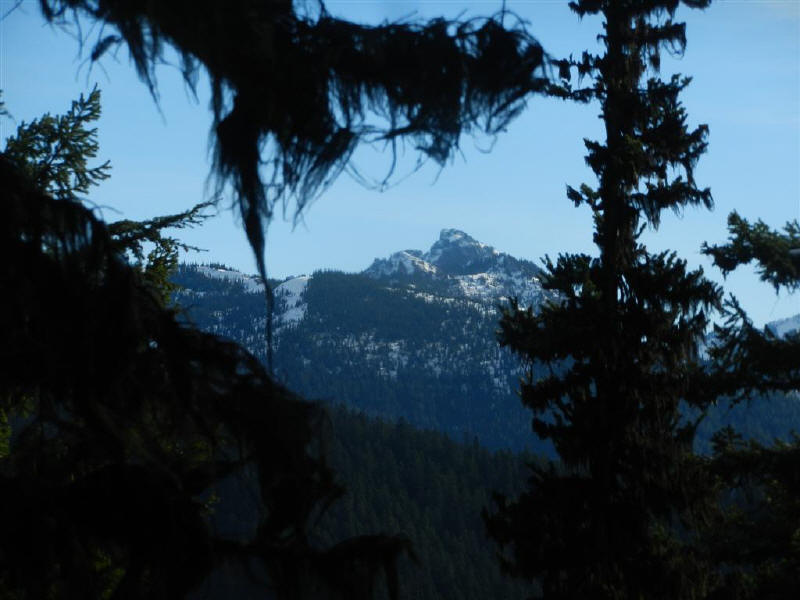 The snow continued for 1 mile past the shelter. Where the trail was flat or downhill, I managed to ride some of this section, but it was still mostly too icy to do much with other than walk. Finally, the trail broke out into the sun on top of the cliffs, and things cleared nicely. A view of one on the unlikeliest airstrips appeared far below: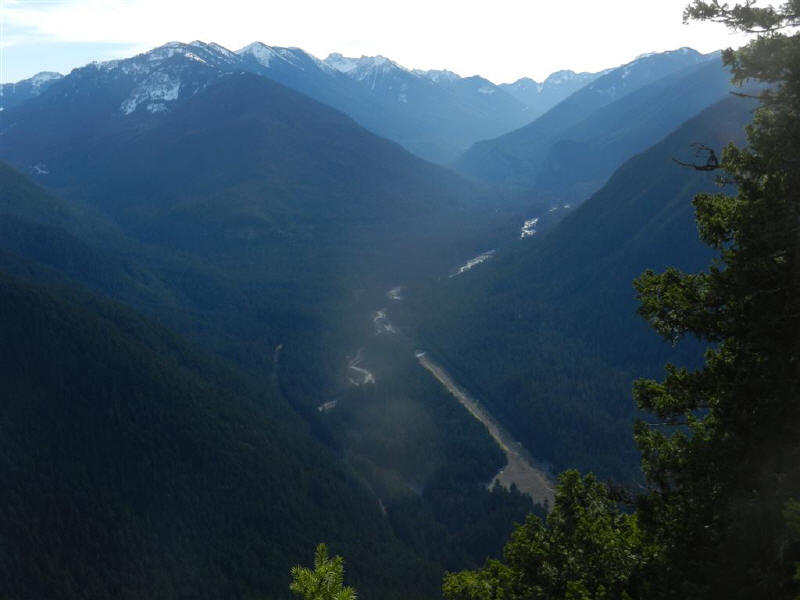 Icy b&w bike porn 1: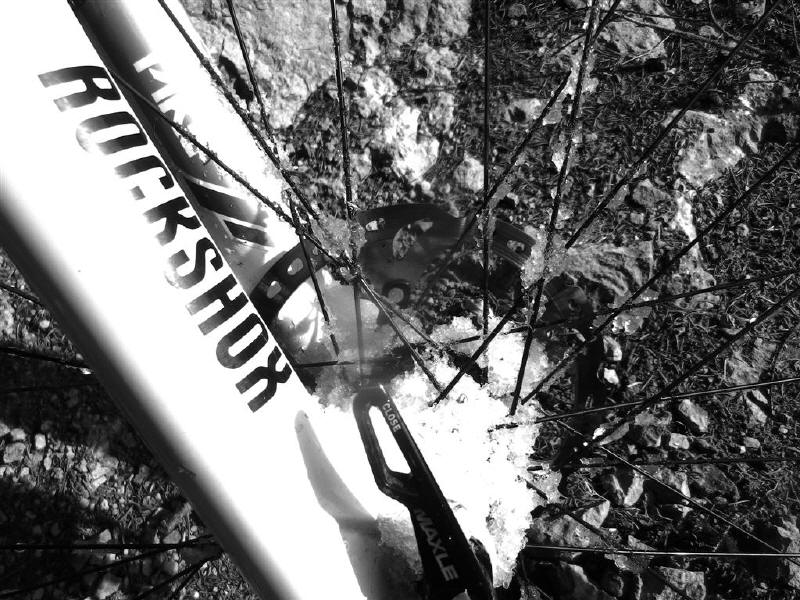 Icy b&w bike porn 2: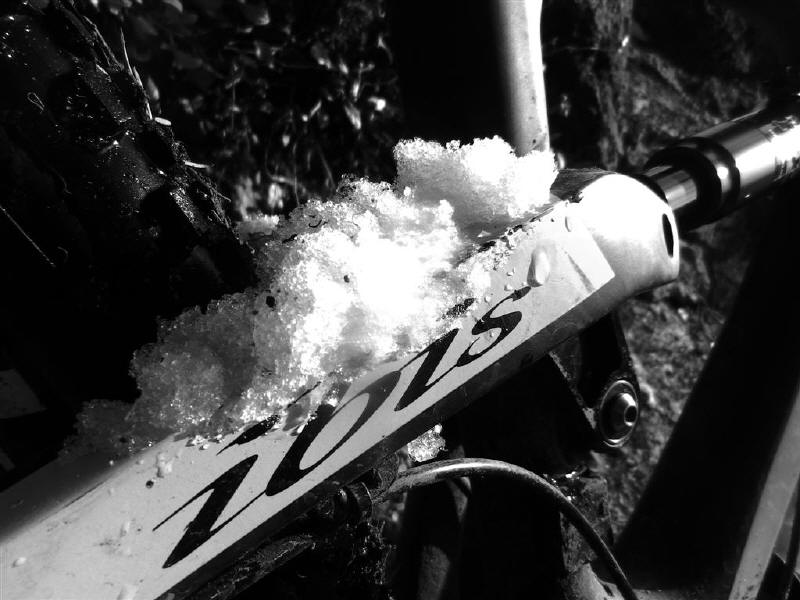 Fantastic views of Rainier to be had on this bluebird day: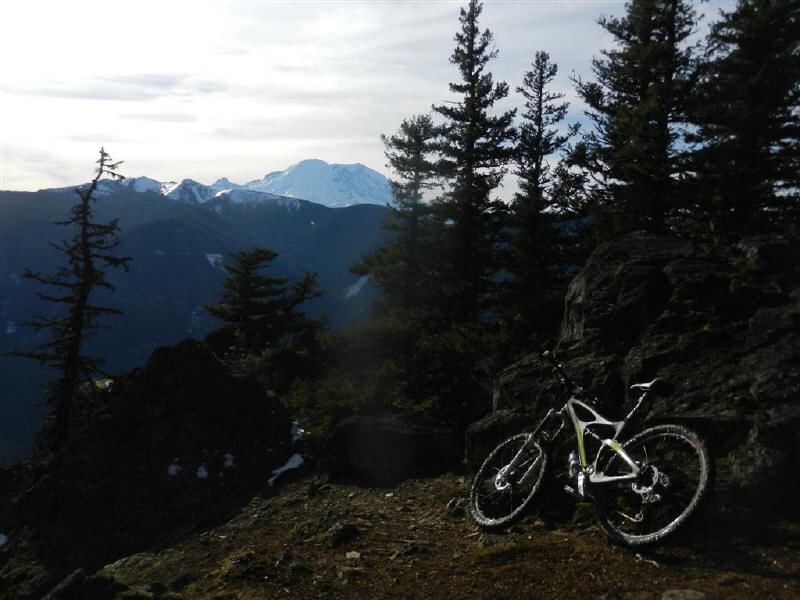 Er, I hope my bike's securely planted there... long way down!




I had thought I was out of the woods, but soon the trail headed back into the trees, and the snow returned for another 1/2 mile or so. This snow was quite rideable though, being very firm but not iced up. Required significant pedaling effort to maintain forward progress even downhill which was interesting.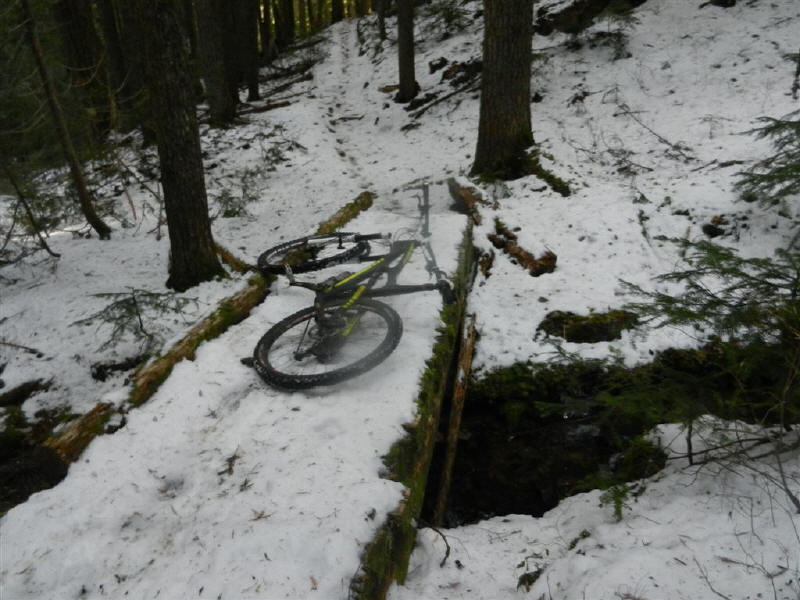 Wicked Big Cliffs: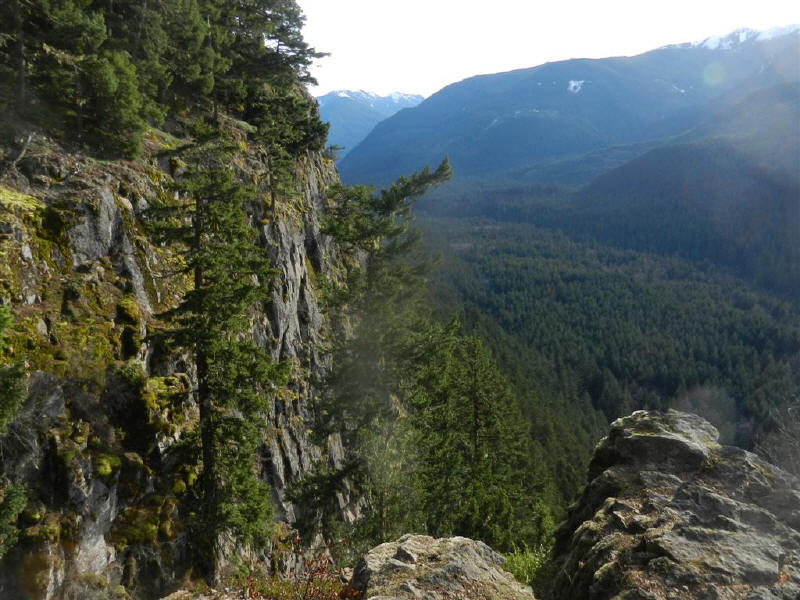 Skookum Falls as seen from high across the valley: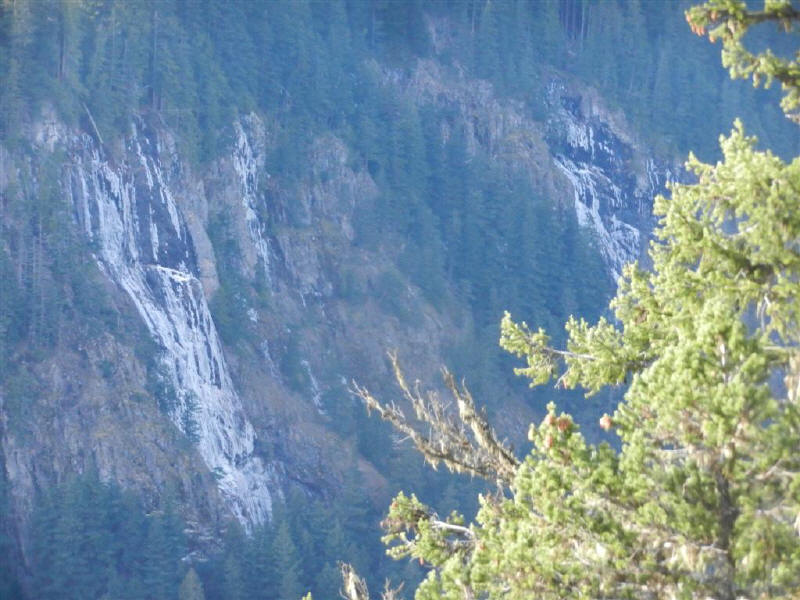 The aptly-named White River:




A small waterfall briefly interrupted what had finally turned into an excellent, fast techy descent: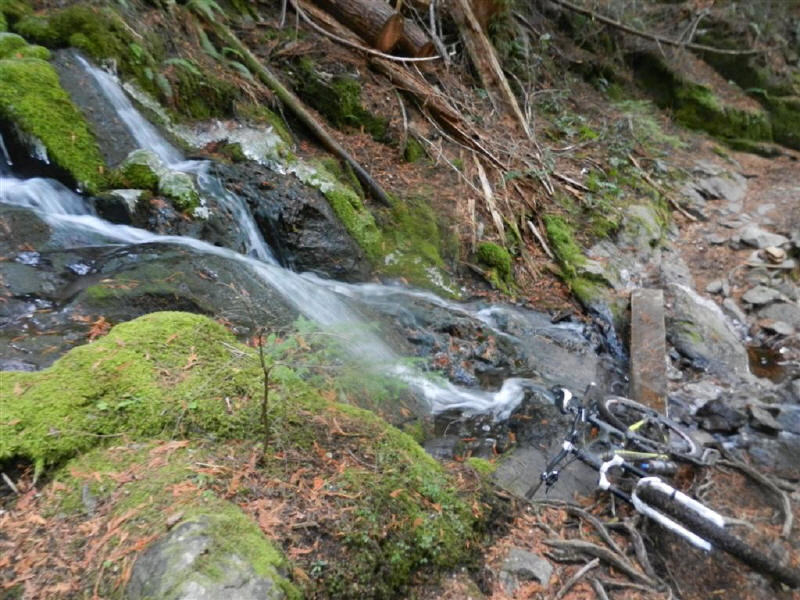 The infamous Palisades super-tight switchbacks. Unsurprisingly, I cleaned zero of these: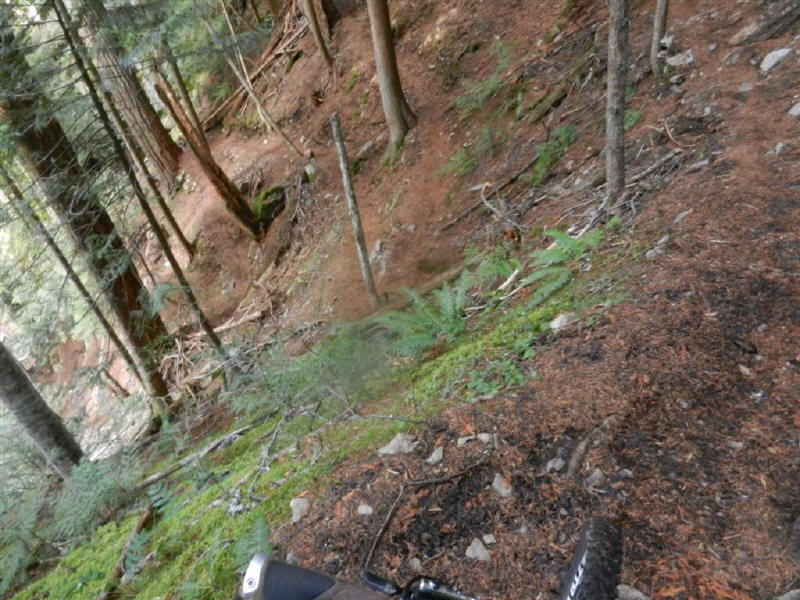 The Ladder, with a couple of hikers above. Unsurprisingly, I declined to attempt the descent: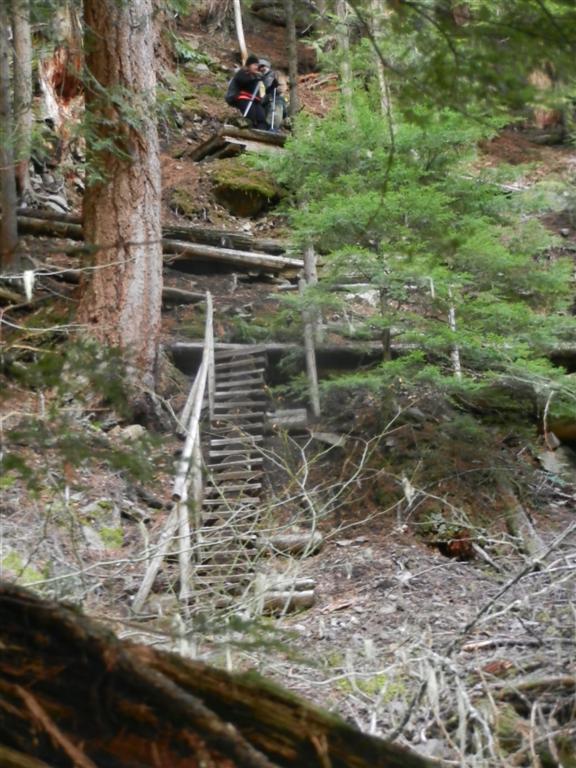 The Big Waterfall was dramatically frozen: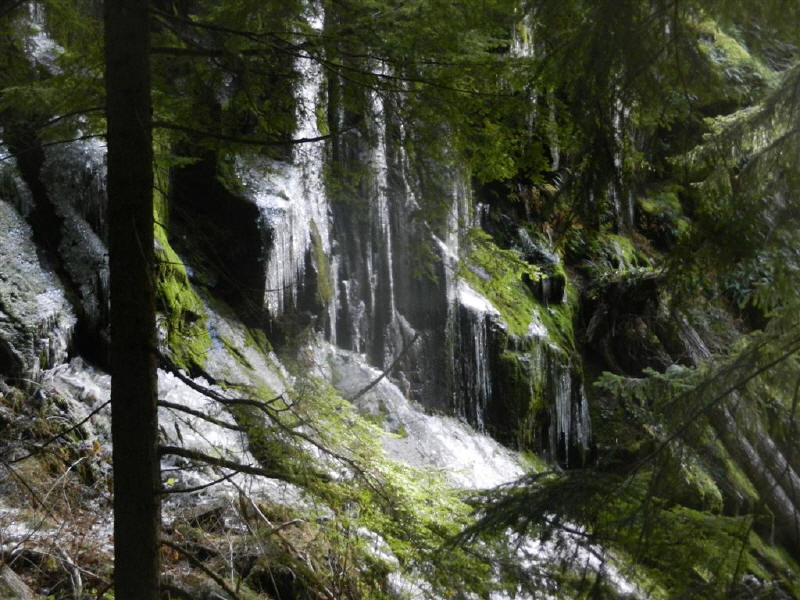 I took White River up and back to the Ranger TH. It was in great shape and a fun ride:




On a lark, I next decided to explore the east extension of Skookum, which dead-ends at the Wilderness boundary of the National Park. Unfortunately this segment is frankly a braided, confusing, non-flowy mess, and I can't recommend it much. But it was interesting to check out. Once: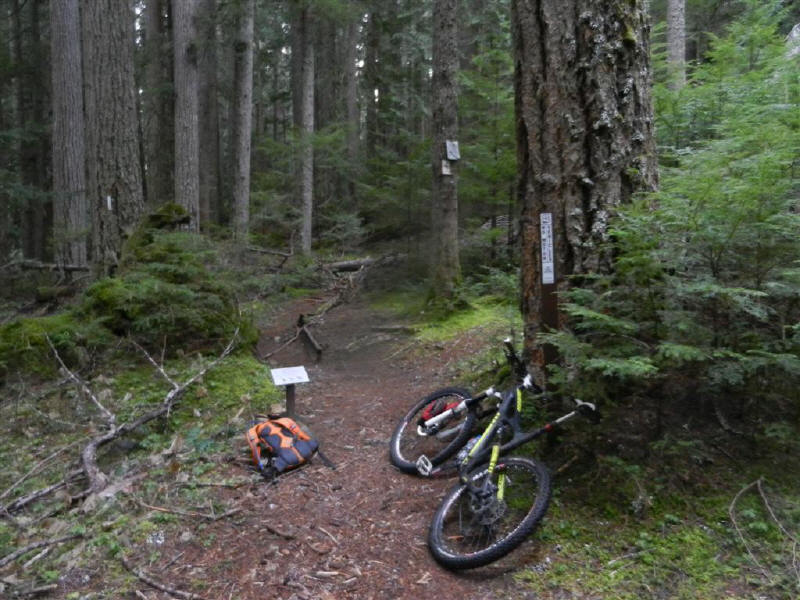 No bikes beyond here: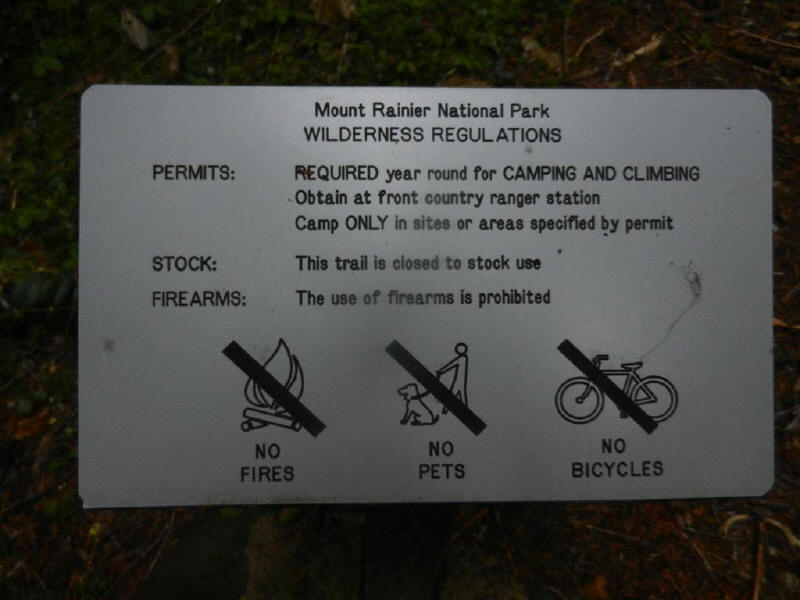 I passed through the TH again, and stumbled upon a couple of guys loading bikes who I'd met at the start of the ride.

In the near-freezing early morning, one of them had had a frozen-up rear hub whose pawls wouldn't engage and was getting no forward drive. He was about to have to give up on his ride, but I had had a brainwave and suggested that he try sticking his wheel in front of a running exhaust pipe to defrost it, so I was delighted to discover that my MacGyver skillz had let them successfully complete their ride. Yeah!

Speaking of Skookum, I had another 30 minutes before dark (meaning about 4pm!!) so I did a short out-and-back down the "real" part of Skookum: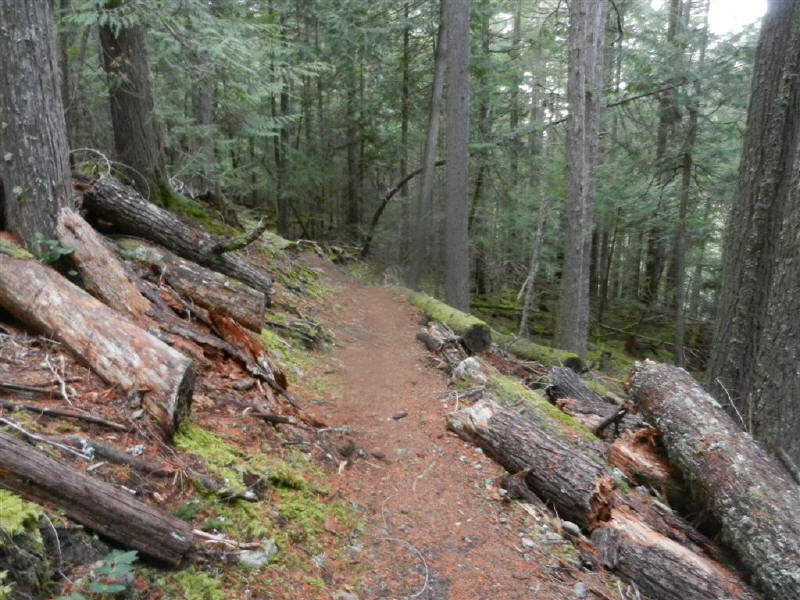 A couple hours earlier, I had been up there somewhere: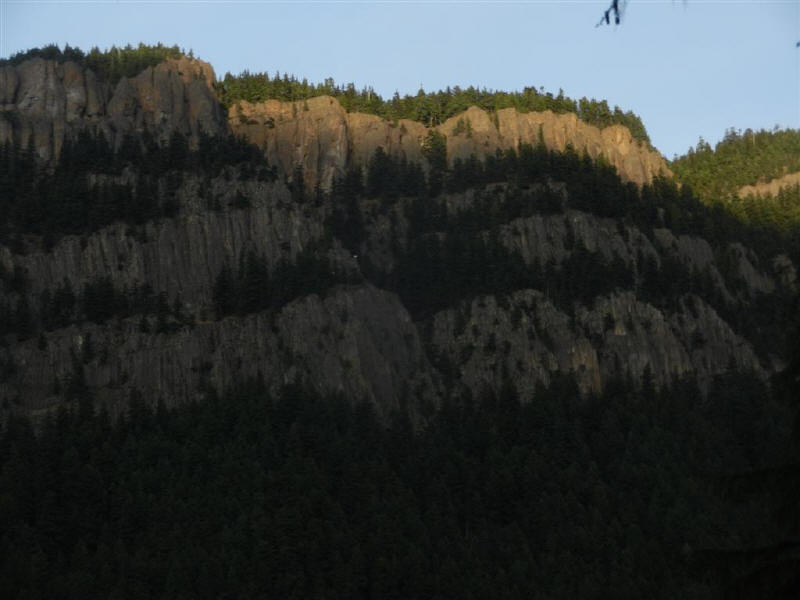 By another strange and happy coincidence, I arrived back at the TH at exactly the same time as the Saw Gang. It was like we'd been riding together all day. We swapped stories and beers until it started getting seriously cold and dark and called it a day. Great to meet y'all, and thanks again for the sawing and the brew!
< previous story home next story >
---
HOME TRAVEL LOG MOUNTAIN BIKING WINDSURFING STORY ARCHIVES RV INFO PHOTOS CONTACT US
---