---


HOME TRAVEL LOG MOUNTAIN BIKING WINDSURFING STORY ARCHIVES RV INFO PHOTOS CONTACT US
---
< previous story home next story >
Riding on Another Planet
Dazzling exploration of an otherworldly volcanic landscape, just before winter arrives.
October 30, 2013
Mt. Saint Helens, WA
The following was originally posted in the WA state forum on mtbr, here.
Last week seemed like it might be the last chance to ride Mt. Saint Helens this year. So with snow looming in the forecast for the weekend, on Wednesday I dropped everything and made a long day trip down from Seattle, where we had just arrived in the RV.

My predawn departure rewarded me with a striking sunrise image driving past 14,409-foot Mt. Rainier: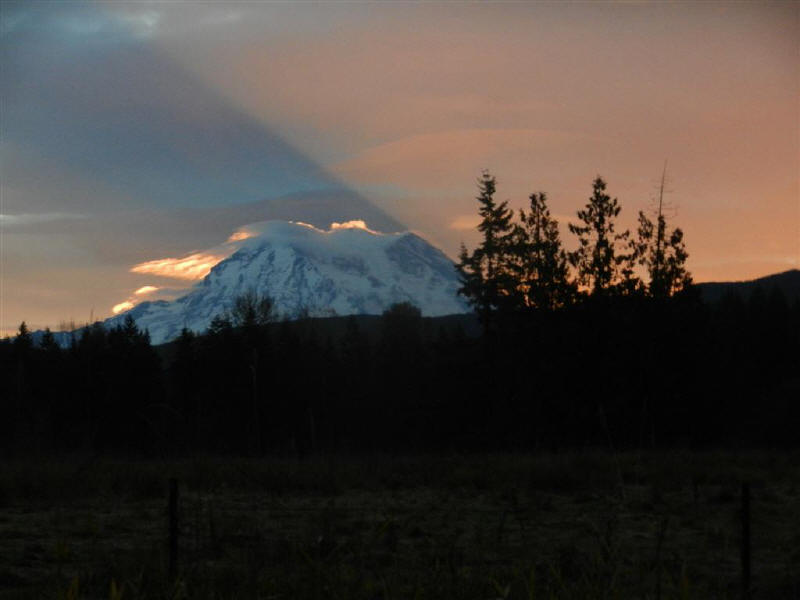 A nice windy road led up to the Windy Ridge trailhead on the east side of Mt. Saint Helens. Er, is that "windy" or "windy"?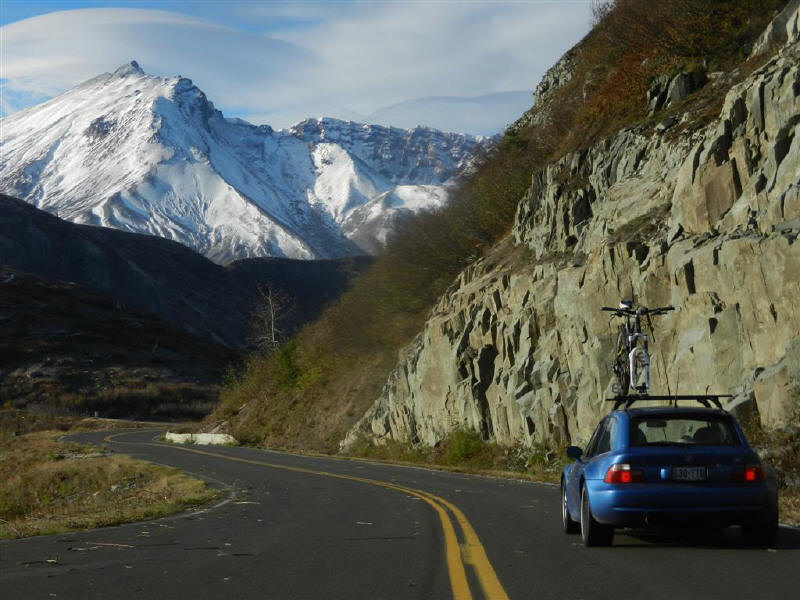 Whichever, it was hella fun to drive, with ZERO traffic for mile after twisty mile, interrupted only by the occasional patch of black ice (beware of shade!):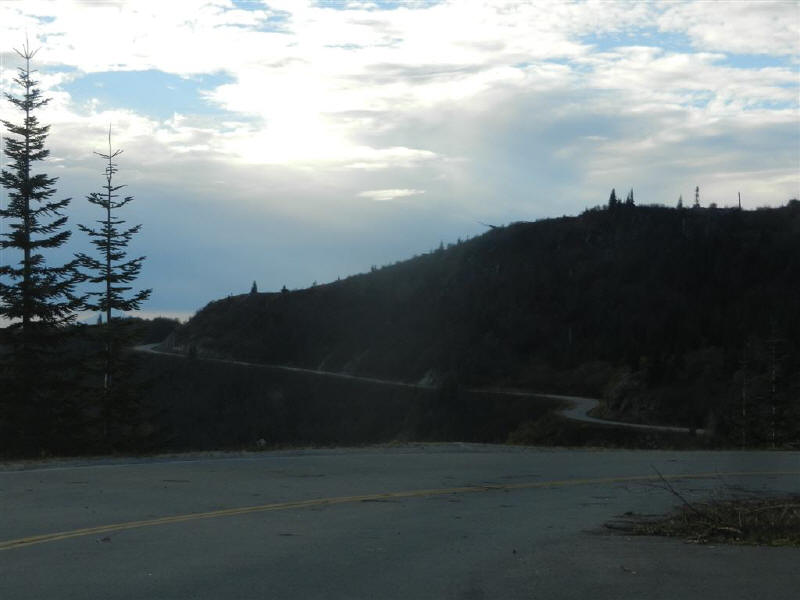 From the deserted trailhead, an epic stairway led up to an overlook, but that wasn't my destination today:




Presumably the overlook presented an even grander view of Spirit Lake than the one below, which was good enough for me:





My ride started with a couple miles of gentle doubletrack. It was an interesting feeling heading off into this surreal environment alone in 30-something degree temps. Makes one feel downright small and vulnerable: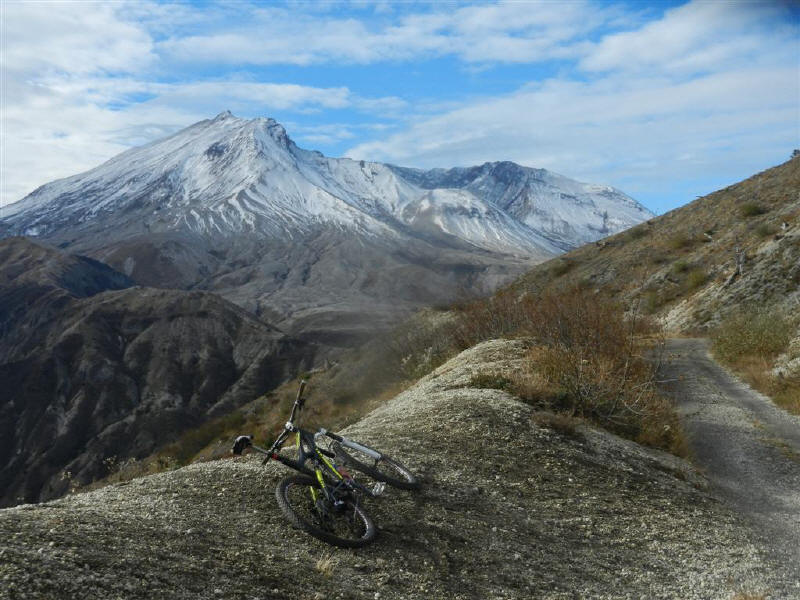 Soon enough, a crumbly singletrack peeled off and headed sharply up a dramatic, narrow ridgeline: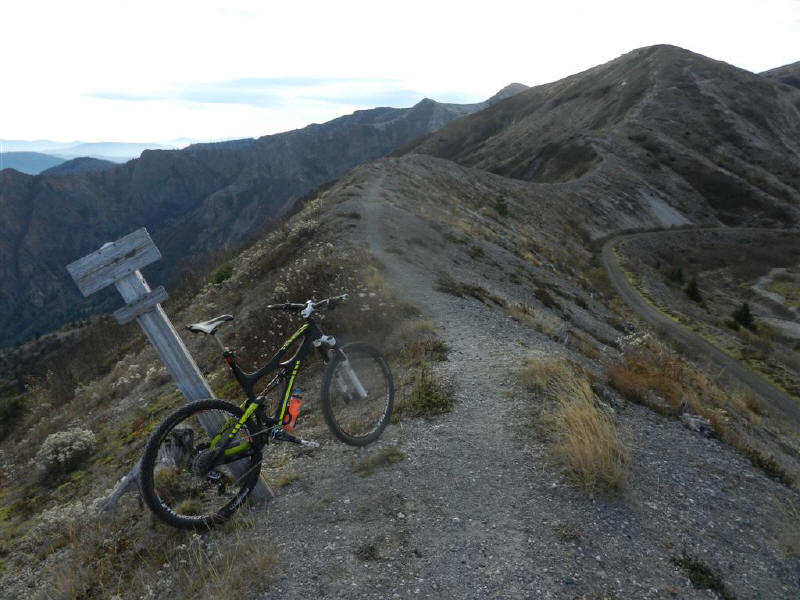 Otherworldly landforms were everywhere: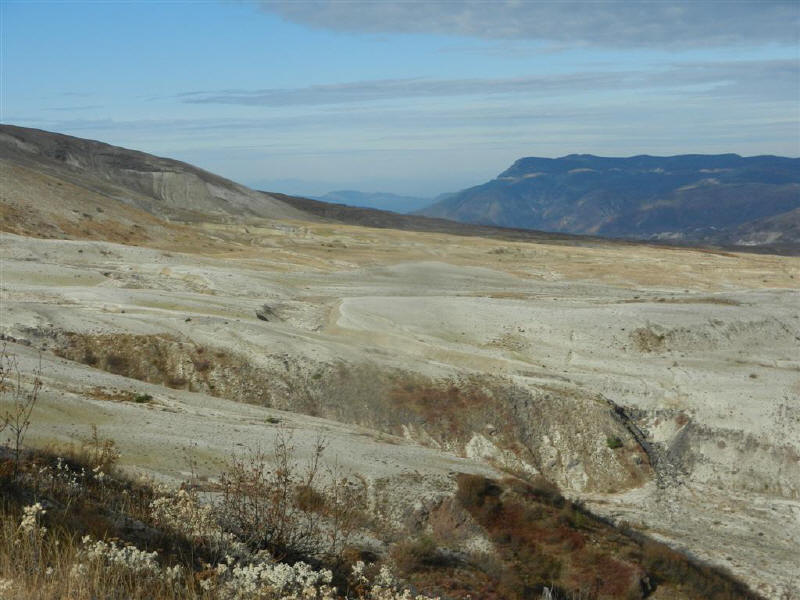 A glance back at the ridgeline singletrack, with craggy peaks beyond: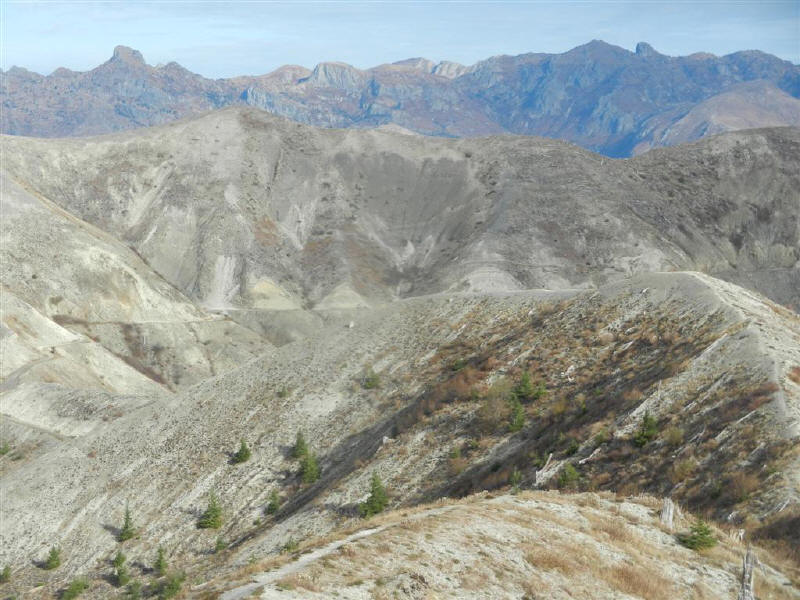 I knew there were supposed to be some views of Mt. Adams from this ride, but I didn't appreciate just how dramatic they were until I was actually here: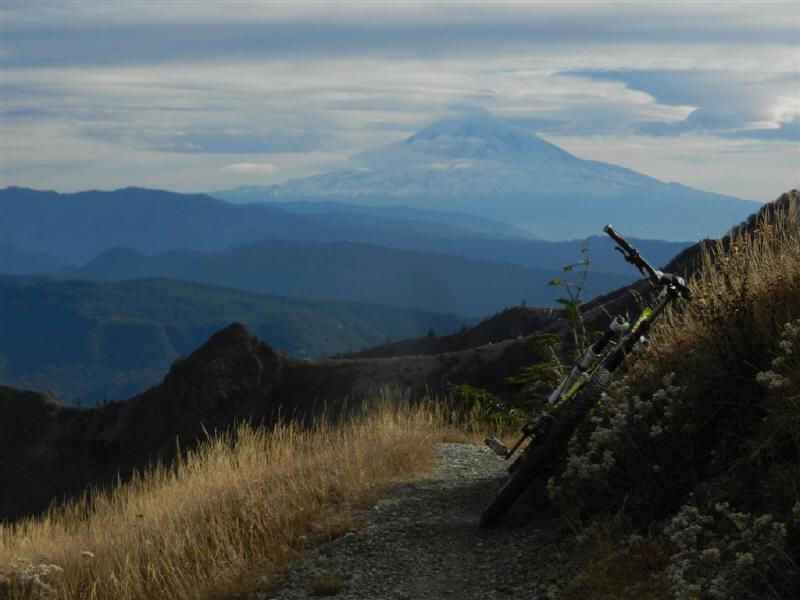 One of many stubbly blowdowns left from the 1980 eruption: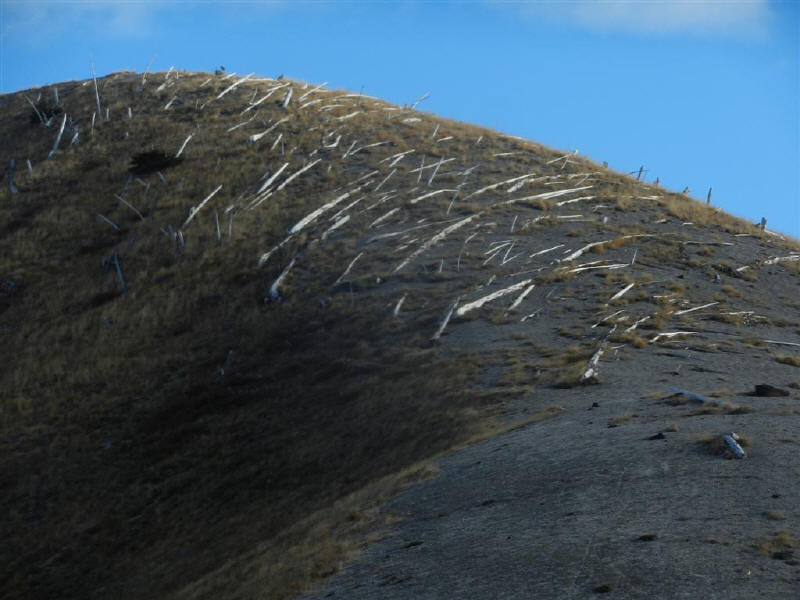 Deep and steep chasm:





Ibis and Adams: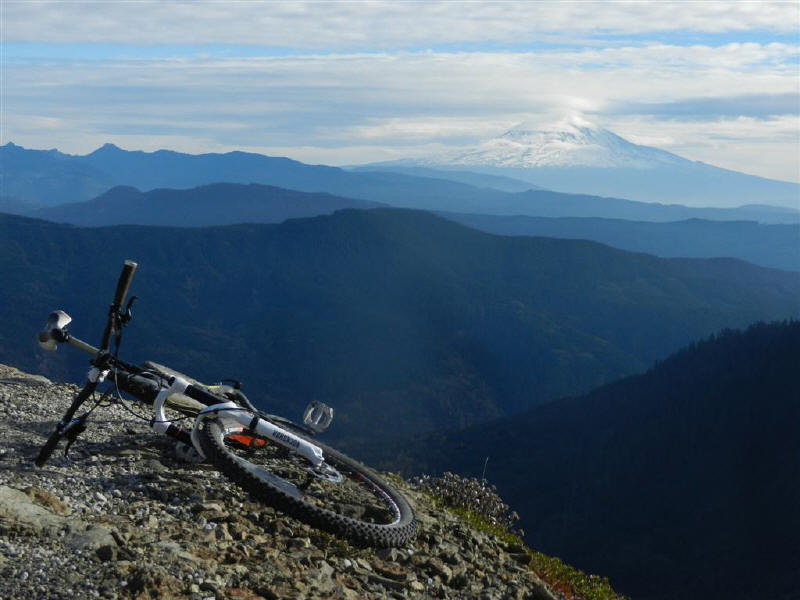 Ibis and Helens:




Panorama of the Plains of Abraham. Nothing too special about the trail itself, but the scenery was simply off-the-charts:





A geologist's feast of random rocky spewage presented occasional technical challenges along the way: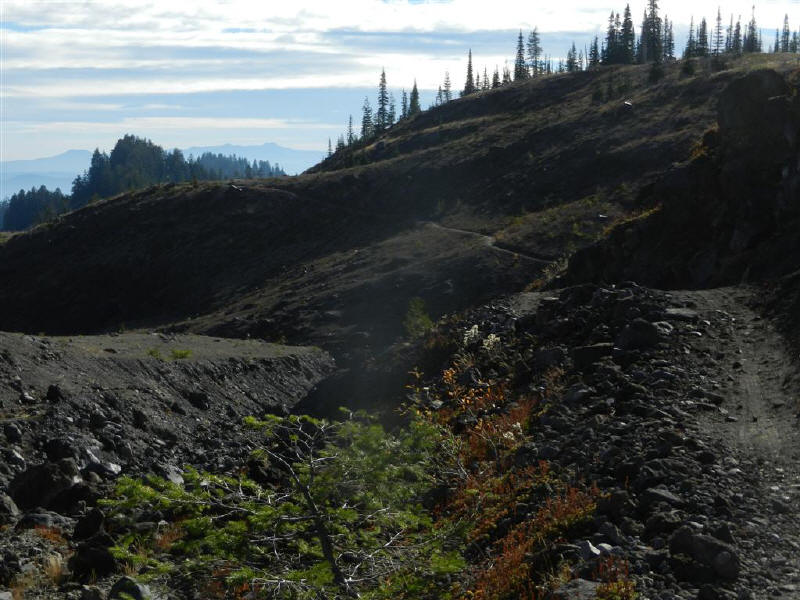 More Adams, now looking a little soft on top: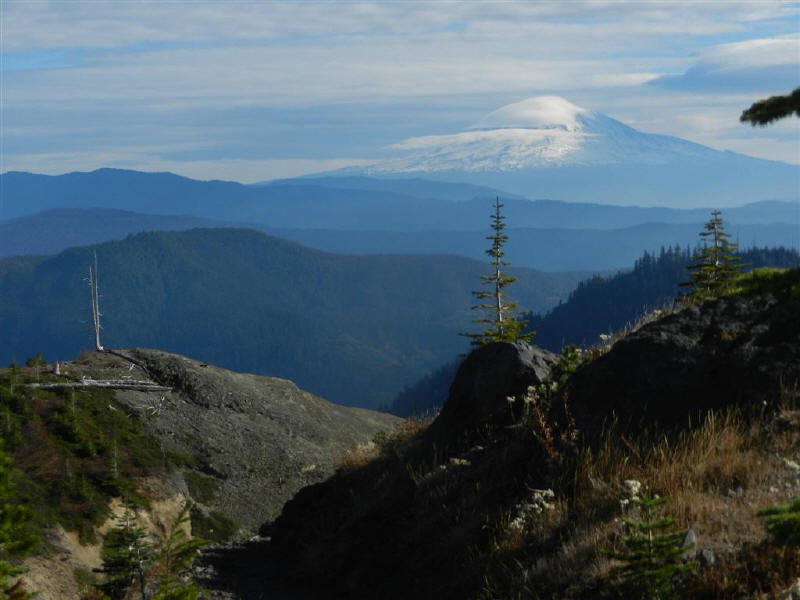 This mildly-sketchy traverse was made extra-sketchy today by several icy patches. I readily admit to walking a bit across here, and carefully, at that: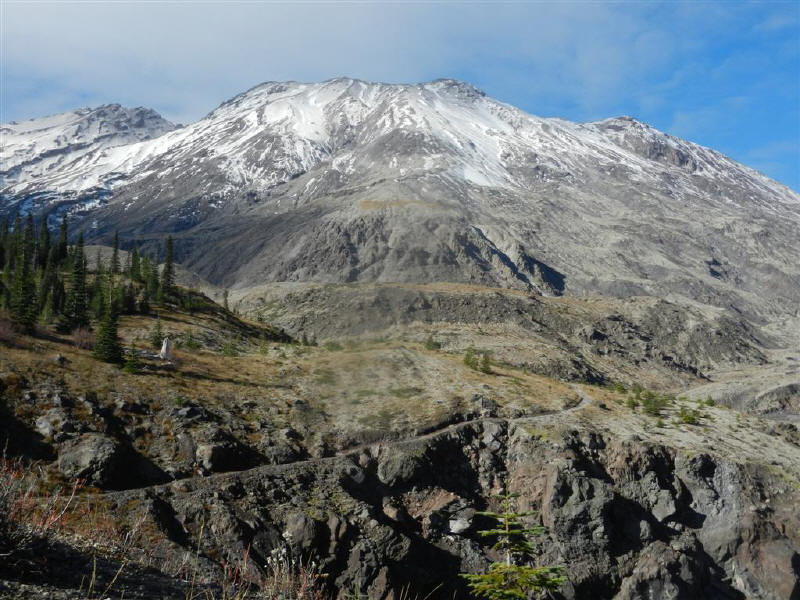 The trail eventually left the bizarre moonscape and transitioned into a buff benchcut through the forest. This lovely descent carried on for about 4 miles: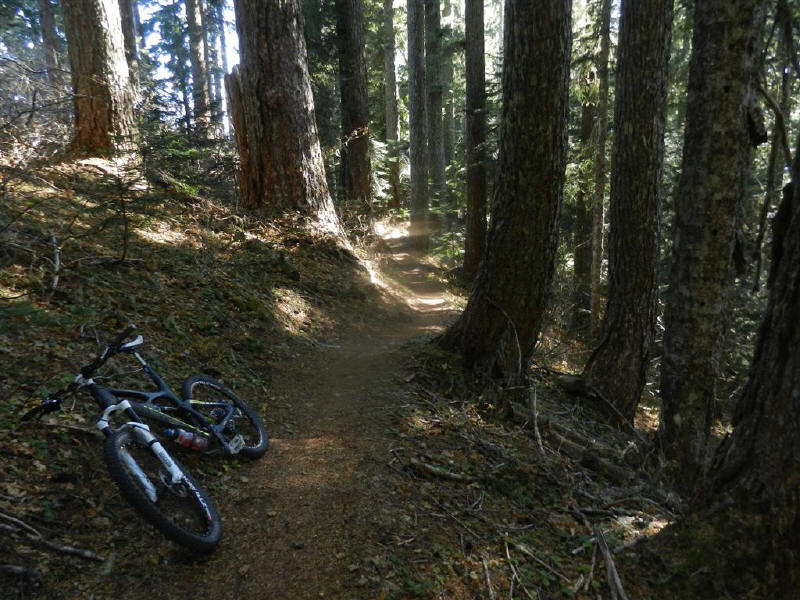 Most folks start their ride at the lower Ape Canyon trailhead, so they can finish with the long descent. But I now had to turn around and climb back up if I wanted to get home: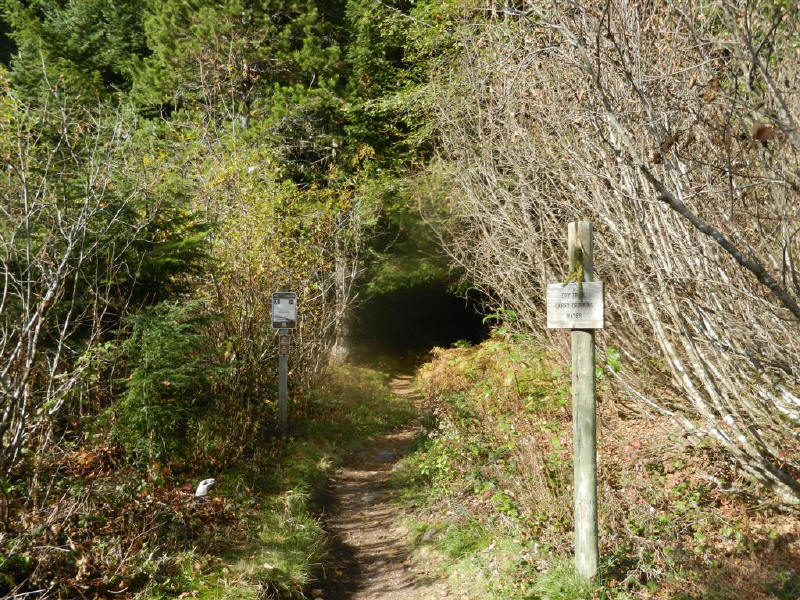 Happily, the climb was mellow enough to generally just chug up with few interruptions. Except of course for the several dramatic viewpoints I had blown by on the way down, such as this enormous river of rocks:





Frozen leaves provided an oddly crunchy riding surface near the top: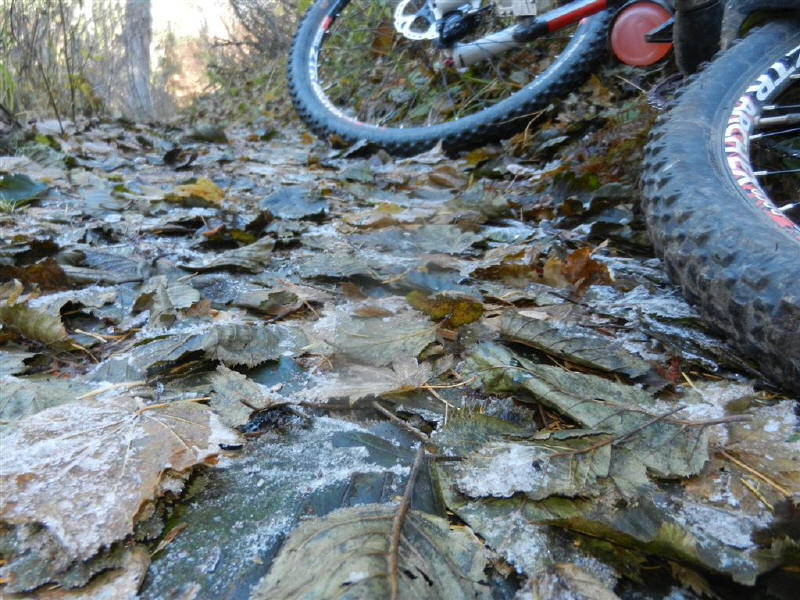 Nature carved quite a huge notch here, with Adams beyond: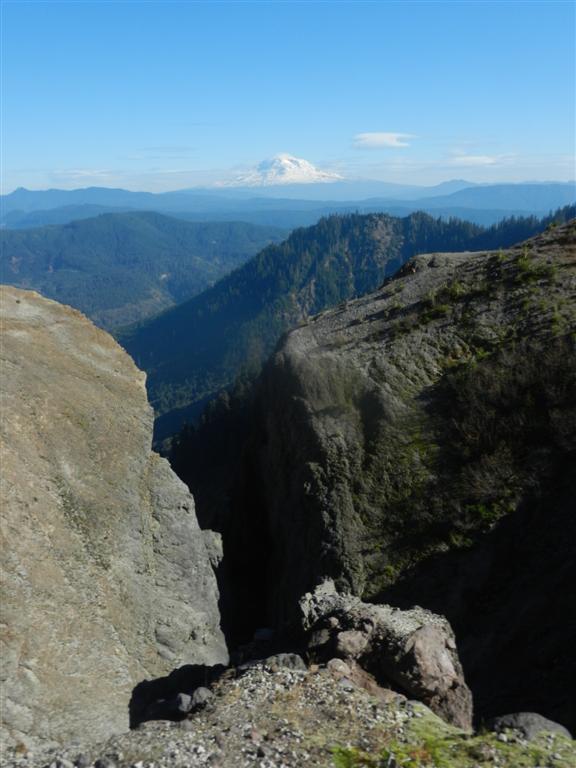 Worked my way back across the Plains and savored a few more weird and wild views: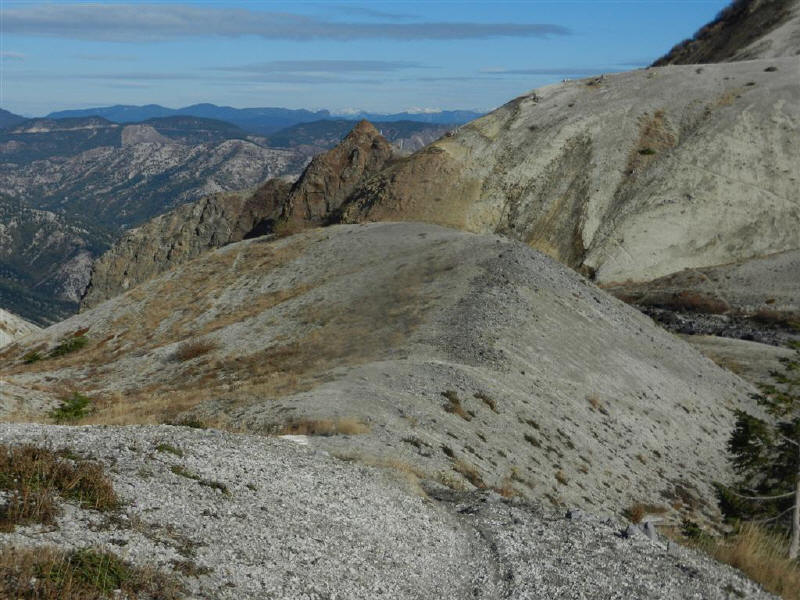 Oversized volcanic driftwood: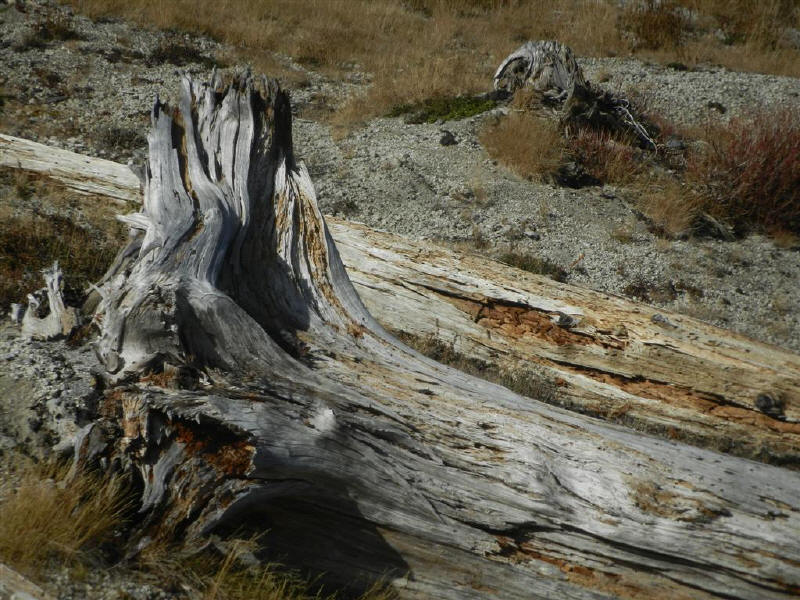 This soft pumice benchcut held my full attention. Felt kind of like riding on a foot-wide swath of marshmallows: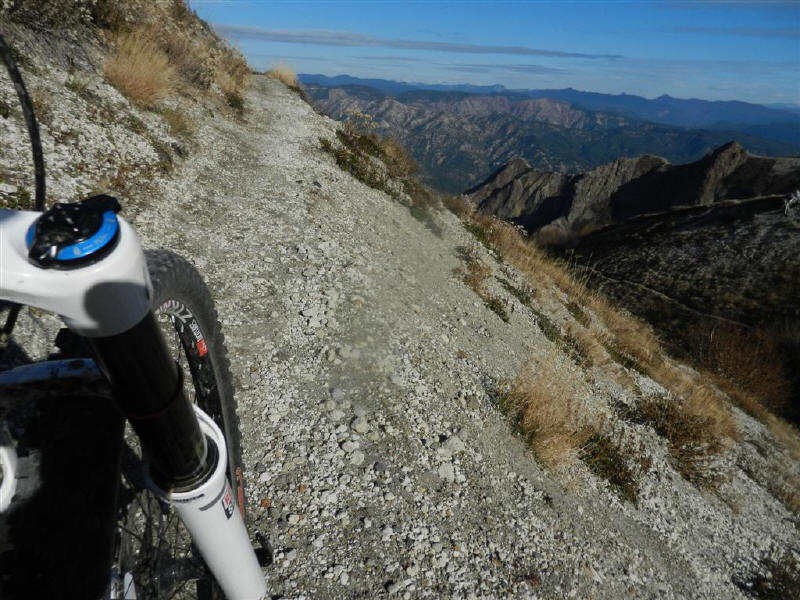 Squidgy surfaces plus suddenly gusty afternoon crosswinds called for a fairly conservative descent rate, but the ridgeline was still more fun going down than up: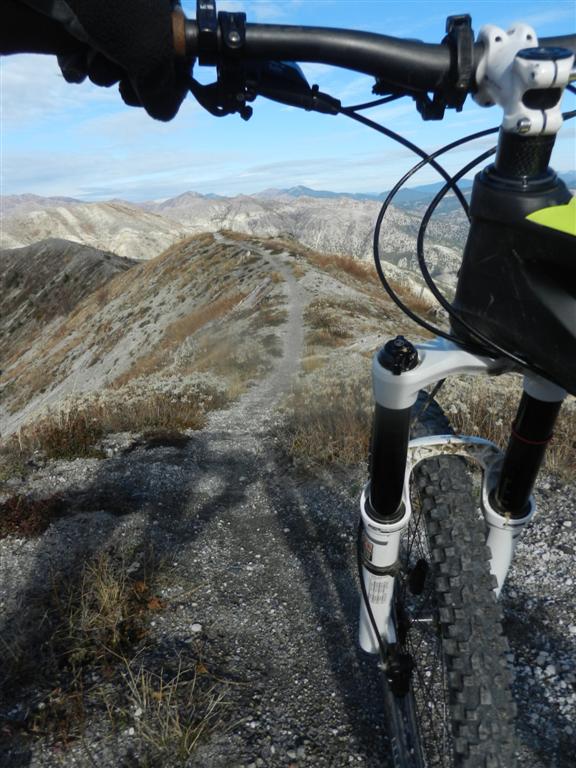 Unique cable-tied ground ladder section was mostly hike-a-bike both up and down: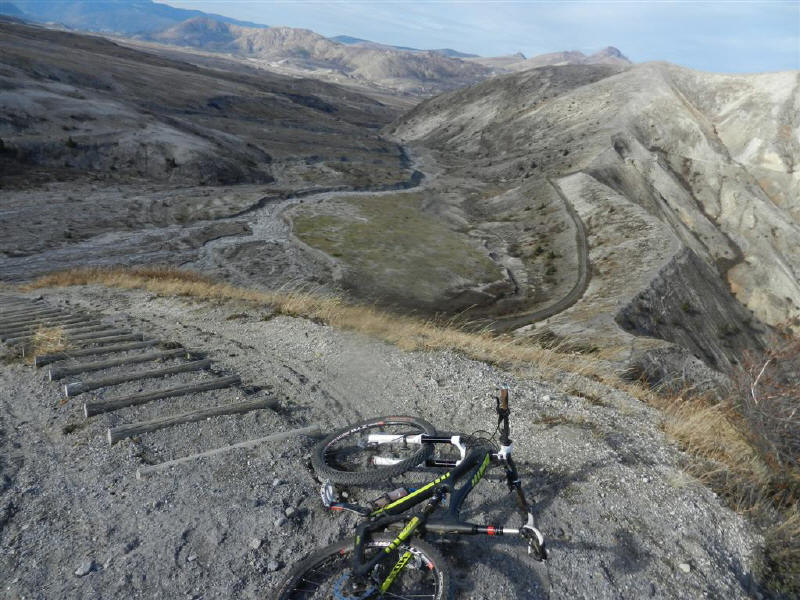 Over 30 years after the blast, Spirit Lake's water is now clear and beautiful again: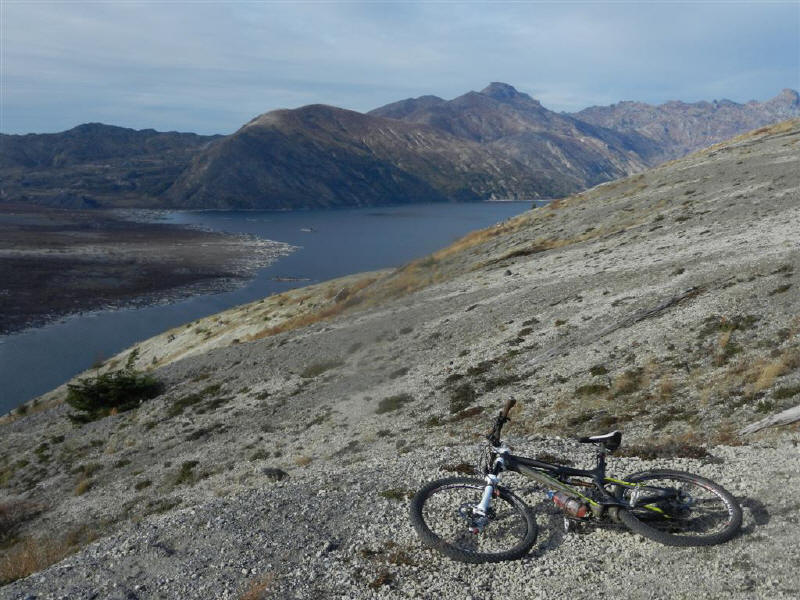 It is still about half covered with logs though, which apparently all drift from side to side with the prevailing winds: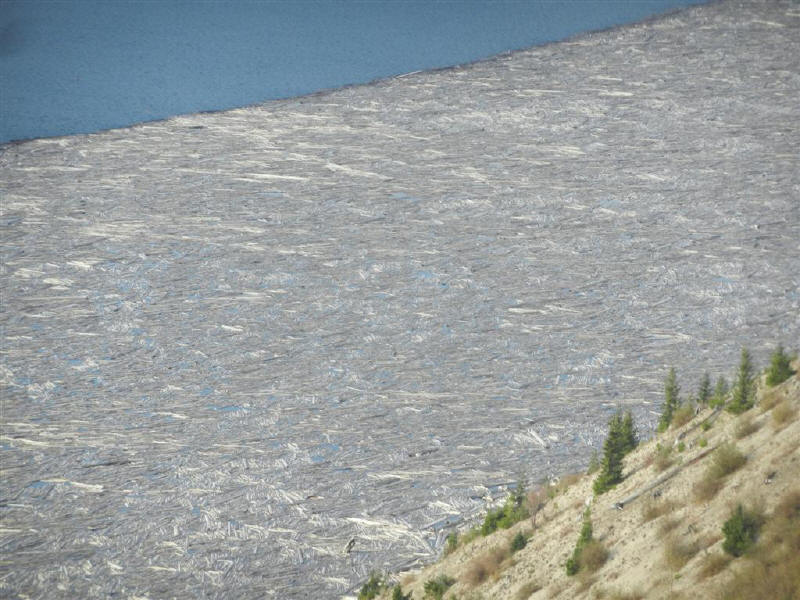 Pointy-topped Mount Hood made a brief appearance in the far distance at the end: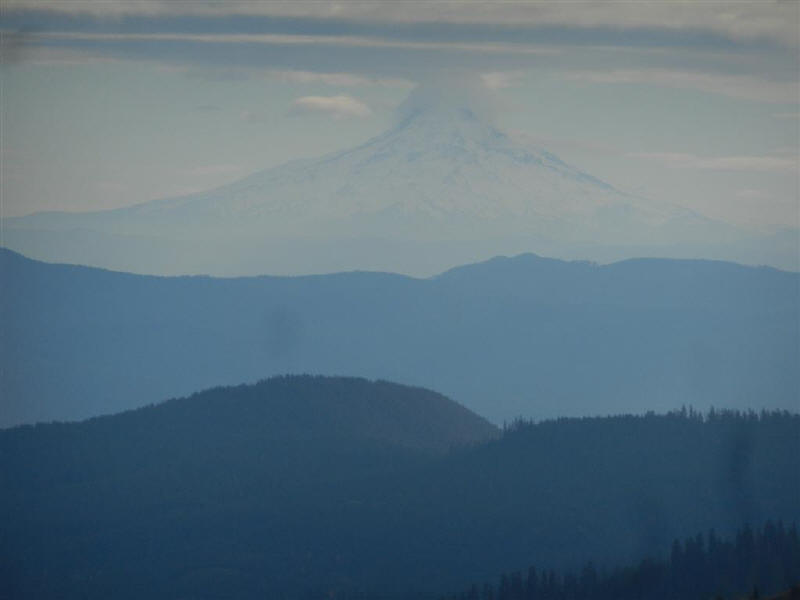 And Adams now sported on a huge, soft cloudy cap: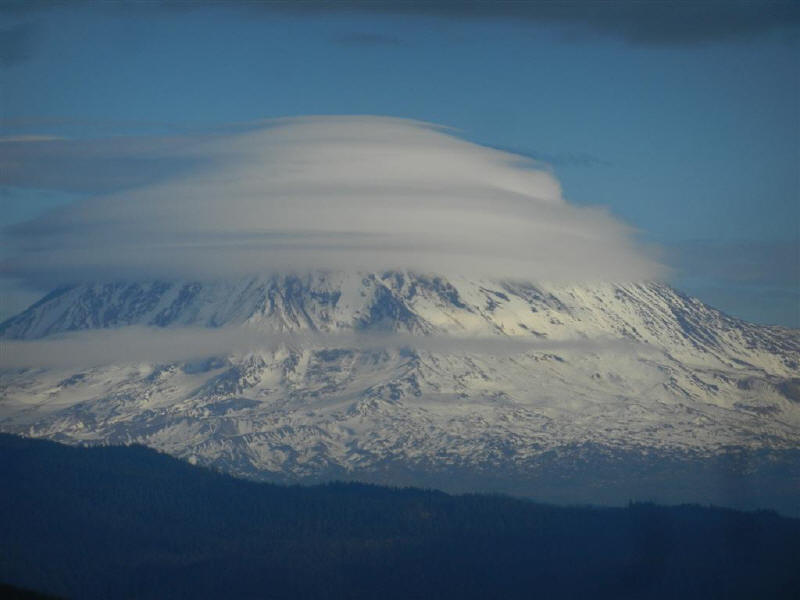 The longer, gnarlier loop ride option incorporating the Smith Creek trail would have to wait until "next time", but I stopped to check out its trailhead on my way down: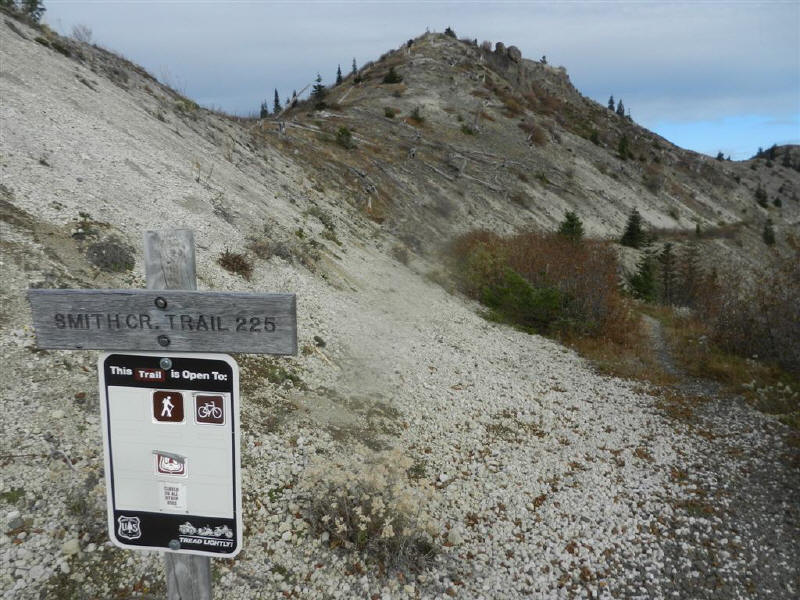 As much fun as the riding was, I must say the driving was almost as good: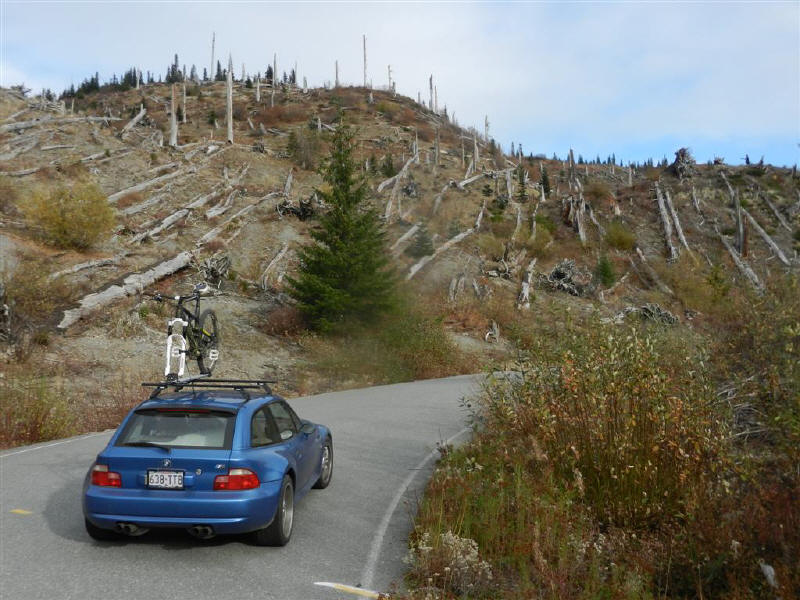 Was enjoying the unimpeded driving so much that I decided to take the long way home, going around the east side of Rainier and making for a complete circumnavigation of the mighty mountain. Along with some nice views, I encountered about half a dozen other cars during this stretch however. Darn--such traffic!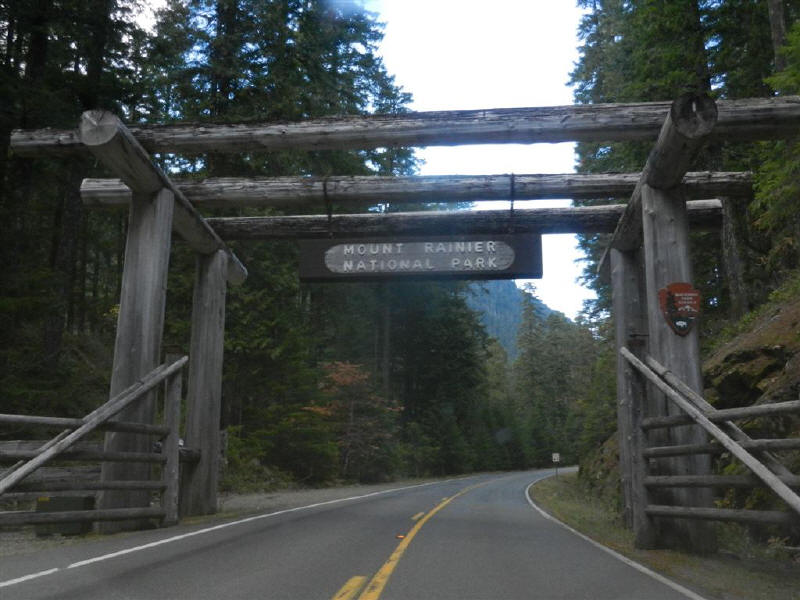 I've been wanting to do this ride for many years now, and I'm super happy the weather cooperated and let me squeeze this one in, despite us arriving in the PNW so late in the season.

The relatively modest stats of about 21 miles and 3700 feet of climbing don't come close to representing the overall awesomeness of this ride.

Highly recommended!

< previous story home next story >
---
HOME TRAVEL LOG MOUNTAIN BIKING WINDSURFING STORY ARCHIVES RV INFO PHOTOS CONTACT US
---