---


HOME TRAVEL LOG MOUNTAIN BIKING WINDSURFING STORY ARCHIVES RV INFO PHOTOS CONTACT US
---
< previous story home next story >
The Redstone Cyclery Big Fall Ride
Lyons, Colorado
September 30, 2012
Ride maestro Death March Dave's official recap on the Redstone Cyclery site can be found: here along with more pics: here
A wildly entertaining recap of this beast of a ride from another rider can be found: here
A video showing much shredding of gnar can be found: here (FoldsInHalf sightings around 1:50 and 4:50...)
My report below was originally posted in the thread announcing this ride on the mtbr CO forum: here
You know any ride that starts with a full moon setting over the mountains is gonna be a doozy: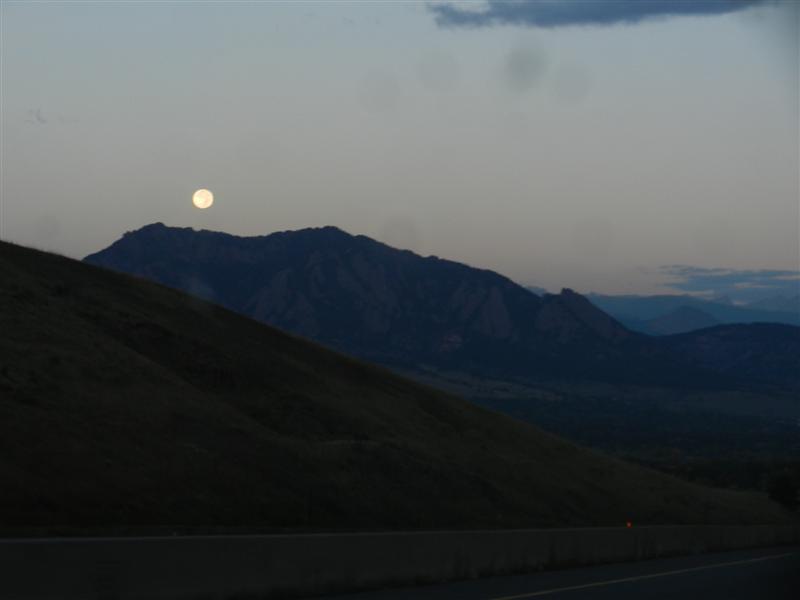 Any room left for one more bike? Sure, but only if it folds in half or something: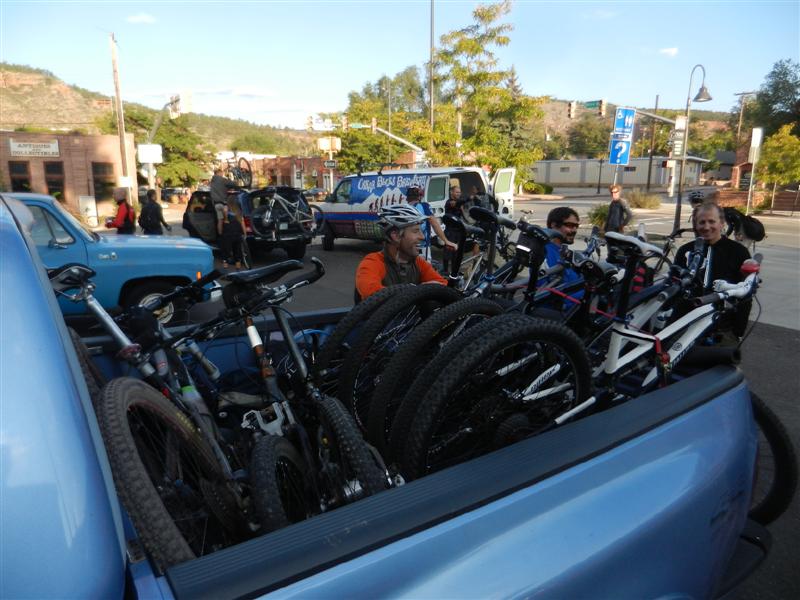 Redstone Cyclery's owner Dave addresses the flock: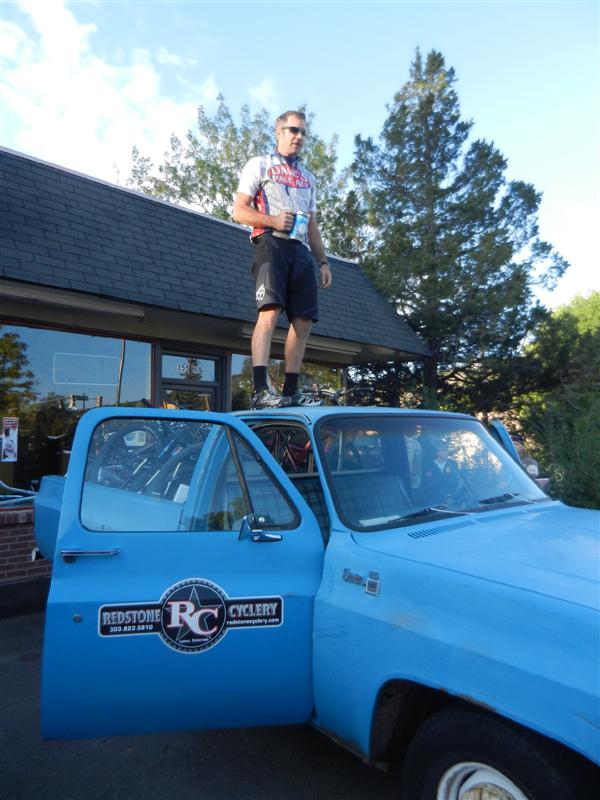 All shuttled up to the start for an on-time 9am departure:




Like most good shuttle rides
, this one started with over an hour of stiff climbing and hike-a-biking: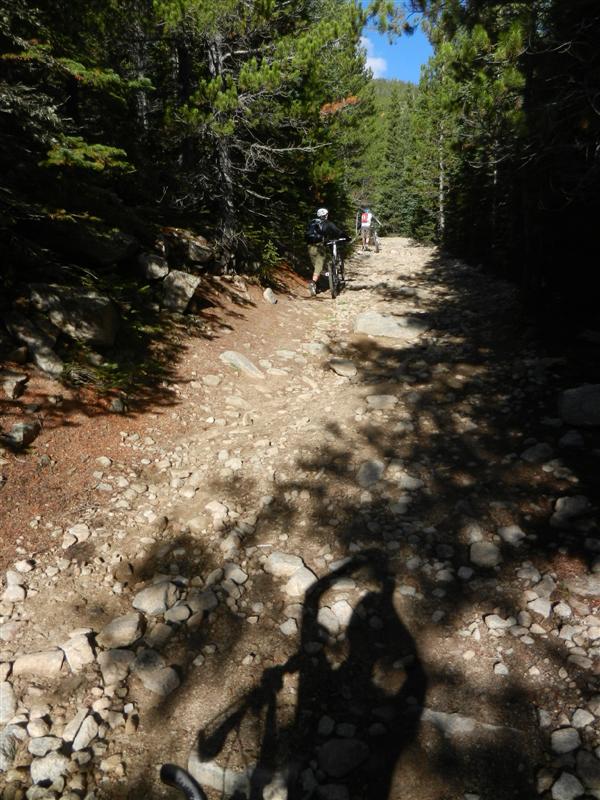 Over terrain that grew ever chunkier:



First gathering spot, where we unknowingly parted ways with the Final Five:




Second gathering spot, where we realized our numbers had dwindled from 38 to 33. Scouting led to a slightly longer rest break than needed, really, despite the level of effort it had taken to cover barely 7 miles in the first two hours:



The next rest spot was similarly scenic. Someone did a swift burst of mental arithmetic and concluded that we'd now covered about 15 miles in a bit over 5 hours, for a gross average of approximately 2.9 mph. Happy folks though!:




Fresh snow was visible up high: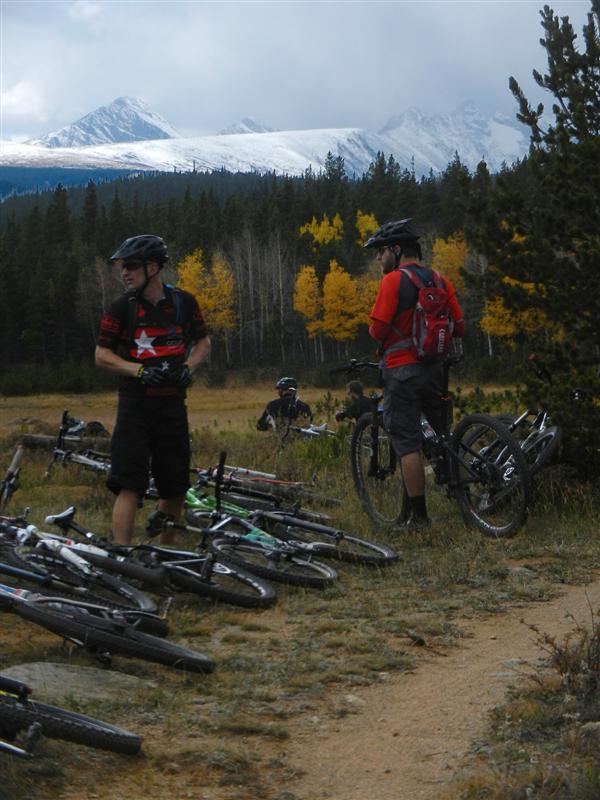 Another rest break by the road, to await the return of the Secondary Expedition Force, whose whereabouts had finally been determined. Luckily, things were about to turn "all downhill from here" (mostly) and our average speed was gonna rise fast:




About 8 hours in we reached the water refill point in historic Jamestown. No riders took the locals up on their urgings to come in and square dance. But, check it out--there's five copies of Slow. Oh man, he's a singlespeed Cylon!
No wonder he can handle back-to-back 50 mile epic days with such apparent ease:




Start of a nifty flume trail that traversed above the highway for a pleasant while: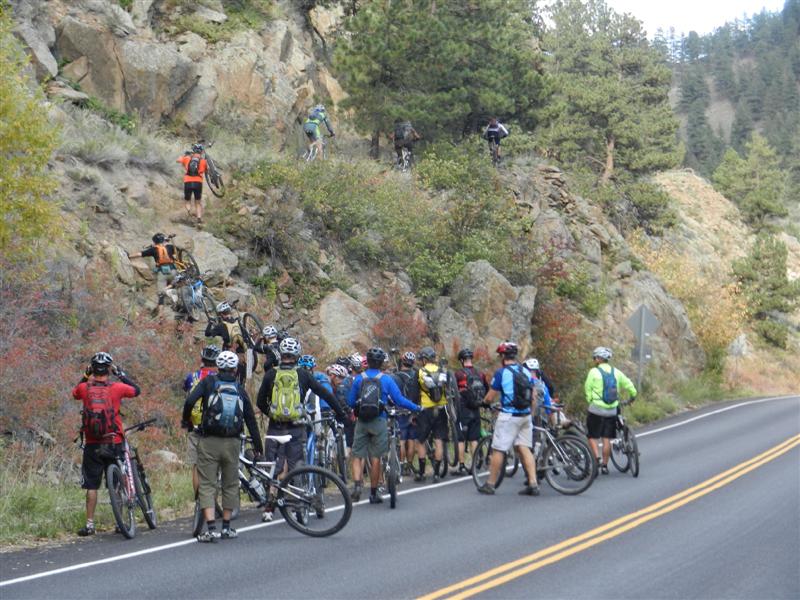 Not pictured are the endless variety of descents which spanned the entire gamut, from Chunk-a-licuous to Chunk-ri-diculous.

Or the lovely alpine lily pond. (how did I not get a picture of that?)

Or the sudden sleet storm that pelted the pack in the middle of a screaming 30 mph forest road descent.

Or the slow grind up Heil after an already long day.

Or the sunset blast down Picture Rock on perfectly-moistened hero dirt (and no upstream traffic to worry about) that made it one for the ages.

Or the group of happily exhausted mountain bikers enjoying brats and beers afterwards at the shop.

Just an outstanding long day on the bike!

At 47.2 miles, 6.5 moving hours, nearly 5000 ft of climbing and almost 8000 ft of descending, this was not my biggest ride ever by either distance, time, or feet-climbed measures. But it likely was my hardest day overall due to the high chunk factor. If I'm honest I really couldn't recommend a 30+ lb 20-inch wheeled bike with 2.5 inches of travel for such terrain.
Nonetheless, I made it through and totally enjoyed it.


Thanks again to Dave and everybody else who made this happen (and esp the mtbr T.I.T.S. crew members, who always ensure a good time).
< previous story home next story >
---
HOME TRAVEL LOG MOUNTAIN BIKING WINDSURFING STORY ARCHIVES RV INFO PHOTOS CONTACT US
---