---


HOME TRAVEL LOG MOUNTAIN BIKING WINDSURFING STORY ARCHIVES RV INFO PHOTOS CONTACT US
---
< previous story home next story >
Buffalo Creek: "To the Wildernesses and (not) Beyond!"
Pine Grove, Colorado
October 21, 2012
This ride report was originally posted on the mtbr CO forum: here
I've been curious for a while to discover exactly what happens at the dead ends at the Wilderness Boundaries on the far side of the Buffalo Creek map, so last Sunday I decided to find out.




I arrived and found the "new" parking lot off 543 was jam packed with cars and teeming with mountain bikers, but I managed to wedge my car into a space that may or may not have been an actual space.

Enjoyed the usual few discussions about "what's with that weird car?" and "what's with that weird bike?" and was pedaling by 11am.

My route was going to be a weird one too. Started off with a long, steady, climb of about 2000 feet in 11 miles on dirt roads 543 to 550 to quickly (relatively speaking) reach the far western reaches.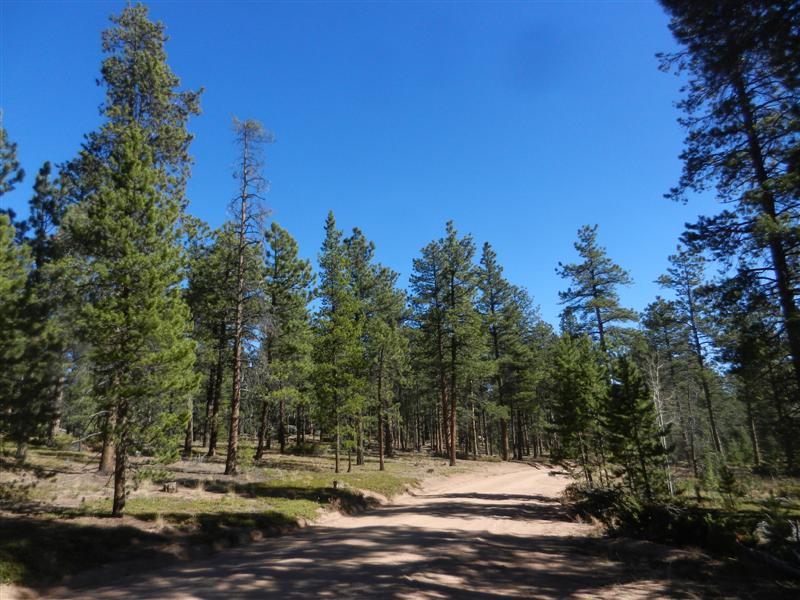 Was an absolutely perfect day for a big ride. True bluebird sky if there ever was and a bit of fall color still:



Signage at the Rolling Creek TH described the options, both leading into Wilderness: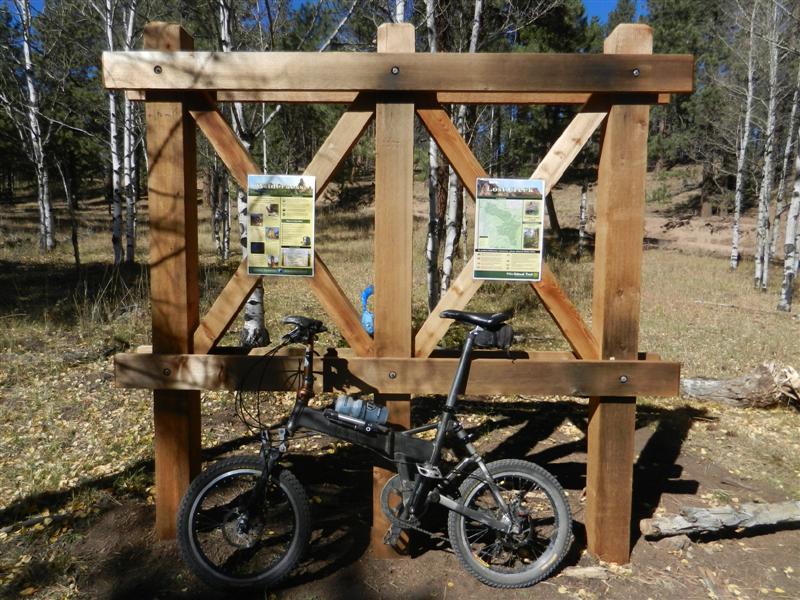 First up was an out and back to the south on the Rolling Creek trail. This sucker heads for the Castle formation and features numerous views thereof:



One of several creek crossings: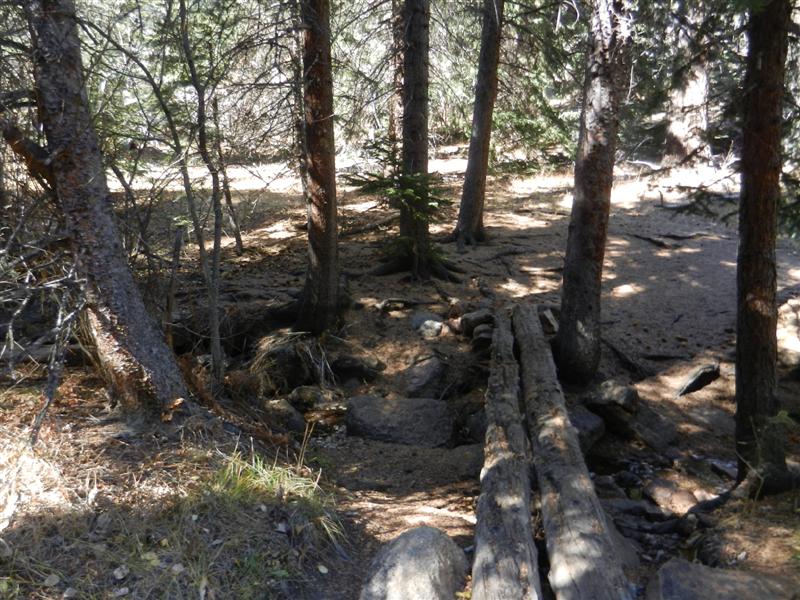 An awesome overlook:




Super dense, super narrow forest here and some nice singletrack: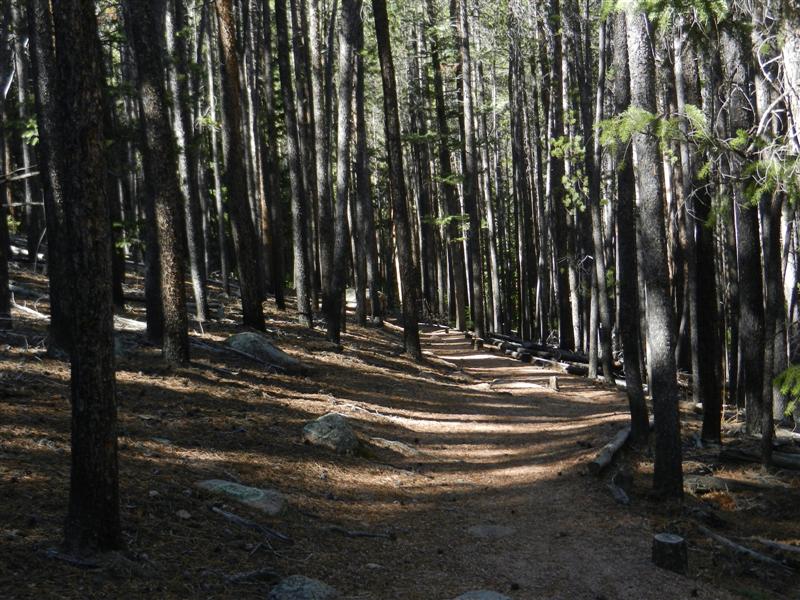 And finally, after a sweet descent and a short climb, the artificial boundary is reached beyond which no bikes shall ever pass: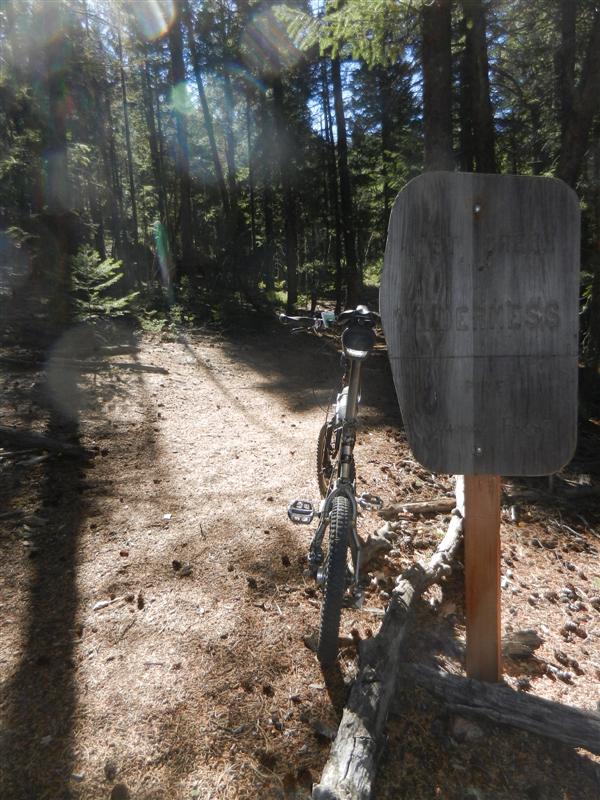 If only the law really said "motorized" not "mechanized"...



Retraced about 2.5 miles to the fork of the Y, and chatted up a couple of local hikers who were resting there.

I ate a Clif bar which I quipped came from the "engineered" food group. They exclaimed that I was the first "friendly" biker they'd ever met on the trails out there. This surprised me, but I explained it away by saying that, well, I was visiting from Texas.


Next up was the Colorado Trail which climbs moderately to the NW on nice singletrack: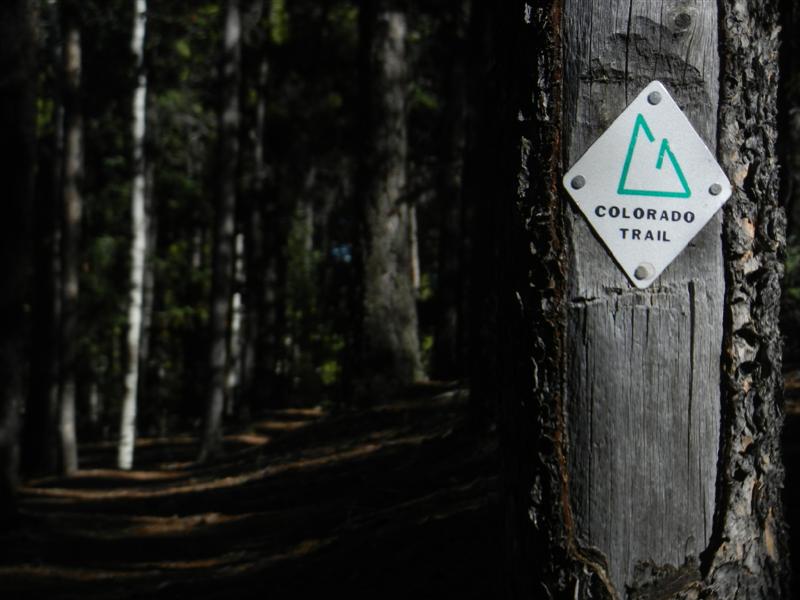 All too soon, the CT turns sharply back SW and joins a old (and steep!) logging road at this exceedingly well-marked intersection:



There were probably a half dozen deadfalls to clamber over between the two spurs. I don't think either of these see much bike traffic...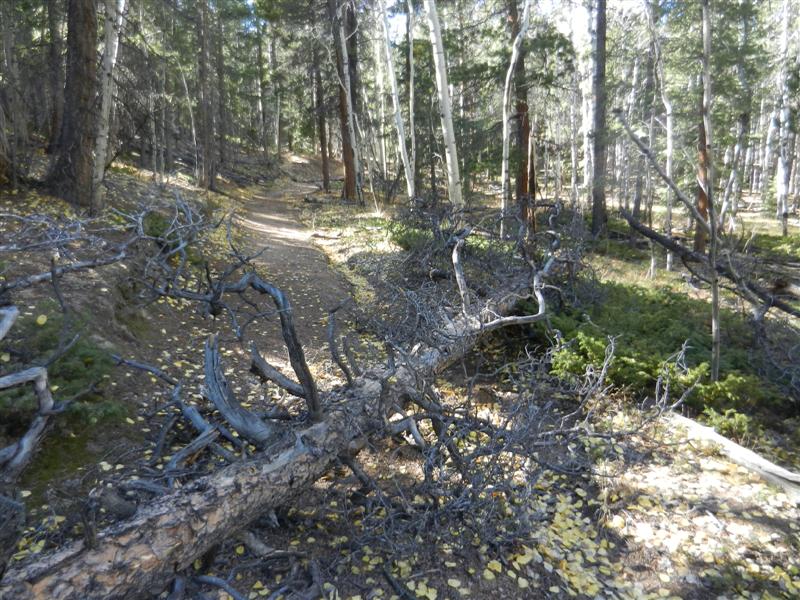 The widetrack was steep and jumbly and made for a kind of a bugger of a climb: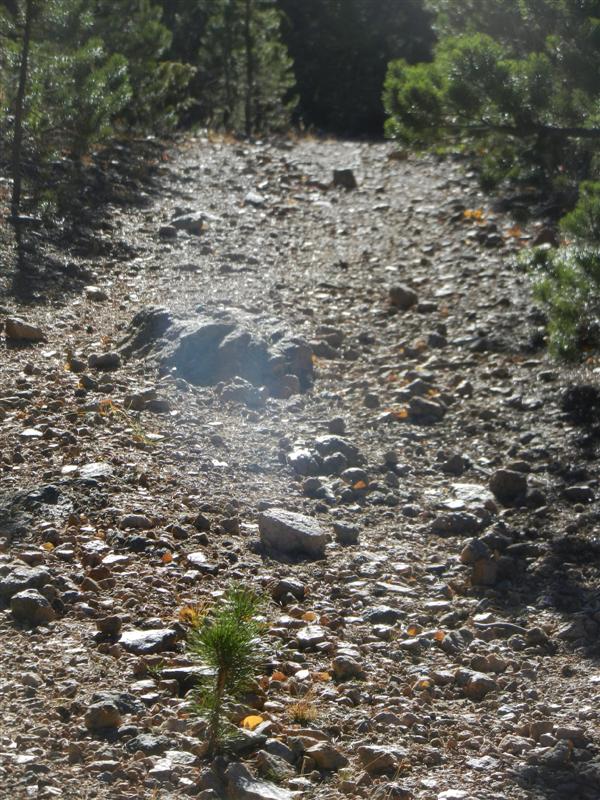 One good view along the way teased hope that there would be a big payoff at the top: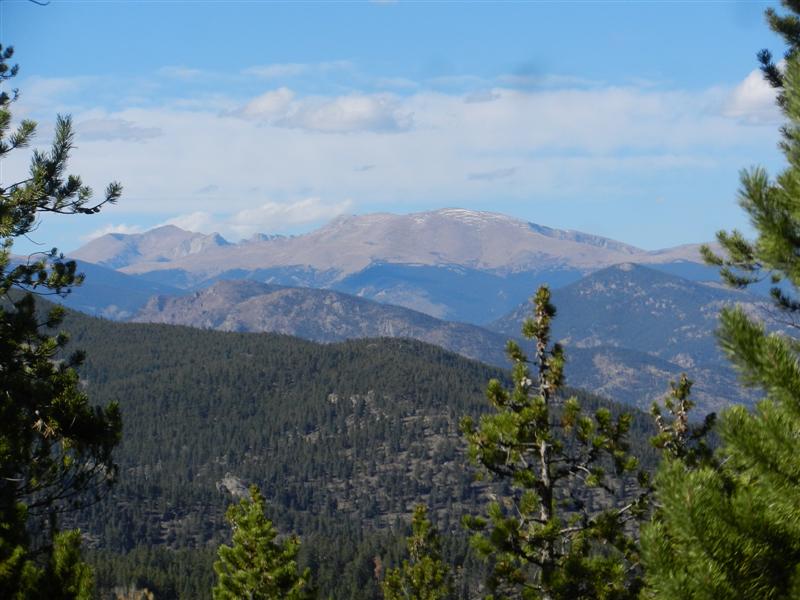 Unfortunately, the only reward was another of those dreaded Wilderness Boundary signs.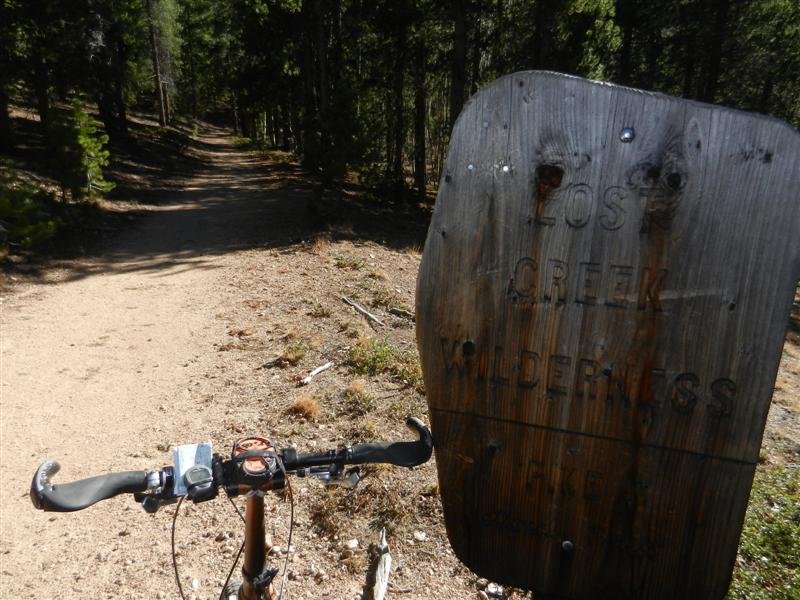 If I ever do this again or if recommending to others, I'd say just turn around when the singletrack hits the widetrack and skip that last little widetrack climb unless you're a real purist. No real payoff for something like 500 ft of hard vert work.

However I totally enjoyed the rest of the CT from the overly-signed junction all the way back to and including Redskin Creek to the north. Made for about 5 miles of almost-all-downhill classic CT singletrack goodness!

My other goal for the day was to explore Raspberry Ridge and Blackjack, both new trails to me. Of course to get there I had to first climb Gashouse, which was a bit longer and harder than I remembered. But then again, I'm not usually already 25 miles into the ride when I start it either...



The always sweet Charlie's Cutoff descent led me to the start of Raspberry Ridge: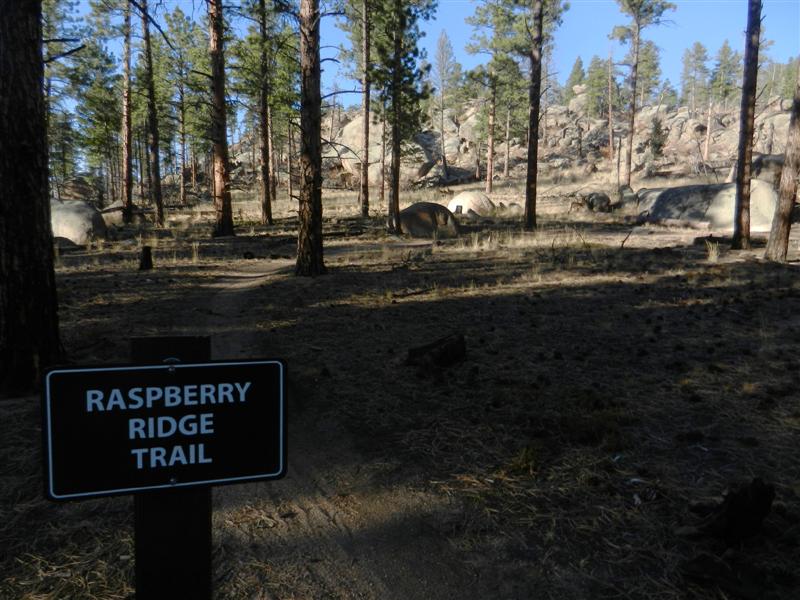 Starts out easy enough, but quickly enters a wonderful world of crazily angled rock that reminds more of Curt Gowdy or even Moab than the Front Range: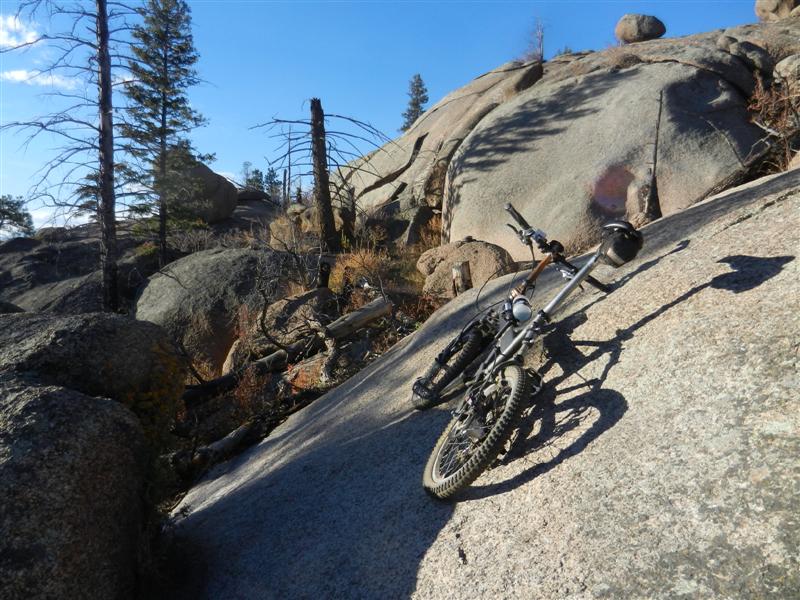 All sorts of nasty slots and chutes to hurt yourself on.



Grippy and beautiful stuff: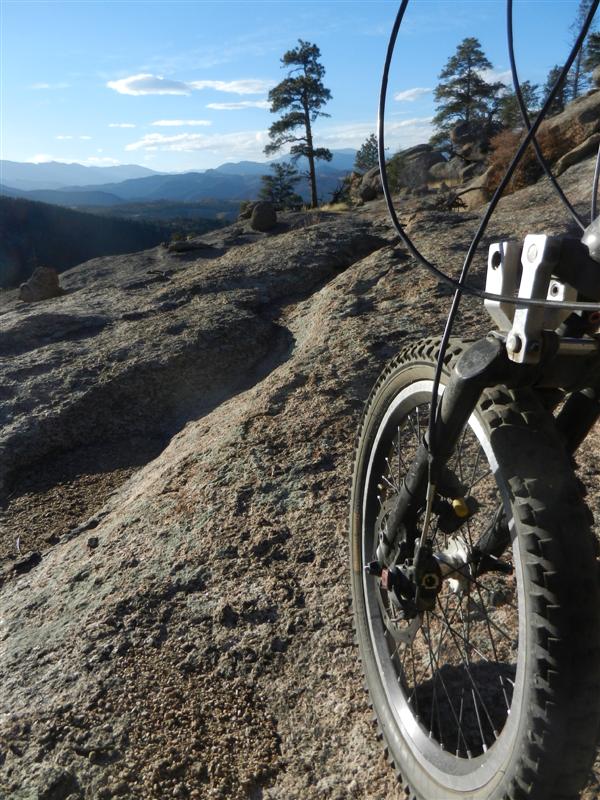 Eventually you reach a three-way intersection with Blackjack, which was unexpected because the map shows Raspberry just turning into Blackjack: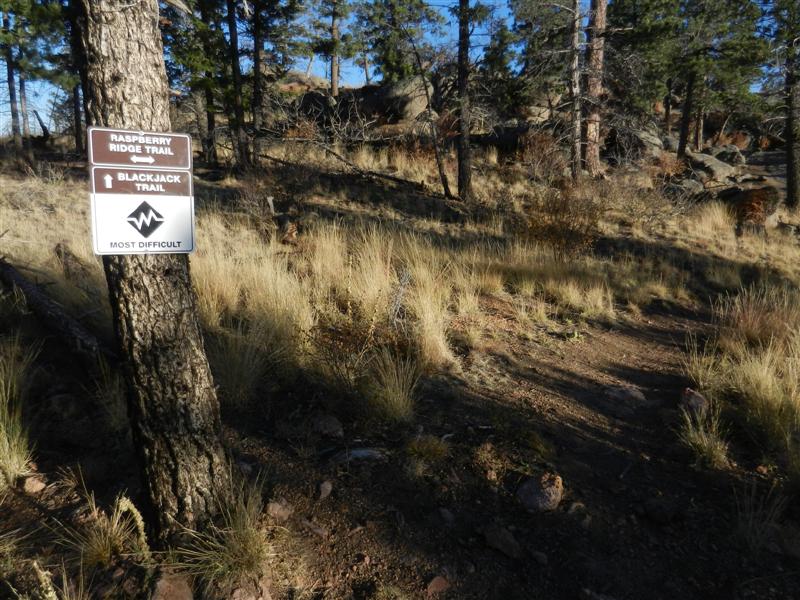 Turns out the Raspberry Ridge trail just continues a little bit further to this fine overlook:



I went a short way down the infamous Blackjack just to get a taste. Wasn't planning to actually exit that way because I knew I would just walk most of the "fun" stuff anyway on my little bike, especially solo nearing the end of a long day, but it was interesting to see.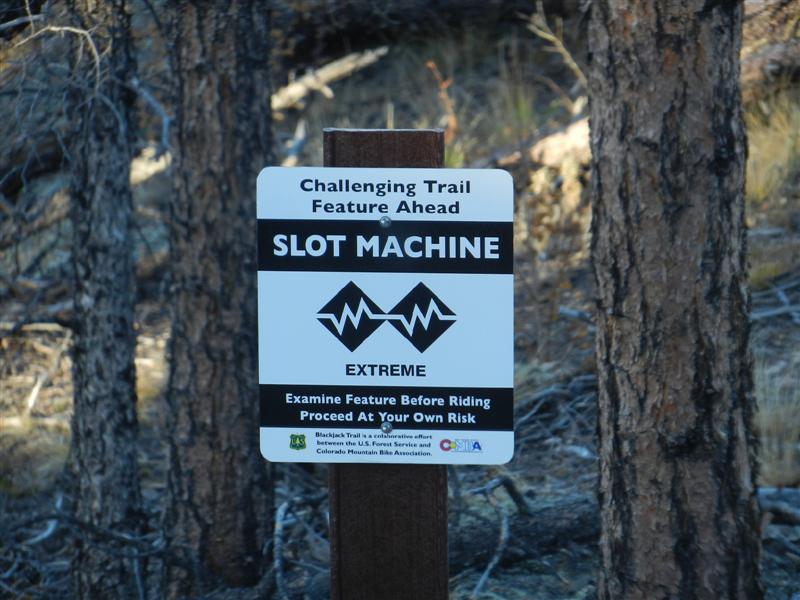 The Slot Machine drop--steeper than it looks, of course!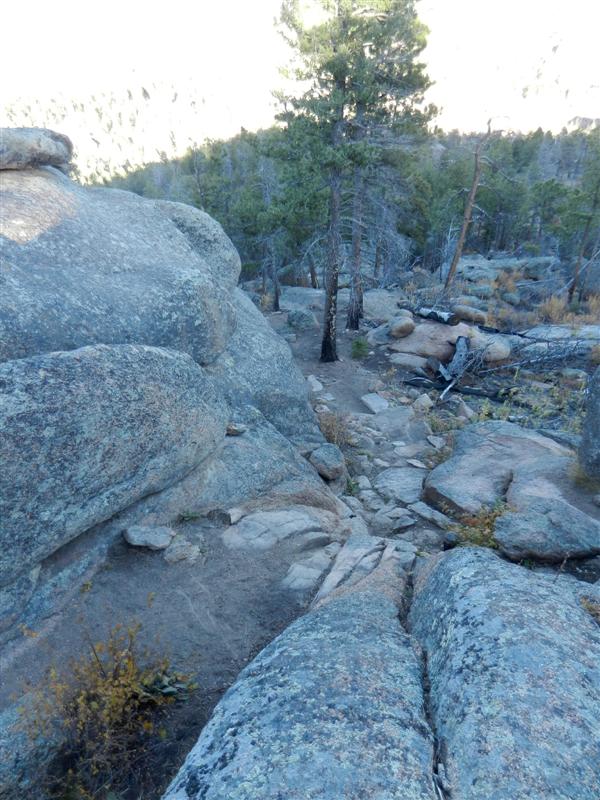 I did however ride much of the Raspberry Ridge descent, which was pretty awesome in itself. Got flummoxed by a few steep and/or nasty bits but that trail would be a lot of fun to repeat and eventually master.

With the sun getting low, I finished out with the mandatory epic fun descent of Homestead to Sandy Wash. Whooop!

Regained the parking lot and found a LOT fewer cars than there had been 7 hours before.




Chatted with the one couple left who had just finished their ride. The wife was stoked about her first dirt ride at BC ever--just a short out and back on 543 but she'd found it very scenic and fun. We commiserated about the "squidigy" BC surface texture. Hey lady, just wait until you get to hit Sandy Wash at speed one day. Then you'll know squidigy! Ha!


Computer showed right at 38 miles and 5 hours moving time for this ride with an unknown but more-than-ample amount of climbing and descending (let's call it 3700 ft).. Felt surprisingly whipped considering the relatively low elevation, but I'd discovered a few new things and had just an awesome day out.


< previous story home next story >
---
HOME TRAVEL LOG MOUNTAIN BIKING WINDSURFING STORY ARCHIVES RV INFO PHOTOS CONTACT US
---