---


HOME TRAVEL LOG MOUNTAIN BIKING WINDSURFING STORY ARCHIVES RV INFO PHOTOS CONTACT US
---
< previous story home next story >
2013 Chihuahuan Desert Bike Fest in the Big Bend
Lajitas, Texas
February 13 - 18, 2013
Road trip to the Third Annual Chihuahuan Desert Bike Fest, whose official website with details about the various rides and activities (and lots of pictures too!) is here.
(see also my writeup about the First Annual Bike Fest in 2011: here )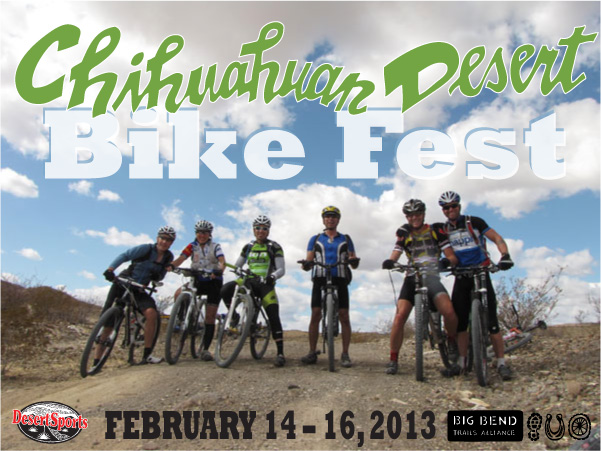 Wednesday: Travel from Austin to Lajitas
Plan was to leave Todd's house bright and early and maybe get in a twilight ride in Lajitas that afternoon. Spent quite a while cramming enough gear for a medium-sized Everest expedition into and onto the trusty Subaru. "Yep, that's not going anywhere. Let's go!"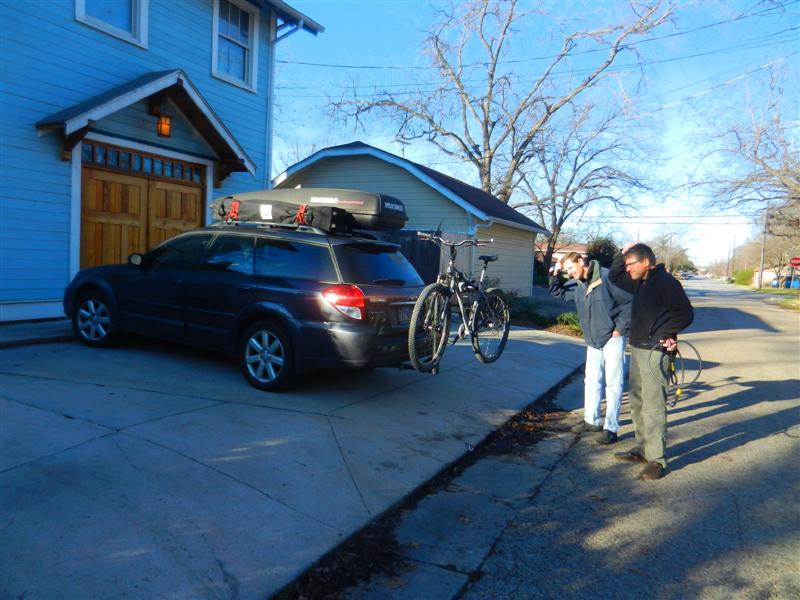 After a mere 500 miles and a few stops to finish some dreaded "computer work", we eventually left the civilized world behind and arrived in Lajitas just in time to set up camp at Maverick Ranch before dark. Settled in for the first of four chilly but beautiful nights in the desert.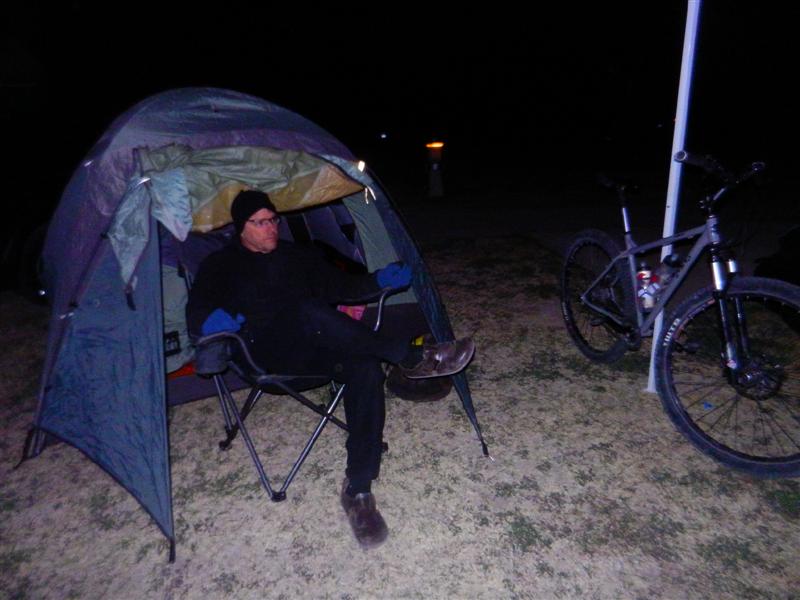 Thursday: Old Ore Road, Big Bend National Park, Dagger Flats TH

Camp as seen the next morning. A temperature in the mid 30s made for a bit of a slow start to the day, but it was certain to warm up nicely by the afternoon: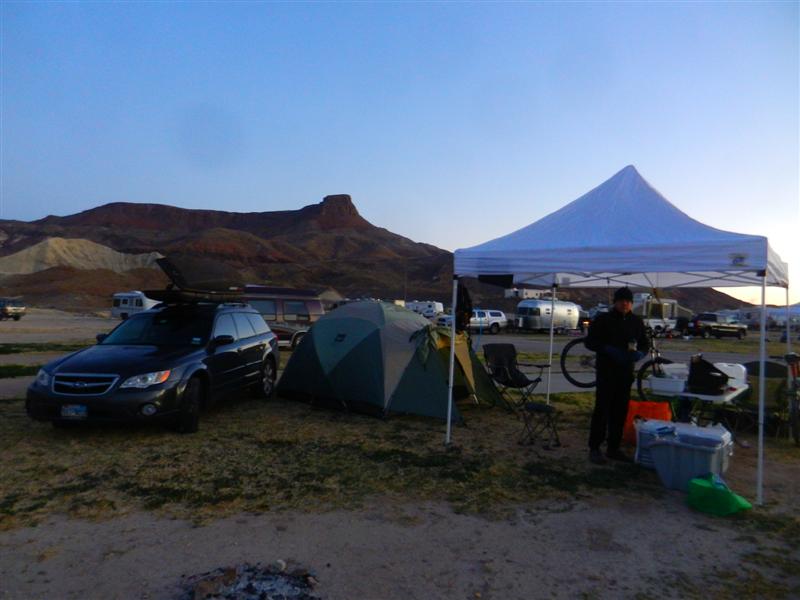 We drove into Big Bend National Park to the Dagger Flats trailhead, where volunteers were waiting to shuttle riders' vehicles to the endpoint at the Hot Springs--just part of what makes this festival so great. Thanks guys! We started a bit later than most, around 10:30a, but we weren't quite the last ones to set off so all was groovy:

Todd made it barely 10 minutes before suffering a mechanical. Darn singlespeeds. So many things to go wrong on 'em. ;)

After a minor adjustment and vigorous re-tightening of the rear quick-release, we got to cranking hard and were soon catching up with small groups of other riders: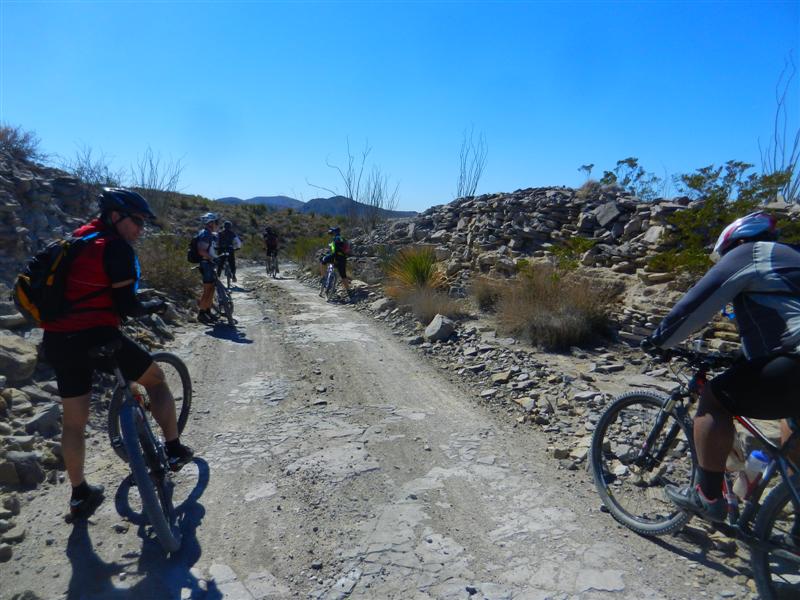 Little wheels, big wheels, all good!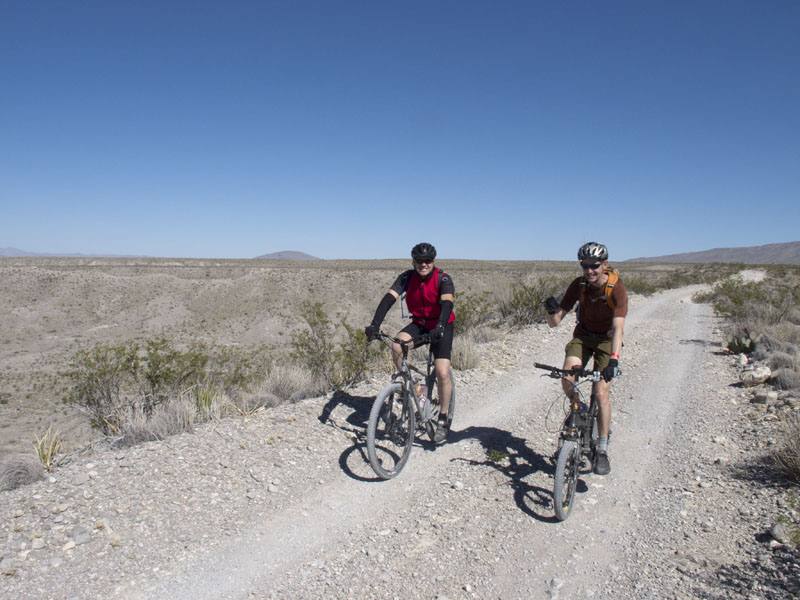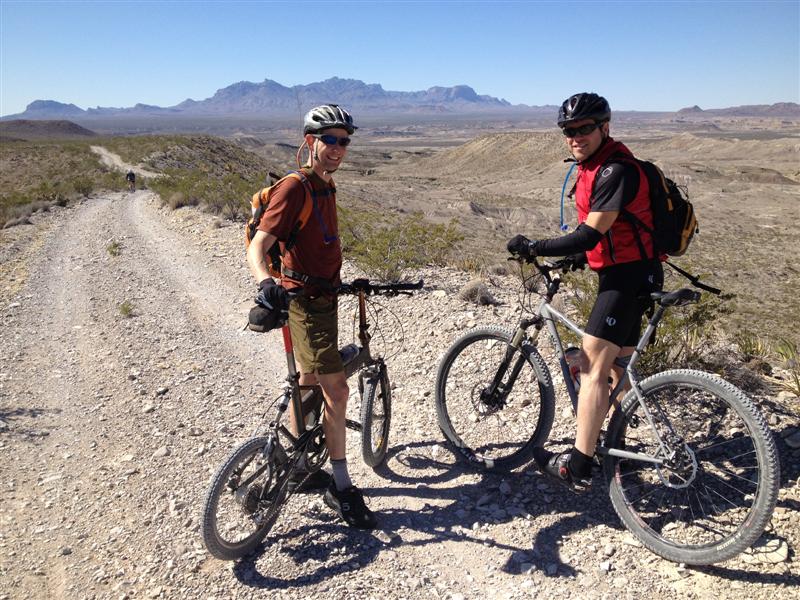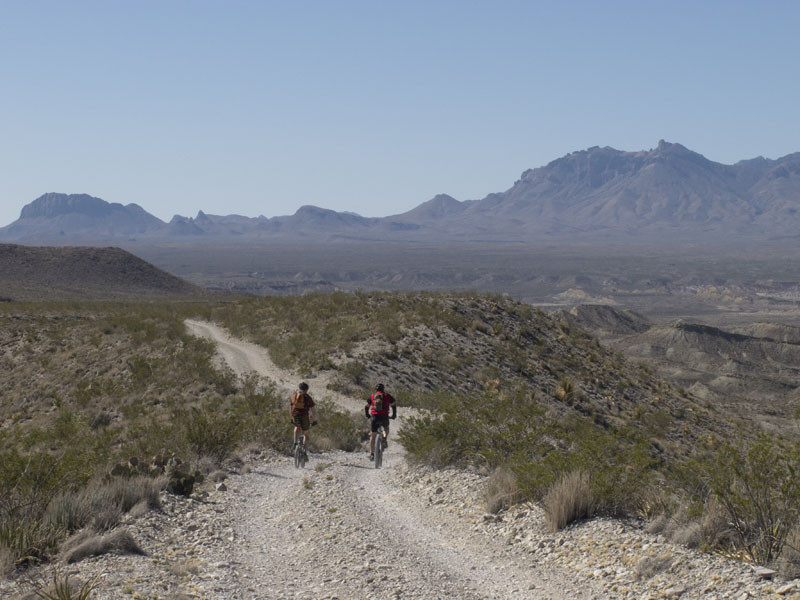 Austin's own Mountain Bike Hall-of-Famer Hill Abell and wife Laura shared a single pair of wheels on their super awesome Co-Motion Cycles tandem: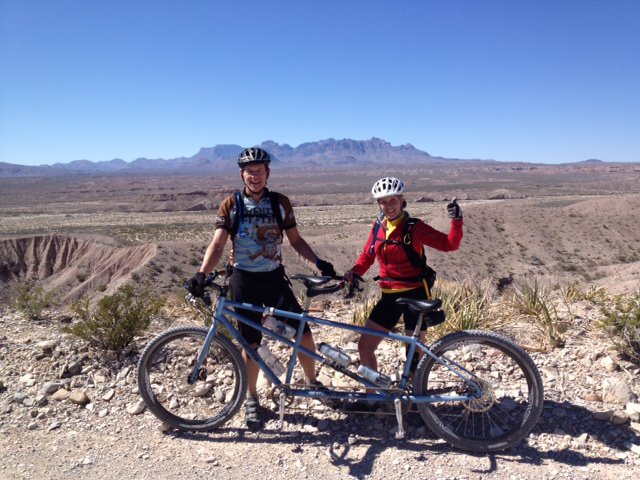 Todd mashed hard and steamed up climbs like a locomotive, but was kept in check by his single gear on the flats. The BIG views and BIG open spaces provided BIG inspiration!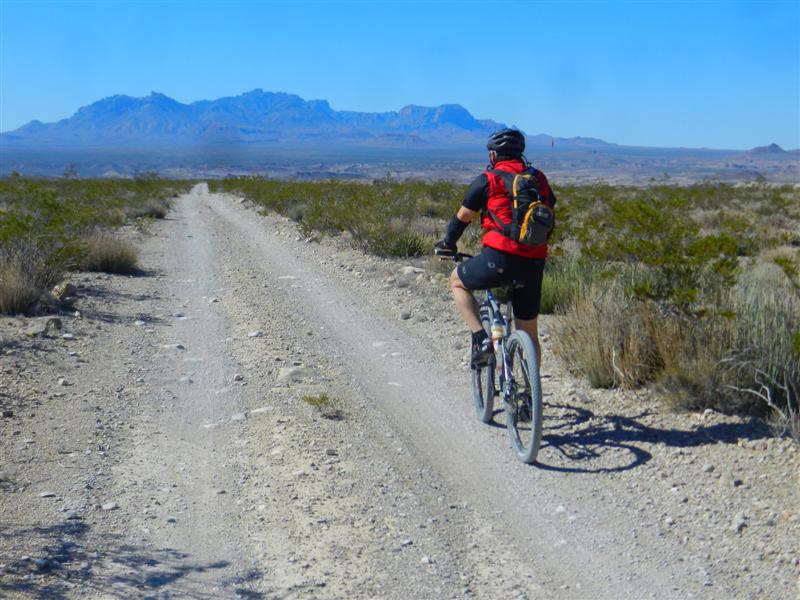 Carey on the other hand enjoyed having a granny ring for the climbs. The option to crawl up at 3.0 mph just gives more time to savor the great views, eh?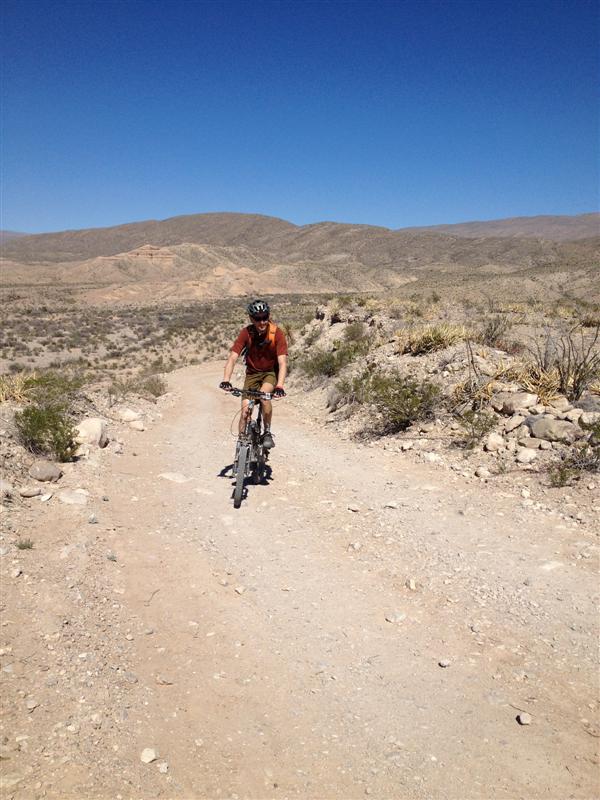 At least Todd had the decency to still be breathing hard every now and then when I arrived at the top of climbs: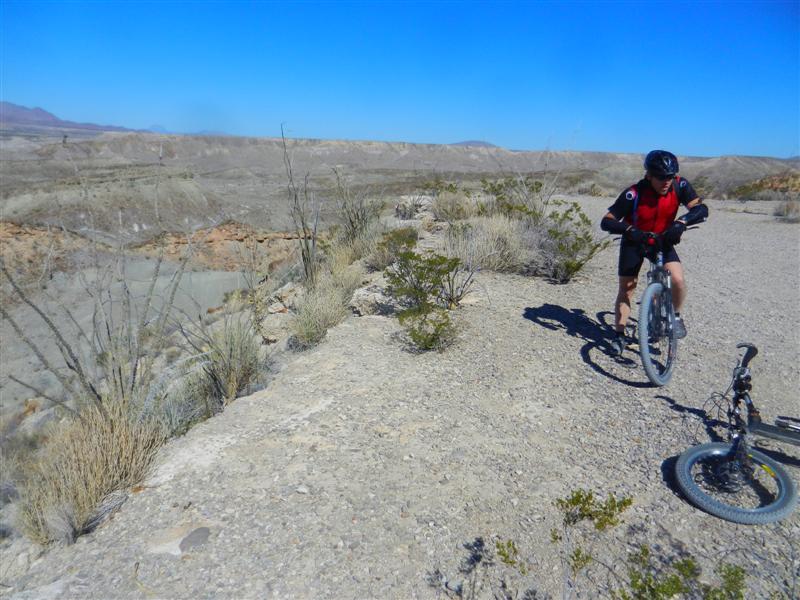 Several National Park Rangers got the opportunity to join the ride for the day. Cool job if you can get it:

A good time was had by all!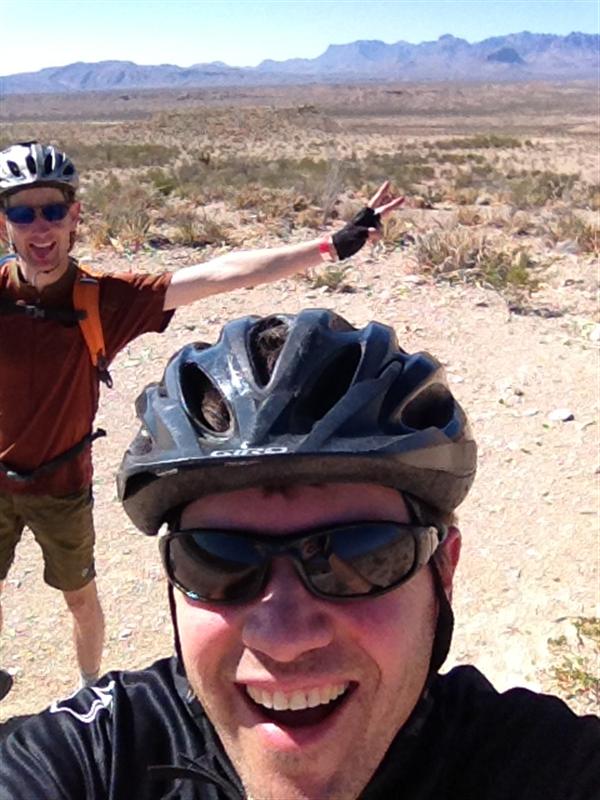 Around 3 pm we finally made it to the Hot Springs. This innocuous-sounding "30 mile but net downhill" shuttle ride left both of us feeling unexpectedly cooked and wondering if we were crazy to think we could finish the IMBA Epic two days later--a ride with twice the mileage and four times the climbing. We hoped it was just the heat and the relentless headwind (and trying to keep pace with that darn tandem!) that had worn us down today, and that we weren't actually as scarily under-trained as we felt.
My camera died during this ride (and not just temporarily dead--it's properly DEAD) so I have no pics to share from the Hot Springs. However that's probably not such a bad thing for you, gentle reader, because a bunch of sweaty (mostly) dudes in a natural hot tub is probably not something you'd really want to see anyway. ;) I can report that Todd, as he waded into the cool river seemingly bound for Mexico, did earn at least one catcall though. Apparently in response to his trademark hole in the backside of his bike shorts: "Whoa! Come on man, cover that junk up!!"
Friday: Lajitas Resort Trail System
Another of the huge attractions of this festival is the Specialized demo trailer. Unlike most bike demos where you might get an hour on a bike if you're lucky, with this one they'll let you keep whichever fancy bike you like for a whole day if you want. Just awesome and super appreciated deal by Specialized. So thanks again to them for showing up to this thing every year!
Friday morning I waited patiently at the end of the line so as to not hog a bike that day if somebody else wanted it, because what I really wanted was to make sure I could arrange a 29er on Saturday's epic ride. Much to my surprise and delight, the bike I wanted all along ended up being one of the last two bikes on the rack Friday morning, and Aaron the Specialized dude was cool with me taking it for both days since nobody else seemed to want it anyway for Friday.
So what was this crummy leftover bike that nobody else had wanted? Well, just some lousy red hardtail... one that I could lift with one finger...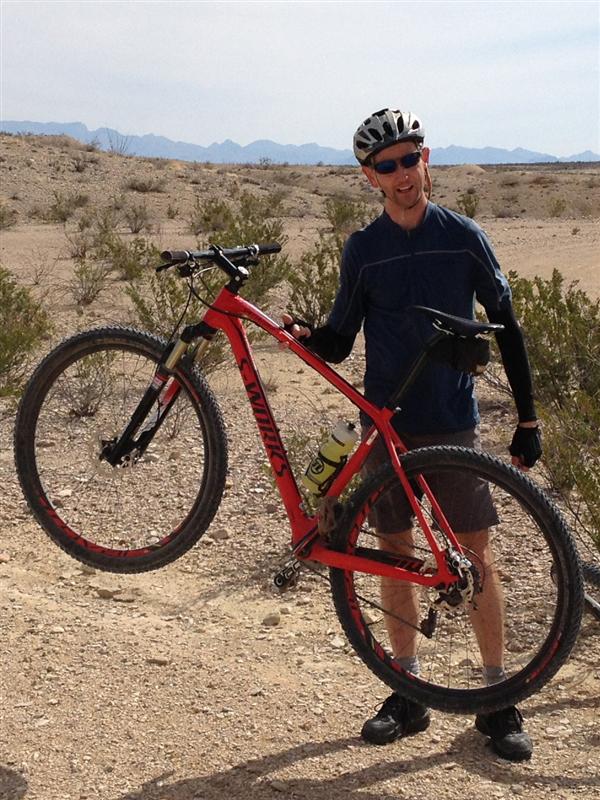 In particular, it was a S-Works Stumpjumper Carbon 29 XTR, a pure race bike with virtually everything made of carbon fiber (even including the wheels). Naturally all that carbon makes the bike super light (about 19 lbs, stock) which helps it go like an absolute bat out of hell even with a stick figure like me pedaling it. Of course all that carbon leaves your wallet super light too ($7500 lighter). Yikes! Good thing this one was free. :)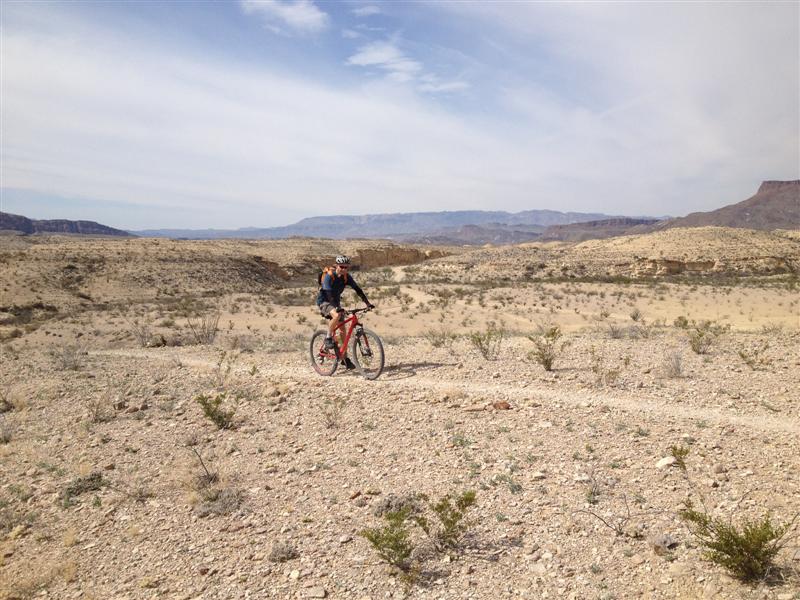 Just as he had predicted, this is the view Todd had of me much of Saturday, as the geared 29er cheater bike let me outpace the mighty singlespeeder for a change. Clicking up to the big ring on this thing felt like engaging warp drive. Genuinely breathtaking acceleration, and just super fun on the fast, smooth, swoopy trails of the Lajitas Resort network: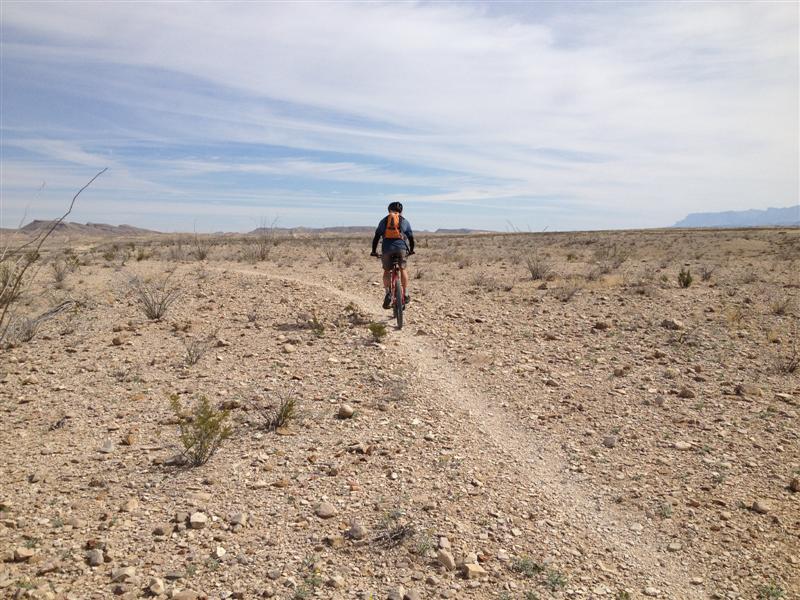 Todd takes a quick break to consume a mid-ride Torpedo (provides both carbs and confidence in a tasty, canned liquid format).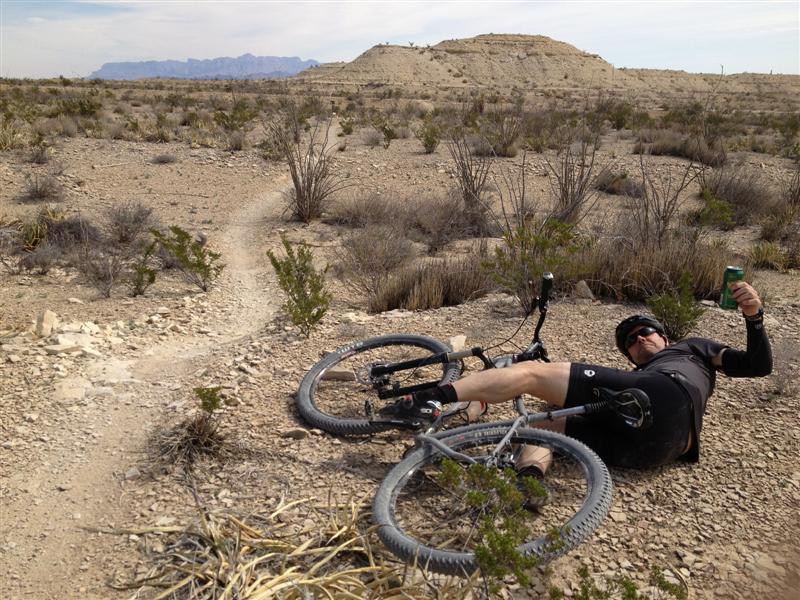 Good angle to savor some views too: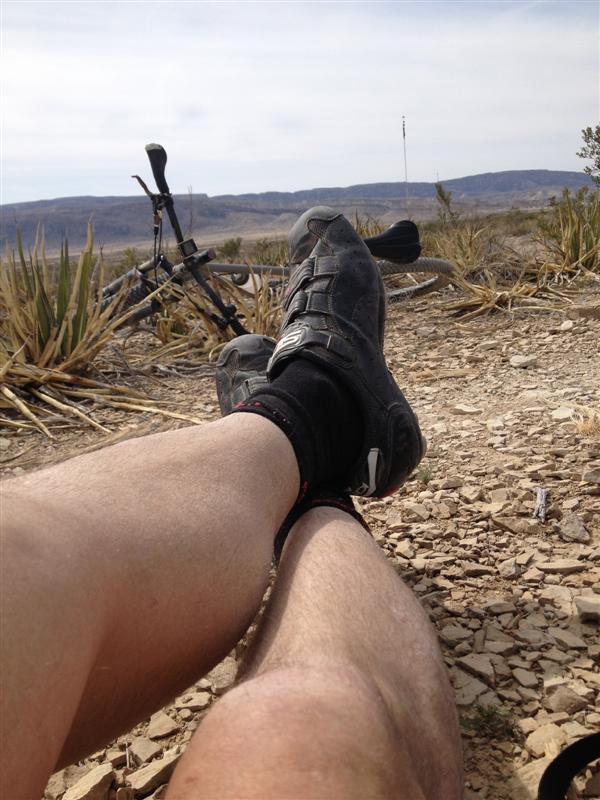 Torpedos for all!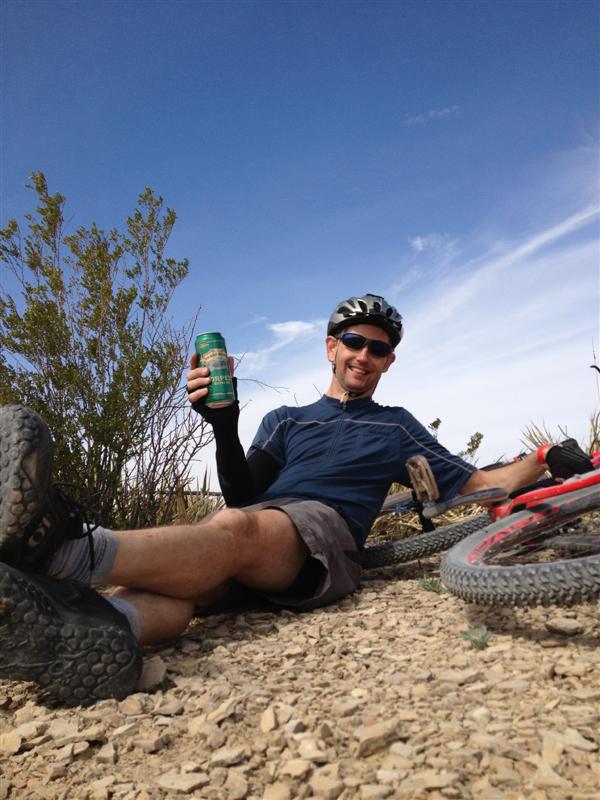 Mmmmmmmmmmmmmmmmmm: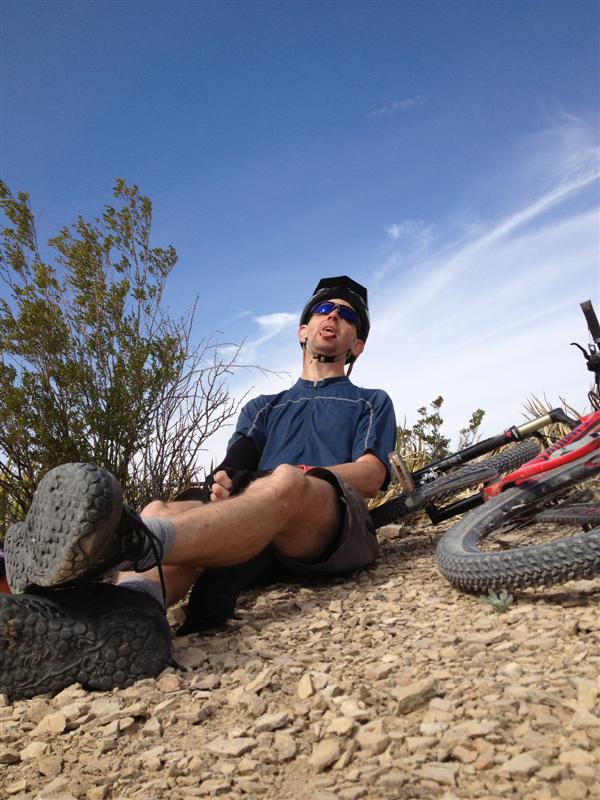 Obligatory art shot: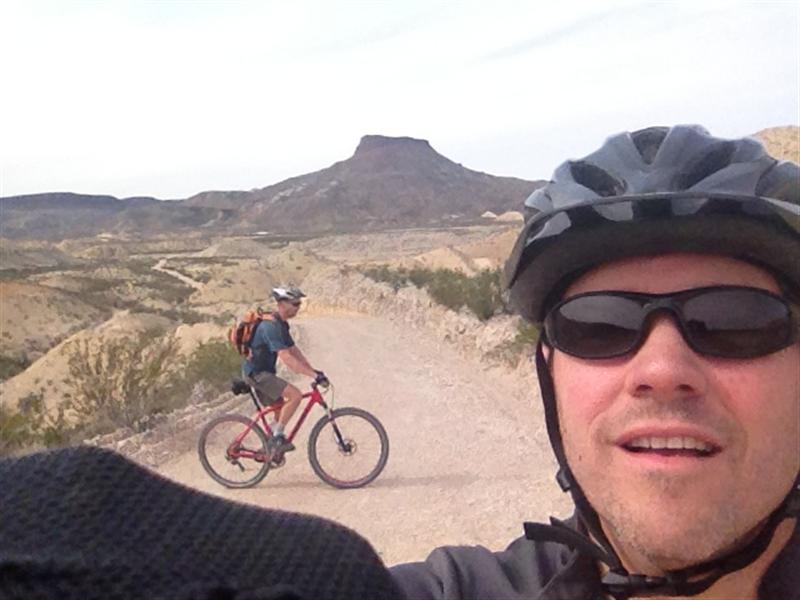 The carbon wunderbike with the big hoops boosted Carey's climbing speed dramatically up steep grinds, to an estimated 4.0 mph versus the usual 3.0 mph on the Dahon. Woo hoo!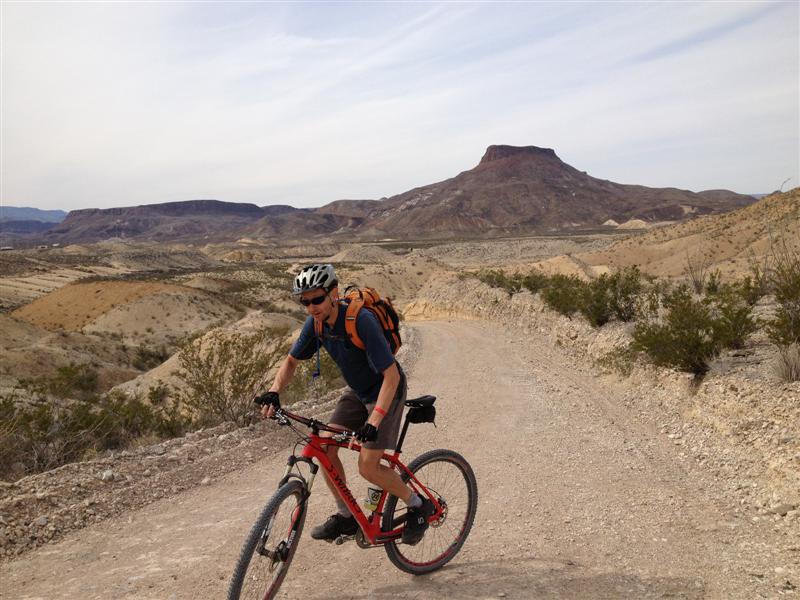 No more ride pics from today because we were having too much fun on the screaming descent involving Trails 3, 2, 1 and several offshoots, made even more fun by a slight tailwind (finally!). Suffice to say the Torpedos were damned effective and we invoked full speed ahead on the blast home, reveling in all the fantastic whoops and jumps and carvy turns. The usual crowd to hang out and enjoy the sunset with afterwards too, of course.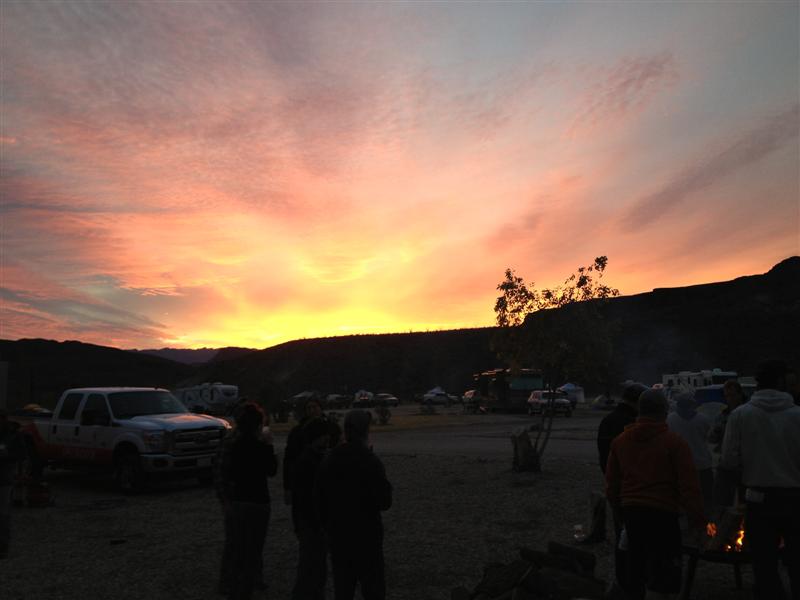 Saturday: Big Bend Ranch State Park, Fresno-Sauceda IMBA Epic Loop
Ever since Todd and Bob conquered this big ride two years ago at the first annual festival on rigid singlespeeds, I'd wanted to come back one day and conquer this beast myself somehow. Back then I chose to pass on attempting the "epic" on my 20-inch bike, because I knew it would make a very hard ride into an extremely hard ride, and I'd certainly be well behind the group by the end and I didn't want to be That Guy.
So being able to borrow the 29er from Specialized this year was key to letting me finally take this 62 mile beast of a ride on.
Todd and I started about 7:45a and had the trails to ourselves for quite a glorious while, getting a slight jump on the main group which was scheduled to leave at 8:00a. Eventually a pack of about 20 fast folks caught up, and we tagged along in their midst for a while.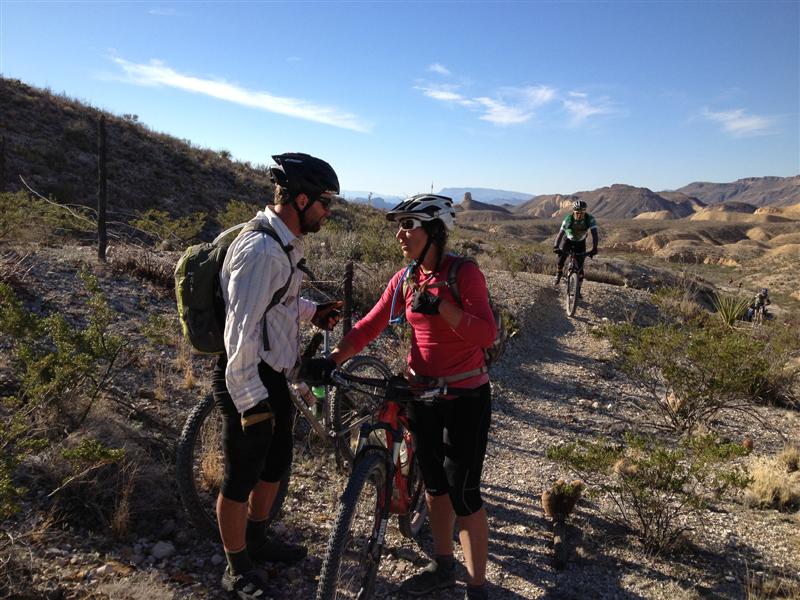 It was pretty cool to be on a fast enough bike to actually hang with a bunch of racer types for a change, even if not actually at the front of the pack, and only for a while. However this wasn't a race, and after maybe an hour both Todd and I let the fastest folks blaze on ahead, and settled back into a more relaxed pace and really savored this amazing place, instead of being focused on the riders ahead and behind us all the time.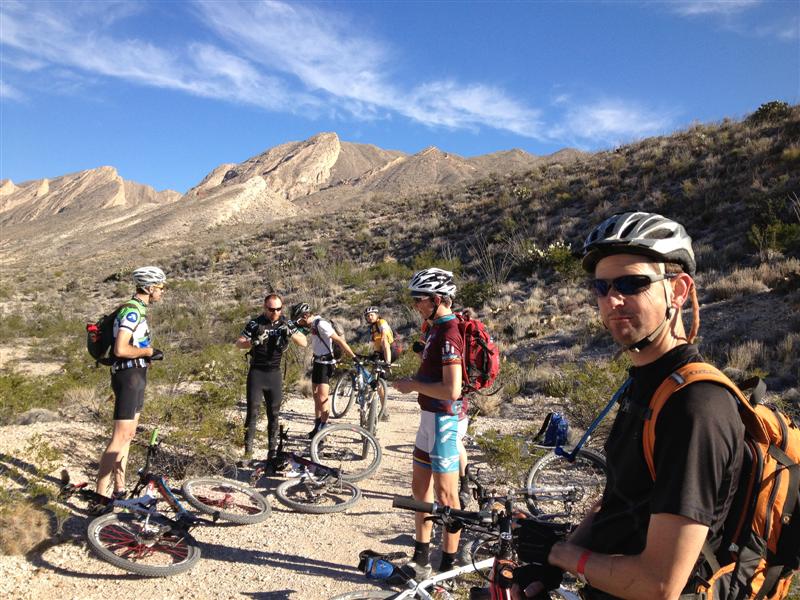 I pulled away from singlespeeding Todd on the long, new, super-sweet flattish section into the Sauceda ranger station, letting my 29er's carbon bits and gears and work their magic and just flying along. We both ended up doing most of that section solo, and both thought that solo traverse was absolutely magical and undoubtedly the highlight of the entire ride.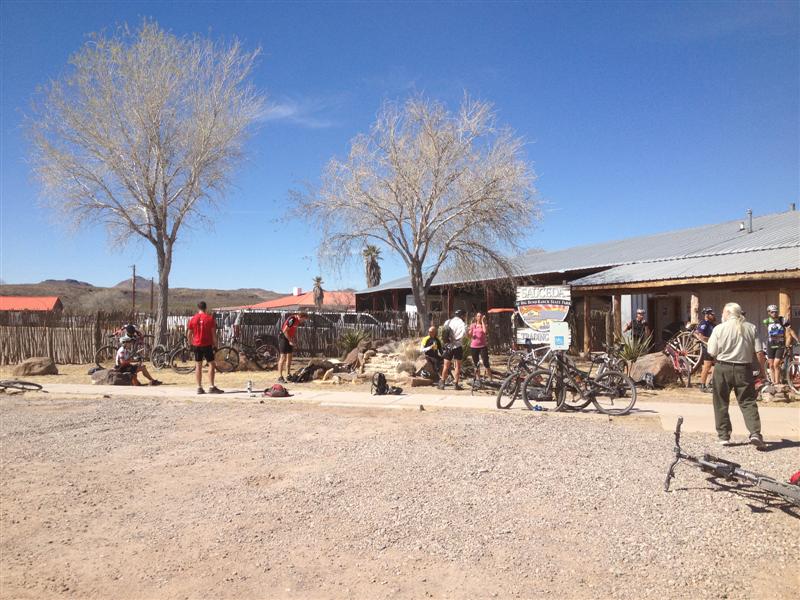 After a leisurely rest stop at the ranger station, we headed toward home, still many hours away but feeling okay. There were a couple of very sketchy loose descents along the way that demanded total attention and were the one part of the ride I would have preferred to have the full-suspension twin of this bike (which runs a cool $10k, apparently... seems like a lot for a rear shock, eh?).
We got into a surprising scrum with one particularly surly, overweight rider at one point, after I took a minor spill on a loose doubletrack in front of him and apparently spoiled his descent. "Momemtum's all I've got and you're in my way!" he bellowed, genuinely angry that I'd wiped out in his way. I couldn't believe he was serious and laughed it off, but apparently he was serious and gave Todd some flack about his skinny friend, and from there... man, it was on!
Todd had been dragging just a little, but now suitably inspired, he took to absolutely hammering along, leaving me gasping to keep up. Our roles had returned to normal, even despite my borrowed wunderbike. Yee ha! So we made excellent time through the wash sections (mercifully much shorter than two years ago courtesy of new singletrack bypasses built by the State Park folks) and finally separated from that big guy with the unfortunate attitude for good with about 10 miles to go.
Which permitted a truly excellent finish, hitting the marvelous benchcut section of the Dome loop and all the singletrack options down to the end.
By the time got to the campground, I could still lift the bike with a finger, but did look slightly crazed doing it.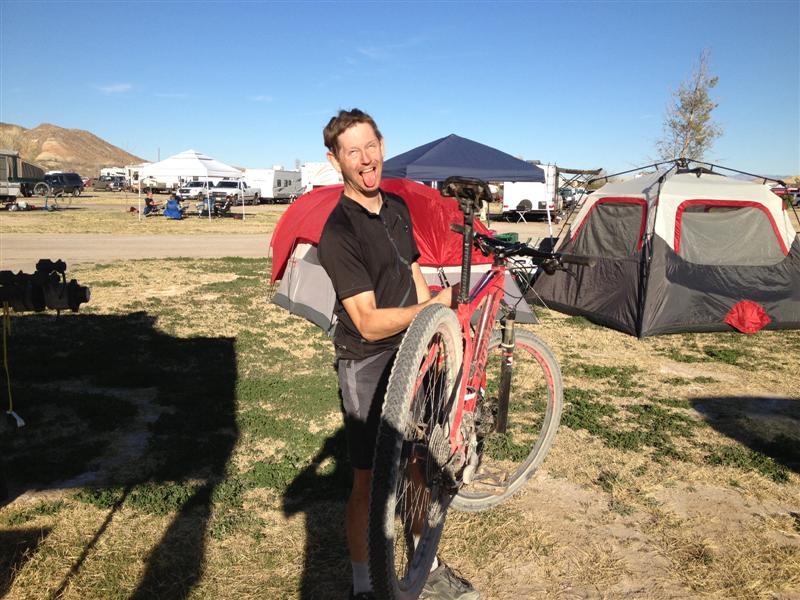 Fresh as daisies! Let's do it all again tomorrow! (well, maybe not quite all...)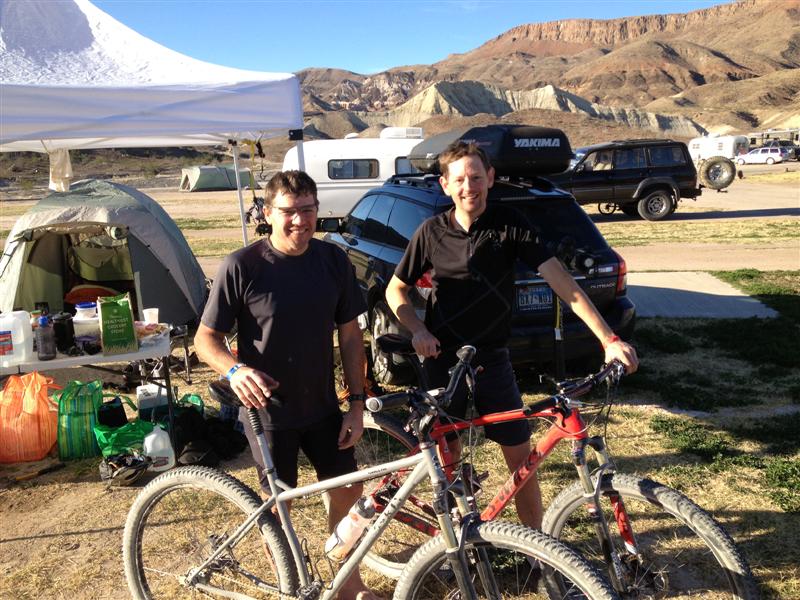 Plenty of interesting characters at the party afterwards: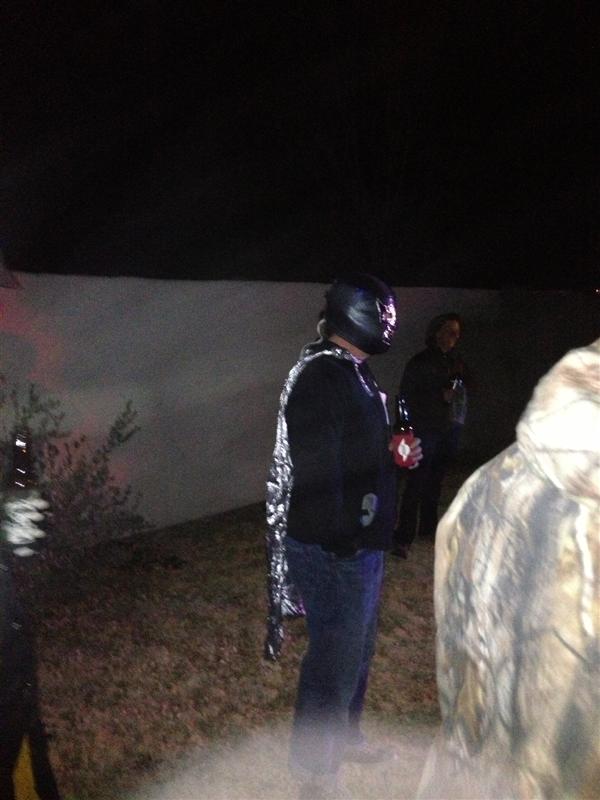 Blazing Unicorn?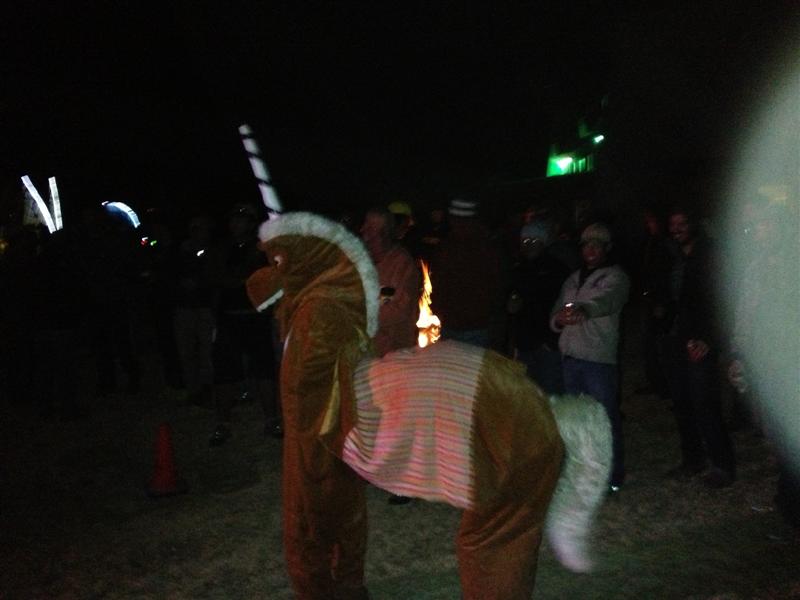 It was a truly great ride, and boy did we sleep well that night!


Sunday: Big Bend Ranch State Park, Contrabando Dome Loop
This was a bonus day for us after the festival officially closed and most folks headed home. I got back on my traditional folder and we took on the famous Dome Loop, the signature singletrack of the state park.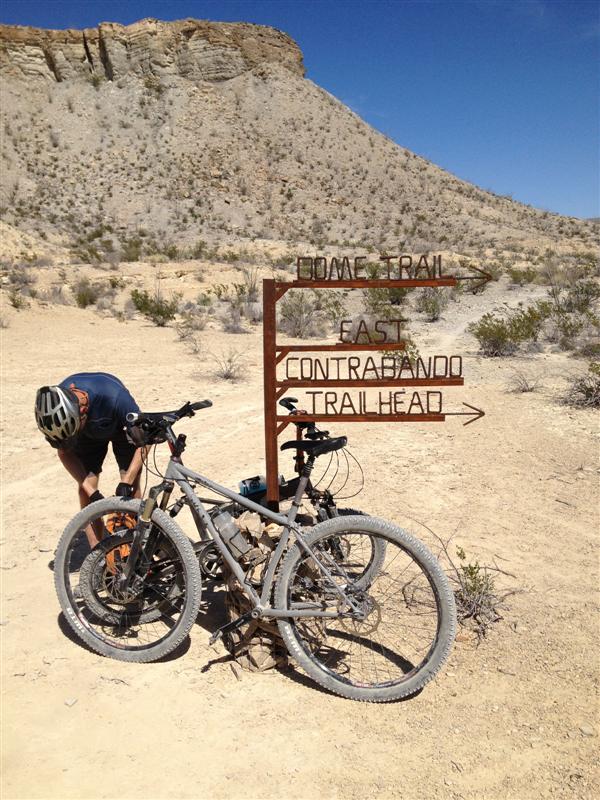 Zooming along, albeit just a tad slower than the last couple of days:
Just happy to be out riding: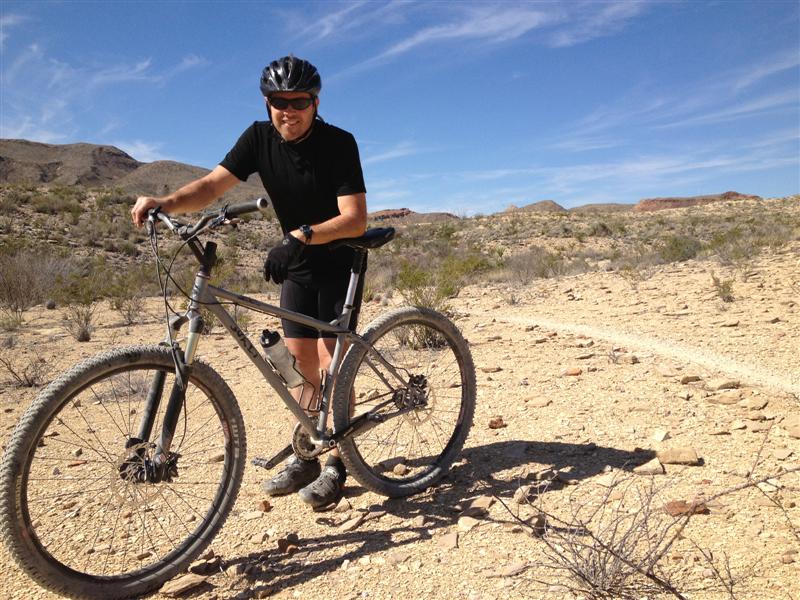 Power to the people!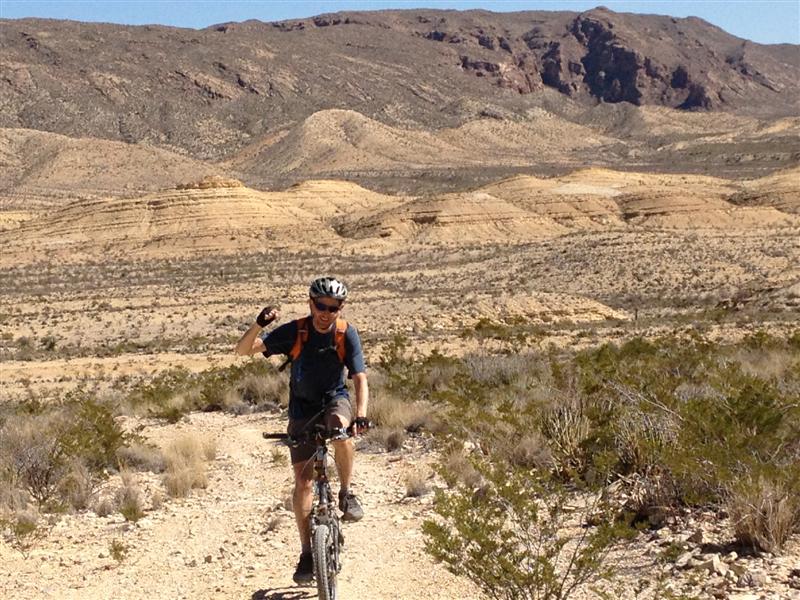 Todd poses with a very nice Rock House in the background: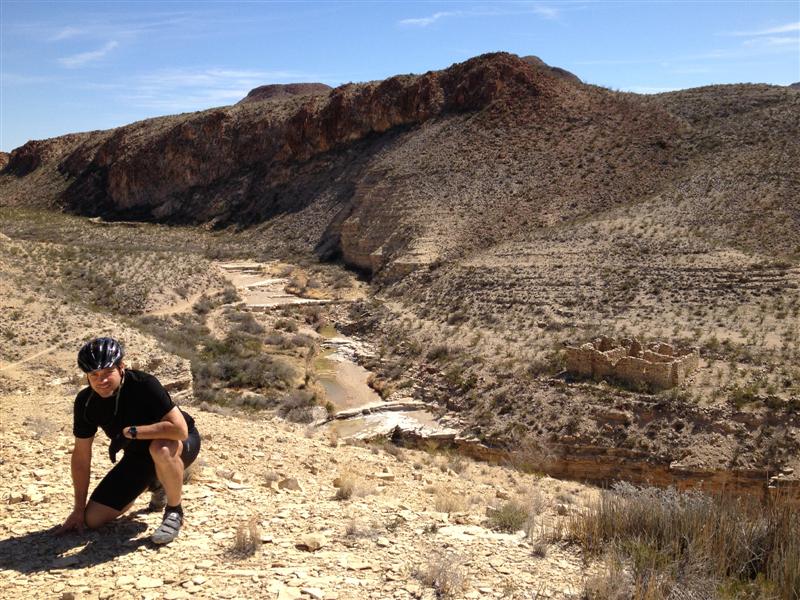 Mexico, yonder: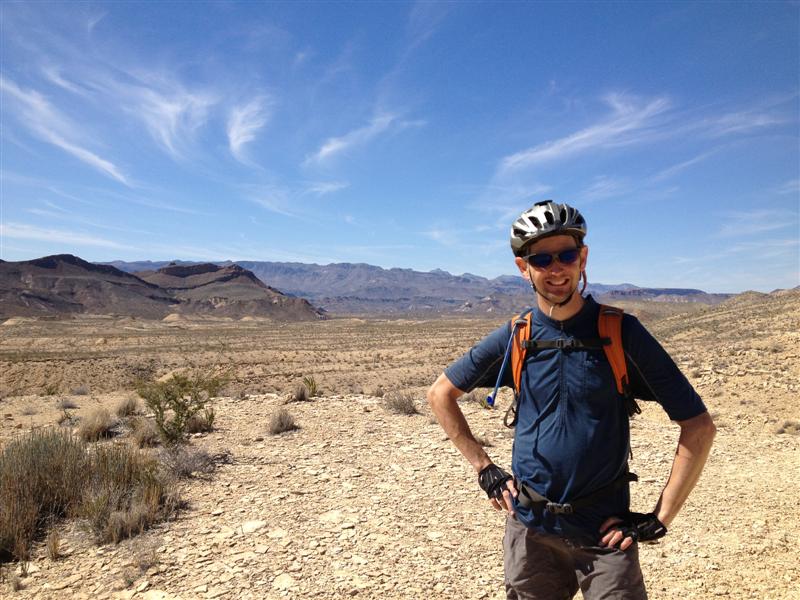 More Torpedo deployments in the desert: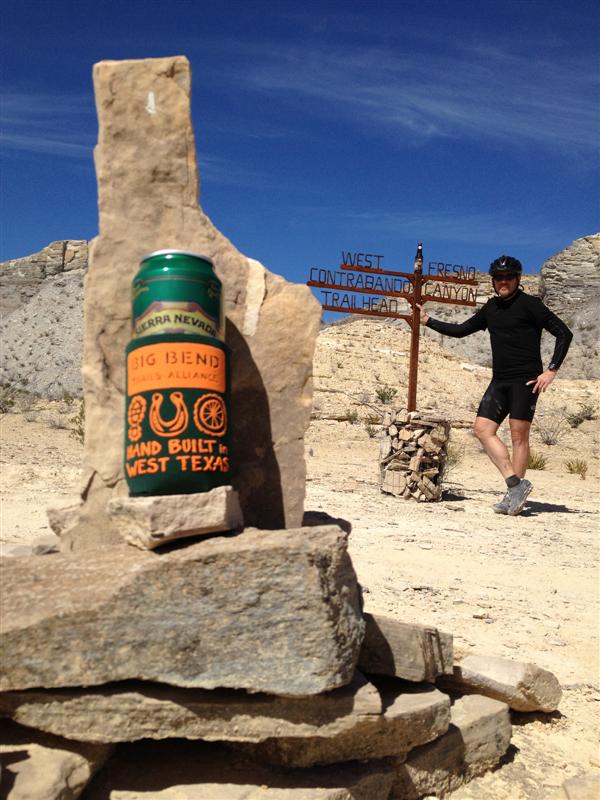 Hanging out on the porch, we chatted with some riders from Salida, CO who were down here taking a little break from winter in their mountain playground: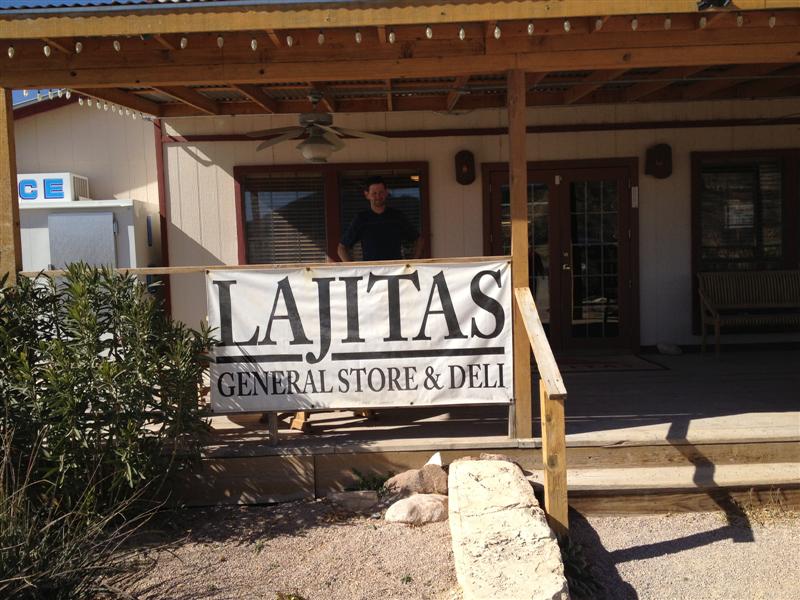 Epic hairdo: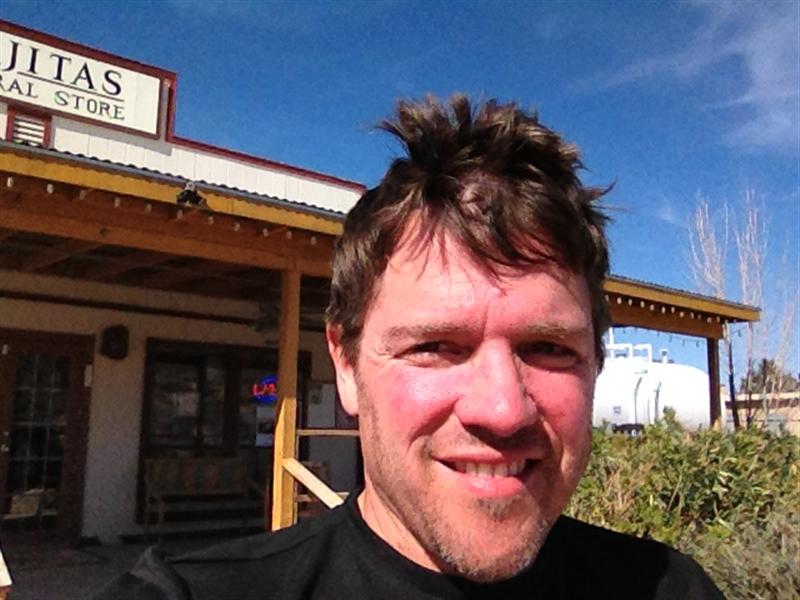 We hit the unexpectedly-open Starlight Theater in the Terlingua Ghost Town for a relaxed Sunday dinner, and lucked into a fantastic live performance by J. Michael Combs ("Steetsinger, Citizen, Revolutionary") who proved to be almost as good on the guitar as Todd, but even more entertaining. ;)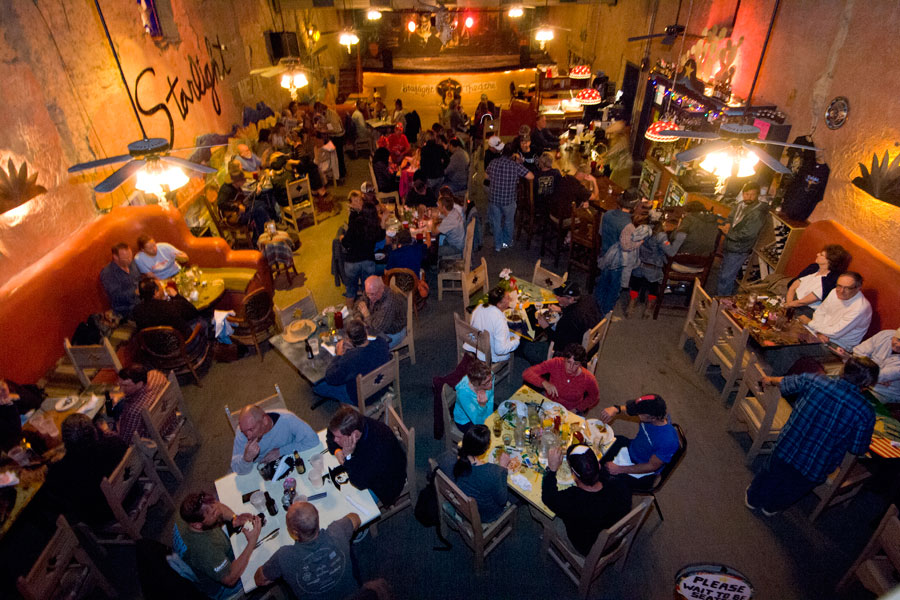 Monday: Return Trip

Just driving along enjoying the empty two lane highway toward Alpine, a strange noise suddenly appeared. A quick glance in the rearview showed a disturbing lack of bikeness out back. Whoops! Turns out Todd's cheepo craigslist rack had come apart and his bike got a nice drag along the highway, kept attached to the car by the cable lock: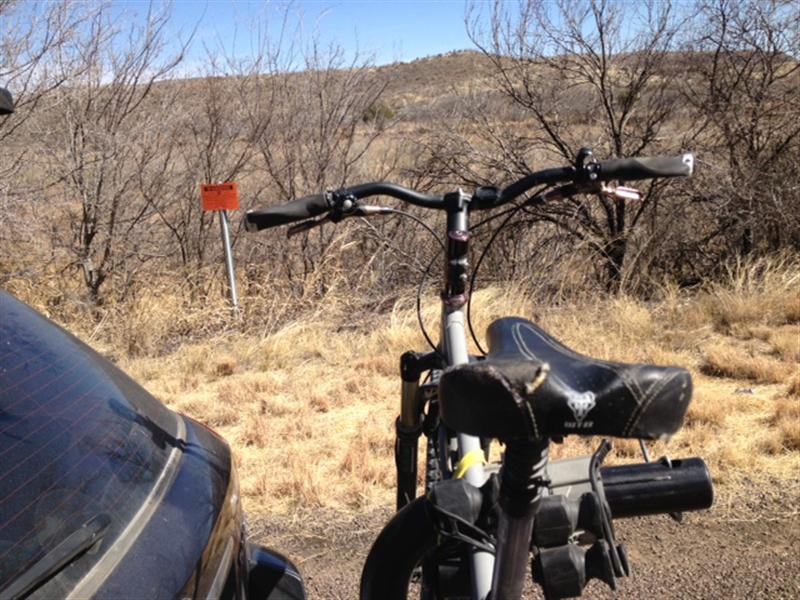 After re-installing the works with massive bungee-cords-plus-cable-lock reinforcement technology and an improvised safety pin made from a tent stake ("so that's what that hole is for!"), we had no more issues getting home. Obvious bike damage included a seriously wonky handlebar and chewed up saddle, but overall things weren't as bad as they could have been...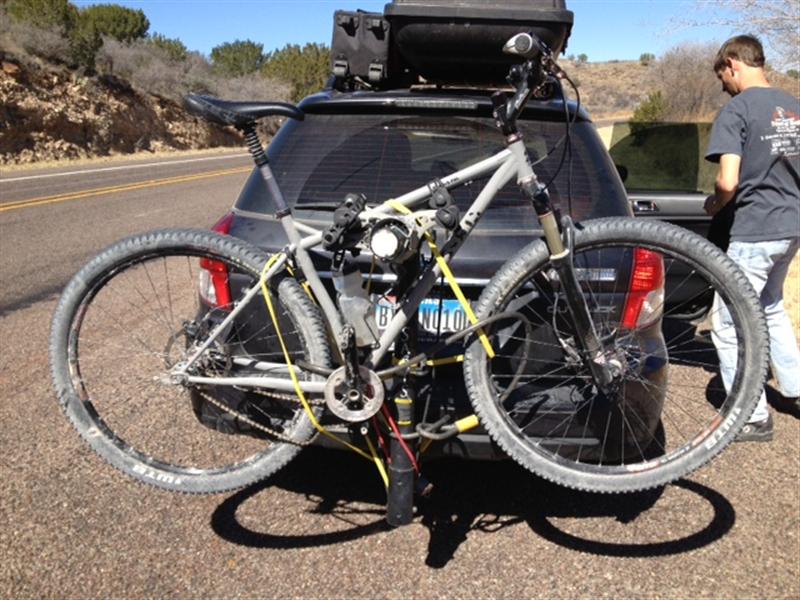 Final tally was 136 miles ridden with about 7800 ft of climbing over the four days, plus an incalculable number of good times overall.
Highly recommended!
< previous story home next story >
---
HOME TRAVEL LOG MOUNTAIN BIKING WINDSURFING STORY ARCHIVES RV INFO PHOTOS CONTACT US
---