Next up was a "big" ride I'd been wanting to do for years, but kept having to pass by for various reasons. Finally: The Womble!
Big rides on small wheels is my peculiar Passion. I've had quite a few such rides scattered around the country, almost all of them solo and astride a folding bike. That's clearly some kind of mental sickness, but at least it's a
also shows another three dozen or so "personal epics", which I find are often harder and/or better than the IMBA designated ones. The IMBA list is a great starting point though, and I enjoy chasing those rides down, but it's definitely not exhaustive.
The Womble, being an almost 40 mile point-to-point trail, is a logistical challenge to ride solo. My plan was for Debbie to drop me off at the south end, then meet me every few hours at the trailheads where the trail crossed a highway. She's wonderful for doing stuff like this. Claims she's happy to just hang out and catch up on her reading, but mainly, she's happy to NOT have to spend an entire day sweating on a bike.
We crammed the hatch full of everything needed for a full day of R & R (reading and riding). The bike's folded up under all that junk somewhere!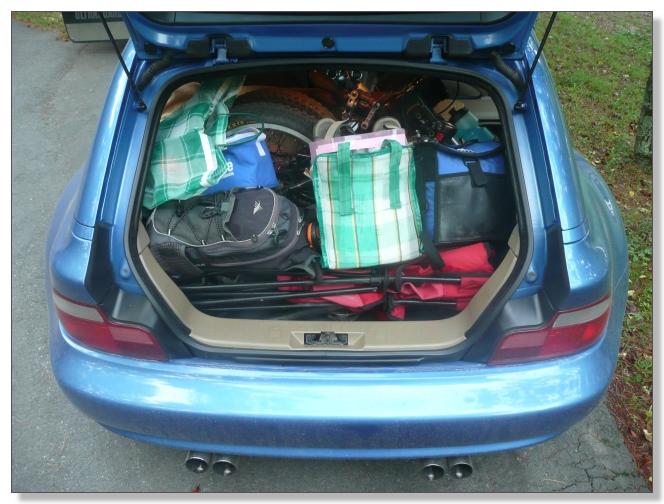 New among the kit was a SPOT personal locator. The SPOT is a sort-of GPS beacon that transmits via satellite, and therefore works where cell phones don't. In the event of a life-threatening emergency, you can send an "SOS" message and a Search and Rescue crew will be dispatched to your GPS coordinates. It can also be set to send "TRACKING" updates every 10 minutes, so your progress (or lack thereof) can be monitored over the internet on a real-time Google Map.

The main purpose of the SPOT however is to send "OK" messages periodically to reassure your significant other that you're alive and well and having fun. For some reason Debbie starts to worry when I disappear into the woods for 8 hours...


(click to see the SPOT Adventures page I made from all the data collected during the rides in this post)

Over time, the SPOT should help a lot. But not today, because Debbie would also be stuck in the boonies (albeit in a car) without reliable phone service or a computer herself. I started at the Womble's southern terminus of North Fork Lake, which was reached by following a tricky sequence of marginally-marked dirt roads. I wished Debbie luck finding her way back out of the maze, and set off up the trail at about 9:30.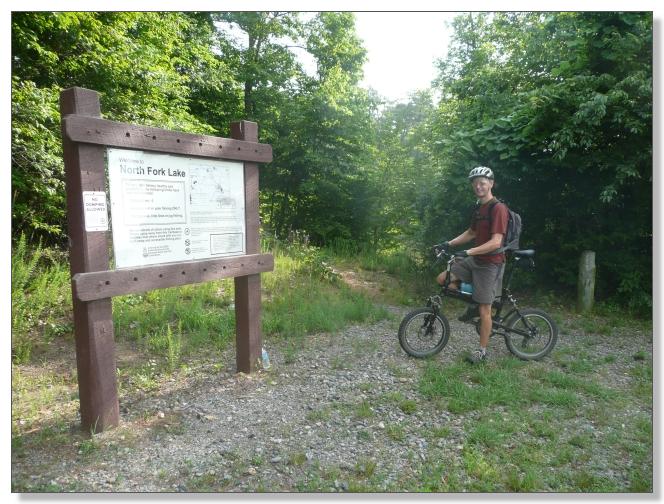 Considering its stature, I was surprised that the Womble lacked a fancy "WOMBLE" sign at the start, but the trail itself was easy to follow, with white blazes throughout.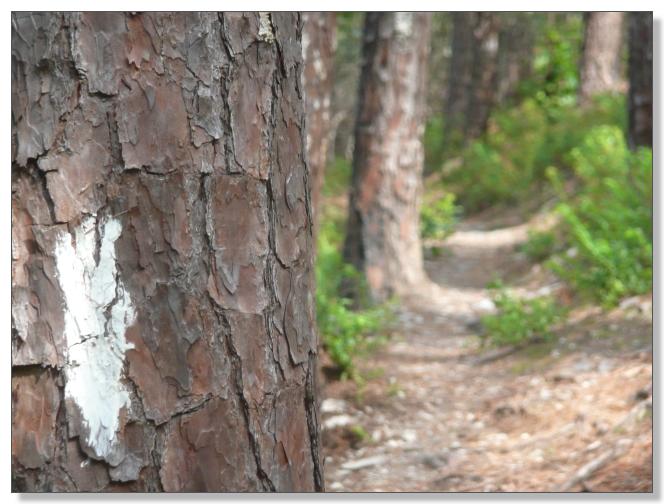 Constructed in the 1930s by the CCC, the Womble was built to last. The soil has a natural consistency similar to crushed-granite, which makes for mile after mile of buff singletrack.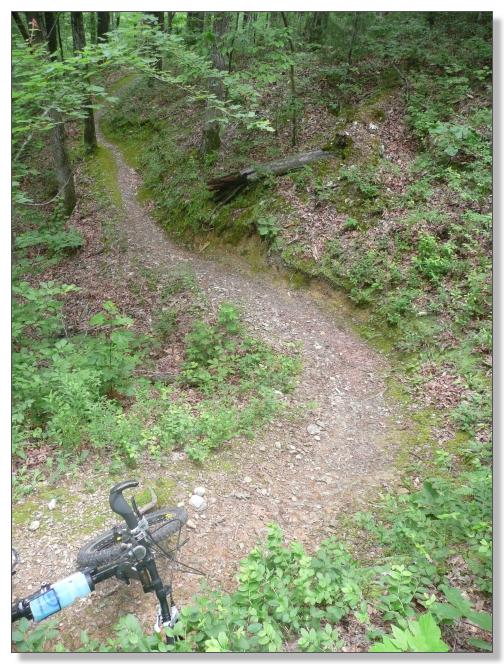 The trail rolls up and down the Ouachitas, with elevations ranging from 1000 to 1600 feet. Sure, these are not the Rockies, but there is plenty of vertical to accumulate (supposedly 6000' worth, although I think that's high) and several bona-fide grinders along the way. I took one short side trip early on up to the Gaston Mountain "Old" Tower Site. Sure enough, there was no tower to be seen, but the ridge did provide a good view of the mountains.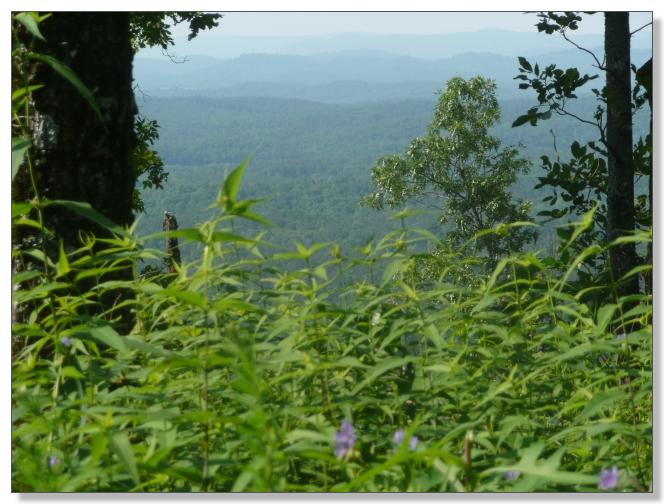 The main event of the first third of the Womble is Mauldin Mountain. A stout climb earns you a fantastic descent that seems to last forever--as long as the climb, anyway. Womble magic! The bench-cut is narrow and holds your full attention for miles on end, despite being essentially non-technical otherwise. It's not steep, but there's just enough slope to let you go as fast as you dare with minimal exertion. Outstanding stuff.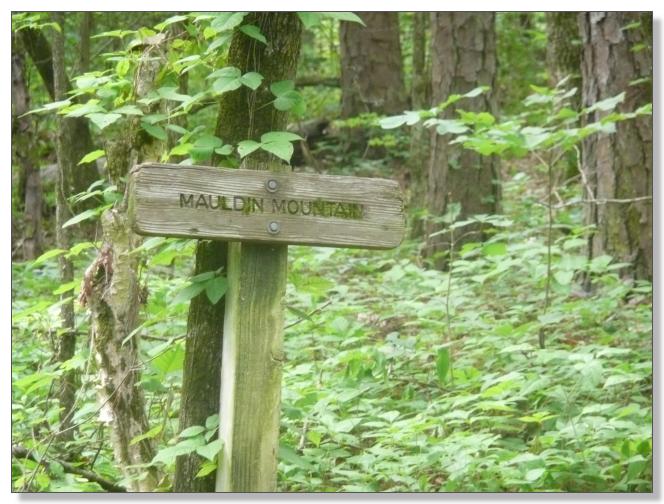 Around noon, and right on schedule, I popped out at the Highway 298 trailhead, which I noted did have a proper "WOMBLE" sign with that distinctive font.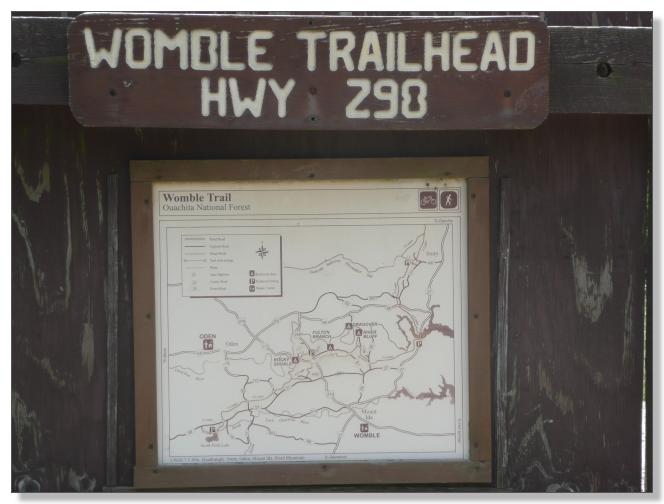 I was delighted to find Debbie there reading, and she was happy to see me, because her shade was rapidly disappearing. Although I carried the same stuffed pack full of food, water, and gear as I usually would for a big ride, I'll admit it was pretty nice having these "supported" pit stops along the route. In a downright luxurious move, we even got in the car and had lunch together, to escape the bugs and enjoy a little air conditioning.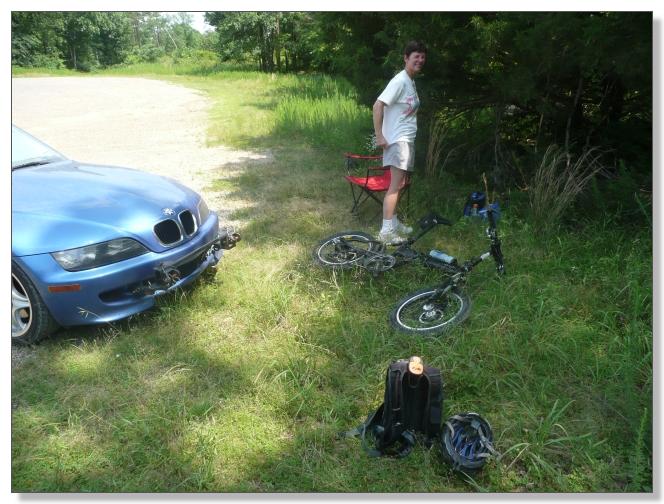 Refreshed, I set off on the middle part of the trail, which is probably the most popular segment. After a few miles of relatively flat but fun terrain, the hills return along with more of that fantastic narrow bench cut. You just zip along, tracking a foot-wide ribbon, traversing hillsides that would turn out to be "steeper than they look" if you were to lose concentration for a moment. Stay on target!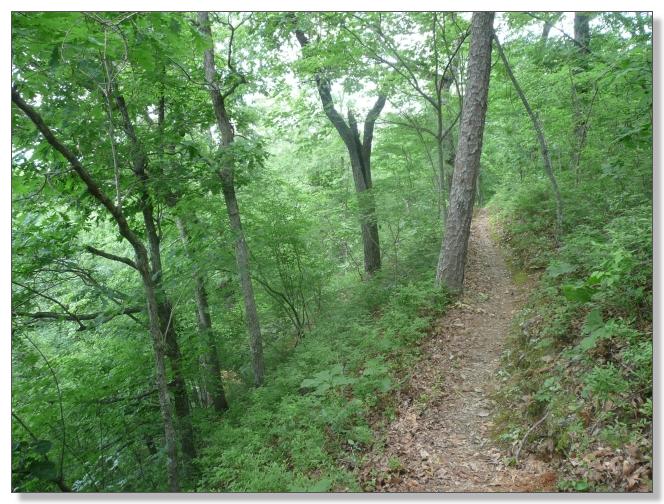 Eventually you come to a short but really steep climb to gain a bluff overlooking the Ouachita river. Not doing anything too stupid was my prime directive of the day, and I figured that included overexerting myself in 90+ degree heat trying to make some granny-gear climb I probably couldn't make anyway, so I just just got off early and pushed that part, which was the only hike-a-bike of any length of the day.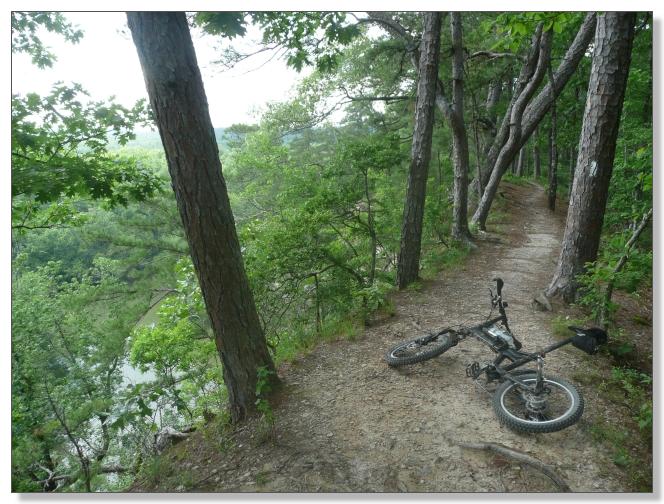 The views up there were really nice, but hard to photograph what with all the trees in the way. (Cut 'em down!)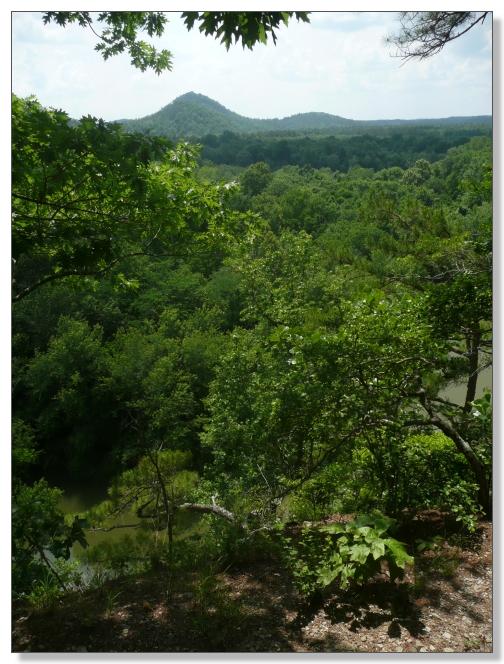 The descent from the bluff was short and steep by Womble standards. Fun! This would be a real grinder of a climb from the other direction, I reckon. You eventually drop out on a dirt road and it's not totally obvious where you're supposed to go. I made a few guesses and followed random roads past some fishing cabins along the lake and soon enough found Debbie parked across the street from the Highway 27 Fishing Village, more-or-less where I expected her to be.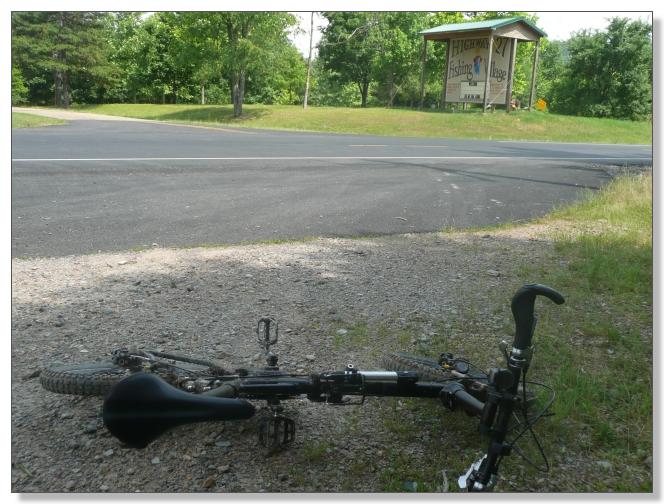 I arrived about 3:15, a few minutes later than nominal but still within the expected arrival window, and expected Debbie would be happy to see me. Well, not exactly...

It turns out I hadn't been as clear as I should have been about exactly where this rendezvous point was, and Debbie had been exploring the backroads trying to find a trailhead (since none was marked on the highway). She stopped at the Highway 27 Fishing Village to ask where the trailhead was, and the person there sent her off on a wild goose chase with vague information about dirt roads which turned out to be muddy and impassable in my car. So that was pretty frustrating.

But worse, upon hearing of my itinerary, they wound her up with talk along the lines of "Oh, that's sure a long, hard ride. The hills around here are really steep. He's got to be awfully tired. Sure hope he makes it out alive..."

That sort of help is really not all that helpful.

Anyway, of course I was not dead or anything--I was feeling pretty fresh actually--but it did make for a more stressful wait than necessary for Debbie and I felt bad for her having to endure that. She's a treasure.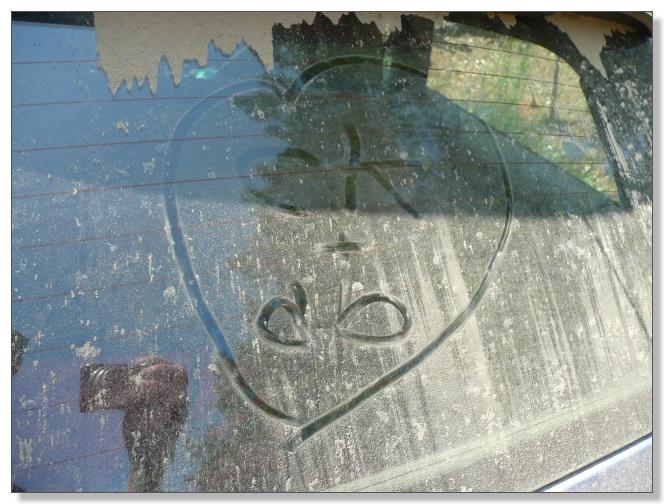 After that sketchy rendezvous, I decided to change plans a bit and do a mid-ride shuttle. Loaded the bike into the car, and we drove together to the northernmost car-accessable trailhead off FR-D75A. From there, I rode southbound on the Womble back to the now-known meeting spot by the fishing village. This unconventional scheme did mean that I'd miss the northermost couple of miles of the Womble, but in the grand scheme of things, it worked out great.

The 9 mile segment of trail north of the lake was notably more "wild" than the southern 26 miles had been. The narrow, solid, and buff singletrack gave way to wider, sloppier, and somewhat technical trail with actual rocks and roots and such. A little technical challenge was not unwelcome after a day of mostly groomed, but some spots were too tough to tackle on my 20s at this point in the ride so I walked a few.

On one of those walks, I spotted a little "WOMBLE TRAIL" Forest Service survey marker. Then, a mile later, another one. It dawned on me that I had presumably ridden past 30-something of these things during the day without noticing them.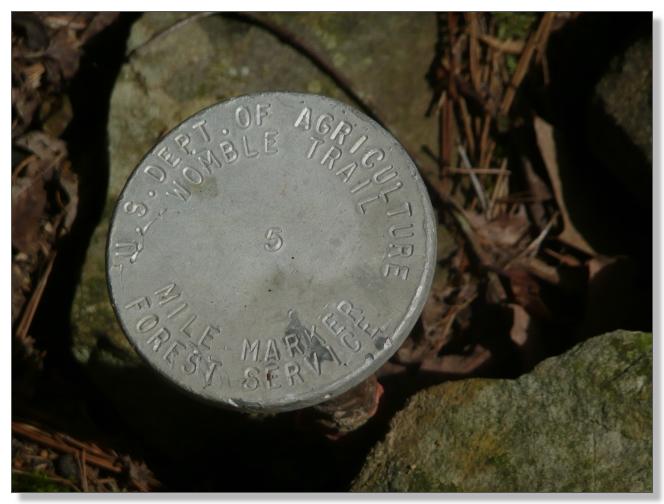 Just beyond the Highway 88 crossing, I finally found a nice "WOMBLE TRAIL" sign (and registration box). The strange thing was that it was a good 1/4 mile from the trailhead via a stub trail--basically, in the middle of nowhere. Not that it matters, but it struck me as an odd way to do things.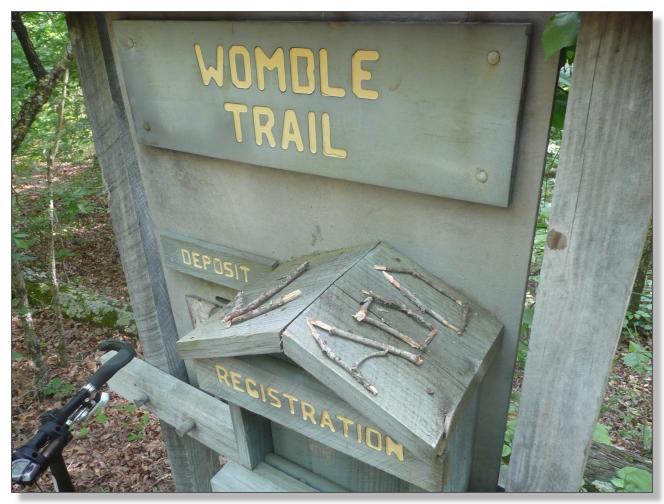 The last few miles were a real Jekyll and Hyde affair. The good parts were among the best of the whole day, namely, a sweet stretch along a bluff overlooking the lake far below. There was one short but seriously steep and exposed plunge along the cliff section that triggered the prime directive (do nothing too stupid) and I walked down. Otherwise, some really cool riding here.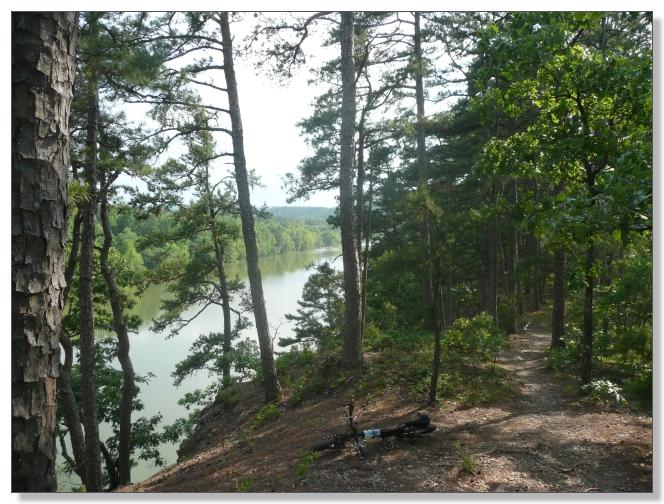 The ride did end a bit weakly, with the last mile or so being an ugly slog on sloppy doubletrack and a bit of highway shoulder. I was following arrows that appeared to mark a recent reroute, so I suspect there's chunk of "real Womble singletrack" nearby that's under dispute, or rehabilitation, perhaps?

I rolled across the highway bridge at 6:00 and called it a day. Final totals were 35.72 miles; 5 hours and 11 minutes in motion; and 4.5 ticks (counting heads accidentally broken off before mastering the tweezer technique--yuk!).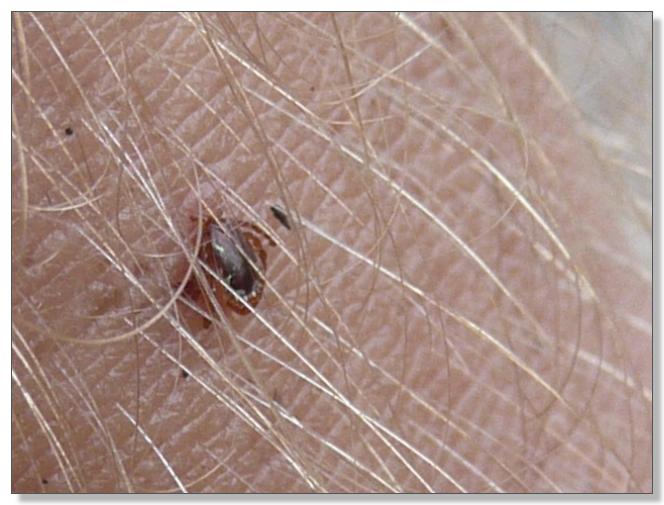 The Womble had lived up to my high expectations. Physically and logistically challenging. Scenic and remote. Long and varied. Truly a great ride, worthy of the epic tag and among the best I've done.

The butterscotch shake from the Dairyette in Mt. Ida put an exclamation point on it.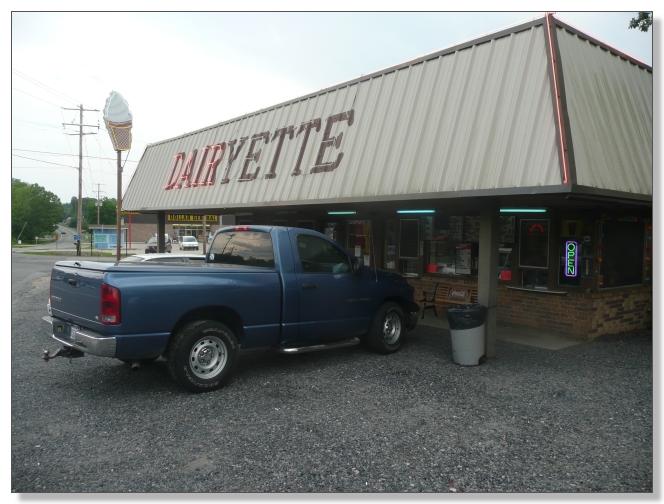 HOT SPRINGS

The next day we did a little touring around Hot Springs and the National Park, which I'll share just a taste of...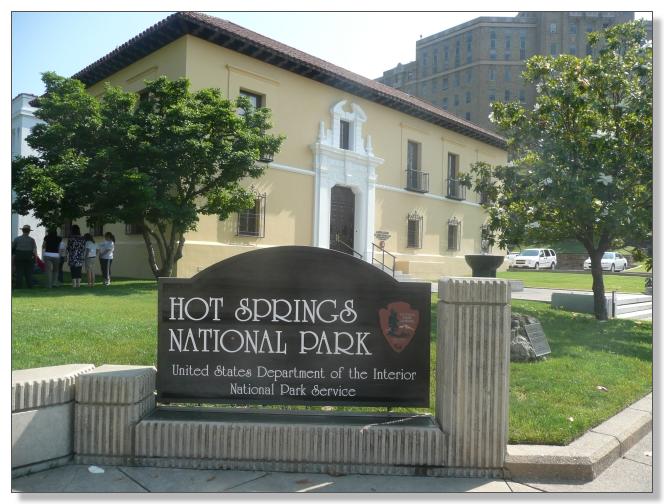 The variety of architectural styles of the historic bathhouses is remarkable.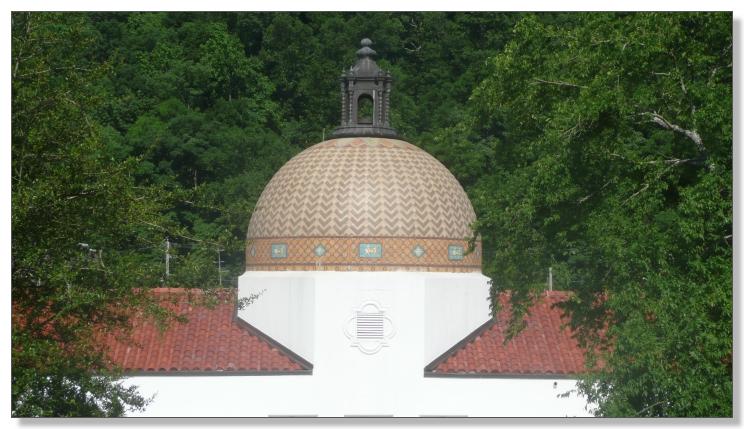 Magnolias galore!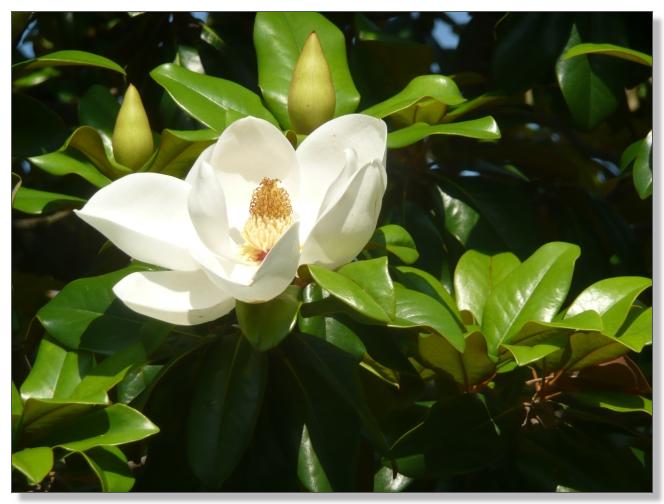 Steaming hot water, at your service.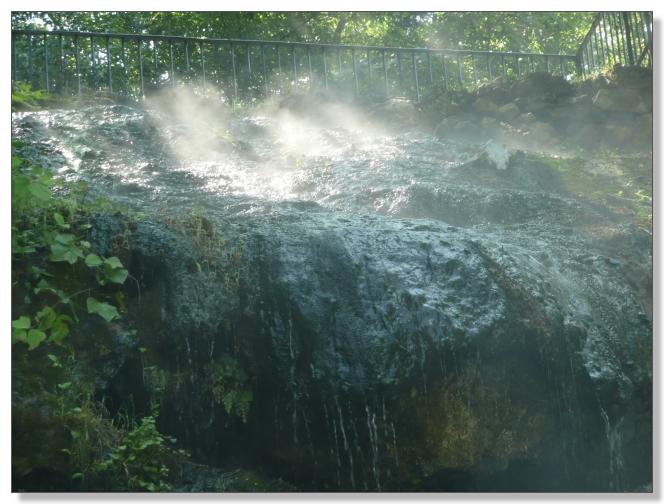 Power shower to blast off any remaining ticks.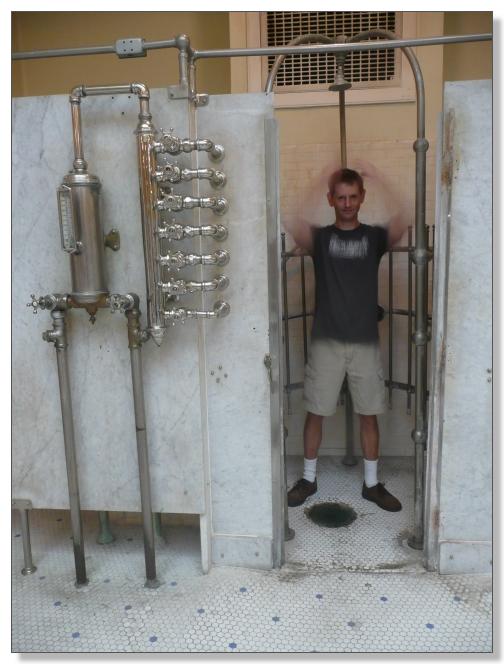 They really took their bathing seriously around here.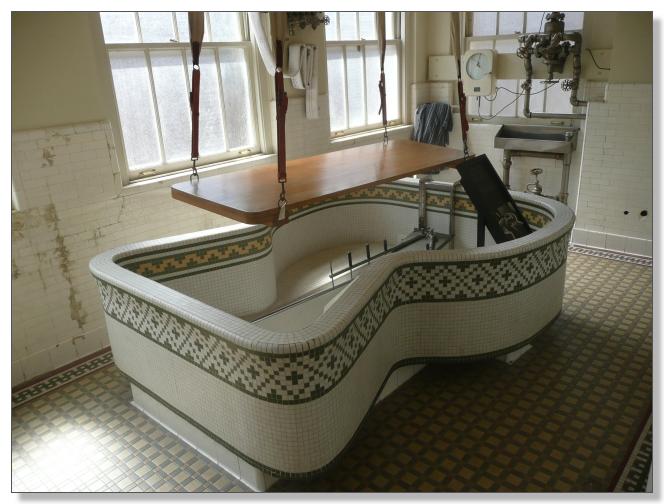 Many bikes seen parked, but few seen ridden.





We topped up our bottles with mineral water from the Happy Hollow Spring before leaving town. Tasty stuff. (and free!)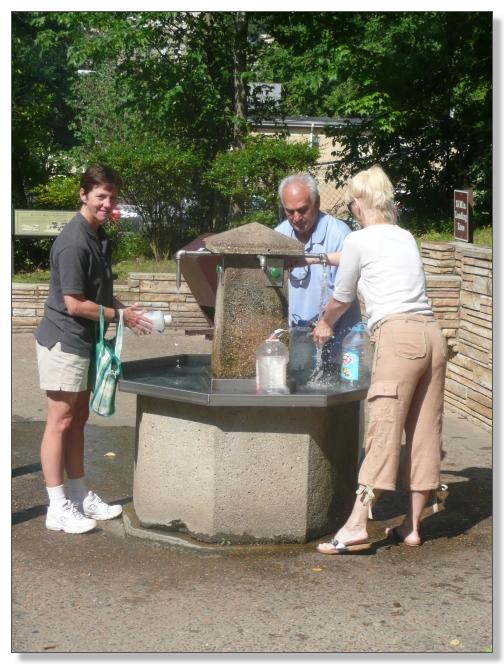 So that's it for the Ouachitas and The Womble. Next up, the Ozarks and Syllamo.


THE MOUNTAINS (OZARKS)
The Ozarks started dishing out epic conditions just on the drive up to Mountain View. A 40-foot motorhome dragging a car behind is not a good vehicular match with roads marked thusly: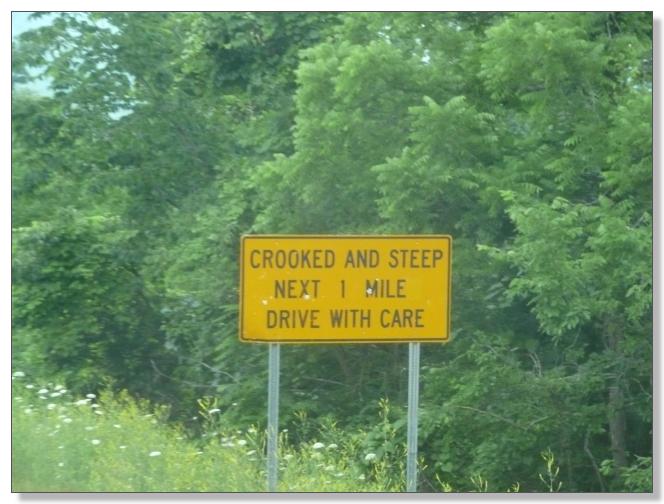 Another such sign on Hwy 9 said "Crooked and Steep, Next 17 Miles" and wasn't kidding. That corkscrewing stretch took us a good hour. Debbie closed her eyes, but I was thinking "This is gonna be awesome terrain!"
(next time, Hwy 66 instead)
. We settled into the Ozark RV Park which adjoins the Ozark Folk Center, and the next morning I was off to explore Syllamo.
This is a remarkable and rare trail system that was built and managed by the US Forest Service primarily for mountain biking. There's about 50 miles of backcountry singletrack in five loops. The loop names all seem to contain either the word "Branch" or "Scrappy" which makes them confusing to keep straight, but thankfully they're also color coded on the map and on the blazes.
There's an annual race called Syllamo's Revenge that subjects its victims to the full 50 miles in one day. I wasn't craving quite that much punishment so decided on a two-day plan:
* Day 1 : Red and Yellow
* Day 2 : Orange, Blue, and Green
Looks easy enough on paper...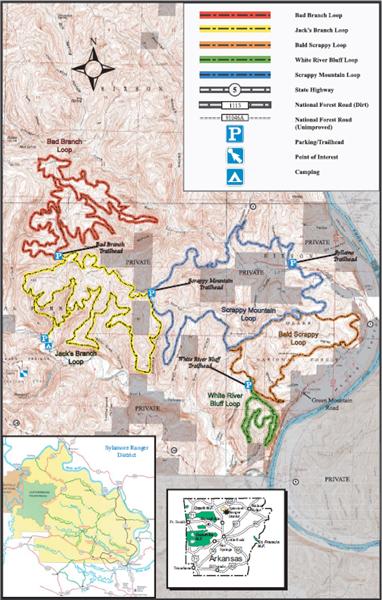 Speaking of paper, I gotta include a
link to the USFS info sheet on Syllamo
because it's just so unusually well done. In addition to detailed, mountain-bike-oriented trail descriptions, there's a chart showing separate "fitness" and "skill" ratings along with the net vertical-feet of climbing for each loop. It was genuinely refreshing to find an official document that was full of information useful to serious mountain bikers instead of the usual fluff. Kudos, Feds!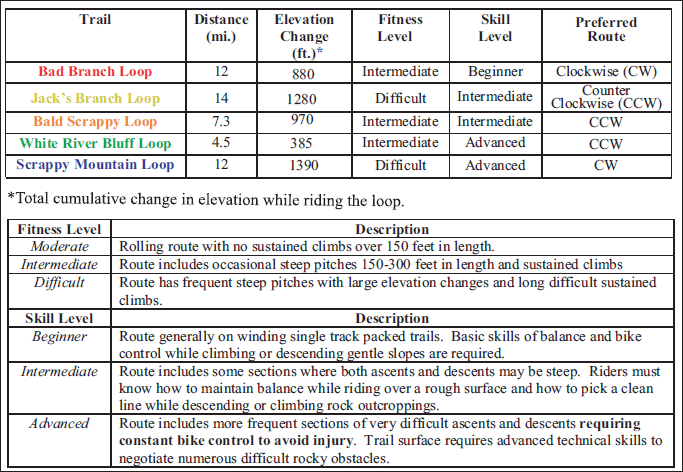 Speaking of feds, I can't resist a quick comparison with Tsali, NC, which is (I think) the only other federally-run park comparable in concept. Tsali has 39 miles of trail in four loops which alternate days (in pairs) between horses or bikes. That's kind of a bummer if you want to ride everything in a day, which would be relatively easy since there's little technical work and only modest climbing required at Tsali. Syllamo offers a wider range of options for length, vertical, and technical level.
But Tsali does have one key ingredient that's inexplicably missing at Syllamo, namely, on-site camping. I think that goes a long way toward explaining why I encountered a grand total of 5 other mountain bikers on the trails (and 4 of those were in a group together) over two days of Memorial Day weekend.
So between the two federal options: If you want to camp on-site and ride autobahn, go to Tsali. If you want to park in virtually-empty lots and ride some chunk, come to Syllamo.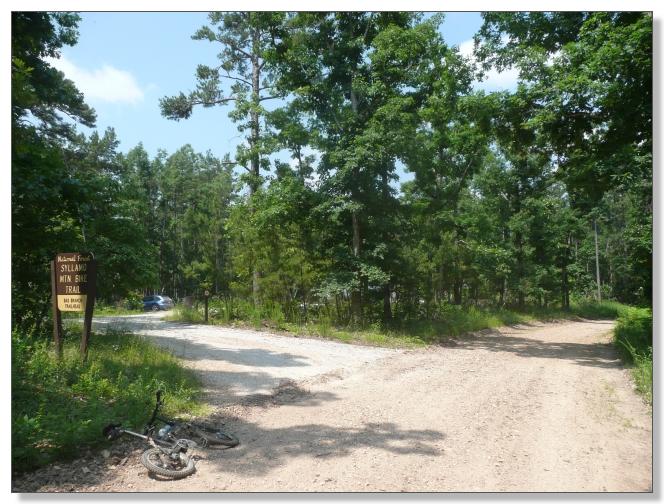 My plan was to start with the easier trails and work up. First up was Bad Branch Loop (blazed in Red), offering 880-ft of climbing over 12 miles (per the feds). For the record, that's about the same as doing all four loops combined at Tsali. Sure, it's not the Rockies, but it's not flat either.
It started off pleasant enough, with sweeping views and fast, swoopy singletrack.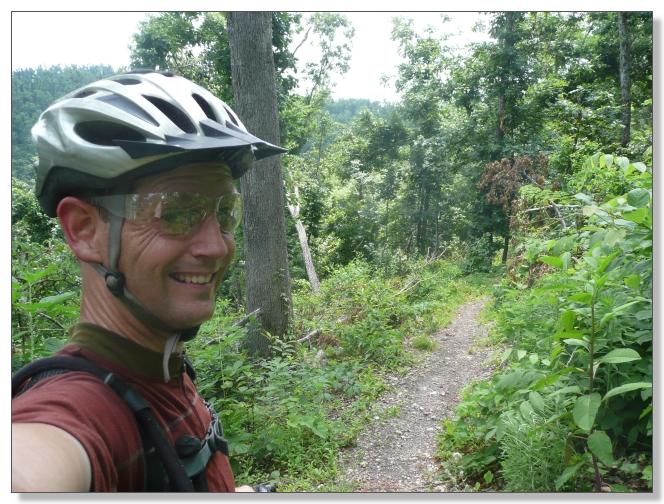 There was a huge ice storm here several years back that apparently toppled fully half of the forest. As I rode past the hundreds and hundreds of chainsawed trees, I couldn't help but marvel at, and be appreciative of, the incredible amount of work that was done to get the trail passable again. But I also found the endless chopped and uprooted trees somewhat depressing, and couldn't help but imagine how pristine this trail once was, and how there's really no way to clean this up much better than it is now.
Sometimes, nature just wins.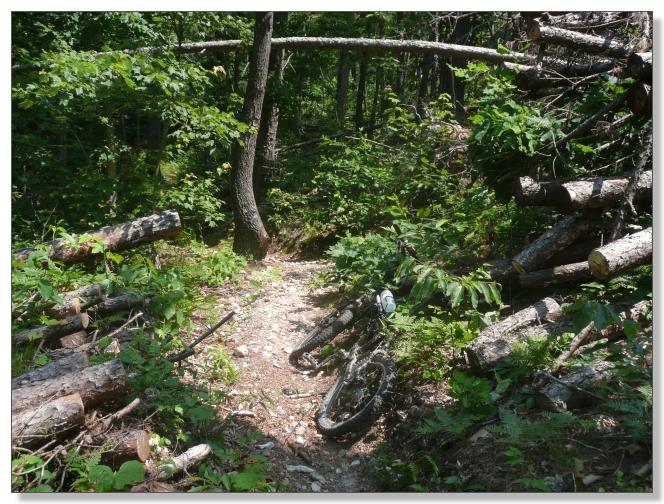 In fact, "nature wins" rapidly became the theme of my tour of Syllamo. Thorny plants, not rocks, roots, or climbs, become my biggest enemy.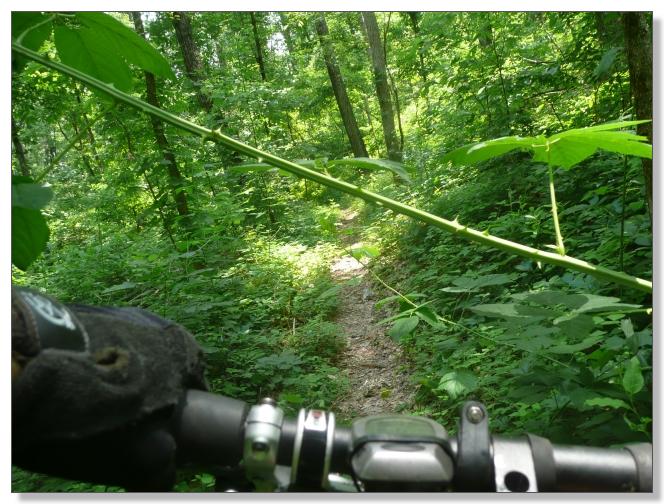 Long stretches of trail were overgrown to the point of barely being able to follow.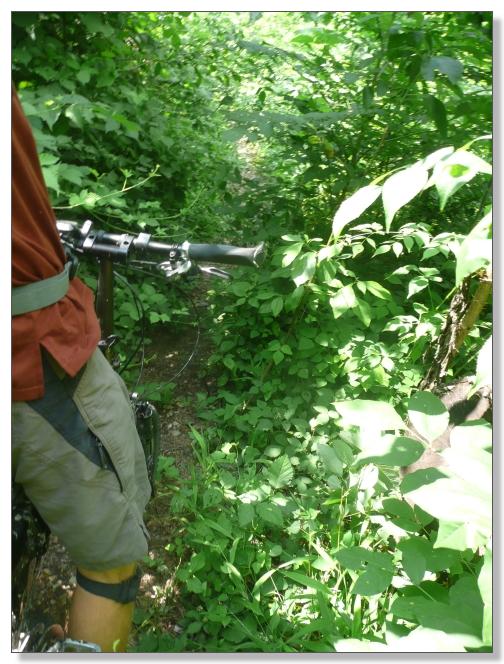 The prickly green devils were really out for blood.
The insides of the elbows took it hardest, as they'd snag the stringers and drag 'em along. Not crippling pain or anything, but definitely made for some very, very, verrry annoying, frustrating riding.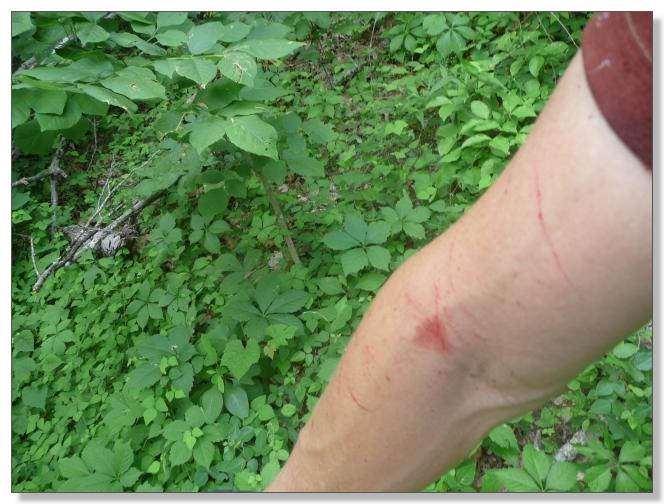 By the time I finished the (Blood) Red Loop, I was mentally exhausted from all the forest destruction, and physically shredded from all the damn stickers.
Nature was winning.
Luckily, I had a spicy snausage, a cheese food, and a Mtn Dew stashed in the car to perk me up.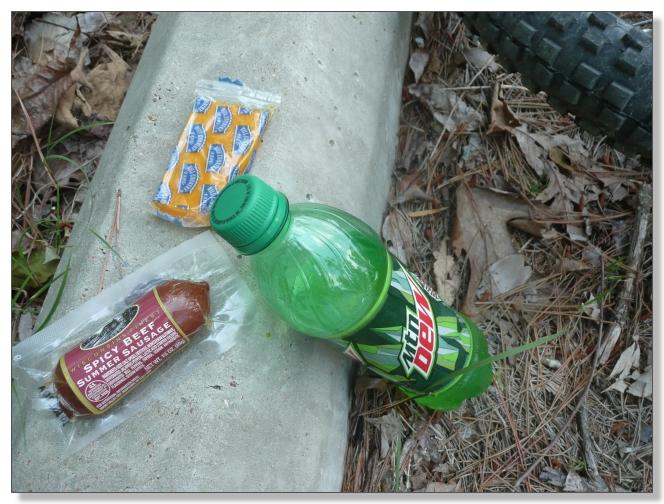 Marginally refreshed, I set out on the Yellow Loop, wondering what nature had in store for me next. The answer was rocks. This was a most welcome change from briars (although there were still plenty of those). There were some really fun, rocky climbs along the route and I was starting to warm up to Syllamo.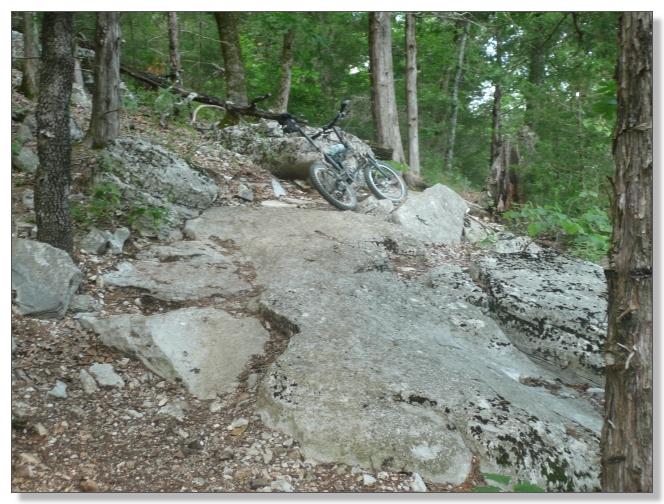 A very neat rock bridge.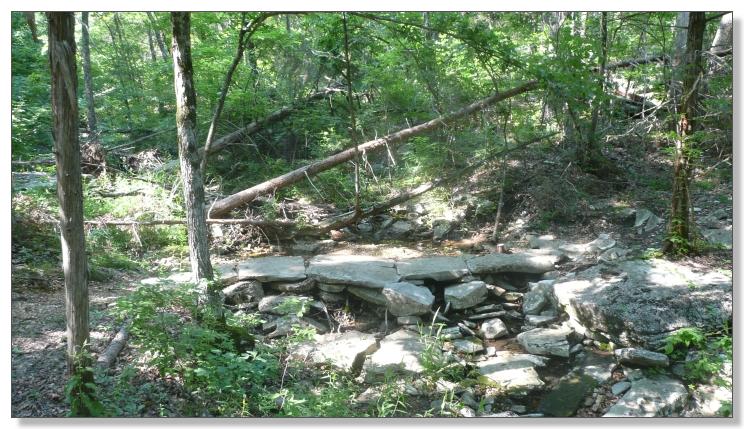 In the middle of one little climb, I let out a yelp and nearly fell over as my subconscious realized that I'd just lifted my wheel and crawled over something hiding in a crack. Something that had eyes, and hissed...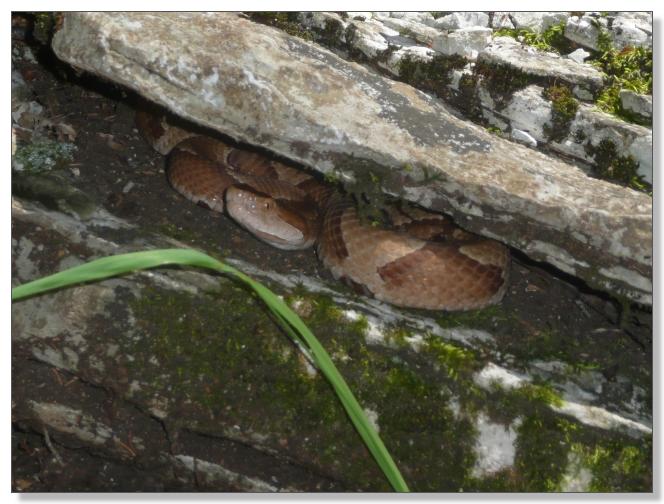 That was a close one. We'll call it a draw.
Nature wasn't all destruction and menace though. She showed her softer side, too.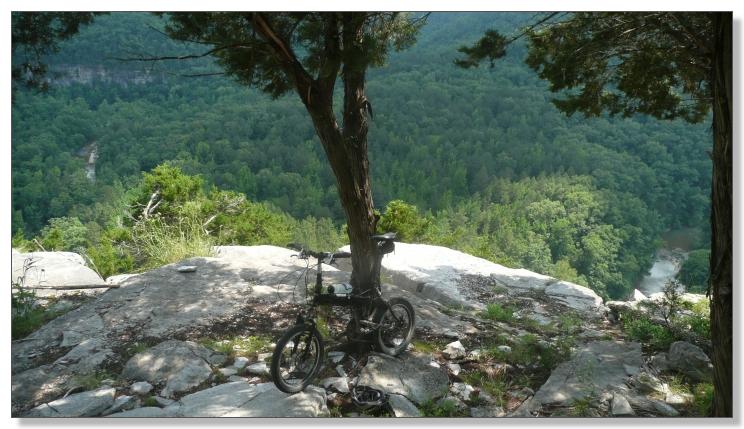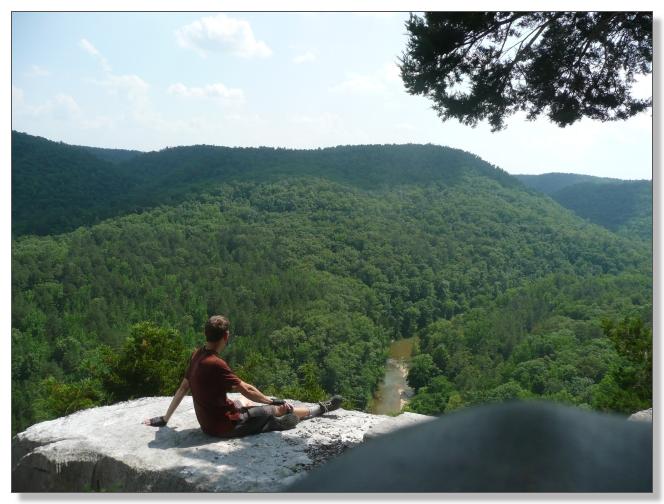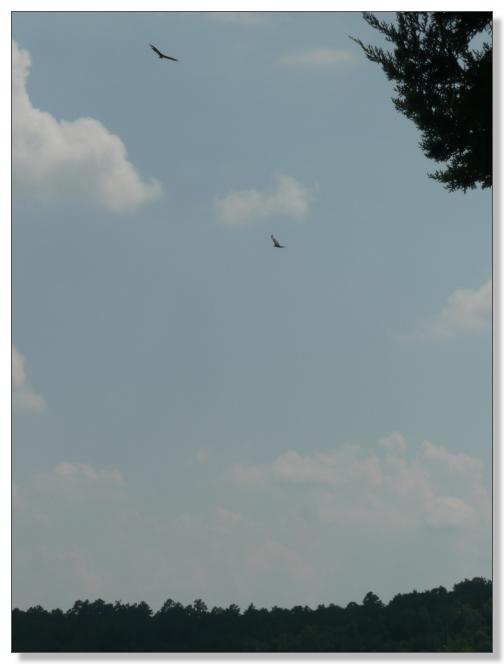 They circled, but didn't come for me. I had survived Day 1 at Syllamo.
That night Debbie and I went in to Mountain View, which is apparently to folk music roughly what Moab is to mountain biking. Mecca.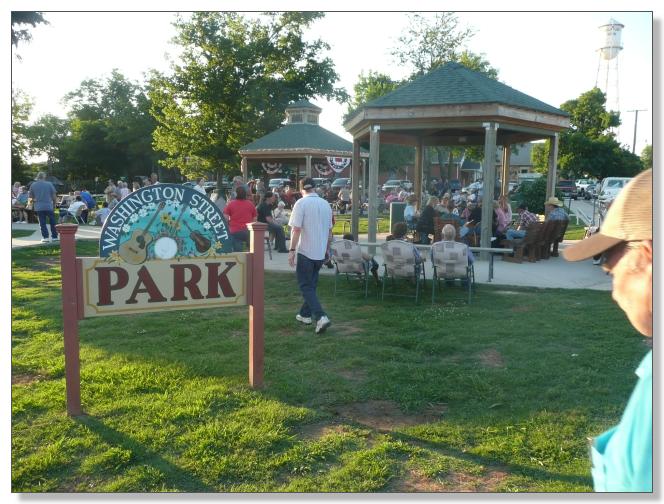 Folks come from all over the country toting instruments and jam together. It's a pretty cool scene.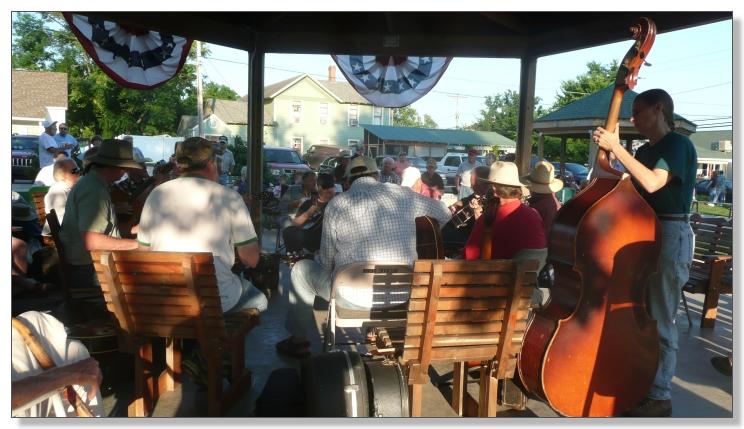 The secret to appreciating folk music? Ice cream.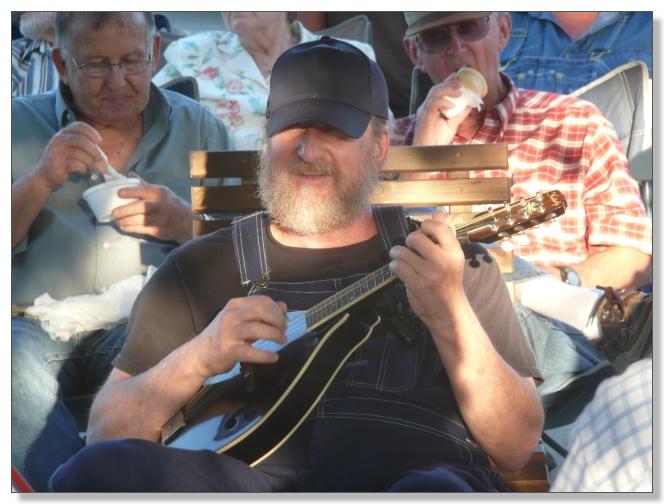 Ozark culture everywhere.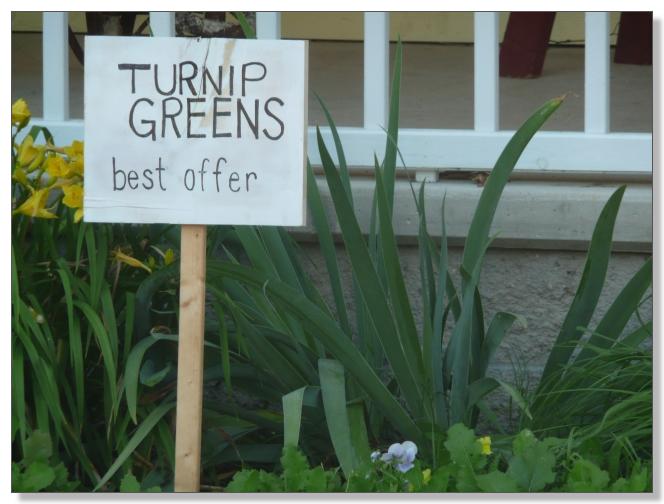 Even random rocks get turned into folk art. It's that kind of place.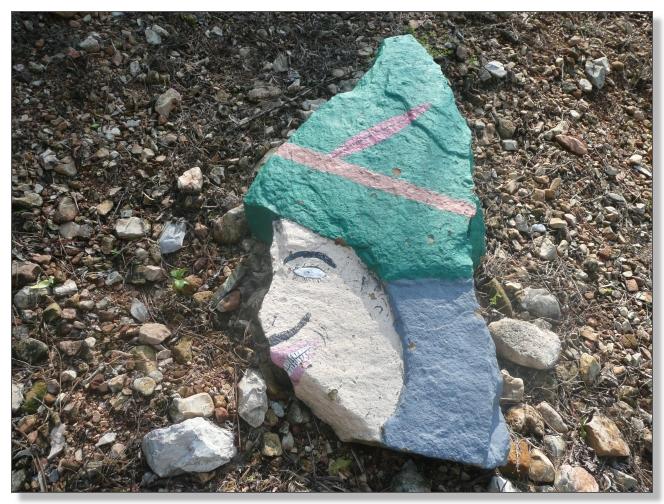 Syllamo. Day 2.
It's Nature versus FoldsInHalf, again, but this time I had a secret weapon. Long sleeves. Long, COTTON, sleeves. Oh man was I gonna ROAST in that shirt with temps in the 90s, but I had to do something. Those briars were
really hurtin' my flow
, ya know?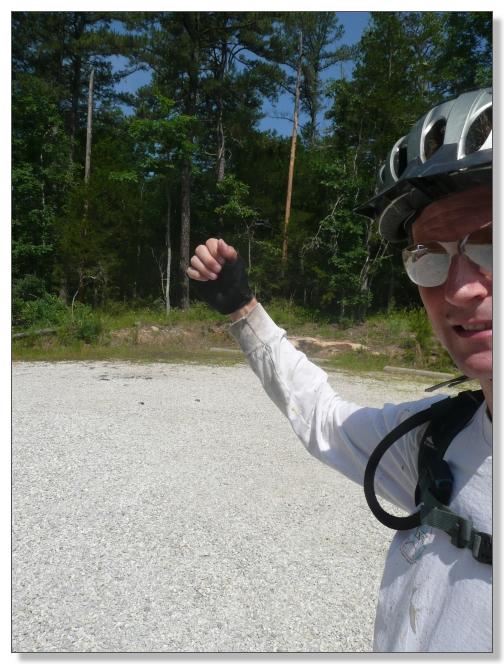 Why did the bike collect flowers, but I got thorns?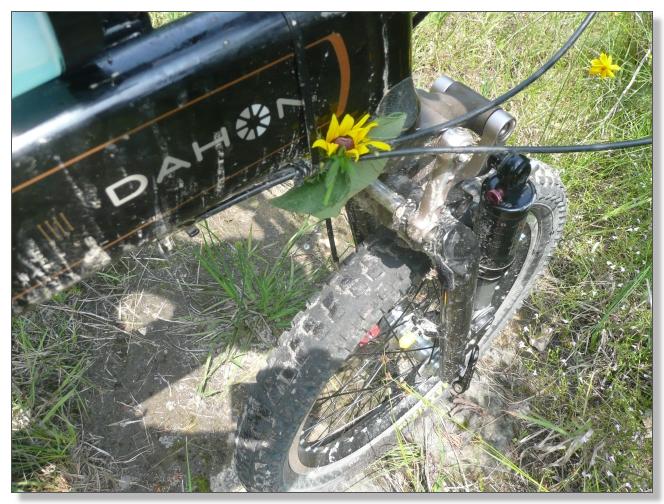 The Bald Scrappy Loop (the Orange one) was rated as requiring "intermediate" technical skills, for example, the mildly-challenging climb below.
All-righty.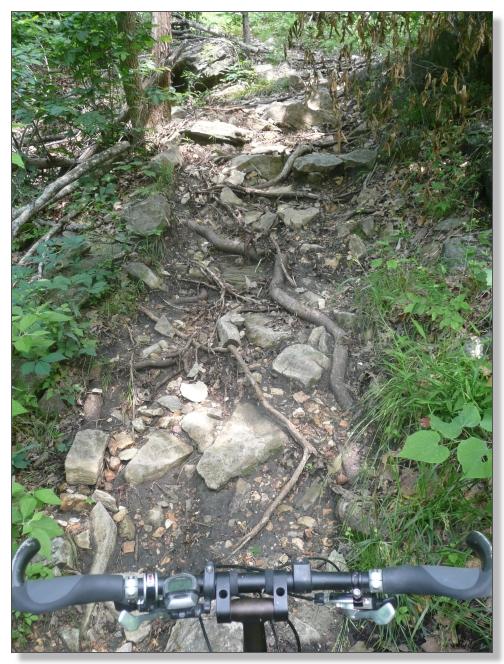 That wasn't the only quagmire. One putrid peril came out of nowhere and swallowed my front wheel with an evil
"sluuuurrrp"
noise. It was the only real mud I encountered, but man, was it something.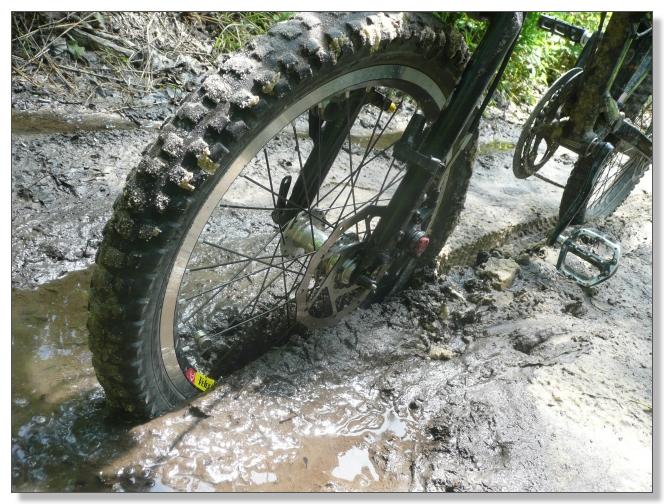 Picking up the Blue Loop (aka "Scrappy Mountain", Advanced/Difficult) and following it clockwise eventually led to the signature descent at Syllamo. It's long, technical, and offers glimpses of distant mountains through an ultra-lush forest.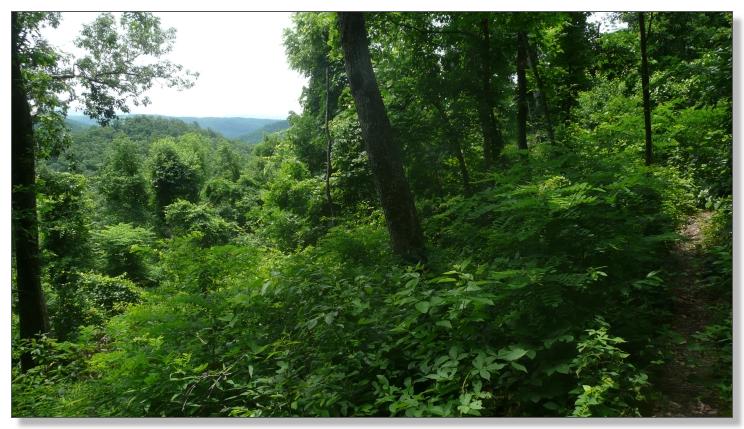 The signature feature of this signature descent is the Stairway to Heaven. Unsurprisingly I carried my wee bike down this baby, but did ride most of the rest. Good stuff.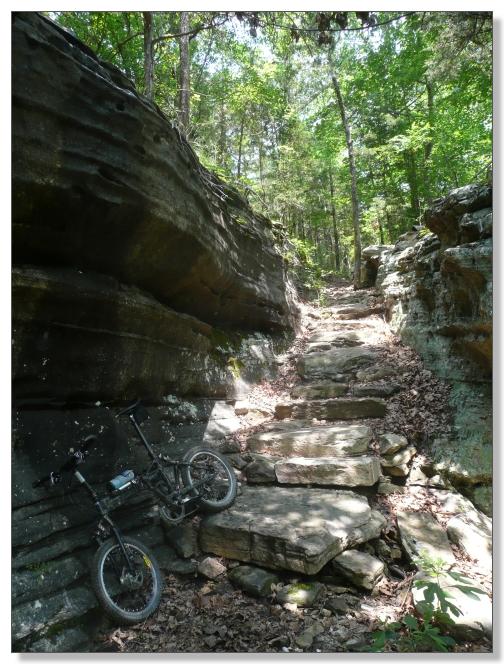 The downhill was over far too soon and I came to a deep creek crossing.
(* a classic MTB phenomenon, right there)
. I noticed a thin line through the rocks showing the way, something I don't think I've ever quite seen before. I gave it a good run, but tragically, sunk to the hubs mere feet from making the other shore and had to bail. Oh well, wet feet weren't
too
unwelcome in this heat.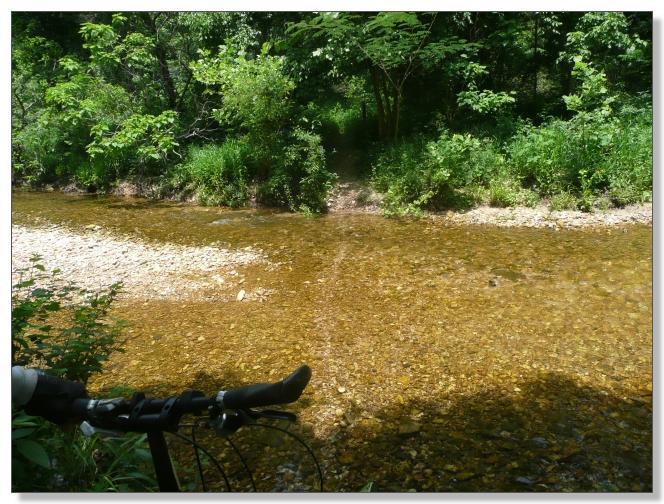 Some poser by the main trailhead sign on the highway.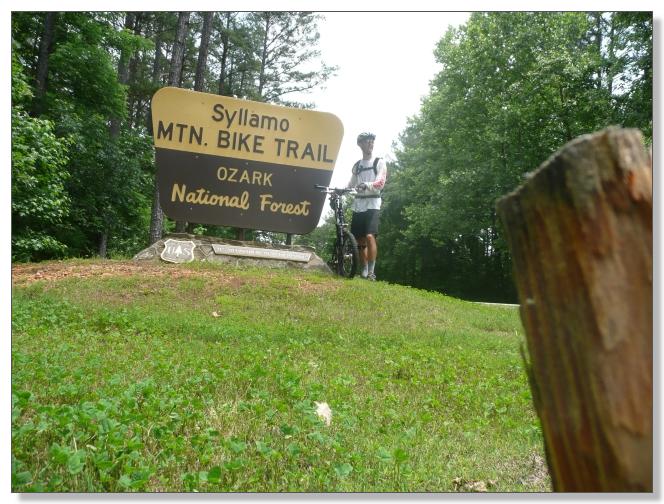 Next up was one of the nastiest hike-a-bike climbs I've ever had the displeasure to experience. It is one thing to have to push up rocks, roots, and slopes too steep for my tired toothpick legs to climb. Fine. But to also infest miles of said trail with briars so thick that even a long-sleeve cotton shirt could not defeat them? Nature was really playing dirty, now.
Playing tricks on my mind too, apparently. When I finally got out of that nightmare and hit the road, I turned the wrong way and didn't realize it until I arrived at the Scrappy Mountain Trailhead and noticed my car was not there. What the heck? Well, that was a couple miles of climbing for nothing! Triple-checked the map, then zipped back down to the Bald White Mountain Scrappy Branch Bluff Trailhead, or whatever it was called.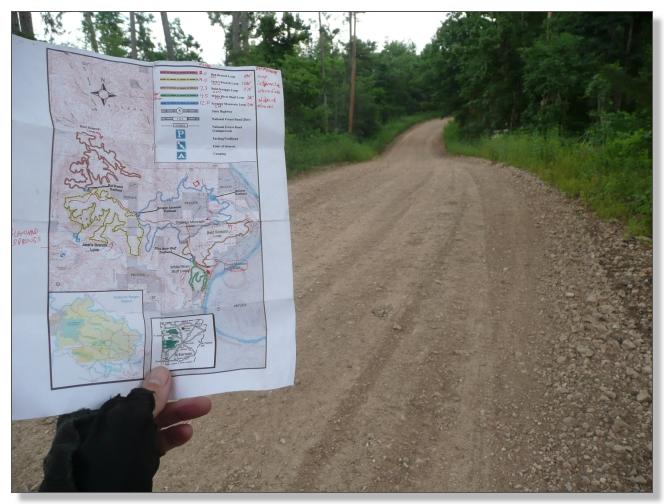 I found the car
(hooray!)
and took a well-deserved rest. I felt surprisingly upbeat. That bonus dirt-road climb and descent had been the perfect antidote to flush the appalling hike-a-bike out of my mind.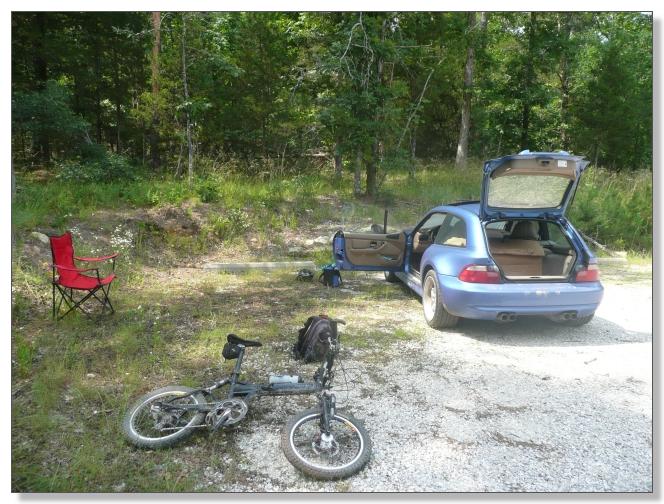 The grand finale was the White River Bluff Loop, a little Green one, which according to the feds was short but strenuous and technical with some nice views. They were right on all counts.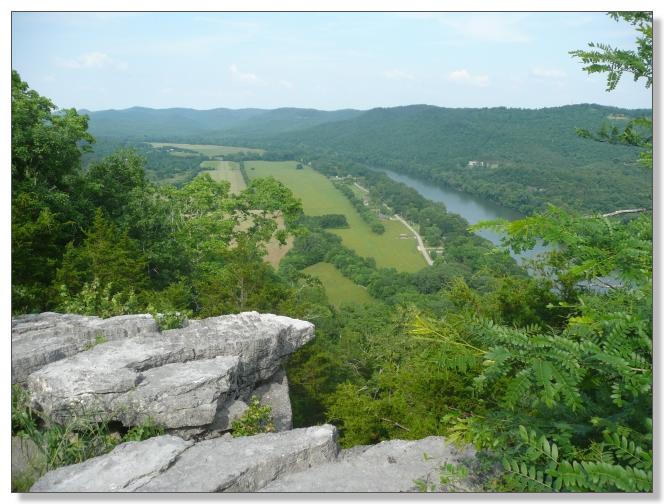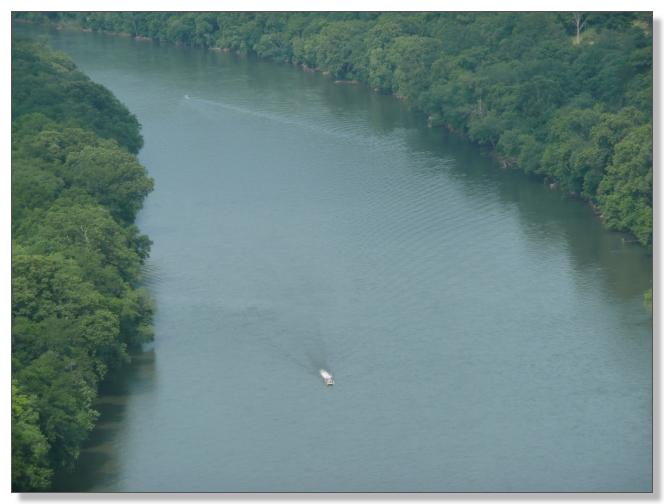 I wrapped up the Green loop feeling really good about my time at Syllamo. That trail had been in excellent shape, no overgrowth and full of flowy, technical sections. This is what I had expected of Syllamo and it made me think I'd just been a unlucky to hit the rest of it in an overgrown state.
Back at the trailhead, I encountered the group of 4 riders mentioned far above. They were just arriving from Dallas for the weekend and asked how the trails were. I laughed, explained that some parts were great, other parts were not, and showed them my arms.
"Man, you look like you've been in a fight with a wildcat!", one said.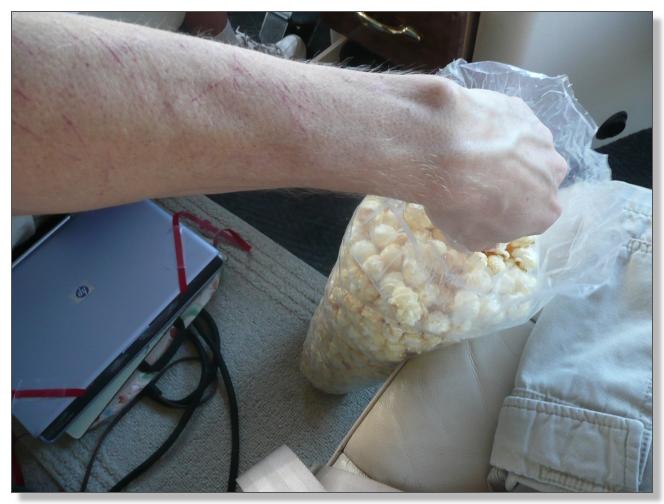 I hope they had a good time.
My final two-day Syllamo numbers were 47.1 miles, 7.6 hours moving time, and ?.0 ticks (I lost count, but I was careful to not create any more fractional ones). I'm not sure I'd want to repeat this exact Syllamo experience, but it was plenty epic, which was my goal after all. Maybe one day I'll make it back in the fall, and it'll be cool and briar free... ah, dreamy.
Post-ride catfish at Jo Jo's Wharf hit the spot.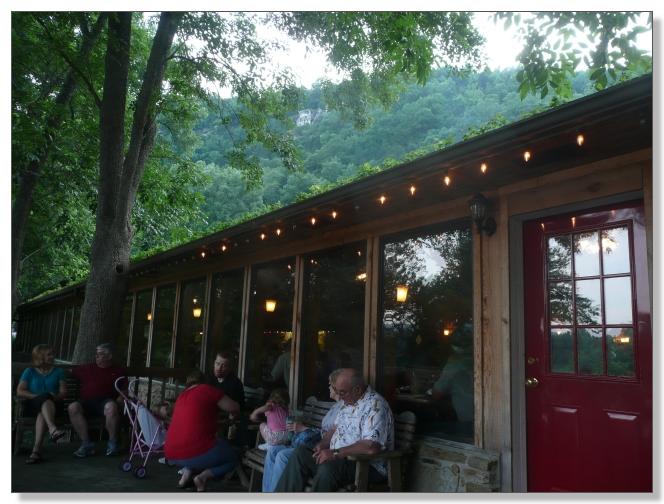 THE BEYOND
It had been a good Spring. I'd gone from windsurf bum, to mountain bike bum, and now it was time to play on-site simulator engineer bum again for a while.
We arrived in the Chicago area on June 1 and I haven't been on singletrack in the four weeks since. Not just work, but the weather's been uncooperative, with rain seemingly every other day keeping what few trails there are around here saturated and closed almost constantly. Been getting in a little riding on the bike paths and neighborhoods, but I sure miss the mountains.
I'll get my little bike back on dirt again somewhere, somehow, sometime soon though. It's my peculiar passion.