Saturday, February 21, 2009
This unlikely question arose while I was browsing the mtbr Passion forum one day back in January.

I was working in Grand Junction, CO, surrounded by a network of world-class trails which, unfortunately, had been covered in snow for almost two months now, and I was getting antsy. Ready to thaw out and try to remember how to ride on dirt, a post called 33 miles, 6000+ft ascending, 1 gear , 3 speeds, yeehaw! ? (pic heavy) grabbed my attention (thanks, Rockcrusher!) and the "Quadruple Bypass" suddenly jumped to the top of my list of things I had to ride in AZ, our next stop after wrapping up this project in CO.

By mid-February, Debbie and I had made it to Scottsdale (after a brief and wonderful week of winter riding in Moab). We docked the RV at the WestWorld fairground complex, which (not coincidentally) put me within easy riding distance to the trails of the McDowell Sonoran Preserve, home of the Quadruple Bypass.


The Prelude

Our first afternoon there called for a little exploratory ride. Headed out right from the RV on the WestWorld trail--wide and boring, but better than pavement. Hooked up with the Taliesin trail which winds its way through the cactus right up the middle of a neightborhood, but manages to feel quite "natural" and remote: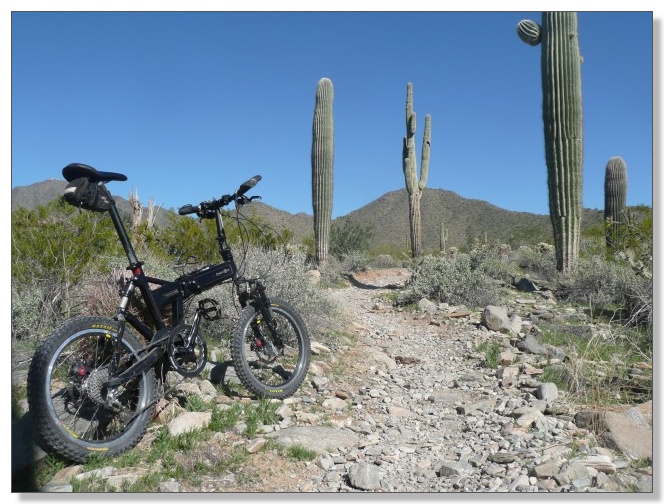 Took that up to the Taliesin Overlook, which overlooks Frank Lloyd Wright's landmark house/architecture studio compound, marginally visible to the left below. There was also a very interesting-looking new building closer and to the right, with a wild mix of angles and round shapes. I later found it on Google Earth and it is really bizarre from the air, like overlapping eyeballs. Seems to be connected to Taliesin somehow--perhaps a "student project"???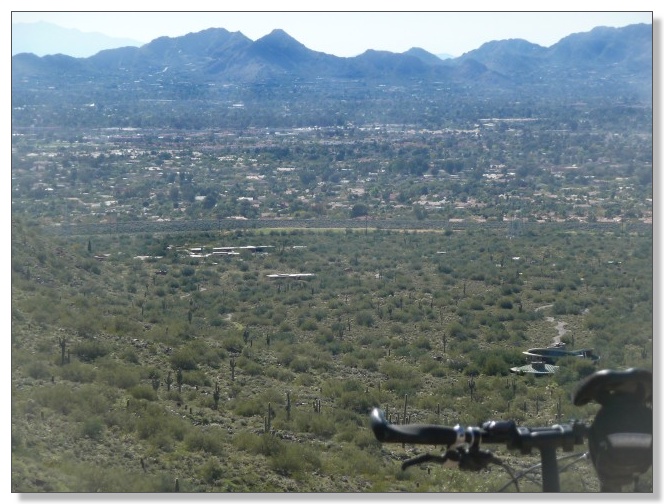 Here's a panorama of Taliesin West from our tour there several years ago:





There were good views to the east too, of what I think is the Superstition Range: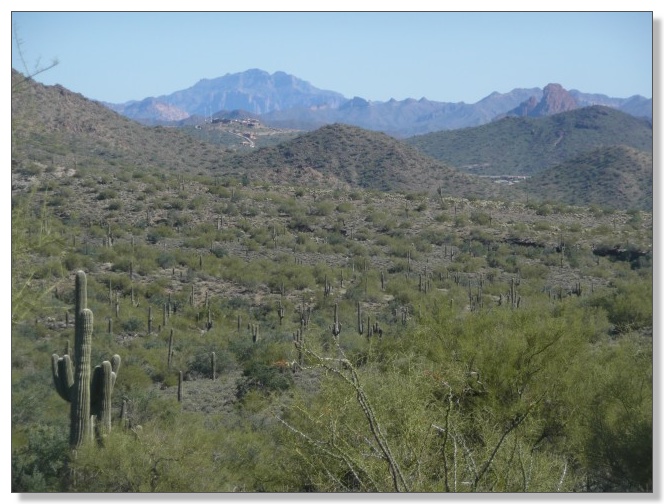 And a view of WestWorld (try to spot our RV parked by the polo field, heh!) and the enormous aqueduct that enables all this sprawling development in the desert: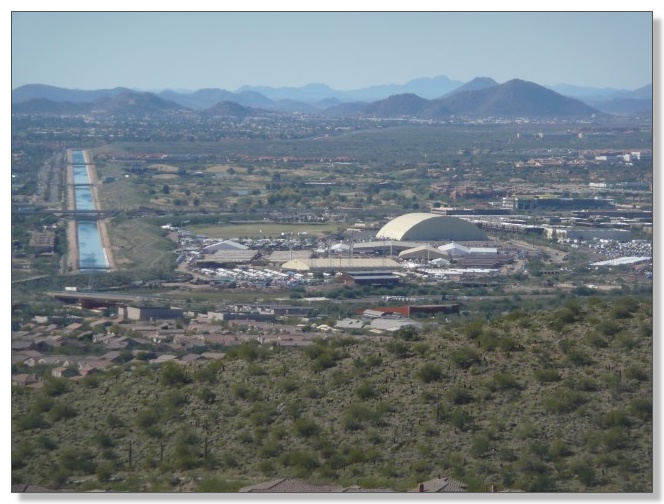 Several hundred yards of fairly steep, loose rocks had to be traversed to reach the overlook, and I had made the climb slowly but with only a couple of dabs. The descent was more like a glissade, as my 20-inch wheels caromed from rock to rock. Wheee!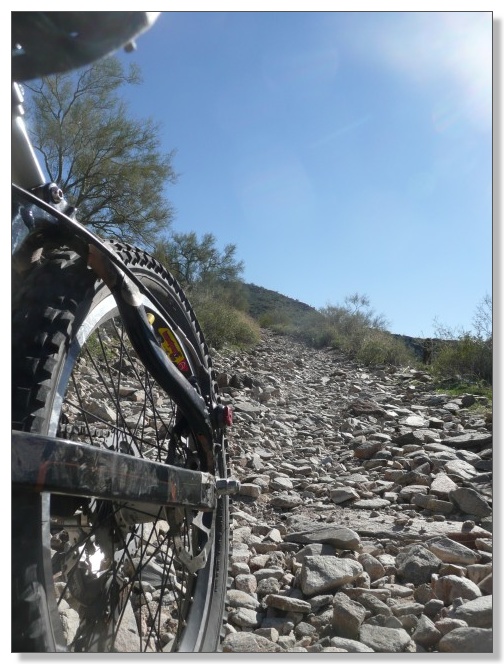 Decided to take the couple-mile side-trip up the Quartz trail to a dead-end canyon, since I wouldn't be traversing that otherwise on the Quad loop. That proved to be more of a hiking trail than a biking trail, really, making its way awkwardly up a loose, rocky, wash to a box canyon. One thing this little reconnaissance ride was making clear is that Arizona is covered with rocks. Not dirt. Rocks. Rocks that 20-inch wheels do NOT roll over very easily, that's for sure. (note to self: the Quad is gonna be a loooooong day):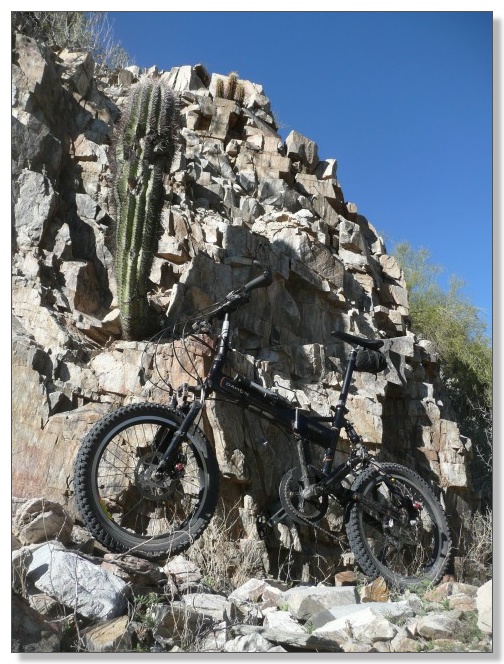 As I pushed my bike up the last bit to the end of the canyon, I heard some rustling ahead and stopped cold. Turned out to be a couple of javelinas. Luckily they didn't get too mad about being (inadvertently) cornered. Apparently these "prickly pigs" can turn downright mean if they want to be, but today, I got lucky and they just made their way up the steep side of the canyon and disappeared back into the desert: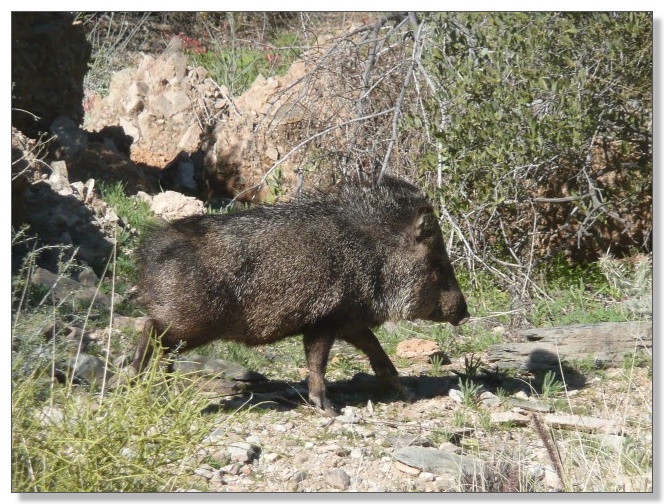 It's cool how the Saguaros seem to "glow" when backlit: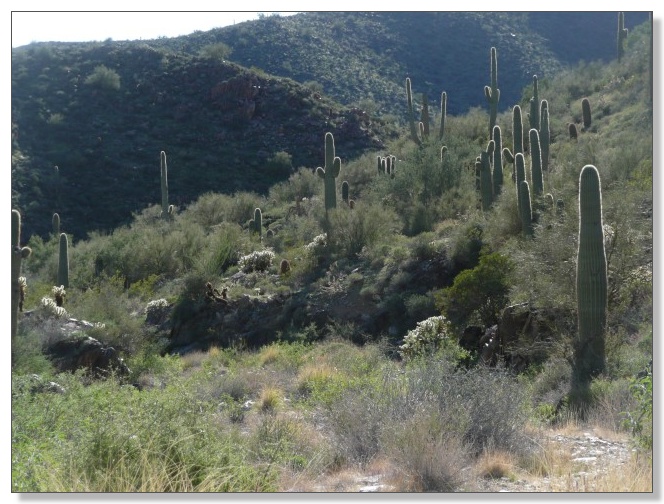 Riding in the desert could be a pretty prickly situation for a little Dahon, but after this 18 mile shakedown, so far, so good. It felt like things were a "go" for doing a Quad this weekend--bring it on!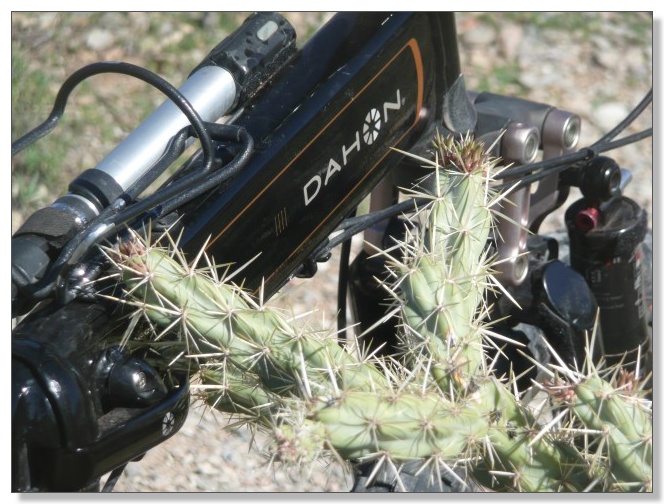 The Main Event

I spent the next couple of days sightseeing, doing some work, and surfing the trusty internet. Having never ridden in this area before, it was a pretty challenging logistical undertaking just trying to piece together the details of doing the Quad: how to get in and out of neightborhoods, where water was available, how to connect on some infamous dirt road, what to do about some new barbed-wire fence, etc. Between mtbr, Google Earth, and a variety of other websites, by Saturday, I was ready to go.

Rolled out at 8:30am from WestWorld, and rolled a few miles of streets and bikepaths up to the "standard" starting point of Basha's grocery store: I'd spend the rest of the day going up, down, and around the mountains ahead: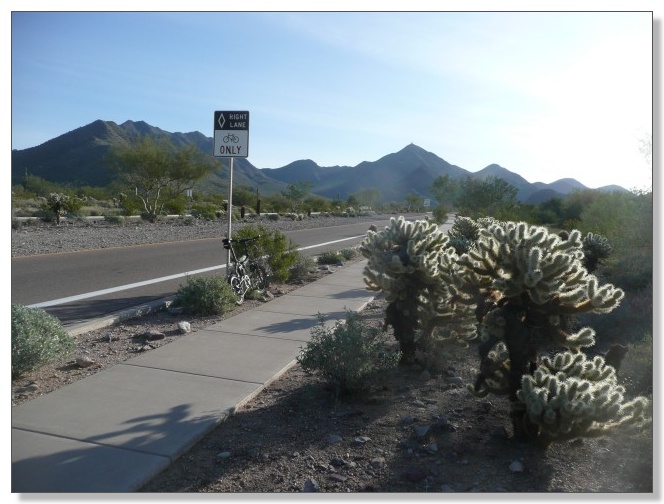 Theme of the day would be climbing, climbing, and more climbing, around 7000 feet worth eventually. "Come on, push it! Keep up with that guy!" Er, maybe not. Slow and steady wins (or at least, finishes) the race, right?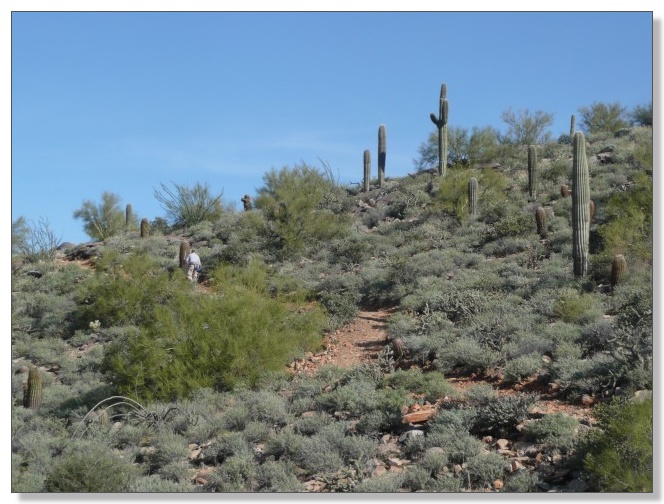 After miles of relentless, mostly granny-gear action (punctuated by occasional pushes), I found myself atop Windgate pass, the first "bypass" of the day. One down, only three more to go!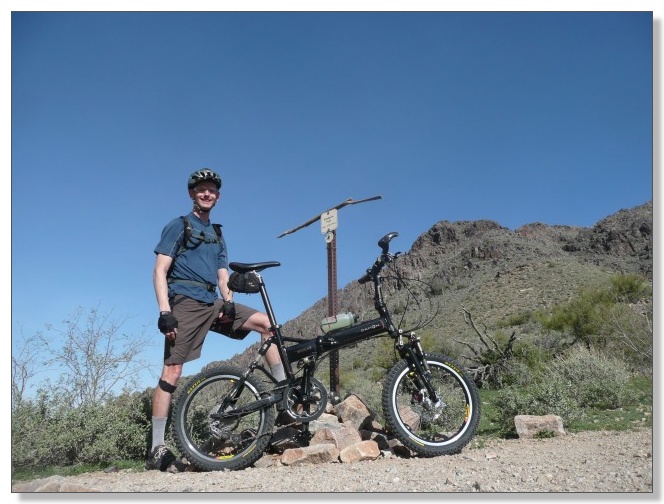 The descent off the backside of Windgate was most welcome, but was all too short. Soon it was time to hang a right and climb again, on what, from a distance, appears to be a beautifully-smooth ribbon of singletrack: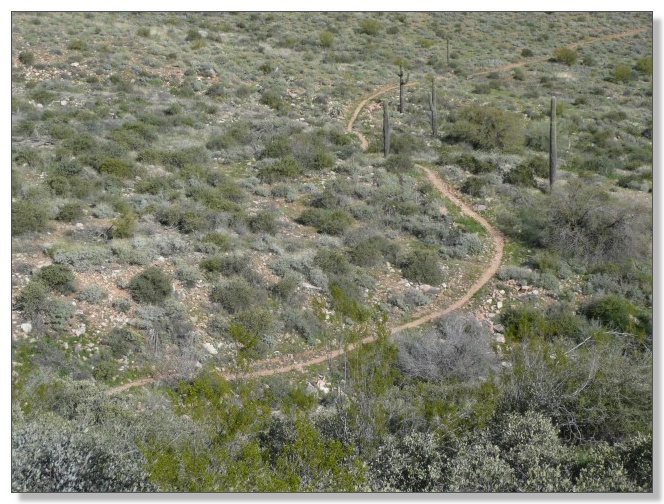 Up close, however, the steepness, looseness, and proximity to pointy little needles become plainly apparent: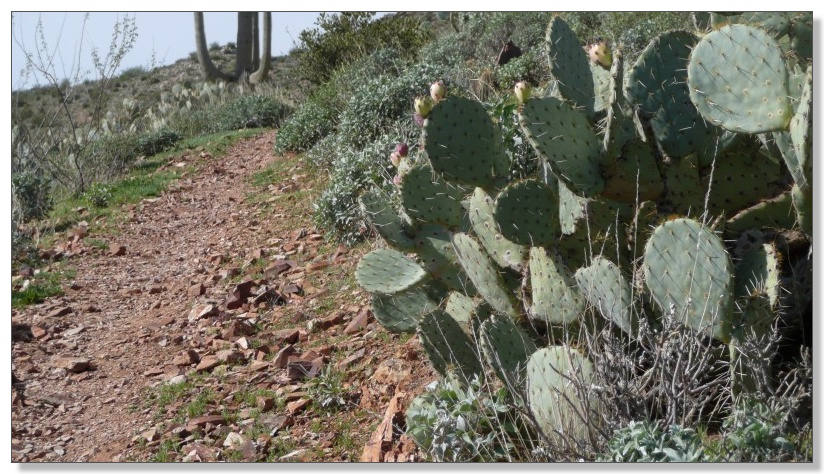 Ding, ding, ding! Behold, it's the top of Bell Pass. Two down. Two to go. Hey, this isn't gonna be that hard. Of course, in actuality, I was only through about 1/3 of the climbing and 1/4 of the distance at this point. Hmmm...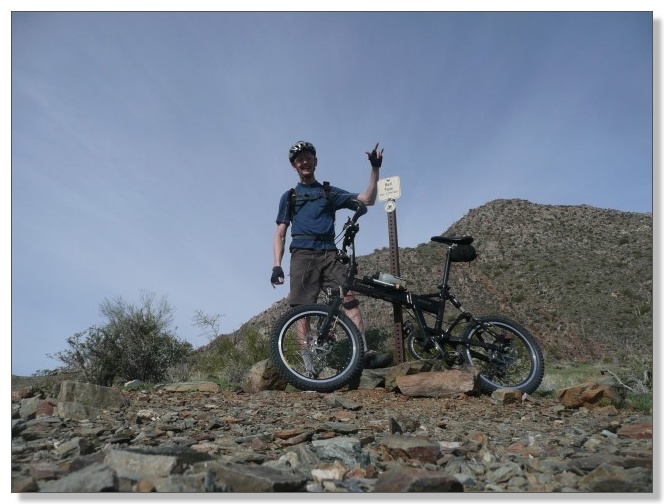 The trail down the west side of Bell pass was supposed to be the steepest of the route, and indeed, it really tore down the side of the mountain, quite loose, narrow benchcut that made for a pretty wild ride. I lowered my seat to about the height of a "real" BMX bike and took the plunge: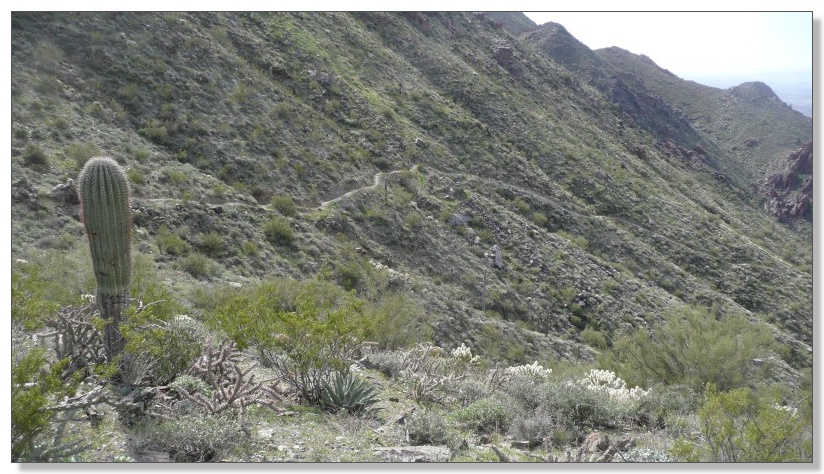 Switchbacks only added to the thrill. I cleaned some of them and weenied out on others. No big drops in the middle or anything, just steep and loose. The "loose" is what makes them tricky. Well, that, and the "steep":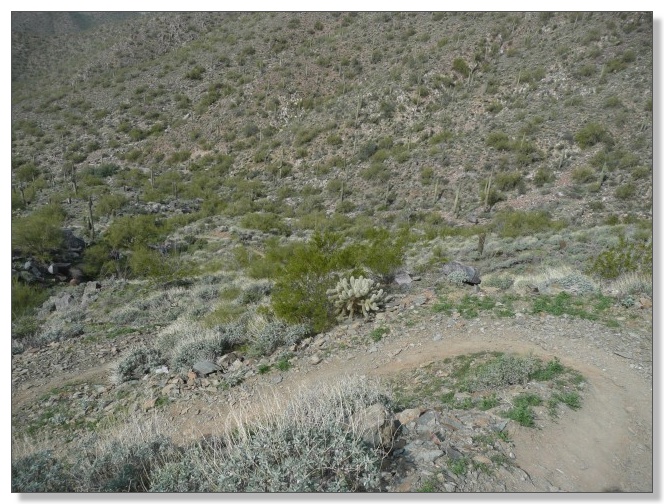 After the wonderfully long descent down Bell I was almost back where I started. Picked up the rolling traverse across the base of the mountains, past the Taliesin Overlook, and headed around towards Sunrise Pass. Between the rolling ups-and-downs and the ever-present shale surface, I was starting to feel the punishment: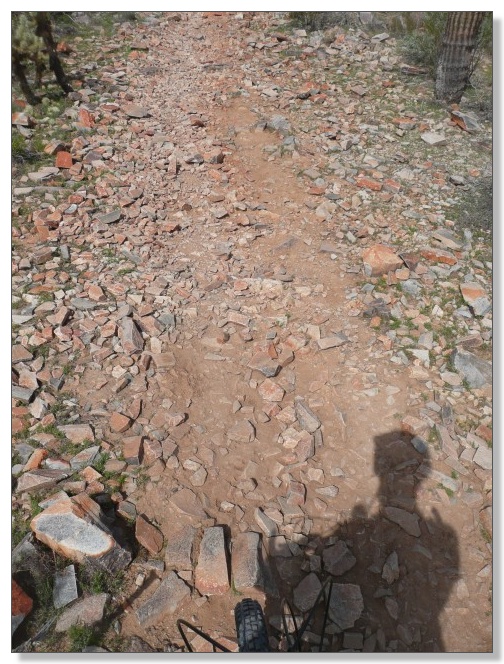 There were lots of hikers and bikers making the zig-zagging trek up Sunrise. The last few switchbacks at the top didn't look too bad from the bottom, but never mind, that's just a false summit anyway: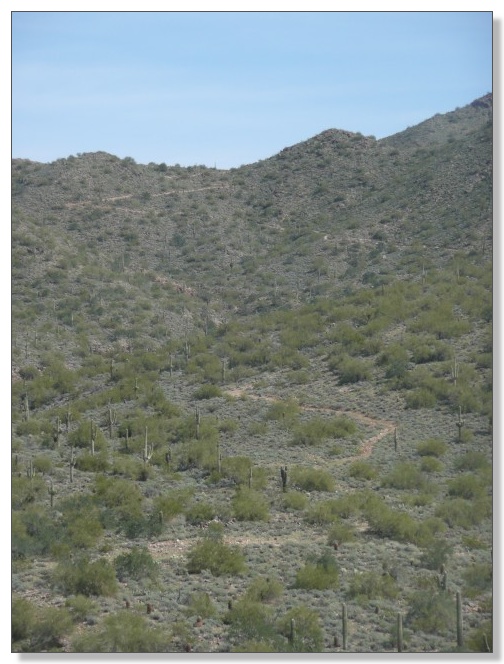 I met a local guy and trailed him for a while up the hill. Gradually lost ground, but didn't do too bad, all things considered: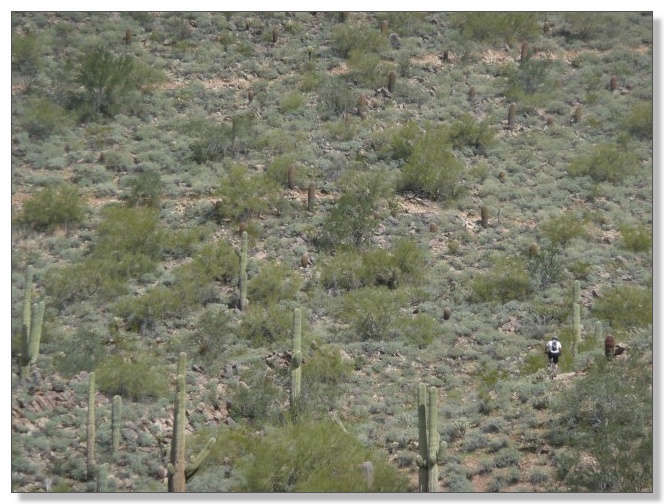 By the time I reached the false summit, he had turned around and headed back down (find the little waldo in the pic below). From this angle, it becomes apparent why this seemed like such a grueling climb!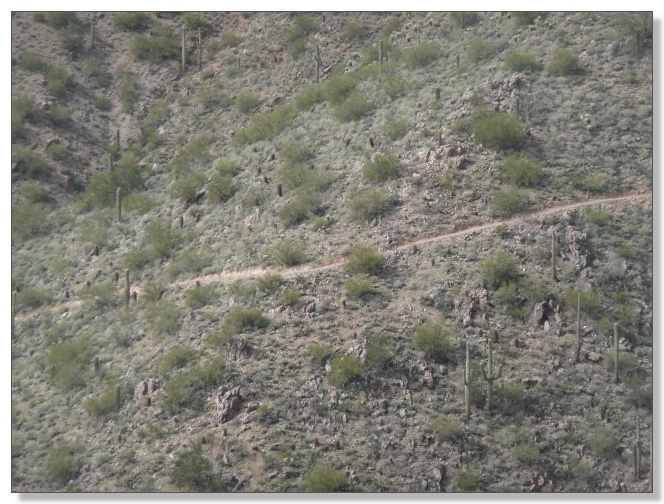 Made my way on up and around the peak, and bagged my third bypass of the day: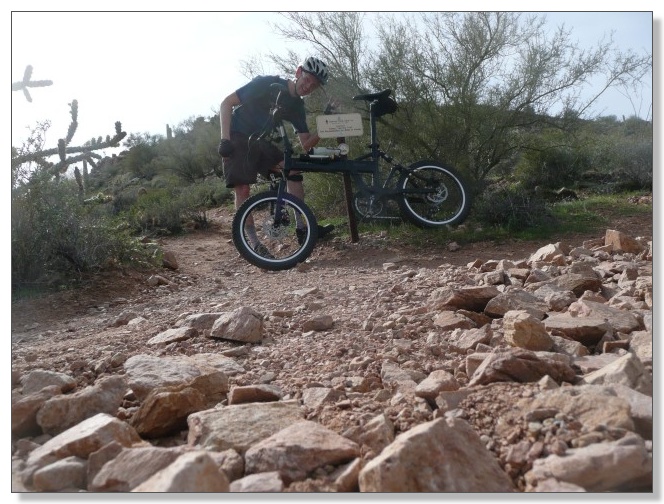 The descent down the east side of Sunrise was a real treat. Almost as steep as Bell but relatively free of loose shale. Throw in a few technical spots and it made for a wonderful ride down: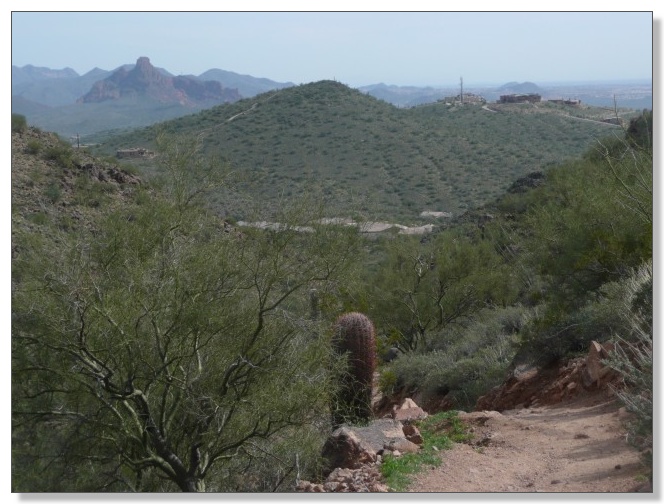 Cool rocks and cactus looking back up: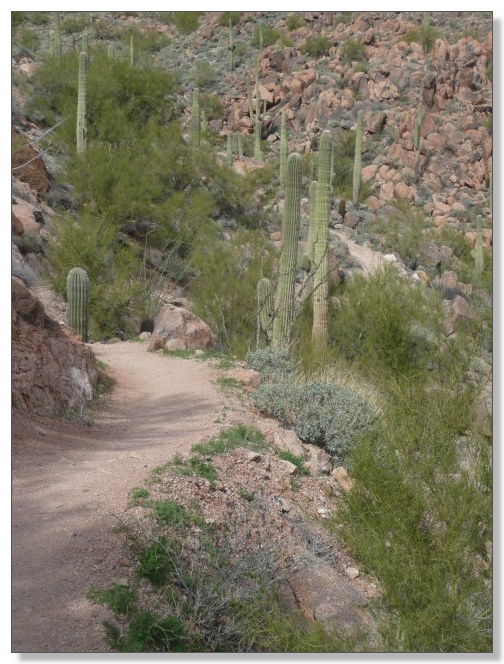 Refilled water and ate my second sandwich at the deluxe Sunrise trailhead: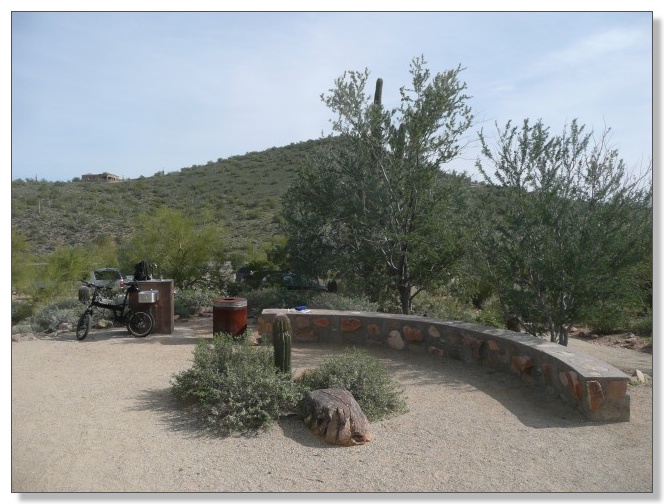 A brief stint on pavement took me to the dreaded "dirt road connector" I'd read about. Sure, it wasn't exactly pleasant riding, but at least it was mostly dirt, not just rubble, I reasoned: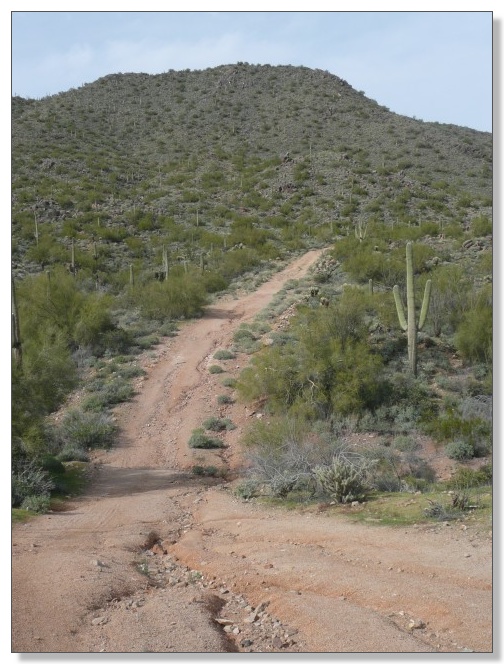 Dropped down into the new Golden Eagle gated community with the goal of not lingering there unnecessarily, as there's apparently some bru-ha-ha going on involving trail access and such through this private 'hood. I had figured I needed to take the third street to the left which would lead me to the next trailhead, but I apparently miscounted somewhere. Note that if you see the sign below, you're in the wrong place! I ended up climbing all the way up to a water tank before throwing in the towel. It's one of those things where you figure, heck, I've already climbed for a 1/2 mile... would be silly to throw that away if it's just a little further... besides, this pavement sure is easy to climb compared to rubble... we'll go another 1/2 mile...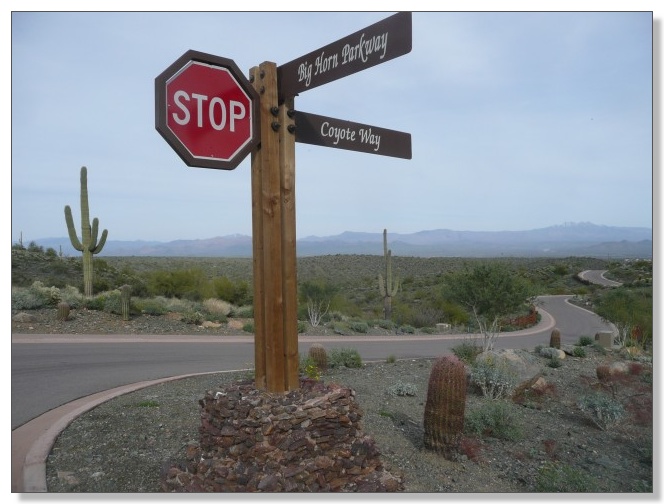 Upon reaching the water tank and still not finding a trail, I capitulated and gave back 300 feet or so of vertical and went around one more street to the left, where I quickly found the very obvious Dixie Mine trailhead just down the road: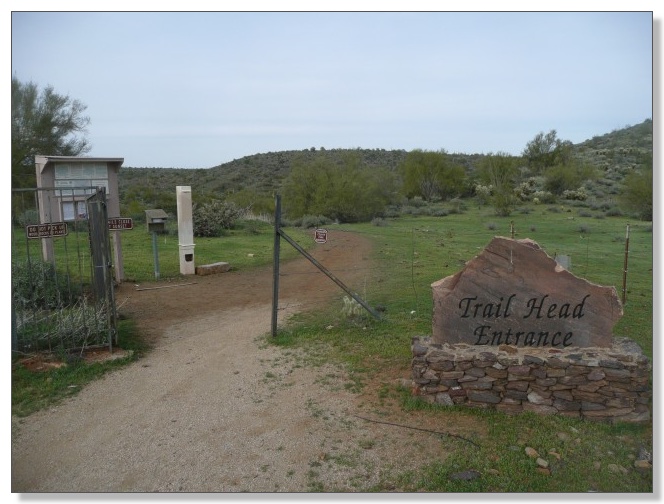 The Dixie Mine trail would probably be the "best" singletrack of the day on a normal day, being narrow, winding, beautiful, remote, and strewn with little technical challenges. Coming at this point in this ride however, I was pretty well beat and just slogged my way along, simply determined to finish this thing: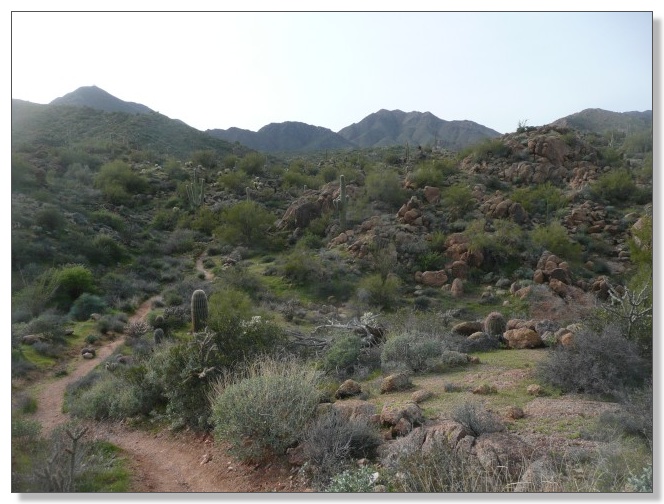 Chollaballs (tm), galore!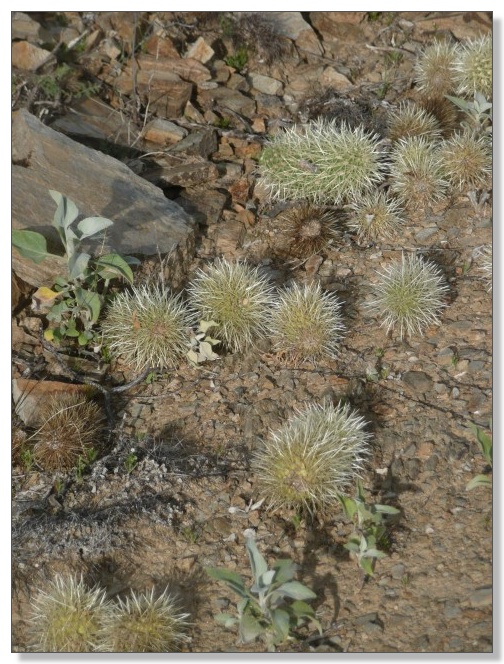 Saguaros, galore!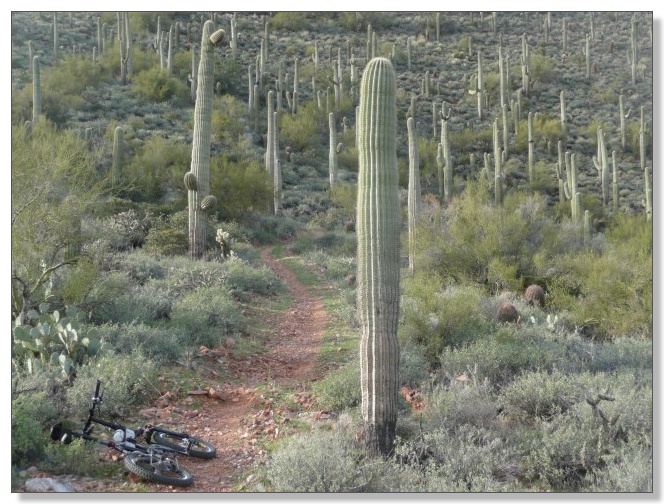 "Looks like the suns are setting. Better keep those cranks turning," muttered my weary brain: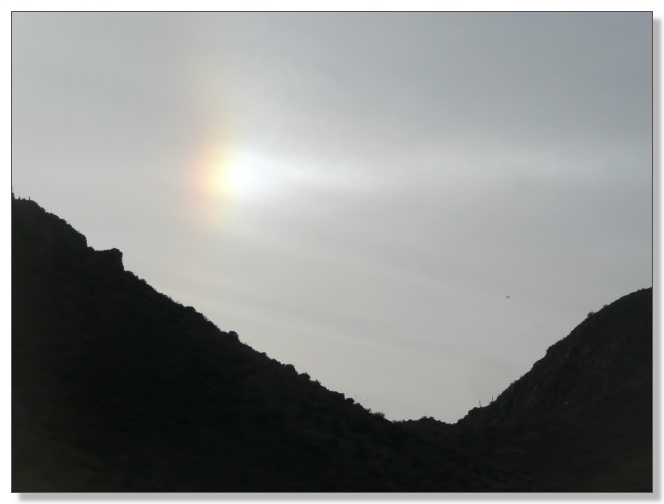 Wait a second... SUNS?!? What the heck? Blink, blink. Take off the shades and squint. Sure enough, an extra sun had appeared. No optical illusion, it was really there. And really bright. In fact, further inspection revealed there were now THREE of the damn things blazing in the sky. Well, at least that explains why it was 85 degrees in February!!!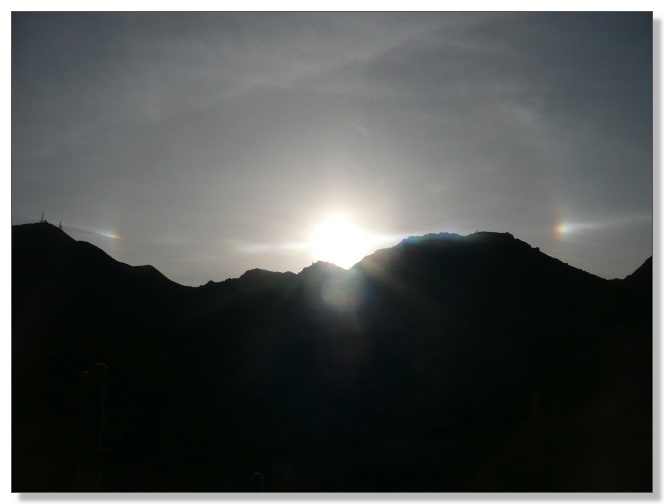 (Upon getting home, I discovered what I'd seen are called sundogs, a term I'd heard but had never seen before myself. They appear when the sun lines up just right with a layer of ice crystals in the atmosphere which have a characteristic refraction angle that causes this halo effect. Or something like that. Was very cool to see.)

But back to the point, I still had to make it up and over Windgate Pass, from the other direction this time, to complete my big loop. Unfortunately, my mind must have been blown by the extra suns, because I made a navigational error and took the Prospector trail up to almost Bell Pass. I had read about somebody else making that mistake and should have known better, but didn't realize what I'd done until it was too late. Oh well, "pushing your mountain bike is still mountain biking", I kept thinking. The descent down the trail I had climbed to Bell in the morning was actually a lot of fun, but that loop did add another few hundred feet of tough climbing I really didn't need at that point! (Perhaps that option should be dubbed the "Quadruple-and-a-Half Bypass" route?)

I finally appeared back atop Windgate Pass for the final summit of the day and felt a wave of relief, knowing it was "all downhill from here!"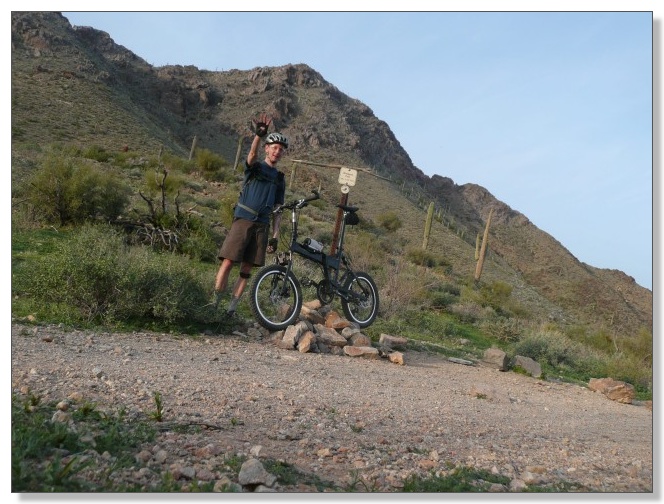 The long downhill was a pure delight to my poor legs, but that only gave my arms their chance to complain, what with all the relentless, rocky chatter. That tricky parallelogram fork sure got a workout on that one: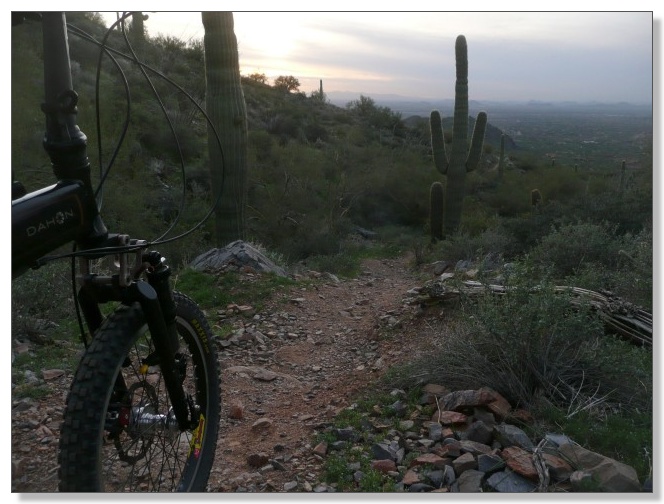 Nature reverted back to a single sun for the grand finale: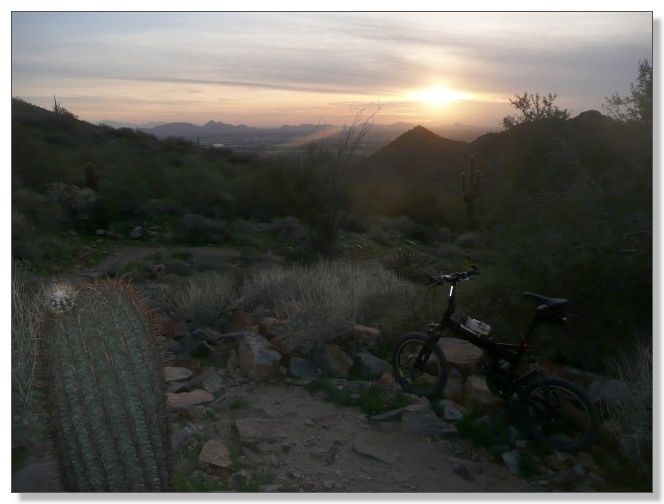 I made it off the trails a little before true darkness, but I deployed my little headlight for the street ride back to the RV, figuring it would be a real shame to get run over after a day like that!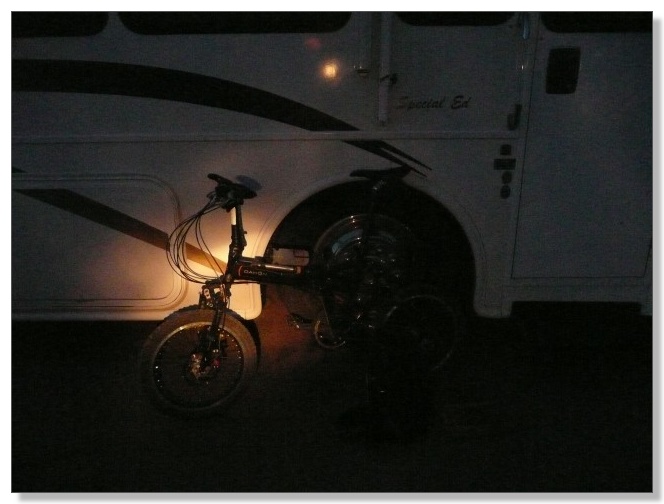 The Conclusion

Final rolling stats were 39.37 miles in 7:02 hours, for a moving average of 5.6 mph. Zero mechanicals. This went into my ride log as my second longest ride ever (by time), behind only a century ride I did on my other folder a couple summers ago in Denver. But this was a vastly harder ride than that one. This was a serious challenge and a grand adventure.

Which is what it's all about, right?

See ya out there! (more to come soon about the rest of my month in AZ)