---
Feel free to download our calendar for your personal enjoyment.
Please also use the EMAIL US link on the left side of the home page to say "howdy" and let us know if you like it!
For full visual impact (or printing), click here to download a high-resolution PDF file (19 MB) of the calendar
---
JAN FEB MAR APR MAY JUN JUL AUG SEP OCT NOV DEC
"Recalling great rides on our twenty-inch folding bikes from the previous year. . ."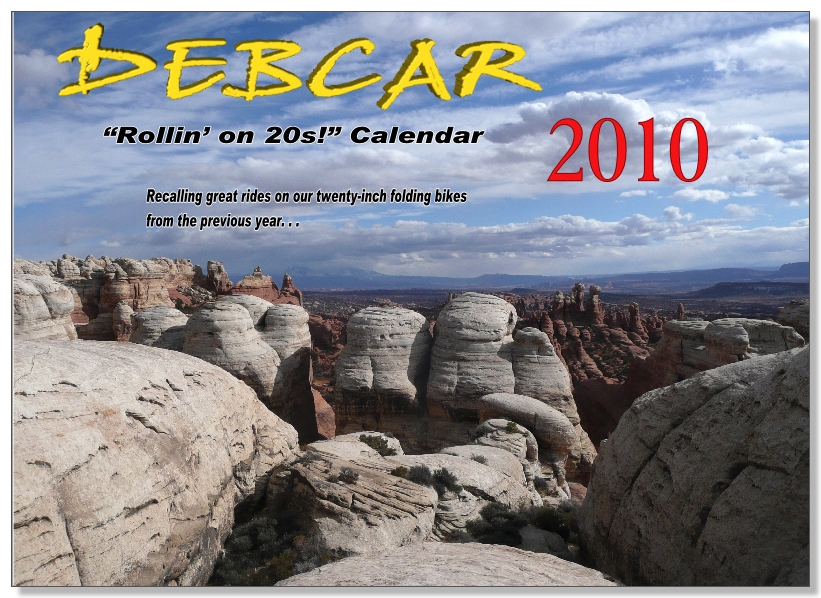 "Started the new year in style with a snowy fifty mile road ride on Rim Rock Drive in Grand Junction, CO"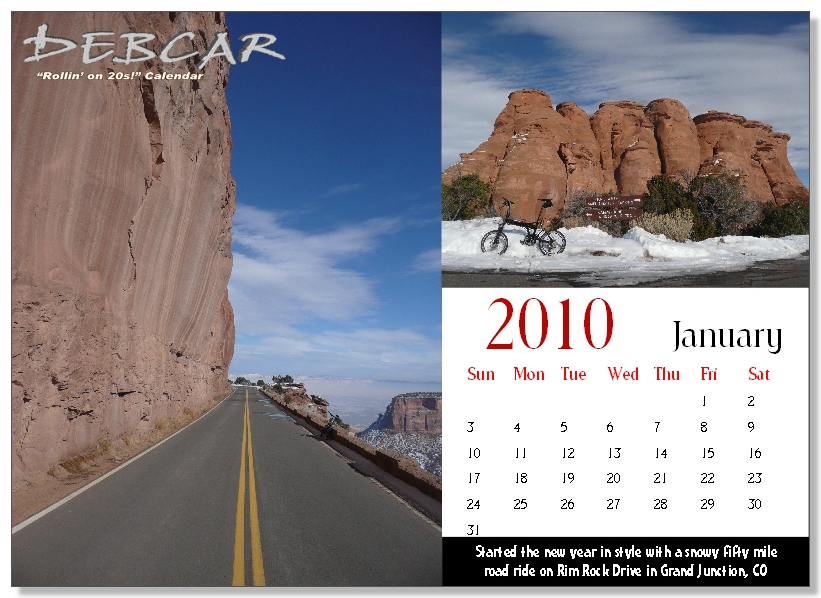 "Wintertime in MTB Mecca (Moab, UT) included a day-long adventure combining Gemini Bridges, Gold Bar Rim, Portal, and Poison Spider."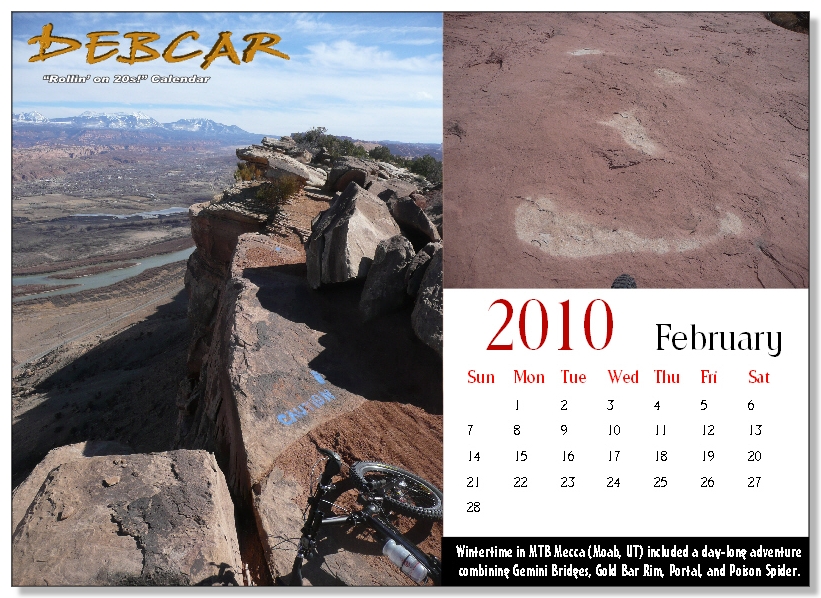 "Moab terrain ranged from ultra-grippy sandstone on the Slickrock trail to seemingly endless stretches of fine, deep sand on Poison Spider."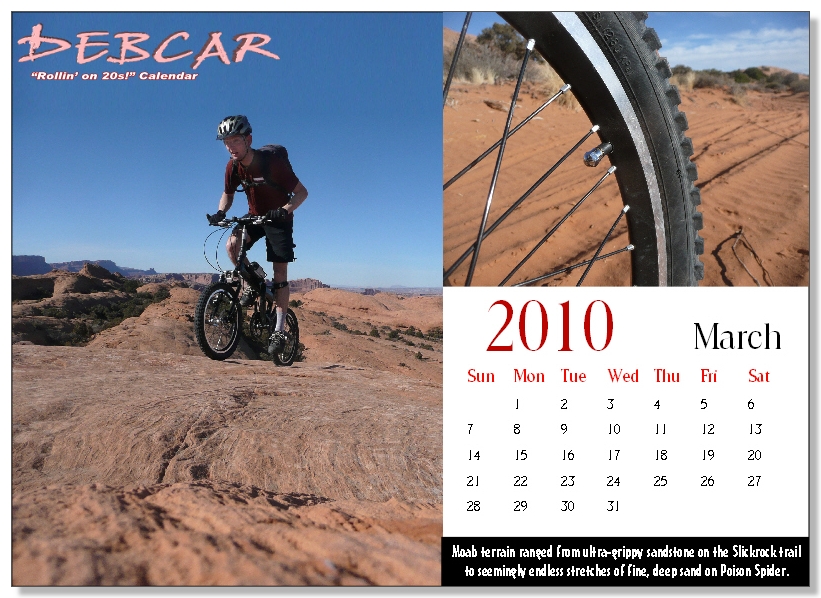 "We escaped from winter to glorious spring riding conditions in the rocky mountains and blooming deserts of Arizona."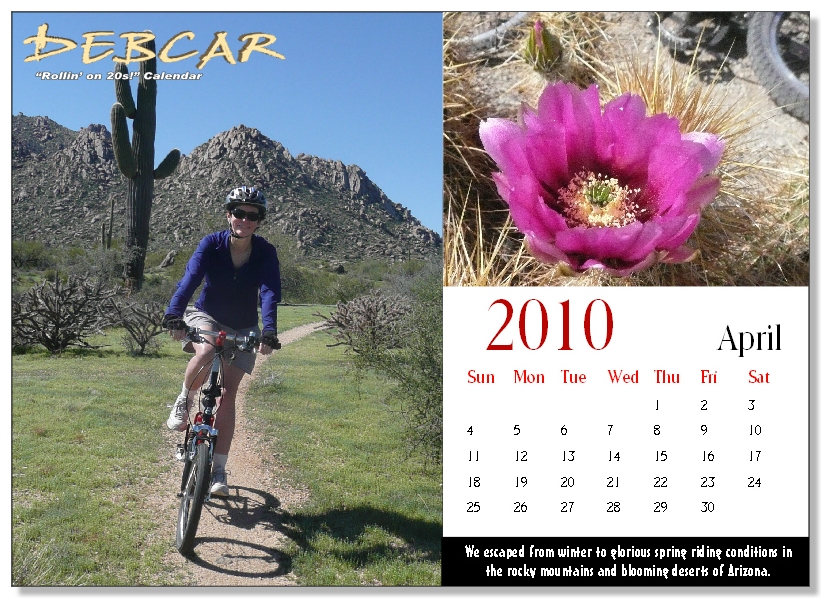 "The Pass Mountain loop was a hidden jewel just north of Phoenix, while good times were had by all on the AZ Spring Fling group ride south of Tucson."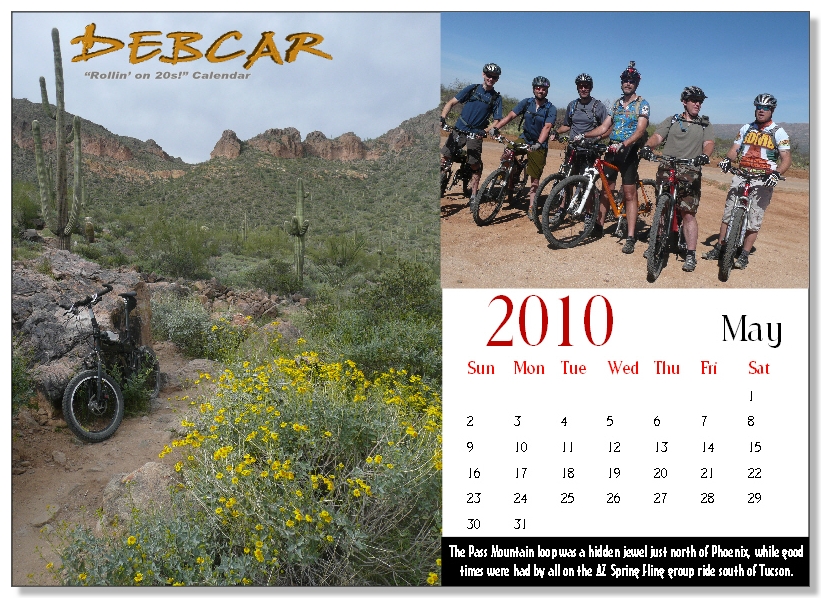 "A short stay in Austin, TX included several fun rides with friends Don and Dave at Muleshoe and Walnut Creek parks."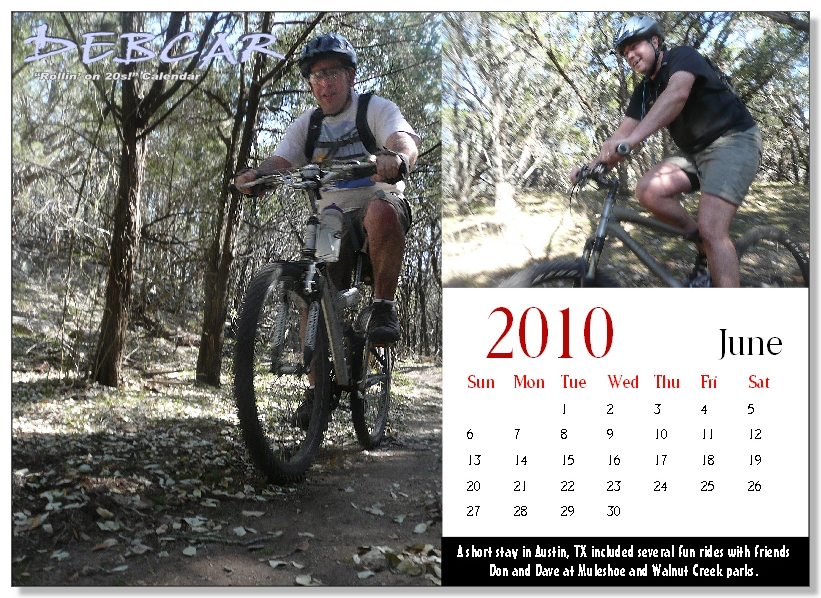 "A long, hot, wet summer in north Georgia included a grueling ride among outsized plant life on the Bear Creek and Pinhoti trails."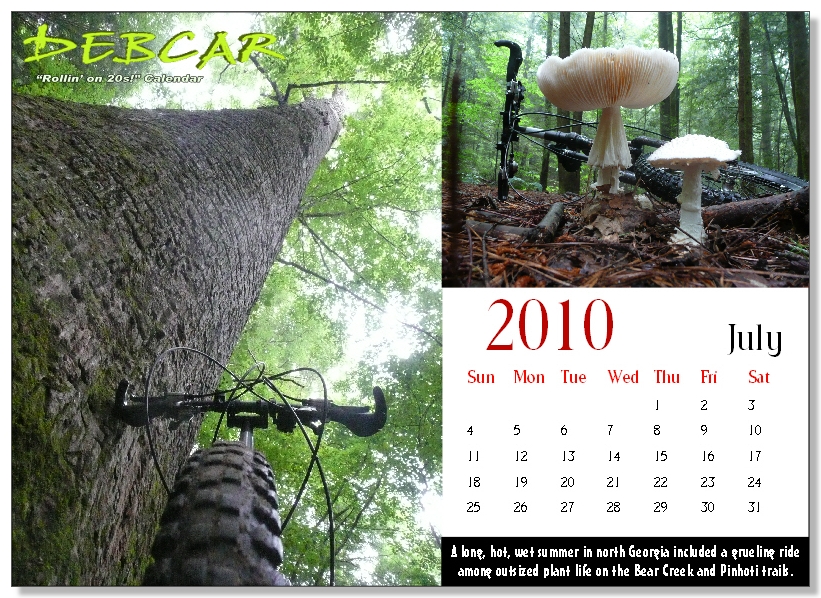 "After a stop in Chattanooga, TN for an excellent ride on Raccoon Mountain, we found ourselves enveloped by autumn colors in Wisconsin."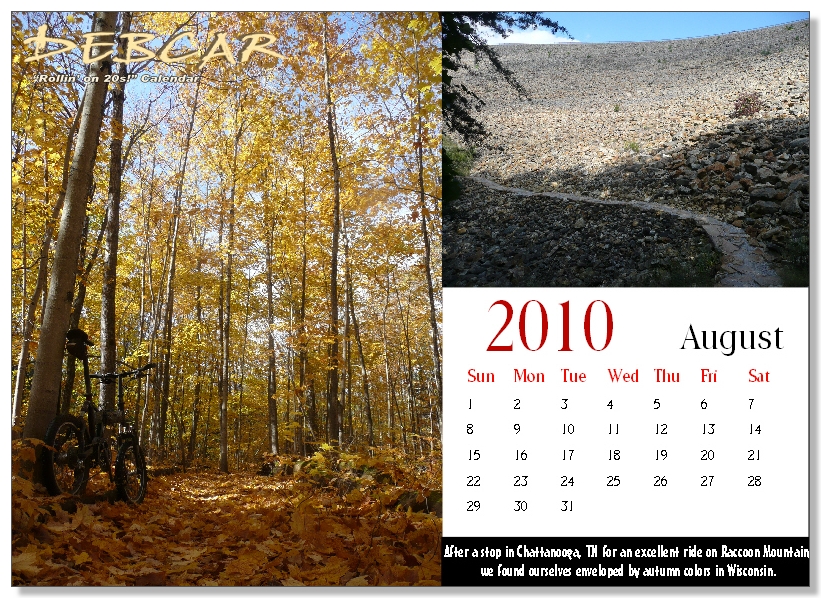 "A dusting of snow enhanced the Levis-Trow IMBA Epic in WI, while the famous lift bridge in Duluth, MN tries to hide from view."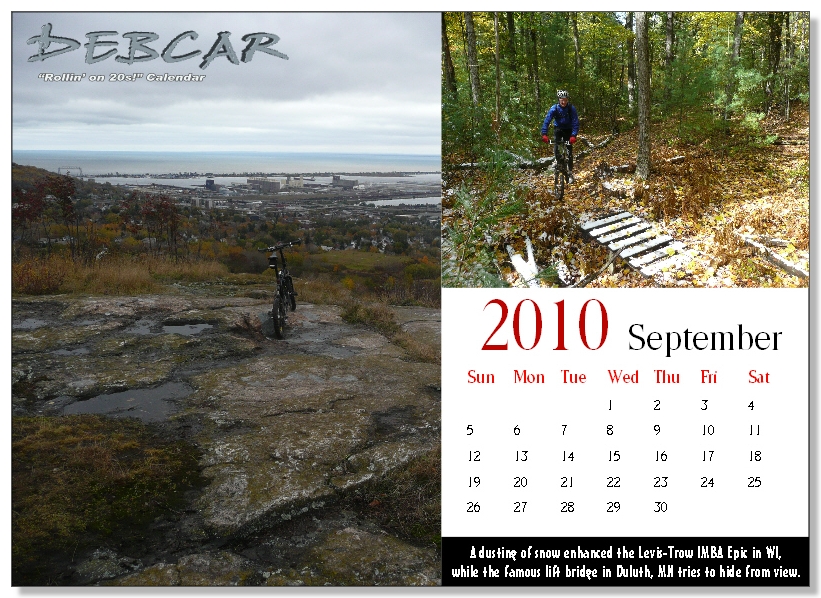 "Carey climbs the Stairway to Heaven in Copper Harbor (Upper Peninsula MI), while Debbie points out both cycling and grammatical rules in Madison, WI."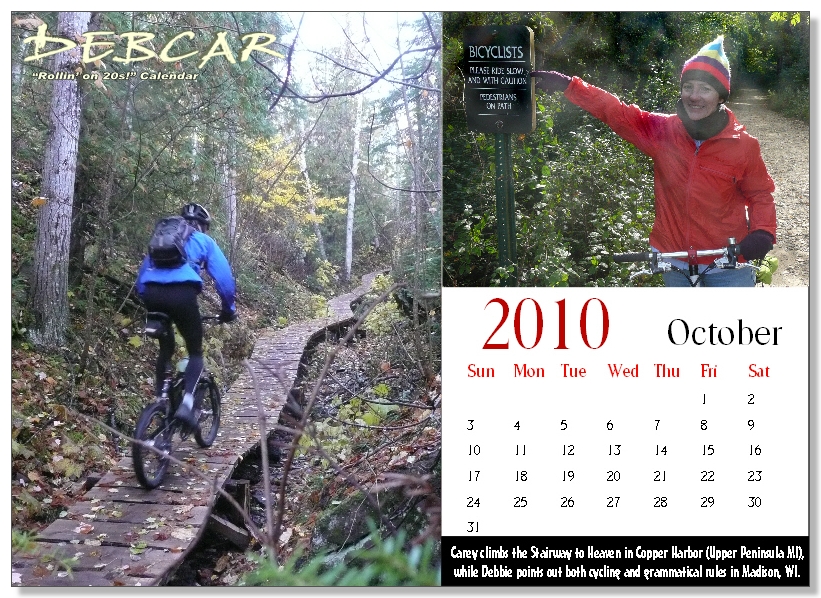 "Debbie used MTB zen to follow trails through the leaves at Reforestation Camp outside Green Bay, but Carey just clowned around in Milwaukee."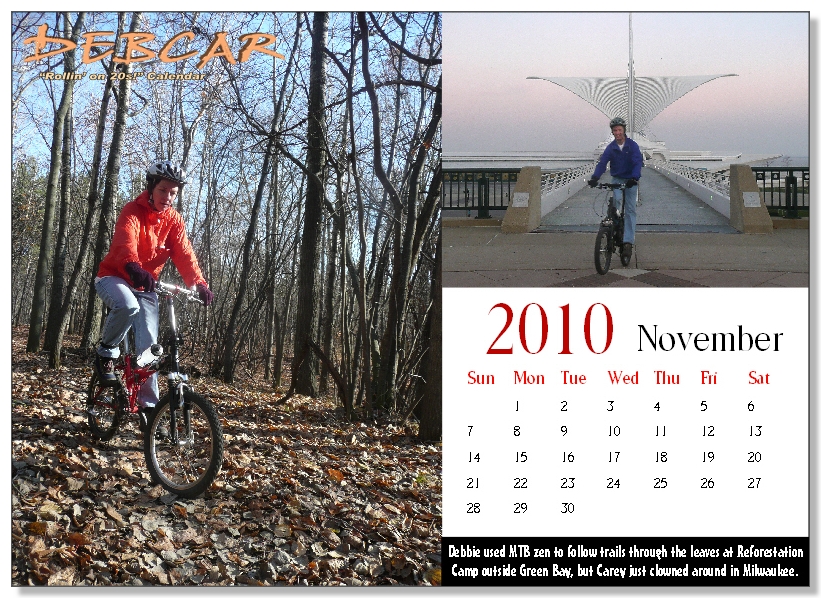 "Urban riding among the big towers was the fun way to explore Chicago, IL, while Turkey Mountain provided towering puzzles of rock in Tulsa, OK."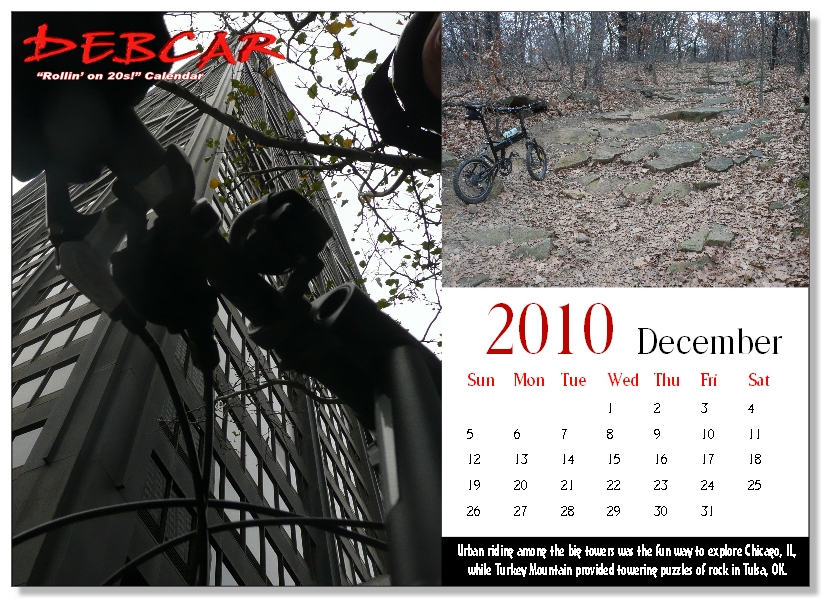 "We hope you enjoyed this 2010 calendar from DEBCAR.COM : Debbie and Carey's RV Travel Website!"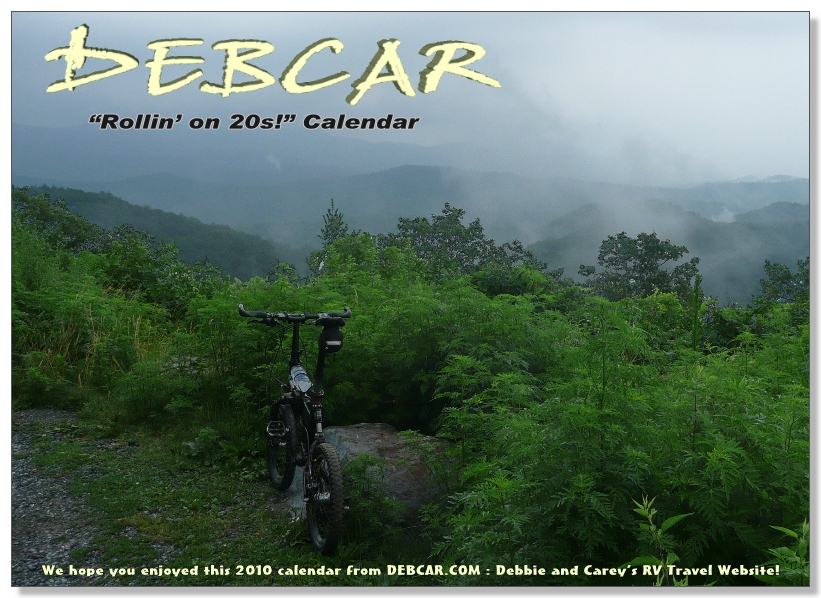 ---
---
HOME TRAVEL LOG MOUNTAIN BIKING WINDSURFING STORY ARCHIVES RV INFO PHOTOS CONTACT US
---