---


HOME TRAVEL LOG MOUNTAIN BIKING WINDSURFING STORY ARCHIVES RV INFO PHOTOS CONTACT US
---
< previous story home next story >
Jetstreaming Through The Snow! Gorgeous day on the trails in Grand Junction, Colorado

Saturday, December 20, 2008
Yesterday turned out unexpectedly sunny and warm (almost 30F) here in the 'Junkyard, so of course I had to get out and enjoy a little bike ride. From past experience, I knew there was a paved bikepath down there somewhere: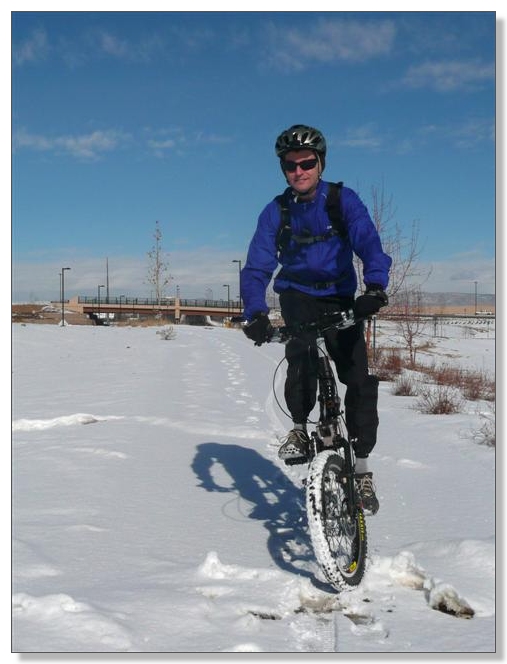 About 4 miles of bikepath and highway brought me to the Tabeguache trailhead, which is the main gateway to the network of world-class mountain biking trails just outside town. I've been enjoying these trails (and others in nearby Fruita) in the dry for the last month, but this would be my first time to tackle the so-called "Lunch Loops" in the snow: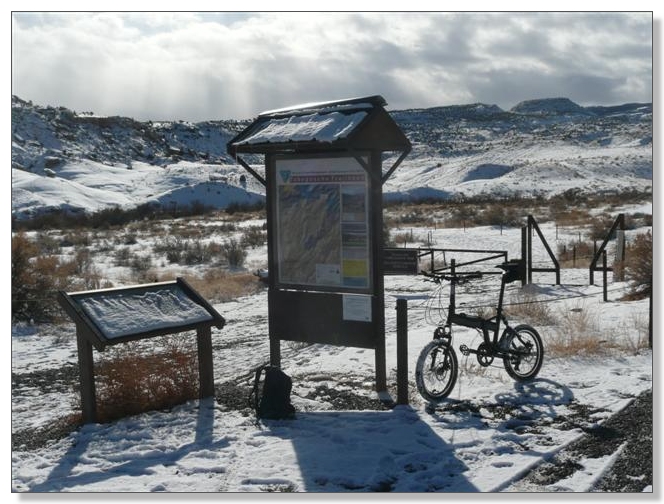 I took the Tabeguache doubletrack to the first singletrack junction, Eagle's Tail, which soon joined with Pet-E-Kes. I was laying down "first tracks" by a bike, although there were plenty of footprints left by hikers who had (hopefully) found the right trail beneath the snow: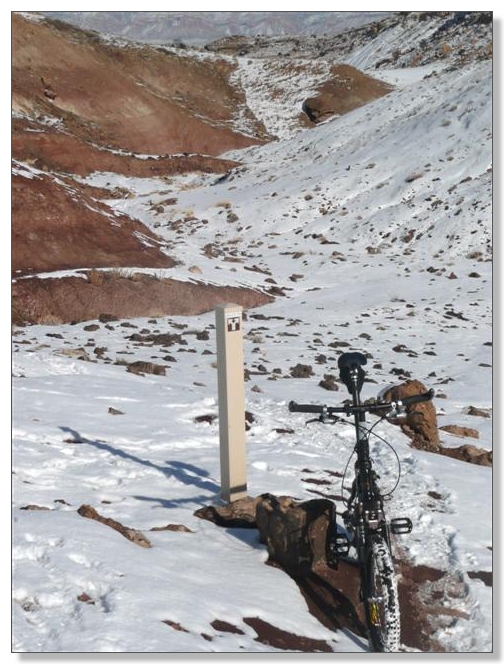 Pet-E-Kes is a marvelous, foot-wide ribbon of lightly-technical singletrack bench cut into the red rock, and is a favorite "climbing trail" here. Below, it appears as a thin white strip, climbing up from right to left before switching back to the fine vista spot shown: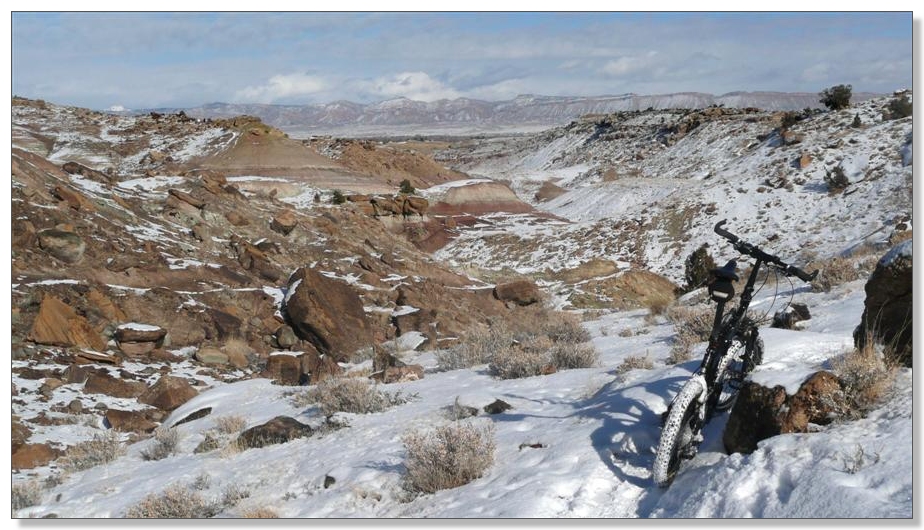 In the dry, I climb this trail on the mighty little Dahon Jetstream XP with only a handful of places where I get stuck on some technical outcropping or otherwise flame out. In the snow however, Pet-E-Kes became a serious challenge on 20s, and I walked numerous stretches where I either couldn't find the traction to climb, or just didn't feel like risking a slip and taking a tumble down the mountain. FWIW, I made it maybe 50 feet beyond the photo op below before spinning out and taking a little walk: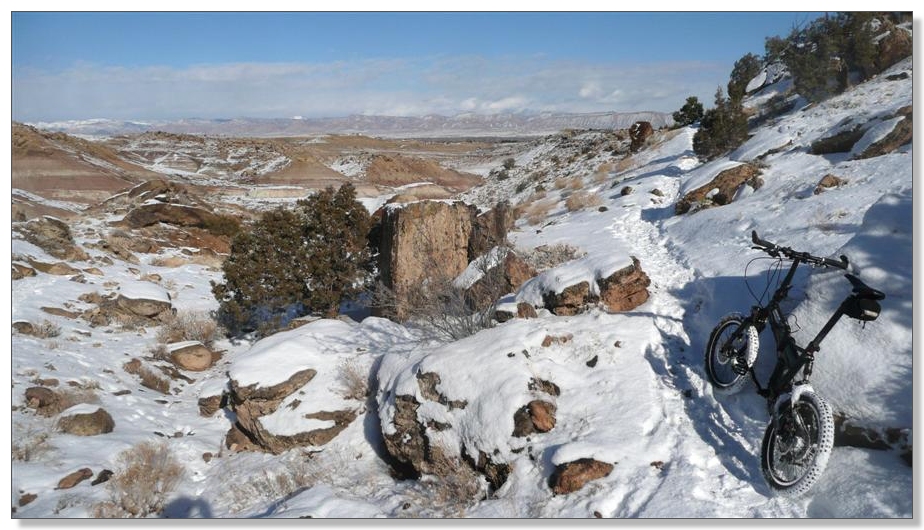 The bike's tires looked to me, just like a frosted Christmas tree, as it posed with the Colorado National Monument canyons beyond: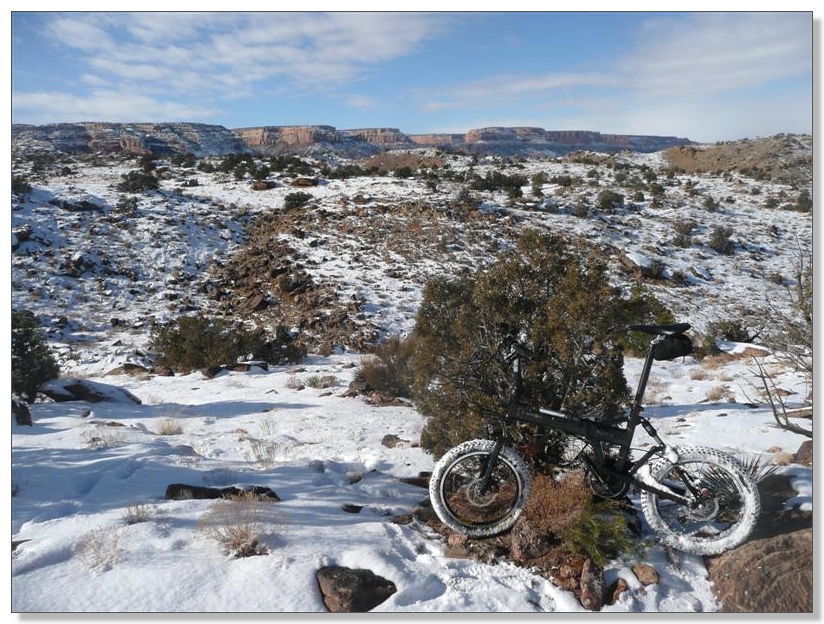 With snow packed in between the knobs, traction was, well, not excessive, and I was doing almost as much walking as riding during the climb so I cut over to the Tabeguache at the midway crossover point and headed down. The descent was definitely more exciting than my top speed of maybe 10 mph would normally correspond to. Keeping it between the rocks and off any side-sloping ruts were the biggest challenges. Had a couple of emergency bailouts when the bike would jump suddenly sideways on me, but I generally just slipped and slid my way back down, sporting a big grin.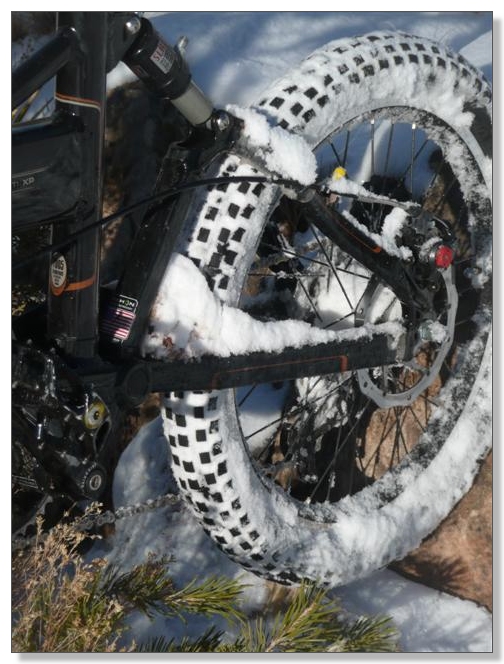 So that wrapped up one of the shortest (about 3 miles) but most interesting and scenic trail rides I've had in a while (and I've had some doozies...will try to get caught up and report on those soon!). I retraced the pavement back to the motorhome and treated the bike to a bath in warm water. It's now standing by, ready for our next adventure. Hope y'all enjoyed the recap and are having some fun out there this winter too.

< previous story home next story >
---
HOME TRAVEL LOG MOUNTAIN BIKING WINDSURFING STORY ARCHIVES RV INFO PHOTOS CONTACT US
---