---


HOME TRAVEL LOG MOUNTAIN BIKING WINDSURFING STORY ARCHIVES RV INFO PHOTOS CONTACT US
---
---
DEBCAR "Rollin' on 20s!" Calendar for 2012
---
Like the 2009 calendar, 2010 calendar, and 2011 calendar, this year's edition features photos of our most interesting rides during our RV travels around the country the previous year.
Hope y'all enjoy the calendar and have a fine 2012!

Cheers,
Carey
---
Feel free to download our calendar for your personal enjoyment.
Please also use the EMAIL US link on the left side of the home page to say "howdy" and let us know if you like it!
For full visual impact (or printing), click here to download a high-resolution PDF file (20 MB) of the calendar
---
DEC JAN FEB MAR APR MAY JUN JUL AUG SEP OCT NOV DEC JAN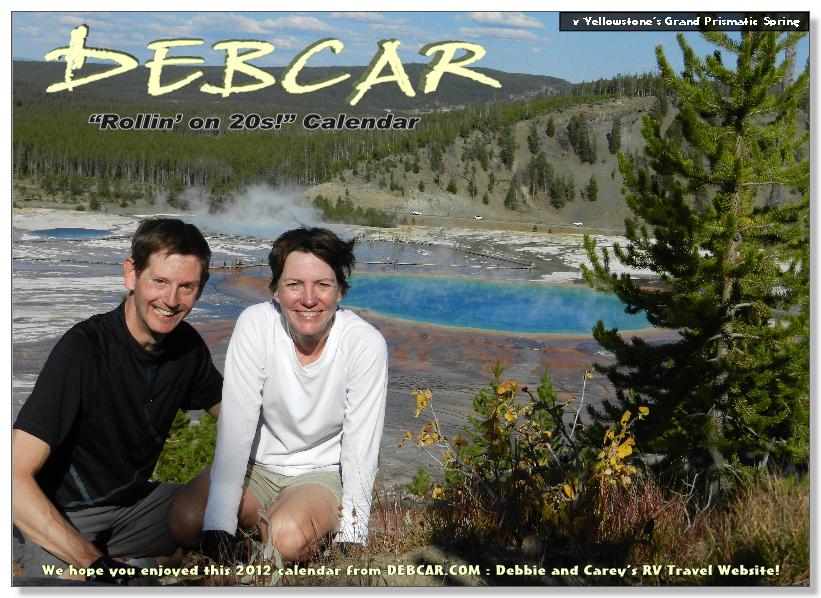 (BACK COVER: Grand Prismatic Spring in Yellowstone National Park, as seen from a viewpoint off the bicycle/pedestrian-only dirt road behind it)
---
---
HOME TRAVEL LOG MOUNTAIN BIKING WINDSURFING STORY ARCHIVES RV INFO PHOTOS CONTACT US
---