---
Feel free to download our calendar for your personal enjoyment.
Please also use the EMAIL US link on the left side of the home page to say "howdy" and let us know if you like it!
For full visual impact (or printing), click here to download a high-resolution PDF file (24 MB) of the calendar
---
JAN FEB MAR APR MAY JUN JUL AUG SEP OCT NOV DEC JAN
"Recalling great rides on our twenty-inch folding bikes from the previous year. . ."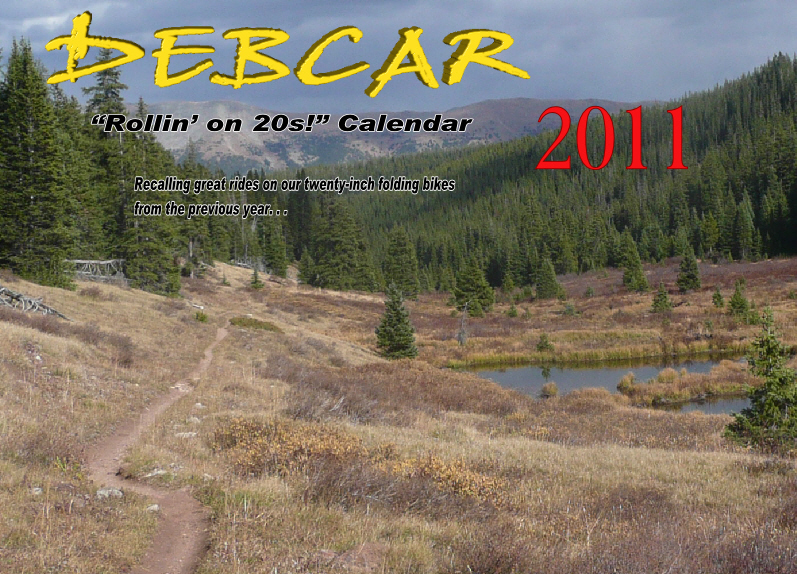 (FRONT COVER: The Colorado Trail between Copper Mountain and Searle Pass)
"Lobotomy recommended to ride a folding bike at City Park or Rocky Hill Ranch in Austin, Texas"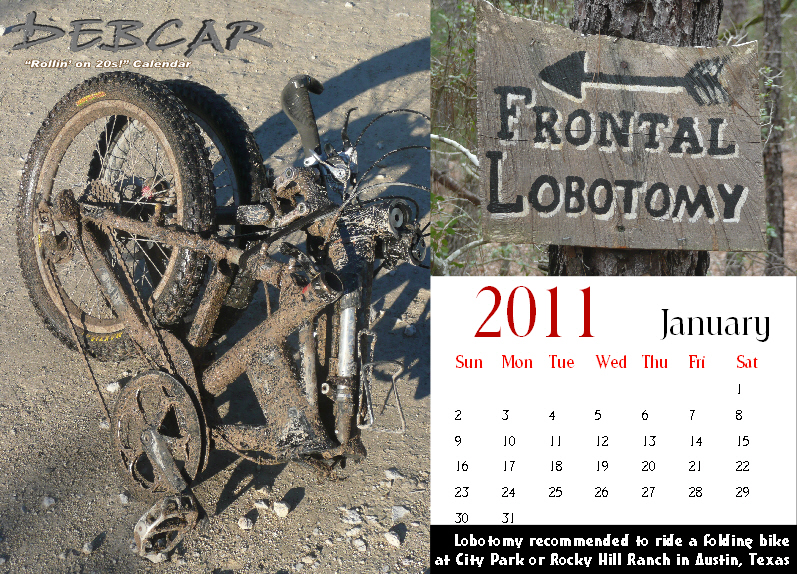 "Dillo on the Madrone Trail at Canyon Lake; Government Canyon near San Antonio, Texas"
"Port Aransas for sharks, and Bird Island Basin for windsurfing, near Corpus Christi, Texas"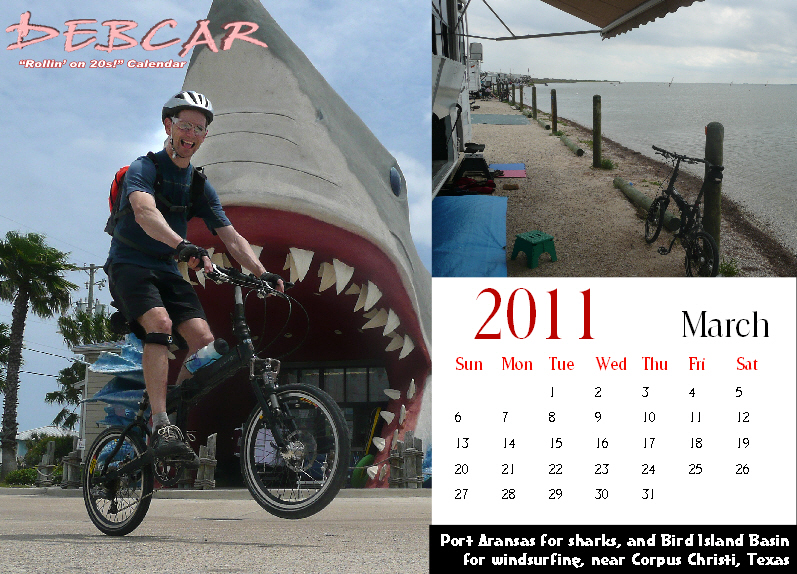 "Lincoln Parish Park, Ruston, Louisiana; Barton Creek Greenbelt, Austin, Texas"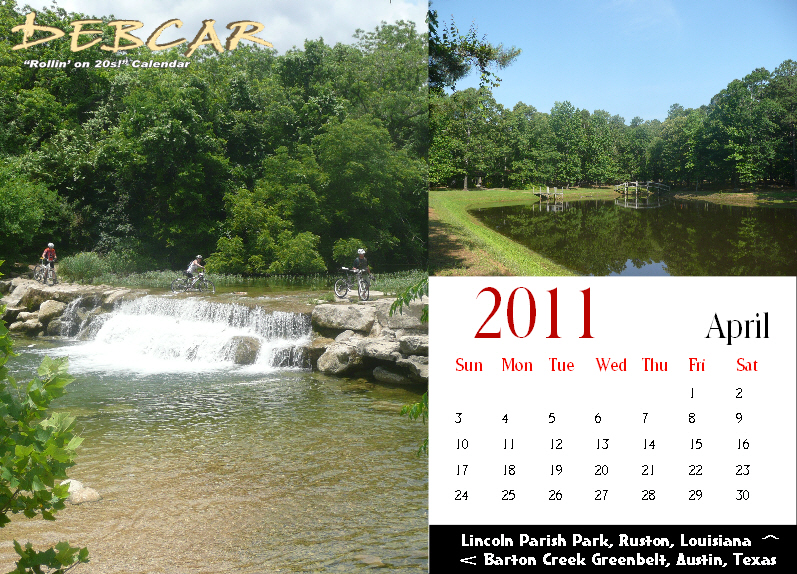 "The Womble and Syllamo IMBA Epics in Mt. Ida and Mountain View, Arkansas"


"Palos Meltdown MTB Race highlighted the summer's riding in Chicago, Illinois"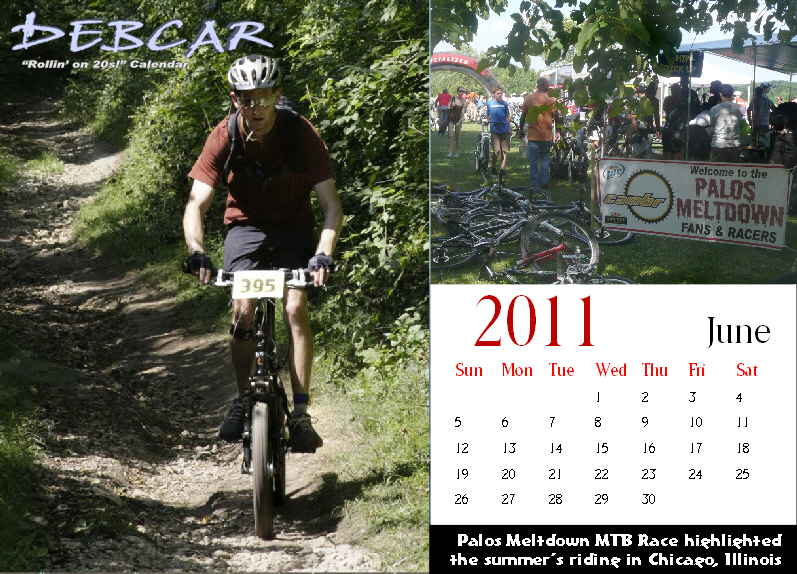 "Brown County State Park in Indiana offered both hyper flowy and hyper technical trails"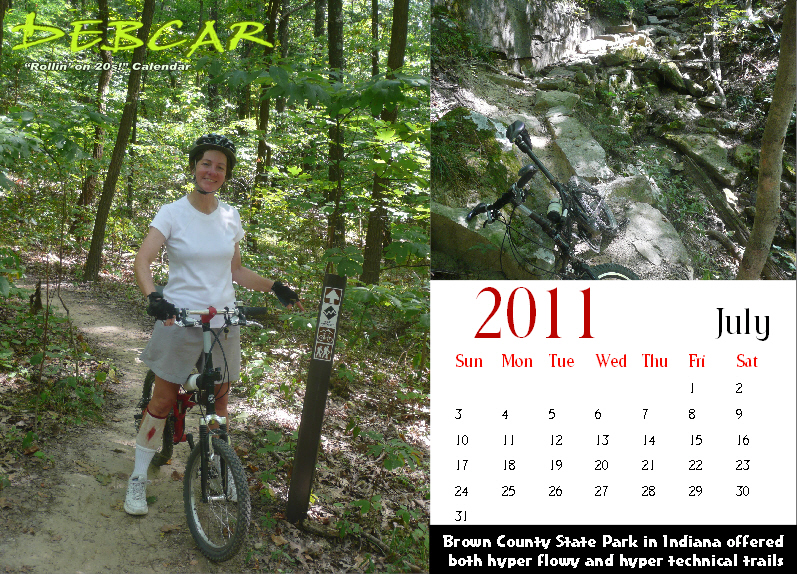 "No oxygen at 12,300' on the Colorado Trail from Copper to Searle to (almost) Kokomo"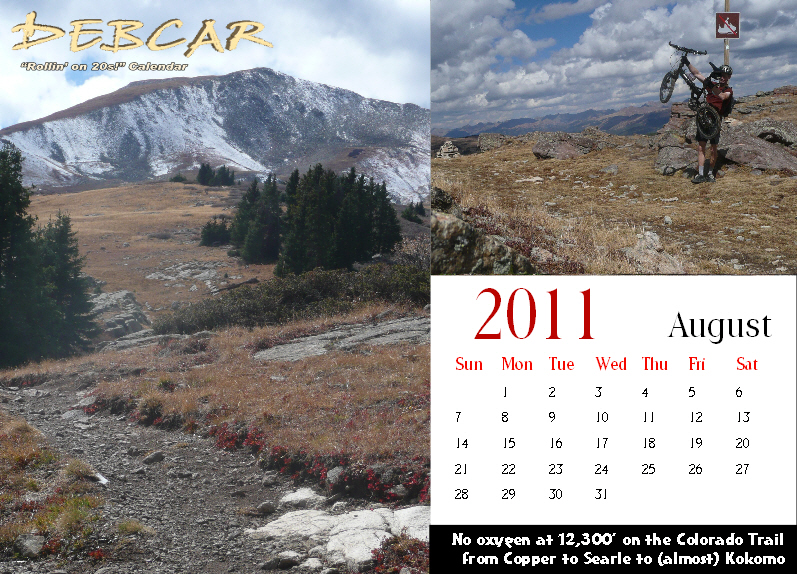 "The South Boundary Trail in Taos, New Mexico delivered epic challenges and gorgeous fall colors"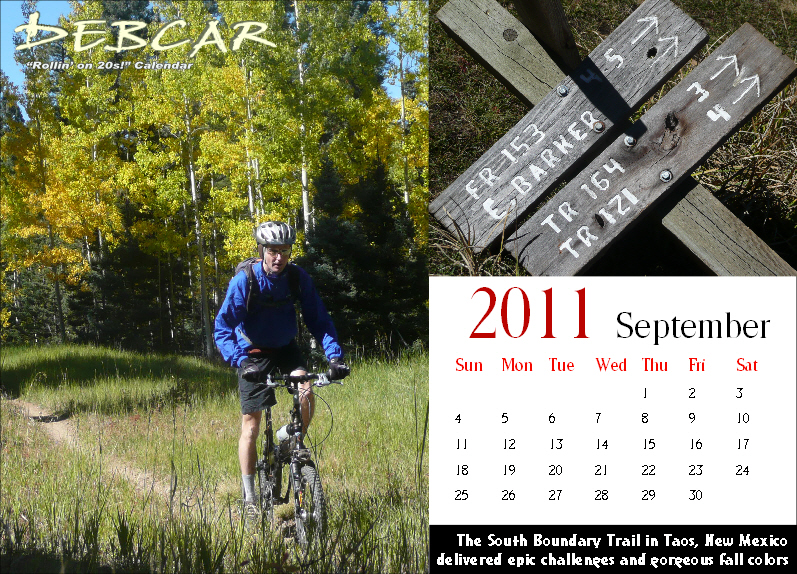 "San Angelo State Park, San Angelo, Texas; Goodwater Loop, Lake Georgetown, Texas"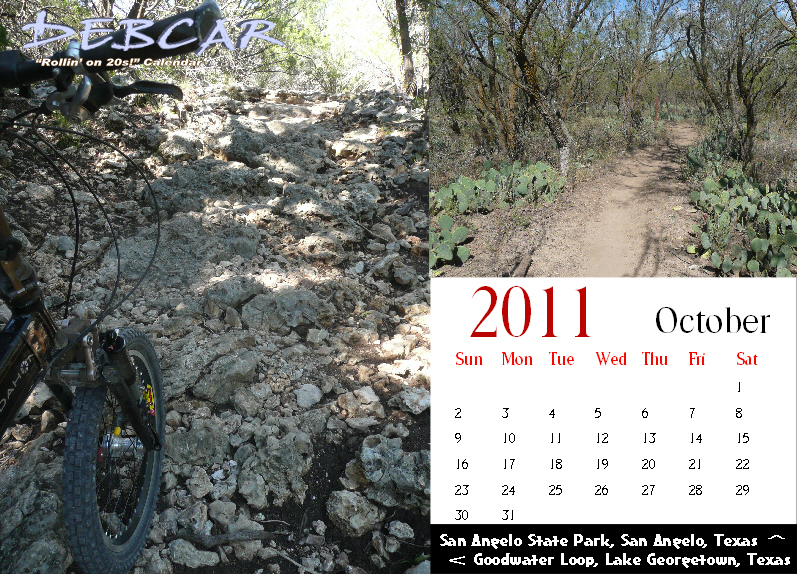 "Loaded bike touring with overnight camping at Texas Hill Country NA, Garner SP, Lost Maples SP"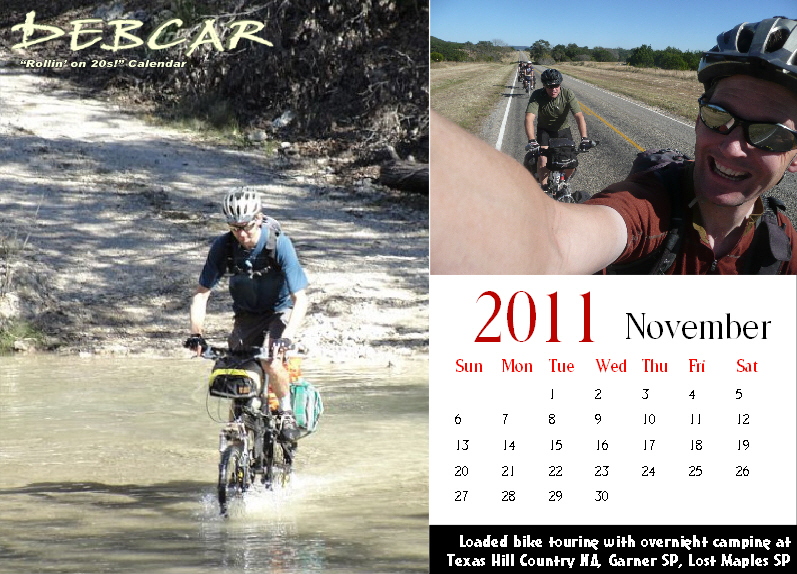 "Don demostrates downhill dramatics in the Canyonlands Preserve in Lakeway, Texas"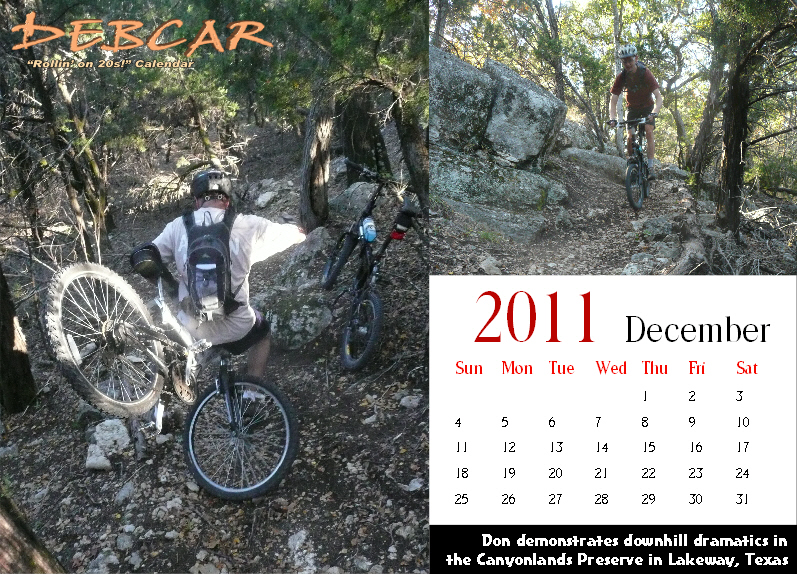 "Seashells, surf, and sand dunes on South Padre Island, Texas"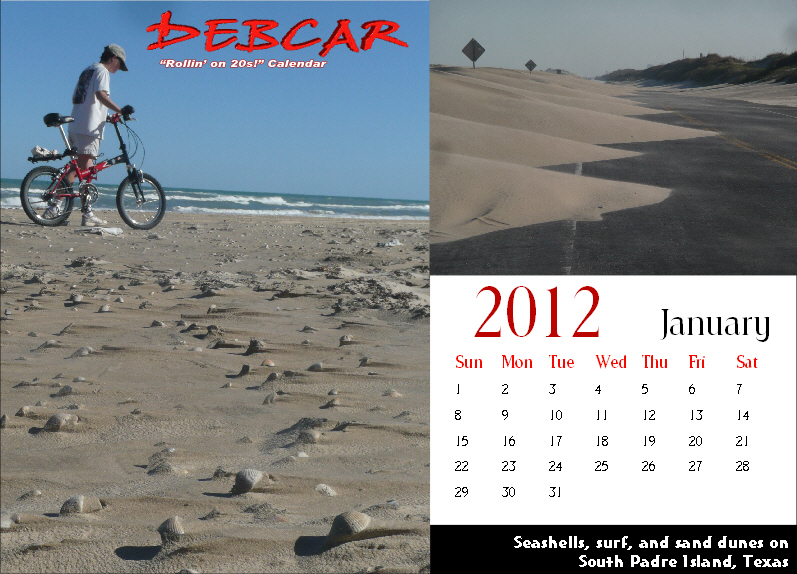 "We hope you enjoyed this 2011 calendar from DEBCAR.COM : Debbie and Carey's RV Travel Website!"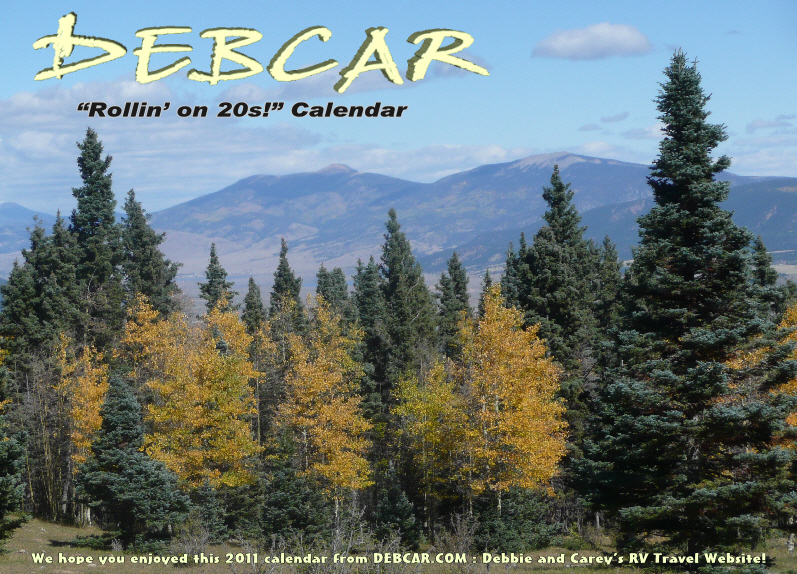 (BACK COVER: Near the intersection of the Elliot Barker and South Boundary trails in New Mexico)
---