---


HOME TRAVEL LOG MOUNTAIN BIKING WINDSURFING STORY ARCHIVES RV INFO PHOTOS CONTACT US
---
---
DEBCAR "Rollin' on 20s!" Calendar for 2009
---
So, I got inspired to wade through my photo archive and put together a 2009 calendar depicting some of my favorite rides from last year's travels around the country. I made it for friends and family (and, of course, my own wall!) but figured random strangers on the internet might enjoy it too, so here you go...

Each month's page features a pair of rides from that month of the previous year. I got to ride in 12 states in 2008 (NC, SC, FL, GA, VA, WV, PA, IL, NE, CO, WY, and UT) and most of them made it into the calendar. We spent the first half of the year on the east coast, then bee-lined across to Colorado and spent the second half of the year there, so CO is perhaps a little overrepresented... but that's not really such a bad thing, right?



Note that if you like the JPG version below, you can download a higher-res PDF version of the whole thing. Personally, I print out the pages and slide them into one of those transparent pouch things stuck to the wall above my desk, and change the page each month.
Cheers,
Carey
---
Feel free to download our calendar for your personal enjoyment.
Please also use the EMAIL US link on the left side of the home page to say "howdy" and let us know if you like it!
Click here to download a 2 MB PDF file suitable for screen viewing
Click here to download a 17 MB PDF file suitable for printing
---
JAN FEB MAR APR MAY JUN JUL AUG SEP OCT NOV DEC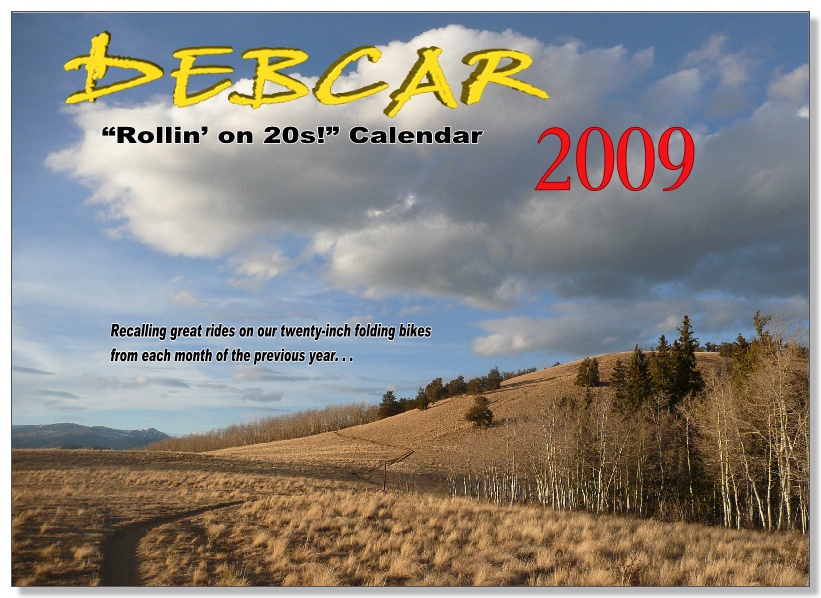 ---
---
HOME TRAVEL LOG MOUNTAIN BIKING WINDSURFING STORY ARCHIVES RV INFO PHOTOS CONTACT US
---