---


HOME TRAVEL LOG MOUNTAIN BIKING WINDSURFING STORY ARCHIVES RV INFO PHOTOS CONTACT US
---
< previous story home next story >
Skookum Flats and Palisades Adventure Ride
Hwy 410 past Enumclaw, WA, near Mount Rainier National Park
May 27, 2012
This ride report was originally posted on the mtbr WA forum: here
Fantastic day today in the mountains!

By lucky chance, I happened to meet a couple of WA forum riders, Noah and Sarah, at the Skookum TH. We hadn't arranged to meet but they had seen my post and also recognized me from Grand Ridge a few weeks back, so we got along immediately and decided to go exploring together.

We started with a fine descent of Skookum Flats, all smiles.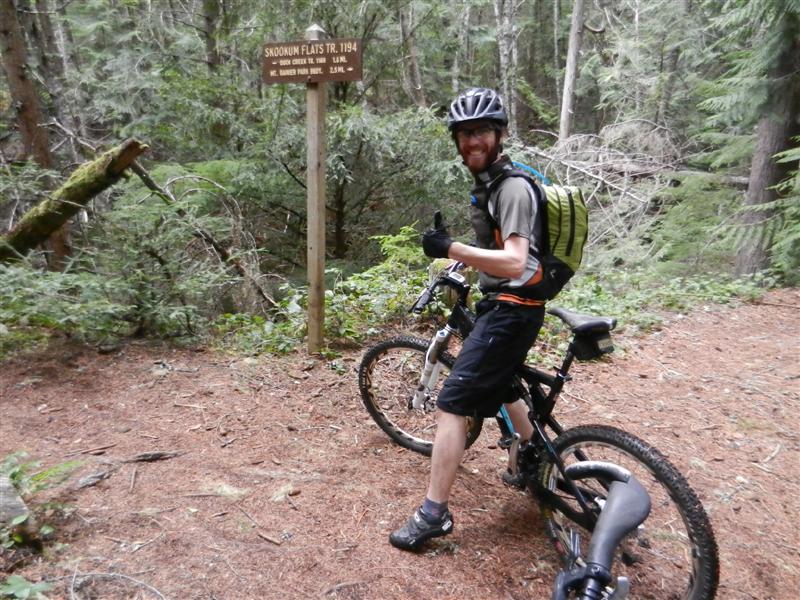 The slight downhill bias helped me maintain momentum over all the root gardens despite my 20-inch wheels, and I really enjoyed the moderately technical trail, and its riverside views.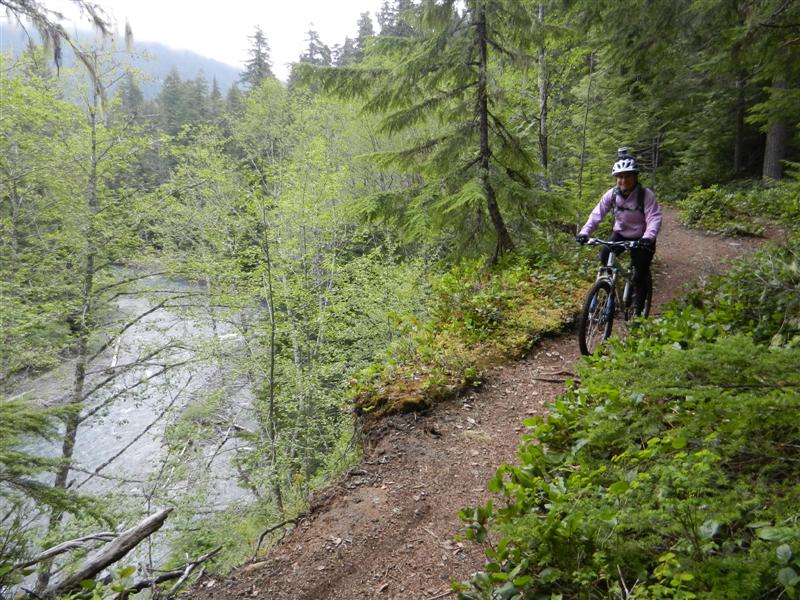 There were several nifty creek crossings with rushing waterfalls too.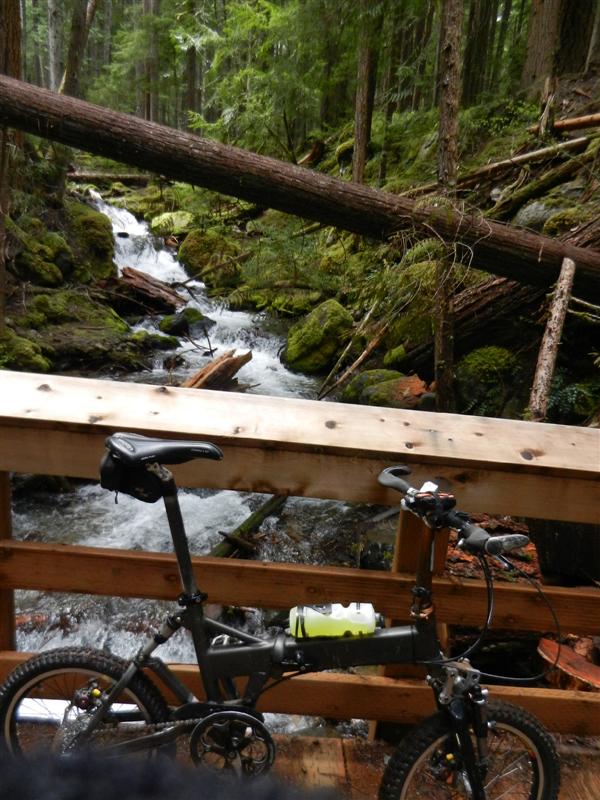 Sarah decided on a partial out-and-back of Skookum, and sent Noah and me on our way on down, saying she'd see us whenever we got back--hopefully before dark.

Oh boy, this could get interesting.

Somewhere near the end of Skookum I must have bonked my derailleur into a rock, because the cage started sticking against the cogs in either of the two largest cogs, and wouldn't drop into the smallest cog. Could not see anything obviously bent or broken to straighten, so I filed the mount an bit (first time using the metal file on my Swiss Army Knife--works surprisingly well) and adjusted the B spring to give it some clearance and was able to carry on. Just had to avoid going below 3rd gear the rest of the day...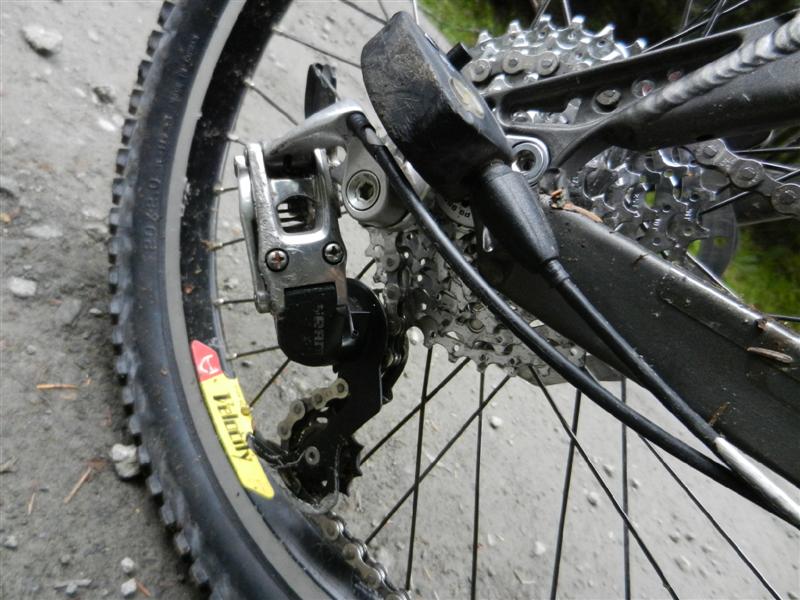 We decided we'd explore up Palisades a bit, just to see what it was like. Turns out, the very start was a pretty accurate example of what we'd be facing for the next 3 hours or so... steepness.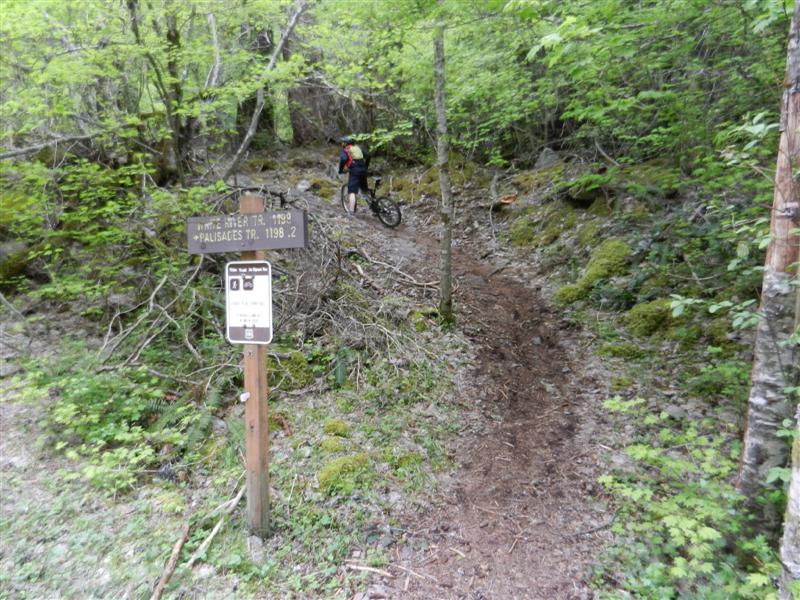 Granny gear wouldn't help much here anyway.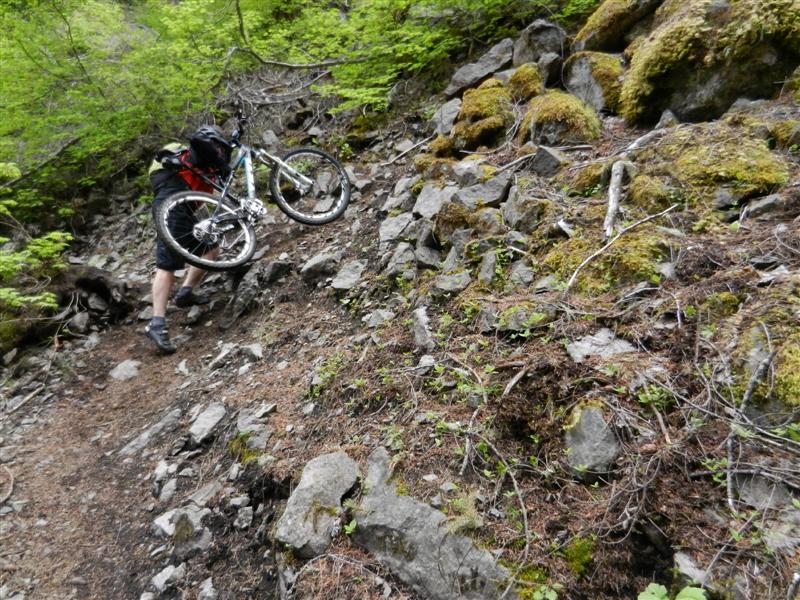 Reached a fantastic waterfall viewpoint and had a decision to make. Apparently, the combined intelligence of two men is about half that of one, because we decided to press on and see what else was up there.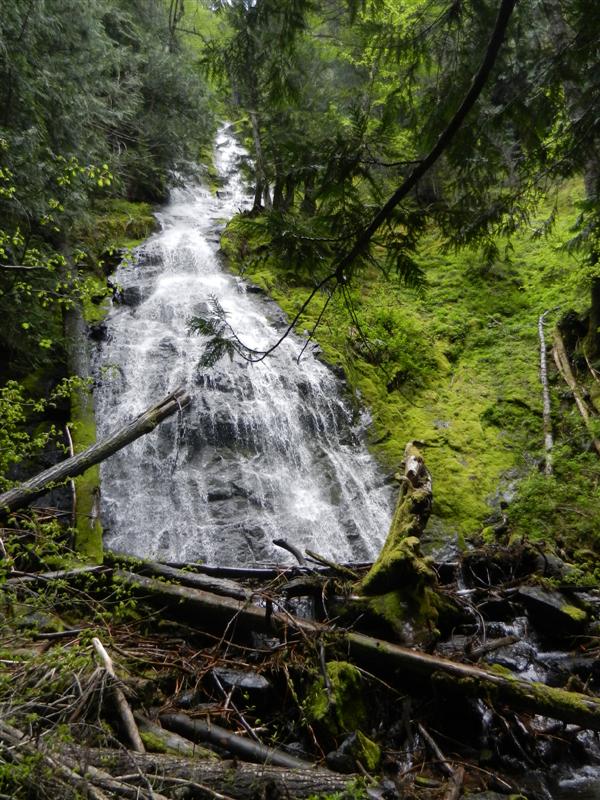 Unsurprisingly, it was more hike-a-bike and amazingly tight switchbacks.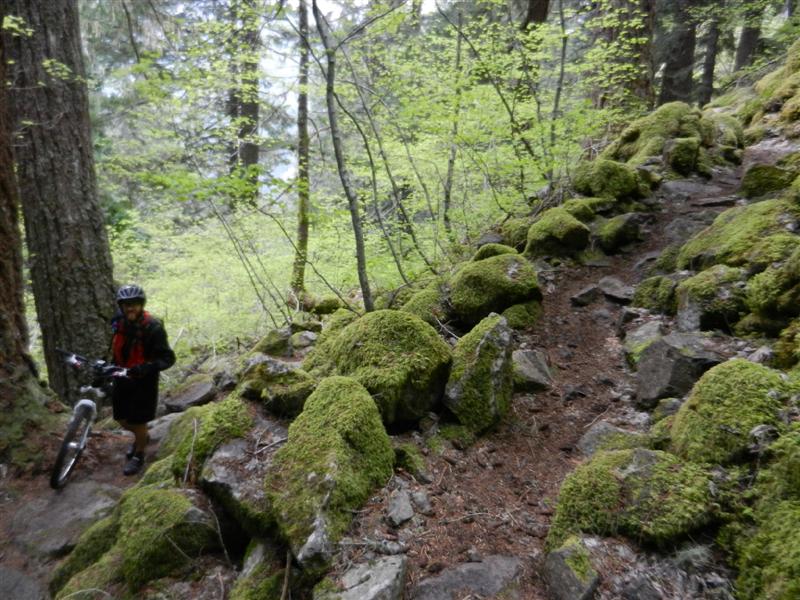 Finally, after a half mile of truly-insane pushing and carrying, we reached a staircase, after which the trail reverted back to a mere painful grind.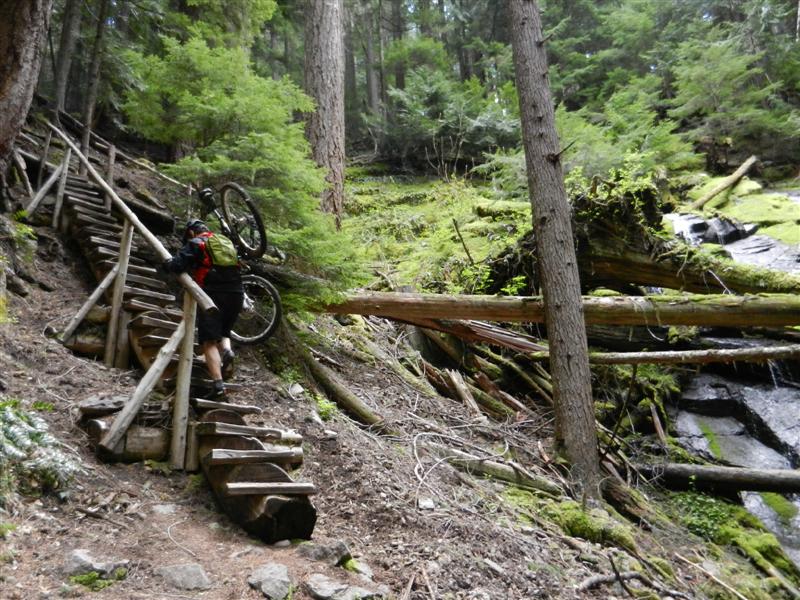 While things did become more rideable generally, the grades remained quite steep and were punctuated with plenty of short pushes.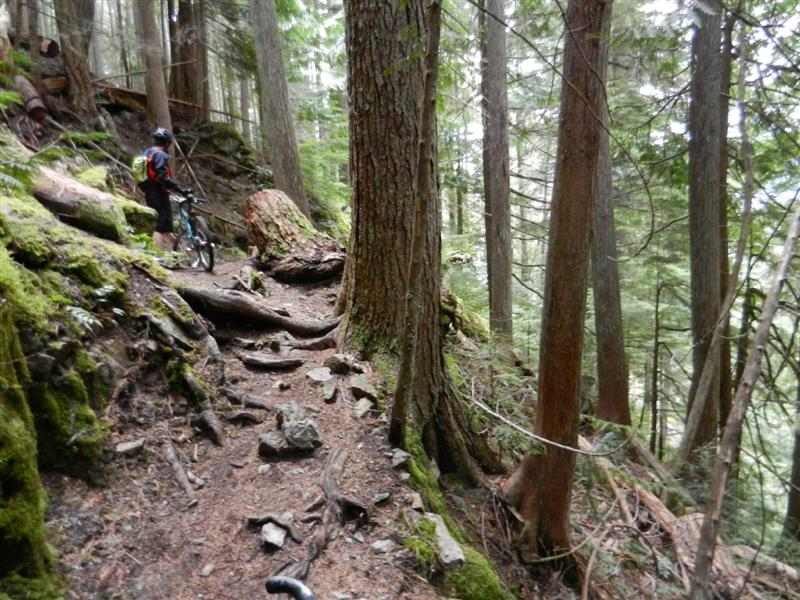 Finally reached a big overlook from the top of the Palisade cliffs.






We could now look down at Skookum Falls across the valley, which was pretty cool.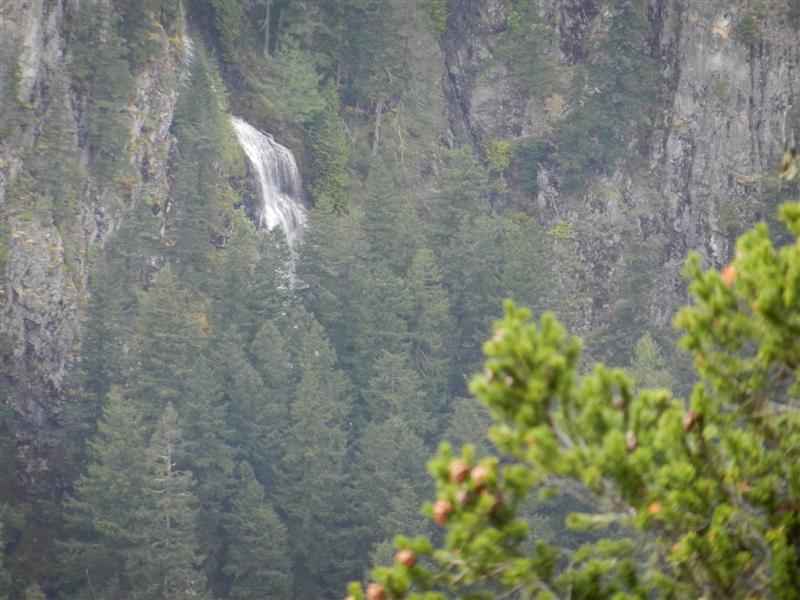 We hit a few dozen yards of snow in one drainage--thorough which we seemed to be getting "first tracks" of the year-- but it was nothing serious so we kept on grinding upwards.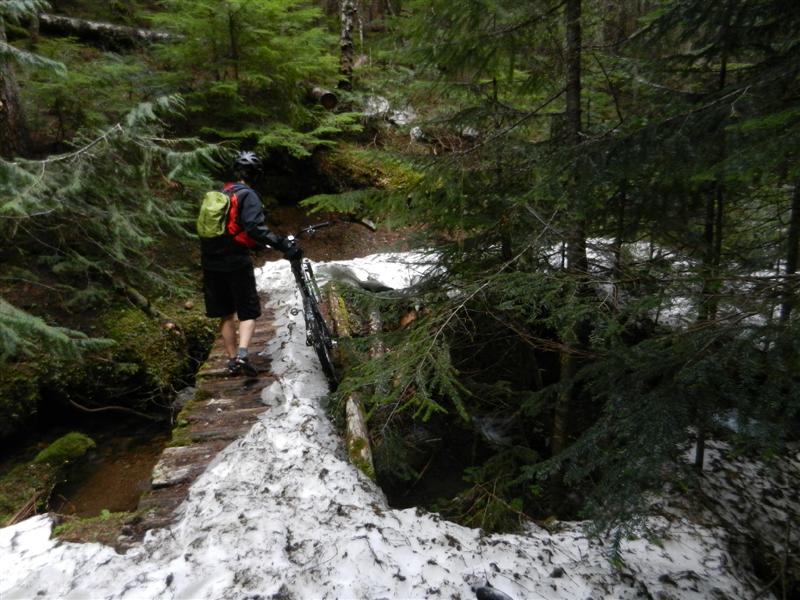 My legs were starting to feel a little cooked mashing 3rd gear and trying to hang with Noah on the climbs (definitely a stronger climber than me, but thankfully, of patient temperament). But at least they were better off than this leg we found in the middle of the trail.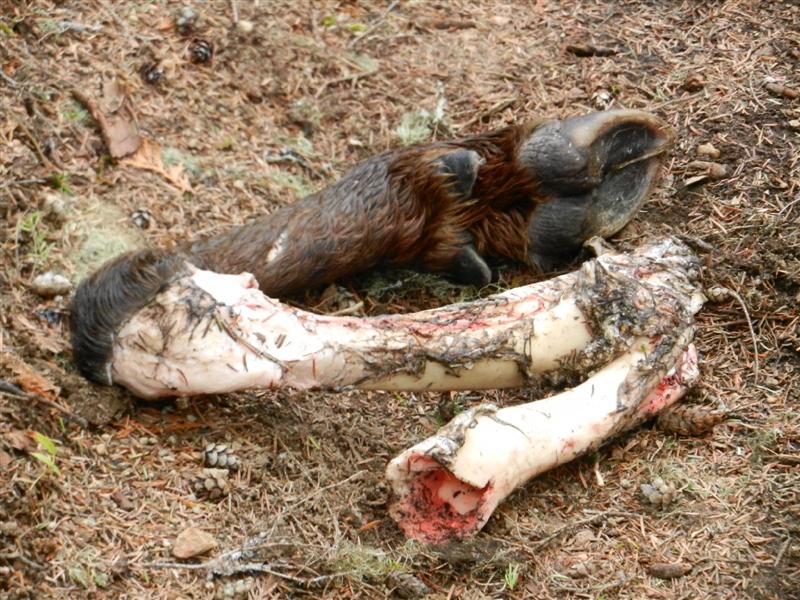 The trail was generally in the trees, but we did reach several more awesome viewpoints from the cliffs along the way, including this one with a view of the airstrip.





The ridge climb had turned out to be quite a bit steeper than expected looking at my (admittedly low-res) internet topo map, and we really didn't know what we were in for, but at some point we became determined to see it through and hopefully reach Ranger Creek so we carried on, ever upwards.

Tragically, with a little under a mile to go to the junction, the trail switched to the north side of the ridge and became smothered in 3-foot deep snowdrifts. Noah volunteered to hike ahead a bit and see if it cleared, but after a few hundred yards of very slow progress postholing over the lumpy drifts, he returned to say that it seemed like the trail was gonna continue to climb and stay covered, so we called it an endpoint and decided to blast back down the way we'd come.

After getting home tonight, I checked my SPOT map and found the snow came at about the 4800 ft mark, and we would have had about 600 ft more vertical to go. It seems we made the right decision to turn around instead of trying to struggle through it!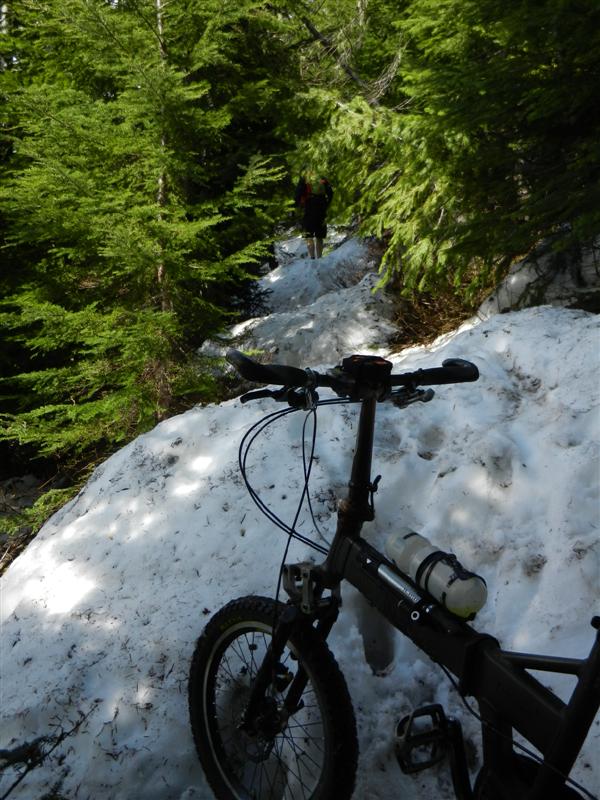 Although Ranger Creek had been our goal, it turned out that Palisades descent was pretty awesome. Even the hike-a-bike switchback section had some parts that were rideable. I had made only 1 on the way up, but cleaned about 5 on the way down, and I managed to roll down a bunch of narrow, rocky, behind-the-seat steep narrow benchy stuff without crashing over the edge, which I found really fun and satisfying. We won't mention the other 20? switchbacks not cleaned or even attempted. Lots of those things are just plain nasty!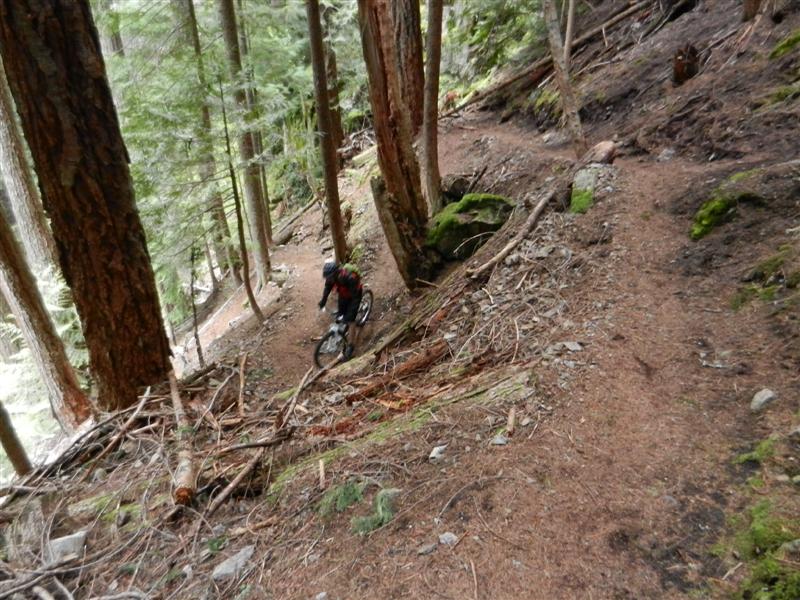 Made it back to Hwy 410 and high-tailed it back to the TH on pavement, deciding to skip the White River singletrack in favor of reuniting with a wonderfully patient Sarah before dark, and enjoying some well-earned IPAs.


So a great adventure ride today--thanks again Noah and Sarah, it was great riding with y'all. Hopefully I'll get back up here in summer proper one day and be able to try the full Noble Knob/Ranger loop and more. Some really cool trails up there.
< previous story home next story >
---
HOME TRAVEL LOG MOUNTAIN BIKING WINDSURFING STORY ARCHIVES RV INFO PHOTOS CONTACT US
---