---


HOME TRAVEL LOG MOUNTAIN BIKING WINDSURFING STORY ARCHIVES RV INFO PHOTOS CONTACT US
---
< previous story home next story >
BIRTH ANNOUNCEMENT! (of a sort)
Adding a brand-new carbon fiber wunderbike to the family.
August 27, 2013
Durango, CO
Much of the following was originally posted on the mtbr Ibis forum in a thread called the "Mojo HDR Picture and Build Thread"
After five looooong days of labor, Dr. UPS Man finally delivered the final required bit of anatomy yesterday, and new baby and proud parents are now doing great!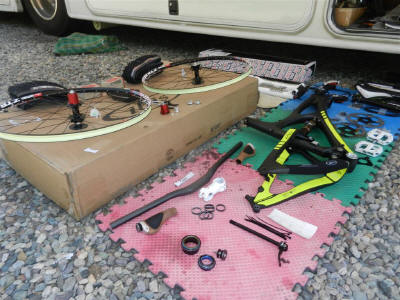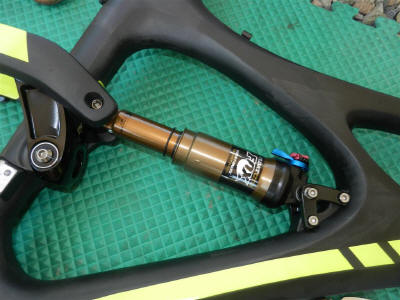 He or she, who can tell??? Really need to figure that out before giving the critter a name, but here's all the vitals...
Born: August 27, 2013 3:00 pm

Birthplace: Durango, CO

Species: Ibis Mojo HDR-650b

Size: Large (19")

Race: Black (Naked carbon skin w/Reverse Vitamin P yellow features)

Gender: Unknown (possibly unknowable, TBD)

Weight: 27.5 lbs (including pedals, bottle cage, computer)

Length: approx 45 inches wheelbase (just fits in new car tray)

Front Squish: RockShox Pike RCT3 Dual Position Air (130/160 mm selectable travel)
Back Squish: Fox Float Factory Series CTD Kashima (130 mm travel)

Booty Squish: KS Lev dropper (125 mm travel)
Saddle: SDG Bel Air w/Ti Alloy rails

Speeds: SRAM XX1 1 x 11 gearsystem (28T front and 10-42T rear)
Clicker: SRAM XX1 bang bang trigger (Qty 1)
Arms: SRAM XX1 carbon krankers (175 mm x 168Q)
BBBB: SRAM GXP 68mm English thready type
Platforms: Azonic Switchbacks w/angled pointy things for FiveTen Impact shoes

Feet: Pacenti Neo-Moto 650b rubber (2.3" front/2.1" rear)
Toobs: Zilch, nada, none! (Stan's magic goop)
Rimz: Stan's ZTR Arch EX (27.5 inch)
Spinners: Stan's 3.30 hubs (15 mm thru axle front/12x142 mm rear w/XD adapter)
Rolling Circumference: 2177 mm (front)

Binders: Shimano XT hydros w/Ice-Tech rotors (180 mm front/160 mm rear)

Aiming System: Easton EC70 carbon riser bar (in tree-friendly 680 mm width)
Stalk: Easton EA90 aluminum stem (70 mm)
XC Grippers: Ergon GP1 BioKork (small)
Technical Grippers: Ergon GA1 Evo (white)
Head Set: Cane Creek 40 Series (ZS44/28.6 and EC49/40 whatever that means)
Spacers: Qty 5 carbon bling rings (5 mm each)

Bottle Cage: Bontrager Sideswipe RL (works nicely under downtube)
Diaper: Camelbak Mud-Proof Podium bottle attachment (so no drinky poop or mud)
Pumper Upper: Topeak Mini-Morph (perfectly/barely nestles behind cranks)
Pooter: Topeak Comp 150 Wireless device (same old thing)

Mobile Crib: Rockymounts Pitchfork for Thule, w/Driveshaft locking 15 mm adapter

Photos: See below

First ride! The Colorado Trail from Junction Creek to Gudy's Rest. Presumably the last time the bike will EVER be this clean:
: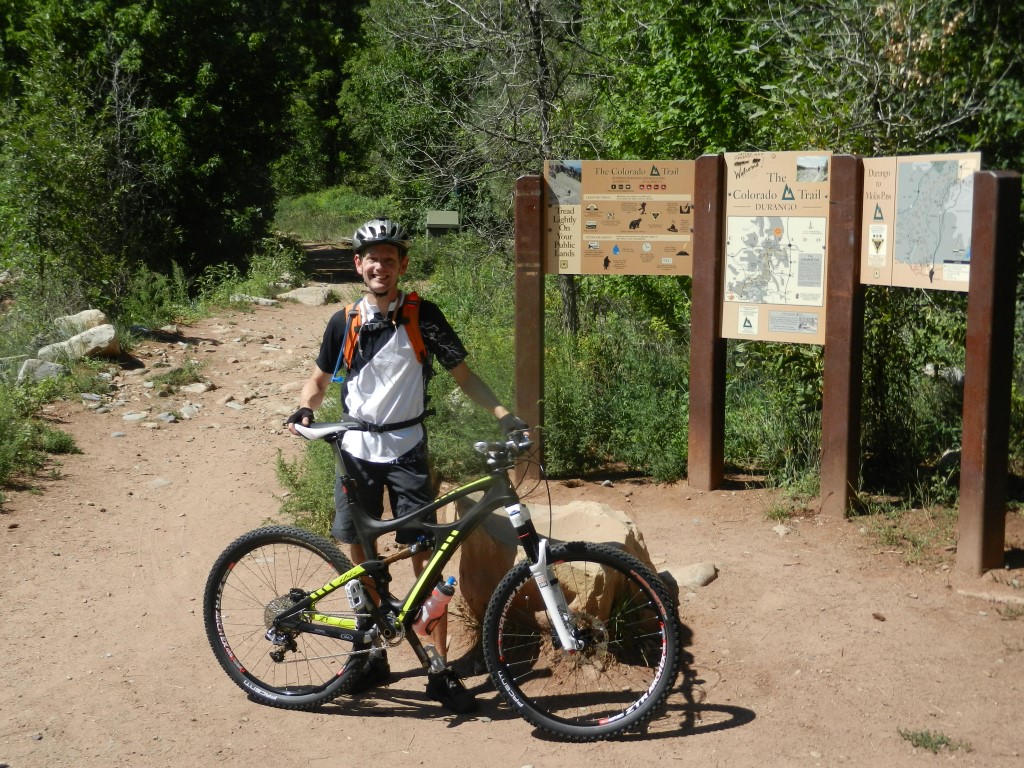 Cockpit features a wide (but not super-wide) carbon handlebar with comfy BioKork (tm) grips. On the right is the 11-speed trigger shifter, while on the left is the button for the dropper seatpost: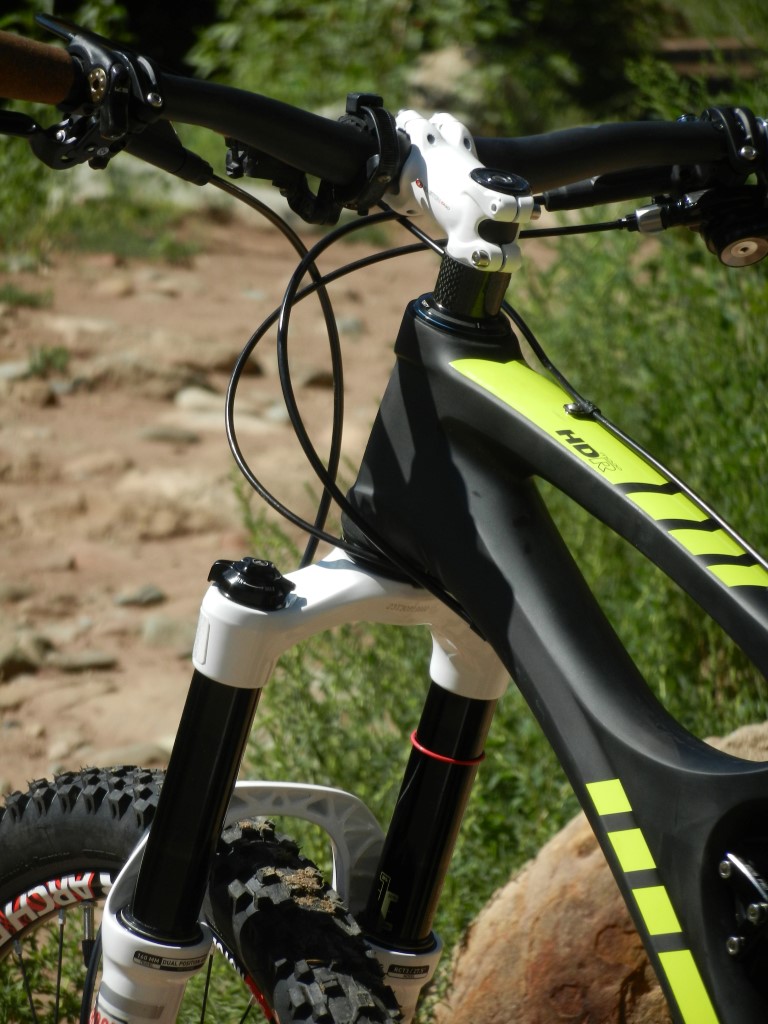 The drivetrain features carbon cranks and a single chainring up front, and a beautifully-machined 11-speed cassette and novel horizontally-traveling derailleur in back. The lack of a front derailleur combined with unusually high chain tension and clever alternating teeth profiles eliminates both chain slap and dropped chains, even over very rough terrain. Silent and smooth and really does work as claimed. Very cool!
Tubeless 27.5" wheels and tires roll over crud almost as easily as 29s do, but still feel playful like 26s do. Aggressively spiked flat pedals best suit my riding style: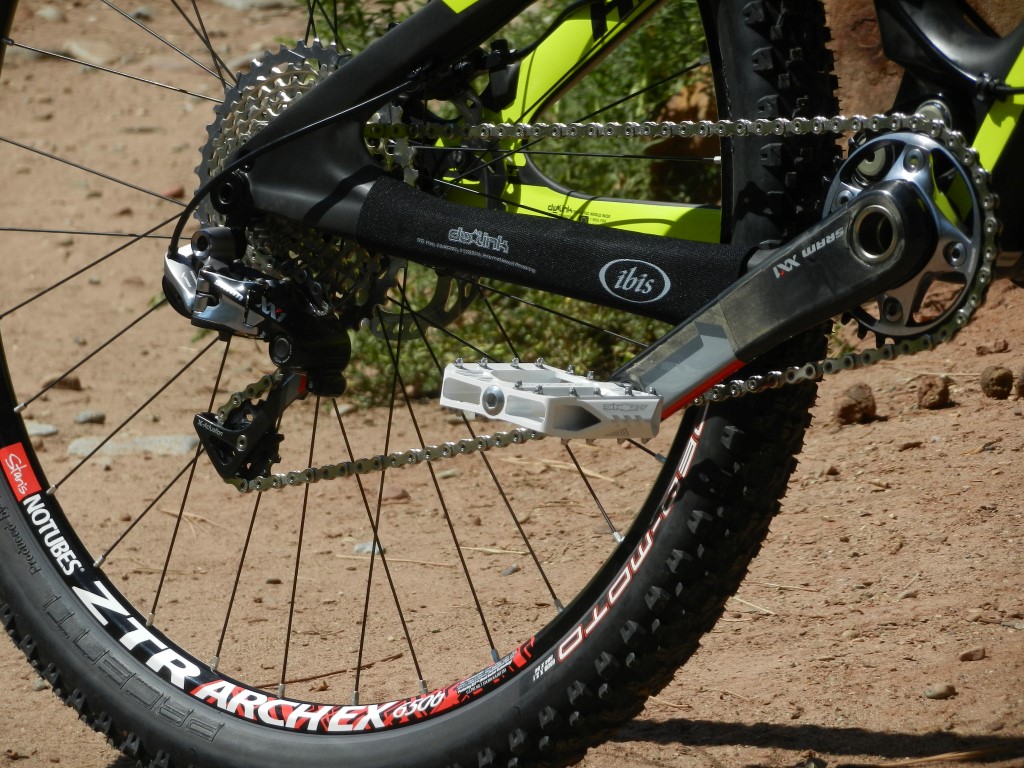 RockShox Pike fork with the "Dual Position Air" feature allows the choice of either 130mm or 160mm travel, quickly changing the bike's personality on-the-fly to suit the terrain. Ride is amazingly plush yet precise either way: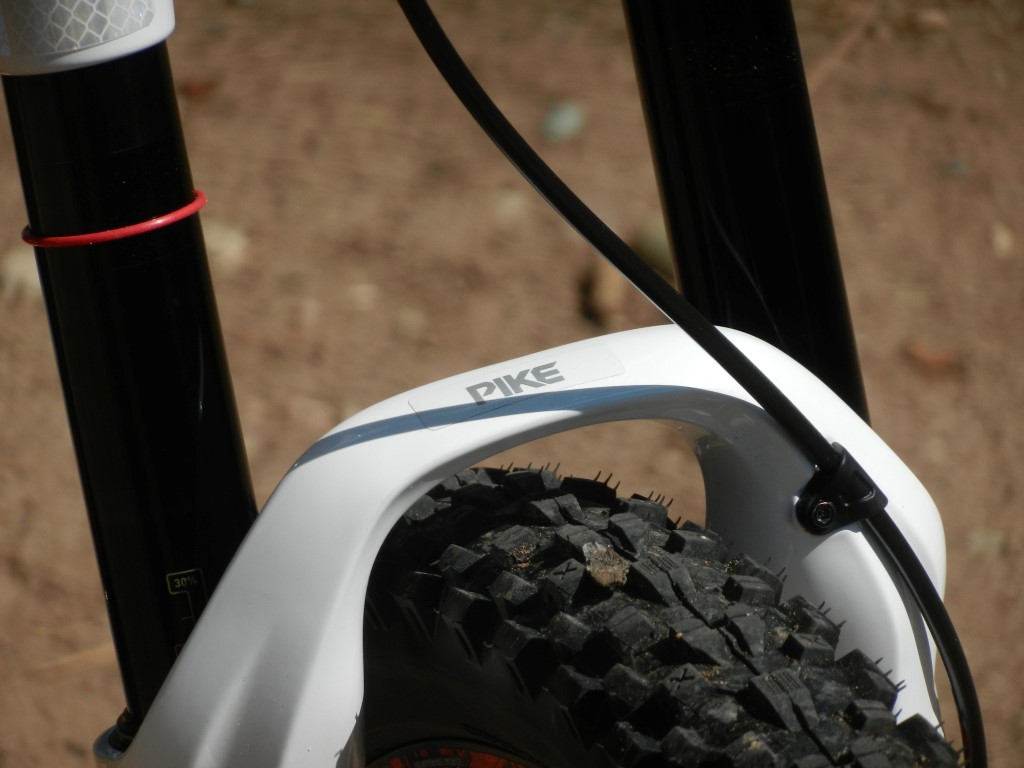 A few glamour shots from the top: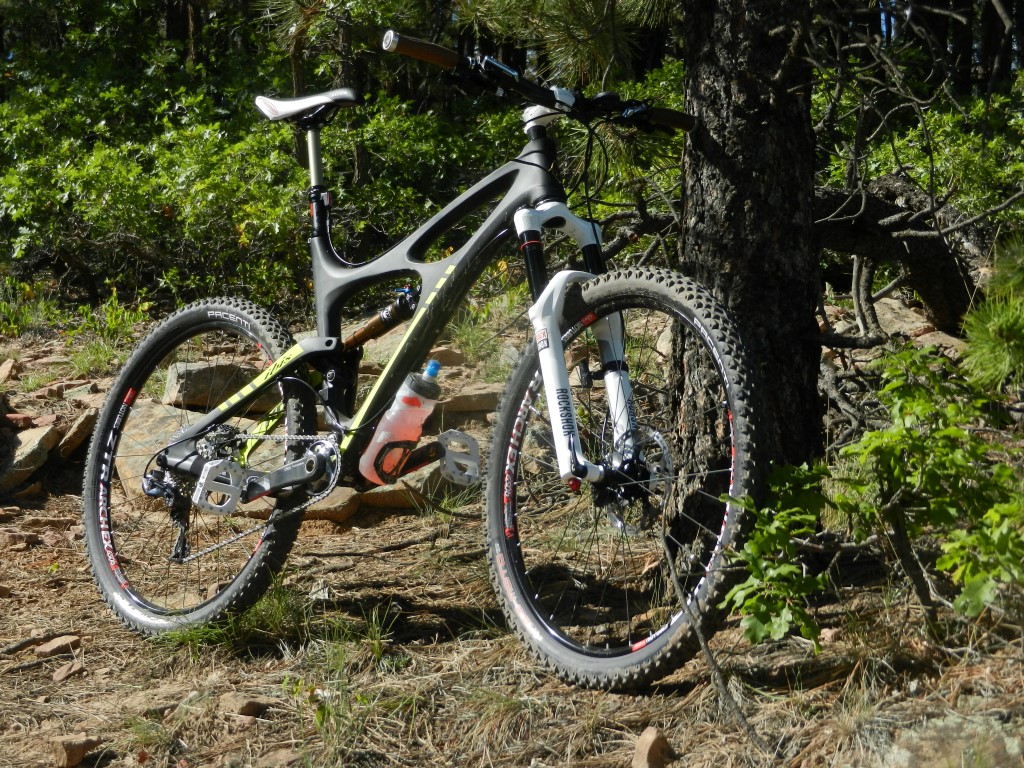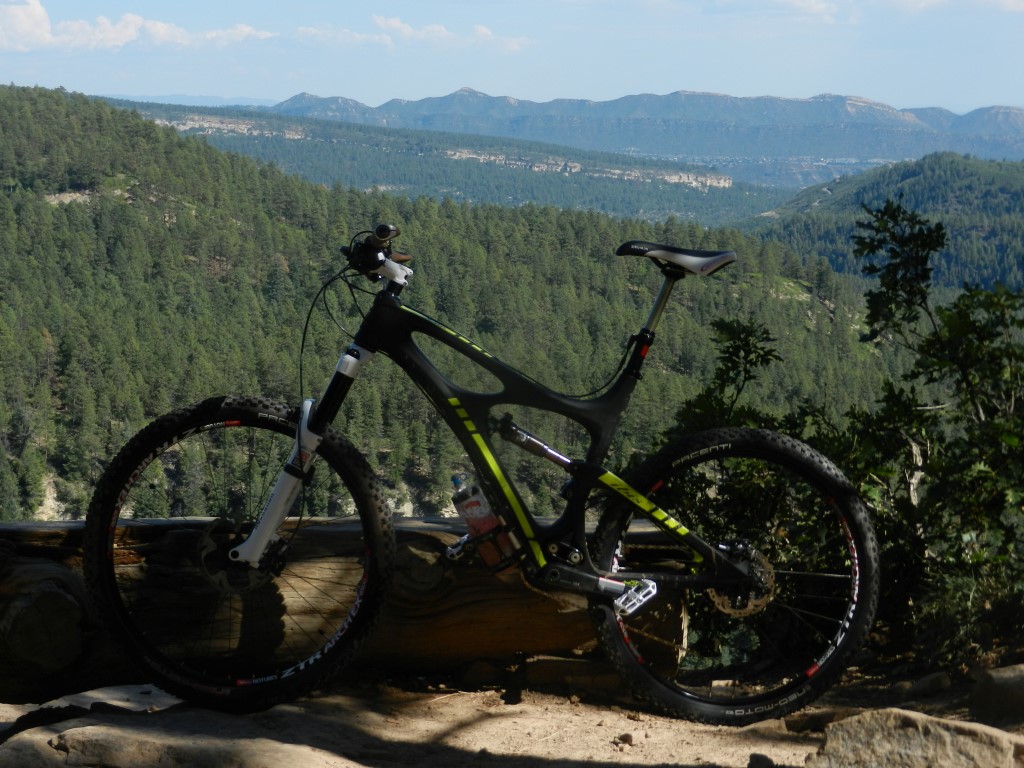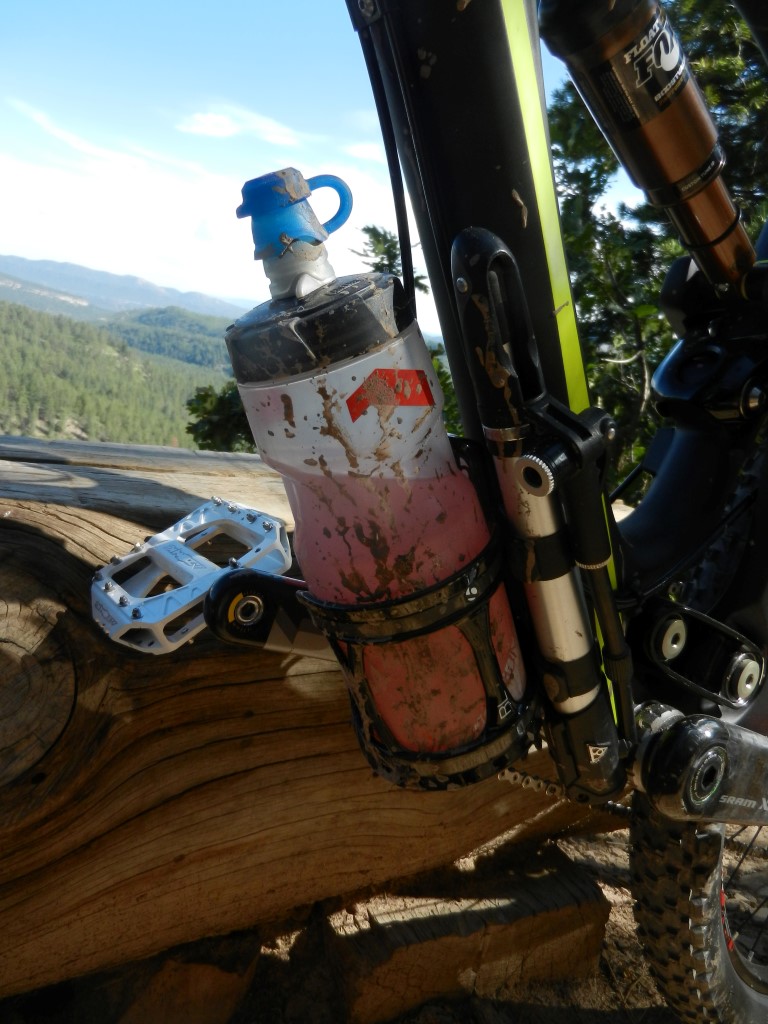 Of course this bike doesn't fold up and fit inside the car like my old bike, so a new bike carrier for my existing roof rack was part of the package: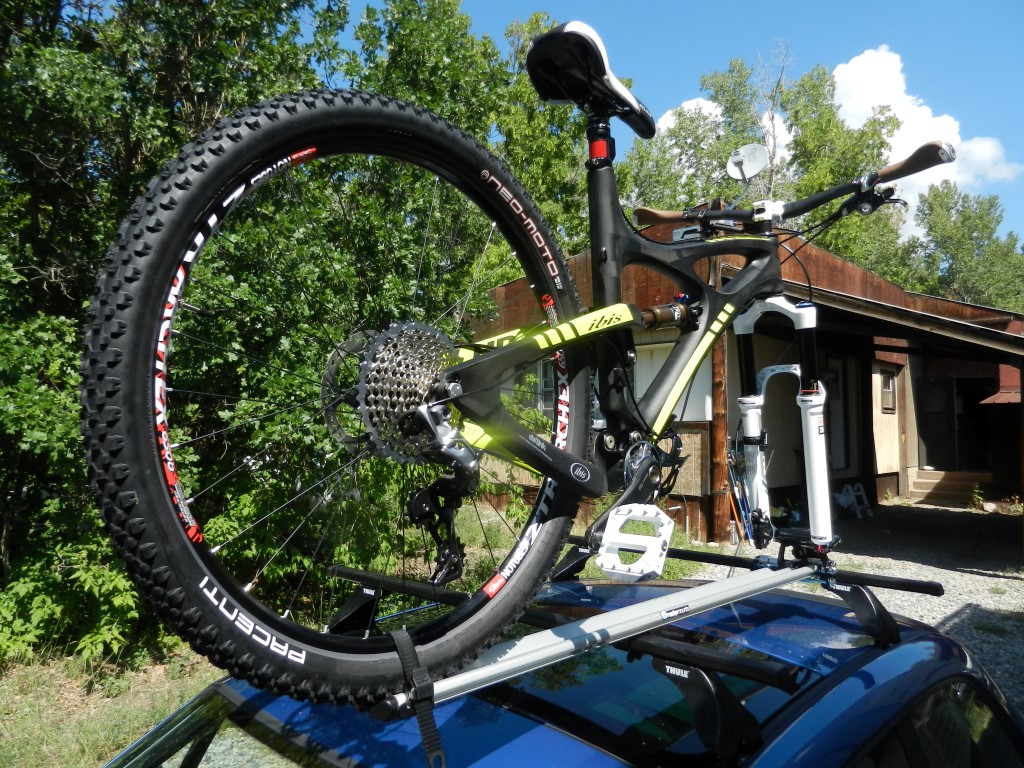 The key to this whole endeavor was figuring out a way to (literally) wedge a full-sized bike into the RV, while still keeping all our other junk AND having both bikes remain quickly accessible. Behold, the packaging miracle!

Initial riding impressions: Newborn is calm and submissive yet playful. Excels at both climbing and descending, and is gloriously silent and downright stealthy even over rough terrain. Has not tried to kill its daddy yet either, so that's hopefully a sign of good moral fiber. Should provide many years of joy and be an excellent addition to our mobile household.

Off to Telluride for a day of riding today with Mama Debbie and Uncle Rasta Stevie, then multiple planned mountainous expeditions with Austin's own Todd2 who is visiting Durango over the upcoming long Labor Day holiday. Then a short stint in Moab and SLC, before moving on to Montana and the PNW for the fall.
Baby gonna grow up fast.
--------------

(and here's just a few glamour shots, from those exciting first few weeks of life...)
Prospect Loop Trail, Telluride, CO: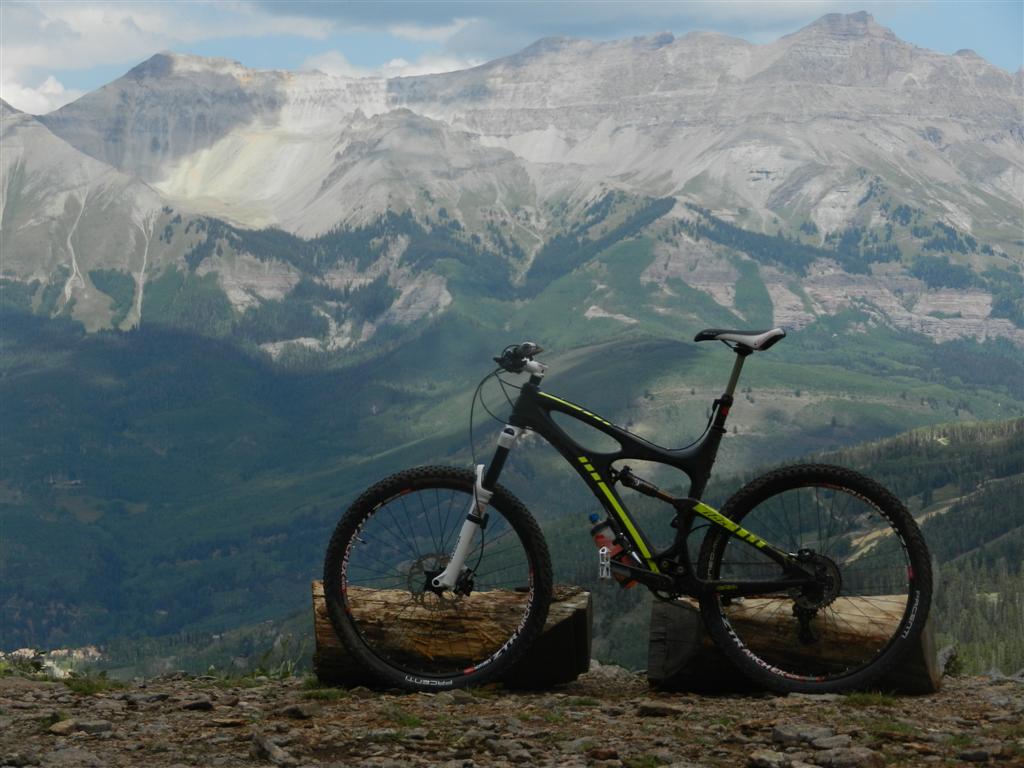 Rolling Mountain Pass, The Colorado Trail, Durango, CO:
Upper Porcupine Rim Singletrack, The Whole Enchilada, Moab, UT: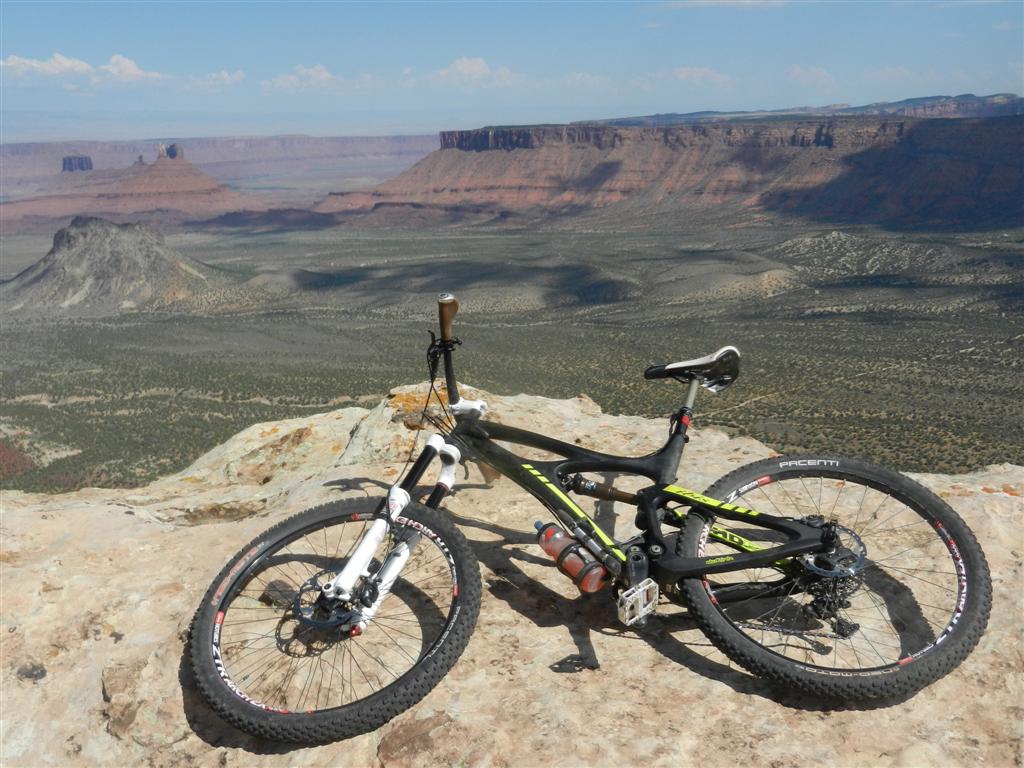 Continental Divide Trail, Butte, MT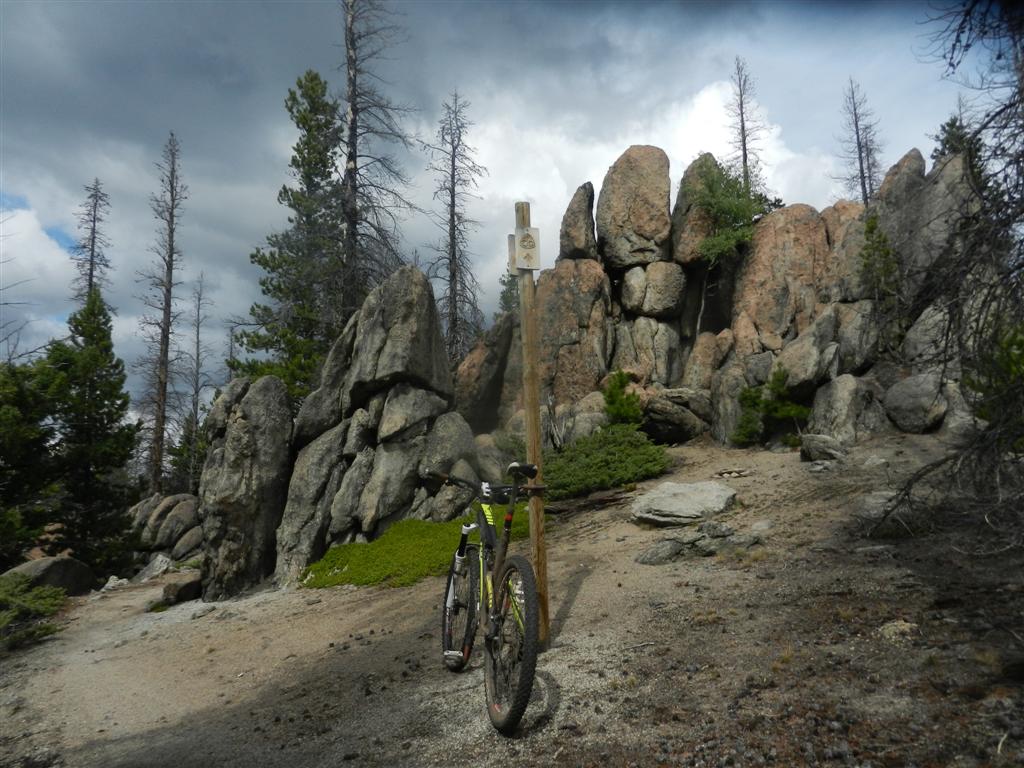 < previous story home next story >
---
HOME TRAVEL LOG MOUNTAIN BIKING WINDSURFING STORY ARCHIVES RV INFO PHOTOS CONTACT US
---