---


HOME TRAVEL LOG MOUNTAIN BIKING WINDSURFING STORY ARCHIVES RV INFO PHOTOS CONTACT US
---
< previous story home next story >
The Scarp Ridge Adventure Loop
Mind blowing scenery and a full day of adventure exploring high elevation terrain rarely traversed on bikes.
August 10, 2013
Crested Butte, CO
The following was originally posted to mtbr as a thread called "The Scarp Ridge Adventure Loop"
Last fall I was sitting in Denver doing a little e-riding when I came across cbmtbr's amazing website that showed an absolutely amazing-looking adventure ride in Crested Butte. I immediately put that on my own fantasy "to do" list for next time I made it to CB.

By happy coincidence, I soon saw on mtbr that mountaingoatepics was heading to the Butte the coming weekend, so as a sort-of taunt I suggested that he ditch his original ride idea and do this wacky Scarp thing instead. Oh, and bring back a bunch of pretty fall pics for all of us too, please.


Soon enough he and slow had gone and done it, embellishing the original big ride into a 41 mile/8000 ft beast of a ride by grafting Carbon/Don Cook/Green Lake onto to the end of the loop. They gave us one of the most beautiful and inspiring posts on the internet last year: The Scarp Ridge Super Loop

Fast forward a bit and I found myself back in CB for a few weeks this summer. Spent most of that time having a grand time riding the "usual" stuff around here, but this weekend young Klucks showed up and we tackled the grand finale together.

We weren't quite ambitious enough to take on the full "Super" loop, but we got the meat-and-potatoes version done, and it was plenty spectacular itself!

For the record, we logged about 34 miles, 5800 feet of climbing, 5+ hours moving time, 9+ hours elapsed time, 300+ pics snapped, 2 times lost (only temporarily, mind you), 0 mechanicals (excepting one very squeaky saddle), and 2 minds suitably blown.

Enjoy!



(part 1: the ever-hardening part)

All smiles entering the Lower Loops early Saturday morning: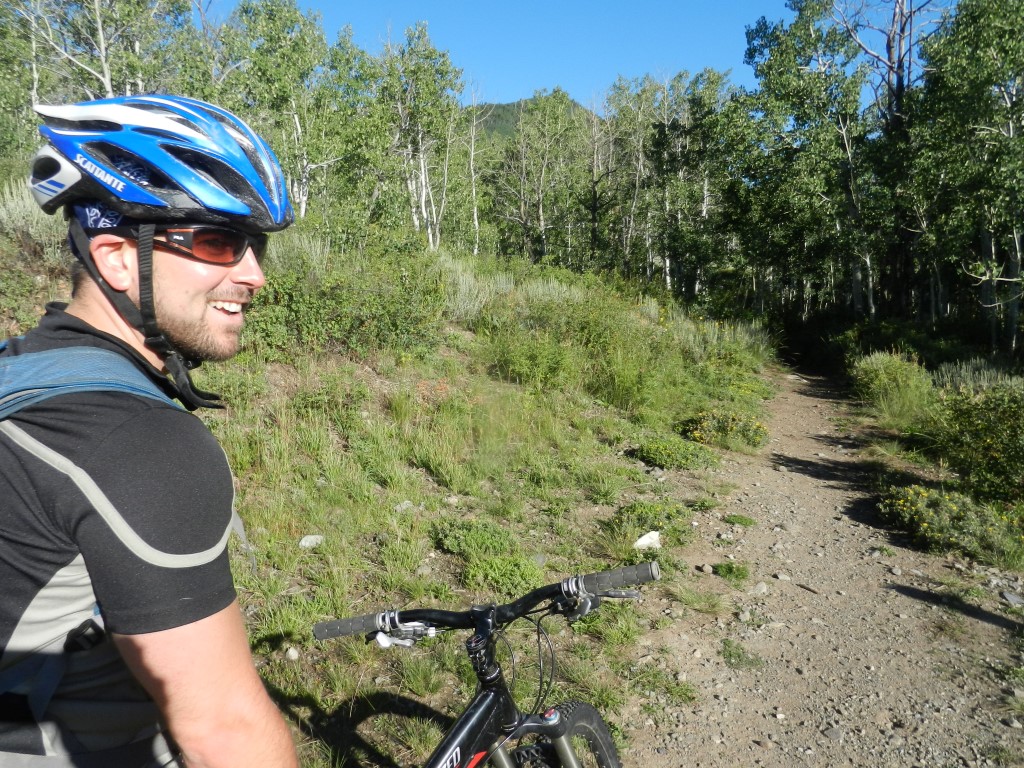 Multi-Klucking along, headed for the Budd Trial:





Upper Lower action: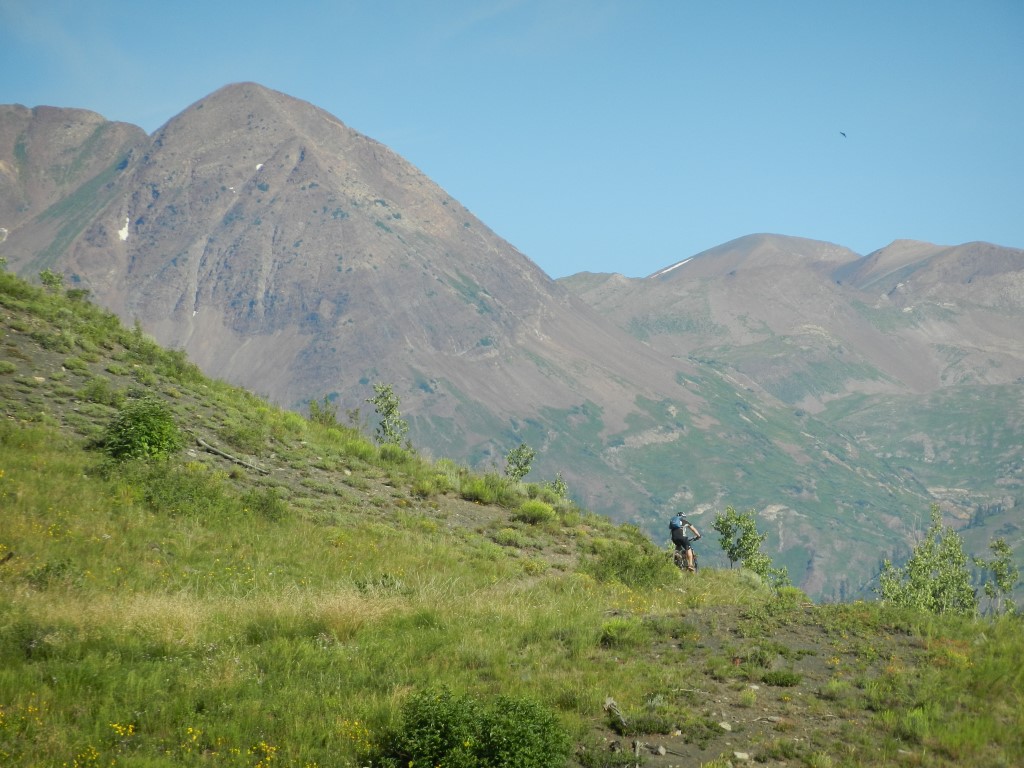 Da Butte and da Slate: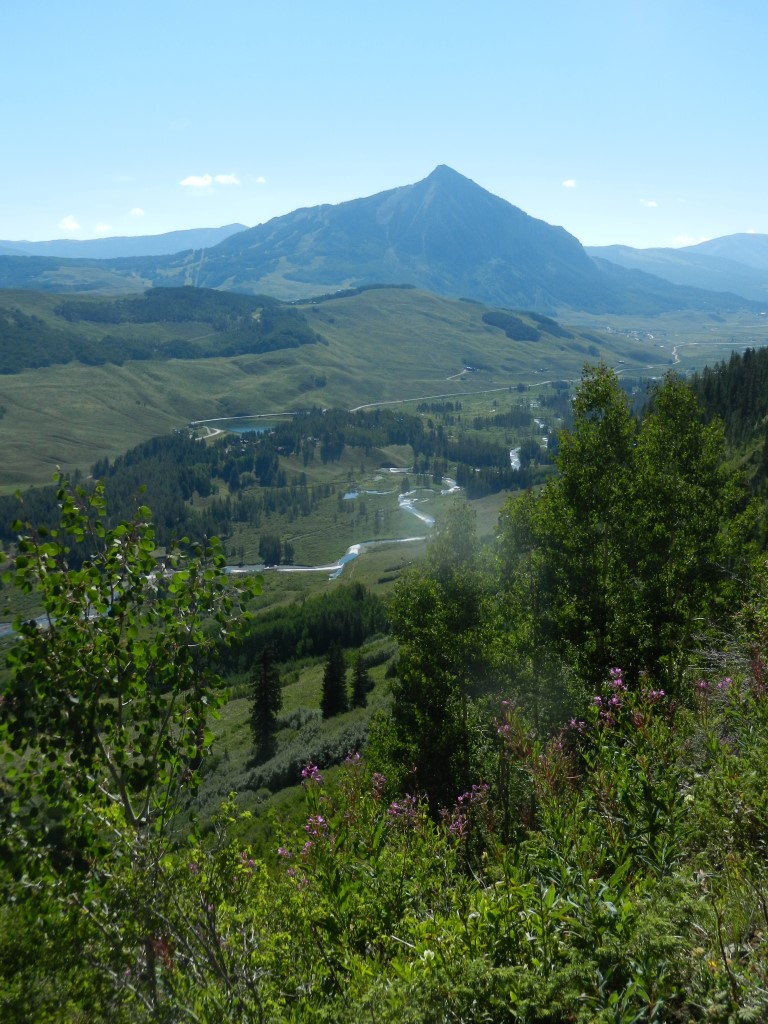 Just a wee bit of continuous uphill (about 3000 ft worth) is required to reach the pass. It's mostly gruntable for the first 4 miles or so: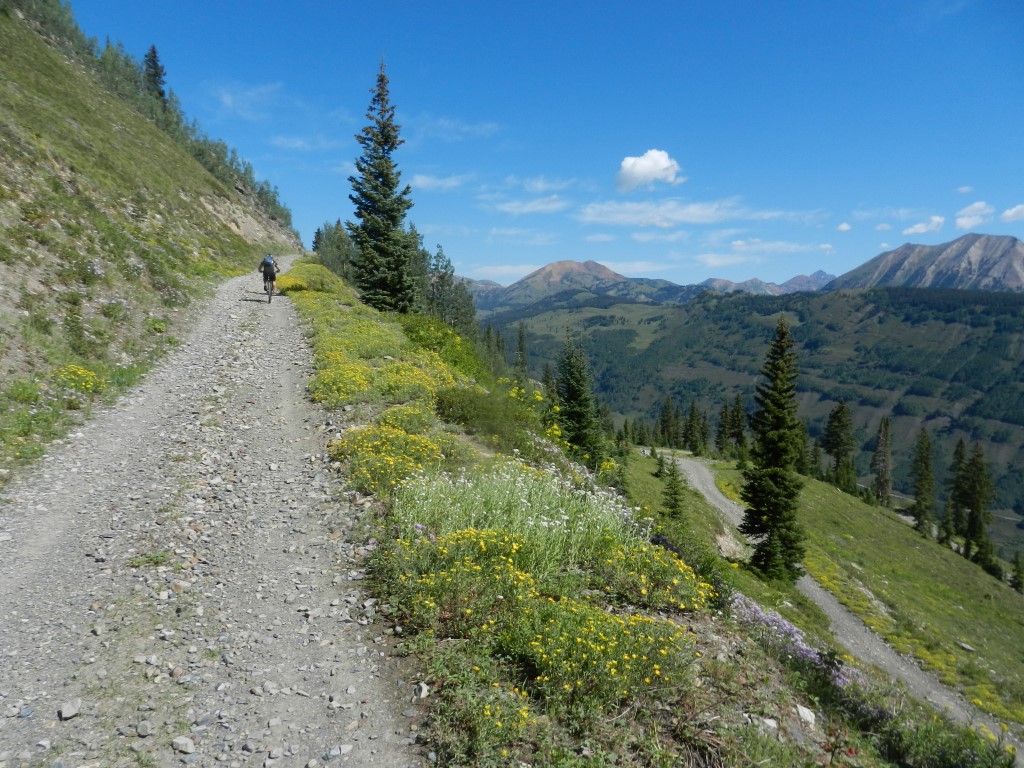 Hey, those look like some sweeeeeeet All Mountain worthy 650B (27.5") steel rims on that old wagon. Wonder if they could fit my rented Santa Cruz Bronson?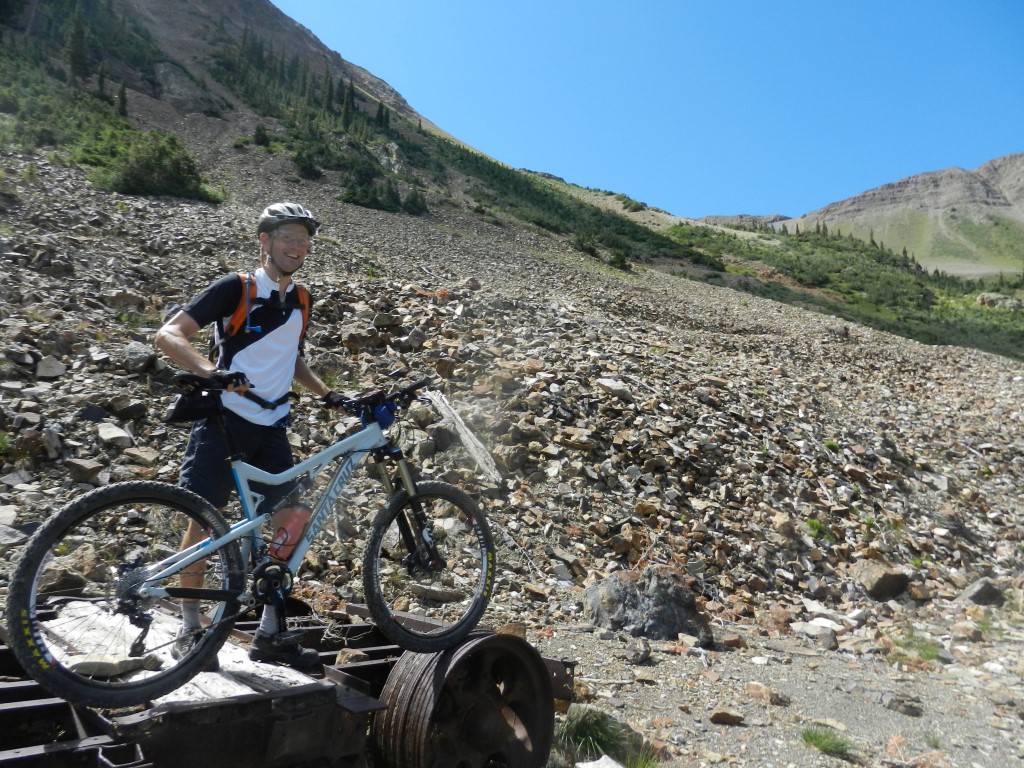 Groovy waterfall:




The challenge steepens, and deepens: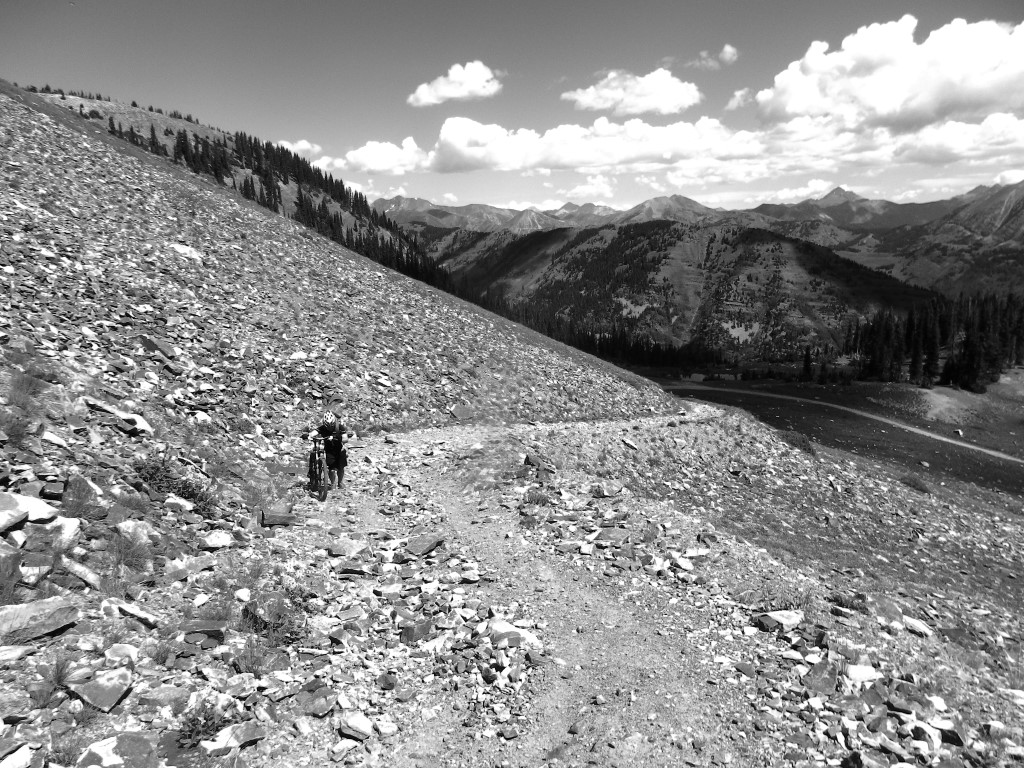 A (very) few yards were actually pedaled approaching the aptly-named Gunsight pass: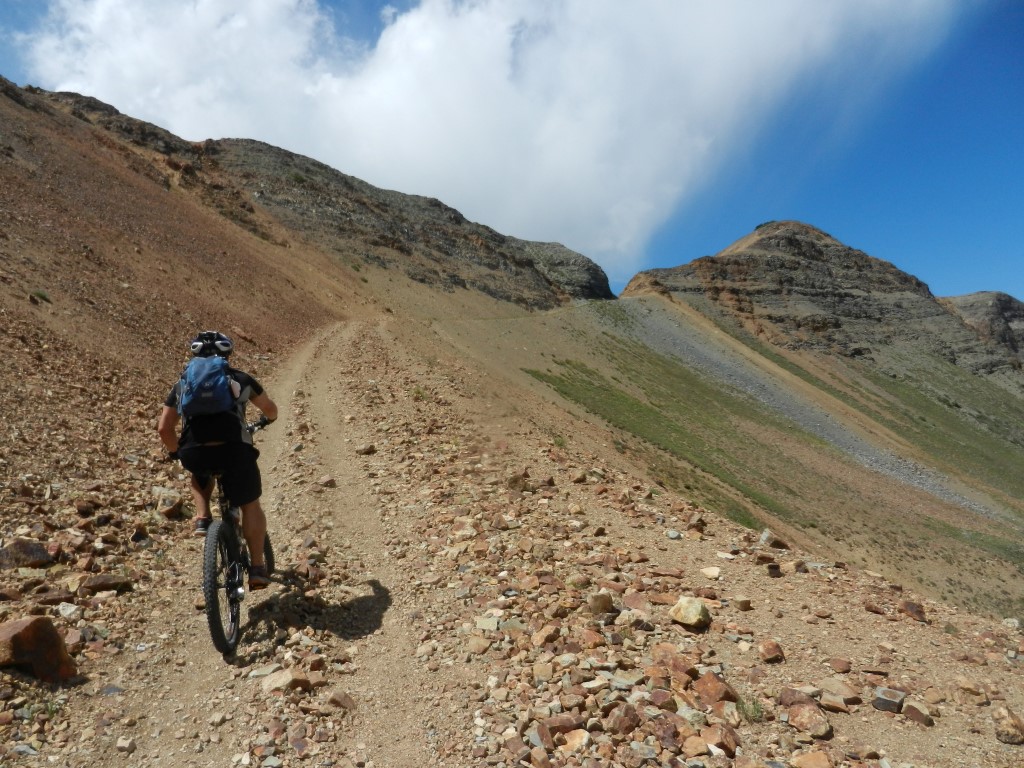 Klucks, sighted in:





Things had progressed from mere Mountain Bike Riding, through Mountain Bike Hiking, to Mountain Bike Mountaineering: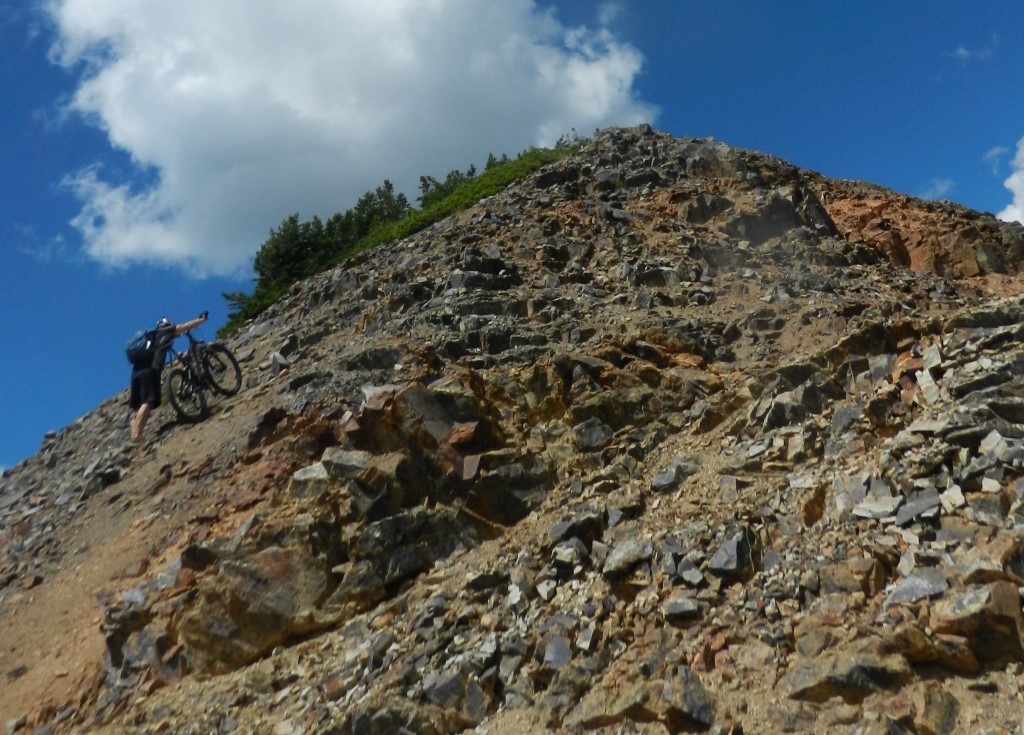 Scrambling ever higher: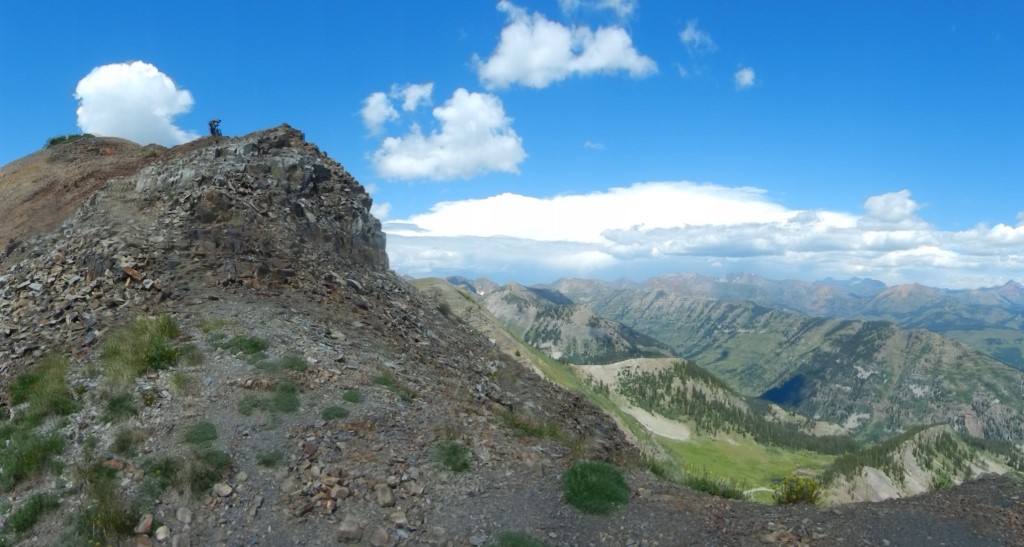 Self-timer photo of the two of us together on the ridge. We only had to down climb a few hundred vertical feet to retrieve the camera so figured what the heck: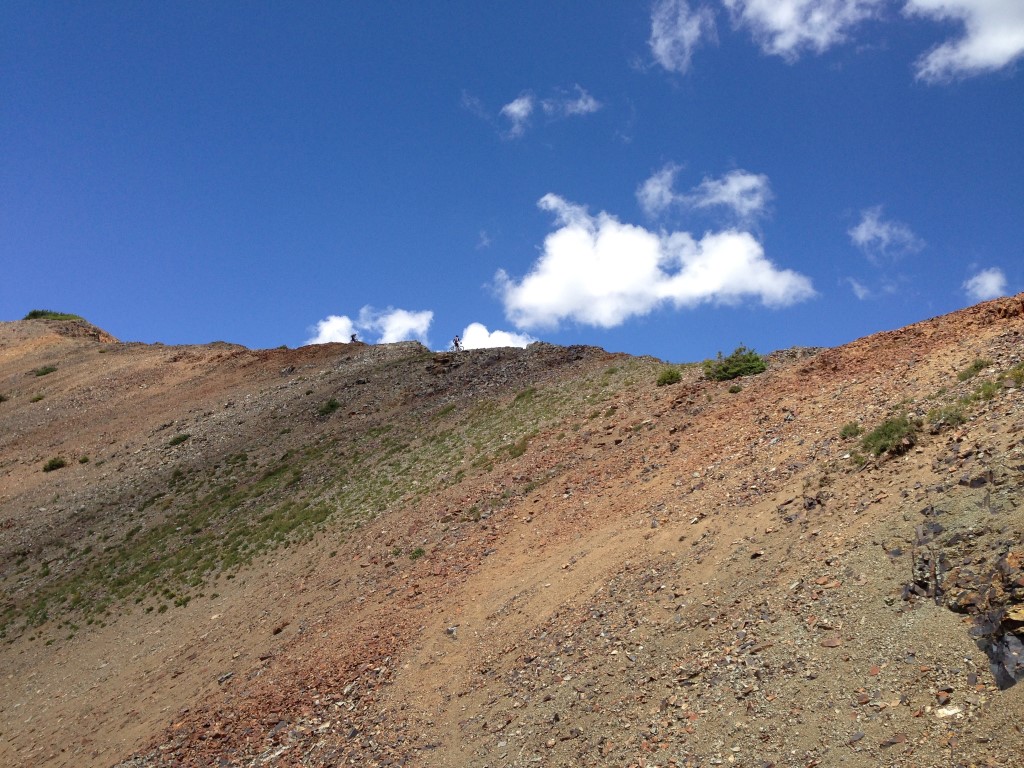 Naw, really, a pair of hikers coming down from Emmons had spotted us dragging our bikes up Scarp and hollered out that they'd snapped a couple pics and would email 'em to me. Amazingly, we managed to communicate well enough to get a website address across and the connection actually got made. Thanks a lot to CB local and world-traveling adventurer TalieM and her hiking buddy Martha for getting that done. I was able to email back a couple pics of them on Emmons as well, so that worked out super cool: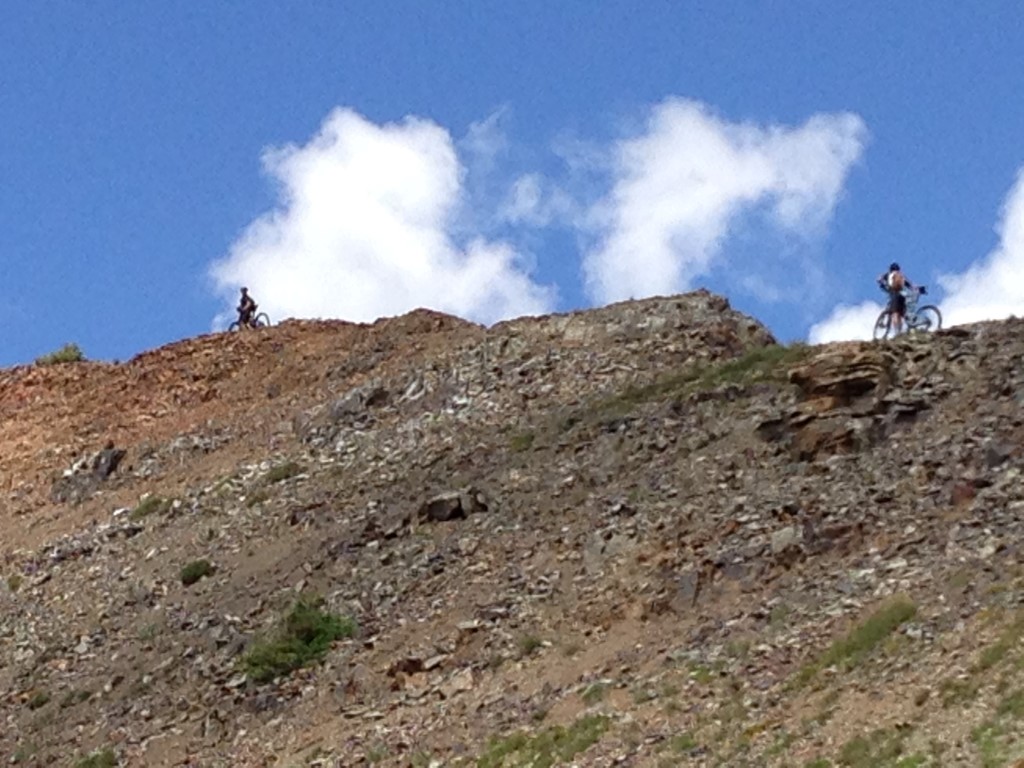 Topped out at 12,212 ft, Klucks guards the bikes: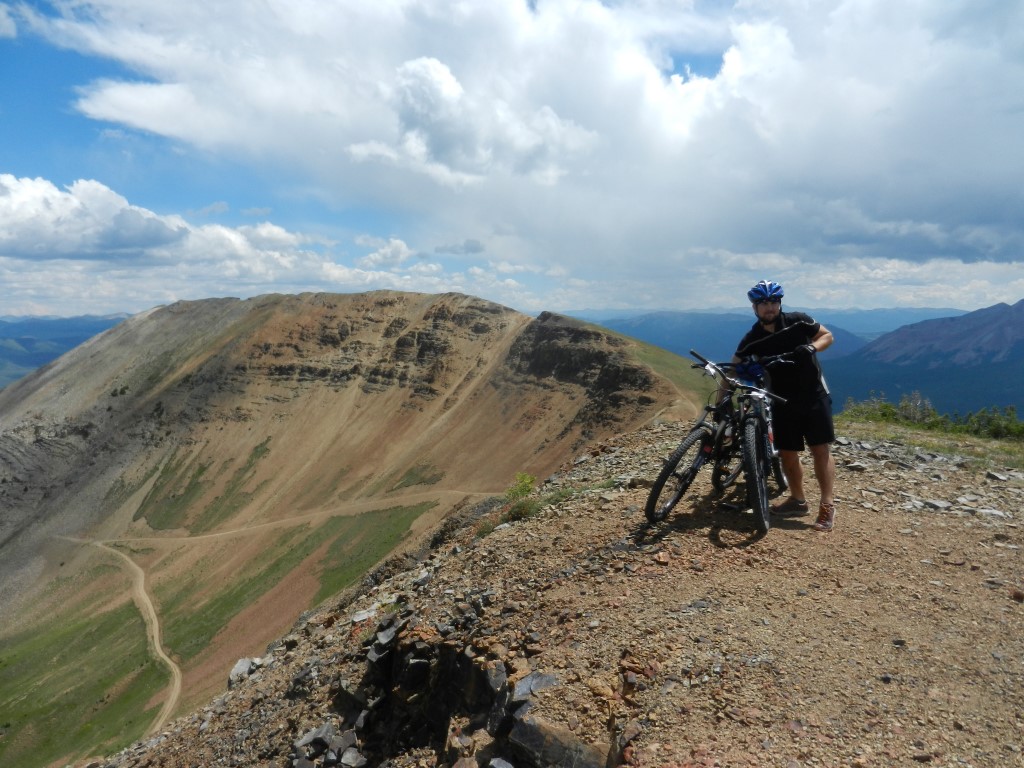 (part 2: the breathtaking part)

Important Safety Tip for the next hour or so: DON'T FALL RIGHT.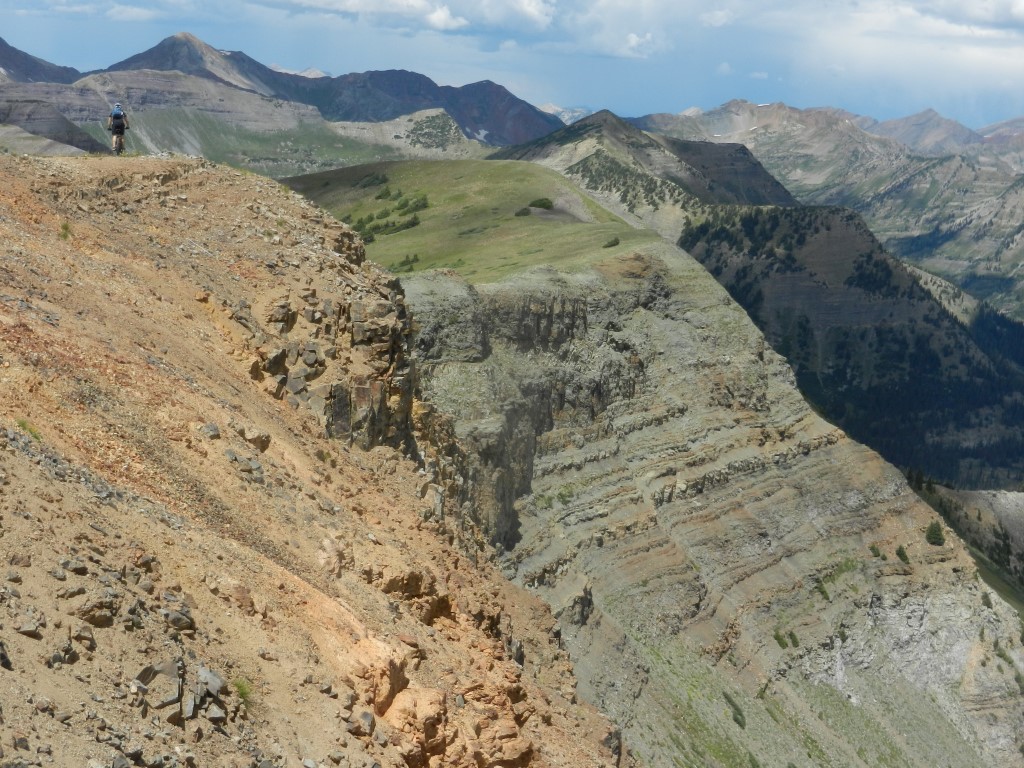 Top o' the world to ya: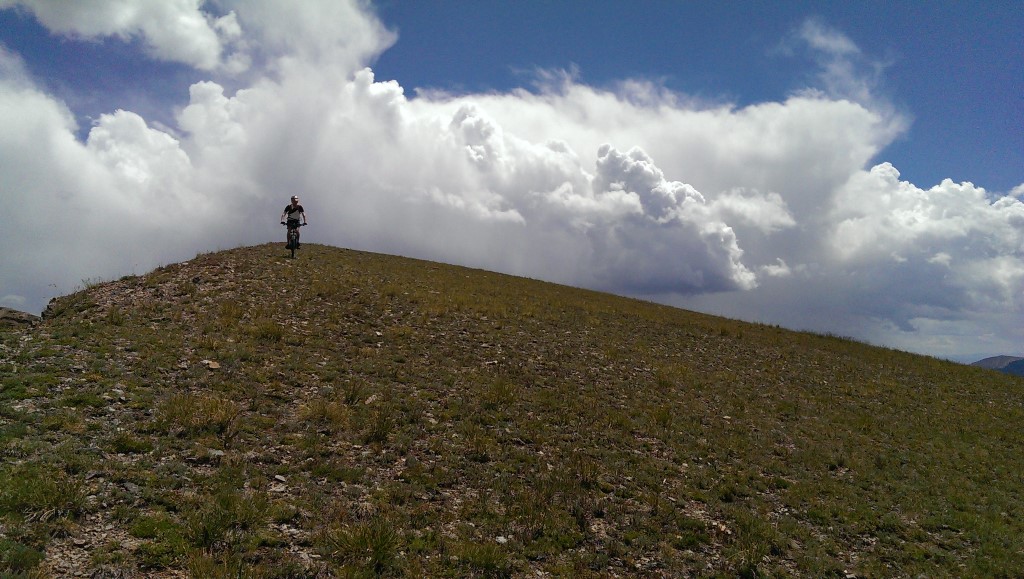 Yep, ridge riding at its finest, just as advertised:




Just wow: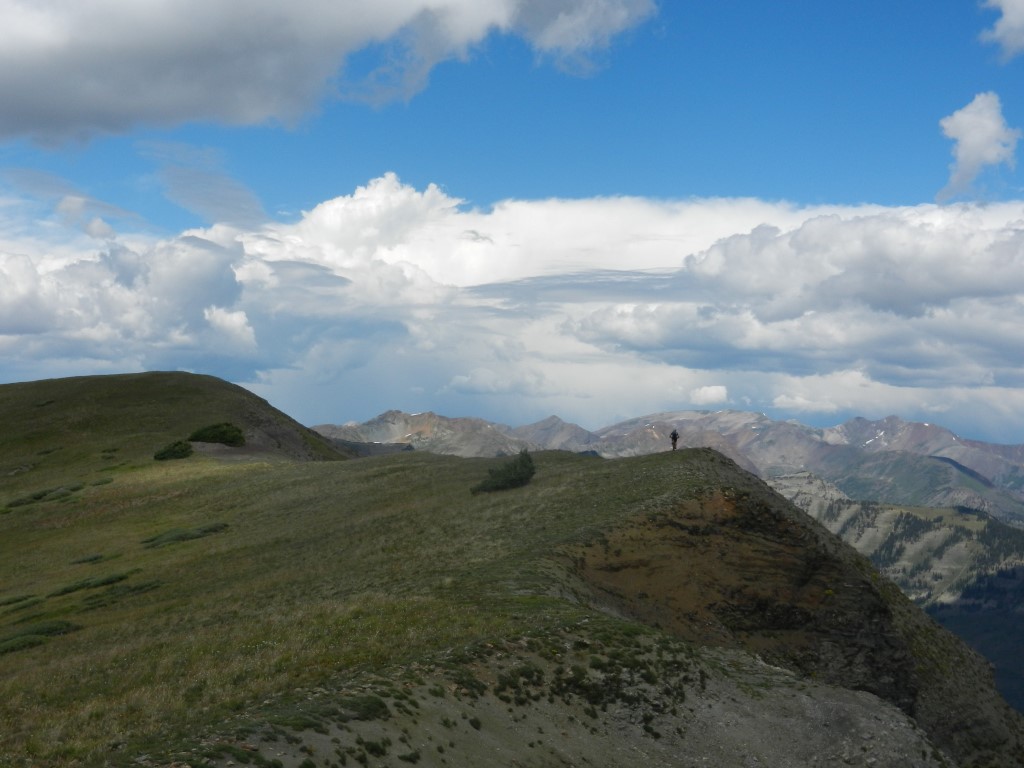 Intermittent pushing and bushwhacking was required to stay right near the ridge edge. A very cool knife-edged Dyke-like formation loomed far below: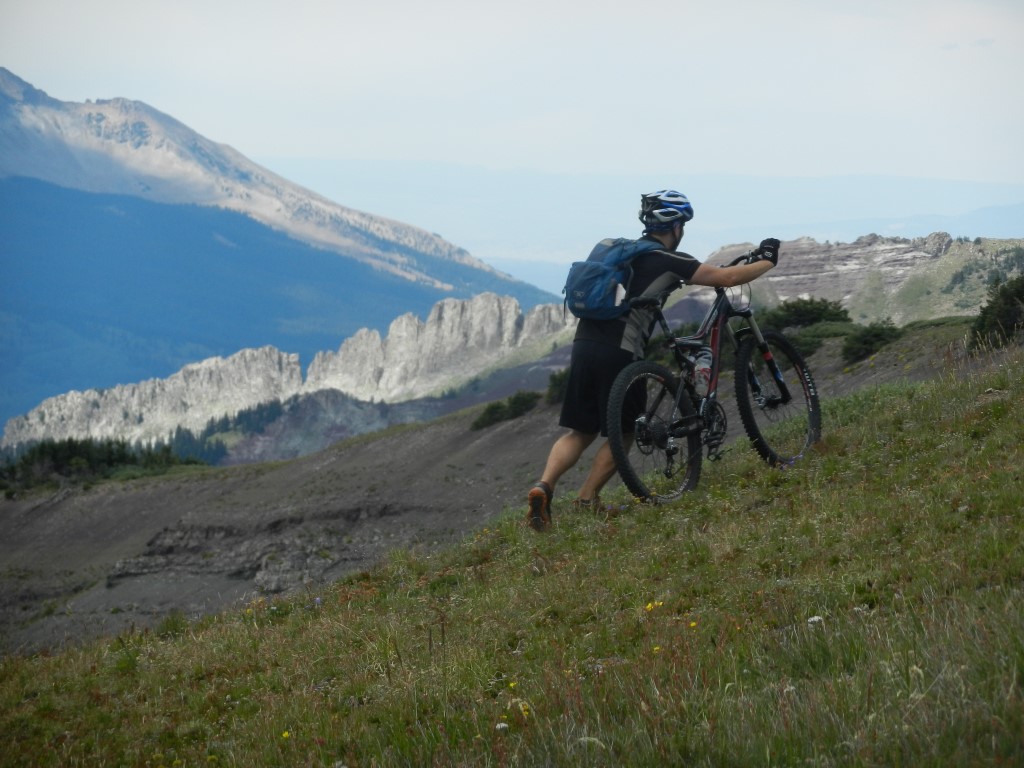 Oh my, para mi: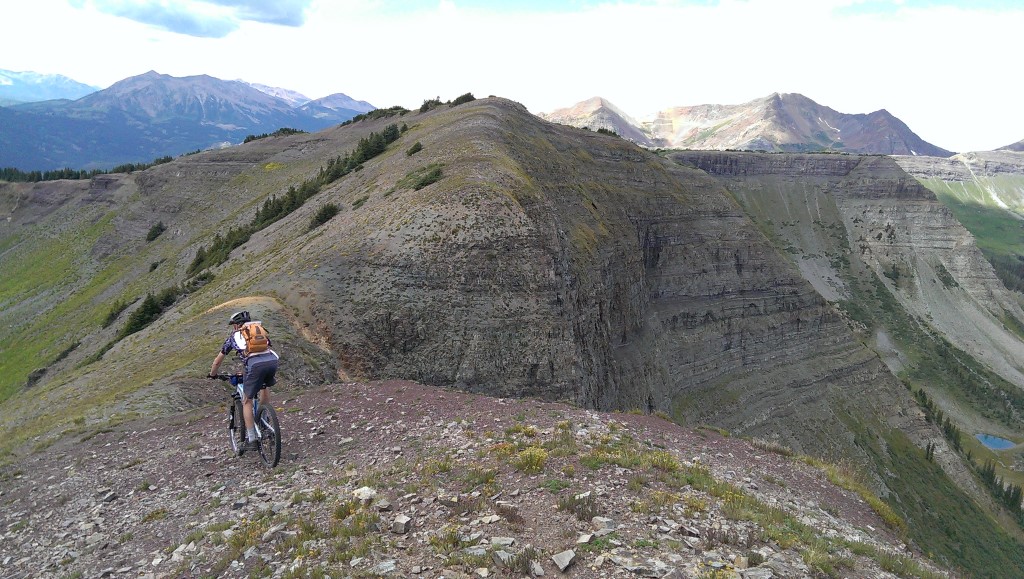 Oh my, para ti: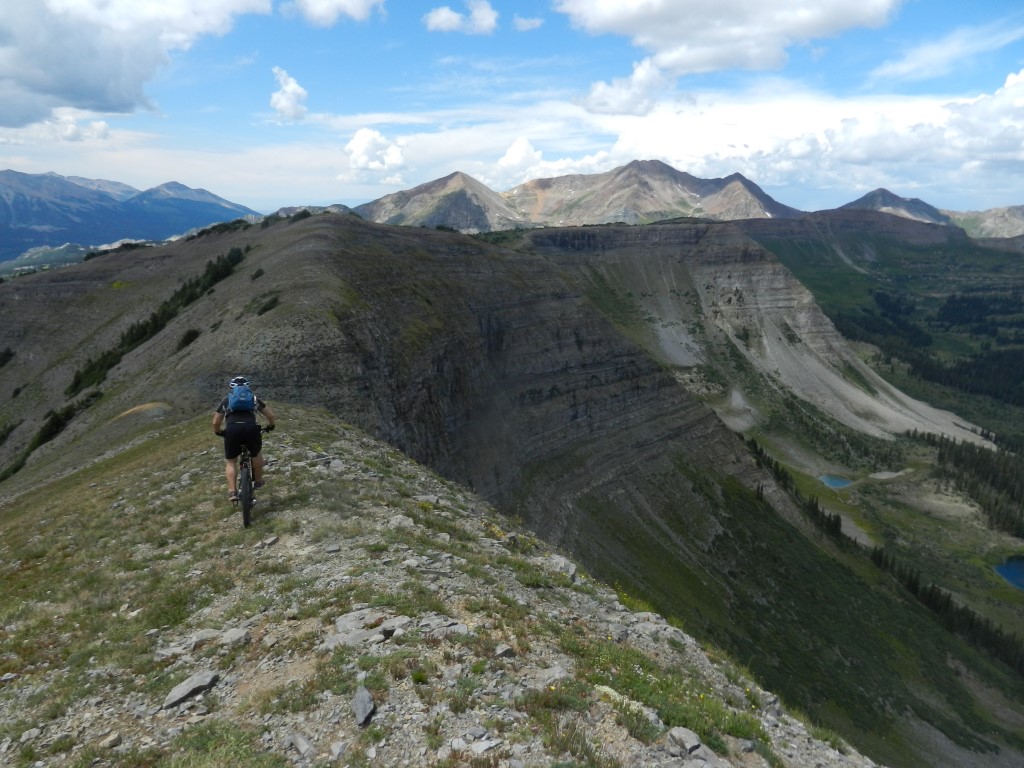 O' Holy Bejesus: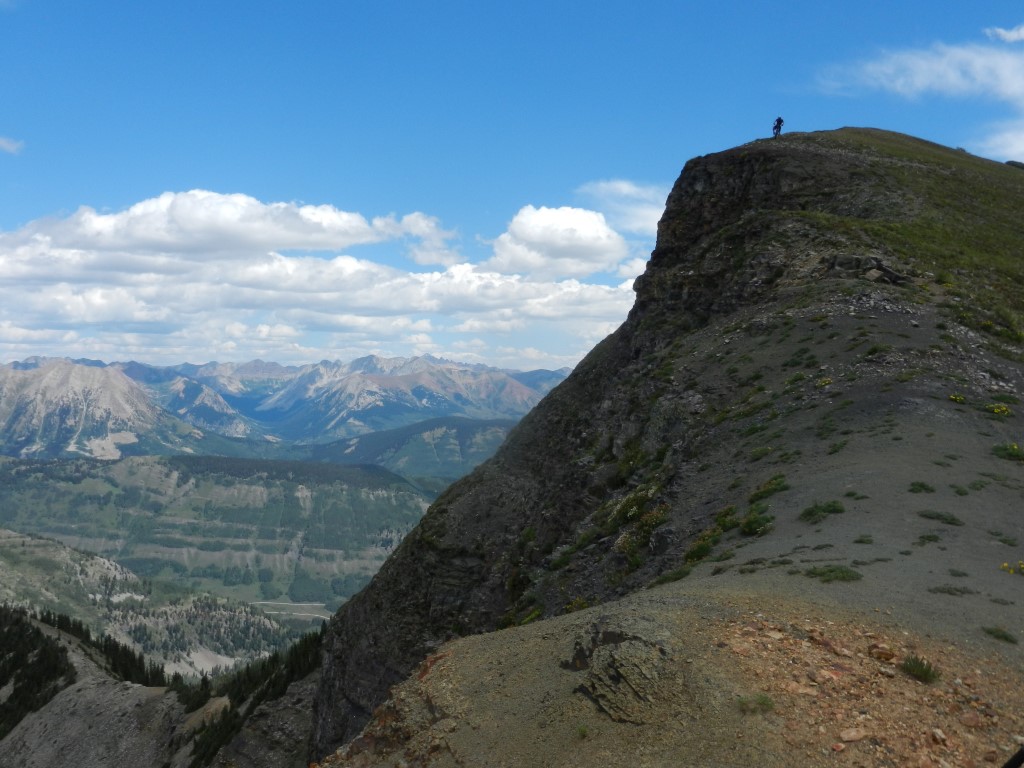 Kinda smiling, mostly concentrating:




Occasionally a wisp of actual trail became clearly visible:




Big smile, purty flowers, absolute perfection: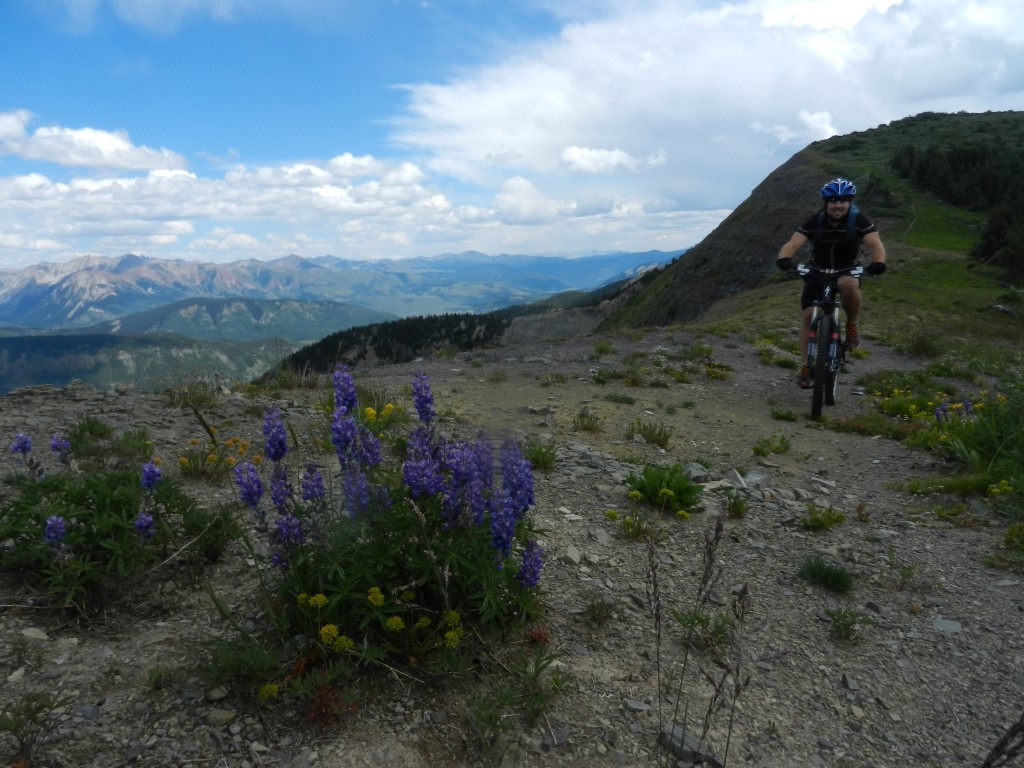 The panoramic opportunities never cease:





Excellent time to review that safety tip: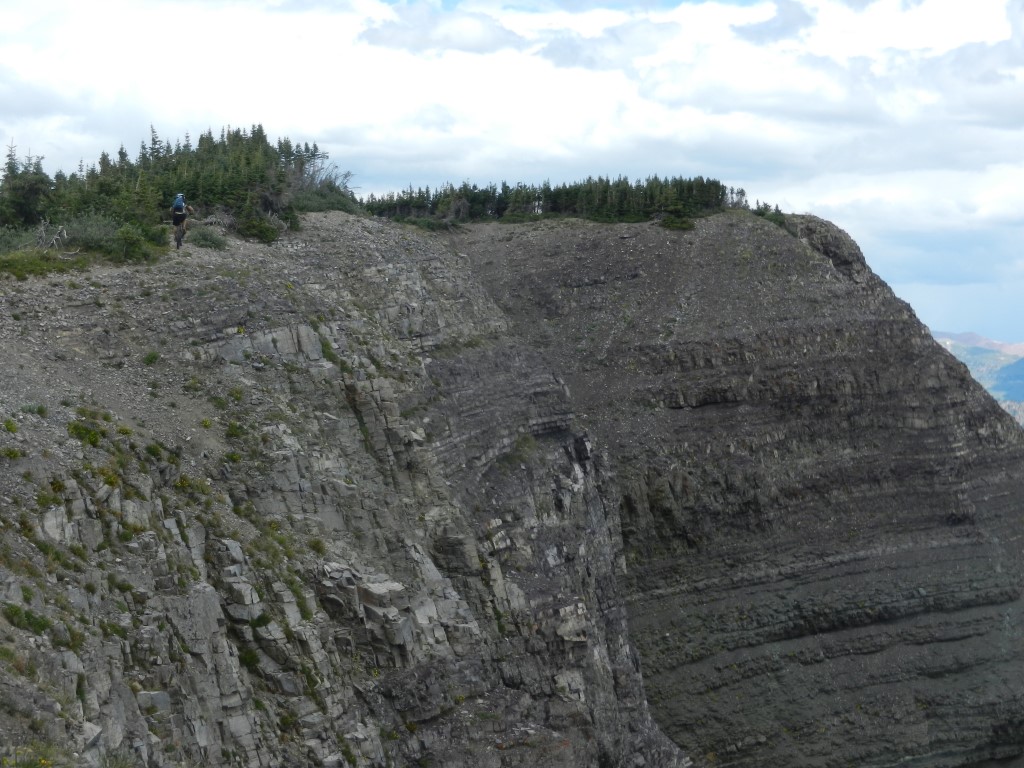 (part 3: the gettin' down while the gettin's good part)

We eventually eased into a big comfy green saddle and could finally relax a bit about the whole right side thing. Caught a faint whisper of singletrack heading left and down, and based on our mileage since Gunsight, reckoned it to be the second of the two known (and known to be semi-abandoned) trail options down.

I'm still not sure where the first turnoff was but we'd targeted the second anyway and if this was that, then that was that, we'll take it!

We had managed to not get zapped by lightning yet and wanted to keep it that way, so we decided to skip the next super steep push up the ridge and instead get pointed downwards ASAP. Besides, it's only polite to leave something for the next exploration party to report on, right?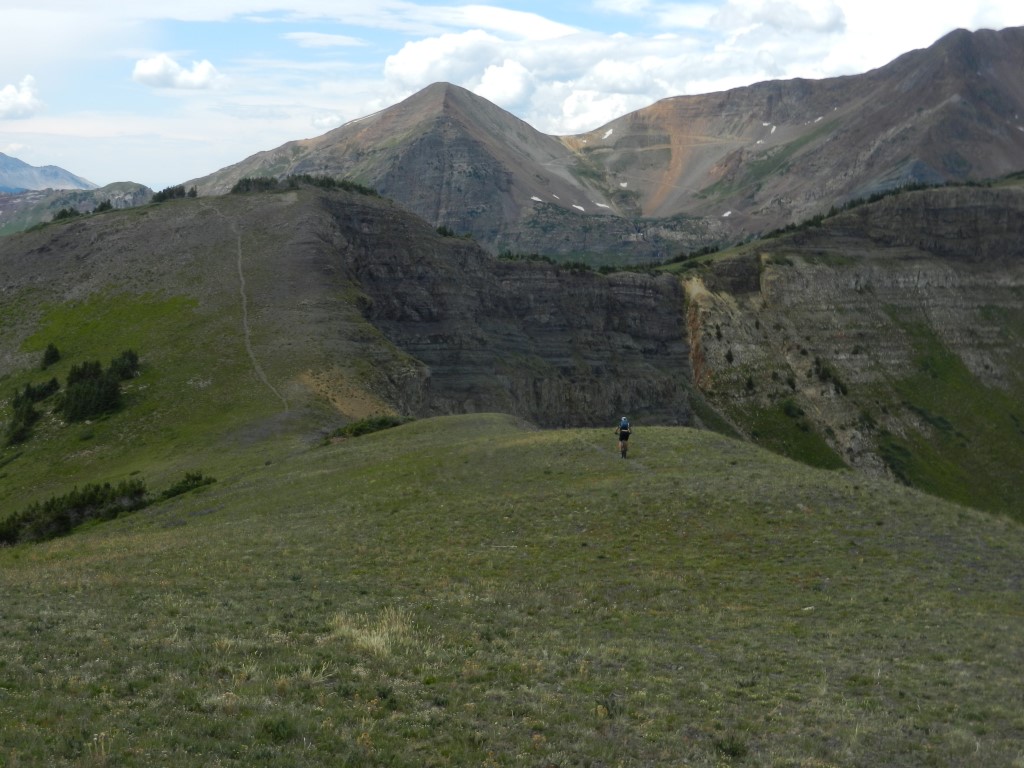 Lake Irwin was clearly visible below. We just had to hope there would actually be some way to get there from here...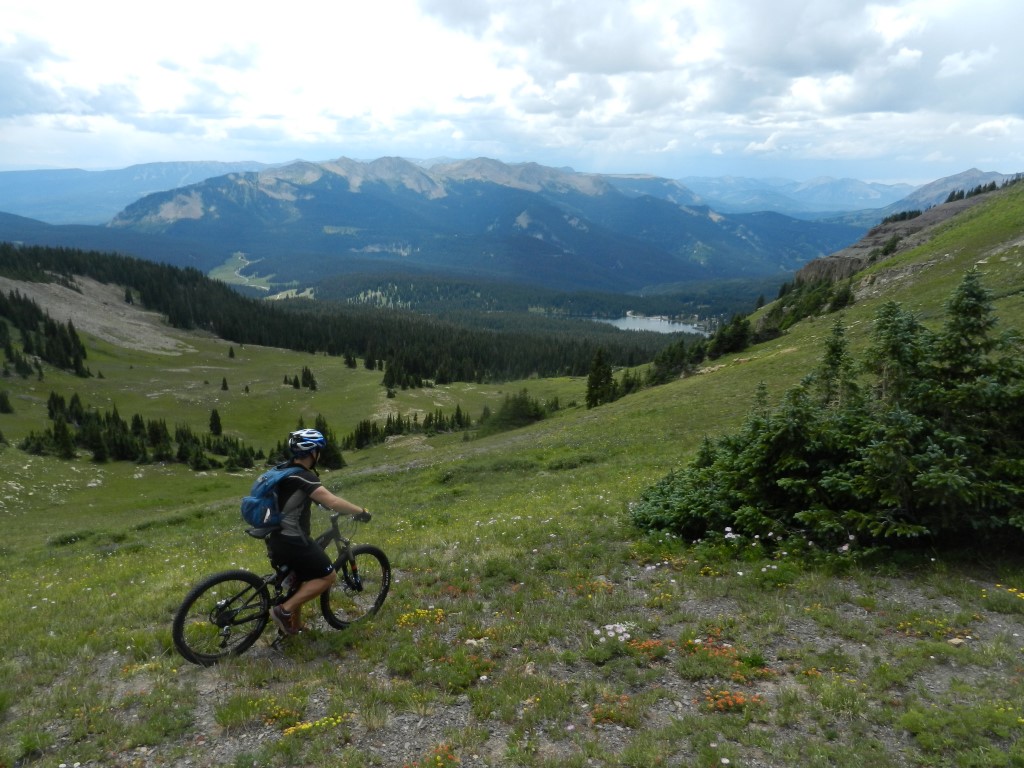 Klucks sniffed out the vestigial singletrack, switchback to switchback: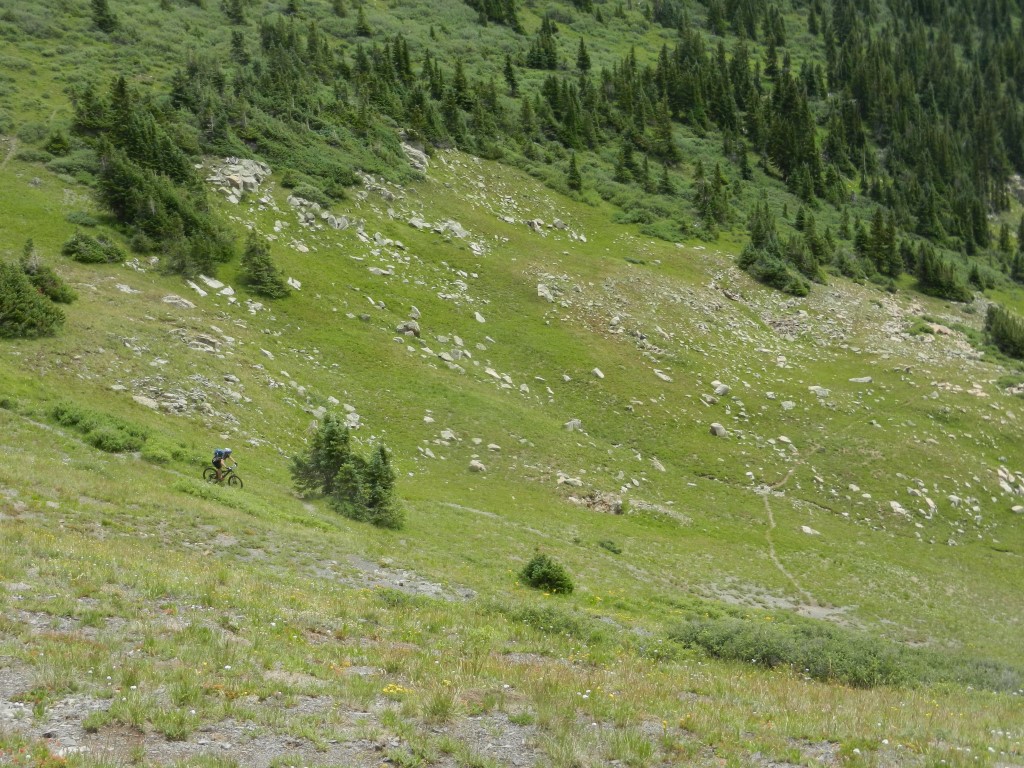 The trail teased us by becoming clear and downright fun for a while: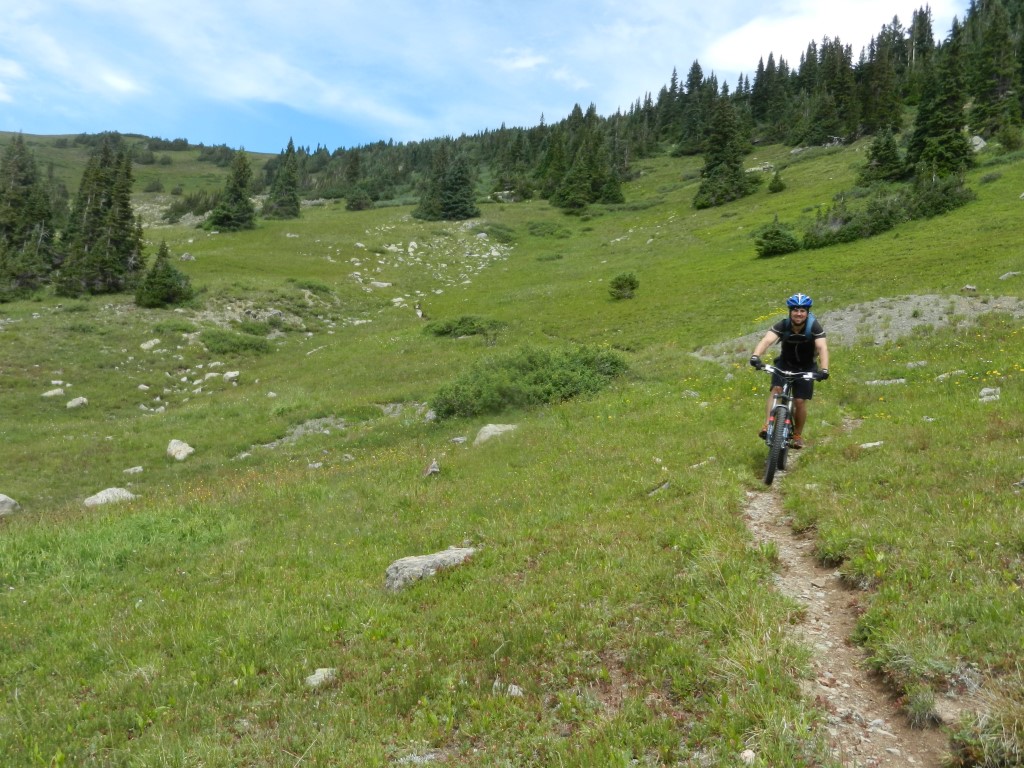 Unfortunately it faded back into nothingness shortly after a survey marker at some point. We spent a while tromping around and even retraced back UP (oh no!) a ways to see if we'd possibly missed some turn, but no such luck. Eventually decided to scramble down the rocks and just trust there would be a trail to meet us down there, somewhere...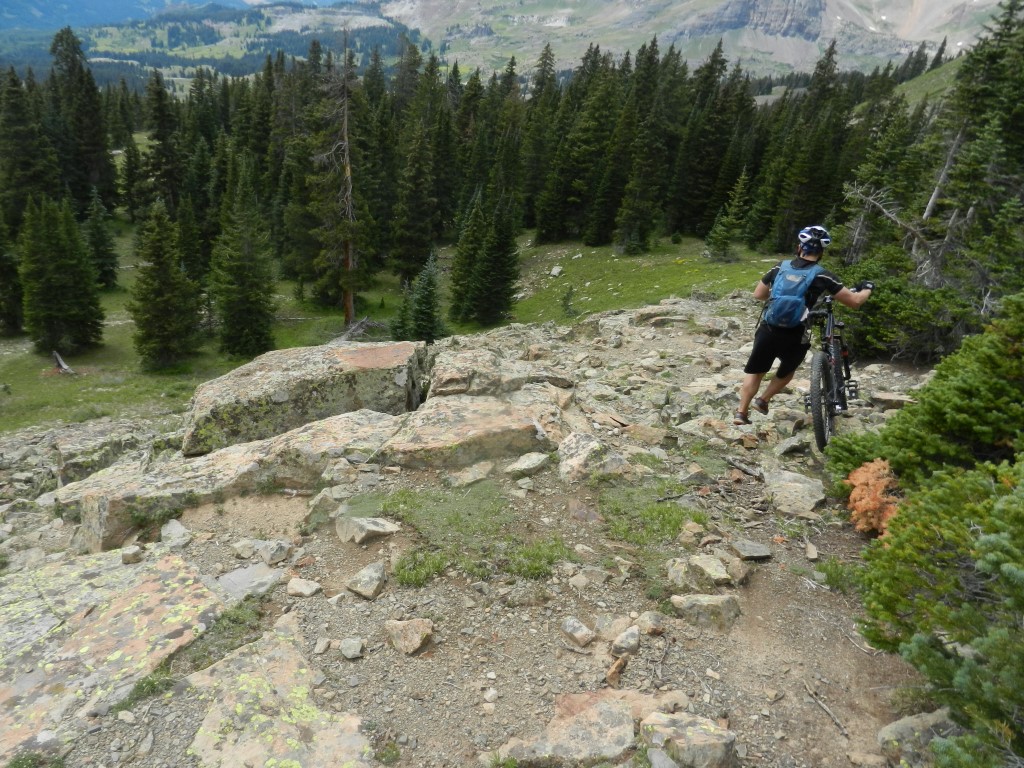 Sure enough a few hundred yards "right" we picked up a semblance of trail again. Although at times it did seem a bit more like a stream, actually: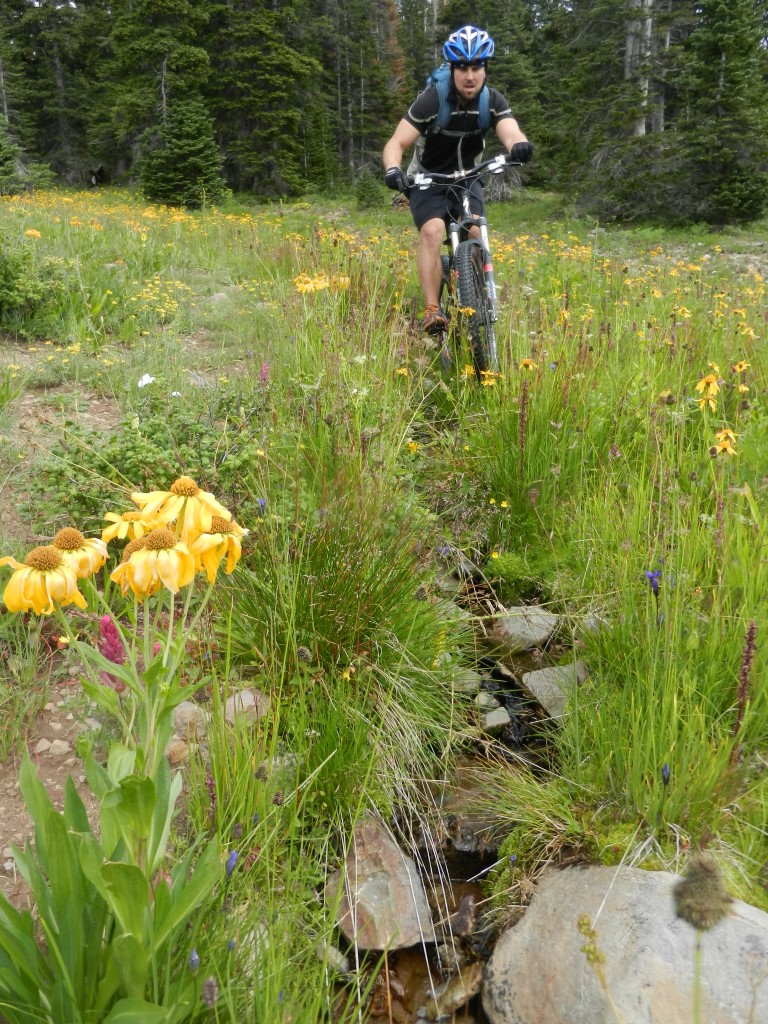 After navigating a bit of tall grass that had clearly been walked on by a few other humans at some point, a proper trail appeared again, and all too soon we found ourselves back in "civilization" just above Lake Irwin: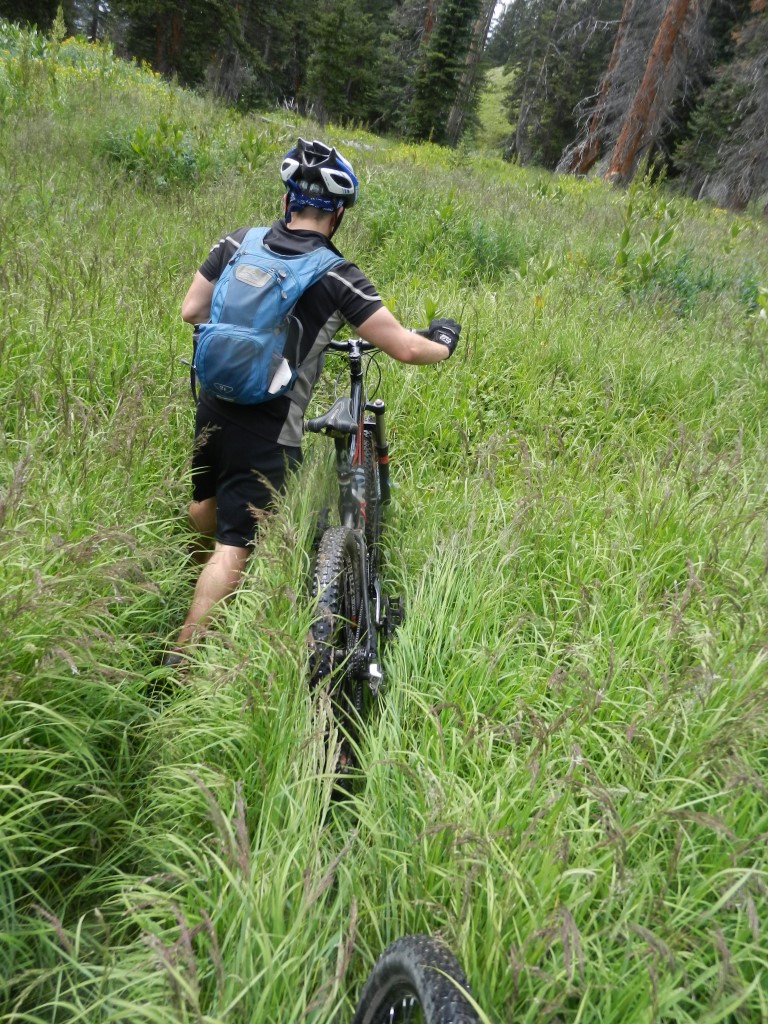 (part 4: the familiar yet still painful part)


Two thumbs up for proper trail signage! Six miles of well-traveled and well-loved singletrack lay ahead of us:




A bit muddy today, but still some awfully good riding available:




Moar flowerz:




Seven Steps of Pain, and one oversized logover, were required to get up and over the "dyke" itself: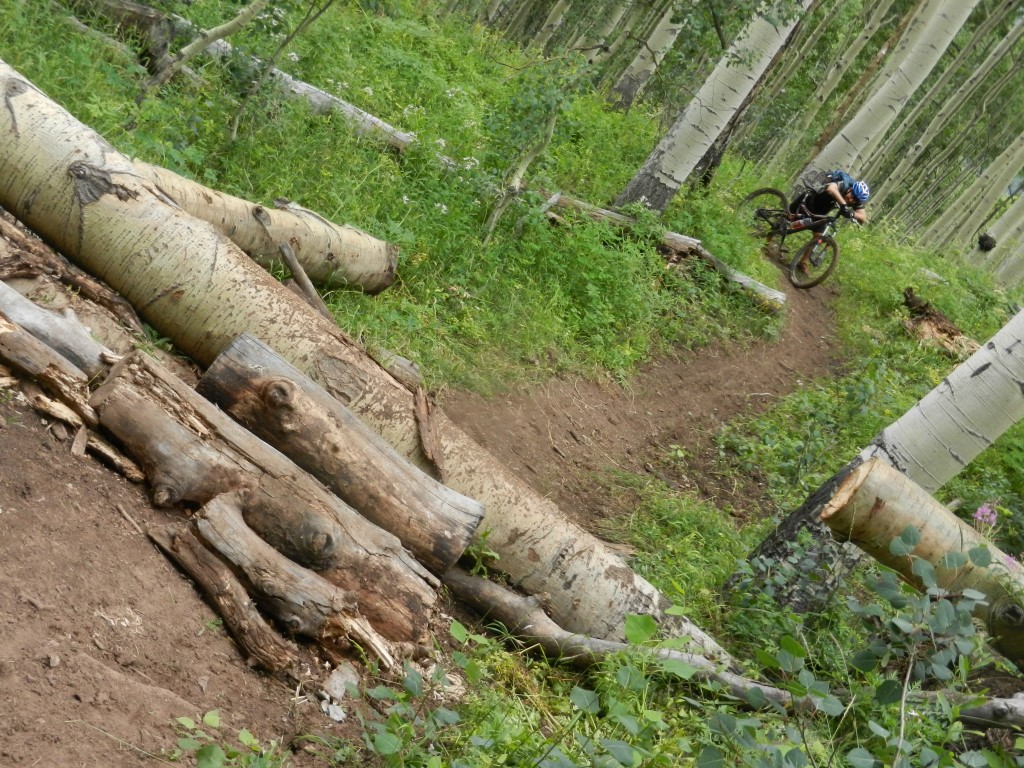 Several miles zooming down through aspens was a worthy payoff though: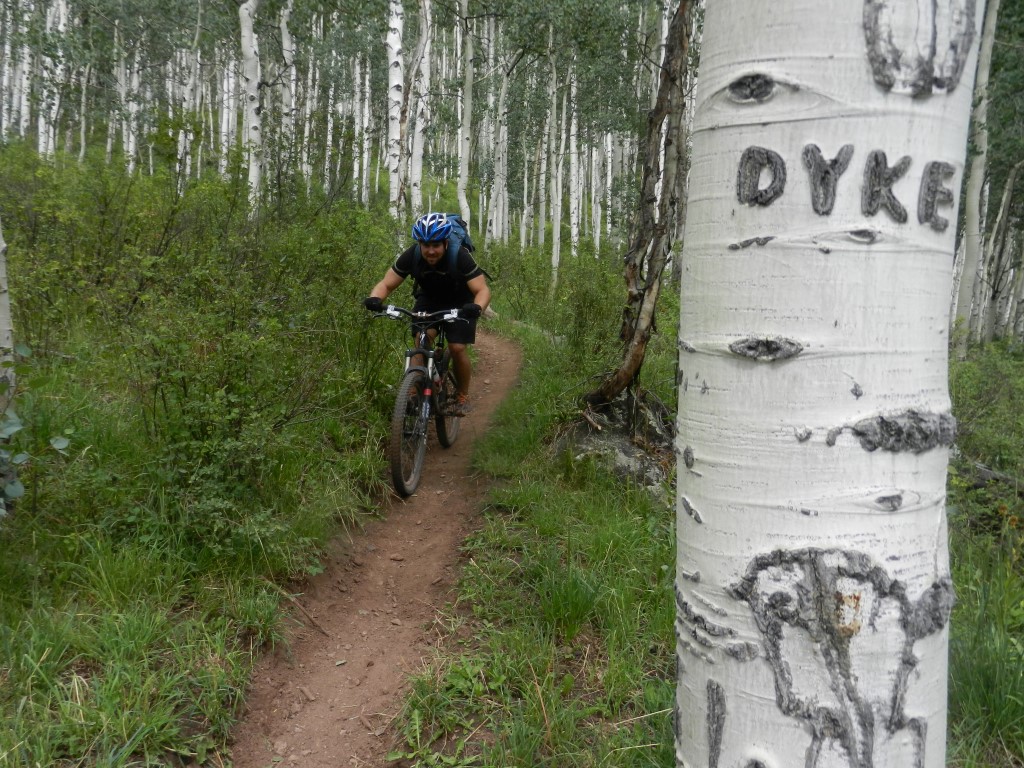 I had told Klucks to expect just a moderate road climb back up to Kebler Pass after the Dyke singletrack. Of course that "moderate" road climb turned into a positively painful slog after some 5000 feet already climbed at that point, but we spun it out, secretly hoping a pickup would come up behind and offer us a lift.

Couldn't help but marvel at the sheer lunacy of MGE and slow who would have had over 14 miles and 2200 feet of hard climbing left to wrap up their Super Loop after reaching the top of Kebler. Ouch, that.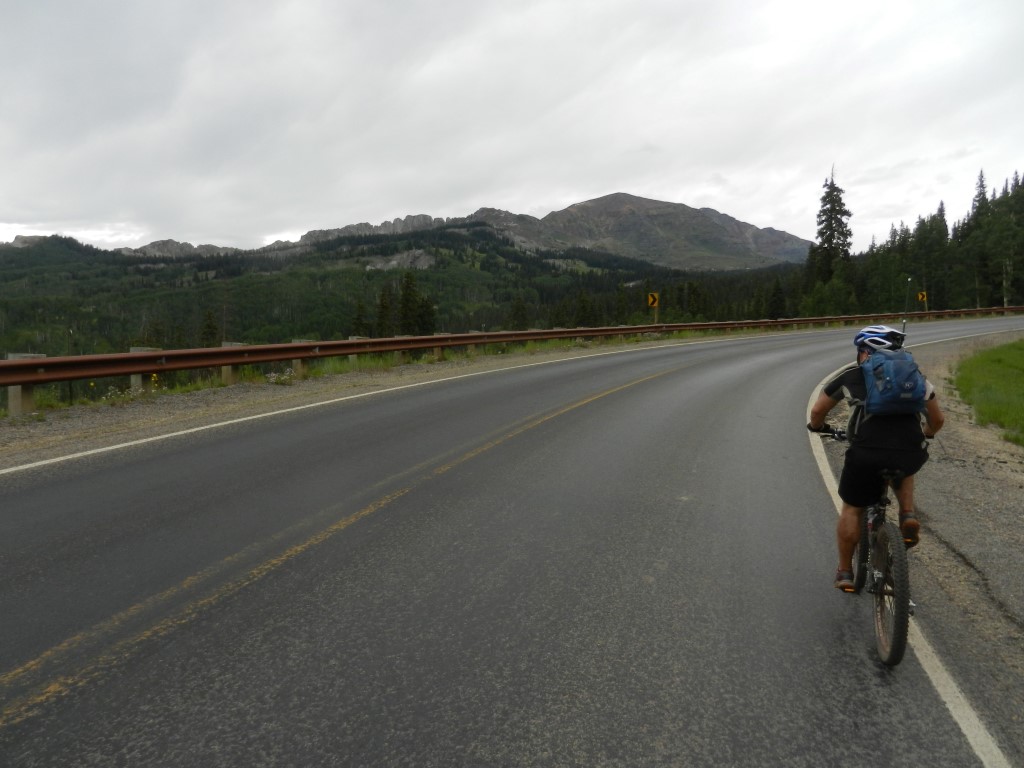 For us though, approaching Kebler Pass I spotted a signed but unnammed singletrack on the left of the highway and we hopped on that, assuming it was an early entrance to the Kebler Wagon trail that would take us "all downhill" to home alongside the highway.

Unfortunately this turned out to be our second temporarily-lost phase for the day, when that trail gradually turned away from the highway and headed UP and toward Lake Irwin. Grrrr... might be a nice trail option for somebody but it sure wasn't the dirt WE were looking for, so retrace it was.

Plodded back up to the highway and proceeded past the "Y" junction, where we found the clearly-marked Kebler Wagon trail and rode that sucker for all it was worth, enjoying our longest continuous downhill of the day. Four miles of buff and surprisingly flowy benchcut ribbon above the highway felt excellent at the end of this jaunt: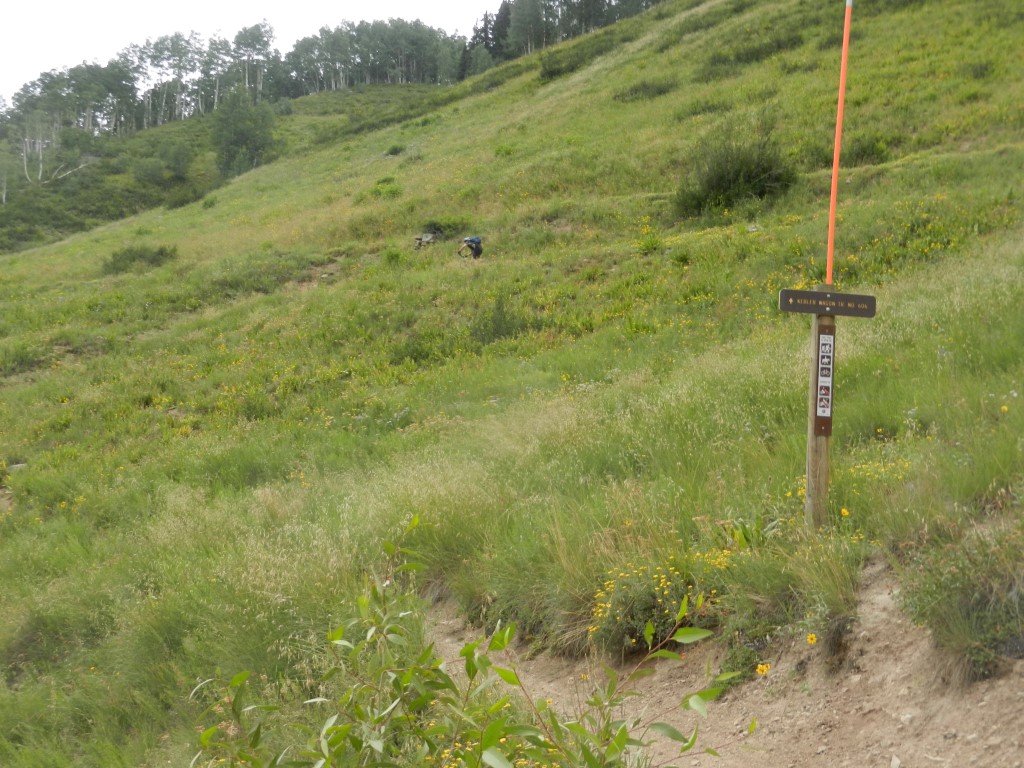 Klucks, gave just enough: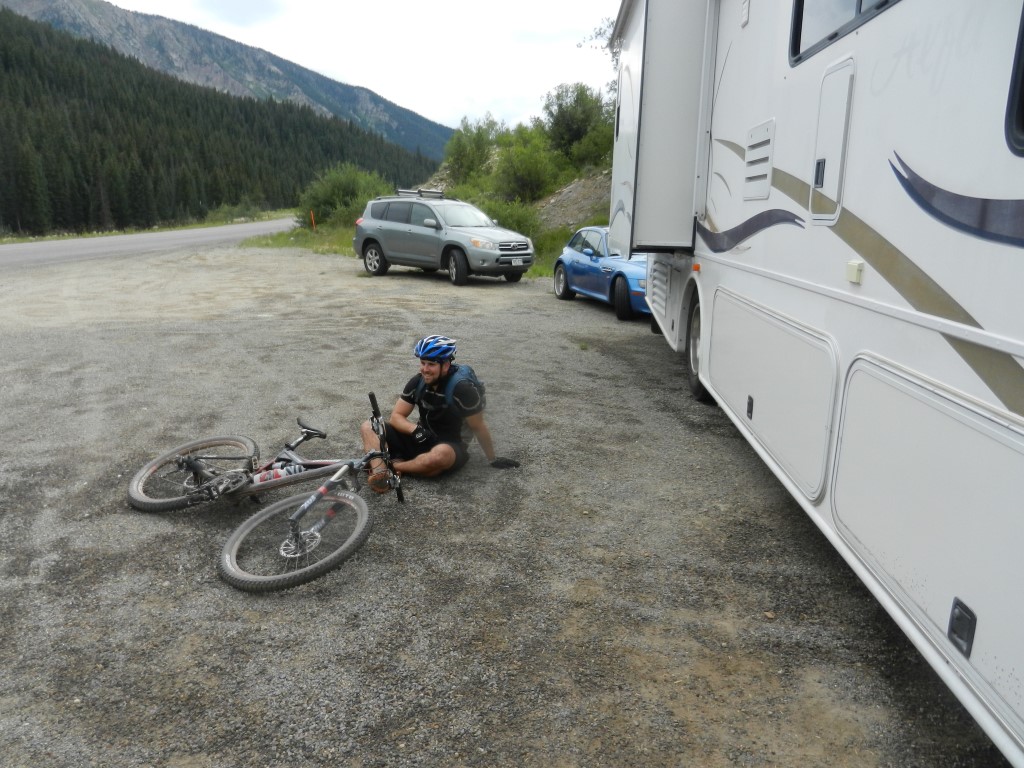 Much-needed refueling at the Last Steep!




On Sunday, since this was Klucks first trip to the Butte and it's required riding for all tourists, we rode Trail 401. Normally that's considered one of the most scenic rides anywhere, but after our day on Scarp Ridge, I almost decided "why even bother bringing the camera?"


Of course I did anyway and we had a fine time on that ride too, adding Upper and Upper Upper and Tony's to the end for a little flavor boost. But the point remains: that Scarp Ridge offers a spectacular setting for us weekend warriors who crave a little adventure, to do something that's almost in a league of its own.
< previous story home next story >
---
HOME TRAVEL LOG MOUNTAIN BIKING WINDSURFING STORY ARCHIVES RV INFO PHOTOS CONTACT US
---