---


HOME TRAVEL LOG MOUNTAIN BIKING WINDSURFING STORY ARCHIVES RV INFO PHOTOS CONTACT US
---
---
AUSTIN, ABILENE, PFLUGERVILLE, CORPUS CHRISTI, and BELTON, TEXAS
DEBCAR UPDATE # 3
Published May 28, 2003 / Covering March 10 to November 8, 2003
---
In the immortal words of Jim Anchower: Hola Amigos! I know it's been a long time since I've rapped at ya, but I've been busier than a rooster in a henhouse. We got back to Austin in March and I had two major new simulation projects land right in my lap.
The first was an order from Bridgestone/Firestone for two Pacesetters, which would have been straightforward enough except they wanted a smaller display option. So I crunched for about a month, and came up with a pretty cool new variant dubbed the Pacesetter Jr. with triple LCD monitors.
For the other project, I was asked if I could fly out for a half-day meeting. When and Where? Salt Lake City... early April... Hmmmm, well, I guess I can do that! So in addition to what proved to be a very successful business meeting, I also managed to hit the best couple of ski days of the season according to the locals (click here for pics from the ski trip). The new project is an ambulance simulator, which will be a brand new design that brings our realistic yet relatively inexpensive simulation technology to the commercial driver training market. This product will debut in September in Chicago.
Since neither Debbie's nor my "stick home" has sold yet, we're still living in Austin pretty much as normal, except that we now have a third place to live in for a few days each week. We're really getting the hang of motorhome living and are growing ever more confident that it will be both a practical and an enjoyable way to live.
We've made a few short trips and will likely make several more, but we don't expect to really be "gone" for an indeterminate time until our houses and other affairs settle.
I'm still planning to post writeups of my trip to Corpus and other RV happenings whenever I find some time. But Debbie now has a web editor on her computer and has written up our recent trip to Abilene, so we hope you will enjoy that, below:
"Abilene Windsurfing Festival"
"Bring Your House to Work Week"
"Let's Visit the McAndrews and Glimmers in Pflugerville"
"Bird Island Bash 2003 in Corpus Christi"
"Preparations at the Digital Vehicles Home Base"
- Carey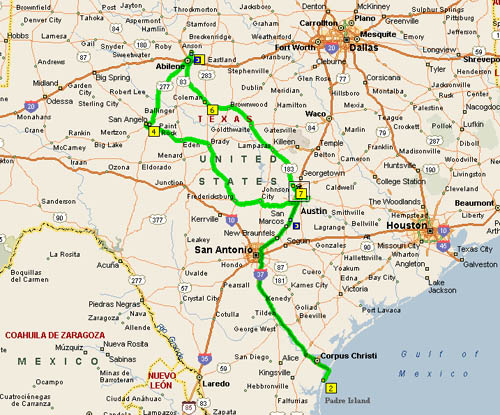 ---
---
HOME TRAVEL LOG MOUNTAIN BIKING WINDSURFING STORY ARCHIVES RV INFO PHOTOS CONTACT US
---