---


HOME TRAVEL LOG MOUNTAIN BIKING WINDSURFING STORY ARCHIVES RV INFO PHOTOS CONTACT US
---
(click on photos to enlarge)
---
"Preparations at the Digital Vehicles Home Base"
Austin, TX
March 17, 2003 to November 7, 2003
Story by Carey [Debbie's comments in italics]
One of the first things we had to do upon returning to Texas was to get a state inspection on the motorhome so we could get it titled and registered. Not exactly sure about who can inspect such a vehicle, we ended up taking it a truck repair shop named Donco coincidentally right down Kramer Lane from my office. True to the stereotype, these cretins managed to get black grease all over the carpet in the front, but we did at least get our sticker. We now know that any place that does car inspections can do motorhomes too, although you still need to find somewhere with easy in-and-out access.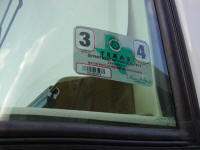 With the inspection done, we sent off everything to get registered. Fully three months elapsed before the State sent us some license plates. Good thing we weren't in a hurry, eh? The funny part is that when they finally did arrive, it was via FedEx Saturday Delivery service, which costs lord-knows how much. Of course, they hadn't told me they were sending them like that, and they ended up sitting under the floor mat of the front porch of my house until I found them while sweeping out there later the following week. Crazy.
One interesting thing we discovered pretty quickly about our home-base parking spot is that it turns into a lake when it rains. Can you say "houseboat"?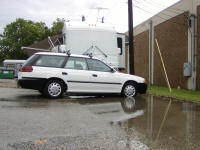 Water, water, everywhere, sure, but there's no way to harvest it. So to satisfy our daily needs, we've rigged up a couple of hose-o-matic reels that make it relatively easy to refill our 100-gallon fresh water tank from a faucet inside the building.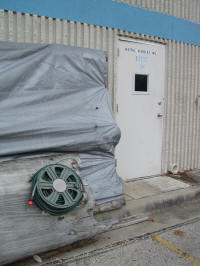 We also purchased a nifty water-powered jet-pump apparatus with the rather uninspired name of the Sewer Solution, which allows us to pump our waste tanks as needed into the sanitary sewer located about 50 feet away without having to move the coach, which would be something of an ordeal to do on a regular basis.
For electricity, we have obtained a couple of extra-long, extra-burly extension cords and a "cheater box" that takes the big 50-amp connector from the motorhome and splits it into two 15-amp standard household circuits. My office building has one external power outlet that we stay plugged into full-time while we're camped there, but when we need a power boost we can open the door and plug the second extension cord into another outlet inside. That's needed when we need to do something intense like run the dryer and the air-conditioner simultaneously. Otherwise, we've learned how to be perfectly comfortable living off a single power outlet, which is pretty cool. [I saw an episode of Green Acres the other day that looked eerily like our situation, with the plugs for Lisa's kitchen appliances being assigned numbers based on their draw: "You can't plug a two in with a six."]
Of course, another important "utility" is television. The Alfa comes with a Kingdome satellite dish and DirecTV receiver built in. So you'd think it'd be a simple matter to get hooked up, but somebody had apparently stolen the Access Card from our satellite receiver before we got it (apparently quite commonly boosted by people walking through RVs at dealerships), and it took about half a day on the phone with DirecTV to finally get someone who actually understood the problem instead of just following the script. "We can just send out an installer and give you a FREE new dish and FREE receiver and FREE installation. Your equipment is bound to be obsolete anyway. Isn't that nice of us?" Well, not really, because I already have all that stuff, and it's all specialized RV equipment, less than a year old. Sheesh.
Anyway, I finally got someone to send me a new Access Card, and we've been happy satellite viewers ever since. We also filled out the legal paperwork for the dreaded "Distant Network Service" that declared us to be 100% "mobile RV users" who would never, ever, watch TV from their own city, and we thereby were able to receive the local network channels from both New York and Los Angeles over satellite, which is actually pretty cool. [I was watching the local news one night and they were talking about some string of crimes on the Upper East Side, and I thought, "Wow--this must be big news! I wonder what the New York stations are saying about it." It was a New York station. Doh!]
One last TV-related topic I'll mention is that during the summer I snuck one of the simulator's plasma monitors out the back door one evening and set it up in the motorhome to see how we liked it. Not surprisingly, we liked it. Here's a picture of how we envision setting one up in the living room "for real" one day. It's a much more cozy, home-like arrangement than the standard TV above the windshield.
A few other customizations we've done involve sliding storage. We've upgraded the latches on some of the larger drawers inside the RV so they'll no longer come flying open when I slalom the big unit thorough those nice twisty mountain roads. We also removed the two giant slide-out trays from the basement compartment, which really opened up a lot of space in there so that we can now fit both of our windsurf boards and all the related stuff inside. Very nice, and very unusual to have such a huge, uninterrupted compartment underneath.
To keep our clothes from falling down, I replaced the original flimsy wooden closet rod and stapled-in plastic brackets with a SuperStrong steel rod and bolted-in metal flanges. We can now jam hundreds of tee-shirts in there without fear. Of course, Debbie pointed out that they really need a little room between them to be able to select them, and besides, why do we need hundreds of tee-shirts anyway? So I did eventually prune my collection a bit, but at least it wasn't on account of weight!
Debbie spent many hours optimizing the arrangements of the various compartments, including many hours prowling the aisles of The Container Store and such looking for just the right size storage bins and items. Quite rewarding when you eventually end up with every little thing wedged neatly into just the right place.
Another surprisingly big project was to remove most of the big, gaudy "Alfa" and "See Ya!" decals from the outside of the coach. Debbie spent many hours picking off stickers and applying Goo Gone, but the end result is a coach that now looks a lot cleaner and more like a high-end custom ride than before. The best part is the gold "Special Ed" logos that were a happy accident resulting from the partial removal of the word "Edition." We find it amusing, anyway. [I intended to remove all of it (there's one on each side) but it's made of some crinkly foil that comes off in microscopic shards, and I finally just got fed up and was grateful I'd started from the right--if it had been from the left, it would have left "al Edition," prompting the scrutiny of the Department of Homeland Security. Anyway, my friend Gretchen, who's a school teacher, thought "Special Ed" was hilarious, and so far, nobody has mistaken us for a bookmobile for retarded kids.]
One minor disaster we had involved the awning over the living-room slideout. Alfa came up with a fairly clever design that lets that awning do double-duty -- normally functioning as a simple slideout cover, but it may also be extended as a partial-awning for the two big living room windows if desired. Which is, like many things Alfa, a great idea that wasn't quite screwed together right. They didn't quite get the thing aligned right at the factory, and one time when we were extending the slide room the roller got jammed up and the whole mess rolled over the top lip of the slide, bending the arms and cracking up the fiberglass a bit. [It cracked the fiberglass too? I didn't know that.]
We were still within the first year of original full factory warranty, so we figured we'd just take it in and get it fixed. Well, it turns out that the first year of full factory warranty coverage is not transferrable to a second owner, which we were. The coach is marketed as having a "Five Year Solid Gold Protection Plan" that is transferrable for a nominal fee of $45 or something, which we understood and fully intended to have to do. But the transferrable part, really a factory-paid extended service plan, didn't kick in until years 2-5. So we found ourselves in a sort of no-man's-land of warranty coverage. Luckily we had some contacts with the factory through the internet group that was run by Rik, the RV consultant we bought the coach from, and got them to sort-of grandfather our claim. But this is definitely something to be aware of in the future if you're ever shopping "slightly-used" RVs, because it's apparently standard practice among several manufacturers in the industry.
Anyway, after a 6-week wait for an appointment, we took it into Bubba, the head service cheese [and an Aggie to boot!] of RV Outlet Mall in Georgetown. After two visits, they finally got the awning and a couple of other issues taken care of. Painfully long waits followed by acts of ineptitude are apparently standard practice throughout the RV service industry, so I'm planning to do as much of my own maintenance and repairs of this thing as possible. I really don't know how people who can't fix things themselves can stand to own one of these things and be at the mercy of RV service departments.
[Please, lord, don't let anything happen to Carey.]
---
HOME TRAVEL LOG MOUNTAIN BIKING WINDSURFING STORY ARCHIVES RV INFO PHOTOS CONTACT US
---