---


HOME TRAVEL LOG MOUNTAIN BIKING WINDSURFING STORY ARCHIVES RV INFO PHOTOS CONTACT US
---
(click on photos to enlarge)
---
"Abilene Windsurfing Festival"
Austin, TX >> San Angelo, TX >> Abilene, TX >> Austin, TX
May 8-11, 2003
Story by Debbie
Thursday
While living in an RV behind Carey's office presents its own particular charms (well, except when Kiefer's Deli uses their dumpster to dispose of what can only be rotting corpses), I had wanderlust. I'd heard about the Second Annual Abilene Windsurfing Festival, a destination that would take us right by Zentner's Daughter Steak House in my hometown of San Angelo at dinnertime, if we didn't mind adding 100 miles and an overnight stay to the trip.
I'm not picky--I'll take either the original or the daughter, but one of them has an enormous parking lot. Decision made.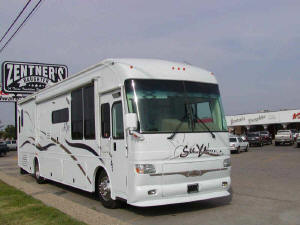 This is San Angelo Stadium in the left background--pretty deluxe.
Note the grassy hill under the red pressbox on top. In some regions, there's a tradition (if that's the right word) of burning grass to make it grow back greener or something. In San Angelo, there's a tradition (and that's definitely the right word) of kids rolling down that big hill during football games. Well, put those two traditions together and throw in a passel of disappointingly idiotic Smith children, and you have some mightily peeved parents when greeted after the game by three blobs of char, highlighted by white eyes and teeth. Hey, it was night! How were we to know the grass was black? That'll teach 'em to let us out of their sight.
Okay, back to Zentner's. My brother Pitchie (not one of the hill rollers) and his girlfriend Deborah (not her either, as far as I know) joined Carey and me and a full time was had by all. I got my beloved onion rings and enough steak for a second meal, and was ready for a nap.
We were planning to stay in an RV park that night, and Pitchie thoughtfully did some advance scouting and proclaimed San Angelo State Park the place to be. He must know me well--there were only two other RVs out there, which of course works splendidly for a curmudgeon like me.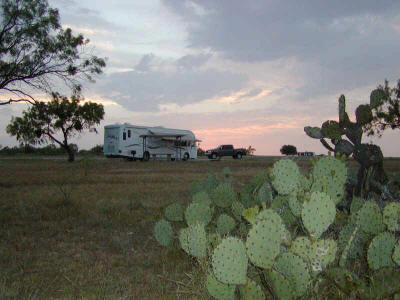 The cactus would deter invaders from the east. We also picked this spot because of the picnic table, the view of the lake bed, and the tree with the birdhouse, which meant birds to keep us company.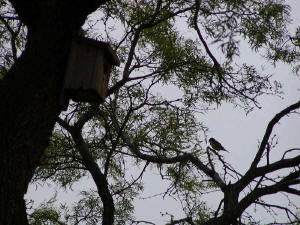 Unfortunately, where there are birds there is birdsong. At daybreak. Lesson learned.
Here is Pitchie on his first stop on the RV tour...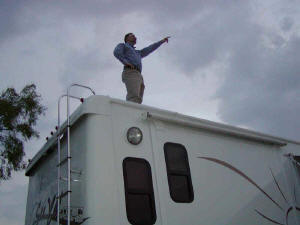 ...and the view from up on top: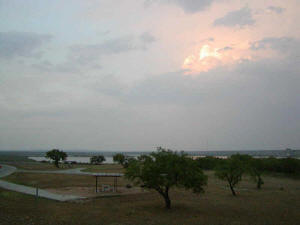 This is what the RV looks like at night when we have electrical hookups. Pretty homey.
----------------
Friday
Onward to Abilene, once I figured out how to get there. They moved the road, so you don't go by the roller rink and then in front of the Ethicon plant any more. It may have had something to do with San Angelo's legislative representative Rob Junell's tenure as the Chairman of the House Appropriations Committee.
Here we have the entrance to Abilene Sailing Association's property at Fort Phantom Hill Lake. That's the clubhouse, and the building to the right has bathrooms and showers. Pretty swank when compared to our usual Windy Point digs.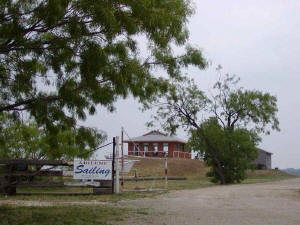 A menacing Jolly Roger atop a sailboat: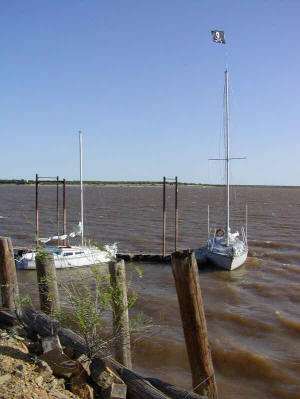 Yes, the water is red, but it's not nearly as icky as it looks here.
We obviously haven't completely worked out the windsurf board storage issue, although it's pretty clear that as versatile as those Mexican bags are, they do have their limits: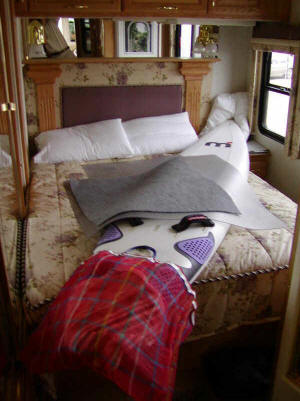 The Abilene Sailing Association graciously let us stay on their property, on a bluff overlooking the water.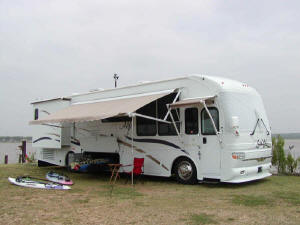 That open compartment is chock full of windsurfing crap. If it makes you wonder where all our other possessions, including bicycles, are going to go, you're not alone.
Not to spoil Sunday's surprise, but I bet those wood supports would make a nice hiding place for a reptile: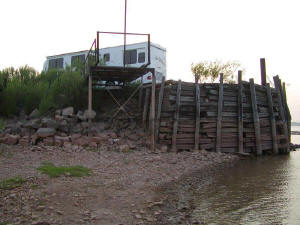 Carey and I sailed like the wind-starved maniacs we were, for three straight hours. Nighttime couldn't come early enough for either of us, and no number of songbirds was going to disturb my sleep.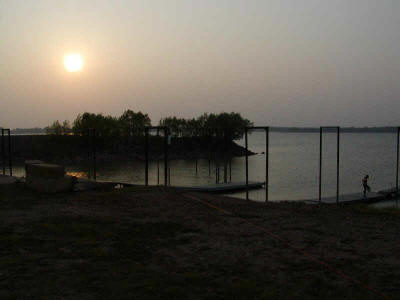 ----------------
Saturday
More sailing, but no photos because we're sailing, and distance shots of sailing never look like anything anyway.
But here's a view of the cove we sailed back and forth in a million times yesterday. The pier shows how low the water is, but there's still plenty of water, and lots more lake off to the left.
This is me on the right observing some simulator work: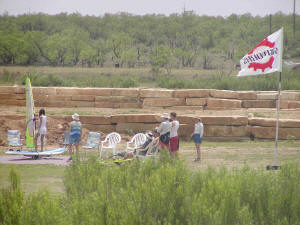 I would run over there during the commercials during the broadcast of the...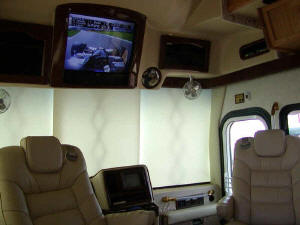 ...CART race on t.v. We never could get the Spurs game on the radio that night, severely impairing our camping experience.
They have a clubhouse, and the sailboat types in the Abilene Sailing Association made dinner for the windsurfers.
Dusk at the lake: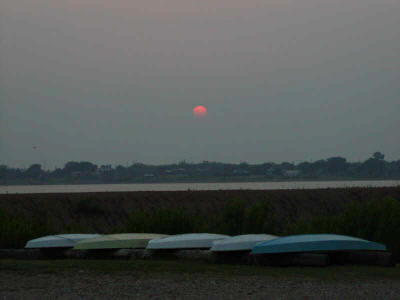 Those are hulls of Starfish sailboats, which gave me a pleasant little flashback to my junior high days spent piling a bunch of girls on these little fun machines made for two out at Kathy Shelton's Lake House. There's a theme emerging here--I like sailing craft that are supposed to tip over.
----------------
Sunday
A cold front blew in overnight, dropping the temperature by over 40 degrees. I could only look upon my tentmates with pity while I ate my oatmeal.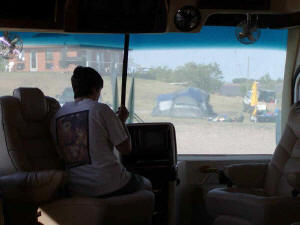 There were more rabbits than I have ever seen in one place, testament to their fecundity, given their lapin lovin' neighbors: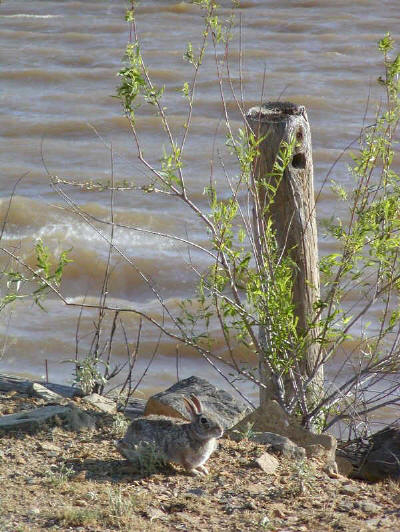 Okay, there was one ugly incident. I'd put my windsurf board on the ground near the shore and went back up to mess with my sail. Carey came running up the ramp yelling, "You'll never guess what crawled out from under your board! A giant snake!" I briefly lost my mind and actually went running down there to see it, arriving just in time to see the last half of it slither into its lair--the support structure of the very bluff on which we were residing! And this was not just any snake, but a fat five foot long gargantuan that had recently eaten a rabbit. Ewwww. Just ewwwwww.
Seriously, I'm so squicked out by the whole thing that I get nauseated just looking at the photos. Here they are, real little, and you can click to enlarge them if you insist:
On the right is the discarded snakeskin I was standing on while watching the whole grisly thing; I'd seen the skin previously and thought it was a fish skeleton or something. I was wrong.
There's not enough boiling water on the planet to sufficiently sterilize my board after that, so I bravely just disregarded the whole thing, ignoring the bulging reptilian mass clearly visible between the boards, and continued my sailing.
(Please forgive the lack of hyperlinks in this portion of my update--no way I'm googling "snake.")
In more placid times, Brian "The Dog" Cunningham messes with his trailer: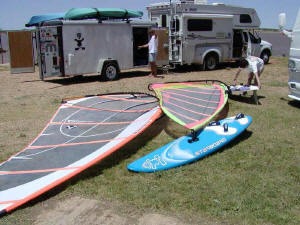 He and his wife Lynne and their dogs Max and Lance were our neighbors and ably represented tha Big D sailorz.
We packed up and headed home, fortunately (not to mention gratuitously) hitting Cedar Park at a good time for chili cheese dogs. Believe it or not, I'd never travelled that route from Abilene to Austin, and I was a bit disappointed that it somehow didn't take us through the traffic circle in Brownwood (I guess it's an east-west sort of thing). Carey loves traffic circles and everything's more fun in a 40-foot RV.
[Oops--Evidently Brownwood got rid of the traffic circle about 20 years ago. I'm old.]
We wanted to blast the bugs off the front before parking the RV back at Digital Vehicles World Headquarters & Super Exclusive RV Park, but the car wash with the high clearance was several miles out of the way (there are miles, and there are MILES--it really depends on whether there's an order of onion rings involved). So we made do, providing much needed entertainment to the Sunday night car-washing masses.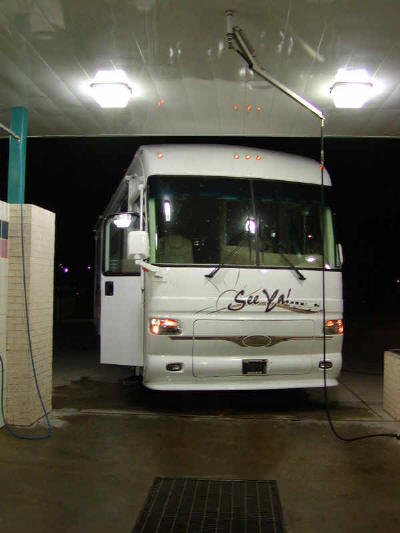 ---
HOME TRAVEL LOG MOUNTAIN BIKING WINDSURFING STORY ARCHIVES RV INFO PHOTOS CONTACT US
---