---


HOME TRAVEL LOG MOUNTAIN BIKING WINDSURFING STORY ARCHIVES RV INFO PHOTOS CONTACT US
---
(click on photos to enlarge)
---
"Bird Island Bash 2003 at Corpus Christi"
Austin, TX >> Corpus Christi, TX >> Austin, TX
April 25-27, 2003
Story by Carey [Debbie's comments in italics]
Each year the Corpus Christi Windsurfing Association hosts a weekend get-together at Bird Island Basin, which draws windsurfers from thousands of miles around. Well, most of the ones from other states were probably there anyway, drawn by the seasonally good winds and generally excellent sailing conditions, but it's a good event nonetheless.
Bird Island Basin is across the Laguna Madre from Corpus on Padre Island, and you have to cross a long busy causeway to get there. The causeway is being rebuilt and widened, but in the meantime it makes for a fairly exciting, narrow challenge in the big motorhome. The next picture shows the much less stressful approach road to Bird Island Basin itself.
Debbie was busy that weekend with Longhorn baseball and other things in Austin, so I made the drive down by myself. But once there, I was joined by fellow Austin Windsurf Club member and longtime bigwig Mike Schultz, who, being no dummy, had said sure, he'd rather stay on the guest bed in the living room (which folds out from the couch, below) than camp in his car as he otherwise planned. So that worked out great.
I nabbed a nice spot among the big RV's parked near the shore of the sailing launch. There are no electrical or water hook-ups at Bird Island Basin, so you need to be completely self-contained during your stay. It was hot and we couldn't run the A/C (unless we wanted to run the generator all the time, which we didn't), so we just installed all the nifty custom white solar shades over the windows and deployed the awnings to help keep cool. [Yes, I was very very busy in Austin and tragically could not make this trip to hot humid climes with no electricity or water.] I stopped at Camping World and bought the cool folding ladder in the photo below during my trip down, so I was looking for an excuse to try it out anyway.
Some of these folks really make us look like amateurs with all their gear and their creative ways of transporting it.
I didn't get many sailing photos because I was generally busy sailing myself, but here's one of Mike practicing his waterstarts, and of Ron toting his new sail, recently acquired from "UK1" (Debbie's nemesis out on Lake Travis, who always seems to sail right up into her way no matter how hard she tries to get away from him).
I did take a good number of pictures at last year's Bash though, so click the link below if you want to see some pictures of the "windsurfing scene" at Bird Island. Believe me, you can't tell what year these sort of pictures are from anyway. :-)
http://www.pbase.com/ckriger/corpus_awc
Oh, and our onboard washer-dryer turned out to be very handy for drying off wet swimwear.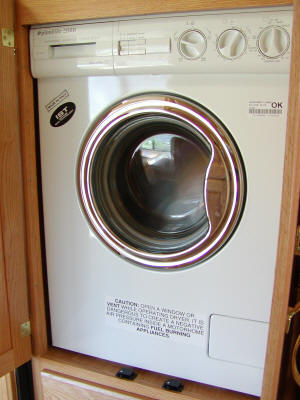 A fun weekend overall, and a little practice "dry camping." Sure beats having to drive all the way back into town to a motel every night.
---
HOME TRAVEL LOG MOUNTAIN BIKING WINDSURFING STORY ARCHIVES RV INFO PHOTOS CONTACT US
---