---


HOME TRAVEL LOG MOUNTAIN BIKING WINDSURFING STORY ARCHIVES RV INFO PHOTOS CONTACT US
---
(click on photos to enlarge)
---
"Yosemite, More Than a Pretty Place"
Coarsegold, CA
September 29 and October 10, 2004
Story by Debbie
And now the big dog--Yosemite, a national park so nice, we went there twice. The first time, we hiked all over the place and climbed up to Vernal Falls. The second time, we went for brunch and the concomitant more leisurely pace, especially after brunch.
Carey had been there before, and had gone backpacking by himself. Poor guy--he hiked all the way up to his first campsite (a rather steep vertical climb), pitched his tent, and then discovered the bugs were so bad he hiked all the way back down to the car, drove to the store to buy some insect repellent, and then drove back and hiked all the way back up again. For some reason, this story just breaks my heart. Our Yosemite visits were less eventful.
Well, except that my first view of the famed Yosemite Valley, upon exiting the Wawona Tunnel, was obscured by the smoke from a raging fire.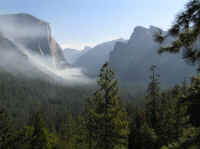 But it's okay, it was an intentional fire, to burn away the underbrush. Still, it's a little unsettling to descend into the valley, only to be met by actual flames all over the ground.
We took a short hike to Bridal Veil Falls; we couldn't go past a certain point because the trail was under construction. Also, because we were there in the Fall, the falls weren't exactly ripping.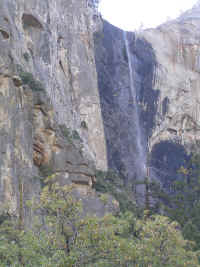 But from what I've heard about the crowds in Yosemite, I'll take a little construction and some marginal waterfalling any day, if it means I avoid the throngs. Both our visits were blissfully congestion free and I have such good memories that I think I would actually turn down an opportunity to see Yosemite during the crowded season, even if it's the only way to see the waterfalls in all their glory.
Shoot, even Curry Village was quite deserted, and this place is usually packed. Check out these cool permanent tents they rent out like hotel rooms to tourists who don't bring their own accommodations:
From there, it's a short bus ride or stroll up to the Vernal Falls trailhead, located at Happy Isles, an area with some small islands in the river.
Then the fun begins. Carey's dad had recommended the hike to Vernal Falls, but I forgot that Carey's dad also walks up and down the infamous Jester Hill near his house in Austin for fun. This is an oversight that will not occur again (heh).
We happened to get right in the middle of a big backpacking group. Since we had only one small daypack, we could pass some of the more heavily laden backpackers. However, since we were rather out of shape, we could only pass some of them. Little kids, mostly.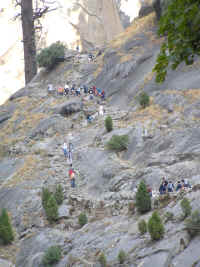 We could take a good photo because at this time of year, the entire canyon isn't filled with mist from wind blowing the water on the falls:
And here it is, Vernal Falls (it's a comparative trickle at this time of year; click here to see what it looks like when it's really going, if you're curious):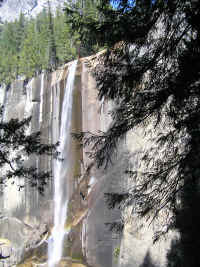 The trail from the point where the above picture was taken to the top of the falls is actually hundreds and hundreds of lovely stone steps. Going down was no easier than going up, just different.
No visit to Yosemite is complete without a couple of shots of the very famous and aptly named Half Dome:
On our way out of the park, we spent a lot of time at El Capitan, looking up...
...at the climbers (some of whom must be crazy):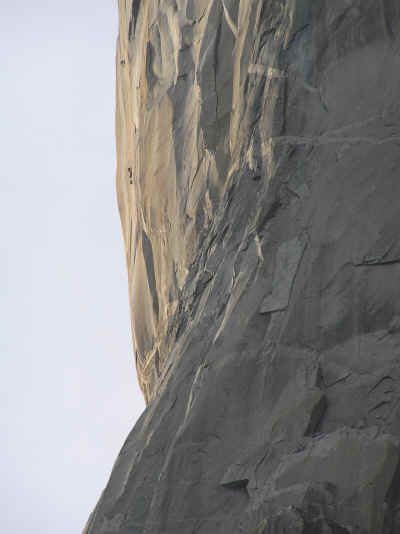 It was getting late in the day, and I was wondering how the people who weren't all that close to the top were going to finish. Carey said they spend the night up there! Sometimes several nights! And he told me the most outlandish lie I'd ever heard, about how they have portable ledges that they attach to the sheer vertical walls and sleep on. How gullible does he think I am?
But he was telling the truth. Portaledges exist, and I'm still shaking my head in disbelief. And with binoculars, we could make out the gear bags and portaledges they use on these multi-day climbs: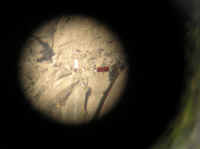 A few weeks after our visit, disaster struck on El Capitan: a snowstorm caught a bunch of climbers by surprise.
People criticized the climbers and hikers for not watching the weather more carefully, but I was watching the weather carefully myself because I would sometimes compound part of the RV without immediately waxing it and I was on the lookout for rain. It had been glorious weather for weeks and weeks, but one weekend, they were predicting rain on the upcoming Monday. I had something to do on that Sunday, so I made sure by Saturday afternoon that all compounded areas had also been waxed. And then the storm hit...Saturday night, two days before predicted. It poured and poured and poured in Coarsegold where we were, which translated to snow up in the higher elevations (like Yosemite and Sequoia). That storm was unexpected in both its arrival and ferocity.
They rescued several climbers and hikers in Yosemite and neighboring areas, but two Japanese climbers trapped on the face of El Capitan ended up dying, their blue, icicle covered bodies dangling from their ropes. I can't imagine what it was like up there in 50 mph winds because I can't imagine what it's like to be up there in good conditions. But I imagine it was pretty awful.
From the Yosemite valley, we drove to Glacier Point, which overlooks the Yosemite valley from the south side. It was dusk, and that light combined with the lingering smoke from the valley made for some awfully picturesque scenery.
It got dark right after we got up there (it's about a mile as they crow flies, but about 40 miles by road), and we started seeing twinkling lights far below on the valley floor. After some pretty intense head-scratching, we were able to identify places like Curry Village and the Ahwahnee Hotel. This was a highlight for someone like me who is always looking down.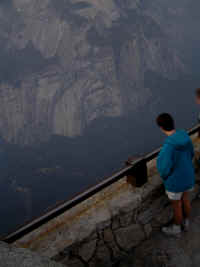 Our second visit to Yosemite, a few weeks later, began with a stop at the Mariposa Grove on our way into the park from the south. The most famous tree in the grove is the Grizzly Giant:
In the Yosemite valley, we checked out some meadows; they put in a boardwalk over one to keep the teeming masses off the fragile meadow plants.
Next up was the famous Sunday brunch at the Ahwahnee Hotel, an incredibly beautiful hotel that goes a step further and has guest cabins tucked back in the trees. We had five desserts.
I was exhausted from all that heavy fork lifting: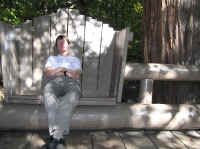 Like our last visit, we ended this one with a visit to Glacier Point, this time well before sunset. This afforded a good view of nearby Hanging Rock, which was danced upon by a couple of ladies many years ago, and onto which the first car ever driven in Yosemite was driven/pushed:
From Glacier Point, you can get closer views of Half Dome, where we saw some climbers (but not visible in the photo):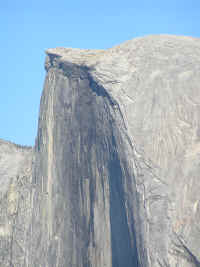 You can also get to the summit by taking a route other than the sheer vertical cliff--they even put in some cables to assist in the climb. That would be pretty cool, but we settled for just looking; the Vernal Falls trail is as vertical as I ever plan on going.
At Glacier Point I found myself in my usual role of direction-giver. Strangers stop and ask me directions almost everywhere I go, but this one took the cake. A woman who was on a day trip to Glacier Point asked me how close the Grand Canyon was. I said it was pretty far and not really part of the usual Yosemite circuit. She seemed a little disappointed, so I told her about Sequoia National Park, which was only a couple of hours away. She said she had a vague recollection of hearing about that one, and might check it out. I hope I didn't spoil her trip by dissuading her from zipping over to the Grand Canyon (a mere 550 miles or so away).
The photos above are just a sampling of what Yosemite has to offer--there are lots more pictures in the slide show (click below), including some nudity that took us quite by surprise, and which I still don't quite understand.
DEBCAR SLIDESHOW
Now, we invite you to enjoy the slide show that goes along with this story. Scroll down or click here to position the image below for easy viewing, then click the arrow icons to step back and forth through the slides. Start or stop an automatic slide show using the icon with the red dots on the far right. Press F11 to select full screen mode for best results.
< previous story home next story >
---
HOME TRAVEL LOG MOUNTAIN BIKING WINDSURFING STORY ARCHIVES RV INFO PHOTOS CONTACT US
---