---


HOME TRAVEL LOG MOUNTAIN BIKING WINDSURFING STORY ARCHIVES RV INFO PHOTOS CONTACT US
---
(click on photos to enlarge)
---
"RV-A-Roni: The San Francisco Treat"
Pacifica, CA
November 22 through 30, 2004
Story by Debbie
After two months, we finally bid adieu to the SKP POS, headed for San Francisco, with San Jose halfway in between. We'd visited there when we were in Monterey so we didn't need to stop, but now there was a movie theater showing Infernal Affairs, a wildly successful Hong Kong movie that I hadn't managed to run across. San Jose is one of the few remaining places that still shows Hong Kong movies--I suspect there are still a number of fanboys among the geeky survivors of the dot-com bust in Silicon Valley. But back in the day, we had HK movies on a massive screen at Hogg Auditorium at the University of Texas and Steve Carlton even expanded his Dallas empire to Austin for a short time, with midnighters at the little-bit-scary-especially-at-midnight Riverside theater, and after that stopped there were still every-other-week screenings in Dallas, perfect for a day trip with similar minded folks, including a bite to eat at the Japanese fast food place next door to the theater, where the manager looked an awful lot like Chow Yun-fat. Then Steve quit showing those--the theater closed, the screenings never made him a cent, and it was an uphill climb with the growing popularity of DVDs, the decline of quality of HK movies, and Hollywood buying up HK movie rights and not allowing their distribution. And in the meantime UT pulled the plug on its entire film program, and poof! No more HK movies.
After all that, there was no way I was going to be driving right by a theater with Andy Lau and Tony Leung gazing down at me, even if my boy Tony is sporting a rather unfortunate moustache. (Which he's doing a lot these days.)
And it seemed simple enough--the entire drive was less than 200 miles, and after dropping me off with the car in San Jose, Carey would have only about 50 miles of navigator-free driving, and we consulted maps to plot the best route for him to take and the RV park was only a couple of miles from the interstate and everything seemed so clear. Except we didn't use a topographic map and poor Carey ended up hurtling that forty feet and 26,000 pounds of dead weight down a 17% grade on a tiny residential street with stop signs at every intersection. Yeee haaaa! In retrospect, perhaps we should have given more thought to the possible significance of the fact that we had him going from "Skyline Drive" to a location right on the shore in the span of about a mile. Oops.
Oh well, he survived, I survived mainly by not being there, and we got settled into our new digs for the next week, San Francisco RV Resort.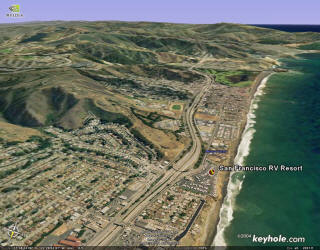 I wouldn't exactly call it a resort, but rather a slightly gussied up parking lot, which was fairly unpopulated until Thanksgiving weekend. As you might imagine, accommodations for RVs are rather scarce in a place where land prices are unspeakable. This campground was just south of San Francisco and only a couple of miles from a BART station, which made it really convenient for exploring the area. It also overlooked the ocean, and had a guy wandering around we thought looked just like the actor Sam Elliott. What more could one ask for?
Carey had to work most of the days we were there, but at least he had a nice ocean view from his under-the-bed office. And a view of the neighbor's dog, who liked to cozy up on the sunny dashboard of the rig next door.
And I did manage to drag him out of his lair for some tourist activities a few times. One day we did the grand tour, with a cable car ride to the Marina District and a walk from there through North Beach to Coit Tower, taking in the views along the way.
Then we walked on some steep streets to Chinatown. This was my opportunity to introduce Carey to the glories of Chinese bakeries, and the one we picked at random turned out to be the oldest bakery in Chinatown.
As we should have expected, coronary bypass survivor Bill Clinton had beat us to it. I have to say that I completely concur with the former prez when it comes to his filling of choice--lotus paste, which is also my favorite.
Close to Chinatown is the Cable Car Museum, which is housed in a working cable car barn and powerhouse. I actually sort of understand how they work now.
Our final stop was the Lumiere Theater, where they were showing Lightning in a Bottle. We got there via the cable car on California Street. Pictured below is our gripman enthusiastically working the stick that latches onto the cable that runs under the ground:
Like everything else in the world, it's a lot harder than it looks.
And speaking of something being harder than it looks, try riding on the running board of the cable car on California Street. Because the hills are so steep, you're not standing perpendicular but rather at an angle, and sometimes a rather acute one at that. And you're moving. In traffic. I was hanging on for dear life and frankly couldn't believe they let regular people do it, much less tourists, who seem to lose 20 IQ points just by becoming a tourist. Take, for example, the tourist who fractured his skull when he leaned too far out while standing on the running board of a cable car and hit his head on a parked truck.
Thanksgiving Day rolled around, and we decided we'd take advantage of anticipated light traffic and congestion and do some car touring and some skating. First stop was the waterfront to check out Crissy Field, the famed windsurfing launch. Nobody out today, but this is what it looks like:
We were planning to skate the Golden Gate Bridge, but got the vague impression we were unwelcome.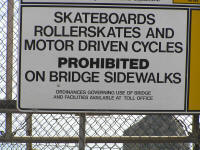 Fine, we'd go elsewhere, which turned out to be over the Golden Gate Bridge by more legal means, to Sausalito. Since it was Thanksgiving, there was nothing going on, but that gave us an opportunity to enjoy a leisurely drive around town without getting in people's way. Actually, there was one place open--a bike shop. What's not to love about a town that has a bike shop open on Thanksgiving Day? What drew us in was a folding bike in the window. We really liked the Airnimal, but it was $2500. And we need two. Yikes!
Our attempt at shopping officially over, we headed west and along the Pacific coast, skirting Muir Woods (we've both been there before) and checking out Stinson Beach and the Muir Beach Overlook.
From there, we retraced our path back to Highway 101 and headed around the bay to Tiburon, where I'd heard there was a bike/skate path we might like. Sure enough, there was a smooth path on a former railroad bed that ran along the shore and then into town. It was only a few miles long, but a round trip, plus skating around the town itself, would make for a nice outing.
Since it was a holiday, we had the place to ourselves, and skated wherever we wanted around Tiburon, including downtown and residential areas.
In the residential areas, we smelled turkey one too may times and got hungry and headed back to San Francisco. Our route took us close to the 4 Star Theater, which I'd heard showed Chinese movies but I was having trouble getting a bead on their schedule, so we drove by to check it out in person. Then we picked a Thai restaurant at random nearby. That's what I love about places like San Francisco and New York--it's 6:00 on Thanksgiving and I can find an open restaurant, and a good one at that, within a block or two of where I happen to be. Try that in Austin.
The day after Thanksgiving, Carey needed to work, so I went out just sort of catting around. First stop was the Castro, where I could catch an historic streetcar that would take me all the way up Market Street and around to Fisherman's Wharf. I had just had my hair sheared off a week before, and for once was really glad because it makes me look pretty butch so I fit in a little better with the Castro denizens. Not that they would have cared--the tolerance is palpable.
I got off the streetcar when it started moving at a snail's pace because of traffic, at a place that turned out to be Pier 39. It was absolutely mobbed with day-after-Thanksgiving shoppers and tourists, but I did get a tasty crabcake sandwich before fleeing with what was left of my sanity.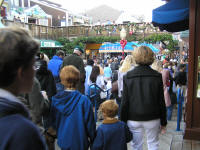 And it did have a back area where sea lions hang out to entertain the masses.
I stuck to the alleys and back ways of the wharf area, where there are real fishermen and their boats hanging around. I also happened across an area with a bunch of old ships, which turned out to be the San Francisco Maritime National Historical Park and was actually pretty interesting and sure beat threading my way through shoppers. I was hanging out on the pier and got to help out in the ship restoration process, when a guy down on one of the boats asked me to hold this big rope for him for a second. My contribution to keeping history alive.
I then wandered around downtown a bit and stopped to take a picture of the Transamerica Pyramid.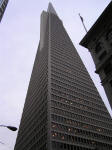 A Japanese guy in a suit approached me and asked in very broken English (but certainly far better than my Japanese) if I knew of an inexpensive hotel in the area. For some reason, I'm always the one people ask for directions. I actually don't mind because I have pretty close to a perfect record for answering their questions, even if I'm also just visiting somewhere. But this one had me stumped. Hotels are egregiously expensive in San Francisco to begin with, and I suspect the Thanksgiving holiday filled a bunch of them up. I was able to point him toward a Holiday Inn I'd seen a few blocks back, but that was all. At least it wasn't the Ritz Carlton or the Fairmont. Still, I was disappointed in my performance.
With my head hung low, I took the cable car a couple of blocks just to avoid walking up a hill, and headed over to Union Square to catch a bus for a movie at the Red Vic in Haight-Ashbury. Union Square is a popular shopping area and was mobbed; I found a high perch on which sit and rest, with a good view of the teeming hordes.
From there, it was a straightforward bus ride to Haight-Ashbury, which I'm just old enough to remember with fondness. In contrast to the hippie scene in the 1960s, Haight-Ashbury is now corporate-commercialized, and the parts that are scruffier are frequented by the piercing and tattoo crowd, which I find distasteful. Hmm...probably a lot like old people felt about hippies.
The Haight is also home to some pretty clever business names, like Haight Mail (a private post office place) and Haight to Wash (a laundromat). In fact, San Francisco in general has some of the best laundromat names I've ever seen, which is quite endearing to a laundry enthusiast like me: Gay Cleaners (Castro, of course), Louie's Whirl-a-Mat, The Missing Sock, Suds the Duds, Wishy Washy, and tons more. Speaking of Wishy Washy, read this for another reason I like places like San Francisco.
And speaking of laundromats, to make life more fun, Carey and I have adopted my friend David's pronounciation of "washateria": wash AT uh REE yuh. Try it--you'll like it.
Back to our story...Carey was working all day, but wanted to join me for the movie. I gave him directions for taking BART to the Mission Street station and getting on a bus there. He fell victim to one of my pet peeves about riding subways--you never know what direction anything is when you get out. Even in Manhattan, it takes me a minute to triangulate everything upon my ascension to street level, and that place is as straightforward as they come and I know it like the back of my hand.
Carey got on the right bus, but going the wrong way. He eventually made it to the show, frazzled and only a few minutes late. He couldn't find me in the theater so I never even knew he made it but figured he'd either turn up somewhere, or be back at the RV when I got there, and he figured the same about me.
Regardless, we both enjoyed the movie, High Noon at Low Tide, about surfing at Maverick's near San Francisco. We knew a little about Maverick's from seeing Riding Giants, a very successful and beautiful movie about big wave surfing. High Noon at Low Tide consisted of footage from the day Maverick's went off in December 1994 and Hawaiian big wave surfer Mark Foo died while surfing there, along with interviews with people who were there. Very much a workman-like documentary, which is not a bad thing at all, even to a big-screen snob like me, if the subject matter is captivating enough.
We decided the next day to find Maverick's ourselves and didn't think to do any research on exactly where it was. All we knew was that it was near Half Moon Bay, so we headed down the coast about 20 miles to the Half Moon Bay area, and realized there weren't any signs for the Maverick's wave spot. We knew we were getting close when we spotted a sign for a business called Mavericks with a sign on an old surfboard though. So we headed toward the water and started trying to recognize landmarks from the movie we'd seen the night before, such as cliffs and some very navigationally helpful power lines. And sure enough, we found it. Good thing we had the landmarks, since there wasn't much wave action at all and you'd never suspect it was a super famous big wave spot (which is probably how it stayed one guy's private surfing domain for so many years).
However, there were a dozen or so cars in the parking area--curious people like us just making the pilgrimage.
There was even a windsurfer in adjacent Pillar Point Harbor: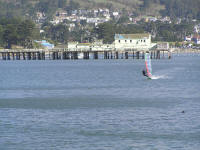 We also drove around to generally sight-see and check out other windsurfing spots--San Francisco has a ton of them. Pictured below is 3rd Avenue Beach, which has a spectacular view and a deluxe carpeted rigging area. But watch out for stray golf balls, of all crazy things.
Just up the road, near the airport and under the flight path, is Coyote Point. It is less favored by the kiteboarders and I therefore prefer it.
We ended the day with a drive up to the top of Twin Peaks, which offers magnificent views of San Francisco. It was cold and windy. But the scenery was just as good as advertised. My friend Boyd would probably hyperventilate just looking at how packed in the houses are.
We were on our way down when we saw an almost-full moon rising. We quickly turned around and were treated to a pretty special view of San Francisco. Very cool.
The next day, the wind forecast looked favorable and we were feeling inspired by watching everybody windsurfing, so we loaded up the car and headed out to get wet. But we stayed dry because there was a LOT more wind over on the bay side. Way too much really. Even it it wasn't December and chilly out, the roiling chop looked impossibly gnarly. The locals have toasty drysuits, and are used to this sort of thing. I guess we're just spoiled by Corpus Christi.
We even went back to Half Moon Bay, hoping the wind would be a little less over there. It was..a LOT less, as in non-existent. But there was this cool little recurring rogue wave about a foot high, a perfectly formed mini-Maverick's.
Thus we learned the vicissitudes of windsurfing in the Bay Area.
Later, despite the culinary pleasures that abound in San Francisco, we got a craving for Chili's and found one (via the internet) about 15 minutes away from the RV park--normally I wouldn't drive that far for a Chili's but if I'm in an unfamiliar place, I consider such a drive part of the adventure. (That attitude really helps in places like the San Fernando Valley in Los Angeles.)
So we get there and realize that pretty much everybody else in town had the same idea. A real mob scene. That's okay, we're not busy. But we are fundless. I forgot to bring money or a credit card, and Carey had forgotten his wallet. Uh oh. No problem, we could just use the extra $20 bill that everybody keeps in their ash tray. Well, I do anyway. Carey evidently does not.
But he had a bunch of spare change in the coin holder, and I had a bag of car wash quarters in his glove compartment. Thanks to the surprise contributions of a few space-saving Susan B. Anthony dollar coins, we came up with a little over $13. Not enough to cover the upscale dining experience that is Chili's, but at least we weren't going to starve.
So we hit the road and learned that some clouds do have a silver lining, this one in the form of Jimmy's Rib Shack in San Bruno. We were drawn in by its sign and authentically downscale appearance.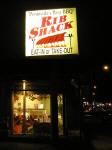 We had enough money for just one platter to share between us, but it was plenty of food and Carey, a brisket connoisseur, declared it some of the best he's ever had. The ambience was perfect--about four tables, all with a roll of paper towels on them, fluorescent lights, and the Oakland Raiders game on the TV, for a little local flavor. And the guy working the counter didn't even flinch when our payment came in the form of stacks of heavy metal. What started out as an embarrassingly pedestrian dining plan veered toward disaster and ended up as a real find. You just never know.
And so the sun sets on our visit to San Francisco, one of my favorite places in the world.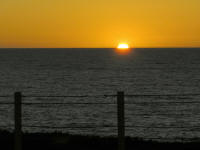 DEBCAR SLIDESHOW
Now, we invite you to enjoy the slide show that goes along with this story. Scroll down or click here to position the image below for easy viewing, then click the arrow icons to step back and forth through the slides. Start or stop an automatic slide show using the icon with the red dots on the far right. Press F11 to select full screen mode for best results.
< previous story home next story >
---
HOME TRAVEL LOG MOUNTAIN BIKING WINDSURFING STORY ARCHIVES RV INFO PHOTOS CONTACT US
---