---


HOME TRAVEL LOG MOUNTAIN BIKING WINDSURFING STORY ARCHIVES RV INFO PHOTOS CONTACT US
---
(click on photos to enlarge)
---
"Day Trippin' Up the Coast to Santa Cruz and San Jose"
Santa Cruz, San Jose, CA
September 18, 2004
Story by Debbie
For our second epic road trip in this area, we headed north through artichoke country for Santa Cruz.
It was still quite early and we'd already eaten breakfast, but we were nonetheless lured to stop in to Central Texan Barbecue in Castroville by their claim of "The Best BBQ West of Austin." Naturally, we had to check that out, under the theory, "You never know." Well, we'll never know, since the owner had a very strict policy against plate sharing and we wanted to split a three-meat platter to sample a little bit of everything. We've been known to over-order on purpose, to try out more items and take the leftovers home. But this was the beginning of a full day of driving and there was no way I was going to have a bunch of barbecue traveling along with us. So when push came to shove with the Willie Nelson wannabe behind the counter trying to force us to buy two full plates, we voted with our feet and left. Despite the website's boasts of this being a friendly place, we found it to be downright hostile. Oh well...it's his place, he can run it how he likes.
We made a quick swing through Moss Landing and then a small detour through Capitola, an adorable beach town that was mobbed because of a wine festival, and then arrived at Santa Cruz. Ah, Santa Cruz. It's everything I thougth it would be, and more. Lots of freaks interspersed with regular looking people, perfect weather, picturesque location, excellent vibe.
On the main drag, we grabbed a sandwich at this place with a free-standing door. It was fun watching to see what sort of person would make a point of actually going through it. Unsurprisingly, Carey was one of those.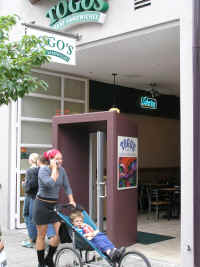 I noticed a brand new place next door that had bubble tea! After years of reading about it, I finally got to try it. If you're not one to let "giant black tapioca balls" in the bottom of your glass cause alarm, you've got what it takes to enjoy bubble tea.
Besides being a great looking town, Santa Cruz also has a boardwalk, a wharf, and is popular among surfers--this lighthouse has a Surfing Museum in it and the people along the wall are watching the surfers below.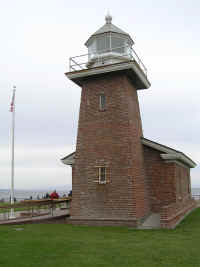 Here's a different view of those surfers. As always, they all crowd into a small area, wherever the waves hit. If you click on the picture below, you can see them all clustered together, and one of them headed down the path. It's a longer swim out there than I'd want to do.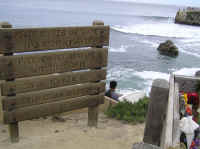 During our meandering around, we found the campus of UC Santa Cruz. Or we thought we found it, anyway. We saw some parking lots and a lot of students but we never really did find much in the way of buildings, just hills and forests. It was the strangest thing, but I'd heard it was not your ordinary university, so I was only mildly surprised.
We were behind this Toyoda truck in traffic in Santa Cruz.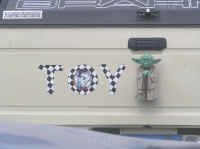 We continued our really big loop up north by going through San Jose. There wasn't anything in particular I wanted to see there but just wanted to lay eyes on it. Much to my surprise, it looks like a regular city and even has an historic district. I don't know...between the song and its being the hub of Silicon Valley, I thought the place just sort of sprung up from nowhere.
Despite its benign outward appearance, the citizens of San Jose do face some serious problems, including iPod addiction. I learned all about this in one of the alternative weekly newspapers, which I like to check out to get a sense of what's really going on in each town we visit. Compare this to its Los Angeles counterparts, for example, whose content is probably 90% plastic surgery ads. Or the Santa Cruz weekly Good Times, which had a big feature about the local "Wo/Men's Alliance for Medical Marijuana" organization and their pot farm.
We made a point in San Jose to check out what was purportedly the world's largest Monopoly board: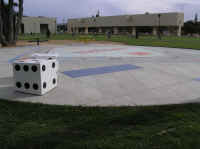 I suspect the claim is correct, but I was wildly underwhelmed upon seeing it in person. From the pictures, it looked like it was about the size of a baseball diamond, while in fact it was only about the size of a parking space. Speaking of which...
As we seem to do a lot lately, we next stumbled upon yet another auto show, this time with art cars.
This MR2 sported a Silicon Valley motif, with gratuitous circuit boards, cooling hoses, and heat sinks adorning it everywhere. Carey was especially intrigued, considering the nearly identical MR2 he has languishing behind his office and all his boxes of electrical junk laying about. Somehow this idea had just never occurred to him before.
This one was unbelievable (click photos to see detail--it's worth it):
A theme carried to an extreme: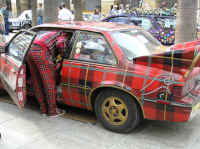 Oh look, a Volvo station wagon. Carey thought it was good to see one doing something other than plodding along the roads, although he would have been even happier to see it sent to the crusher.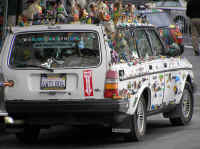 Our last stop was a short, sunset tour of Salinas. (I told you this was an epic day.)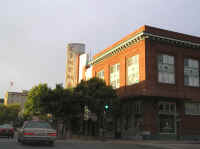 Of course, a tour would not be a tour without something getting eaten, so we once again decided to sample some local cuisine despite not being particularly hungry. I'd read about a place called Gutierrez Drive-In, which sounded pretty authentic, and it most certainly was--starting with the enormous (number of items as well as physical size) menu on the wall which was entirely in Spanish. We ordered a couple of items at random and when they called our number, Carey returned with a tray so laden with plates I thought he was going to collapse. They gave me EIGHTEEN corn tortillas! Fortunately, we were headed back to the RV after this so we were able to take home leftovers, including sixteen corn tortillas.
DEBCAR SLIDESHOW
Now, we invite you to enjoy the slide show that goes along with this story. Scroll down or click here to position the image below for easy viewing, then click the arrow icons to step back and forth through the slides. Start or stop an automatic slide show using the icon with the red dots on the far right. Press F11 to select full screen mode for best results.
< previous story home next story >
---
HOME TRAVEL LOG MOUNTAIN BIKING WINDSURFING STORY ARCHIVES RV INFO PHOTOS CONTACT US
---