---


HOME TRAVEL LOG MOUNTAIN BIKING WINDSURFING STORY ARCHIVES RV INFO PHOTOS CONTACT US
---
(click on photos to enlarge)
---
"Day Trippin' Down the Coast to Big Sur"
Big Sur, Pebble Beach, CA
September 16, 2004
Story by Debbie
I'm telling you, skates are the way to go. A whole lot faster than walking, and a whole lot less annoying than trying to look at things while in a car. Then again, on skates we probably couldn't have covered Monterey, Pacific Grove (including lunch), Carmel, Big Sur AND Pebble Beach in one day. Yes, it was one of those road warrior days that, while grueling, are well suited for scenery.
After exploring the urban areas in the morning, we took off south to check out Big Sur, which is basically a long coastline of extreme beauty and spirituality. I'm not so big on the spiritual awareness so I concentrated on gaping at the rocks and coastline as we alternated between dense fog and clear blue skies. Pictures don't really do it justice, and my words certainly don't. I'll just say it's real pretty.
When Carey and I saw this guy pedal past while we were parked somewhere admiring the view, we both exclaimed, "Bike Friday!"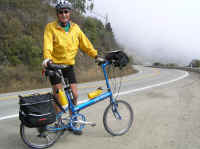 You see, we've been wanting a couple of folding bikes and my meager research had come up with one model that the military uses to throw out of airplanes for the troops below--really more bike than we need, and the Bike Friday--absolutely more money than we want to spend. So we were excited to see a Bike Friday in the flesh, so to speak, and chased this guy down (harder than you might think -- he was fast!) and found him to be quite accommodating and accustomed to answering questions. He was riding Highway 1 all the way down the coast, which apparently is a very popular thing to do. These exotic bikes are definitely strange looking, but their owners are absolutely bananas about them and often shed their full size bikes completely, they work so well.
Our day concluded with the 17 Mile Drive, which Carey had been on years before and said it's something that every visitor to the area should see. Improbably enough, you pay money (I think $8) to drive around a ritzy private neighborhood that just happens to have some really fabulous views.
Implausibly enough, the Pebble Beach Co. has trademarked the Lone Cypress Tree, a popular destination along the route. Yes, they've trademarked the living tree itself, not just their logo featuring it. Any photos, paintings, drawings, or mental images of the tree have to be strictly for personal use. So don't even think about printing out the picture below and selling it. Actually, don't even look at it too closely, lest you form a mental image clear enough that someone could make a painting from your description from one day. Those guys are ruthless in protecting their mark.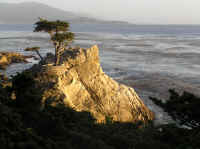 And I'm now pretty sure where they got the name Pebble Beach, although the so-called pebbles look more like dinosaur eggs.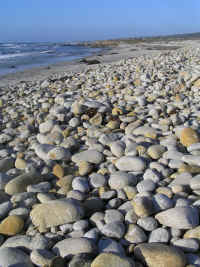 DEBCAR SLIDESHOW
Now, we invite you to enjoy the slide show that goes along with this story. Scroll down or click here to position the image below for easy viewing, then click the arrow icons to step back and forth through the slides. Start or stop an automatic slide show using the icon with the red dots on the far right. Press F11 to select full screen mode for best results.
< previous story home next story >
---
HOME TRAVEL LOG MOUNTAIN BIKING WINDSURFING STORY ARCHIVES RV INFO PHOTOS CONTACT US
---