---


HOME TRAVEL LOG MOUNTAIN BIKING WINDSURFING STORY ARCHIVES RV INFO PHOTOS CONTACT US
---
(click on photos to enlarge)
---
"Dessert, Anyone? Cherries in Monterey"
Laguna Seca, Monterey, CA
September 15 through 19, 2004
Story by Debbie
Continuing our crawl up the California coast, we went 150 miles to Monterey, which we would use as a jumping off point for day tours of the area.
Well, not Monterey exactly, but a campground that overlooks the Laguna Seca Raceway. Carey had attended a racing school at this track several years ago, and I'd watched races from Laguna Seca on TV before, but I'd never seen a real road course in person so I was up for it too.
We found out Laguna Seca was having something called Cherries Jubilee that weekend, which was fine with me because I figured dessert would be involved. Unfortunately the lure of free, delicious cherries meant all the RV spaces with electricity were reserved. But they had a few spaces available without any hookups, so we decided to rough it for a few days. A minor hitch was that this class of camping space is usually meant to hold a tent rather than a bus, so it took a while to find one that would accommodate us. But we did, and a pretty primo one at that, with a commanding view of the track.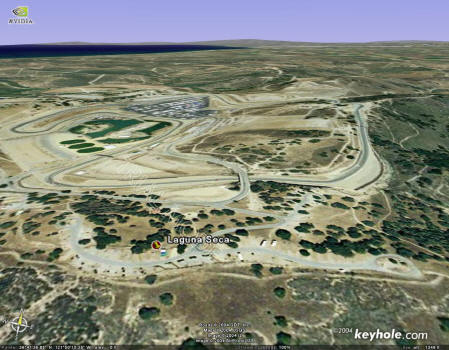 Luckily, we didn't need the air conditioner, so we were able to live comfortably off battery power. To maximize our time between running the generator to recharge our six golf-cart batteries, we set about chasing down "phantom loads," which draw electricity even when you don't think anything is turned on. We outed a few power-hogs-even-when-turned-off, like the TV and VCR. You don't realize how much juice these things suck down until it stops flowing out of the wall in unlimited quantities.
I'm real sensitive about running the generator because it's diesel powered and pretty loud and this really was a campground and not an RV park. Despite my best efforts to be considerate, I got my first dirty look from a tent camper. The thing is, she wasn't camped particularly near us, we hadn't run the generator while she was there, and I was directing Carey out of the space when she saw me, which meant we were leaving! My mere existence somehow troubled her. Now I'm pretty accommodating, but there's only so much I can do.
Check out the officials putting down some chalk so they could tell if anybody went into this trailer (surveillance photo taken from our rig):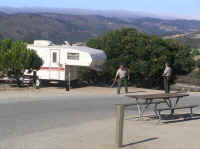 The guy had paid for a certain number of days and overstayed his welcome by just leaving the unoccupied trailer there. Evidently that's not the most uncommon thing in the world, and I'm always surprised that I'm surprised at what people will do.
The first couple of days we were there, they were having a Skip Barber driving school and we'd periodically hear the engines as the cars went by below us. I found it sort of pleasing. Hmm...maybe the girl who was so offended by us shouldn't camp next to race tracks, eh?
The race cars play follow-the-leader behind the instructor and it looks pretty cute.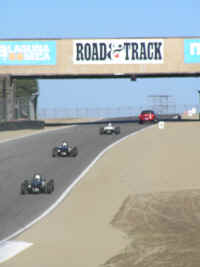 Tragically, I eventually found out that it was Cherry's Jubilee, not Cherries Jubilee, and dessert was not involved. Instead, it's a classic car show, which is fine but it's sure not dessert.
They brought all the cars out to Laguna Seca one day for display, and they also had several low-impact "races" with the cars grouped together by decade. While they were pretty careful not to crack up their babies, there was some occasional spirited driving to behold, and these "show cars" did look cool running around the track.
The regional Porsche Club was offering thrilling "hot laps" around this roller coaster of a racetrack with a (hopefully) qualified Porsche owner behind the wheel to anybody who was willing to make a donation to the designated charity. Here I am getting into my host's car, about which all I know is that it's red. Come to think of it, I knew even less about the driver I was about to entrust my life to. Good thing I had a helmet!
I'd always heard about the infamous corkscrew at Laguna Seca, a section where you go up and over a blind curve and then plunge down a twisting hillside, often involving being briefly airborne. Watching in-car camera footage of the corkscrew during races always sort of made my stomach knot up but I overcame all that because I wanted to know what it was really like. And sure enough, you approach that thing blind, brake hard from over 100 mph, and use a tree down the hill somewhere as a marker for where to turn, relying on track people to let you know if there's something untoward on the track below. Wheeeeeee!
The really shocking news from Laguna Seca is that as a measure of the protracted demise of CART, they had a race there the weekend before we were there and we didn't even know it! The thing is, it's hard enough keeping track of what's going on in one place, much less everything within a several hundred mile radius, much much less a once-favorite racing series that is evidently now going after a different demographic than the one we occupy.
The Cherry's Jubilee cars pretty much took over Monterey for the weekend, which we discovered when we went into town to skate on the bike path and found ourselves right in the thick of hundreds of classic cars buzzing around town.
Carey pointed out that this car show was unusual because the owners actually drove their gleaming old cars around rather than just trucking them to the location. The main gathering had hundreds of cars all parked together in a parking lot by the bay, and we glided around them as I found myself having flashbacks to high school among the early-1970s muscle cars.
But back to the bike path, which is about as nice a ribbon of asphalt as you're likely to encounter--scenic, smooth, convenient.
We skated through town but didn't want to stop so we headed toward Pacific Grove, where the path is decidedly rougher and friendlier to bikes than skates.
Near the end of the path, we encountered the most exciting photo op of the day: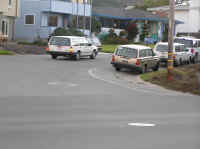 You're likely thinking, "Let me get this straight--you're near Lovers Point in a beautiful park with lush landscaping, sea lions frolicking in the ocean just a few yards away, and historic Cannery Row just down the street, and you take a picture of THIS?" But this isn't just a picture, it's PROOF that Carey hasn't lost his mind with his constant and hilarious rants about the excessive number of Volvo wagons in this area. There's no fewer than FOUR of them at this intersection alone (the Volvo in motion is partially blocking yet another one parked across the street).
What a day! And it ended with a delightful dinner at Monterey Fish House, a family-run affair improbably located in a small house in an industrial area. Even the wait for a table was delightful because we sat out front as a veritable parade of very shiny classic cars cruised by.
DEBCAR SLIDESHOW
Now, we invite you to enjoy the slide show that goes along with this story. Scroll down or click here to position the image below for easy viewing, then click the arrow icons to step back and forth through the slides. Start or stop an automatic slide show using the icon with the red dots on the far right. Press F11 to select full screen mode for best results.
< previous story home next story >
---
HOME TRAVEL LOG MOUNTAIN BIKING WINDSURFING STORY ARCHIVES RV INFO PHOTOS CONTACT US
---