---


HOME TRAVEL LOG MOUNTAIN BIKING WINDSURFING STORY ARCHIVES RV INFO PHOTOS CONTACT US
---
(click on photos to enlarge)
---
"Hangin' Out at Hearst's House"
Avila Beach, Morro Bay, San Simeon, CA
September 14, 2004
Story by Debbie
One day we took a drive up the coast, headed for Hearst Castle.
Our first stop was Avila Beach, which we visited in no small part because we have a friend whose last name is Avila [wave to Jaime] and smelled a photo op. Success!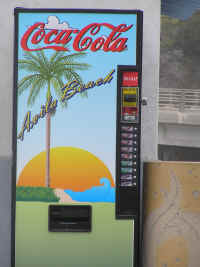 It's a tiny beach town with what seemed to us to be an inordinate amount of construction. Well. Seems Unocal had holding tanks for the petroleum products on a bluff above the town, with pipes running from the bluff under the town to their pier, where they filled their tankers. The 400 residents of Avila Beach were experiencing some suspicious events, like finding the dirt beneath the surface so pooled with gasoline that engineers feared that if anybody lit a cigarette, they'd all be blown away. Oh, and there's the time some college students were painting their basement apartment and were blasted out a window when the pilot light on the water heater ignited fumes.
Sure enough, the pipes had been leaking and there was a pool of about half a million gallons of oil under the town. Oops.
In what turns out to be a pretty impressive story, Unocal eventually agreed to do a massive cleanup, which included demolishing pretty much every building in the business district and a whole bunch of the houses, and then rebuilding.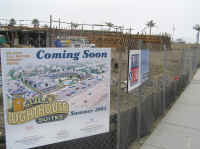 Not a wonderful ending, since a lot of the town's flavor was lost...it reminds me of a newly built area at the base of a ski mountain. But it's a whole lot better than having the whole place go up in one mighty explosion. Of course, with the Diablo Canyon nuclear power plant nearby...
Here's a house I thought was interesting, and evidently I'm not the only one.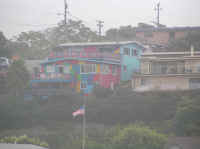 Farther north along the coast is Morro Bay, which has this big dome-shaped rock out in the water.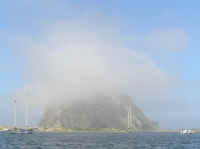 Yet another nice coastal town with near perfect weather. This area is crawling with them.
We eventually made it to Hearst Castle, which as you probably know is the mansion that William Randolph Hearst built near San Simeon, mainly to house millions of dollars of art work and entertain movie stars and dignitaries. The main character in Citizen Kane was based on Hearst, and the Xanadu in the movie was based on Hearst Castle. Only Xanadu always seemed lonely to me, while I bet Hearst Castle was positively jumping back in the day, despite Hearst's efforts to keep a tight rein on the number of drinks people were served.
Here it is up in the distance, followed by the view from the grounds to the ocean.
Below is the main reason I'd always wanted to see Hearst Castle: the Neptune Pool.
I noticed this suspiciously down-scale looking ladder right next to the nice marble one, so I asked about it.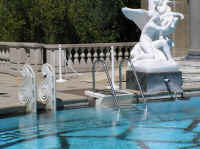 It turns out that once a year, they have a party for all the Hearst Castle employees and they get to swim in the pool, but since everything is "historic" they're not allowed use the marble ladders for fear of wearing them out, so they installed a modern one. So it wasn't ADA after all, which was Carey's guess.
Speaking of creatures who need special assistance, the wooden ramp below allowed Hearst's wiener dog to drag itself out of the goldfish pond with its own stubby little legs. Who knew wiener dogs liked to chase goldfish anyway? Apparently not Hearst's architect in charge of the entire 28-year construction project, Julia Morgan.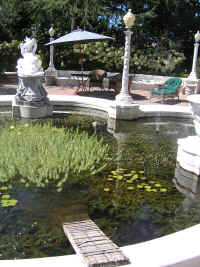 To accommodate the mob of celebrity guests, there were three guest houses, which I actually preferred to the main house. Each guest house has a common area and four bedrooms, each with a private bath. You always had the choice of chilling in your own crib or joining the others for socializing.
That is, unless you were hungry. Hearst didn't want hermits as guests, so the only eating facilities were at the main house, with dinner being a decidedly formal affair, with Del Monte catsup and everything.
The longer a guest stayed, the farther down the table his place card was moved. Hint hint.
Near San Simeon is a place where elephant seals hang out; which genders and ages are there depends on the time of year. They built (not the seals, but the "they" who do things like this) a walkway and observation area from which you could look at the seals without bugging them, although they (the seals) do come all the way up to the parking lot and eat people on occasion.
DEBCAR SLIDESHOW
Now, we invite you to enjoy the slide show that goes along with this story. Scroll down or click here to position the image below for easy viewing, then click the arrow icons to step back and forth through the slides. Start or stop an automatic slide show using the icon with the red dots on the far right. Press F11 to select full screen mode for best results.
< previous story home next story >
---
HOME TRAVEL LOG MOUNTAIN BIKING WINDSURFING STORY ARCHIVES RV INFO PHOTOS CONTACT US
---