---


HOME TRAVEL LOG MOUNTAIN BIKING WINDSURFING STORY ARCHIVES RV INFO PHOTOS CONTACT US
---
(click on photos to enlarge)
---
"Bunny Hopping to Pismo"
Oceano, Pismo Beach, San Luis Obispo, CA
September 11 through 15, 2004
Story by Debbie
When I said we adopted a more leisurely pace, I wasn't kidding. From Lake Lopez, we made an arduous 10-mile trek to the Pacific Dunes RV Park in Oceano. We highly prize wide open spaces (I blame being from West Texas for this predilection; I don't know what Carey's excuse is), and this certainly fit the bill.
The RV park is right on the coast, but separated from the shore by the Oceano Dunes, a popular dune buggy area.
We decided to cross the dunes and check out the beach.
Or not. We walked forever, which isn't easy in this sort of sand. Up and down and up and down. And when you're down, you have no idea where anything is, and when you're up, you start thinking it can't be that hard to find your way, until you go down again. And everything is much farther away than it looks.
It would be my luck that I was one of the few who saw (and the even fewer who loved) Gerry, a movie about two guys who run into a bit of trouble after embarking on a short hike in the desert. I chickened out and decided we could do without a close-up view of this exact section of the Pacific Ocean.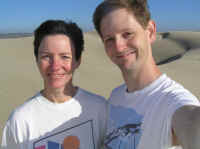 We went to Pismo Beach a couple of times. I'd heard of it only from Bob Hope and Bugs Bunny and assumed it was ridicule-worthy, but I loved it--just the right size and a really nice vibe.
I'm surprised that I like beach towns out here as much as I do because I'm sure no fan of the ones I frequent in Texas. But the ones out here have really nice, cool weather pretty much year round and perhaps more important, there's not much humidity. So you get all the pretty scenery with sand and waves but you don't feel like you're in a blast furnace or inside a sponge.
I left our first dining choice up to Carey, and at this seaside locale he headed straight for Mo's Barbecue and the very tasty but not very fishy bbq pork sandwich with cole slaw on top. They did have a pig on a surfboard, though.
We also managed a stop at Splash Cafe for some clam chowder in a bread bowl (I don't think they use local clams any more but I don't care because I can't tell the difference).
I also made a solo day trip of a whopping 15 miles to San Luis Obispo because I'd never been there and they were showing the restored original Japanese version of Godzilla. This version was never shown in the U.S.--the one we got 50 years ago had 40 minutes cut and 20 minutes added featuring Raymond Burr. It was a real treat to get to see this on the big screen, never mind at all, and I just sighed when I saw hundreds of Cal Poly students cramming into a theater to see Napoleon Dynamite, while our radioactive friend drew only about 20 patrons, the vast majority of them old enough to be these students' parents. Don't get me wrong--Napoleon Dynamite isn't a terrible movie (although I never really got into the spirit of it because for some reason I thought Napoleon was a super hero and kept waiting for him to do super hero type things and it never happened) but it played everywhere for months and months, and this Godzilla was literally a once-in-a-lifetime experience. Oh well.
But back to SLO, as they call it. Another great town in this little area, and I'm beginning to think they're on to something. All these nice places right near the coast, pretty much perfect weather (except for some fog), and halfway between San Francisco and Los Angeles.
And not only that, SLO boasts bubble gum alley, a walkway between two buildings where people have been sticking their ABC gum (already been chewed) on the wall for decades. Oh my, yet another of our nation's treasures that have to be seen to be believed.
DEBCAR SLIDESHOW
Now, we invite you to enjoy the slide show that goes along with this story. Scroll down or click here to position the image below for easy viewing, then click the arrow icons to step back and forth through the slides. Start or stop an automatic slide show using the icon with the red dots on the far right. Press F11 to select full screen mode for best results.
< previous story home next story >
---
HOME TRAVEL LOG MOUNTAIN BIKING WINDSURFING STORY ARCHIVES RV INFO PHOTOS CONTACT US
---