---


HOME TRAVEL LOG MOUNTAIN BIKING WINDSURFING STORY ARCHIVES RV INFO PHOTOS CONTACT US
---
(click on photos to enlarge)
---
"Sunny Sierra Skiing"
Near Reno, NV
December 10 and 11, 2004
Story by Carey [Debbie's comments in italics]
Several years ago, after a particularly miserable, frostbitten day on the slopes, Debbie declared that she'd had quite enough of that kind of fun and wouldn't ski again until, basically, hell froze over. Well. We'd had temperatures in the teens for a solid week in Reno, which was close enough to hell freezing over for me to call her out. Time to dig out those ski boots, sweetheart! [Oh, you mean the ones I got out of the Free Box in Telluride ten years ago and spray painted black in the hopes that they act as solar collectors and keep my feet warm? Great.]
Actually, it was the forecast for the weekend that did the trick: Sunny and about 45 degrees. Combined with plenty of new snow and the promise of nice groomed cruisers, Debbie agreed to join me for a day at nearby Alpine Meadows.
She had been so serious about not skiing again that she had jettisoned both her pairs of skis during the big internet garage sale before moving into the RV. So while I purchased our lift tickets from one of the nifty ATM-like ticket machines, she rented a pair of those little newfangled shaped skis. My 192s (which are not very long by traditional standards) looked almost comical by comparison.
Suitably equipped, we took to the slopes.
The storms the previous week had dumped about four feet of snow on the Sierra. The ski areas were working overtime to wrangle it into shape and were opening up new terrain daily. The backside of Alpine Meadows was still closed the day we went, but the rest of the mountain was open. The ungroomed snow was pretty heavy, but the groomed runs were in fine shape, which worked out fine for our first day of the season anyway. The scenery was beautiful, with Lake Tahoe covered with a downy white blanket of clouds below us.
Sure enough, Debbie enjoyed skiing in the ideal conditions. Not enough to want to go when it's nasty out, mind you, but would probably take advantage of future opportunities like this one. The lack of crowds here was also a big plus. Nothing better than having nice long groomed runs all to yourself.

In the afternoon I couldn't resist trying a few more challenging runs, despite:
- numerous signs warning about firm conditions;
- seeing people waiting to be hauled off on a stretcher by the ski patrol; and
- the nearly deafening scraping sounds coming from people skiing below the liftline.
This was my first experience with the infamous Sierra Cement. Looks nice, but is quite ghastly to ski on. I did find a few black-diamond runs with decent snow, and generally survived the first day of the season in one piece. Debbie and I certainly enjoyed a delightful Friday skiing together.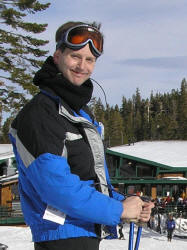 The weather was expected to be nice again on Saturday, but it did figure to be much more crowded. So Debbie decided to not risk spoiling her good memories from Friday, and sent me up to try Squaw Valley by myself. Squaw has an international reputation and pedigree stemming from their hosting of the 1960 Olympic Games, and won't let you forget it.
The base area is much more developed than Alpine Meadows next door, although it doesn't seem quite as overblown as some modern areas have become, and the sled dog track was pretty neat.
Squaw is a sprawling area strewn across a series of peaks, served by all manner of lifts, including one of the first aerial trams in America.
True to its "big time" image, lift tickets are almost twice the price of Alpine Meadows ($62 versus $39). Much of the terrain is open bowls, and none of the trails are named, although each lift is graded for difficulty, all of which is designed to enhance the European atmosphere they work hard to cultivate.
I had read that the KT-22 detachable quad lift was ranked the #1 lift in the country by some poll or other, so naturally, I hopped on that first thing in the morning. This quickly proved to be a rotten time to sample KT-22's renowned expert terrain, which was completely shaded and hard as ice. Evidently I wasn't the only one to notice: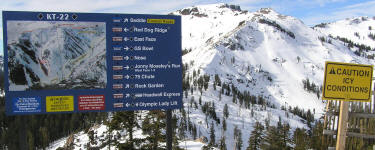 I survived one run down the icy crust...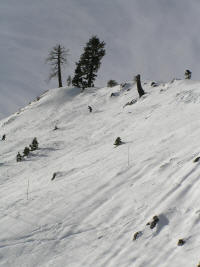 ...and high-tailed it over to the other side of the mountain, which was facing the sun.
There's an Olympic ice pavillion mid-mountain, part of High Camp, which offers a nice deck with spectacular views of Lake Tahoe and the surrounding mountains.
My most challenging adventure of the day was probably the strange bunch of bumps coming off the tip top of the peak you can see below.
Quite a fun thing to pick your way down. Once.
I returned to the KT-22 side of the mountain late in the afternoon and with the snow now somewhat softened, began to understand how this would be some fantastic terrain when the conditions are right. One of the locals explained what had happened this time was that it had rained heavily the day after all the snow fell, which created huge parallel gullies through the powder, which of course refroze into the nightmare you can see below. It looks like tracks through powder, but it is totally not, as I found out when I decided to see what it was like on one such run they left open. Simply hideous stuff!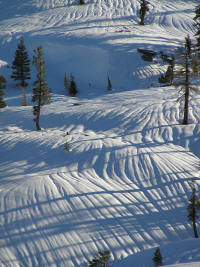 Overall, though, I enjoyed Squaw more than I expected, given its kinda snooty reputation and unfortunate snow condition off the groomed slopes (which were excellent). If they'd take this place and drop it in Utah so it gets covered with light powder, it'd really live up to its reputation.
Finally, for what it's worth, the M-Coupe proved to be a capable ski-car on its maiden voyages as such, at least with clear weather. After we got back to Austin, I ordered some tire chains to be properly prepared for such missions in the future. It was a bit tricky fitting these wide sports car tires, but I found some SCC Z-Chain low-profile cable types that work perfectly. Hopefully just having bought a fancy set of chains will serve as insurance against actually needing to use them -- will be money well spent.
[I'm just wistfully thinking about the all-wheel drive Subaru station wagon sitting in a carport in Austin.]
DEBCAR SLIDESHOW
Now, we invite you to enjoy the slide show that goes along with this story. Scroll down or click here to position the image below for easy viewing, then click the arrow icons to step back and forth through the slides. Start or stop an automatic slide show using the icon with the red dots on the far right. Press F11 to select full screen mode for best results.
< previous story home next story >
---
HOME TRAVEL LOG MOUNTAIN BIKING WINDSURFING STORY ARCHIVES RV INFO PHOTOS CONTACT US
---