---


HOME TRAVEL LOG MOUNTAIN BIKING WINDSURFING STORY ARCHIVES RV INFO PHOTOS CONTACT US
---
(click on photos to enlarge)
---
"The Big Little Frozen City of Reno"
Reno, NV
December 3 through 13, 2004
Story by Debbie
Yes, you read right--TEN days in Reno, the gambling and smoking capital of the world, neither of which presents a big draw for us.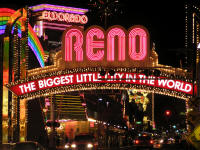 But it was on our route, and as luck would have it, Carey the King of the Internet located two folding bicycles in Reno that would meet our needs for substantially less than the $2,000+ the Airnimals we liked in Sausalito or the Bike Fridays I thought were so cool cost. Really, we needed them only to (1) fit in the space allotted; (2) fold and unfold easily enough that we would actually use them; and (3) to be able to go on terrain other than smooth roads or paths. What Carey found was the KHS Westwood F20, in fire engine red. These light-duty, mini-mountain bikes met our requirements nicely, with a front fork suspension, an elastomer rear suspension, and 16, count 'em, 16 gears.
Fortunately, the bike shop was on big wide street in the Reno suburbs, so we parked the RV a little way down from the shop and took the bikes for a test ride and test fit in the storage compartment. I wonder what people driving by were thinking as we unloaded everything in the compartment onto the snowy ground and arranged and rearranged things repeatedly. But we eventually found an arrangement that worked really well, and we had one more item checked off our to-do list (or more accurately, it seems, our to-buy list).
You know how the RV park in Sacramento seemed like part of the parking lot? Well, the KOA in Reno is literally part of the Hilton parking lot. That's us "kamping" in the photo, not merely parked.
Fortunately, we don't kamp, or even camp, so being in an asphalt jungle doesn't ruin our life. And we sure wouldn't lie about it.
I mentioned snow during the bike test--did I mention cold, too?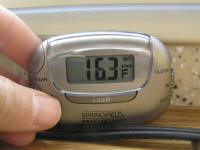 Actually, that's one reason we stayed in Reno for TEN days--we were headed across the mountains, to Salt Lake City, and there was a giant storm predicted so we hunkered down to wait it out. It never really showed up, but temperatures did stay at or below freezing for days on end.
So we took advantage of what charms of Reno we could find. There was a paved bike trail running along the river nearby, and Carey took a reconnaissance spin through the snow one day, and I joined him another day after things were plowed a bit better.
The 20" tires do take some getting used to. People generally gloss over it by calling the bikes with little tires "nimble." I think it's more along the lines of "squirrely," especially after riding a "real" mountain bike for years now. But it's not like I'm a professional rider or anything, and once we tricked out mine with the Pee Wee Herman treatment -- cushy seat, luggage rack, lights, and cargo bag (the bell came pre-installed) -- I was content.
We did drag ourselves out into the cold to drive around Lake Tahoe. I actually skied at Squaw Valley when I was in college, but never saw more than 4 feet in front of my face because of a blinding snowstorm that never abated. I heard there was a real pretty lake down there somewhere...
Back in the present, we passed through the capital of Nevada, Carson City on our way to the lake. It was a winter wonderland.
From there we drove all the way around Lake Tahoe. We happened across a sparsely attended wedding early into our trek.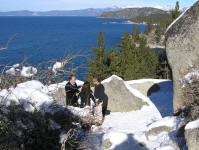 On to the city of South Lake Tahoe, where you can board boats for cruises around the lake. This is the Tahoe Queen, also sparsely attended. Maybe snow covered beaches don't put people into the cruising mindset. But the area bustles because they have casinos, and Heavenly ski area drops right down into the middle of town.
Things get quite serene after you leave South Lake Tahoe. Below is Emerald Bay, seen from a scenic overlook made deadly by sheets of ice on all the walking surfaces. It was kind of interesting that the Tahoe Queen paddled into the bay just as we arrived by car.
This was taken in Tahoe City, which is at about 10:00 if you look at the lake like a clock. Squaw Valley ski area is west of here.
On our way back to Reno, in one of the meadows beside the road we spotted a guy doing a cross between kiteboarding (notice the kite in the air) and skiing (notice the skis). To turn around, he'd just make a big jump and change direction. What will they think of next?
We also passed right by Mt. Rose, which is a popular area among Reno locals for more conventional skiing. Coming down from the mountains, we could see the KOA/Hilton through the smog way off in the distance.
Another day (we were there for TEN, remember?) we backtracked to Donner Lake. I swear, I feel like I'm home-schooling myself, learning all about the western migration and the transcontinental railroad and other things I should have picked up at some point in my many years of education. I mean, they couldn't even make cannibalism interesting in school? That's pretty sad.
Anyway, I'm now completely up to speed on the Donner party and other emigrants in general. Carey was already in the know from an excellent Ric Burns documentary he'd seen on PBS a while back.
It's amazing how all these people started just tromping their way across the west. You can even still see some of the trails they left. And how did they know where they were going? Gossip and loose talk, and notes stuck in trees.
For what it's worth, the Donners were not particularly different from any of the other parties, and they evidently got stuck because they were one day late trying to get over the pass. Only one day, after traveling all that way. And I think that what really squicked everybody out was that the last guy they found alive was eating human flesh even though he had some animal meat around, which meant he was expressing a preference.
We went to the Emigrant Trail Museum at Donner Historical State Park. This rock on the left below formed part of the shelter used by one of the families in the Donner party, while the top of the base the monument on the right is the same as the depth of the snow the year the Donner party was here. And we thought the 4+ feet of snow that had fallen in the past few days was a lot. Small potatoes. Those people really got hit with some extraordinary conditions.
Did I mention fresh snow? Read Carey's account of the skiing we did in the next section.
DEBCAR SLIDESHOW
Now, we invite you to enjoy the slide show that goes along with this story. Scroll down or click here to position the image below for easy viewing, then click the arrow icons to step back and forth through the slides. Start or stop an automatic slide show using the icon with the red dots on the far right. Press F11 to select full screen mode for best results.
< previous story home next story >
---
HOME TRAVEL LOG MOUNTAIN BIKING WINDSURFING STORY ARCHIVES RV INFO PHOTOS CONTACT US
---