---


HOME TRAVEL LOG MOUNTAIN BIKING WINDSURFING STORY ARCHIVES RV INFO PHOTOS CONTACT US
---
(click on photos to enlarge)
---
"Indio Tamale Festival and Parade"
Indio, CA
December 5, 2003
Story by Debbie
Oh my, Indio, California. What a place. We managed to squeeze ourselves into the last remaining space at Bob's RV Roundup, after being warned that we could stay only two days because that space was reserved after that. Behind that palm tree and under our wheels is the concrete patio pad--I told you we had to squeeze.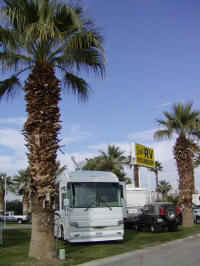 This picture was taken from the campsite of some folks who have a happy hour get-together every afternoon, and there were about 6 or 8 of them sitting there when we drove up. Their eyes got bigger and bigger as the hulking mass approached them, and then we were able to entertain them with the deployment of the Motosat dish.
Finally, one guy couldn't stand it any more and came over and said, "Are you rock stars or something?" Carey assured him that despite appearances to the contrary, he was not a rock idol, just a traveling man with a computer business.
Indio is also home to one of the fancy motorcoach only RV parks that was featured on the Travel Channel's show about super-luxurious "campgrounds." I ask you--would a rock star opt for Bob's RV Roundup over Outdoor Resorts? The man just wasn't thinking.
Anyway, it turns out that the area was unusually crowded because this was the weekend of the Indio Tamale Festival, complete with parade! Carey documented an awful lot of it, but I'll include my favorites here.
The following are everything a tamale festival parade participant should be:
On the other hand, evidently nobody told Santa's reindeer here that there would be MARCHING in the parade: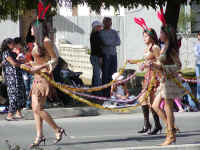 The girl on the right also obviously didn't get the memo, either: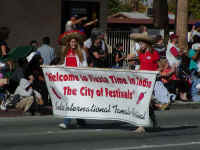 There were dancing cars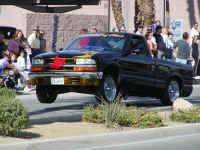 and dancing horses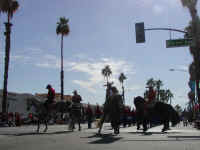 And then my favorite. Check out the girl in the green on the far left (click on photo to enlarge).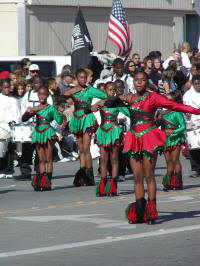 A girl after my own heart. Reminds me once of a windsurfing clinic I was in when the instructor said the four of us in his class reminded him of Michael Jordan. We all thought, "We bad, we ath-a-letes." Then he said, "You all stick your tongue out when you sail." Oh.
The parade was taking a long time, with delays occurring at the judging stand. So we worked our way up the parade route and scoped out the rest of the entrants at the staging area, and hit the tamale stands. We managed to score some pretty tasty tamales, although they're BIG. I'm used to the kind where you eat 6 or 8 at a time (Carey of course eats like three and calls that lunch). So we couldn't sample ALL of them, and that turned out okay anyway because as soon as the parade ended, the throngs descended on the tamale stands and the lines were massive. My favorites were the ones made by people at churches.
We then beat a hasty retreat to Joshua Tree National Park.
To open a new window and see our full photo gallery of the Indio Tamale Festival, click this link.
---
HOME TRAVEL LOG MOUNTAIN BIKING WINDSURFING STORY ARCHIVES RV INFO PHOTOS CONTACT US
---