---


HOME TRAVEL LOG MOUNTAIN BIKING WINDSURFING STORY ARCHIVES RV INFO PHOTOS CONTACT US
---
(click on photos to enlarge)
---
"Camping Near Phoenix and Touring Taliesin West"
Phoenix and Scottsdale, AZ
December 2-4, 2003
Story by Debbie
We were headed from Tucson to Los Angeles, but I wanted to see Frank Lloyd Wright's Taliesin West. Somehow, I never got around to making a day trip of it from Tucson, and after experiencing Phoenix traffic, I'm glad I never tried. Sheeeesh.
Anyway, we managed to find yet another isolated location for our residence, the campground at Usery Mountain Park northeast of Phoenix (as you can't help but realize because somebody helpfully emblazoned the word "PHOENIX" on a nearby mountain in giant, rock letters).
They had great bicycle trails which, in a break from tradition, were really well marked. There's also a shooting range nearby, which provides an interesting (and blessedly only occasional) aural backdrop. But once again, we were among only a handful of people camped there, a situation we're really fond of. And we had more in our continuing series of stunning sunsets: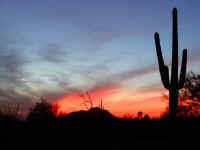 And we did accomplish our primary mission, which was a visit to Taliesin West.
Here's an exterior panorama, expertly photographed by Carey:

If only it were on wheels. Sigh.
A definite highlight of our short stay in Phoenix was a late lunch at Los Dos Molinos on Alma School Road in Mesa. We went WAY out of our way to get there from Taliesin, and would do it again in a heartbeat. Everybody talks about how hot the food is, but neither of us had particular trouble with it although the pitcher of water on the table was a welcome third member of our party. I'm not particularly into gratuitously hot food (think habanero peppers), and Los Dos Molinos doesn't do that. Their food is TASTY first, and I'm no chef but I don't think it could be that good unless it was that hot.
Carey had some sort of chimichanga that he pronounced one of the best things he's ever eaten. I had red posole with tortillas that was so good I almost wanted to cry. Makes those hours I spend on the internet trying to figure out what not to miss well worth it.
To open a new window and see our full photo gallery of Taliesin West and the Phoenix campground, click this link.
---
HOME TRAVEL LOG MOUNTAIN BIKING WINDSURFING STORY ARCHIVES RV INFO PHOTOS CONTACT US
---