---


HOME TRAVEL LOG MOUNTAIN BIKING WINDSURFING STORY ARCHIVES RV INFO PHOTOS CONTACT US
---
(click on photos to enlarge)
---
"Joshua Tree National Park"
Indio, CA
December 6, 2003
Story by Debbie
Joshua Tree National Park (nee National Monument) was in the vicinty, so we figured we'd take a quick trip out there after the tamale festival. Well, "in the vicinty" out here means a 250-mile round trip, but fortified with tamales, we ventured forth.
Neither of us had been there before, and we opted to enter via the southern route. We saw miles and miles of the same sort of stuff we'd been seeing for a long time, and then the real action started. As you travel north, you see a bunch of...
and then boulders and Joshua trees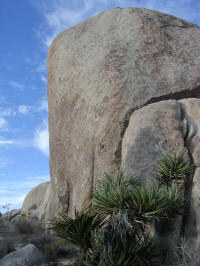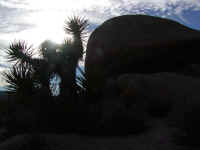 and eventually a real oasis with fan palms.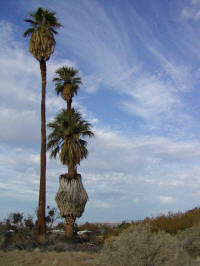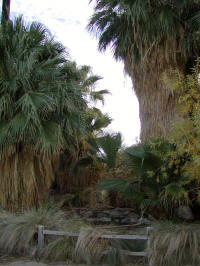 It's fed artifically now, but they swear it started with a natural spring. We'll see about that...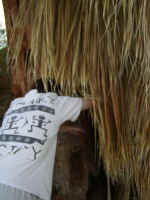 The late afternoon sun lined directly up with the road for a while and we had to pull over...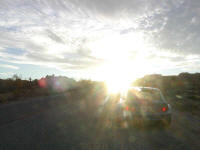 But the resulting golden light sure made things look cool...
We arrived in the largest Joshua Tree forest in the park as the moon was rising, and enjoyed a real visual treat...
Bye bye, Joshua Tree National Park.
To open a new window and see our full photo gallery of Joshua Tree National Park, click this link.
---
HOME TRAVEL LOG MOUNTAIN BIKING WINDSURFING STORY ARCHIVES RV INFO PHOTOS CONTACT US
---