---


HOME TRAVEL LOG MOUNTAIN BIKING WINDSURFING STORY ARCHIVES RV INFO PHOTOS CONTACT US
---
---
VARIOUS, TEXAS TO CALIFORNIA VIA I-40
DEBCAR UPDATE # 8
Published September 23, 2004 / Covering May 4 to June 22, 2004
---
Last you heard, we were going to look for somewhere cool to spend the summer, which has in the meantime come and gone (today's the equinox -- everybody get out your eggs). We spent much of May and June in the Austin area, working on RV repairs and other preparations, then took off for southern California again. We had our usual little adventures along the way, which you can read about below:
"Of Monkeys, Snakes, and RV Repairmen"
"Into Hot Air: The Velocity Games and More"
"Following Ant Tracks To California"
"What if a Tree Falls in a Petrified Forest?"
"The So-Called Painted Desert"
We spent a couple of months in Thousand Oaks, working to get the new Road Safety Simulator Center opened and operating well, and enjoying some of the multitude of delights the Los Angeles area offers up. A couple of weeks ago we finally took off again, and have been meandering up the coast, all of which will be the subject of our next update.
Until then, greetings from a delightful, tree-covered hillside just south of Yosemite.
- Carey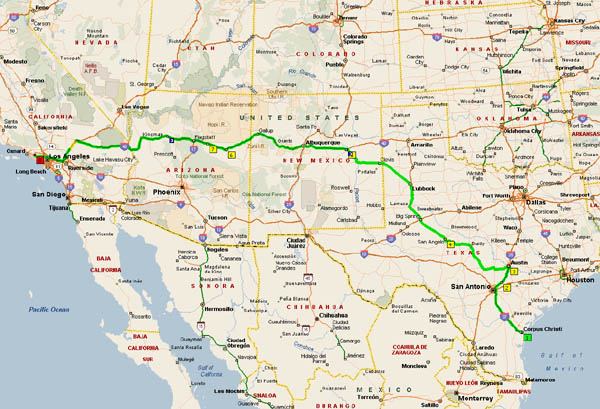 ---
---
HOME TRAVEL LOG MOUNTAIN BIKING WINDSURFING STORY ARCHIVES RV INFO PHOTOS CONTACT US
---