---


HOME TRAVEL LOG MOUNTAIN BIKING WINDSURFING STORY ARCHIVES RV INFO PHOTOS CONTACT US
---
(click on photos to enlarge)
---
"Following Ant Tracks To California"
Austin, TX >> San Angelo, TX >> Santa Rosa, NM
June 17 through June 19, 2004
Story by Debbie
As mentioned before, we returned to Austin in order for me to see the UT baseball team work its way through the regional and super-regional tournaments, and win a berth at the College World Series in Omaha. With no more games to attend in Austin, it was time to hit the road.
First up, an overnighter in San Angelo, time enough for a meal and a visit with my brother Pitchie. He'd already seen the RV last time we went through there, so we were able to dispense with the pleasantries and hunker right down on some steaks and onion rings.
This time, we stayed at Spring Creek Marina RV Park on Lake Nasworthy (cleverly called Lake Nastywater by the locals, although the dredging project was evidently a success). It's a pretty nice park, although if memory serves, you don't really want to be anywhere near there on a summer weekend.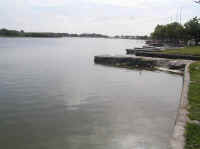 I spent a lot of time at Lake Nasworthy, albeit a different section, when I was in junior high because my friend Kathy Shelton had a lake house out there and they had two Starfish sailboats we could use. A bunch of girls would pile onto those little boats to the point they'd almost sink. One year, we had to read some story in school about a boat that had barnacles on it, which of course caused us to scream in terror "BARNACLES" for hours. (None of us knew what barnacles were, but it sounded bad.) It was almost as ridiculous as when they made us read The Raven and everybody went around for days saying, "Nevermoooooore." That lakehouse is also where they threw me a surprise birthday party, one of several I've had and I have never had even the slightest inkling any of them was happening. And finally, in the small world department, Kathy's house was next door to some people named the Kings, and Phillip King was our age. When I went to college at UT, a girl I knew in the dorm, Nancy King, was Phillip's cousin.
By the time high school rolled around, I moved on to adventures involving less innocuous activities than sailing on a sunny afternoon, and spent my share of time at Grassy Meadows, which was basically an open field across from Spring Creek Marina, just right for impromptu late-night gatherings. In case you're curious, you just have to watch Dazed and Confused, a movie that pretty much amounts to a documentary of my high school days, except we didn't do that hazing crap.
Enough of the reminiscing, back to our tale. Since the RV is so big, sometimes there's not much maneuvering room for where to position ourselves in a given campsite. That's usually no big deal, but this time it led to our first incident with a blocked satellite dish. Both the internet dish and the TV dish need a clear view of the southern sky. Since we'd spent all our time in the southwest, interference from trees had never been an issue. Actually, it turns out it wasn't this time, either, but rather some sort of electrical something up on the pole, which was exactly in the path of the satellite for the TV. What are the odds?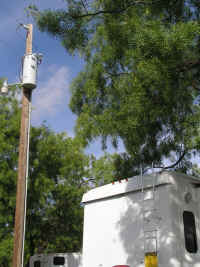 This innocuous looking cylinder meant that we were going to have to miss that week's installment of Trailer Park Boys, a mock documentary on BBC America about the lives of Ricky and Julian, two prominent denizens (when they're not in jail) of the Sunnyvale Trailer Park in Canada. Just like Beavis & Butt-head, it's the sort of stupidity that only a brilliant person could write, and each week's adventures leave me almost breathless with laughter. We knew there would be sacrifices involved with this lifestyle, but had no idea of the magnitude.
The next morning, since we were at the lake and all, we decided to do some nature type stuff.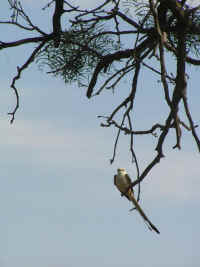 We found this ant bed, and then noticed the trail leading to it.
That trail was made by little tiny ant feet, which I just find hard to believe. I know, they walk around an awful lot, but they simply aren't that heavy and I think of their feet as more like little points than flat things capable of matting down grass that is many many times their height.
With our edification requirement satisfied, we hit the road once again. It was not an incident-free trip--we came upon a wreck near Muleshoe. I was driving, and getting this thing to a stop from highway speed is always interesting; I'm glad I'm so high up that I can have some notice.
There was an 18-wheeler sideways across the road, trying to maneuver its way out. Some cars were getting around by going off into the grass, but it looked like rollover city for anything but a relatively small vehicle. So we stayed put and watched the action from our balcony-like vantage point.
We eventually made it to Santa Rosa, New Mexico, and stopped to get something to eat. Carey had enjoyed some memorable Mexican food here many years ago at a place called the Route 66 Cafe and wanted to repeat the experience. (I am generally not a Santa Rosa-stopper because I have either filled up on chili cheese dogs in Clovis or I'm holding out for a Blake's Lotaburger in Albuquerque.). Unfortunately, there turned out to be two restaurants in town with "Route 66" in their name, both claiming to be the real deal. We chose one at random, and Carey thinks we got the right place because he remembered the triangular IQ Testers on every table. However, the sopapillas were not as big as he remembered, so there is a little bit of doubt. Tasty, New Mexican style grub nevertheless.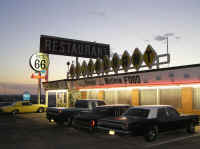 After we ate, it was getting a little late and there was a college world series baseball game on (via satellite), so we decided to stay in town, at what used to be the Santa Rosa KOA.
Much to our surprise, we ended up staying there for two nights because after the game was over, we took a walk across the interstate from the strip of motels and restaurants along the interstate over to the real part of town and became intrigued. There was a really nice park with baseball fields and the like, and something that I just couldn't believe--an enormous pond/swiming pool with no fence or anything around it. They call it Park Lake and it looked big enough that we thought it would work for windsurfing in a pinch.
Over on one side there's a big tubular slide thing that's just there for the sliding, and something you almost never see any more--a diving board. It is so wonderful to see stuff like that left open and just sitting there, not allowing itself to be victimized by people's stupidity or bowing to the omnipresent threats of lawsuits. If I hadn't been paying attention, I very well might have walked right into the water. This is my kind of place.
We'd seen references to something called Blue Hole, but it was dark and we couldn't find it but vowed to come back the next day. Which we did, and found something equally as improbable as Park Lake.
It's a spring-fed hole 80 feet deep where people scuba dive, jump from rock ledges, or just splash around. Again, no fence, no rules, no nothing. Well, I wouldn't exactly call them rules, but there are some instructions for when someone gets the bends.
Forgive me for harping on this, but I just can't believe places like this exist. Santa Rosa isn't exactly the most economically vibrant looking place I've ever seen, so maybe they figure nobody'll bother suing them because there's nothing to collect?
We also took a drive out to Santa Rosa Lake because it's plenty windy in these parts, and it might be a place to remember for windsurfing in the future. Alas, the lake is extremely low and probably dangerously crowded during the summer.
On the way out to the lake, we came across this, which is some sort of transfer station for new cars that are transported by railroad.
So there you have Santa Rosa, and I bet there are millions of people who have driven right through there on Interstate 40 and never known what cool stuff there is just a few blocks off the highway. There are now two fewer of those folks.
---
HOME TRAVEL LOG MOUNTAIN BIKING WINDSURFING STORY ARCHIVES RV INFO PHOTOS CONTACT US
---