---


HOME TRAVEL LOG MOUNTAIN BIKING WINDSURFING STORY ARCHIVES RV INFO PHOTOS CONTACT US
---
< previous story home next story >
(click on photos to enlarge)
---
"New York City, and The Gates Thereof"
Washington, DC >> New York City, NY
February 24 through March 1, 2005
Story by Debbie
Next stop: New York City. In a motorhome. In the dead of winter. On a schedule.
Okay, maybe not. We noodled on this one for a long time and eventually decided the wiser course was to be like regular people and fly. The scheduling issues arose because we were going to New York to see Christo's installation in Central Park called The Gates, which was going to be up for only two weeks, and Carey had to be back in Austin right after that for his high school reunion.
Sounds simple enough, except when we're in Austin, we park the moho behind Carey's office, and the Environmental Protection Agency or some other buttinsky group had come out (completely unrelated to our presence, I swear) and declared something or other, and they were going to be digging a big trench right through the parking lot where we were residing. But they weren't going to give any notice whatsoever, so we couldn't leave the RV there unattended.
I called around and found a couple of places that would store it for a week or so, but then we had to deal with the cars, and what if we get back and have no place to go, and god knows what else. Rather than meeting this challenge head on, I punted and flew to Washington, DC, a few days early, leaving Carey behind to sort it all out himself.
My sister lives in DC, so I got some sibling time in, and also managed to snag a little bit of preliminary site-specific art, provided by Andy Goldsworthy. The vast majority of his work is temporary--made of icicles or leaves, for example--which he photographs, and it is the photographs that comprise the art. However, he occasionally does permanent structures, including Roof at the National Gallery of Art. It was constructed over the course of several weeks, and it was in an area with a window so you could watch the progress. No way I was going to pass that up.
Since I'd seen the documentary about him, "Rivers and Tides," I knew what he looked like and sure enough, he was there, as were his wallers, who do the actual construction since it really is more than just stacking rocks. From outside the museum, the scene looked like this:
This is a view from inside.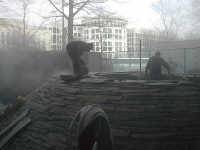 The sheets of paper on the wall give the precise dimensions of each layer.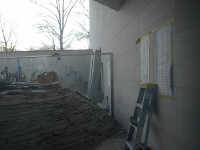 Man, I love it when scheduling works out to include once-in-a-lifetime things like this.
But far more frequent is the occasion that I get asked for directions. I swear--I could be the first person on Mars and some Martian will come walking by and ask me where a certain crater is. Maybe I just look non-threatening...I don't know. But I hadn't been in downtown DC for five minutes when a desperate looking family of four asked me if there was a McDonalds nearby. As luck would have it, I had walked right by one just a couple of blocks back on my way from the Metro station and pointed the way, to their palpable gratitude. And that's the thing--I almost always know whatever it is they're looking for, even in a strange city. Shortly after that, a group of kids asked me where the National Gallery of Art was, which of course I'd just been to.
And then on the bus to New York, a Japanese tourist across the aisle asked me, "Where are we here?" That one was a little hard to explain because we were actually in Silver Spring, Maryland, a suburb of Washington and I wasn't sure how long she'd been on the bus. But I got her all triangulated eventually with a lot of hand waving.
Oh, did I mention taking the bus to New York? Not something that would occur to most people, but it's not half as bad as you'd think, and cheap cheap cheap--something like $20 one way if you buy your ticket online, which is less than the tolls alone would cost you in a car. I was inclined to take one of the Chinatown buses, just for the adventure of it. It's about the same price, but caters to Chinese and the drop-off points (certainly not stations), are in the Chinatowns of Washington, New York, and Boston. However, I couldn't be assured that there wouldn't be TVs blaring the whole way (not to mention smoking and spitting), and Greyhound had a station quite close to my sister's house. Convenience trumped adventure. This time.
And, to make sure I wasn't without all of the familiar comforts of home, the bus stops for a break at a truck stop, something I'm becoming very familiar with. At least I didn't have to pump diesel.
Meanwhile, back in Austin, Carey was finding temporary quarters for our rolling home, and as usual, he outdid himself. On the way back from dropping me at the airport, he went by Austin Airport Fast Park and checked into parking the moho there. Not only would they let him do it, they said they'd charge the same price as a regular car. Shoot--we should LIVE there with prices like that (although you'll note that their claim of 100% covered parking doesn't cover everyone).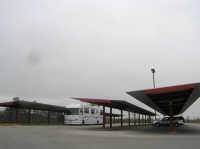 Also as usual, Carey's scheme worked out even better than expected because upon arriving at the airport, he learned that his flight had been cancelled until the next morning, due to a blizzard in New York. No problem--he just took the airport parking shuttle back "home" and made a little dinner and did some load testing of various electrical appliances, followed by a restful sleep in his own bed, a hot shower in the morning, and a 5-minute ride to the the plane. This is in marked contrast to the time my flight from New York back to Austin was cancelled due to a storm and they wouldn't let us stranded people enjoy the relative comfort of the gate area and instead herded us into the main concourse to spend the night in plastic bucket chairs or on the linoleum floor. Oh, and they turn off the heat to discourage homeless people from staying there and didn't see the need to make an exception for us temporarily homeless.
Carey's flight got out, but was delayed en route by more bad weather, making for some tense moments for me. I like running around New York by myself just fine, but we had some pretty expensive opera tickets for that night. However, he made it in the nick of time and enjoyed his first opera in a big way: Turandot at the Metropolitan Opera, which I highly recommend for beginners due to its over-the-top sets by Franco Zeffirelli, familiar songs if you've ever seen a TV ad for opera's greatest hits, and lots and lots of people belting their lungs out.
The rest of the trip was dedicated to the usual New York type things, like ten movies (who am I to resist a film from Bhutan?), engaging in celebrity spotting, which I have a knack for (Paul Shaffer walked by me while I was on a pay phone at about midnight), and daily visits to The Gates in Central Park.
The whole Gates thing was surrounded by controversy. People were upset that the project cost $20 million, but usually didn't note that the artists were footing the entire bill and the city didn't have to put up a dime and derived the benefit of all the tourist dollars, especially during a typically dead time for visitors to New York. People said it would destroy the park, even though everything was temporary and there weren't any holes dug or anything like that, and once they came down, you wouldn't be able to tell they'd ever been there. People said it wasn't art. That one I don't have much of a response to because I'm a self-taught art appreciationist and I honestly don't know what art is (or isn't), but I do know what I like to look at and who is someone else to tell me it's not art?
But I ignored all of the Gates bashing because I knew this was my cup of tea and if it's not theirs, then that's okay and they don't have to go. But the people who did go seemed to be having a wonderful time, and I was always happy when I was there.
This blog entry and the comment following offer a nice distillation of the whole thing. And this fellow lowbrow had pretty much the same reaction I did.
Now, Carey is the official DEBCAR photographer, but I had to step into those shoes in his absence, and I hereby offer my meager attempts.
Over by the John Lennon thing, I came across a free-lancer's tribute to The Gates, in Cheetos.
It hadn't snowed in a couple of days, making it look like this on Thursday:
Gloomy, but it fit the complete absence of crowds, or in some areas, any other people at all.
After an overnight snowstorm (the one that kept Carey in Austin), the park took on a completely different look:
Then Carey showed up and the real photography extravaganza began. Some of my favorites:
There were "paid volunteers" all over the place, with smocks that were autographed by Christo and Jeanne-Claude, and they had tennis balls on poles that they used to flip over the fabric when necessary.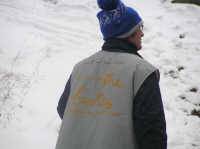 We also happened across the EMTs for ailing gates--there was a broken one and this truck showed up on the scene and the crew hopped out revived the distressed gate really fast.
I read news reports that there was some vandalizing, but I didn't see any myself and I covered the entire park several times over during my stay. There was security, but there was also a vibe, and I think they were equally important.
On Sunday, we went to a dive called Burger Joint that has great hamburgers, located improbably enough in the Parker Meridien hotel. Some tourists had visited The Gates and commemorated it on a napkin that they had stuck to the wall with postage stamps.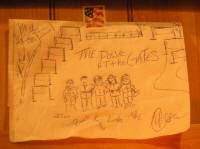 That was pretty indicative of the mood of New York when The Gates were up. It was fantastic.
The hotel goes all the way through the block and the main entrance is on 56th Street. For some reason we had gone in and out on 57th, and boy am I glad because we were just walking along toward the park and I spotted a friend of mine from Austin coming right toward us.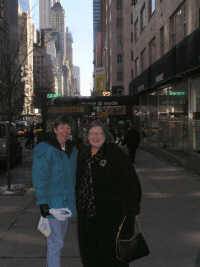 Sara and her husband were on their first trip to New York, and were on their way to Carnegie Hall, where their son Matthew was playing in a concert that afternoon. I hope the smell of grease I'd acquired at the Burger Joint didn't rub off on her and annoy nearby concertgoers.
See that plastic bag in my hand? That contains a freshly purchased can of S&W black beans (couldn't find them in either Austin or Washington, but there they were in the grocery store a block from our hotel in New York--this town is amazing). But why carry around a can of beans? So we can take them to The Gates and become official members of the Beans-Around-the-World Ambassadors Club! We scooped everybody on this one and our work is featured on the BATW website. The best part is that we just submit the photos and explanations, while Kevin, the Beanmaster, does the heavy lifting, prose-wise, and brilliantly at that. (DEBCAR devotees might recognize the "down-on-his-luck fellow sleeping off a wild Night Train bender.")
Here's a taste of BATW silliness: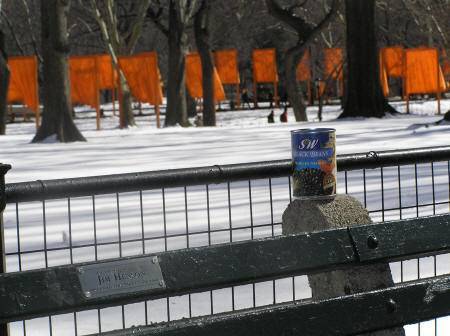 Sunday was the last official day of The Gates. It was a sunny day and the throngs were out in force: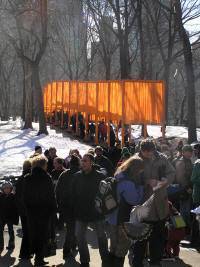 But they stayed on the sidewalks.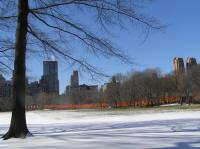 It was actually sort of interesting mixing it up with the big crowds. They tended to enter the park from the southern edge, so you could go north to get away from them if you wanted. Or you could hang around and watch their reactions. We made a day of it.
We also made trips back to the park on Monday and Tuesday to watch the tear-down.
Actually, all of the components were going to be recycled, so it was a careful dismantling.
Well, as careful as you can be when you have a total doofus like the girl pictured below carefully positioning herself to get beaned by the lowering gate.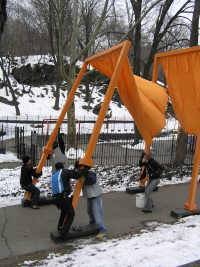 While she made watching the work a lot more fun for us, I'm not sure others felt the same way, like these people actually contributing (and giving you an idea of how heavy the gates were and why it wasn't a good idea to stand in their path):
And proving that work can be fun: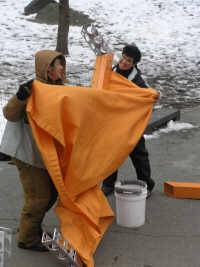 Thus ended my week (and Carey's four days) of bliss with The Gates, and our return to our regularly scheduled life on wheels.
DEBCAR SLIDESHOW
Now, we invite you to enjoy the slide show that goes along with this story. Scroll down or click here to position the image below for easy viewing, then click the arrow icons to step back and forth through the slides. Start or stop an automatic slide show using the icon with the red dots on the far right. Press F11 to select full screen mode for best results.
< previous story home next story >
---
HOME TRAVEL LOG MOUNTAIN BIKING WINDSURFING STORY ARCHIVES RV INFO PHOTOS CONTACT US
---