---


HOME TRAVEL LOG MOUNTAIN BIKING WINDSURFING STORY ARCHIVES RV INFO PHOTOS CONTACT US
---
(click on photos to enlarge)
---
"Magnificent Moab"
Moab, UT
December 21 through 23, 2004
Story by Carey [Debbie's comments in italics]
It started out as a simple observation.
I was looking at a map to figure out the fastest way to get back to Austin from Salt Lake City in time for Christmas, and noticed that Moab was right on the route. We hadn't planned to stop and do anything along the way, but maybe we would get lucky and the predicted snowstorms would hold off for a couple of hours and let us take just a quick look around?
Well, we made it to Moab fairly early and quickly set up camp at the delightfully empty Portal RV Park. We were greeted by a gloriously clear afternoon, so we hopped in the car and headed up to Arches National Park to see as much as we could before sundown.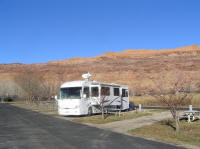 I had been to Arches about 15 years before, and thought it was pretty cool, but this was really special. Showing up in the dead of winter, we had this amazing place practically to ourselves, which made us feel like we'd been invited to a private showing of nature's finest. The snowcapped La Sal mountains stood many miles away as a beautiful backdrop to all the famed red rock formations, clearly visible through some of the crispest, chilliest air imaginable. Throw in some low-angle lighting that makes for those coveted dramatic shadows in pictures, and the overall experience was quite breathtaking.
After watching the sun set over Delicate Arch, we decided to throw our travel schedule out the window and spend a full day in the park the next day and do a little hiking. If it weren't for needing to be back in time for Christmas, we would have loved to stay here much longer.
[And I was even happy hiking because of the rampant use of cairns that actually clearly marked the trails, rather than being two pebbles that may or may not be stacked on top of each other, hidden off in some corner, as if that's an effective way to show somebody the trail.]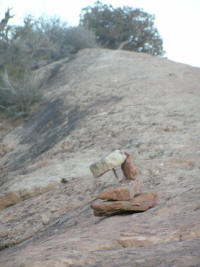 This is a notoriously photogenic place, of course, so the slide show below is probably one you'll particularly enjoy. But I'll include a few highlights here for you lazy/busy types who can't watch the whole thing...

We also snuck in a little bicycle adventure the morning of our second day before heading back over to Arches. Moab has become one of the most popular places in the world for mountain biking as that sport has exploded over the past few decades. The most famous trail, Slickrock, is pretty much unique in the world, primarily due to the unusual surface and terrain. The name is something of a misnomer because the rock you ride on is actually very hard and grippy, being basically petrified sand dunes. The attraction of this material is that you can climb and descend things that it would otherwise be impossible to find traction on. It's also a fast surface (almost like pavement) which thrill-seekers always love.
We had just bought our miniature folding mountain bikes, and naturally I couldn't resist the opportunity to try one out on Slickrock. The full trail is a loop a little over 10 miles around, but there's a "practice loop" of about 2 miles that I thought I might be able to do. So I took off on the little bike, thoroughly enjoying the weird terrain and supernaturally grippy surface, and bypassed the first opportunity to pick up the practice loop since it was in the shade and covered with a layer of not-at-all-grippy-looking ice.
Up and down, up and down, up and down, up and down, up and down, and up and down again I went, quickly racking up lots of vertical feet in a very sneaky way. They say this trail is about equivalent to climbing a mountain even though the elevation doesn't actually vary by more than about 100 feet probably, and I wholeheartedly agree.
By the time I made it to the "back entrance" of the practice loop, I was sweating profusely despite the air temperature of about 20 degrees, and breathing so hard I thought I was gonna need an ambulance. Having encountered literally nobody else on the trail so far (quite a contrast to the rest of the year, when this place apparently gets elbow-to-elbow thick with bicycles) I figured I better bail out and head back the way I came, and not try this again until I'm in better shape and/or better prepared.
I am a novice mountain biker to begin with, and this was my first off-road outing on these new bikes, so it was interesting trying to ride even a little bit of Slickrock. The small wheels and relatively short wheelbase of the "clown bike" did make it prone to doing an "endo" (going over the front wheel) at the bottom of each dune, and it was also all too easy to do a wheelie climbing the steep hills and lose steering control. By the end I was getting the hang of exactly how far I had to shift my weight back and forth to keep the wheels on the ground, and reckon a cyclist in good shape would probably get a kick out of riding this trail on one of these. Hey, some people ride unicycles at Slickrock, so why not?
Anyway, I eventually huffed and puffed my way back to where I'd left Debbie sitting, and encouraged her to take a quick spin to see what it was like. Unlike me, she buzzed around for a while and managed to figure out the bike's tendencies to "endo" without ever actually flying over the handlebars and landing with the bike standing vertically between her legs. Smart girl.
[One more note about Moab--I've mentioned before that I always pick up whatever free newspapers I can find because they tend to give a visitor some insight into the character of the area. Some of that is inadvertent--millions of plastic surgery ads in L.A. Weekly, ads for yoga mats wheatgrass in Metro Santa Cruz. But for some reason I also enjoy reading about local political intrigue even when I don't know anything about the issues or the people involved.
But I have found one that transcends them all--the bi-monthly Canyon Country Zephyr, whose motto is, "All The News That Causes Fits." The online version includes the harsh commentary and wry observations I always enjoy, and it even includes some of the ads found in the print version, which feature drawings of the business owners done by the Zephyr's editor. Very highly recommended.]
DEBCAR SLIDESHOW
Now, we invite you to enjoy the slide show that goes along with this story. Scroll down or click here to position the image below for easy viewing, then click the arrow icons to step back and forth through the slides. Start or stop an automatic slide show using the icon with the red dots on the far right. Press F11 to select full screen mode for best results.
< previous story home next story >
---
HOME TRAVEL LOG MOUNTAIN BIKING WINDSURFING STORY ARCHIVES RV INFO PHOTOS CONTACT US
---